Find out how to repair water damage under kitchen cabinets including its costs, insurance coverage, and ideas on how to protect your kitchen cabinets from water damage.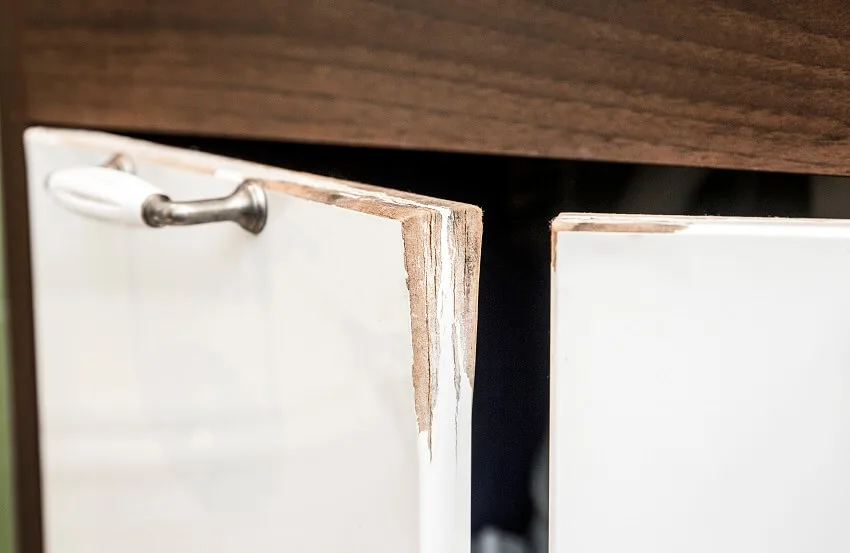 Water damage under kitchen cabinets can be a serious issue that can damage the finish and eventual lead to the cabinets deteriorating altogether.
If you think you have cabinet water damage, it's important to know what to look for to identify the problem so you can correct it before needing an entire kitchen cabinet remodel.
What Is Cabinet Damage Caused By Water?
Most kitchen cabinets are made; differently several of these materials including hardwood, plywood, wood veneer, particleboard, and MDF are wood-based products. These are durable materials for kitchen cabinets, but they aren't waterproof.
Most of the time, it is difficult to prevent water damage, especially if you do not always know that it is already happening until your cabinets have been soaking in water for several hours or days.
Some common causes of the damage could be a leak in the kitchen faucet or under your kitchen sink, water coming in from outdoors, or just the occasional splash of water hitting your cabinets over the years.
These factors can spread water damage to other areas of the kitchen. Moisture can then extend into baseboards, flooring, and drywall, creating an ideal environment for mold and mildew that can quickly migrate into surrounding materials.
Delamination and warping can be severe enough to require a total cabinet overhaul, especially for plywood or medium-density fiberboard kitchen cabinets.
For kitchen cabinets made of plywood, one way to tell water damage is to lose their finish, or there will be a change in color.
The discoloration is due to water sitting on it for too long, this will make the finish of the wood fade, and discoloration can appear on the cabinet. Water can also cause wood kitchen cabinets to swell, causing the paint to chip off.
On the other hand, kitchen cabinets made of particle boards are especially prone to water damage. The first giveaway for telling if your medium-density fiberboard (MDF) cabinets have water seeping into them for a while is if they are swollen in some places.
Layers of the MDF boards are damaged due to being saturated with water and expanded, making your kitchen cabinets bubble up and ruin the finish. The laminate surface starts to detach entirely due to water seeping inside your cabinets.
How Long Does It Take For Damage Caused by Water To Show?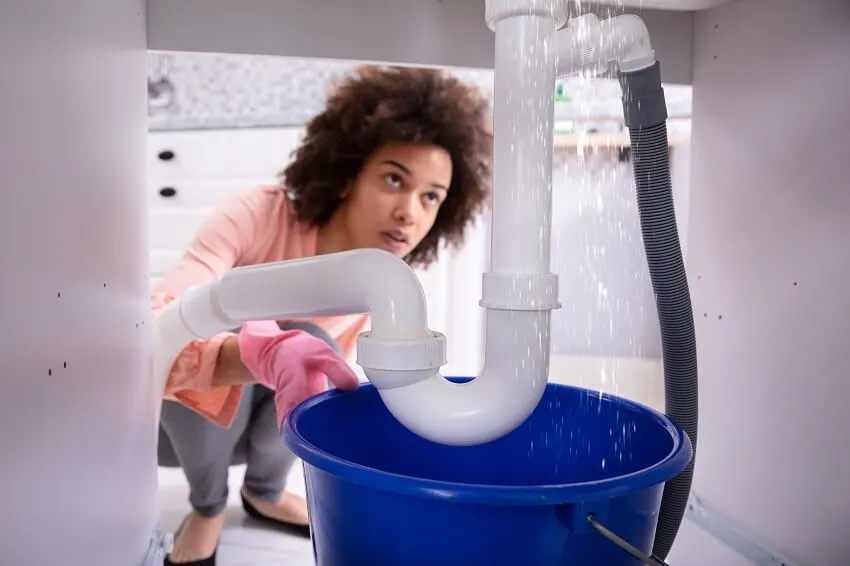 Water supply is a primary must-have item in the kitchen since it sustains the kitchen activities, but it is detrimental if it leaks and gets to kitchen cabinets.
Water leaks usually come from overflowing sinks, dishwashers, broken refrigerator water lines, steam from cooking, and freezing water pipes. Water damage usually appears as little as three weeks.
Usually, it would start to show on the lower part of the cabinet where it is nearer to the drain or water valves leaking, especially if the water volume that gets through the kitchen cabinet is large enough.
However, if the water leak is slight due to sustained long-term damage from a persistent leak or high humidity, it can take up to five weeks before the signs of water damage can be seen or noticed.
How To Repair Cabinets With Water and Moisture Damage?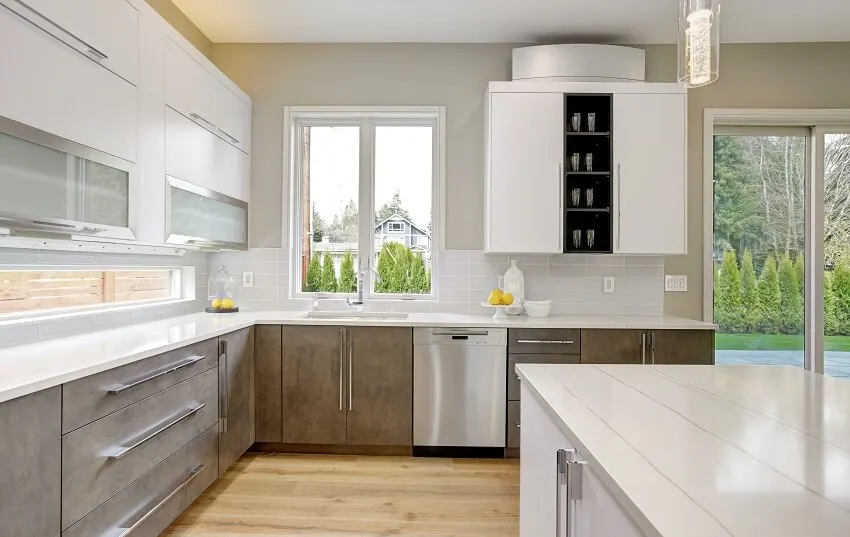 After finding the source of the water damage and allowing the cabinet to dry out, repairing most of the structural damage can be easy, or you may find that there's no alternative, such as when the bottom shelf becomes so soaked that it sags. It's time for a new one.
When repairing kitchen cabinets with water damage, the first thing you need to do is to prepare the cabinets by removing the cabinet door from its hinges. You may also need to remove the door handles and other hardware attached to the cabinet door.
The next step is to empty your cabinets and clean out the mold that may have formed in the corners of your cabinet due to excess moisture brought about by putting wet dishes or kitchen utensils in the cupboards without drying them thoroughly. Let dry your kitchen cabinets by air drying or using a fan and dehumidifiers.
Depending on several factors, water, and moisture may take two to five days to be completely dry. Drying your cabinets is only the first step in repairing kitchen cabinets with water damage.
Once the dampness of your kitchen cabinets has completely dried, you need to evaluate the structural damage. Check if the glue joints are stable, inspect if there is warping and see if the bottom shelf is strong enough to hold weight still. Additionally, check if any of the frames is sagging or has waterlogged and inspect if there is appearance delamination.
Fix delaminated cabinets by applying and spreading glue between the delaminated cabinets and using C-clamps to secure the sheets together.
For kitchen cabinets made of particle boards that may be highly warped or swollen, check if any brace has detached; if so, these old braces might need to be taken down and repaired with new screws and glue to restore their stability. If there are damaged parts of the cabinet beyond repair, it is best to replace them.
For wood kitchen cabinets, use a shellac-based primer designed to help repair damaged areas and even out the surface of your kitchen cabinet doors. This primer will also allow any paint to stick to it well. If the damage is quite extensive, you may apply plastic wood filler into affected areas to help seal and repair the water damage and then smooth it over with a small putty knife.
Sanding the wood surface is the next step in repairing your kitchen cabinets; by using 120-grit sandpaper to even the surface, makes it smooth and look less damaged. You may need to repeat applying primer, plastic wood filler, and the sanding process until water damage is barely visible and the surface feels smooth.
If so, it is time to start painting the cabinet with the same type of paint as the original design. After the paint dries off, use finer 220-grit sandpaper to make the paint finish appear more seamless. This process might need to be repeated 1 or 2 times more until no water damage, or paint chipping is visible.
For the last step, apply a final topcoat of waterproofing varnish or seal to help protect your kitchen cabinets from water damage and moisture penetrating the wood.
Cost to Repair Water Problems Under Cabinets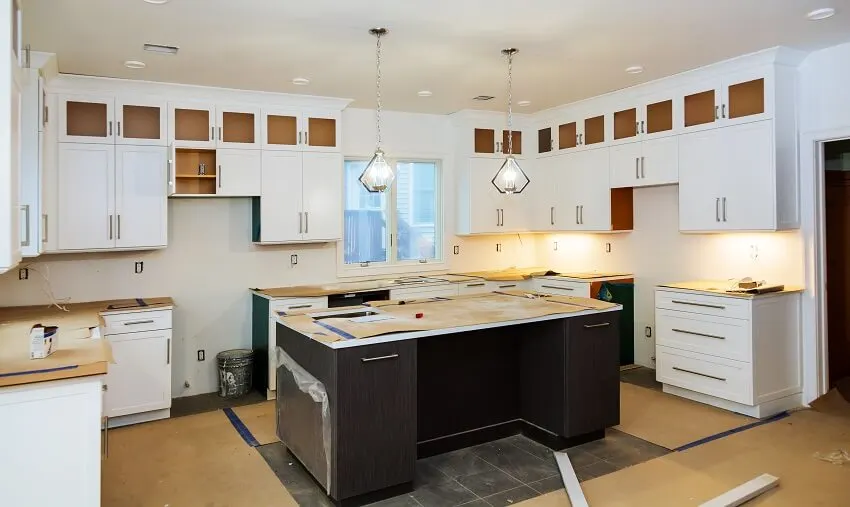 The current average rate in repairing water damage under kitchen cabinets would cost around $300 for basic labor, including removing the cabinet, repairing or replacing hinges and other hardware, installing and adjusting for level and flush. The average cost for repainting is around $1,000 based on $3 and $10 per square foot.
Repainting kitchen cabinets with minor damage would cost professional labor between $20 and $60. For DIY, an estimate of $200 and $600 will be spent on materials such as paint, primer, sandpaper, brushes, rollers, drop cloths, and tape.
Refinishing kitchen cabinets can range between $1,600 and $4,100 based on $4 and $10 per square foot for labor and materials. It costs less than replacing your kitchen cabinets but typically cost more than repainting since it involves more process, including removing the old finish, applying a new coat of finish, and sanding in between layers.
Another way of repairing kitchen cabinets is refacing the cabinet doors by overlaying using veneer or laminate without total replacement. The average cost for refacing cabinets would typically range from $1,600 and $3,900. Replacing the bottom of a kitchen cabinet would cost an average of $150 and $200.
Is Water Related Damage Covered By Insurance?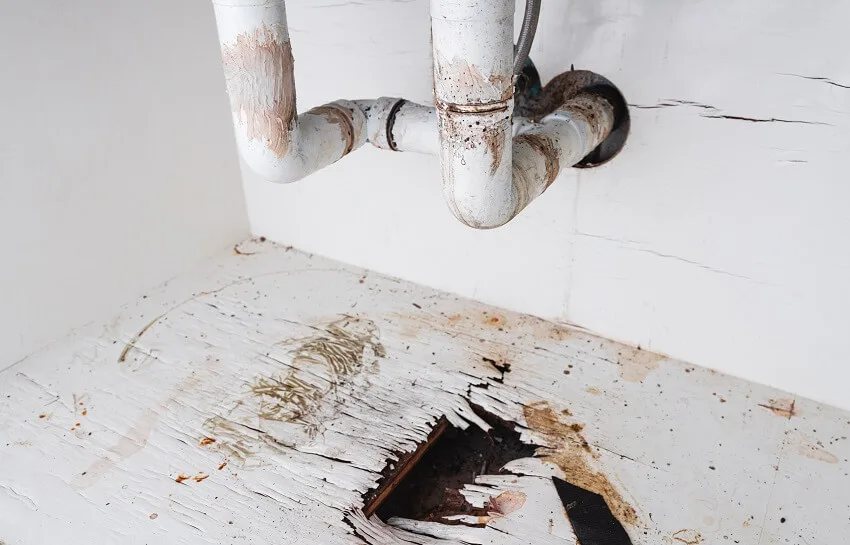 Accidental or sudden water damage from a source inside your home, such as burst pipes, frozen plumbing, and spontaneous overflow from faulty plumbing, is likely covered by your homeowner's insurance under most standard home insurance policies.
However, if water comes from outside your home, it is usually not covered by a typical homeowner's insurance policy. Unless you have special protection from flood-related damages under a separate flood insurance policy, this can be an addition to your existing home coverage insurance.
Other water damage covered by homeowners' insurance includes damage from rain or snowstorm, water damage from extinguishing a fire, leaking roof (coverage would apply only to the ceiling), sudden or accidental overflow of an appliance or fixture, vandalism, and mold damage as a result of covered water damage and not due to lack of maintenance and neglect.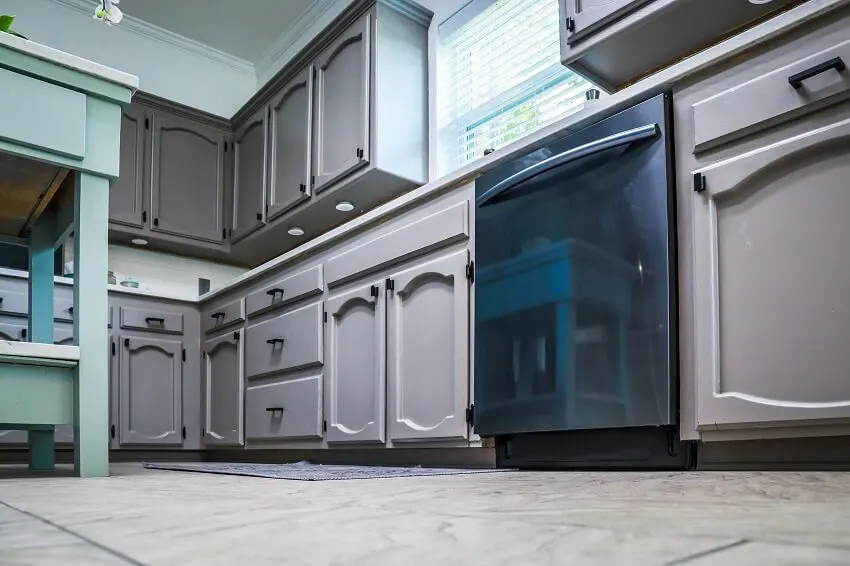 Most homeowners' insurance policies help cover repairs except for unresolved maintenance problems such as a faulty sink or other plumbing fixture that have not been attended to for several months, repair or replacement of a machine, or another actual source of the water damage.
However, the insurance can cover the cost of repairing your floors, drywall, or ceiling. Typically, traditional homeowners' policy will not cover water backup from an outside sewer or drain that caused water damage to your cabinets. Nevertheless, you may purchase additional water backup coverage to cover such damage.
How To Protect Cabinets From Water-Related Problems and Damage?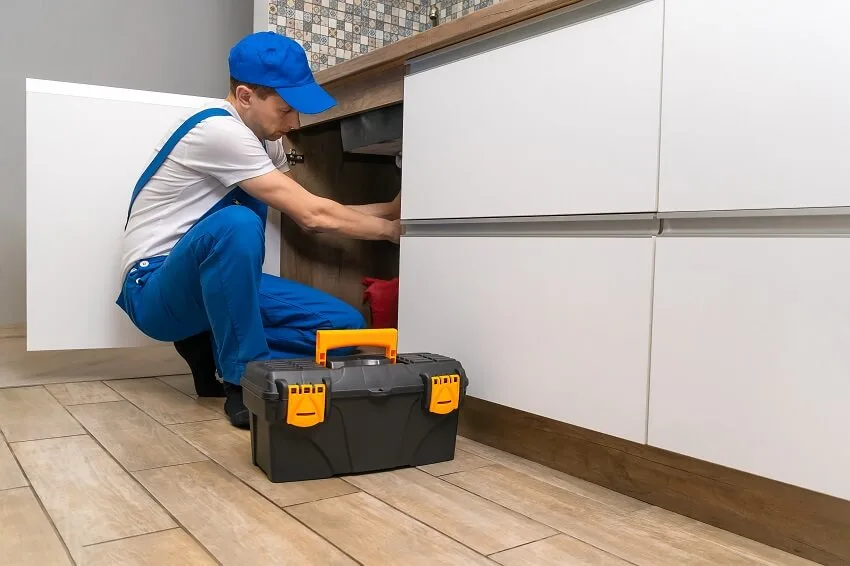 Protecting your kitchen cabinets from water damage is essential, even if the damage is covered by insurance. To prevent water damage, always make sure to inspect and replace hoses from washing machines, dishwashers, water heaters, and refrigerators.
Ensure that your water supply lines are not crimped or pinched and that they are transparent and open.
To prevent sediment build-up, ensure that you drain your water heaters twice a year. Keep outdoor pipes warm and insulated to avoid from freezing and bursting. Keep sinks from leaking around the edges by applying silicone or elastomeric caulk, both water-resistant.
We recommend sealing gaps between sink edges, backsplashes, and countertop by caulking. There are spray-on rubber coatings available in the market designed to protect wooded kitchen cabinets since this spray coating is both waterproof and heat-resistant.
Improve ventilation in your kitchen by installing an exhaust fan, splatter guards, and open kitchen windows regularly to help reduce kitchen humidity.
Do a routine check for leaks in your kitchen's water supply lines, drains, and appliances' hoses. Clean up spills immediately to reduce the chance of water leaking into your kitchen cabinets.
Place rubber mats under the sink cabinet made of waterproof material that can withstand dampness and moisture if a leak should occur.
You could also waterproof your base cabinets by lining tiles along the base of your under-sink cabinet with peel-and-stick vinyl floor tiles for additional protection. Applying polyurethane sealer on the edges and corners of your kitchen cabinets will protect these weak spots from water leaks that can cause mold build-up.
Invest in a good backsplash since it can also protect your under-kitchen cabinets from splashed water from your sink and getting your wall wet, which can, in turn, travel down into your kitchen cabinet, causing water damage over time. See more types of kitchen backsplash here.

Another best option is to install a leak and flood alarm product in different areas of your home, such as cellars, sheds, and garages. This alarm system could detect leakage using a built-in water sensor and a 90db alarm to notify homeowners of a leak.
How Can I Replace My Kitchen Floor Without Removing Cabinets?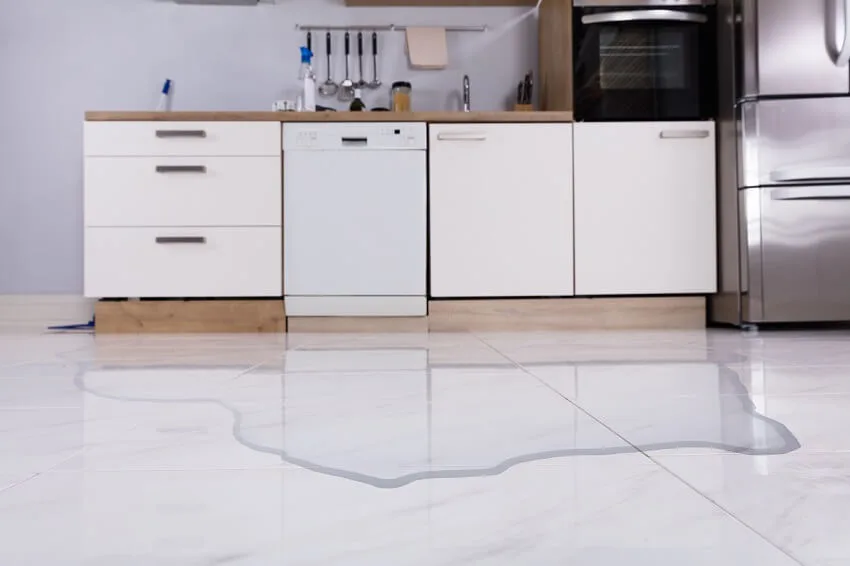 There are several ways to replace kitchen floors without removing the cabinets; you may need to consider the type of flooring materials you would want to install. The most straightforward material to use and the easiest to install is linoleum or wood laminate flooring.
It only requires you to get as close as you can to the cabinets' base and then trim the linoleum or laminate pieces as needed to lie neatly alongside the cabinet base. Read more about our guide to the best kitchen floor ideas on a budget.
It is also possible to install porcelain or ceramic tile flooring; however, the installation process is more complex, especially with cutting the tiles, and would require a special tool.
Since the tile is thicker than linoleum or wood laminate flooring, installing it on top of the existing floor without removing the cabinets, you may need to consider the height difference of the countertop.
Another option is to remove most kitchen floors leaving the tile underneath your cabinets. With the help of a power tool such as an oscillating or rotary saw, this will allow you to make tile cuts that flush to the cabinets' edge creating a clean and professional look.
You may also want to install strip molding to hide the gap between the base of your cabinets and the flooring to achieve a neat and discrete appearance.
Water damage is not to be taken for granted since it can ruin your kitchen cabinets, floors, and even walls. We hope that these topics showed you alternative ways to protect and repair your kitchen cabinets from water damage and help keep your mind at ease.
Visit our guide on how to fix water damaged wood floor for more related content.