In this gallery of basement lighting ideas you'll find the different types, options for basement ceilings, stairwells, bulbs, color to use, and best light fixture choice.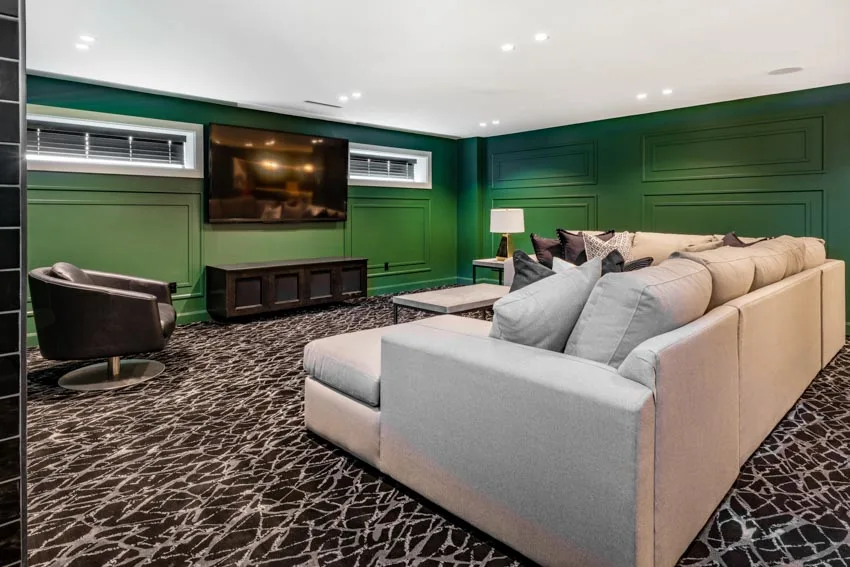 If you have a basement at home then you probably know that lighting can be an issue. Since you often can't get enough natural light in the basement (even if you have windows and doors in it), the only choice you have is to install excellent lighting that can provide enough brightness to the room.
Creating a lighting plan is the most practical move you can do for your basement. A lighting plan will involve assessing all your lighting needs and prioritizing functions. Lighting can sometimes become an afterthought in a project, which is a big mistake since excellent lighting can add to your home's value, increase its safety and security, and also improve its aesthetics.
When installing the lighting in your basement, you'll want to flip the switch at the top of the stairs for your own safety. But in terms of the types of lighting to install, there are a variety of options to choose from.
Types Of Basement Light Fixtures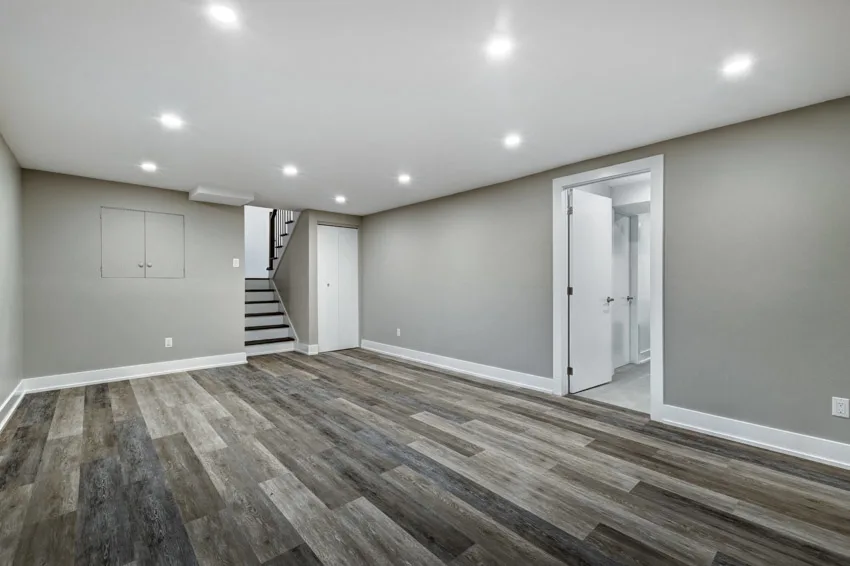 When designing and renovating your basement, what are the different types of basement light fixtures? Would installing a light bulb be enough for your basement? If you want to make the most out of the space you have in the basement, setting the right mood and atmosphere will accomplish this.
The type of lighting fixture to install in your basement will depend on how you will use the area in the first place. If you are turning it into a basement kitchen, you will want bright lighting to conduct meal preparations effectively.
But if you want to turn the basement into a bedroom or an entertainment area, lighting that you can control the illumination of, is recommended to create a comfortable and chill ambiance.
Recessed Lighting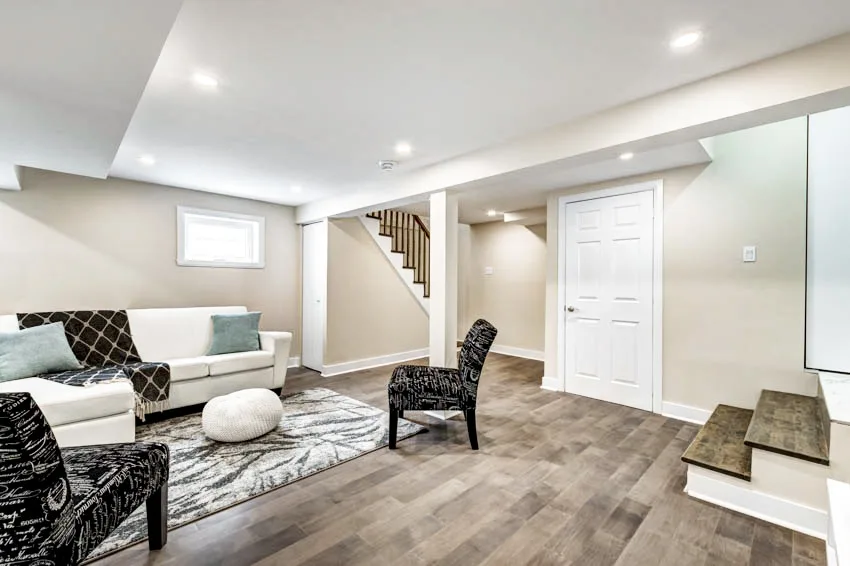 Recessed lighting is the ideal fixture for basements since you can adjust the level of brightness you want the basement or specific areas of the basement to have. You can install dimmer switches to have better control of the brightness of different types of ceiling lights.
You can install recessed lighting to cover the entire ceiling of the room for complete coverage. Another option is to use recessed lighting for specific areas and not the entire basement. The strategy of using dimmer switches and choosing specific areas to install lighting both can help you save energy and money in the process.
One of the areas you can install different types of recessed lighting is the basement stairway. You can install it directly into the wall or the ceiling of the walkway to illuminate the area so that you can safely go down the stairs.
If you just want to simply light up the basement for functionality and efficiency, they can be a good option since they are considered low-profile and don't take much space. There is also a wide range of color temperatures to choose from so that you will set the right feel you want your basement ideas to have.
Track Lighting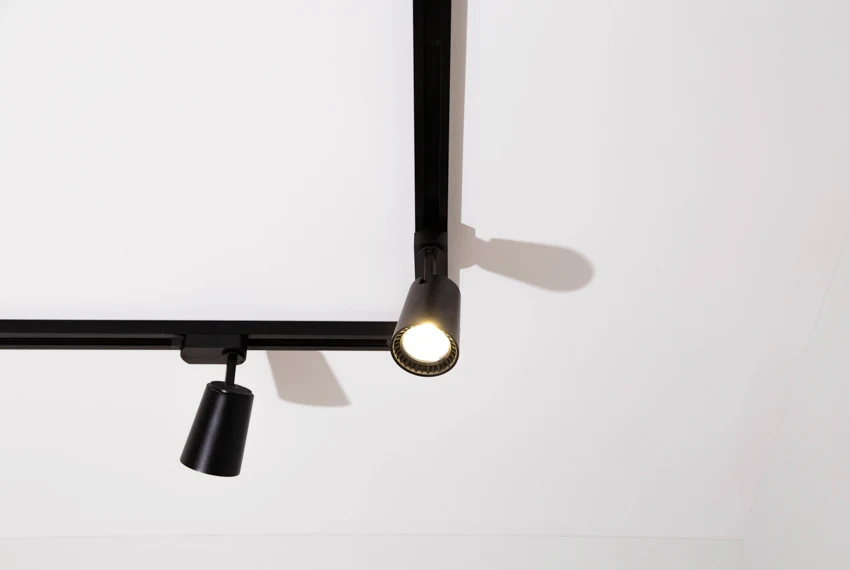 Track lighting is comprised of movable light units attached on a wire track or solid metal with the respective individual light switches that control them.
Since they are movable, track lights are flexible and do not need tools just to move them around. Is it a good option for your basement? It might not be the ideal choice for basements with ceilings lower than 8 feet tall since they can obstruct one's vision.
The great thing about track lights though is that since they're movable with their own switches so you can place them in separate locations to highlight elements in the room. You can use them to accent furniture, artwork, and decor in the room for a better appeal.
Linear Light Fixtures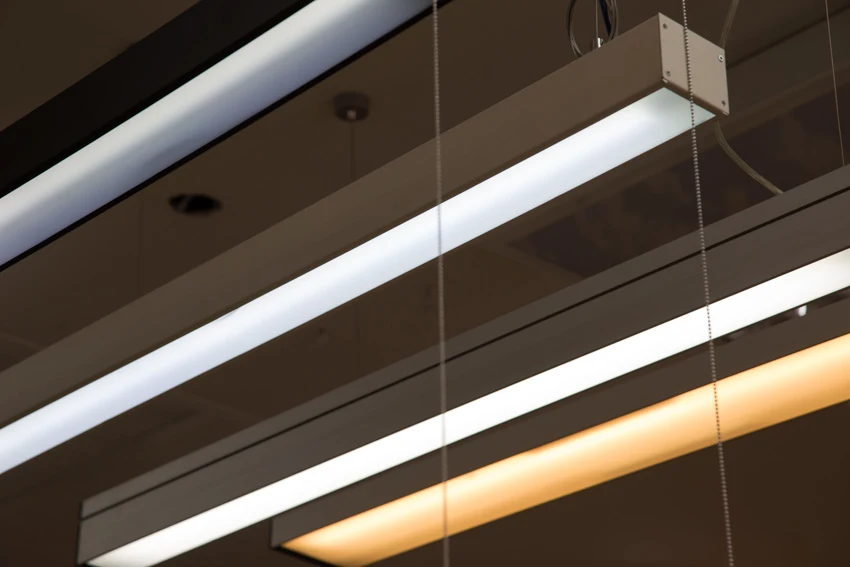 Linear light fixtures feature long-shaped optics compared to square or round ones, which you might prefer if you want to stray away from the traditional look. These light fixtures are elongated and normally suspended from the ceiling.
First introduced in the 1950s, linear lighting became a hit in industrial spaces. The technology then developed and improved, from its aesthetics to its performance, leading to more spaces and industries adopting it.
Linear lighting is flexible and has this aesthetic appeal which is the reason for its popularity. It is highly flexible since you can mount it on any type of ceiling (from grid ceiling to surface-mounted) and can also have it suspended and recessed.
Pendant Lights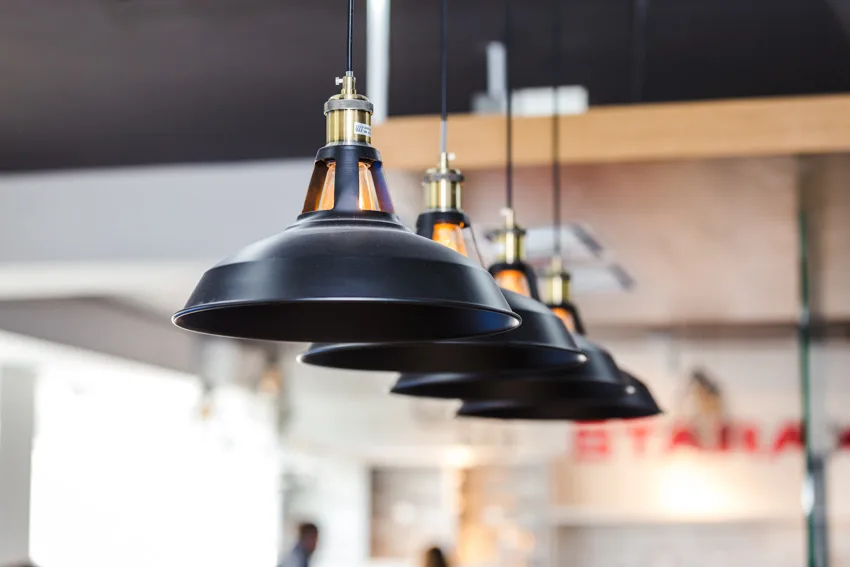 Pendant lights are ceiling lights that consist of one or even as many as 12 bulbs, which are all suspended in the air using a rope, chain, and other similar connectors.
There are different types of pendant lights that come in a variety of styles, from incorporating glam materials like gold and crystals to using different shades on the pendants.
If you want to spruce up your basement to something extravagant, pendant lights can deliver both function and aesthetics well. You can use pendant lights as spotlights to emphasize specific elements in the basement for added aesthetics, including works of art like sculptures, paintings, and decor.
Pendant lights can be used in the basement as a primary light source but they could also be chosen as a secondary light source, which can bring a unique lighting effect in the room that can catch anyone's attention. And the great thing is that it doesn't take up any floor space (A good choice if you have a small basement!).
You can use pendant lights in the basement design if you plan to transform the room into a home office. Pendant lights deliver excellent lighting, which is a great option over a desk, improving the mood and boosting productivity.
Pendant lights will also look wonderful over a bar, giving more emphasis to the area. Choose a sleek and streamlined pendant light for a fitting aesthetic.
Wall Sconces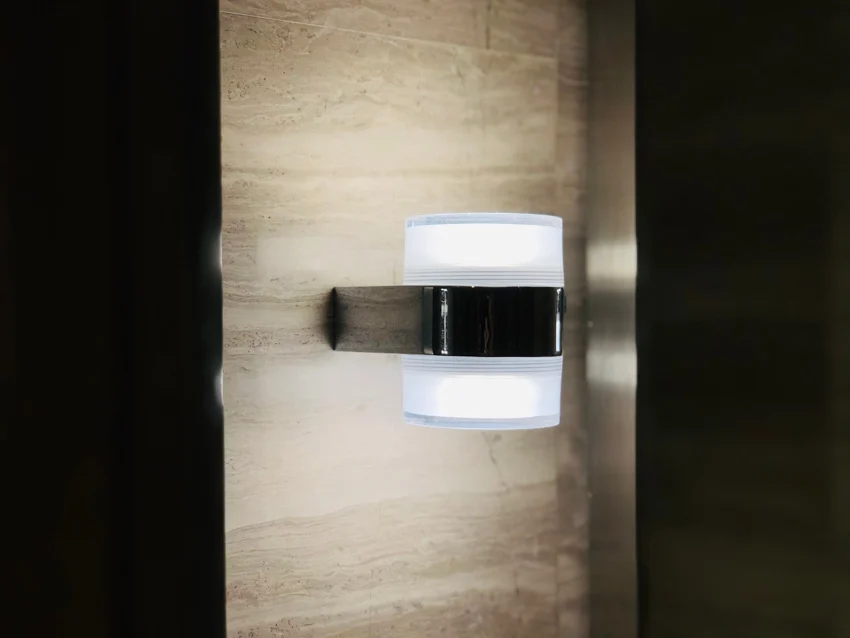 Wall sconces come in different styles, from traditional and rustic to modern and contemporary. You can even find antique wall sconces and even sconces with an industrial look to them.
So if you're going to install wall scones in your basement, there are a variety of options you can consider. And yes, you can use wall sconces whatever plan you may have for your basement.
Sconces are switch-controlled and have their lighting pointed upwards when they are mounted to the walls. Wall sconces can be a good addition to your basement, particularly in the walls beside the stairway.
The sconces will light your path and help you safely go down the basement. Just make sure the wall sconces are installed high enough that they won't get in your way when you go up and down the stairs.
If you choose this particular lighting for your basement, you get more than lighting but also additional decorative elements in the room. You can spruce up your basement's wall just by installing and mounting wall sconces for the room's lighting.
Floor Lamps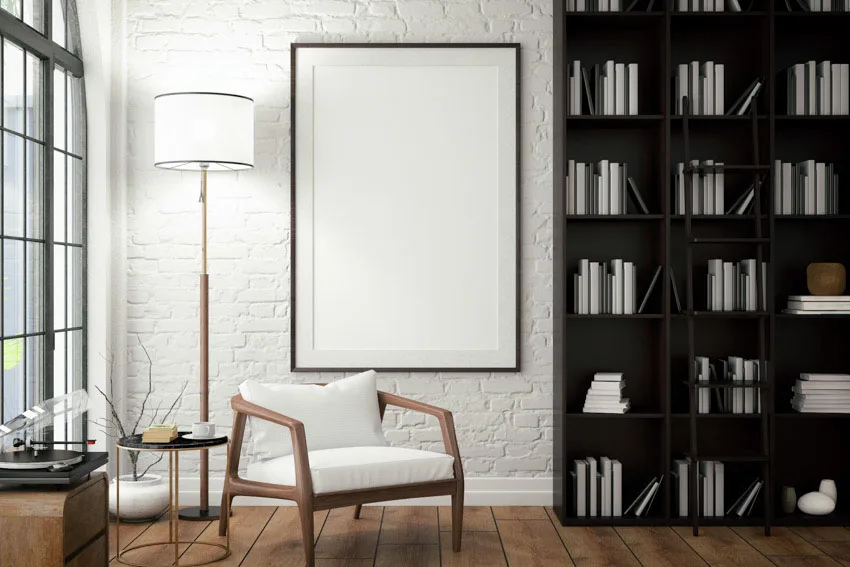 Floor lamps are a type of lighting that stands tall on the floor, mostly at eye level to provide better brightness. They're usually positioned in the corner of the room in order to have more coverage to light in the room.
If you plan to transform your basement into an entertainment room or a lounging area, floor lamps can also be positioned behind the seating area, just providing enough light to the relevant areas in the room.
You can choose different types of floor lamps to use in your basement for additional decor and to increase light for particular activities like reading where you want light for a specific area only. You can even move it around when necessary. This flexibility is what makes floor lamps a good choice.
Floor lamps are also usually switch-controlled. To turn the light on or off by the door, you can easily plug it into a switch-controlled wall outlet. Choose from a variety of floor lamp types, including fluorescent floor lamps, halogen floor lamps, and led floor lamps.
Basement Ceiling Lights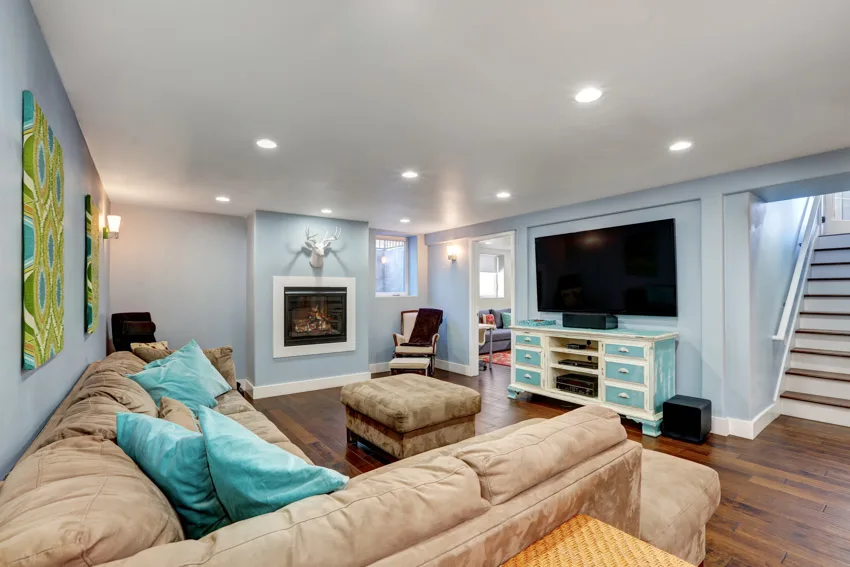 Ceiling lights are the best option for basic general lighting with wide coverage, most usually installed at the center of the ceiling and the room. They are controlled by a wall switch, significantly positioned near the door for convenience.
This is the ideal option if you just want to light your basement up. If you want drama and create light zones or a comfortable vibe, you can convert your ceiling light to pendant light or recessed light.
Basement Stairwell Lighting
The stairwell of the basement is an integral part of the area but it usually comes with tight spaces and low headroom/ceiling. Limited lighting is normally associated with a basement stairwell but this should not be the case, especially when it deals with your safety while going up or down the stairs.
Choosing the right light fixture for this limited space can be tricky though since while you need enough light to trek down the stairs, too much light can be blinding. Some of the most practical lighting options include wall sconces and general ceiling lights.
Light Bulbs For Basement
Light bulbs come in different designs, technologies, and colors, and choosing a specific one for your basement can be quite a challenge. The choice depends on the ambiance you want to have in the basement and how you wish to transform the room in the first place.
For normal overhead lights, CFL (Compact Fluorescent Lights) and LED (Light-emitting Diodes) are the best options to consider. They provide an incredible amount of light without consuming too much energy and head. In fact, compared to the traditional incandescent bulbs, CFLs and LEDs are more convenient, environment-friendly, and cost-effective.
While an incandescent bulb may be cheaper (around $1), it can only last an average of 1,200 hours. A CFL bulb (at least $2) though can last 8,000 hours and an LED light bulb (at least $4) can last up to 25,000 hours. This is the reason why the choice when comparing these bulbs is clear, especially if you want a long-lasting option.
Best Light Color For Basement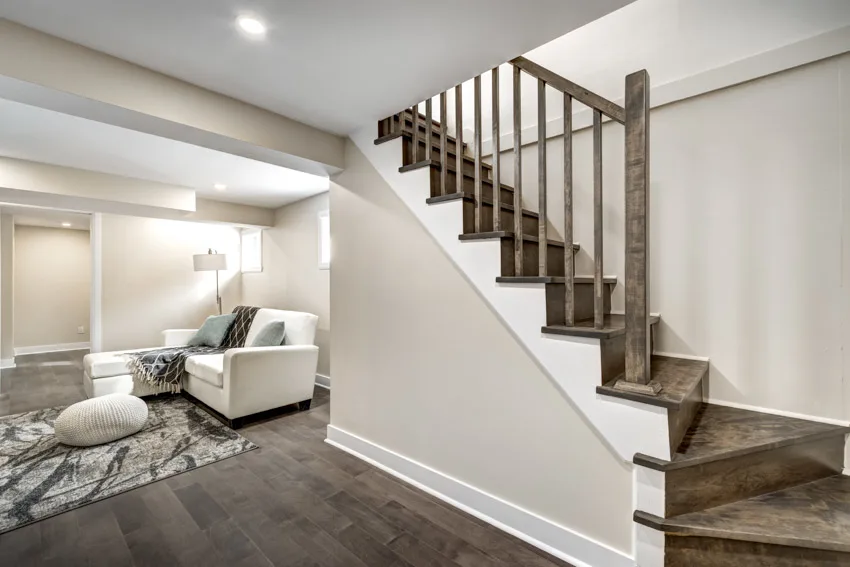 One consideration you need to decide on is the light color you will use in the lighting of your basement. The color you choose will affect the feel you have going in the room, the same goes with your basement.
Depending on the look you want to show, you can choose from a wide spectrum of colors, including the following:
Warm White: Warm white leans more towards a warm yellowish hue, which is often seen in wall and pendant lights, commercial and restaurant ambient lighting, accent lighting, and floor lamps.
Cool White: Cool white on the other hand offers a solid white color, which is recommended as task lighting for garages, basements, work environments, and other areas that will require you to see your surroundings as clear as possible.
Daylight: Daylight on the other hand has this white color with hints of blue that people provide a cool and more neutral color in the area. This light color is a good option for security lighting and for display areas and garages.
Best Lighting For Basement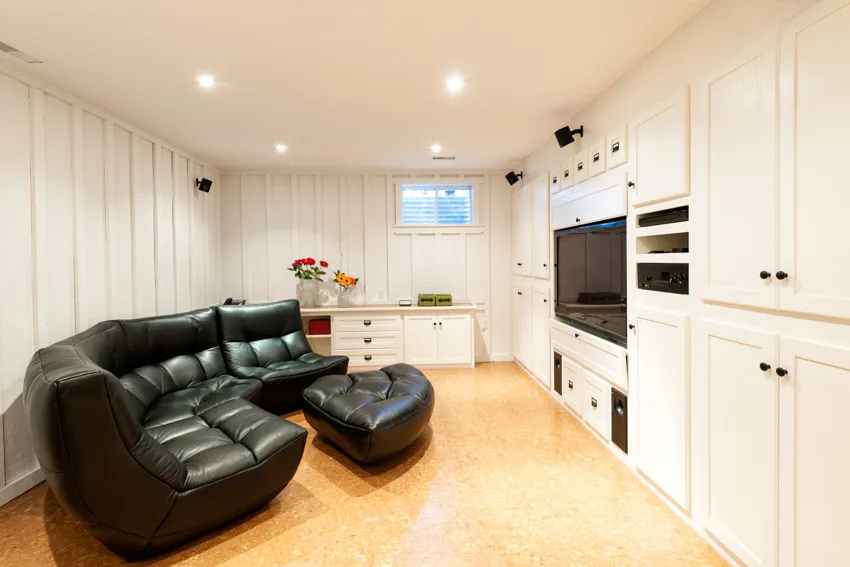 With all of the types of light fixtures and options available, what could possibly be the best option for your basement? Generally, cool white and daylight lighting would negate the basement's dark and gloomy feel.
LED lighting is one of the go-to options for lighting the basement, not just because of the cool white color (with a temperature of 87 degrees compared to the 335 degrees of an incandescent light bulb) of the light.
It's because it has an energy-saving characteristic that makes use of 75% less energy compared to incandescent lighting. LED lighting also has a longer lifespan, with around 50 thousand hours compared to the 1 thousand hours of an incandescent light bulb.
It will be an entirely different matter though if you plan to transform your basement into another kind of room or area. If you plan to transform it into a room or area that requires a different feel than a bright room, you can warm white lighting or lighting fixtures.
This option allows you to either dim the room or just specific areas of the room that may appear to be an accent of the room. You can check out recessed lighting if you want a comfortable and gloomy vibe.
You can help better visualize your ideas by using one of the different basement design software programs found on this page.