Below we share the best ways for decorating a combined living and dining room including pros & cons, lighting, colors, and decor.

One of the biggest trends seen today is the open concept floor plan. This is often done is by combining the space of the living room and the dining room areas together in one space. Combining a living room with a dining room has many benefits, especially in smaller areas.
Combined Living Room And Dining Room Pros And Cons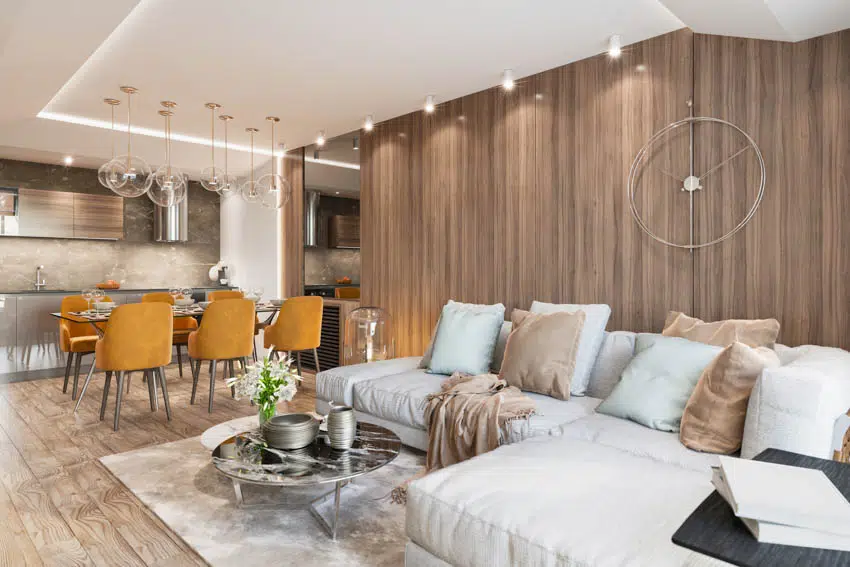 Here we share the advantages and disadvantages of a combined space with a living room and dining room in it.
Combined Living Room & Dining Room Pros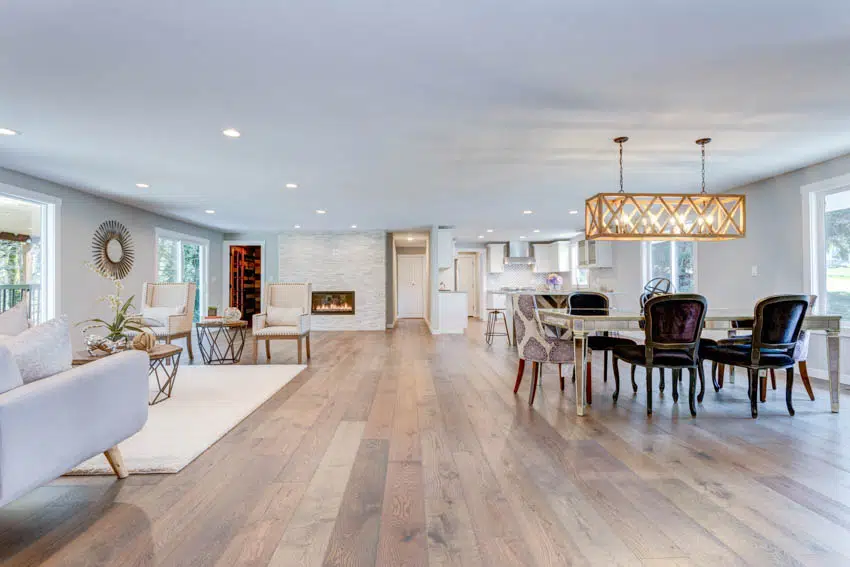 Flexible Layout. With an open concept living room one can reconfigure their furniture exactly how they want and be able to accommodate a wide variety and different sizes of furnishings.
Great for entertaining guests. The homeowner can see what is happening in each of the spaces. Meaning you can watch TV, listen to music, talk to the people in the living room, from the kitchen and/or the dining room while you are preparing meals.
Better resale value. Many home buyers are looking for open-concept layouts that can have a positive impact on your home's resale value.
Easier for watching young children. This can also be good if kids are doing their homework at the dining room table while a parent is close by to help if needed. In theory, you cannot be in two spaces at once, so may as well make it one large one.
Open concept has a lot more natural light. A larger space typically has more windows and natural light as well as multiple living room and dining room light fixtures.
Can use the layout you currently have. Some homes are not designed with a dining room, just a large living room. This puts you in a corner, but by combining the spaces, you get the best of both worlds without any major remodel.
Combined Living Room & Dining Room Cons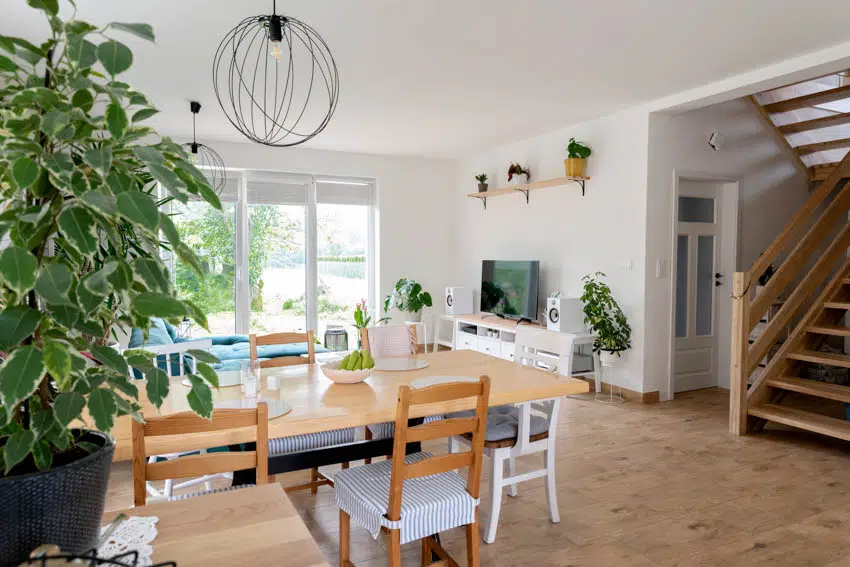 Poor sound control. It can get a little noisy from one room to another with wide-open spaces without a partition. As great as it is to interact with the others in the home, it may not always be wanted.
Easier to become cluttered. In an open floor plan with a combined living room and dining room items are not contained in a designated area. This can contribute to clutter if one is not careful.
Can become overcrowded. If the floor plan is not a large enough area (or an area meant to be two rooms) it could become cramped, this can make it feel as though the furniture and the users are sitting on top of each other and will cause a bad flow of traffic.
Based on the above-mentioned pros and cons can help you decide which living room remodeling ideas, decorating tips, and tricks you need to use in your space.
Creating Separate Living & Dining Room Spaces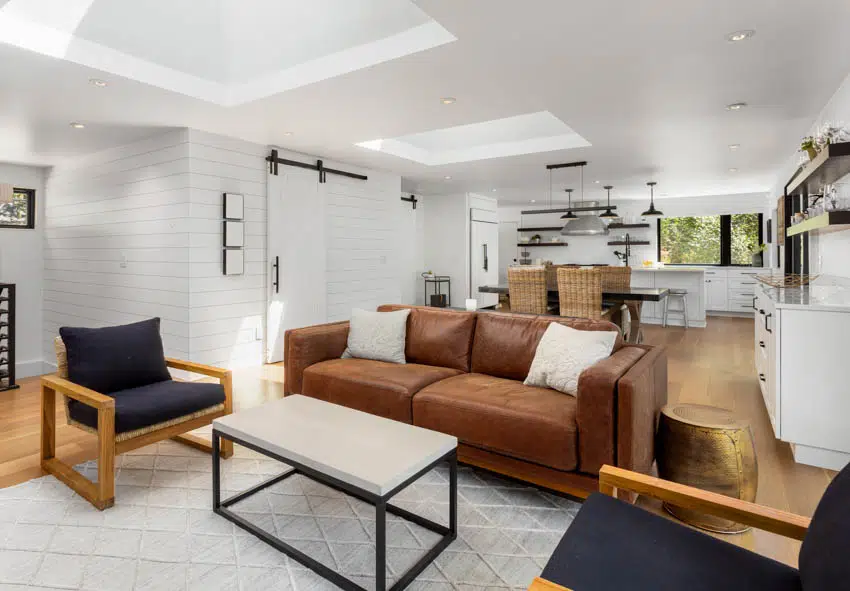 Using Furniture: Creating separate spaces can be done pretty simple, as long as it is done with a purpose. Using the largest couch as a barrier between the two areas is one of the best ways to define the space. Adding a couch table behind the couch is an additional way to define.
Create Separation: Another good tip is to leave a walkway, even considering adding a rug there, between the two spaces. If you cannot accomplish that make sure the dining chairs backs are to the largest couch.
Doing that offers the largest barrier between the two areas. If the space is too small for the walkway and rug there, adding one in each space brings a center to each area and designates them not the same.
Use a Divider: If none of these tactics are sufficient in separating the spaces there is an option of getting a folding screen. This is an item that can add beauty to an area, can even be a piece of art if you let it be. Folding screens can come in pretty much as shape, size, and color imaginable.
Paint Colors for Combined Living Room & Dining Room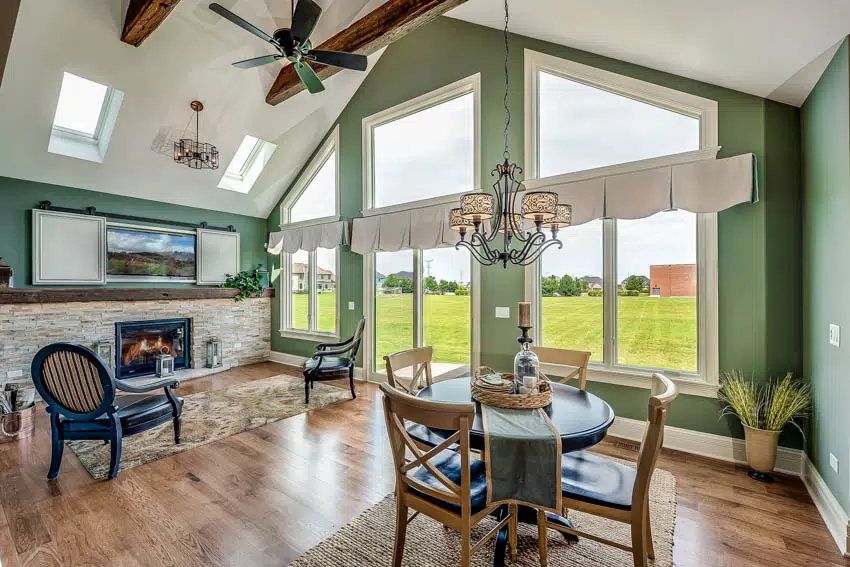 Using Colors: Using a few different colors in each space can give a separate look and feel, but these colors need to coordinate to keep the two areas from clashing.
Selecting a neutral living room paint color throughout and adding the same two or three accent colors in both spaces can keep things different enough while still coordinating.
For example: Paint the walls a neutral greige, for the living room furniture use variations of light pink, white, and greige. Keep all hard surfaces a darker greige.
In the dining room use the same darker greige on all hard surfaces, switch the pink for leaf greens and some paler orange, as well as some white.
To tie it all in together, throw in some art that includes pale orange and pink flowers with green leave. This gives the spaces two separate accent colors while tying the two rooms together.
Lighting for Combined Living Room & Dining Room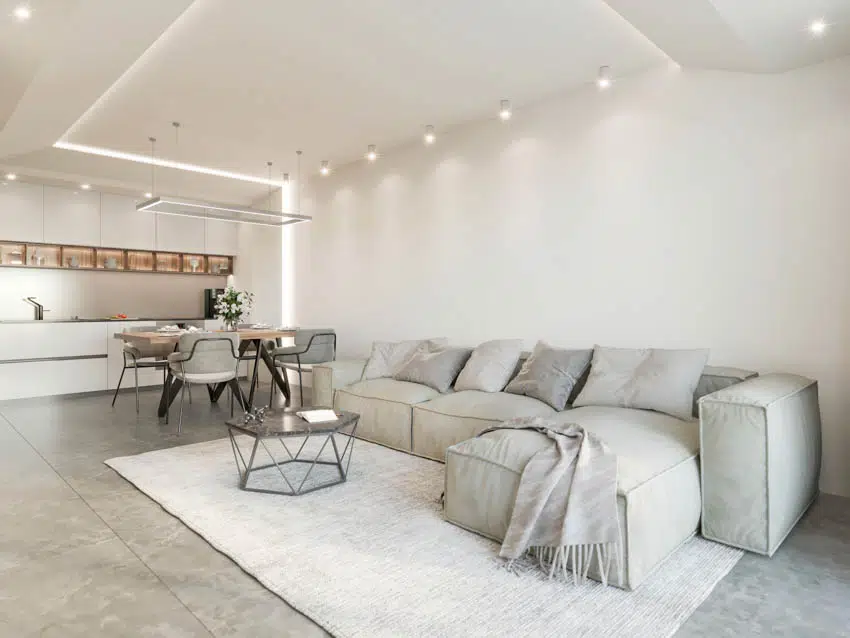 Using Lighting: Lighting is important to creating separate spaces in two ways: its location and its style. The absolute best way to define a dining room is to have a lower hanging fixture right in the middle of the table.
This is done in a lot of homes to designate the space allotted for the dining table. This can be accomplished by hanging a beautiful chandelier or pendant lights above the dining table.
Adding dimmers to the lights can give you more control for when the space is not in use as well as create the right ambiance when needed.
In a living room, there is typically something less elaborate. Sometimes there are just a few ceiling lights, sometimes a ceiling fan and light, often there are floor lamps on either side of the TV, and any of its flanking furniture.
Avoiding glare is more important in the living room than the dining room, but as one space it needs to be kept in mind on both fixtures. See more popular types of light fixtures here.
Combined Room Decor & Flooring Ideas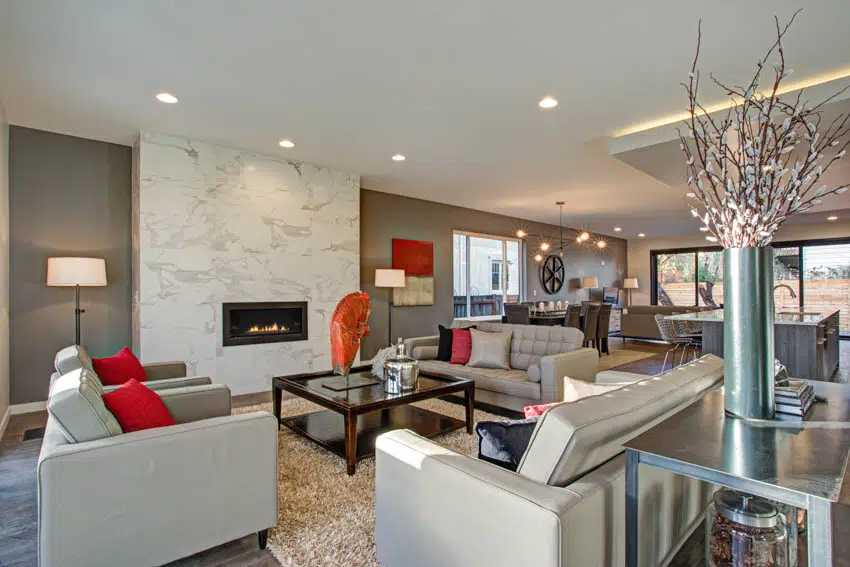 Using Art: Instead of looking at your one long wall, imagine it as you are imaging the spaces – as two. Having two separate layouts (Whether you choose one larger piece or a spread of multiple pieces) breaks up the area, and the wall.
Most of the time it is difficult to tastefully fill a wall the span of two rooms, plus this gives room for two schemes or focuses. As mentioned in the color section, art selections can play a huge part in tying the rooms together.
Selecting the same finishes or styles for art is important to keep things cohesive. You don't want to have a modern style painting with a vintage photograph 3 feet away from it.
Use Flooring: Dividing a space with flooring is a fantastic way to define two different areas. Living rooms being carpeted and a dining room in linoleum, vinyl, hardwood, or really any hard surface, gives an immediate definition of the spaces.
You can also use large area rugs to create separate living and dining room spaces. The separation is outlined right there in the floor and it even gives each space the flooring it probably needs.
This can also be a good reason to keep food and crafts in the dining area while the games and the family time stay in the living room to avoid difficult spills. Check out this page for more dining room flooring ideas.