Below is our painting bathroom cabinets color ideas including paint colors based on styles and the most ideal paint color tips to match your bathroom design.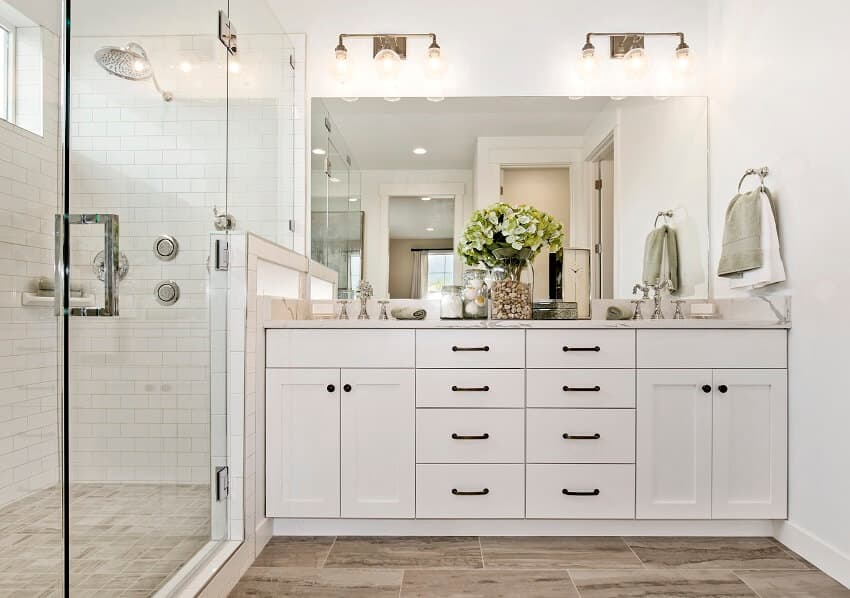 If you are dissatisfied with your bathroom but don't want to invest in a thorough renovation, here's a quick method to update the aesthetic of your bathroom – paint your bathroom cabinet.
Since it is one of the most visible features in your bathroom, a new application of paint could be a great solution to refresh the general vibe of the space with little effort.
Repainting your bathroom cabinets is considerably simpler than you would imagine, specifically if you use high-quality paint. Determining the appropriate paint color for your bathroom cabinets, on the other hand, might be difficult without the assistance of an expert.
Are you a fan of a minimalist aesthetic, or do you like a lively, vivid color for your bathroom? We are here to assist you in making your decision. Let's talk about it in this article.
Bathroom Cabinet Paint Colors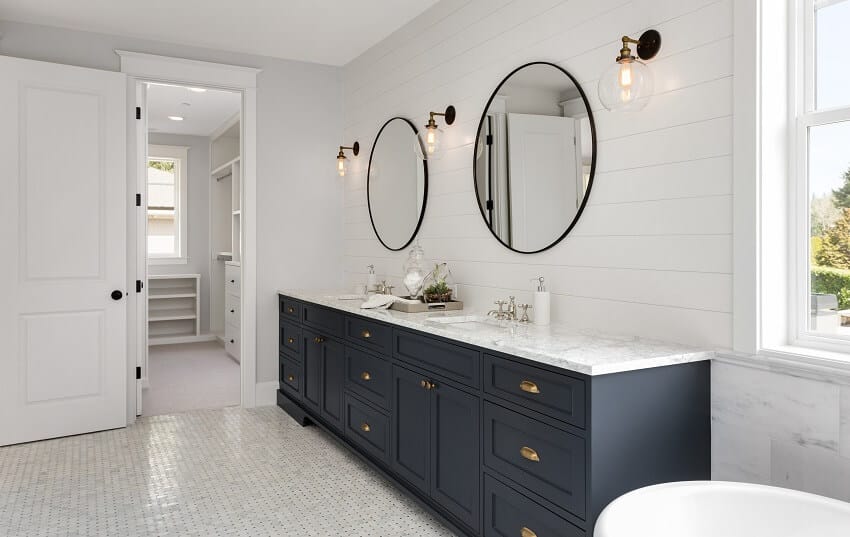 Here are some of the ideal paint colors you can apply to your bathroom cabinet:
Gray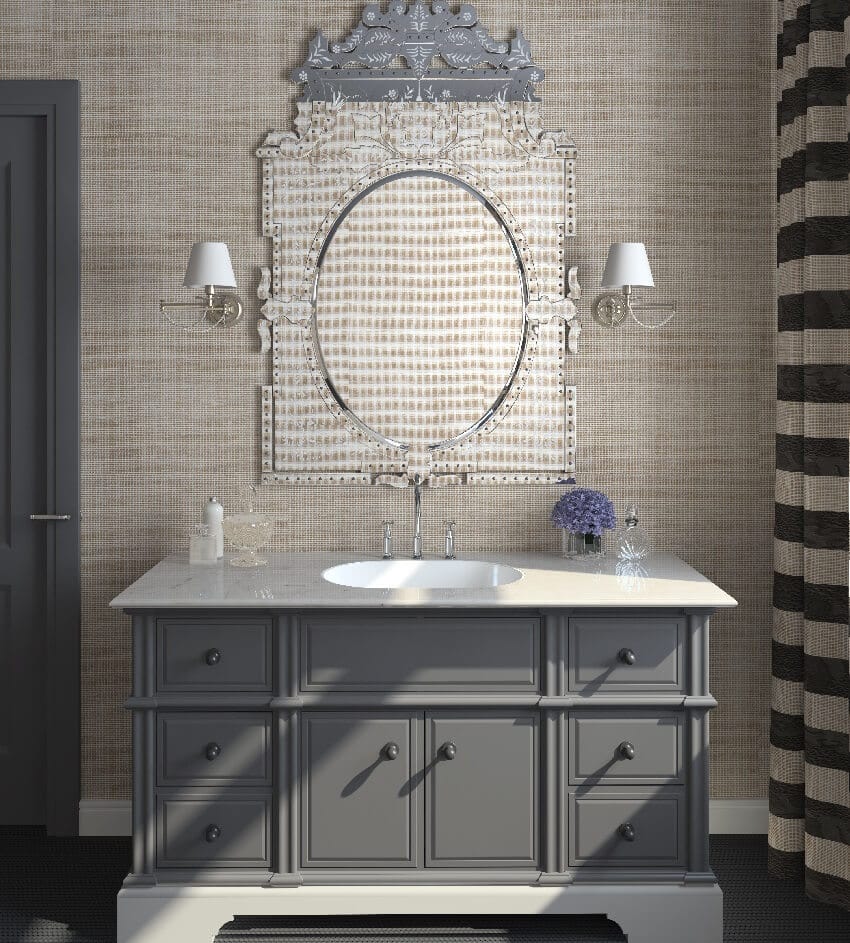 A light grey cabinet selection, without a doubt, provides your bathroom with a sleek vibe. Light gray is ideal for anybody looking for a burst of color in their bathroom and works with almost anything.
To achieve a gorgeous effect, go with a brighter gray rather than a darker shade. This neutral paint color is fantastic since it can be paired with any décor.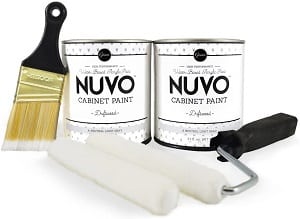 See Nuvo Driftwood Grey Cabinet Makeover Kit at Amazon [sponsored link]
We would highly suggest the Nuvo Driftwood Grey Cabinet Makeover Kit (B0976YCH56). This paint set does not have a strong odor and dries rapidly. It features a satin finish and is light gray. It can be applied directly onto your bathroom cabinet without applying a primer first.
Blue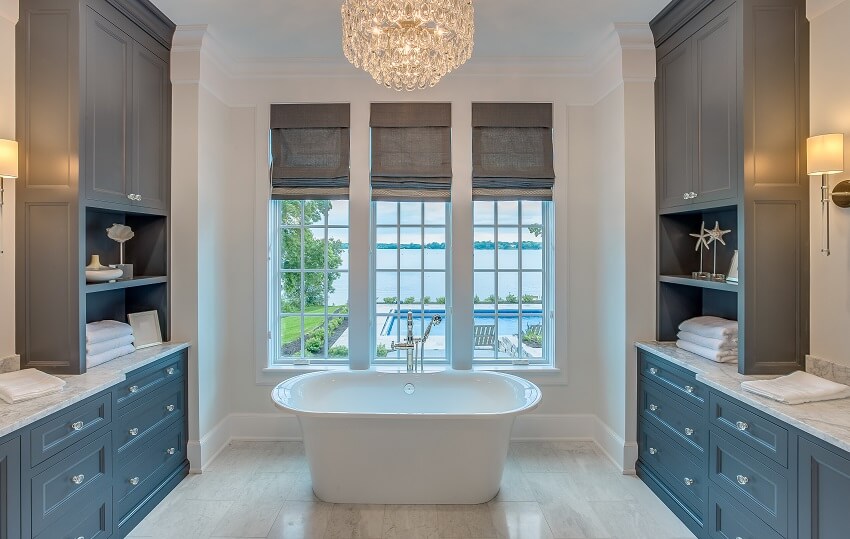 Blue is one of the finest cabinet paint color ideas since it provides a good amount of color and attractiveness to your bathroom. If you want to create a one-of-a-kind theme for your bathroom cabinets, we suggest working with blue.
Moreover, this color complements well with colors gold and silver. If your knobs, cabinet handles, and other fixtures are in these colors, blue is indeed a great option.

The Nuvo Oxford Blue Cabinet Makeover Package (FG-NU BLUE KIT) could be an excellent choice for painting your well-loved bathroom cabinet. This acrylic paint is water-based and low-VOC. This blue paint set can help you cover up to 100 square feet of cabinets.
Green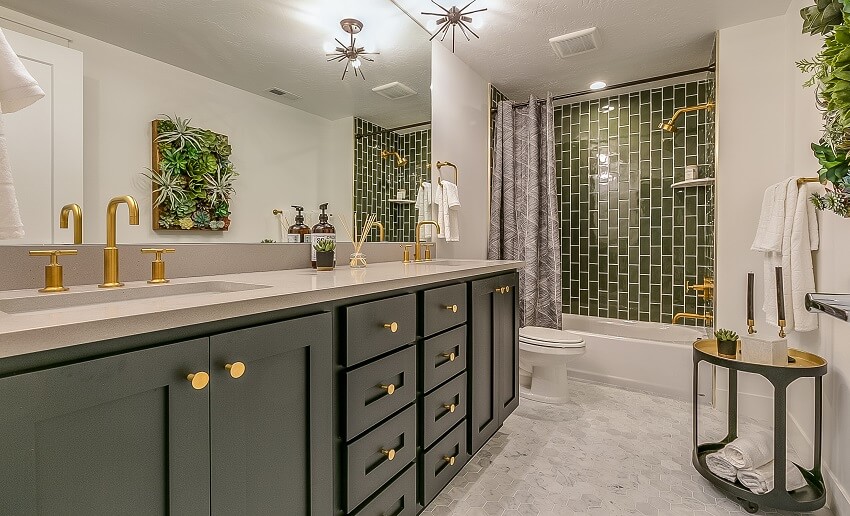 A green bathroom cabinet design is unquestionably eye-catching. Choosing green is a smart option due to its magnificent appearance and ease of customizing. Green is a terrific choice since it produces an earthy and natural vibe. It adds a very pleasant ambiance to your bathroom.

Rust-Oleum Hunter Green Cabinet Paint (1938502) is a satin-finish and latex paint that will look outstanding on bathroom cabinets, especially if the cabinet handles are bronze or gold;they will complement well with this elegant green paint. This paint has a minimal odor, is chip-resistant, and claims to dry in 30 minutes once applied.
Black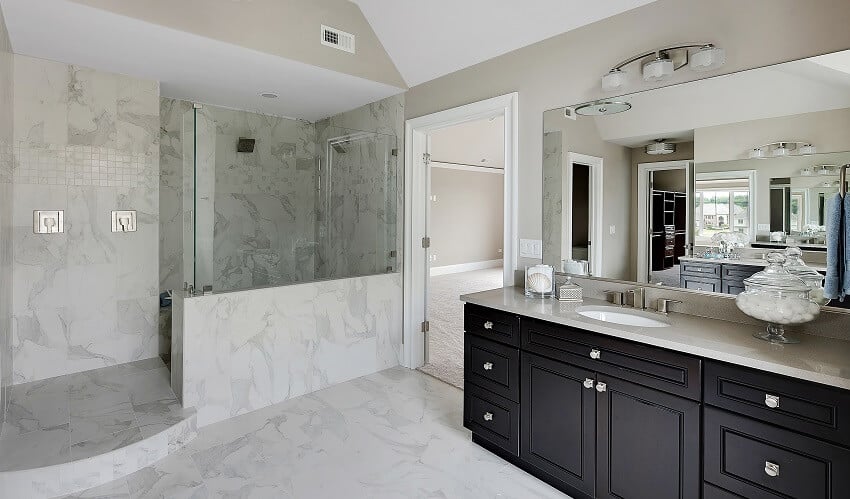 Black is one of the most unique options for bathroom cabinets, but being unique is what makes it special. This color is one of the boldest options you can try; it can revamp the appearance of your bathroom cabinet and your entire decor as well.
Painting your cabinets with black will truly give your bathroom a modern style that is quite on-trend. Though black cabinets may appear unconventional, this design option has grown in popularity in recent years.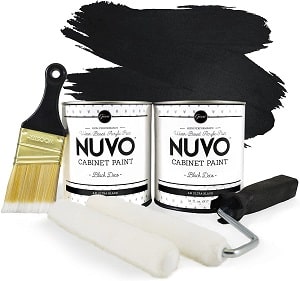 See Nuvo Black Deco Cabinet Makeover Kit at Amazon [sponsored link]
One of the most ideal black paint sets you can apply to your bathroom cabinets is the Nuvo Black Deco Cabinet Makeover Kit (FG-NU BLACK KIT). It leaves a very stylish satin finish and does not have an unpleasant odor. This acrylic paint is indeed long-lasting and can endure wear and tear.
Best Color For Bathroom Cabinets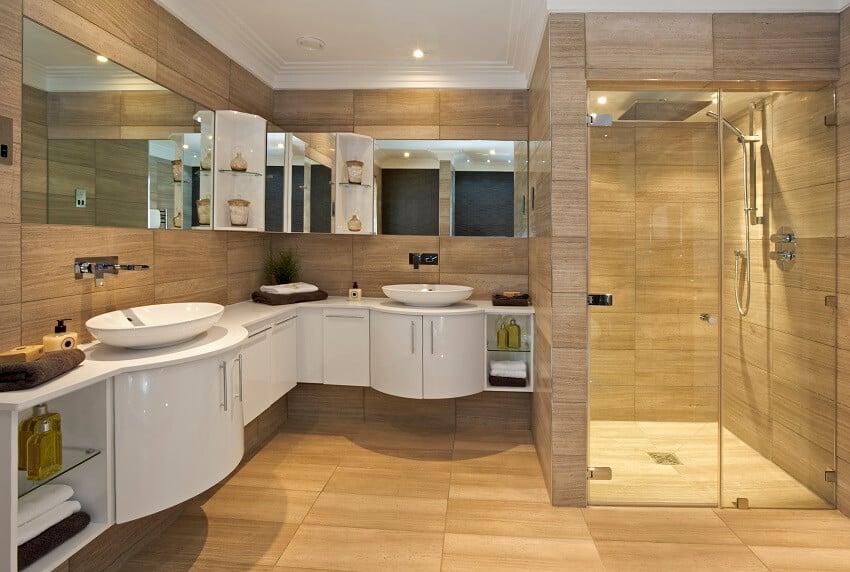 One simplistic method to beautify your bathroom with trendy cabinet color is with minimalistic white. You can never go wrong with this color as it can be matched with any color and design. This is why we are considering this as the best color for bathroom cabinets.
White cabinets offer a contemporary and pristine appearance, making them ideal for the bathroom in any house design.
If you decide to paint your cabinets white, you can also try incorporating a splash of vibrancy to your décor and counters. White is arguably one of the most flexible colors, and without a doubt, it can improve the aesthetic and overall look of your bathroom.
Bathroom cabinets will look great with the INSL-X Enamel Satin Sheen Cabinet Paint (CC550109A-01). This enamel-acrylic paint is oil-based and claims to be resistant to smudging and wetness. With this paint, you will have neat-looking and minimalist bathroom cabinets that are truly eye-pleasing.
What Color To Paint Bathroom Cabinets Based On Style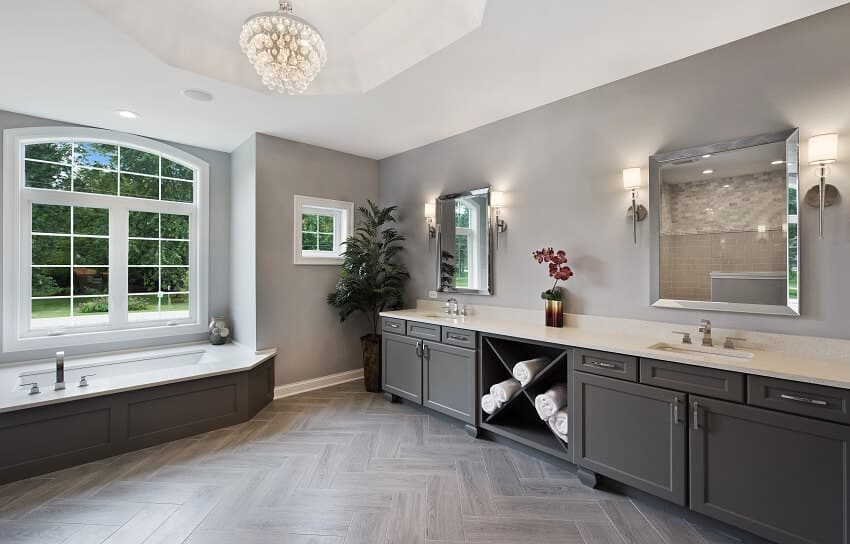 Due to their distinct appearance, paint colors such as black, green, and blue are becoming progressively trendy in houses.
Numerous house owners and designers recognize the need to stand out and prefer to repaint with extraordinary hues rather than white, grey, or beige.
However, that is not to imply that plain cabinet colors are out of fashion, but they do attract quite a lot of interest. So, in terms of style, you can try painting your bathroom cabinets either black, green, or blue.
What Is The Best Paint To Paint Bathroom Cabinets With?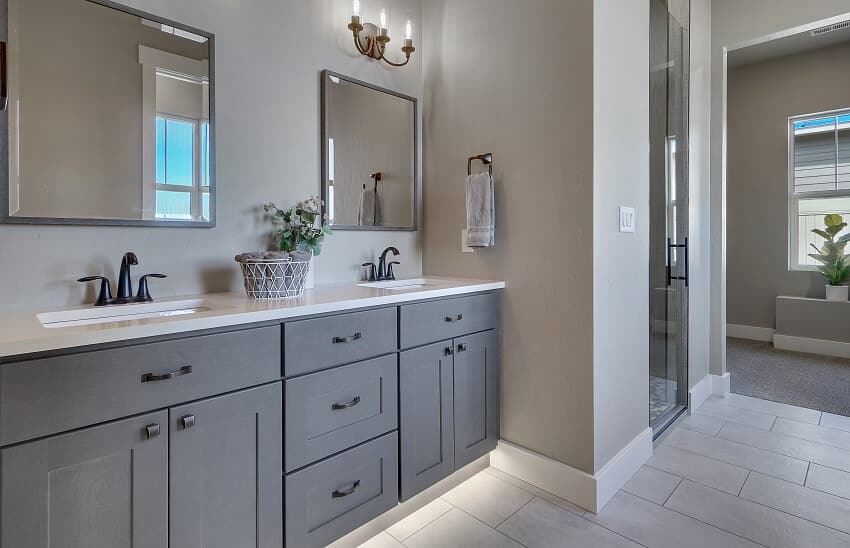 Acrylic enamel paint and oil-based paint are the most preferred options for bathroom cabinets. Acrylic or water-based paints are the most widely known and recommended forms of paint for bathroom cabinets since they are generally safe, low-fume, and can be quickly cleaned with water.
Moreover, oil-based paints are a great option as well because they give a firm and resilient paint surface that works well in the humid environment of a bathroom.
High-gloss finishes, generally, are more impervious to moisture and daily usage than matte finishes. Check out the best paint finish for bathrooms here.
The only disadvantage of oil-based paints is that sufficient ventilation is required since this type of paint contains chemicals that might cause you to feel nauseous.
Should Bathroom Cabinets Be Lighter Or Darker Than Walls?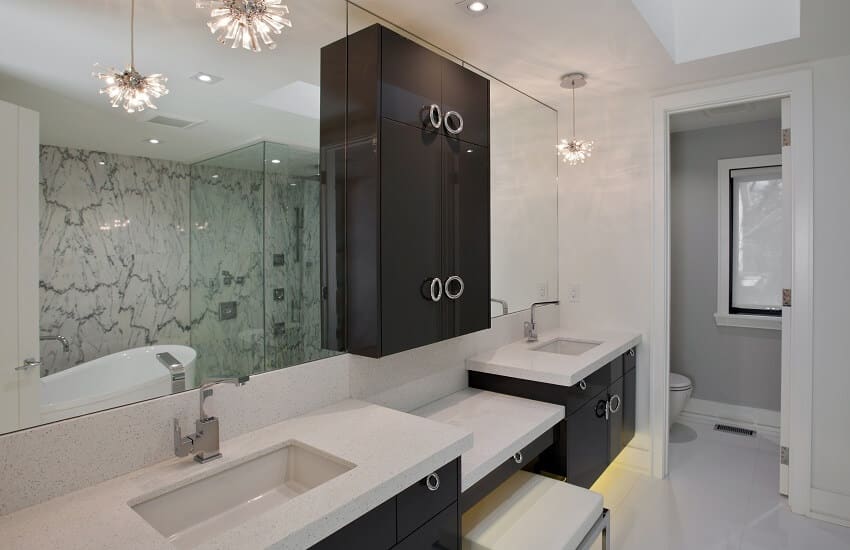 Normally, the cabinets in your bathroom must be darker than the color of your walls. Indeed, the majority of homeowners believe that cabinets should always be darker than the walls inside your bathroom.
It is very unusual to see bathrooms with dark walls and light cabinets. But still, the decision will always be based on your preferences. See our guide to bathroom paint colors with dark cabinets.
Nevertheless, we would suggest that you maintain your bathroom walls on the lighter side to open and brighten up your space and let your counters and cabinets be the focus of attention. Bathrooms tend to appear small and cramped, so the walls should not be dark as much as possible.
Is It Better To Paint Or Stain Bathroom Vanity?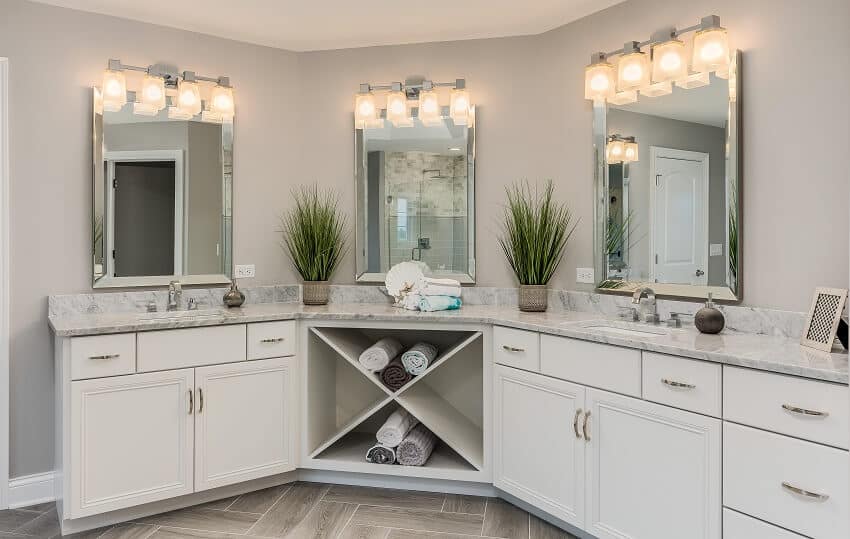 Paint and stain are both great ideas. If you want a neat and contemporary style, then you should paint your vanity. Painted vanities can look incredibly smooth, obscuring the wood grain.
However, you can stain your bathroom vanity if you like a more rustic and vintage design. Staining your vanity brings out the natural pattern of the wood and creates a more classic design.
There are plenty of various types of paint and stain. Whatever treatment you pick for your vanity, you'll have numerous options.
Although paint offers more color possibilities, stain treatments are also available. In that way, you can be sure to discover the right aesthetic for your bathroom.
Visit our bathroom remodel ideas for more related content.