Here's the best bathroom wall covering instead of tiles to use including design alternatives and materials to use for your bathroom walls.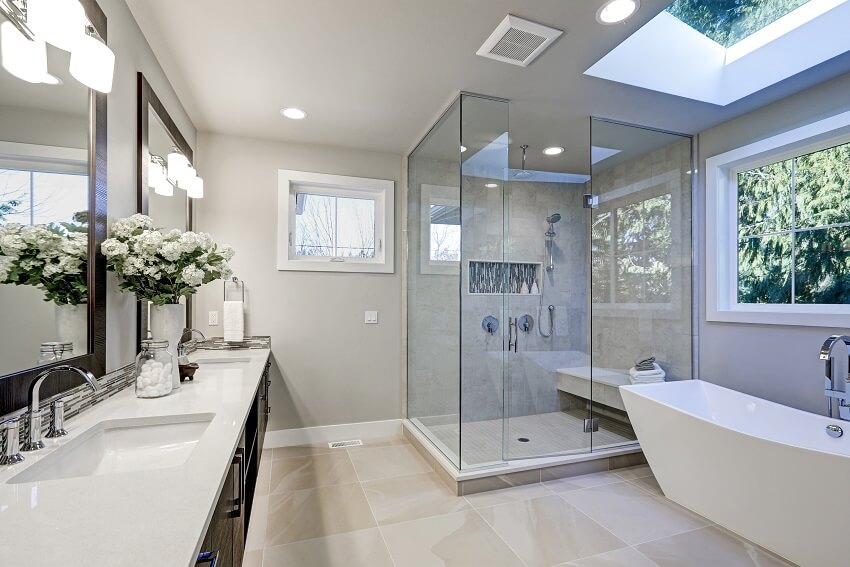 The most common type of bathroom wall covering is tiles, but, if you want to create a more unique bathroom for your home, you might want to consider other types of wall covering materials.
Tiles are a popular bathroom wall covering because they stand up well to getting wet or getting exposed to moisture. Aside from the fact that they are water-resistant and mold and mildew resistant, they are also inexpensive and come in a variety of colors, textures, and patterns.
In this post, we are going to look at good bathroom wall coverings you can use instead of tiles.
What To Consider for Bathroom Wall Coverings Instead Of Tiles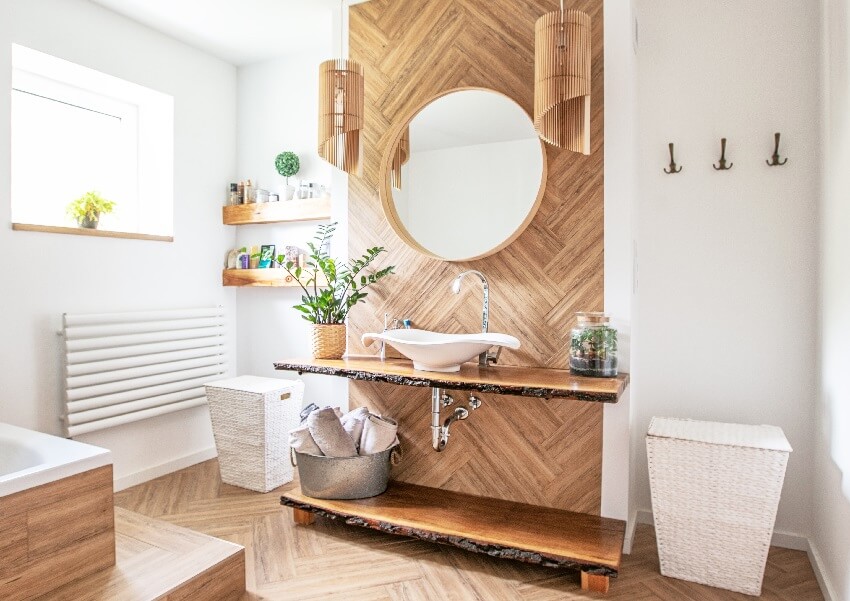 The most important thing to consider when choosing bathroom wall covering is the fact that there is a good chance that your bathroom walls will be exposed to water or moisture.
If we're talking about the areas around say the shower, bath, or even the sink, it's important that the material can stand to get wet. In general, bathroom wall materials should also be able to withstand getting damp from moisture or steam in the air.
Alternatives To Bathroom Tiles
If you want to use something aside from bathroom tiles, you would do well to consider the following materials.
Waterproof bathroom paint instead of tiles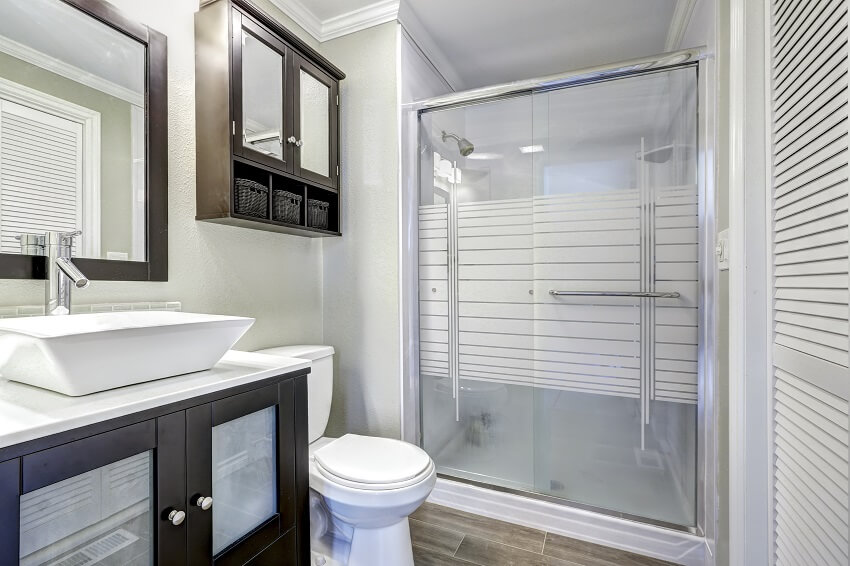 Paint is probably the cheapest and easiest wall covering option there is. You or a handyman can quickly apply a coat of paint to your bathroom walls within an hour to create an attractive and colorful surface for your room. See our guide to the best paint for bathrooms to get more ideas.
While paint may not be as durable as tile, it is also easy to repair and maintain. All you need to do is apply a fresh coat every now and then to spruce it up.
Take note, however, that not all paint brands are appropriate for use in bathrooms. You need to make sure that you find water-resistant or waterproof bathroom paint if you want to use paint as an alternative to tiles. You should also consider paint that is treated to be mold and mildew resistant.
Acrylic panels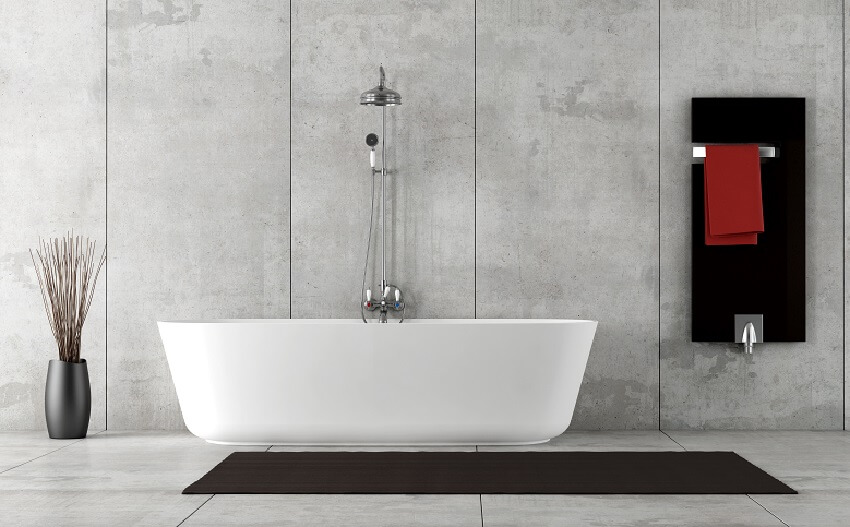 Acrylic panels are a good alternative to bathroom tiles. Acrylic shower panels are waterproof and can come in as wide a variety of colors and patterns as regular bathroom tiles.
These types of panels are a low maintenance wall material and can be cheaper and easier to install than tiles. For one thing, you don't need to worry about caulking or grouting. You can probably find acrylic sheets or panels in any hardware store.
They are also easy to maintain as, since they are not porous, you don't have to worry about mold or mildew growing on the panels. To keep the panels clean, all you have to do is wipe them down every now and then.
PVC wall panels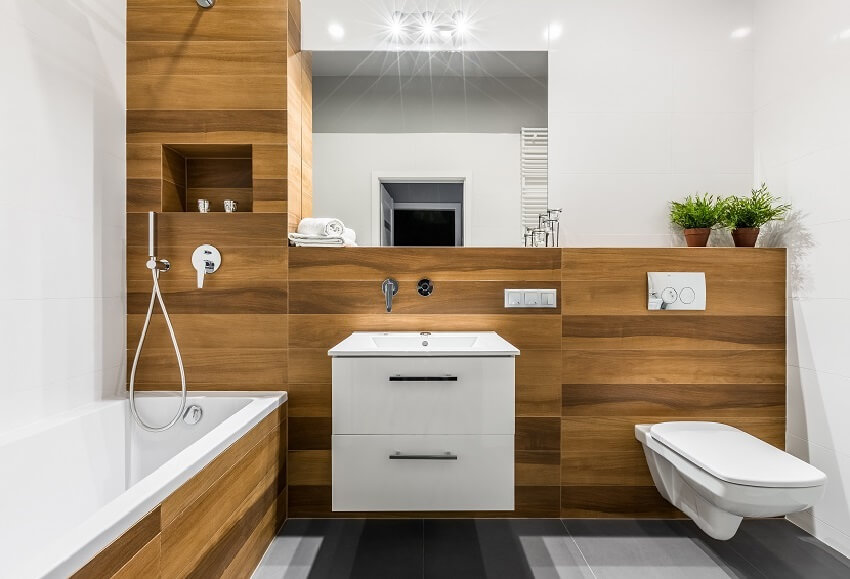 PVC wall panels are panels made for PVC that can be mounted and installed to your bare bathroom walls to create a smooth surface that is water-resistant. You can also find PVC wall panels that are treated to be mold-resistant.
PVC wall panels are easy to install and inexpensive. You can find these panels in a variety of colors, finishes, and patterns that can match your bathroom décor. Some manufacturers of PVC wall panels also offer custom-made options, so you are sure to find panels that suit your style.
Laminate panels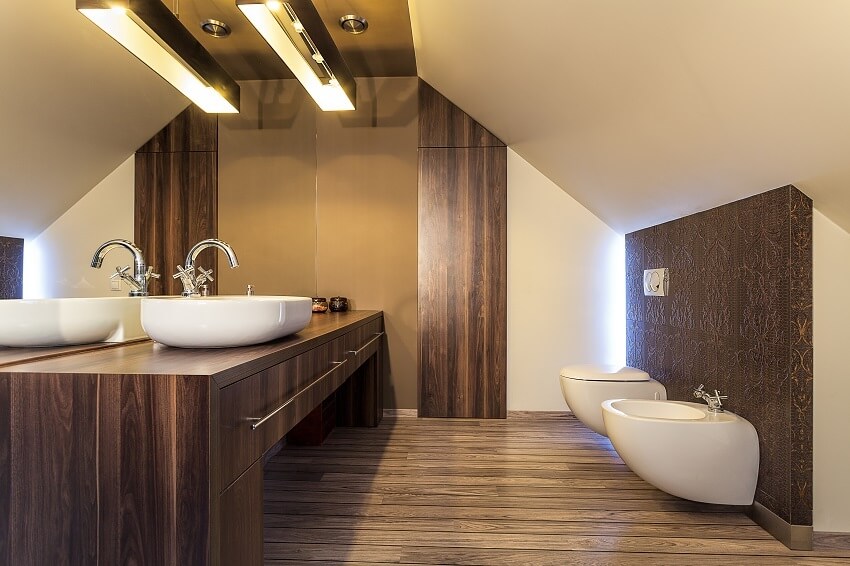 Laminated panels are possibly the most common alternative to bathroom tiles. Laminate panels are water-resistant and durable, which makes them a practical choice for bathroom walls.
Laminate panels are also available in many colors and designs, so you're sure to find laminate panels that can suit almost any bathroom room design.
Vinyl wallpaper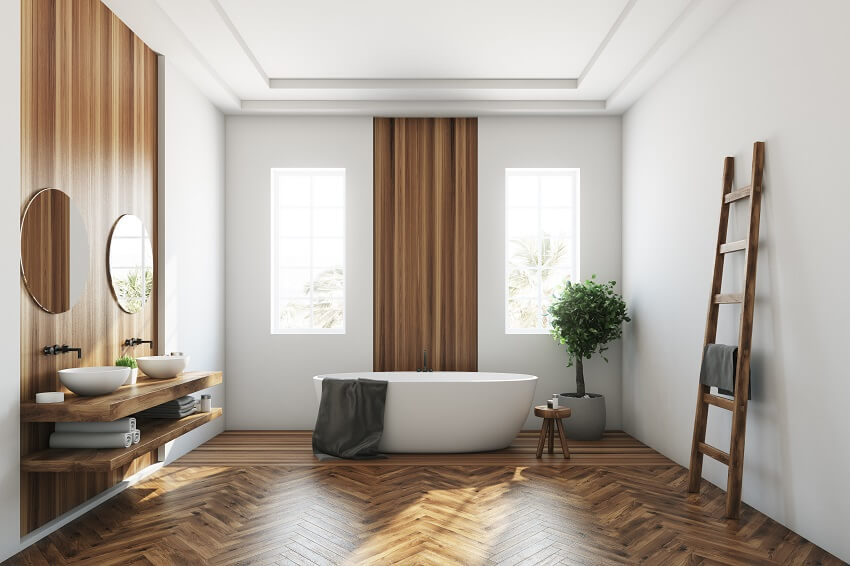 You can use wallpaper for your bathroom wall coverings, but you need to make sure that you choose a waterproof wallpaper or wallpaper that is at least water-resistant. This will make sure that the wallpaper will not peel when exposed to water or steam.
A good choice of wallpaper for a bathroom is vinyl wallpaper. This is a wallpaper that is covered with a layer of clear acrylic varnish that makes it more moisture-resistant than other types of wallpaper.
Stone cladding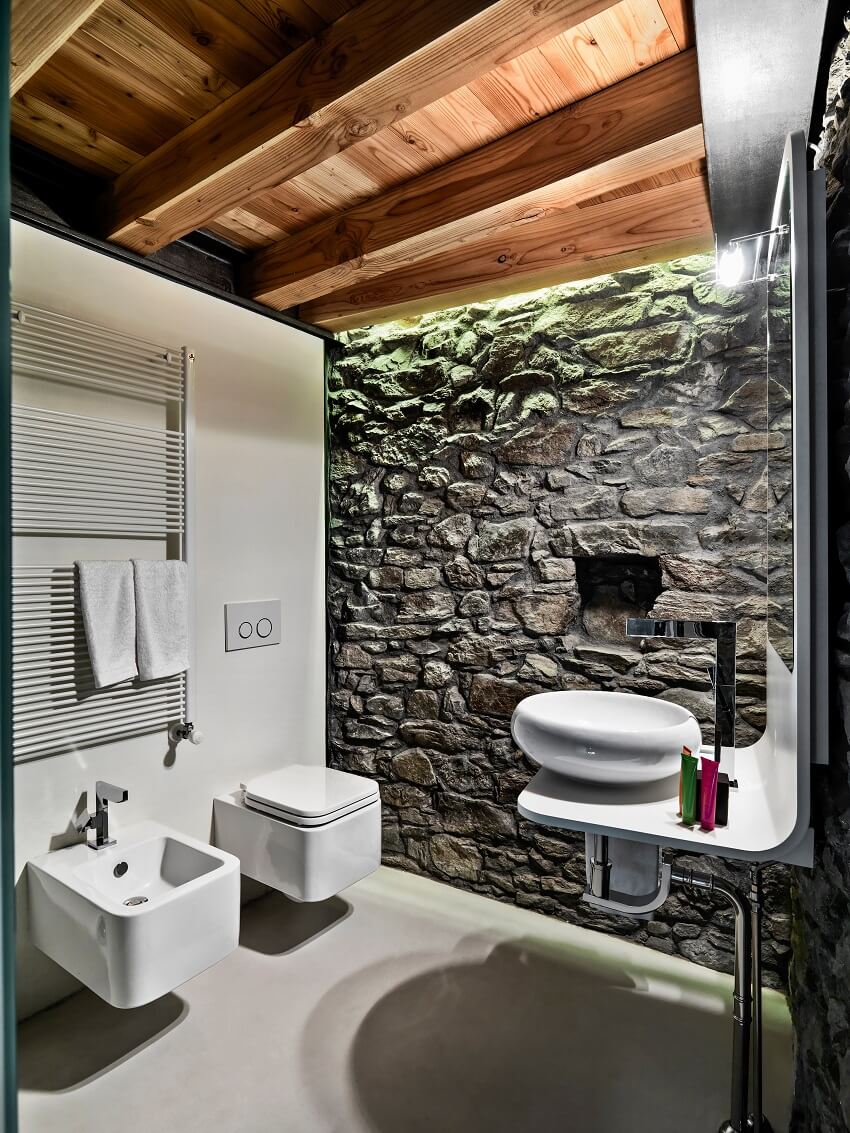 A glamorous and luxurious material that you can use in your bathroom is stone. There are two ways that you can use stone to create your bathroom walls. Either you install stone slabs, similar to panels, or use different-sized stones to build your wall.
Marble is a particularly popular stone to use in bathrooms and you can consider marble for use on your bathroom walls. Marble is mold-resistant and also very durable. It lends your bathroom a very classy and elegant feel. Read more about the marble shower design guide here.
You can also use other natural stone materials in your bathroom. However, as most stone is porous, you should treat it with a water-proofing finish to inhibit the growth of mold or mildew.
Faux stone cladding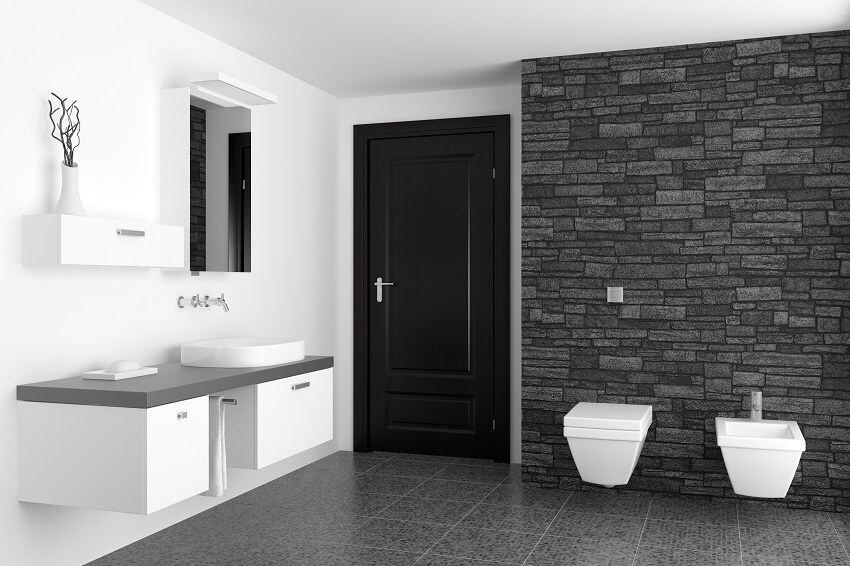 Faux stone cladding is basically panels made of lightweight foam with a layer of protective plastic on top that are made to look like stone. They are cheap and easy to apply, which is why some people would prefer to use this to get the look of stone without breaking the bank.
Again, if you want to use this type of material for your bathroom walls, make sure that they are treated to be moisture-resistant. You can always add a layer of waterproofing yourself if need be.
Brick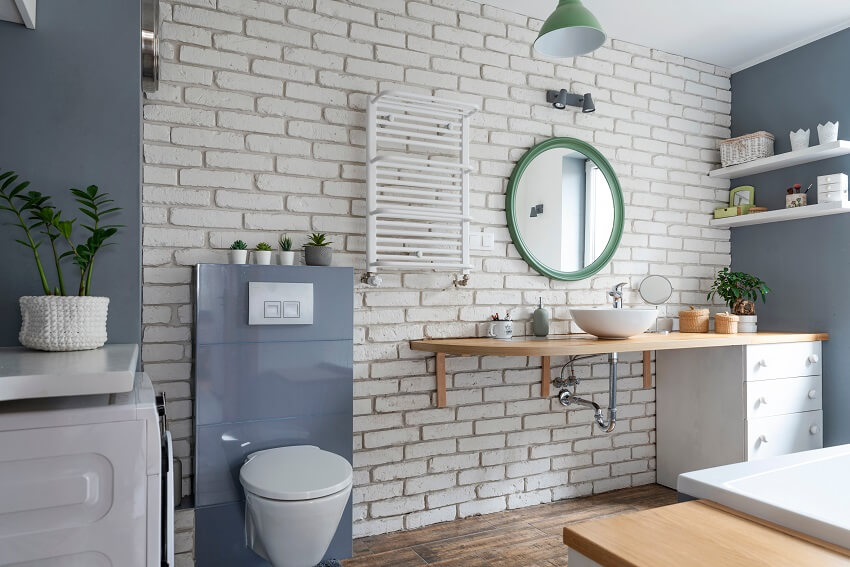 Brick is a classic and classy-looking material that you can consider for your bathroom. Like wallpaper and paint, however, you need to make sure that the brick that you use for your bathroom walls is treated to be moisture resistant.
Brick is a porous material, which means that untreated brick could be a bad idea for a bathroom. What you have to do is use bricks that are coated to be waterproofed.
You can also just install ordinary brick but make sure you coat them with water-proof varnish or water-resistant paint to ensure that they last in the moisture-rich environment of a bathroom. Check out the best paint colors that go with brick here.
Plaster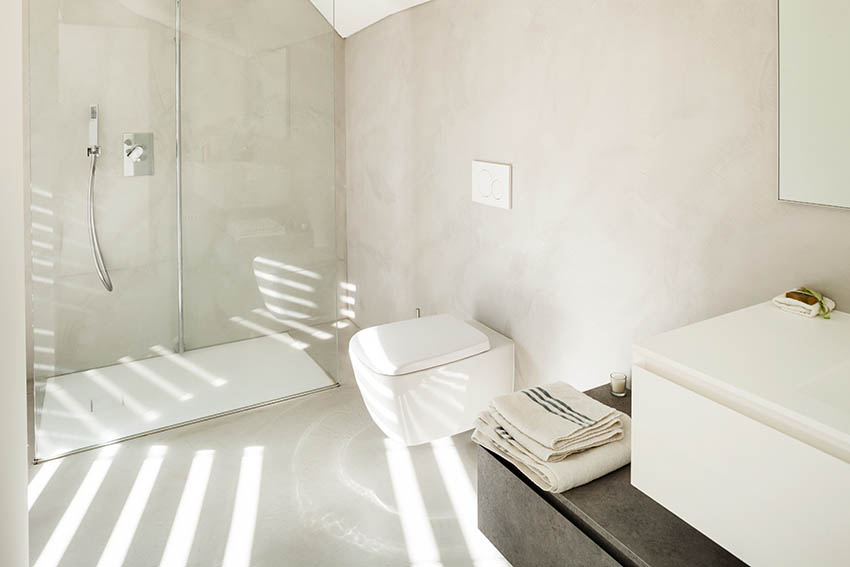 Regular plaster is naturally resistant against mold and mildew which makes it a good choice for most areas in the bathroom. Using waterproof plaster for bathroom walls is a great alternative that offers several different options.
For use in the shower its a good idea to use a lime based plaster such as Tadelakt, Pastellone or Marmorino Venetian Plaster. Read more about plaster shower walls and different finishes here.
Beadboard panels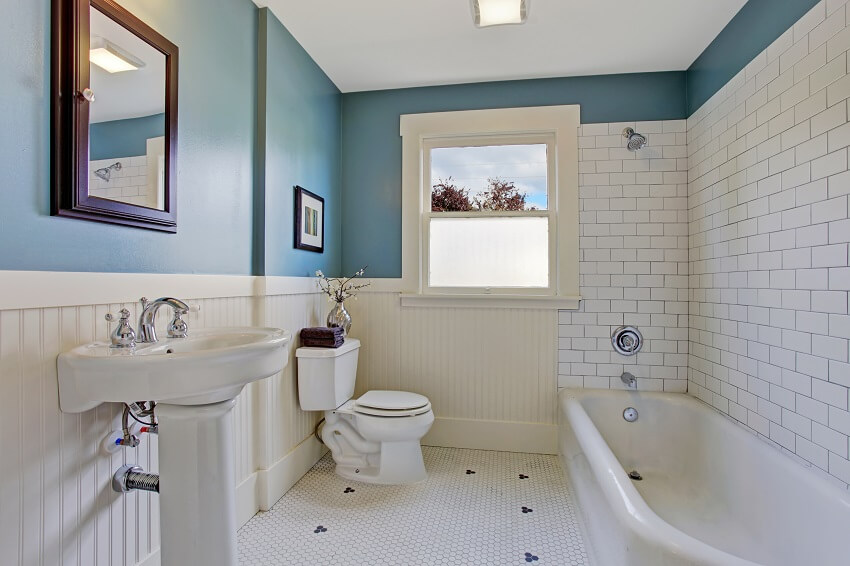 Beadboard paneling is sturdy panels made of medium-density fiberboard. They are a mixture of wood fibers and resins that can be painted and stained in a variety of colors. Beadboard can resemble real wood for a rustic, classic feel.
If you decide to use beadboard in your bathroom, make sure that it's treated to be moisture resistant. You can also paint beadboard with water-resistant paint in any color that you want.
What Is The Best Material To Use On Bathroom Walls?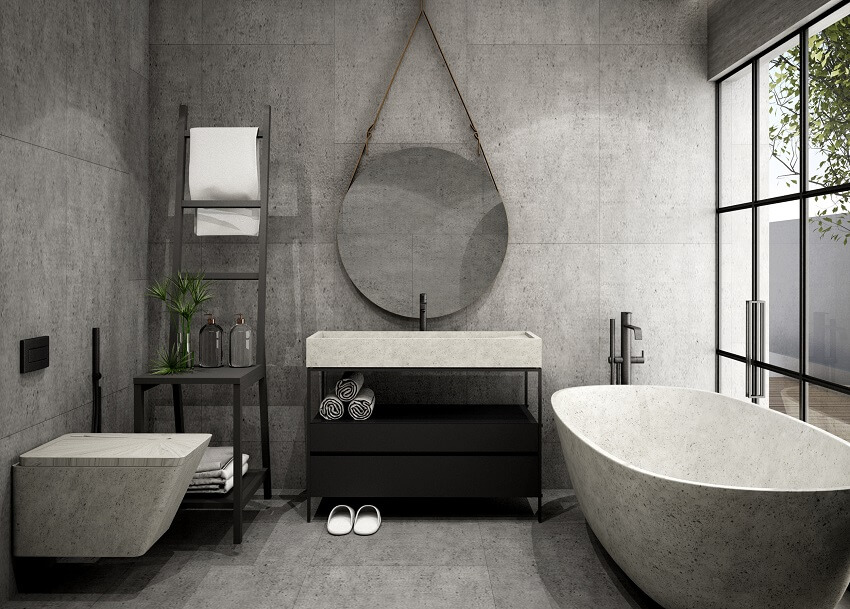 If you're looking for something cheap and easy to install but at the same time is durable and waterproof, your best option is probably acrylic panels.
Acrylic is lightweight and easy to install. It is also mold and mildew resistant and doesn't chip, crack or fade easily.
Acrylic panels will last you a long time and, as they come in a variety of colors and patterns, you're sure to find panels that will suit your taste and style.
For more related article like this, visit our guide to bathroom remodel ideas.