Here's our breakfast bar dimensions guide including small and counter height breakfast table sizes and countertop overhang measurements.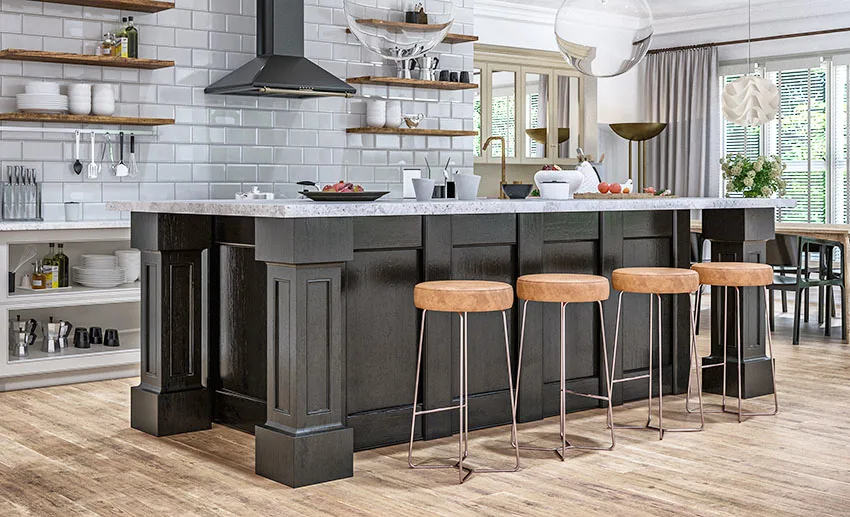 Adding a breakfast bar to your home is a laid-back update, especially if space in your kitchen is a problem. Breakfast bars are also versatile enough that you could use them for working and entertaining just as long as you have enough space.
Standard Breakfast Bar Height
The breakfast bar differs from a kitchen island and a peninsula in that you can incorporate a breakfast bar in both.
You can add a breakfast bar to a kitchen island on the other side of a stovetop or even the sink, and you can also incorporate a breakfast with a peninsula characterized by one side affixed to a wall. By choice, there are also free-standing breakfast bars you can purchase ready-made.
There are many kitchen island sizes to fit everyone's needs when it comes to breakfast bar height, but the standard is 42 inches or 107 centimeters. This breakfast bar height will give you an array of chairing to choose from high chairs to many options of bar stools in different materials and finishes.
Breakfast Bar Height Dimensions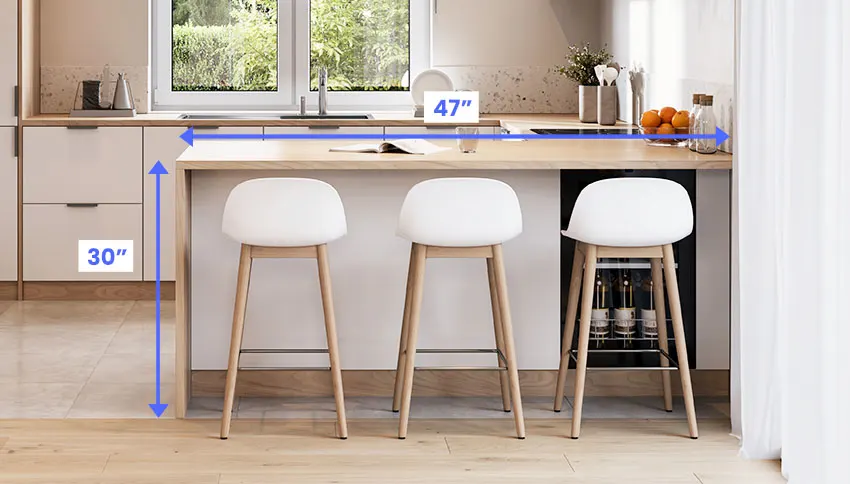 Although there is a standard 42 inches breakfast bar height, you can always opt for the alternative 36 inches or 91 centimeters bar height.
This height will still give you the option to allow for bar tools seating, and an adjustable bar stool is usually the key to perfect seating. Go to bar stool height guide here.
There are also 30 inches or 76 centimeters high breakfast bars. Since they are shorter than the other, simply using standard table chairs is possible. If younger children will be using the chairs for breakfast in the morning, then this height is the best choice.
If you are constructing a home and would like it incorporated into your kitchen island or peninsula, choosing a breakfast bar the same height as your island is the way.
How Wide is a Breakfast Bar?
Determining how wide your future breakfast bar is will depend on how many people will be utilizing the space in a given time. Additionally, measure from one left end to the other right end to assess how wide a breakfast bar is or how much workspace will the entire breakfast bar cover.
There is standard 47 inches or 119 centimeters breakfast bar that is perfect whether you will be seating just a couple or adding another set of bar stools to sit another two.
16 inches or 41 centimeters are available for breakfast bars for couples with minimum kitchen space. This amount of width allows the couple to be seated facing each other, and they could easily tuck the stools right below the table to save space when not in use.
There are also longer 60 inches or 152 centimeters breakfast bars that could easily seat three people side to side and add three more seats on the other, and it would be perfect for bigger families. Just like what we see at hip coffee shops and bars.
How Deep is a Breakfast Bar?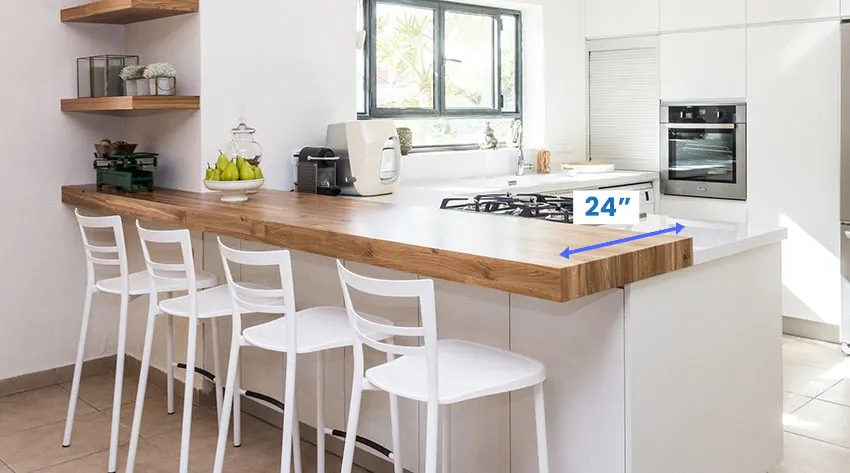 The rule to deciding the depth of your breakfast bar is 24 inches or 61 centimeters, it is the optimum length to reach across the bar.
Anything over that, especially for smaller kitchen layouts, would take space you might need for other purposes. Although if you have a big kitchen, you can go as wide as you want, just know that accessibility might be a challenge.
Breakfast Bar Overhang Dimensions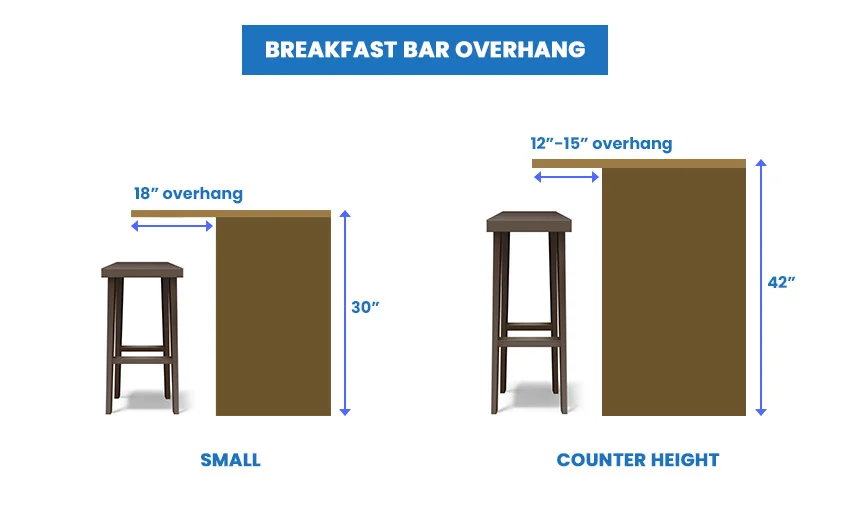 To be able to sit comfortably on the breakfast bar without your knees bumping the table, an overhang allowance should be provided. An overhang is a space allotted to anyone using the breakfast bar so they can tuck their legs in without discomfort.
Aside from that, the overhand is also the space where you push the breakfast stools or chairs in when not in use.
To know how much overhang space your breakfast bar will require, two factors come into play. First is the height of your breakfast bar, and second is what chair you will be pairing it with.
For a smaller 30 inches high breakfast table, regular table chairs will usually be the chair of choice and an overhang size of 18 inches or 46 centimeters will be enough.
In contrast, counter-height breakfast bars have 42 inches or 107 centimeters height, longer bar stools or higher chairs will be utilized. Therefore, less overhang space will be required, especially for hollow ones. 12 to 15 inches or 30 to 38 centimeters of overhang should be more than enough.
What is The Minimum Overhang For a Breakfast Bar?
For you and your family and friends to sit comfortably on a breakfast bar, a space of 12 inches or 30 centimeters is the minimum allowable overhang size possible.
Anything under one foot will make sitting uncomfortable and awkward. It could also cause the bar stools or chairs to topple if one leaned too much on the breakfast bar.
How Much Knee Space is Required Under the Island?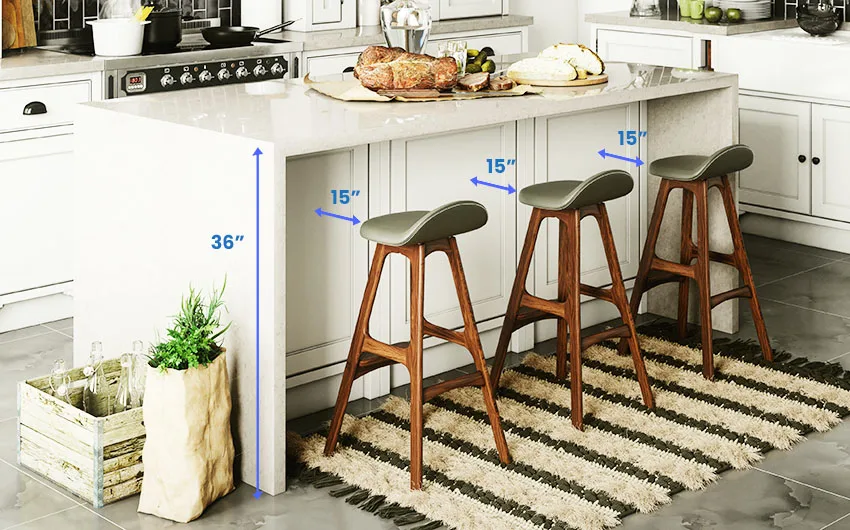 Unlike other factors like bar height and bar depth, there is less flexibility when it comes to deciding how much knee space you will need for your island slash breakfast counter.
The National Kitchen + Bath Association or the NKBA recommends that the knee space or depth depend on how high your countertop is. The shorter the countertop is, the more knee space you will be needing. Here are some standard dimensions.
An island that is 30 inches or 76 centimeters high will need 18 inches or 46 centimeters of leg space.
For 36 inches or 91 centimeters islands, a leg space of 15 inches or 38 centimeters is required.
At the same time, the longer 42 inches or 107 centimeters island will need at least 12 inches or 30 centimeters of knee space.
Deciding breakfast bar dimensions will depend on what you need, and as long as you have that covered, the exciting part of choosing the design is what comes after.
Many different breakfast bar and breakfast nook layouts are available, and knowing what you need initially will help you avoid unnecessary and costly changes later on. Happy shopping, and we hope you are enjoying your perfect breakfast bar soon!
Visit standard height for counter, bar and table guide for more related content.