A common question asked is – can I use hardwood floors in the kitchen and what are the pros and cons.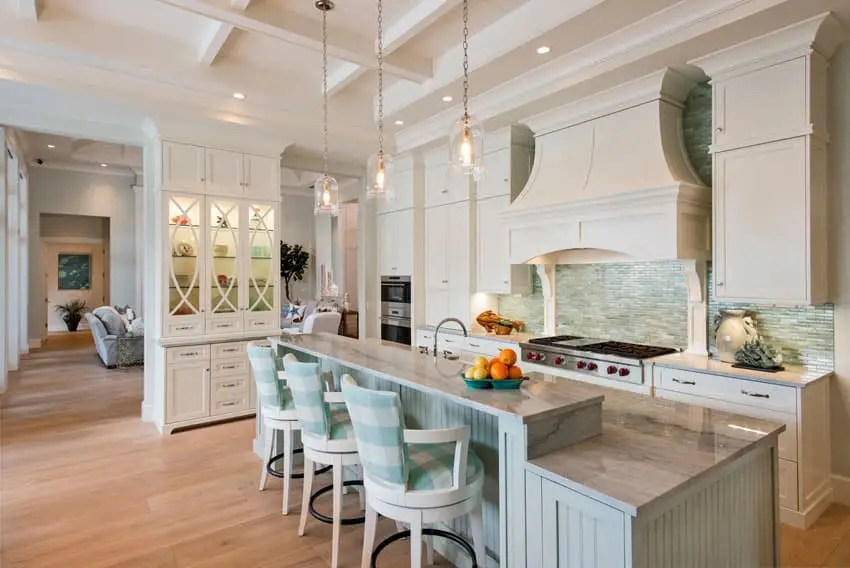 Often thought of as the ultimate flooring choice, hardwood is beautiful, durable and never goes out of style. Many homeowners desire to extend their wood floors from their living room, hallway or dining room to their kitchen space to provide consistency throughout.
A major concern is the amount of damage and wear and tear a kitchen can have on their expensive flooring. However, with the right care hardwood can be a beautiful addition to the kitchen space.
The contemporary kitchen shown above features beautiful engineered oak flooring with large breakfast bar, gray marble counters, aqua glass rectangular tile backsplash, and white cabinetry.

What is Hardwood Flooring
Hardwood flooring refers to the use of timber that is manufactured to be used as flooring for both aesthetic and structural purposes.
Solid hardwood is commonly used as material for flooring because of its quality, able to be restored and durability. These kinds of floors are perpendicularly installed to wooden support beams of buildings which are otherwise regarded as the bearers or joists.
Hardwood Floors in the Kitchen Pros and Cons

Many homeowners prefer hardwood flooring in their home, thus, it is the reason that this kind of flooring will never go out of style. Wood floors enhance the natural beauty of the kitchen. It provides warmth and good ambiance to the area.
Hardwood is able to stand up to either stains or spills. Even though it does not last for so many years, it can still look great by means of enhancement like staining, refinishing, and painting.
Hardwood Floors in Kitchen Pros

Hardwood floors look beautiful, warm and inviting.
It provides a seamless look especially between the kitchen and the other parts of the house.
Wood floors are easy to maintain by sweeping or vacuuming when they are dirty, and with an occasional application of wood cleaner to maintain its attarctive appearance.
Wood floors are versatile and match with almost any kitchen style. You can change the look of the room by adding a new area rug or two to give it a whole new feel.
With proper maintenance, hardwood floors are durable and can be used for many years and still look amazing.
Hardwood is well regarded as a good investment because it helps in increasing the house's value.
Hardwood floors are much better for allergy sufferers than those with carpet. This is especially true for pet owners and those affected by pet dander, hair and dust.
Wood floors can be repaired if they get scratched by re-sanding and refinishing them so they regain their original look.
Hardwood Flooring in Kitchen Cons

It is susceptible to various kinds of damages from water, spills, scratches, and leaks.
Hardwood can be costly especially the exotic hardwoods like the rosewood or teak. Typically ranging fro $9 to $12 per square foot of flooring.
It needs to have frequent cleaning, sanding, and refinishing in order to maintain its appearance.
Wood floors are susceptible to moisture fluctuations and require careful attention to maintain the floors beauty.
Wood floors can be cold in the winter months or for those who reside in colder climates.
These types of floors can be noisy with increasing amounts of creaks as the flooring ages.
Pets such as dogs can trip and slip on trying to get traction on wood flooring
Types of Hardwood Floors in the Kitchen

Solid Hardwood – It is being milled from a piece of wood with the process of sanding and refinishing repetitions. Wood including the bamboo is among this type that provides a natural look.
It has susceptibility to humidity so it is not being installed in spaces which are damp. Oftentimes, the solid hardwood is stapled, nailed, or glued to a wooden subfloor.
Engineered Hardwood – this is made out from layers of hardwood. It is a lot more stable and is able to withstand the humidity. Its installation over the concrete subfloors is possible. It comes pre-finished most of the time.
Moreover, it offers greater flexibility when it comes to installation during stapling, gluing, or floating. (Installed cost for engineered wood floors are $4 to $9 per square foot) Read more about engineered hardwood in the kitchen here.
Engineered Hardwood Floors Pros and Cons
Pros
Costs much less than solid wood flooring
Engineered wood looks just like real wood floors
Many different styles and finishes available
Does better with changes in weather, humidy and moisture than real wood
Can be sanded and finished
Cons
Not real wood – may impact resale value
Can not be sanded as many times as solid wood
Less lifespan than real wood.
What to Consider When Selecting Hardwood Floors in the Kitchen

Species – this refers to the wood's quality including its stability, hardness, color, and graining. Oak is regarded as the most commonly used for domestic species.
Other species include the maple, cherry, hickory, walnut, and birch. Exotic hardwoods are also highly sought after such as teak, Tigerwood, jatoba, and Brazilian cherry.
Width – Those that are over three inches are the wide planks and they offer a rustic style to country ambiance to the kitchens. Those that are less than three inches are the strips, which offer a sleeker style ideal for contemporary spaces. For formal kitchens, parquet floors are being used.
Texture – Its appearance provides a historical and heritage look as the hardwood is being hand-scraped, wire-brushed, and chattered.
Color – It has a lot of variety like caramel, blond, brown, burgundy, and black depending on your preference. Read more about matching wood floors with paint on this page.
Bamboo flooring such as the one pictured above provide a natural look and feel.
Tips for Choosing the Best Hardwood Floors in the Kitchen
Dark woods tend to show wear and tear, pet hair and dirt more readily than lighter color floors. Choose a light color if you don't want to freak out 5 minutes after the maid leaves.
Glossy finishes can act like a magnifying glass for dust particles. Many recommend choosing a satin or matte finish to stop imperfections and dust from being so noticeable.
Hardwood floors will deepen and darker in color over time. When selecting a hardwood style remember it will get darker as you apply oil and through normal wear.
Ways to Keep Your Hardwood floors Looking Great
Using a polyurethane finish will help protect the surface of your wood and help it be easier to maintain
Choose site-finished floors over pre-finished as they better protect the wood the underlying wood.
When using natural exotic wood floors make sure to finish it with oil regularly to maintain it ability to breathe.
We hope you enjoyed our hardware floors in the kitchen pros and cons. Please leave us a comment below to let us know what you think of wood flooring in the kitchen.
Related Kitchen Design Articles You May Like
Types of Kitchen Flooring – Kitchen Design Ideas – Kitchen Remodel Cost Guide – Solid Wood Kitchens