This stone look vinyl flooring guide shares what it is, the different types, pros and cons, cost, and how long stone look vinyl floors will last.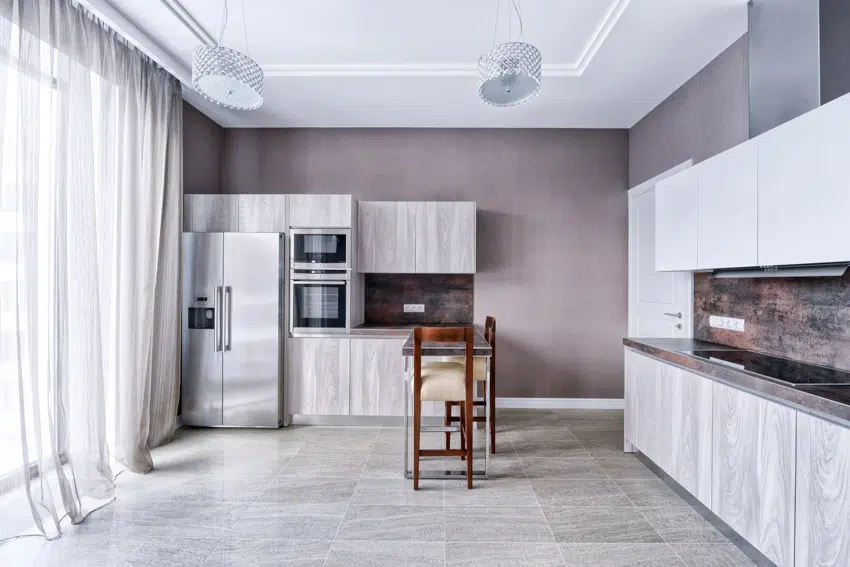 It is not surprising to encounter elegant-looking rooms with lovely stone floors when browsing through architecture and design-related magazines or internet galleries of high-end residences. Natural stone absolutely exudes richness!
Nevertheless, the exorbitant price of these premium floors sometimes prevents many homeowners from affording the lovely look of actual stone. In such cases, stone-look vinyl flooring can be an excellent option for bringing the beauty and charm of stone into the house without the expensive cost of natural stone.
Vinyl flooring is available in numerous variations, such as luxury vinyl tile, vinyl sheet, and vinyl plank, all of which can provide you with a wide range of appealing stone aesthetics.
Aside from the variety of form and style options, stone-look vinyl flooring offers multiple advantages. Let us go over the essential information about stone look vinyl flooring in this article.
What Is Stone Look Vinyl Flooring?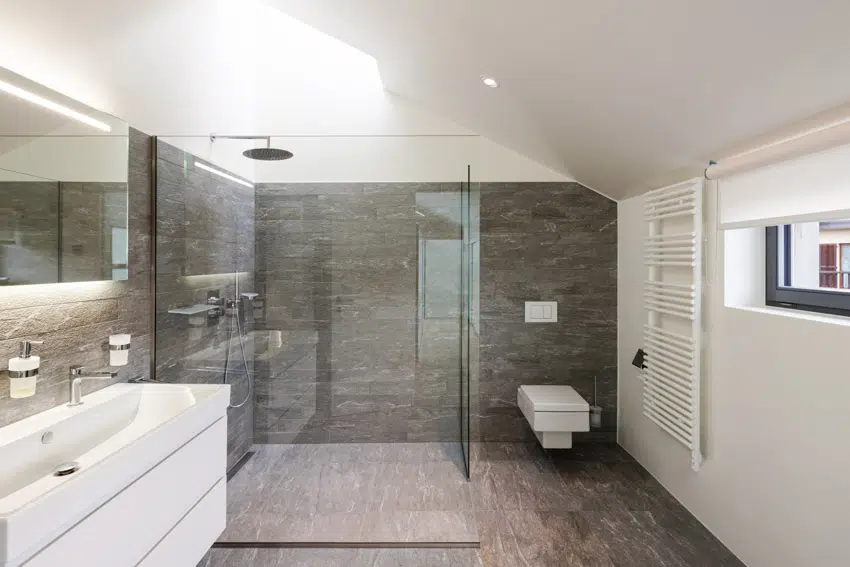 A form of vinyl flooring called stone-look vinyl flooring has artistic patterns and streaks integrated into the tiles to make them look like genuine stones like granite, terrazzo, or even marble.
These vinyl tiles convey the splendor of nature indoors for a quarter of the expense of natural stone, adding beauty to any commercial or residential space.
The water resistance, longevity, ease of maintenance, and simplicity of installation of vinyl are combined with the elegance of natural stone in these stone-look vinyl floors.
Stone-look vinyl flooring offers a variety of selections to fit your preferences, whether you desire a natural stone effect or a polished stone appearance. They can be placed either above or below ground, making them an excellent choice for basements.
Even if the surface is somewhat irregular, they perform effectively over preexisting hard-surface floors. There are also rigid-core choices that will minimize pedestrian noise and boost the flooring's longevity.
Types Of Stone Look Vinyl Floors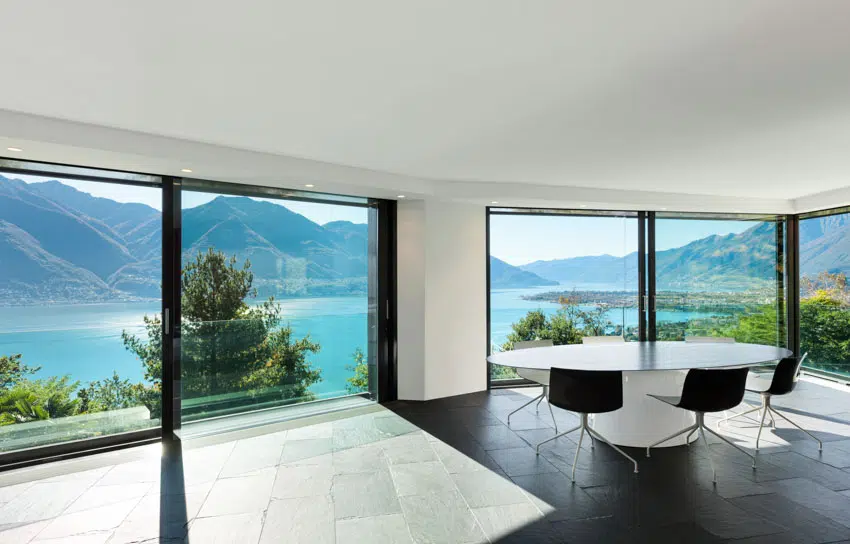 At first glance, all vinyl floors might appear to be identical. However, although the different kinds of vinyl flooring have some similarities, they also have differences. Even so, this long-lasting material has a realistic appearance, is simple to keep clean and maintain, and is a less expensive option than its natural stone equivalents.
With the advancement of technology, there are several options for vinyl planks, sheets, and tiles that look like genuine stone, or tile. However, the distinctions can be found in areas such as core, print styles, and installation procedures. Let us take a look at which stone-look vinyl flooring type would work ideally for your next renovation or construction project.
Luxury Vinyl Stone Look Vinyl Flooring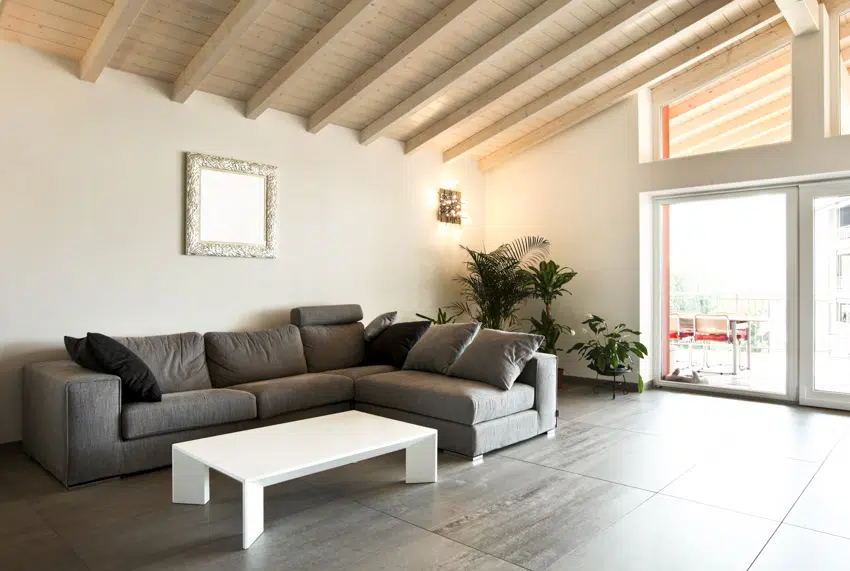 Although luxury vinyl stone-look floors, commonly known as luxury vinyl tile (LVT), are frequently used to allude to natural stone or ceramic-look products, it is also used to apply to both luxury vinyl tiles and wood-look boards
These are among the most widely known luxury vinyl tile developments. LVT is available in a variety of colors, designs, as well as textures to replicate the appearance and feel of natural stone.
Furthermore, since luxury vinyl stone-look flooring tiles are completely waterproof, they may be laid in any area or level of a house or company, even in areas with high moisture contact such as bathrooms, washrooms, laundry rooms, and kitchens.
One of the most significant advantages of luxury vinyl stone-look tile is that it is extremely resilient and will not expand or bend when exposed to water splashes or impacts.
Luxury vinyl stone-look tiles can be installed in two ways: click-float and glue-down. The vinyl planks click securely and float on the upper end of the wood or concrete flooring during the simple click-float installation procedure, making it suitable even for do-it-yourselfers.
The glue-down application, on the other hand, is especially suitable for expert installers because the floors must be extremely smooth and level prior to bonding the material straight onto the subfloor. Because glue-down adhesives are not always waterproof, this installation type of luxury vinyl tile might not be as waterproof as the click-float luxury vinyl flooring installation type.
Furthermore, premium vinyl stone-look tiles are composed of 3 to 4 layers: the wear layer surface, print layer, a vinyl core, and backing support. The wear layer surface, which varies in thickness, protects the printed pattern.
The vinyl core can be polyvinyl chloride (PVC) or a blend of PVC and another plastic composition. The backing support, which may or may not be provided contingent on the manufacturer, delivers improved sound insulation and comfortable underfoot.
Rigid core is a form of click-float luxury vinyl stone-look floor tile that is more durable than regular vinyl since it blends a stone or wood plastic compound with the PVC vinyl. This inclusion results in more substantial tiles that do not bend as much as ordinary vinyl.
Despite its numerous benefits, luxury vinyl flooring still has some drawbacks. It can discolor under the sunlight, thus it is ideal to shield it with window coverings or tinting. It can also be harmed by dents or cuts, which is why it is ideal to choose the thickest wear layer surface available, particularly if you have an active household and pets.
Stone Look Vinyl Plank Flooring
Stone-look vinyl plank flooring, recognized for its lifelike wood or stone-look appearance, simulates the attributes of real hardwood or stone, including the hues, textures, and patterns present in the various types. The end product is the planks that appear and feel like real traditional wood or stone but do not require as much maintenance.
With its 3 to 4-layer design and wear layer, stone-look vinyl plank flooring is built identically to luxury vinyl tiles. The intricate carving on the wear layer, in addition to the design printing film, provides these planks with authenticity. Vinyl plank flooring is long-lasting but it is not waterproof.
Moreover, stone-look vinyl plank systems with a strong core design, on the other hand, are 100% waterproof and incredibly durable. Due to their waterproof features, they can be put in any area, particularly those with heavy traffic or high-humidity areas such as bathrooms, basements, or kitchens.
However, there will always be homeowners and builders that favor genuine wood or stone. This is due to the fact that vinyl planks cannot be polished like natural wood or stone, and glued-down vinyl planks might be challenging to remove if they need to be replaced.
Stone Look Sheet Vinyl Flooring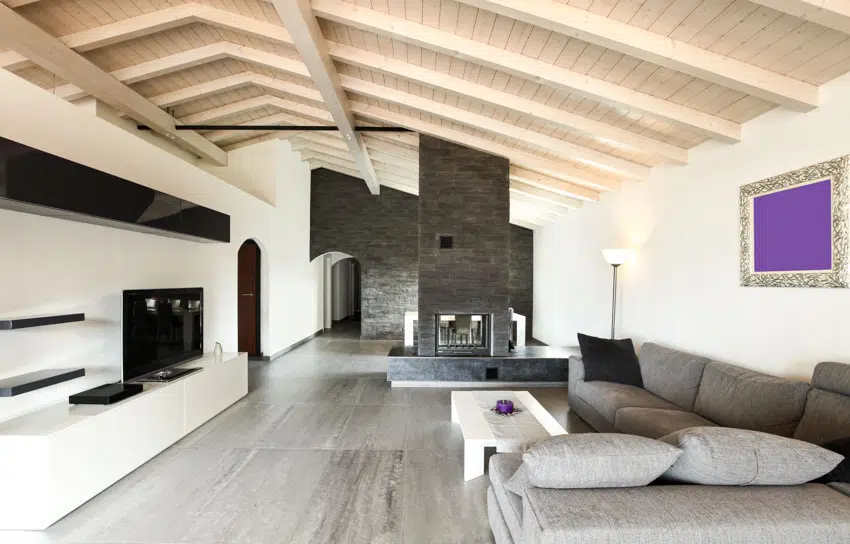 Stone-look vinyl sheet flooring, which comes in huge 6- or 12-foot rolls and is trimmed to size, is a less expensive choice. The entire surface is one of the earliest vinyl flooring materials accessible and is put as a single sheet.
It is available in a variety of finishes as well as grouted stone styles like slate, granite, limestone, and sandstone. It can be installed in a variety of locations including damp places such as bathrooms and kitchens.
Depending on what kind of vinyl sheet material you use, the thinner sheet stone-look vinyl could be bonded flat or installed as a form of loose lay. If there is any damage, the whole roll or portion must be changed.
Furthermore, it can be more sun-sensitive, thus be cautious if you encounter a significant amount of strong sunlight. It can also be ruined by excessive temperatures, which is something to take into account depending on the climate in your area.
Stone Look Vinyl Tiles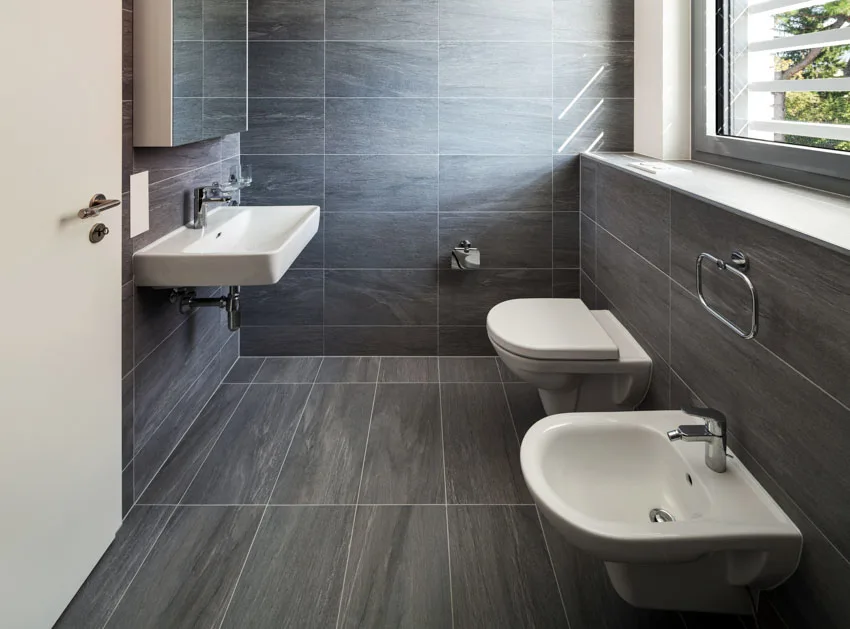 Stone-look vinyl types of floor tiles are ideal for rooms such as living rooms, bathrooms, kitchens, and even basements since they are resistant to temperature fluctuations, making them a great option for long-lasting flooring.
There are 5 types of stone-look vinyl tiles – peel and stick, interlocking, groutable, glue-down, and loose lay.
• Peel and Stick: Basically, all you have to do is peel and stick. Each stone-look vinyl tile already comes with an adhesive backside. All you need to do is push the glue onto the area you are installing after removing the backing. This installation procedure is quite simple.
• Interlocking: Interlocking placement can either be tongue and groove or clicking together vinyl tiles, depending on the stone-look vinyl tile setup. Both are quite simple to install though. You just have to snap the vinyl tiles securely using the side clicks or snaps to get started.
• Groutable: Groutable stone-like vinyl tiles can be a great solution if you want a stone effect without the actual stone. These appear to be genuine stones, and with the ability to add grout, they can function and really look like stone. These vinyl tiles can be put using either glue or double-sided carpet tape. The grout will be applied next.
• Loose Lay: Every stone-look vinyl tile in loose lay includes a backing that holds the subfloor and protects it from sliding. This implies you can easily lay the tiles down and not apply any adhesive to secure them in position.
You may do this if the area will not experience a lot of traffic. If your space will experience a lot of traffic, it is best to put double-sided carpet tape around the edge and underneath the tiles to protect any tiles from moving. You can glue the tiles down for a more lasting solution.
• Glue Down: Flooring with a very secure grasp is frequently required in permanent and high-traffic locations. This is when the glue-down stone-look vinyl tile comes into play.
This solution is a little more complicated because it necessitates the use of pressure-sensitive glue. As you get further, you glue the tiles down. This guarantees that each vinyl tile completely adheres to the floor beneath it. Read more about stone look floor tiles here.

Click Lock Vinyl Flooring With Stone Look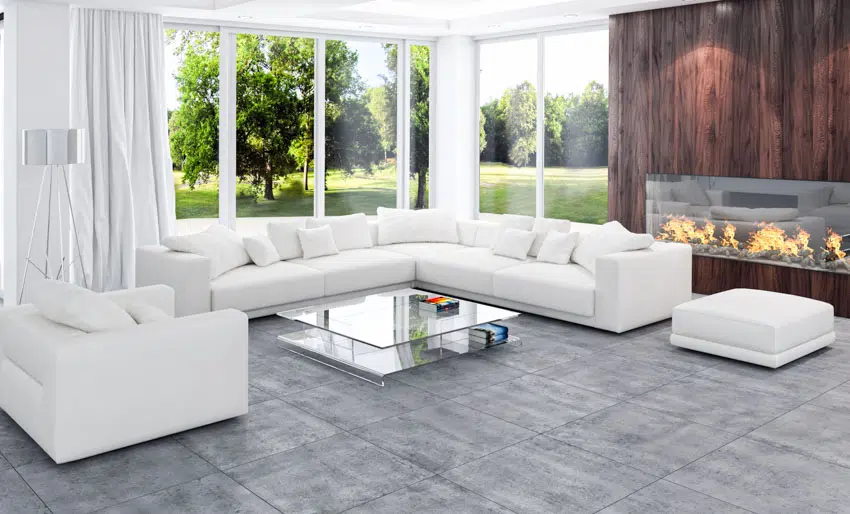 Click-lock stone-look vinyl is a type of panel vinyl flooring that effortlessly clicks into position by precisely matching the edges to ensure that the panels are level with the floor. This is not like those ordinary vinyl boards, which require an adhesive to be properly installed.
Furthermore, click-lock vinyl flooring is a simple solution to cover old flooring. This avoids the need for any nails, glue, or staples to be removed or used. It is considered to be the simplest and most uncomplicated method of installing a new floor.
Aside from that, tongue and groove seams on click-lock vinyl can be secured together. In reality, you can consider click-lock vinyl flooring to be an easy jigsaw puzzle. You will discover that you do not require any specific tools or equipment to achieve the results you require as quickly as possible.
Stone Look Floating Vinyl Flooring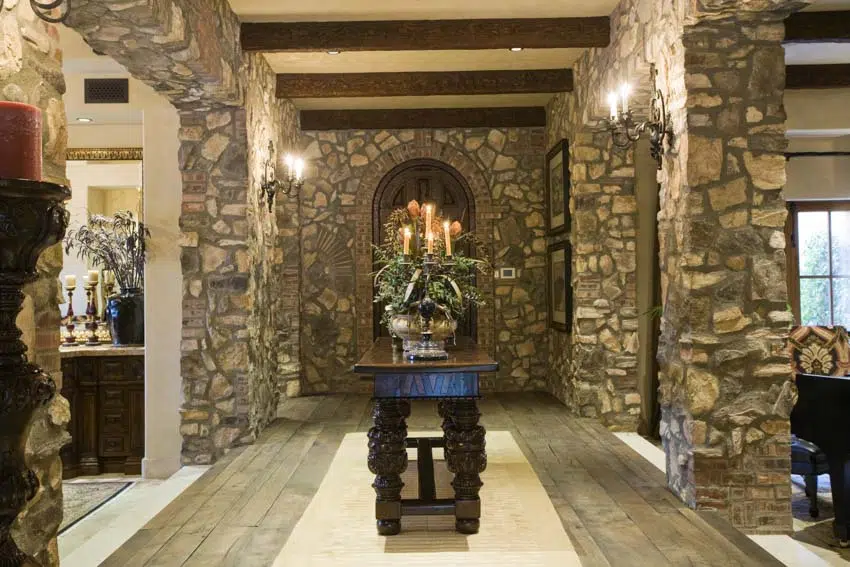 When a designer or contractor refers to a floor as "floating," it signifies that it is not exactly on top of the subfloor. Your subfloor is either made of wood or cement. Simply applying vinyl to the subfloor might make your flooring harder, rougher, and more susceptible to damage.
A stone-look floating vinyl flooring implies you will have to configure underlayment. This is a protective covering beneath the vinyl that provides some cushioning and makes the flooring appear like it is floating. Read more about vinyl flooring with attached underlayment on this page.

Stone Look Vinyl Flooring Pros And Cons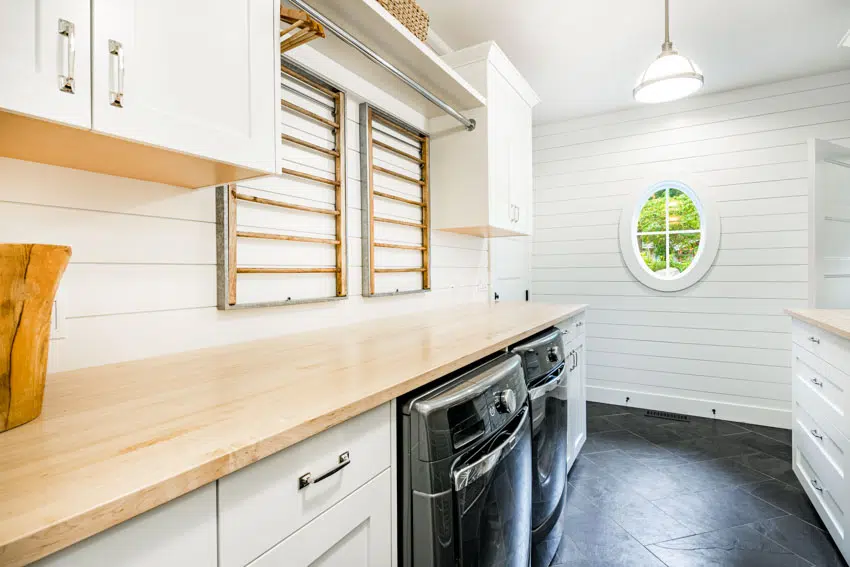 Here we share the advantages and disadvantages of stone look vinyl flooring.
Pros Of Stone Look Vinyl Flooring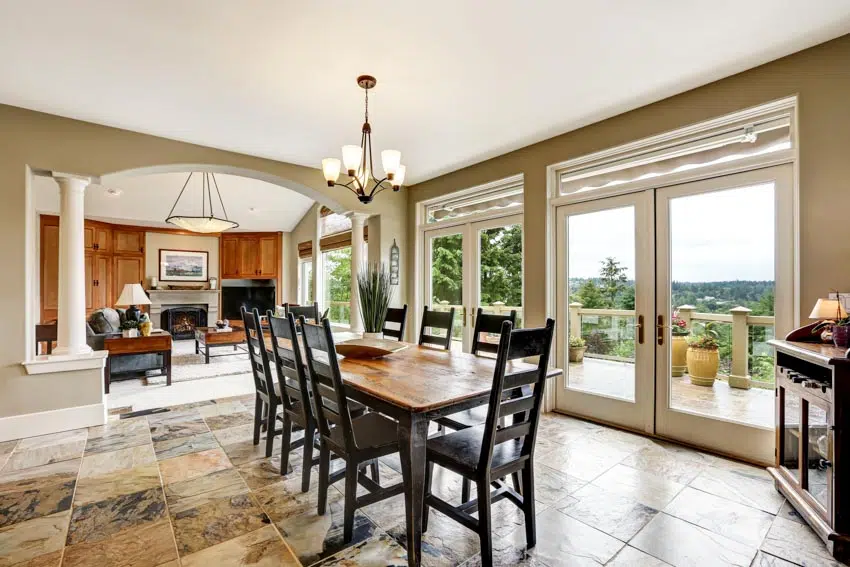 Stone-Look Vinyl Is Significantly Less Expensive Than Stone: Stone is very heavy and should be quarried, hauled, and delivered before it can be placed, in addition to having a higher material cost per square foot than some other flooring product options.
The harder and more durable the stone selected, the more difficult and expensive these activities can be. However, premium stone-look vinyl flooring does not have these additional products, manufacturing, and shipment costs, thus it is far more affordable than stone.
Stone-Look Vinyl is Less Difficult to Install than Actual Stone: Installing vinyl flooring is far less difficult than a stone floor setup. Several stone-look vinyl flooring options also have an adhesive-free or click-lock placement method and do not necessitate the grouting work that actual stone does. Hence, in addition to the cheaper material cost of vinyl, the installation expenses are lower as well.
Basements Benefit from Stone-Look Vinyl Flooring: If you want an amazing stone look in your basement, vinyl is also naturally waterproof! Because of this valuable improved water protection, practically all vinyl types can become an appealing basement flooring option, and you can select it for flooring below the ground level.
There are more Subflooring Options for Stone-Look Vinyl: Because of the dimensional sturdiness and 'flex' capability of resilient flooring, it may be installed over a wide range of subfloors. Stone flooring has stringent subfloor requirements since the subfloor must hold the load of the stone and remain perfectly level with no irregularities.
The numerous subfloor solutions of stone-look vinyl can provide you greater freedom to pick vinyl flooring in your existing living areas, without having to invest in the additional fee of subfloor preparation, while also helping to lower the cost of achieving the beautiful effect of stone.
Cons Of Stone Look Vinyl Flooring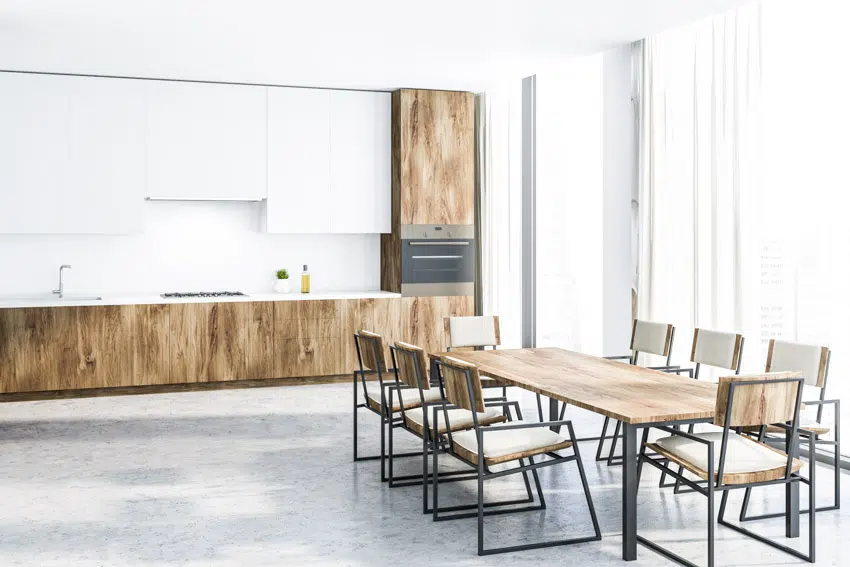 Stone-Look Vinyl Floors Can Receive Dents: Although stone-look vinyl is incredibly durable, it is not completely impervious to damage. Vinyl flooring can also dent, scratch, or ding, particularly if big types of appliances, furnishings, or other heavy items are used. However, keep in mind that vinyl can withstand scratches better than some more expensive flooring materials like hardwood.
Stone-Look Vinyl Floors May Fade Under Direct Sunlight: Vinyl gradually loses color over time, particularly when constantly exposed to extremely strong sunlight. However, top-quality stone-look vinyl flooring will not fade as much as other less expensive types of vinyl, and, likely, it will not be evident after a few years.
Stone Look Vinyl Flooring Cost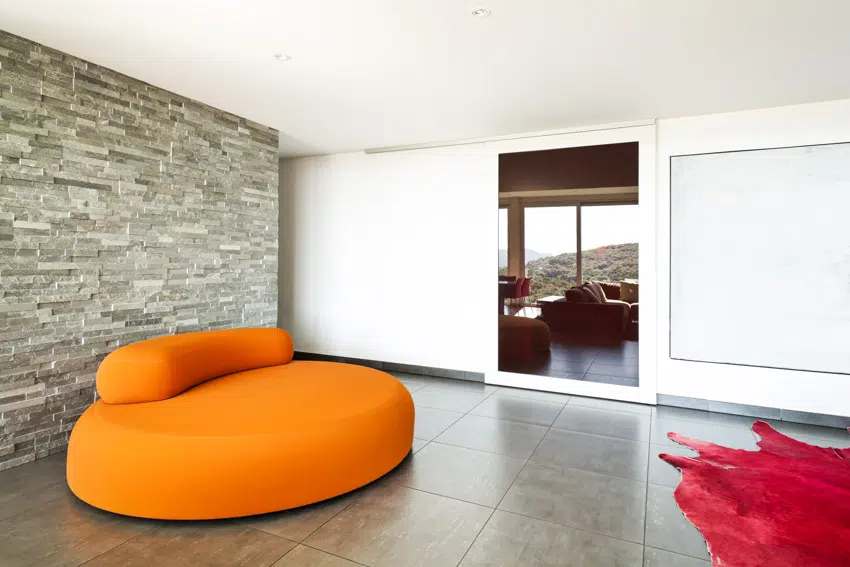 Stone-look vinyl flooring costs around $2 to $8 per square foot. The cost will vary as it will depend on the kind of stone you want to imitate.
How Long Does Vinyl Flooring Last?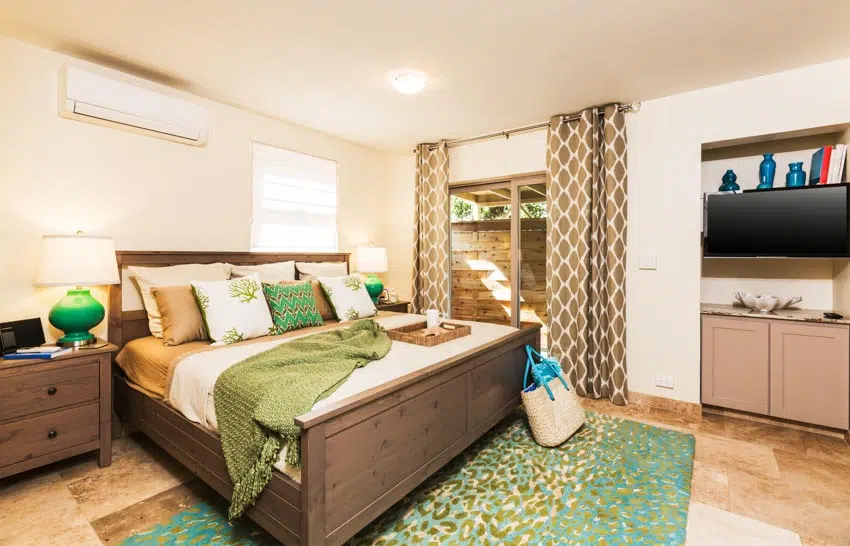 Stone-look vinyl flooring is extremely long-lasting. It can last around 10 to 20 years if installed correctly and maintained properly. With that being said, stone-look vinyl would be a wonderful option for high-traffic areas of your home.
Furthermore, most vinyl flooring includes a wear layer on the surface that withstands scratches and stains, ensuring that it will undoubtedly endure a long time.
Is There A Luxury Vinyl Tile That Looks Like Marble?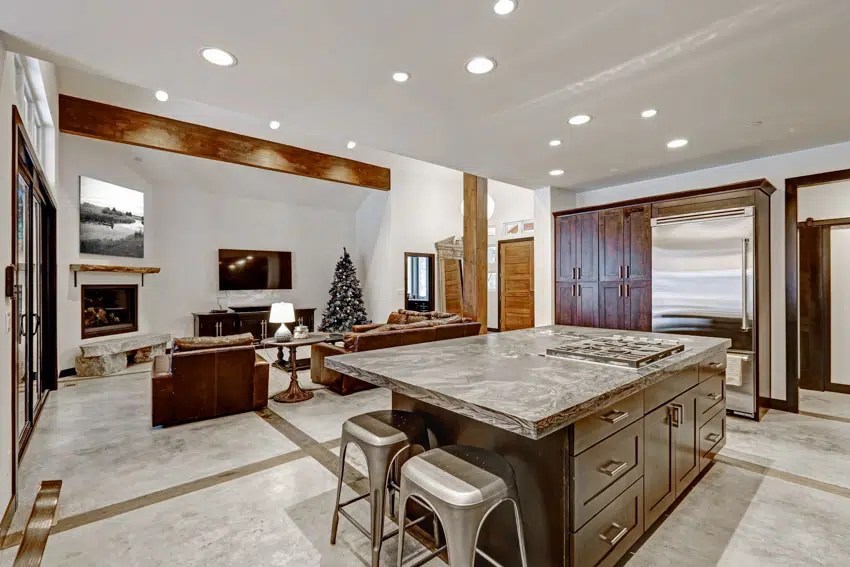 Yes! You can already lay marble-look vinyl flooring in areas you never thought conceivable like the bathroom, dining area, bedroom, kitchen, or any huge area where actual marble tile would be extremely expensive. Some manufacturers currently produce marble-looking luxury vinyl tiles.
One example is the Calacatta Marbello by MSI. This is a luxury vinyl tile with a creative combination of precise gray veining on a pristine white backdrop that looks exactly like exquisite Italian marble.
Paint Vinyl Floor To Look Like Stone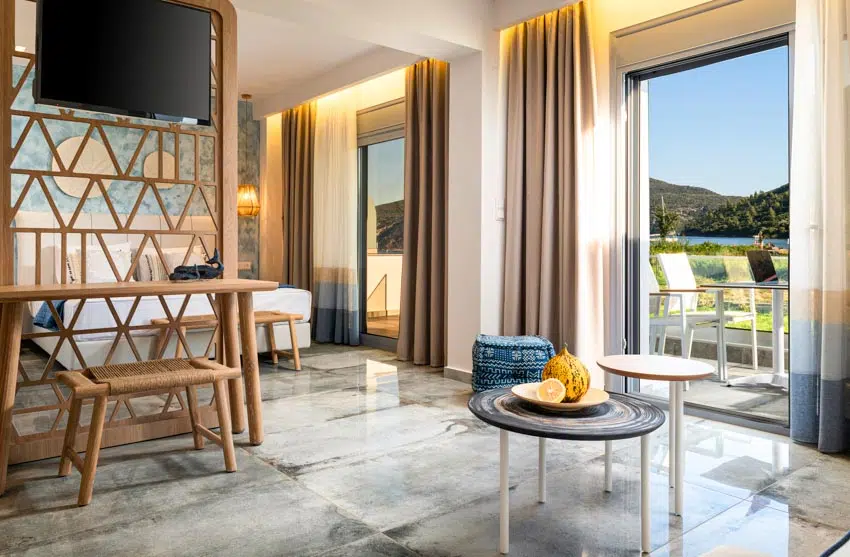 Vinyl flooring can also be painted to resemble stone. This can be accomplished by applying enamel floor paint to your existing vinyl floor. This paint is the best option since it is hard-wearing and not quickly marked, which is essential for a flooring surface.
To end up making your vinyl flooring look like actual stone, you should use gray paint. Dip the extending roller into the paint after giving it a few minutes of vigorous stirring with a mixing tool.
Roll the paint onto the vinyl floor with long and even motions to make the surface look gorgeous and professionally crafted. You have to eschew using chalk paint because it will rapidly become marked by people who walk on it and it is not very durable.
See more related content in our article about concrete floor finishes on this page.