See the different types of mats with popular design styles, their uses & features, materials, and the best floor mat cleaning tips to consider for various applications.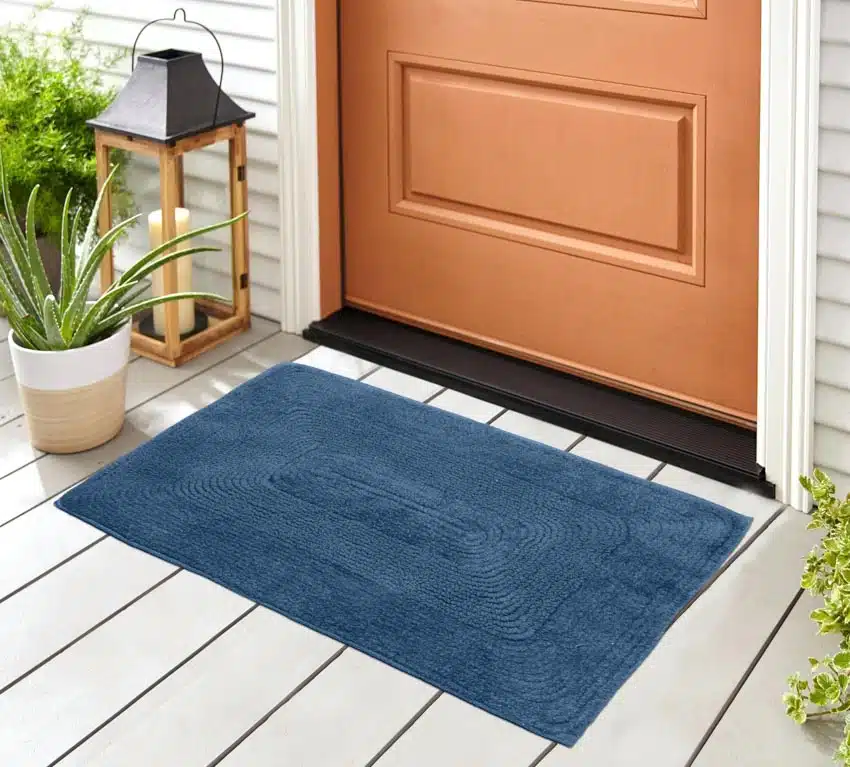 In homes, mats serve as a staple element, from the entrance mats at the entryway up to the common areas like the dining room or the living room. They offer many advantages you can enjoy, with some of them delivering specific comfort and functions based on what type of mats they are.
If you're thinking about getting a mat for your home, properties, or business facilities decide first on what you want to use it for. The major application of a mat is to offer protection for your flooring and at the same time provide traction for workers and occupants. This is the reason why it is a good option for common areas with high foot traffic.
These mats serve as the first layer that dirt, scratches, and moisture get in contact with before the actual flooring. This is how mats protect your home's floor. In addition to that, they can also add aesthetic value to the room where you place the mats. Here are some of the types of mats you can explore for your home or facility.
Door Mats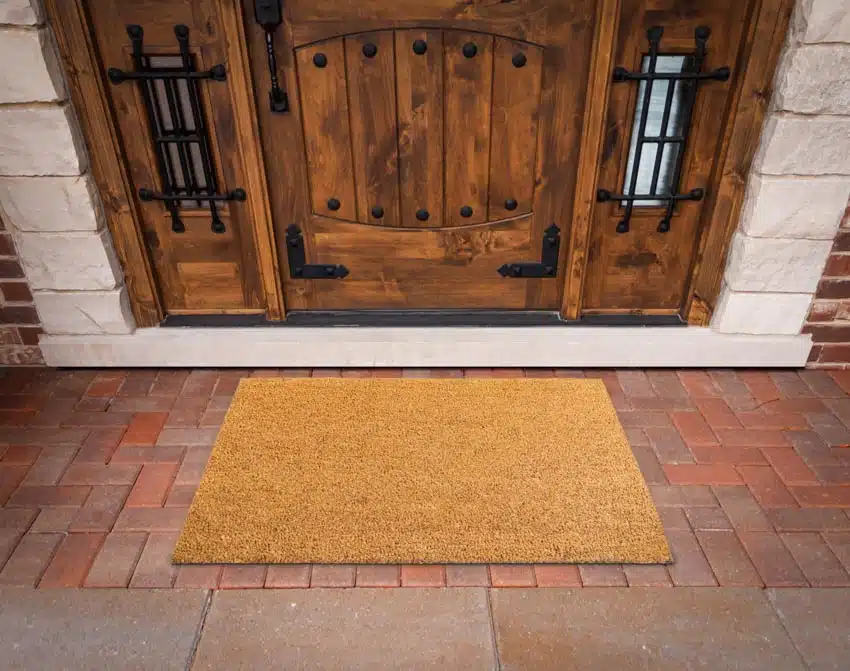 Considered one of the most common types of mats in the home, door mats are located at the entrance of the home, bedrooms, and also offices. They're simply mats that catch the debris and dirt that can be tracked inside the home or the room.
With entrance mats placed before your front doors, you can wipe your feet on the mats before entering, leaving the dirt on the mat instead. In this case, the floors can be kept clean and you will have less amount of mess to clean up in the process.
When you select a door mat it should be at least as wide as the front door. This way you have adequate coverage of the mat before entering the home. If your door has sidelights installed you can use a mat that extends across the entire door and window area if desired.
You have several materials to choose from, including cloth, coir, and rubber. Coir is a material that is often used which is made of coconut husks. While coir is great for getting material off the feet, a rubber mat may have better durability over time.

Entry Mats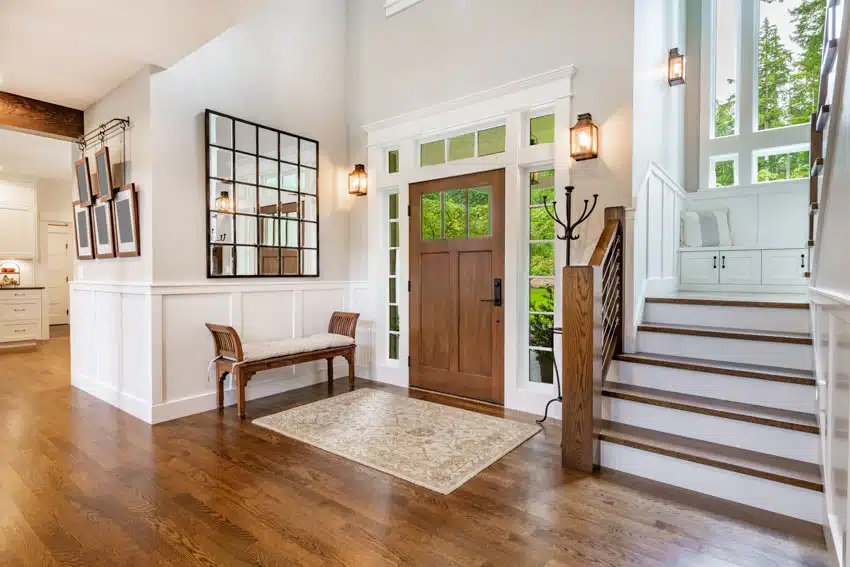 If you're looking for a mat to place at the main entrance of your home, office, or building, you are looking for an entry mat (entrance mat). They are similar to door mats but they are placed in bigger areas and the main entryway, which means that they get more dirt and debris directly from outdoors.
These mats can be made of different blends of fabrics, as well as vinyl, nylon, olefin, polyester, and polypropylene. And they can also feature trendy designs that will create a first impression for people before entering your home or building.
Entry mats function as the first line of defense in your home or facility, so it's a great idea to make the most of them. When installing these mats, you can place them both outside and inside the entryway.
A welcome doormat in the form of a nonslip scraper mat is especially useful if your home is surrounded by dirt and soil, you have indoor/outdoor pets, or have hardwood floors.

If you're dealing with a commercial building, or even a large residential garage, you can install the entry mats 15 feet outside before reaching the unprotecting flooring and 15 feet inside the building.
Bath Mats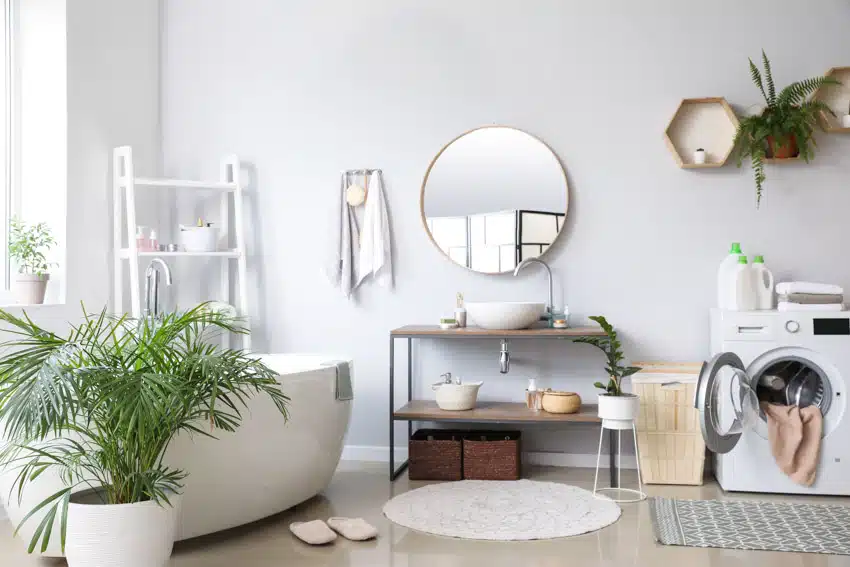 Installed in the bathroom, which is how it got its name in the first place, bath mats are common in any home. The mats are located in the bathroom, a place that is often exposed to water and moisture.
With bath mats in place, people can wipe their feet on them after showering or using the bathroom so that the water or moisture won't track down toward the flooring. These bath mats are usually made of absorbent materials so that moisture and water can be wiped on the mat and off their feet.
There are many bathroom rug sizes depending on the need, with the standard tub mat being 20″ to 24″ wide and 30″ to 36″ long. A bathroom rug runner on the other hand is typically about 24″ by 60″.

You can use towels or cloth, depending on what you prefer. Cotton materials are often used for bath mats since their fibers are both durable and soft to the touch. For those looking for more durability at the expense of a natural material there is microfiber.

There are also bath mats that are made of rubber and structured with slots or holes that can allow liquid to pass. These safety mats, also known as drainage mats, can be installed in the bathroom, particularly in the shower area to keep dry and safe flooring, especially for older people.
Carpet Floor Mats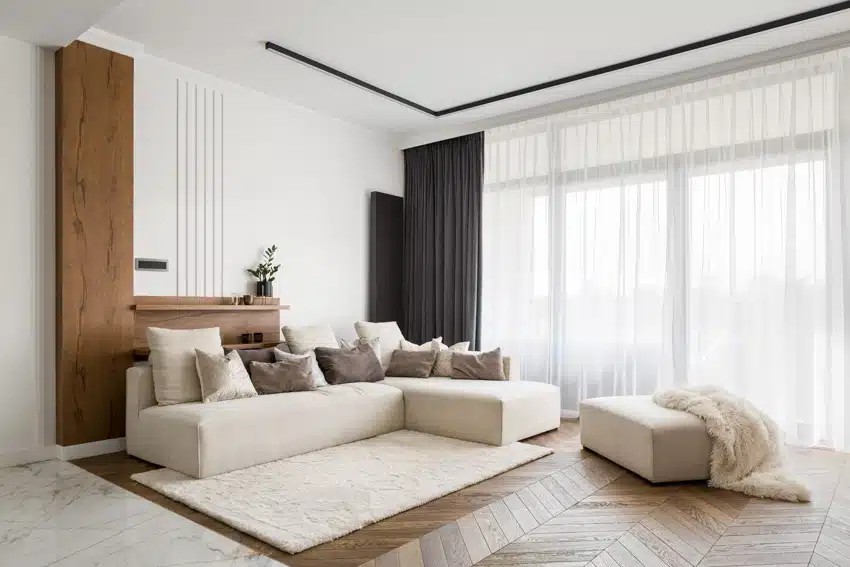 Considered one of the most expensive floor mat options, carpets make excellent flooring and can even be applied to the entire room. You also have the option of using the carpet as a floor mat, which means that you choose a section to place the mat, preferably in common areas with high foot traffic.
Carpet floor mats offer better noise reduction, making them a good option for areas and rooms on the second floor. More durable compared to rugs and standard mats, carpets also offer the most insulation.
A rug runner is a floor mat that is longer than it is wide. They are often used for long hallways or high traffic areas that get a lot of wear and tear. Read more about how to pick rug sizes here.
The major downside with carpet floor mats though is that they require more meticulous cleaning and maintenance. They can be very challenging to clean, especially if they become stained.
Scraper Mats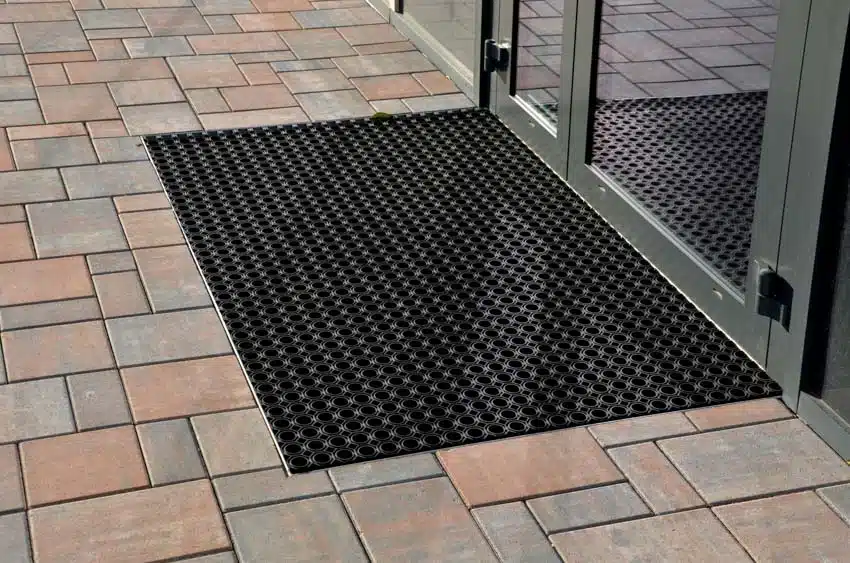 Typically made from rubber, scraper mats usually serve as entry mats and are placed outside a building or a home's entrance. These heavy-duty mats are incredibly durable which is why they can be installed outdoors in the first place. Their utility in a variety of settings makes them valuable for businesses looking to maintain cleanliness and safety.
Scraper mats have raised surfaces where people can scrape dirt, debris, and moisture off their shoes, and where the mats go their name in the first place. These mats scrape dirt off shoes making them scraper mats that are an essential piece of equipment for businesses seeking effective cleaning solutions.
Scraper mats can also minimize the risk of slipping because of the following features:
• Provides better traction
• Easily absorb some moisture
• Not affected by oil or grease
• Has vinyl or rubber backing with added slip resistance
Kitchen Mats
Common for many households, kitchen mats are placed in the flooring of the kitchen to protect it from dirt and spills. This is important in the kitchen since the area is vulnerable to cooking and washing spills.
One of the popular options for kitchen mats is made from a towel or cloth since the material can easily absorb liquids. And you can strategically place it in the cooking and washing area for maximum effect.
Besides having kitchen mats for spills while cooking and washing, you can also have one to make sure that dirt and moisture won't track all over your kitchen. Commercial businesses that provide food services generally are equipped with non-slip, rubber anti-fatigue pads.

Another important feature of kitchen mats is shock absorbency. A cushioned kitchen mat or anti-fatigue mat can help relieve the pressure of standing on ones feet for long amounts of time. Kitchen mats made from cork are a popular option because of their natural water resistance and durability.
Anti-Fatigue Mats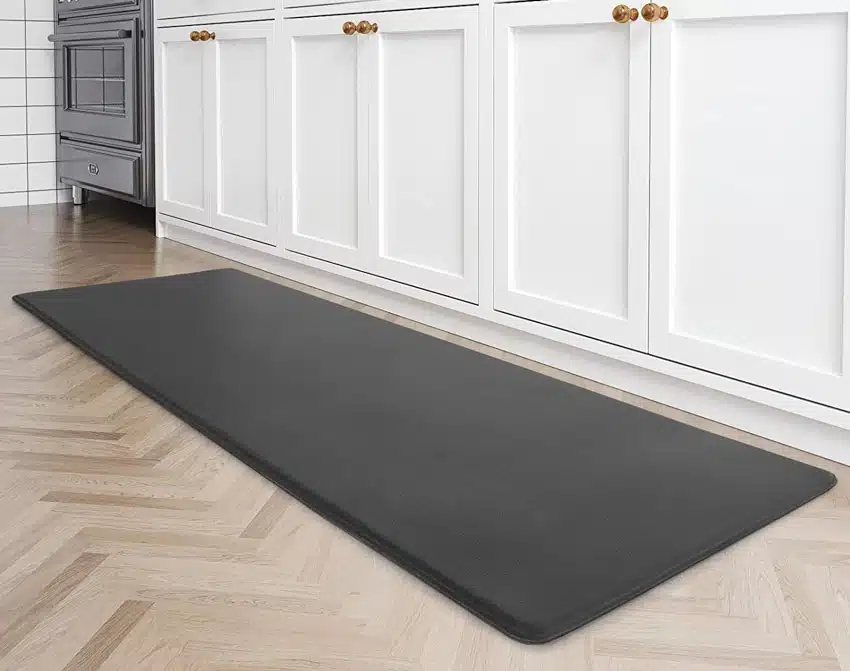 See this anti-fatigue mat at Amazon [sponsored link]
One of the special mats you can use for your home is an anti-fatigue mat. These mats are structured to reduce the stress on the feet and legs, which makes them a good option for areas where you will be standing for a long period of time.
This structure is achieved by integrating a layered design with a core that enables controlled compression. It's also the reason why these mats appear to be more squishy.
Stepping on these anti-fatigue mats will allow them to compress and in the process stimulate the muscles on your legs, feet, and even lower back, providing comfort to workers and inhabitants. These are generally made form polyurethane or PVC foam or closed cell nitrile rubber.
Anti-fatigue mats are usually commercial mats installed in workspaces and commercial spaces where employees and customers stand all the time. They are commonly used in retail counters, airports, and laboratories and other businesses to create a more comfortable working experience and prevent strain.

Dining Table Mats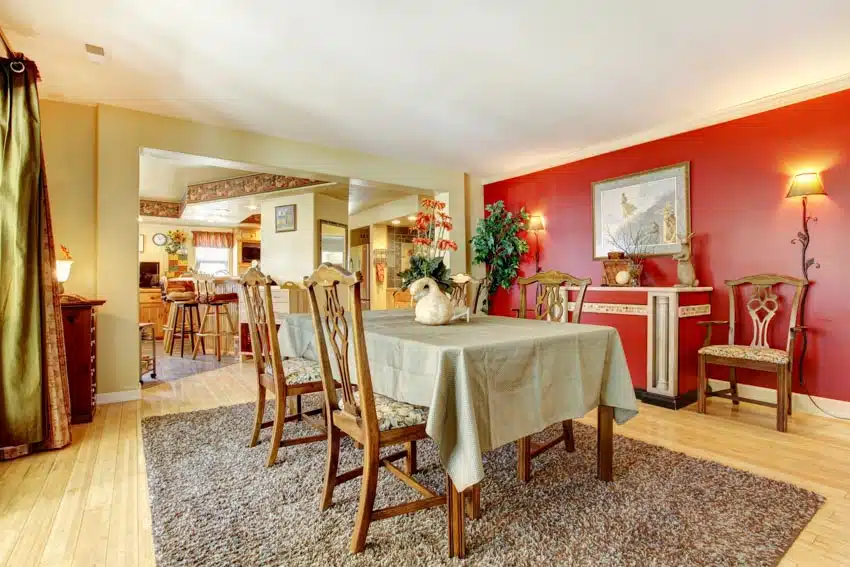 Getting a dining table mat can also be considered, not just for aesthetic purposes but also for another layer of protection to your flooring.
A dining table mat is installed below the dining table so that it will be able to catch all the food particles that fall and fly from the table. You won't have to worry about dirt damaging your flooring.
One of the best things about using a dining table mat, for example, is that it protects floors from the weight of most types of dining tables and chairs. If you have heavy chairs, you tend to constantly pull or push the chairs out of the table, creating trip hazards and chances for accidents.
This can damage your flooring and create marks from the constant wear and tear of the chairs. With a dining table mat though, you can avoid it and protect your flooring, reaping the benefits of preventing slips and other accidents.

Adding a floor mat below the dining table can also be a way to emphasize the furniture, especially if you're quite proud of how it looks. The mat can accent the dining table and make it stand out more.
In addition it can frame and define the space, especially if you have an open concept design. Read more about dining room rug sizes here to get the best results for your space.

Heated Floor Mats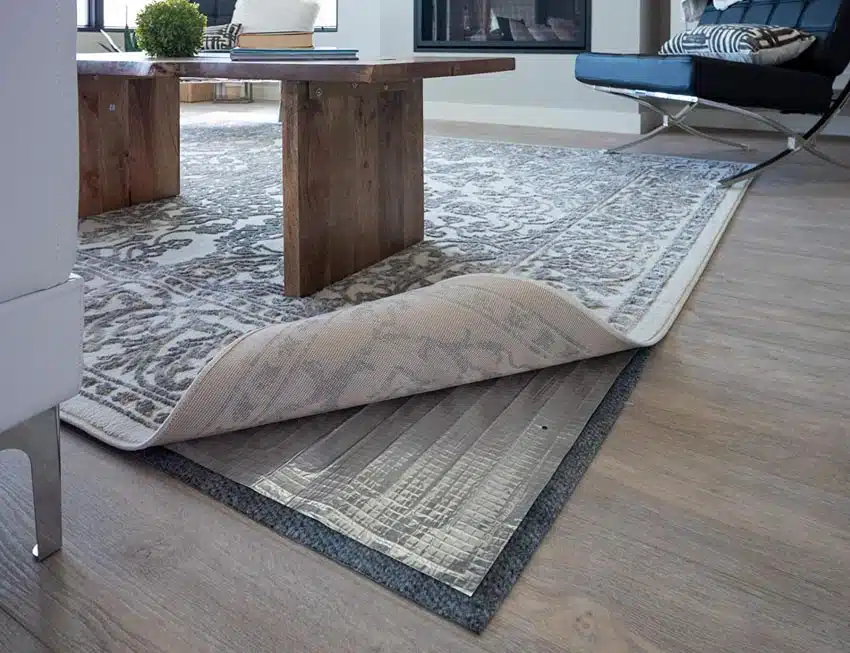 See this heated floor mat at Amazon [sponsored link]
With an inbuilt electrical circuit integrated to function more effectively, heated floor mats function just as they are named. They provide extra warmth and heat to the house, especially during the cold season and winter nights.
For heated floor mats to function, you will need a power source to plug them into. The mats will then start converting electrical power into heat energy. They are also made from heavy-duty rubber so that they are safer to use.
Compared to standard space heaters, they are more affordable and safer since they just use around 90 to 135 watts (with space heaters using around 1,500 to 2,500 watts).
And they also heat up to 125 degrees Fahrenheit. Heated floor mats serve as a cozy foot warmer indoors and when installed outdoors in the walkways can melt snow and ice along the way.
Home Office Mats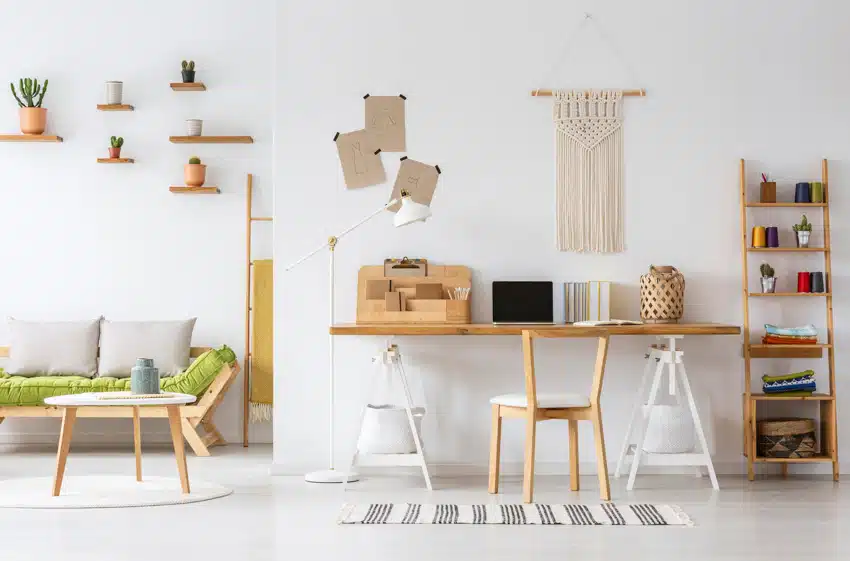 Many households are now designed with their own home offices and if you're one of the people who are now working from home, you might benefit from getting a home office mat.
Whether you have expensive types of carpet or hardwood flooring in your home office, getting a home office floor mat can protect your flooring from dirt and damage so that it can last for a long time.
Typically, these office mats are located in front of the desks or outside the door where people can access them and wipe their feet before entering the office. They can also be made of either vinyl or rubber, depending on what you prefer
Electro Static Discharge Mats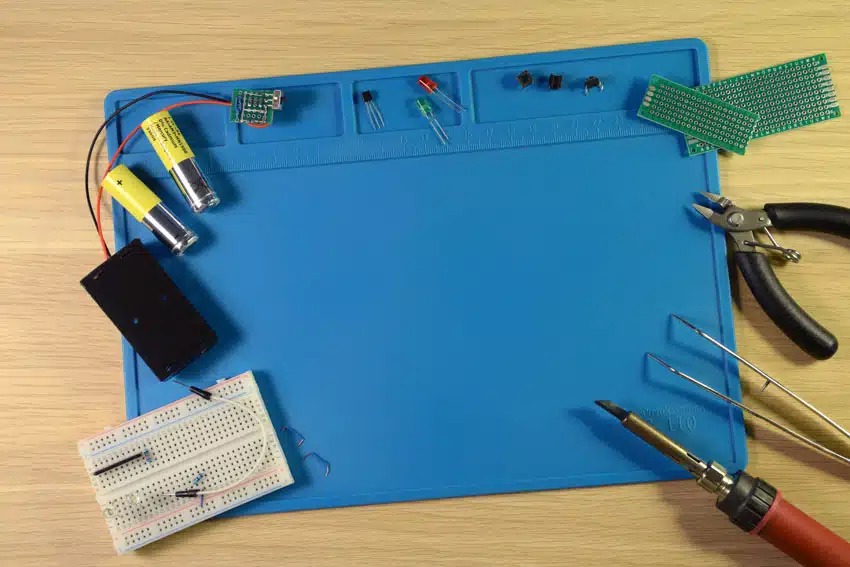 An ESD or Electro Static Discharge mat is a type of mat that makes sure your electronic products and electronic circuit boards are not damaged from electrostatic charge. An electrostatic discharge can cause injury and damage to sensitive electrical equipment and appliance.
Electro Static Discharge mats are commonly used in factories and workspaces where operations are supported by highly sensitive equipment. The mats help to create a safer working environment for employees, in addition to possible damage to the equipment. These mats can be installed in the work area, manufacturing floors, desks/workbenches, and large rooms or open sections.
Some ESD mats come with an anti-fatigue feature to support their employees and make sure they are more comfortable as they work on top of being safe in the workspace.
Waterhog Floor Mats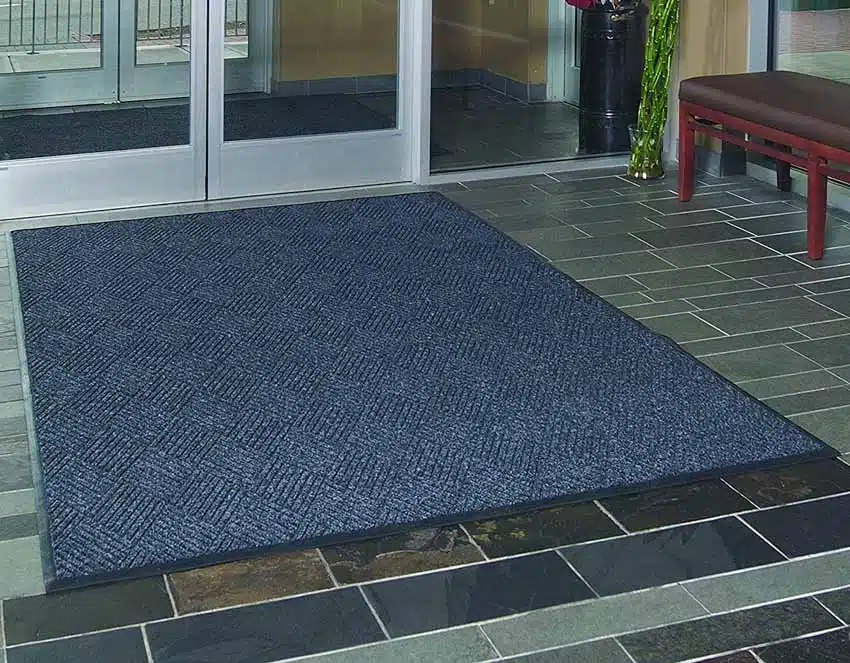 See different Waterhog floor mats on Amazon [sponsored link]
Incredibly durable, Waterhog floor mats are stain-resistant mats that make sure your floors are dry and clean, making it a safe space to be in. It is a popular matting product and brand for both residential and commercial spaces, which is easily recognizable because of its distinct waffle pattern design.
Waterhog floor mats are designed to be installed on your entryway, with their main function to trap dirt, debris, mud, and moisture off the shoes since they can be carried and spread all over the home. While you can place it in the main door, you can also place it anywhere in the home that you believe will be more beneficial for you.
Waterhog mats are made from polypropylene which is a synthetic material that is very durable but may have some chemicals that could be toxic in an indoor environment.
Tatami Floor Mats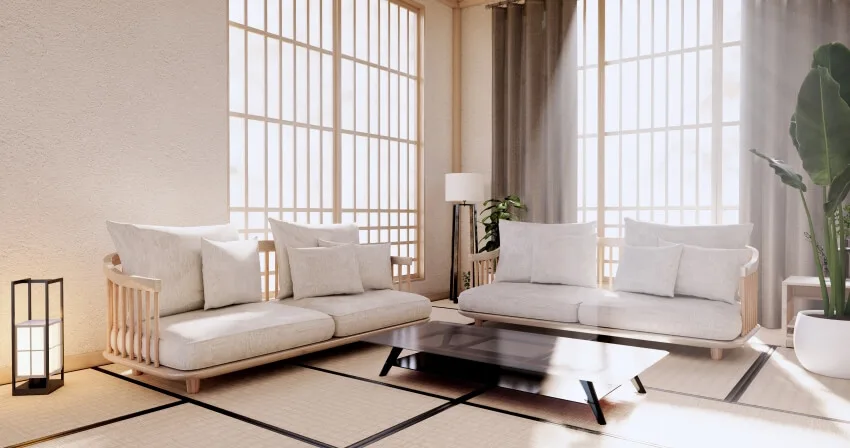 A key part of Japanese culture, a tatami floor mat is originally made from woven rush grass, responsible for creating this relaxing and comforting vibe you will enjoy when using this type of mat. The grass is woven around a rice straw, which serves as the mat's core that keeps it firm and together.
Tatami mats today are not just made from grass and the rice straw is also replaced by more modern and durable materials like polystyrene foam. This makes the tatami mat stronger and so can last longer compared to the traditional kind.
If you are going for a refreshing Japanese look in your home, adding tatami mats to your floor is a good option to consider. The fusion of Japanese and Western designs is also becoming a trend that's worth exploring. This means that aesthetically, tatami mats will be a unique and refreshing appearance to your home.
When it comes to cleaning and maintenance, tatami mats require a special kind of care. Manual cleaning using a dry cloth is recommended and while you can use a mop for the mat, make sure that the moisture is not absorbed on it.
Floor Mat Materials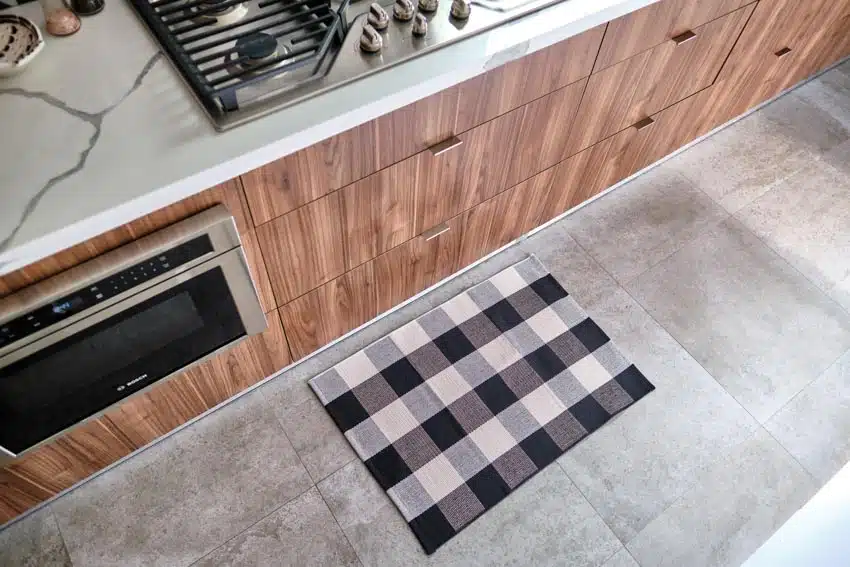 There are different materials that manufacturers use for their floor mats, depending on what type of mat they are making, as well as what their own designs require. For outdoor mats, tougher materials are needed to perform their function excellently.
If you are looking into the different floor mat materials you can consider, here are the most common and popular ones used by manufacturers.
Rubber
Considered incredibly tough, rubber mats can last for a long time and so are recommended for common areas with high foot traffic. This is also the recommended material for commercial establishments.
These mats also come in a variety of designs and patterns while at the same time delivering enough traction to avoid the risk of slipping. The downside though is that it doesn't absorb moisture and so would need an absorbent foam to help it function better.
Vinyl
Very popular among mat manufacturers, vinyl floor mats are very affordable and at the same time durable to use. They come in different surface patterns and can be very stunning to look at. Similar to rubber, it does not absorb moisture though, and would need a soft absorbent foam installed on its topside.
Carpet Fibers
These carpet floor mats are made from tough fibers that can take daily wear and tear easily. The fibers are supported by a vinyl or rubber backing that increases the mat's durability and quality.
They usually come with beautiful sewing patterns and feature different colors that allow the mats to stand out. They are also very absorbent and so work well on wet surfaces but the major downside is that they require meticulous cleaning and maintenance.
Coir
This materials is made from coconut fiber and is naturally durable, inexpensive, weather resistant and insect resistant. Due to these qualities it is popular for use as door mats. However, due to its thick pile it can be difficult for wheel chair users or other delivery people with wheeled hand carts to cross.
Plush Vs Bristle Floor Mats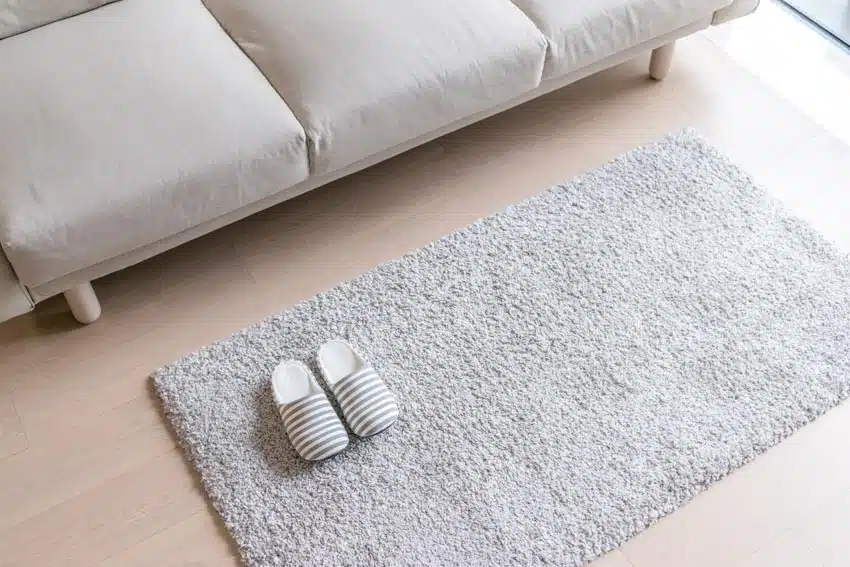 Plush floor mats are usually made of solution-dyed nylon yarn and rubber backing for durability and quality. They are more popular for their aesthetic look and are often heavier and thicker compared to other types of floor mats.
They are also considered indoor mats but can function well in busy areas with heavy foot traffic, including the main entrances and common areas. This only goes to show that they are incredibly durable enough to withstand it.
Bristle floor mats are usually outdoor mats that feature flexible rubber bristles. These bristles allow you to easily scrape your shoes clean to take out unwanted debris and dirt. These mats are the best option if you want to deal with the cleanliness at the main entrance of your home or your building.
How To Clean Floor Mats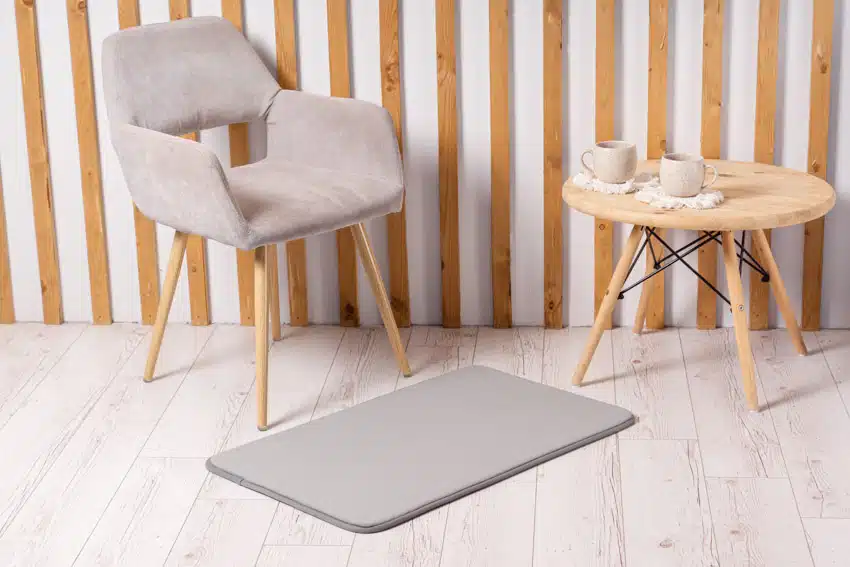 When it comes to cleaning your floor mats, there are different factors to consider before taking on the job. You need to take into account what materials they are made of, their sizes, as well as how heavy the dirt is.
To serve as a guide, here are some cleaning tips to follow based on the type of mats they are:
• Rubber mats: Warm water and detergent solution with a thick brush for a good scrubbing
• Carpet mats: Vacuum for general cleaning and steam vacuum for unwanted stains
• Other mats: Make sure to follow the manufacturer's instructions but you can always use a hose and pressured water
Can You Put Floor Mats In The Washing Machine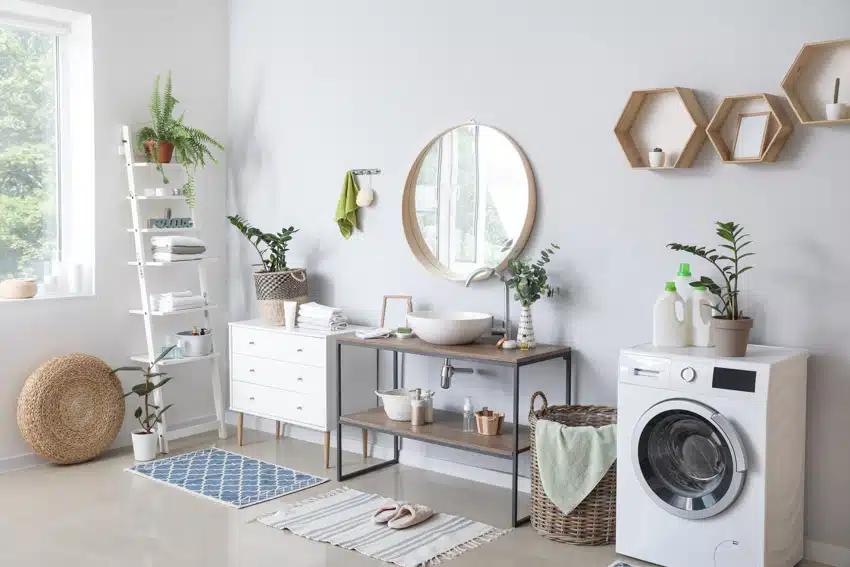 Floor mats are usually too heavy to be placed in the washing machine, which is why it's not a recommended cleaning method for them. Check the label for information to see if it has washing instructions first.

If you force yourself to clean your floor mats using the washer, you may end up damaging your washer instead. Just go for the traditional way of cleaning floor mats shown above just to be sure if in doubt.
See more related content in our article about rug placement under a sectional sofa on this page.