Welcome to our design guide for staging a kitchen table including tips for choosing decor and accessories.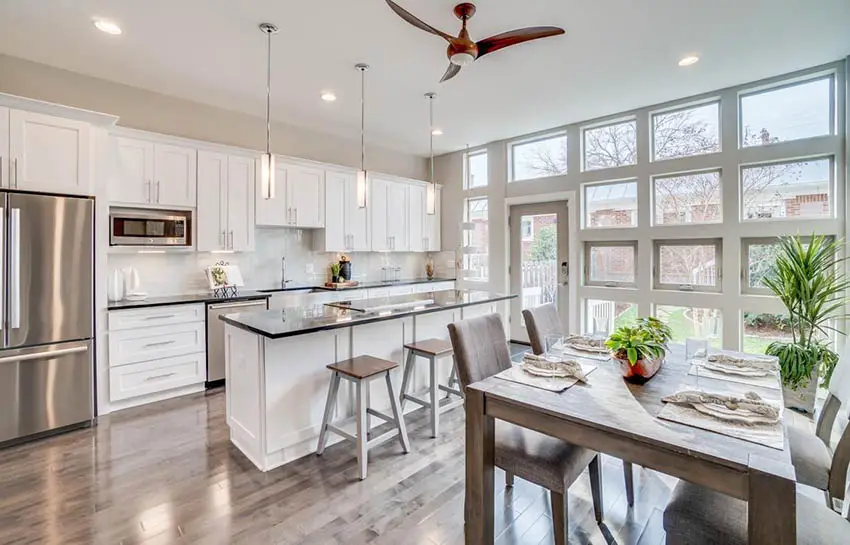 Staging a kitchen table can help you ready your home for real estate showings or it can even help you just create a beautiful space that seems like it's right out of a catalog or off an interior design website. However, it can be challenging to stage a kitchen table if you aren't sure what you're doing.
Don't worry! There are plenty of tips and tricks that you can use to ensure that you stage your kitchen table to the best of your abilities. You can use the tips covered here to ensure that you have a gorgeously staged kitchen table.
How to Stage a Kitchen Table
Get Started by Cleaning the Area
One of the first things you should do before you start staging your kitchen table is to make sure that it's clean. You'll lose the appeal of a staged kitchen table if the eye is drawn to imperfections such as rings on the table from drinks or crumbs from your last meal.
Make sure that whatever you use to clean your table and the items you'll put on it is made for those purposes. You don't want to damage your possessions in the effort of making them visually stunning. This might also mean taking on slightly larger projects such as restaining a wood table if it needs it.
In addition to a deep cleaning you also will want to declutter kitchen countertops and surfaces as much as possible. This means storing all small appliances, utensils and outdated or personal decor items.
Carefully Choose Your Decor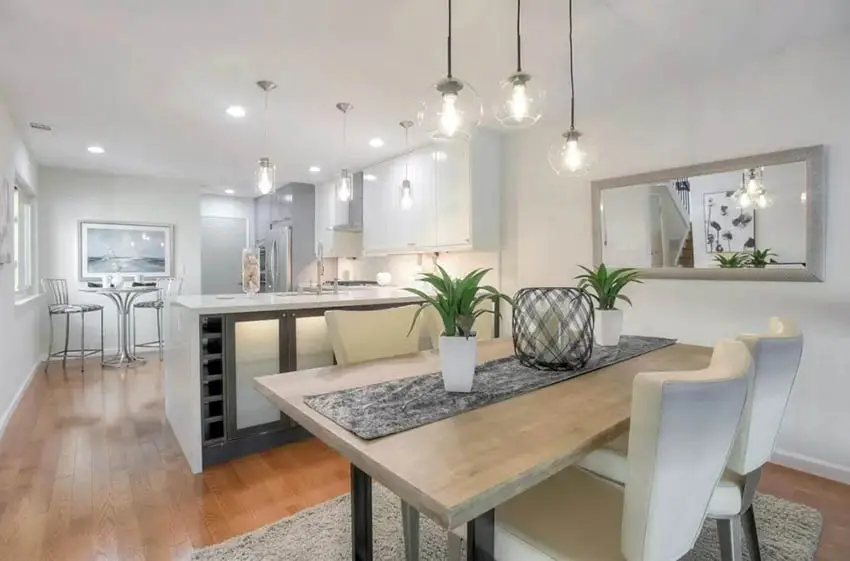 If you're staging a kitchen table for the purpose of a house showing with the goal of making a sale, you'll want to keep it simple. The kitchen table shouldn't serve as the focal point of the room but rather draw out the beauty that the kitchen itself has. If you stage the table too ostentatiously, then you're going to defeat the purpose of staging.
You'll also want to avoid anything that looks too contrived. The goal is to make the table look nice and decorated rather than trying to conjure up the image of a table in immediate use. For instance, sitting out a bowl of food as if someone is about to sit down and have breakfast isn't going to look natural whereas a bowl filled with fruit as a centerpiece would look more fitting for a kitchen someone just walked into to view.
You should also avoid design ideas that don't look natural. You don't want to design a staging that's decorated in a way that no one would ever use that space. During a showing of your house, you want potential buyers to see how they might use the space to shine a light on how nice the home is.
Update Appearances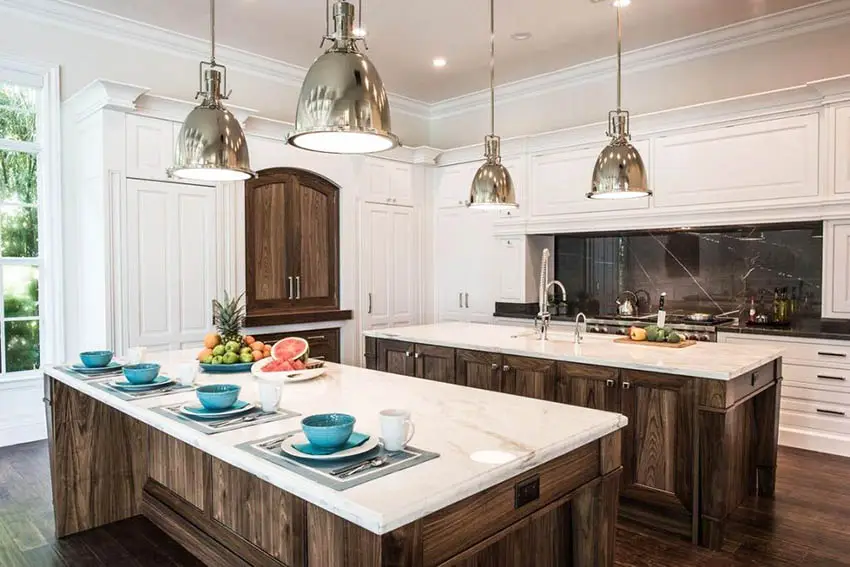 Sometimes, we all fall into our own unique style or let a style that fell out of popularity stick around too long. It's a good idea to take the time to make sure that your kitchen table is completely updated with modern and popular designs that new homeowners are likely to use. See more tips on how to add value to your home here.
Use Placemats or Tablecloth

Use placemats or a tablecloth to avoid setting the plates and utensils directly on the table. Make sure all of the glasses, utensils and plates match each other. In addition, one will need to occasionally clean and dust the area to keep it looking fresh and inviting. Visit this page for more tips on staging a dining room space.
Go With a Table Centerpiece Rather Than Place Settings
If you are staging a large kitchen table where entertaining and the amount of seating for dining is a selling feature than setting out place settings makes a lot of sense. However, if you have a smaller space settings can actually make the room look to busy and distract from the space overall.
One thing in particular to note about using place settings is that cutlery and utensils may disappear if the room is not properly supervised. One could remove the utensils, but a setting without utensils looks strange. In addition, cutlery could be problematic in the hands of a small child.
For these reasons many opt to forgo the place settings altogether and go with an attractive table centerpiece such as a bowl of fruit, indoor plant or flower arrangement.
Don't Crowd the Space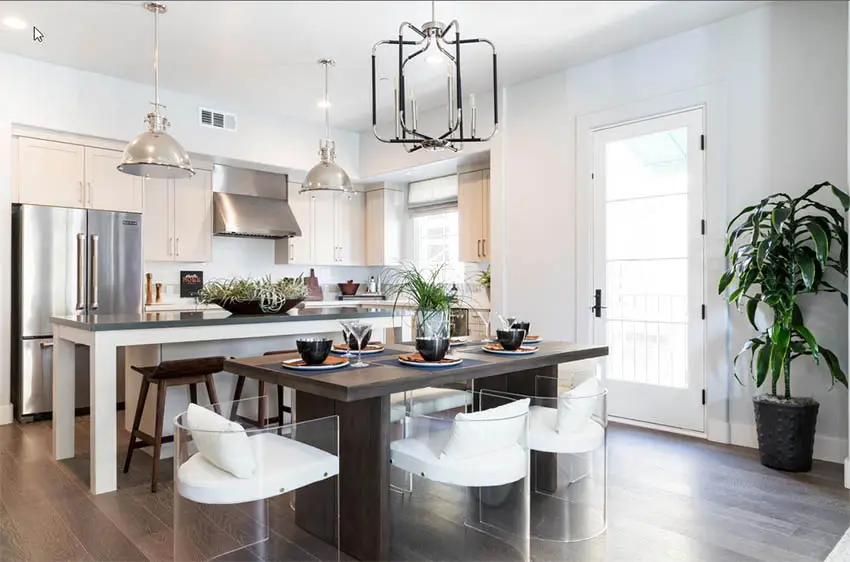 When you're staging a kitchen table, the point isn't to show off how much your kitchen table can hold. Instead of placing hundreds of tiny items on the table, work sparingly, and create a spacious appearance in your kitchen. For instance, show them how two people could sit at the table comfortably rather than showing them you can squeeze a family of four into the space if you try hard enough.
Remember, most people want more space when they're looking for a new home, not less. This means you'll do much better by working to see how much you can do with a space and how much room there is to experiment rather than giving them an overcrowded view of the kitchen table. This is also true when decorating kitchen countertops.
Don't Be Afraid to Look Around for Ideas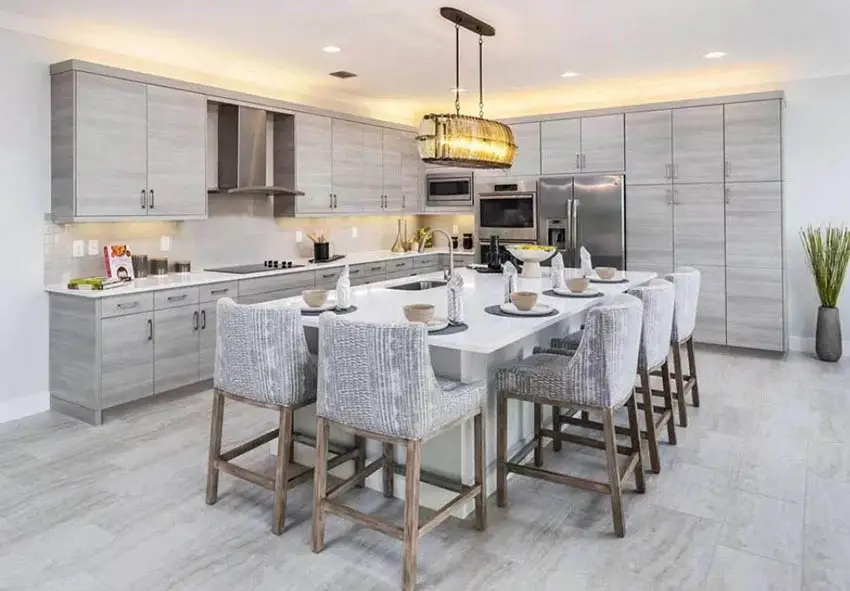 There are plenty of different ways that you can stage your kitchen table but if you aren't sure what to do, don't be afraid to look around. Plenty of online sources and even Pinterest boards can show you a multitude of ideas for staging a kitchen table in a variety of sizes, shapes, and settings.
You may also be able to turn to your real estate agent for help when you're working with one. They may even call in the help of a home-stager. These professionals have the job of making a home look intriguing to potential buyers.
Using these tips will help you correctly and attractively stage your kitchen table to make the kitchen as a whole as appealing as possible. Keep this in mind while you experiment with what looks best. To create your own interior designs you can try out one of the available virtual staging software programs.