Find out what is a portiere curtain, with how it works, different rod & curtain styles & materials, and how to install a portiere rod for curtains.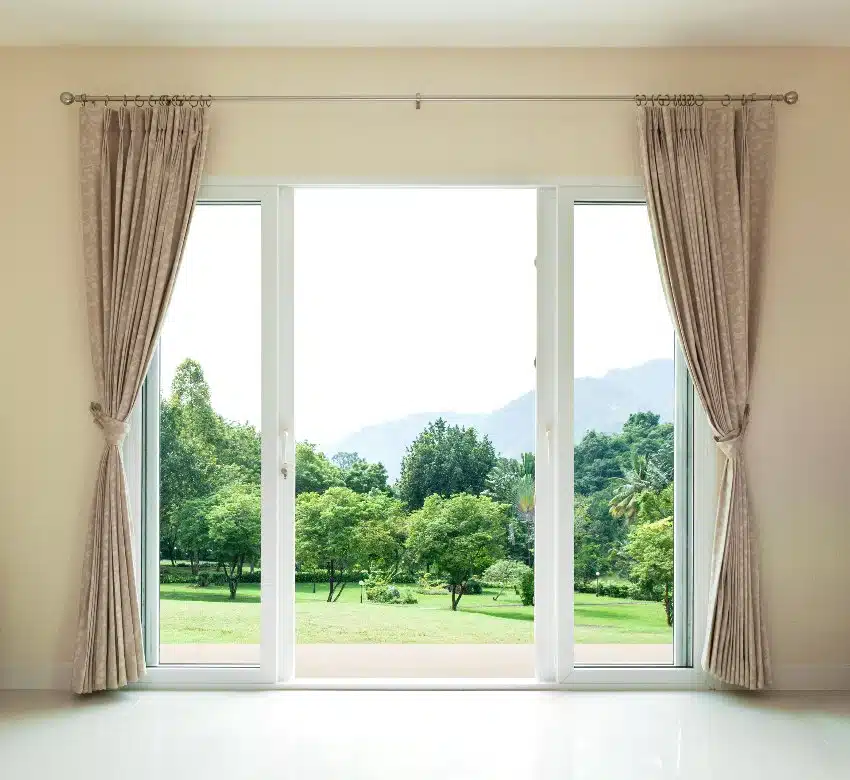 As fancy as it sounds, the portiere curtain can glam up any regular entryway, adding visual interest and providing privacy without needing an actual door. The portiere curtain can be as elaborate as the Victorian portieres or as elegant as its Parisian inspirations.
Modern versions with cleaner lines and wispy textiles are also available, creating a level of sophistication while being a practical and easy solution for that much-needed privacy.
What Is A Portiere Curtain?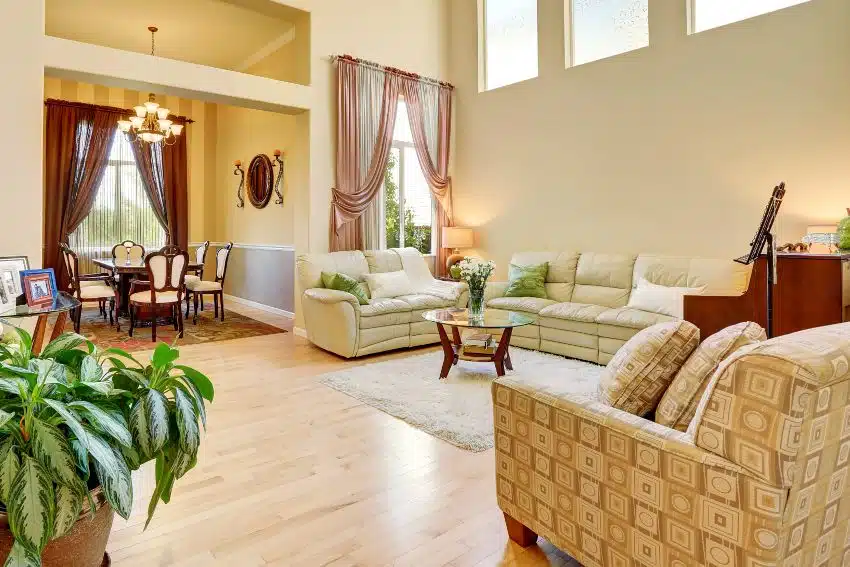 A portiere curtain is a door treatment placed over or at level with the door header and functions mainly as an embellishment. Still, it has practical uses, such as providing a level of privacy for doorless entryways.
The door drapery can also be placed along an existing door with draperies. The draperies are usually in pairs of long textiles that are parted in the middle when opened and can be fastened decoratively on each side.
In the Middle Ages, portiere curtains were used in castles to prevent drafts between rooms or trap heat from fireplaces. Thus, heavy and thick fabrics are usually used with embroidery and intricate designs.
Double drapes are also possible, with the thicker curtains placed outwards to be drawn as blackout curtains, while the thinner ones inside can be drawn when light and ventilation are needed.
How Does A Portiere Work?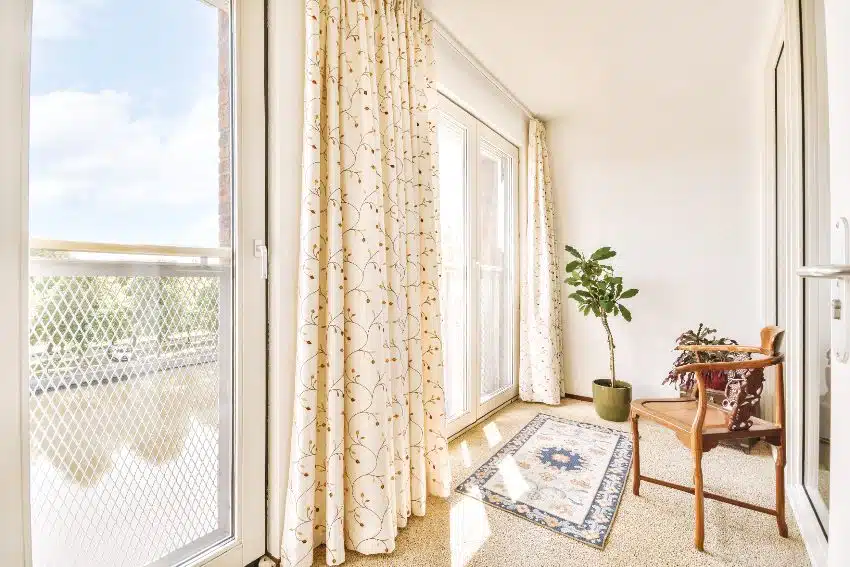 Like your typical window treatment, portiere curtains are installed above a door header by using a regular curtain rod or hung over a tension rod. To affix a portiere curtain on an existing door, fixed rod brackets are used, which are installed along the upper door frame.
Portiere rods slide through the curtain's rod clip rings or eyelets. A more modern option called wave heading, usually used in hotels, offers a cleaner appearance.
Portiere Door Curtain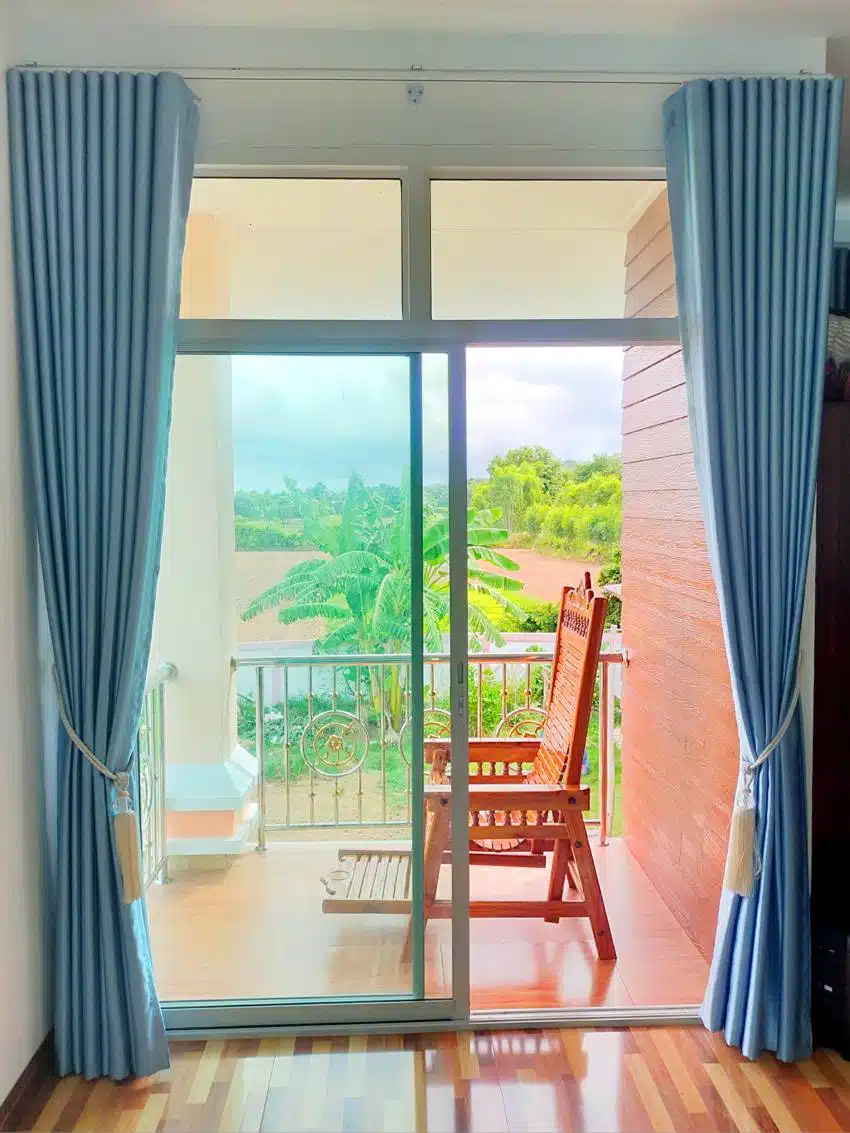 Door curtains function to muffle sounds between rooms, provide some privacy, block excess light, regulate temperature, and stop drafts from coming between spaces. These effects can be achieved through the use of the proper material, like fabric.
Designs range from tassels, cords, beads, or seashells. The latter two are joined by strings. These can be either purchased commercially or made at home. Side panel curtains can also be head back with holdbacks attached to the wall

Arts and Crafts Fabrics
At the height of Portiere curtains, housewives made them at home. The procedure is either taught or read from books and periodicals. The availability of materials is limited, and most used materials are easy to find, such as velvet.
The color palette revolved around earthen. Colors like gray, blue, brown, or old rose were in use to achieve a homely atmosphere. With this freedom to design, all kinds of motifs were created by weaving embroidery to form a specific pattern. A Victorian style was reserved for the elite, and simple folk preferred elementary designs.
Portiere Beads
See this Black portiere curtain beads at Amazon [Sponsored link]
Portiere beads became popular during the '60s to '70s. As these are beads, they let air in, and some claim they can keep flies out. Regardless, portiere beads function as a decorative element in the home. The design can alter the feel and look of the home's interior.
The beads can be made from a variety of materials and sport a range of colors. Heart shapes, spheres, rings, torus, and chains. The different beads used can be used to form a specific pattern along the strings that hold them.
The materials also vary from wood to metal to glass. Each curtain can be customized in a variety of ways. When looking for a curtain design for your home, you have a selection of portiere beads that can be of a single color and pattern, or you can have one that is colorful and random.
The number of strings along the array can also vary, and this will affect the overall pattern and amount of privacy between the rooms.
Portiere Rod
Portiere rods are hinged rods that move with the door or dormer window. The rod moves independently of the door so the curtain can be moved out of the way without opening the door. Or the door can be left open, and the curtain moved into place to block the door.
Overall, the rod functions just like any other types of curtain rods with just this special function. Any curtain placed can be slid close or open.
One Bend Pole / Pole / Rack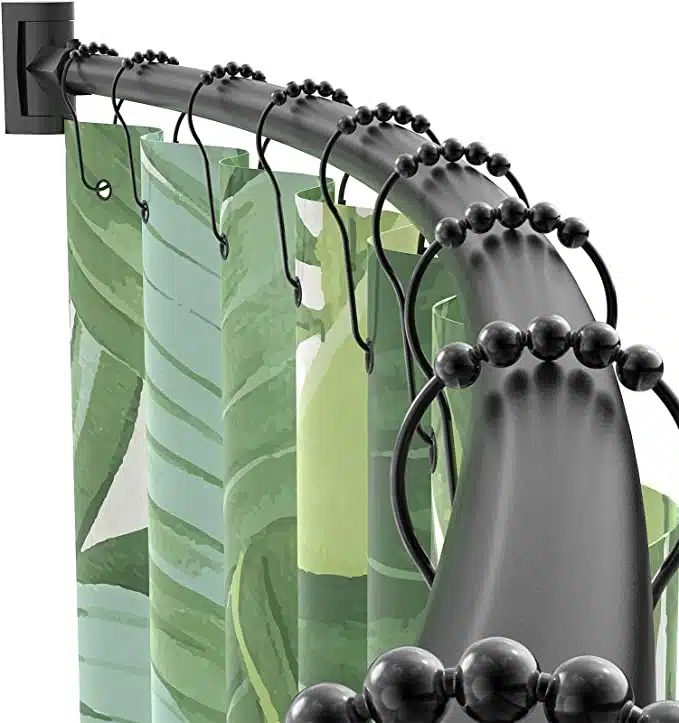 See this adjustable bend pole at Amazon [Sponsored link]
In some cases, like when doors are located at corners, a bent pole is the solution for when the curtain won't fit when it's not in use. The bent poles allow it to wrap around to the next wall for installation.
You might think of bending it yourself, but you risk breaking it or bending it wrong so that defects may be visible. Fortunately, bent poles are available for purchase. It is important to make necessary measurements and proper planning before buying a set of curtains and rods.
How To Install A Portiere Rod?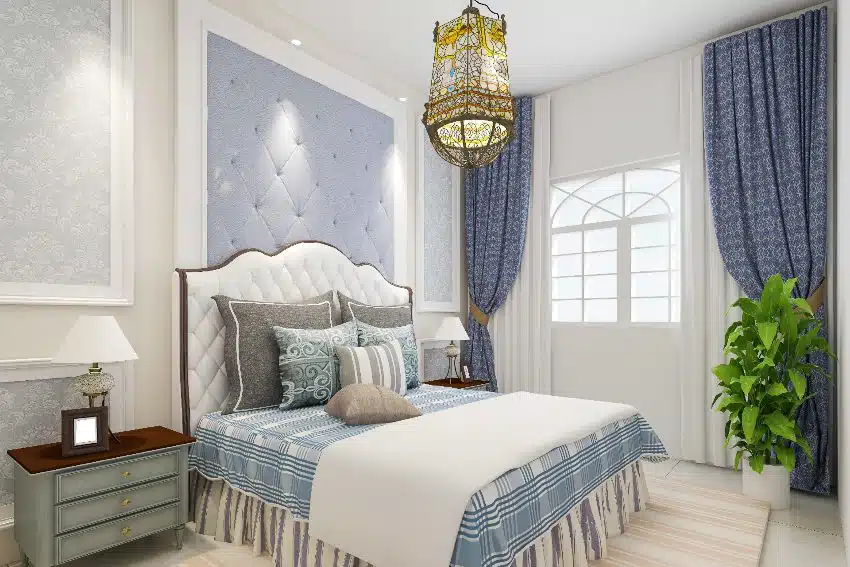 As with any activity, planning is key. When installing a new curtain in your home, you should first consider the rod and how it will be installed.
Additionally, look for a quality portiere rod from a reputable seller. The specifications, as well as the materials and finishes available, should also be available in their catalog.
Dimensions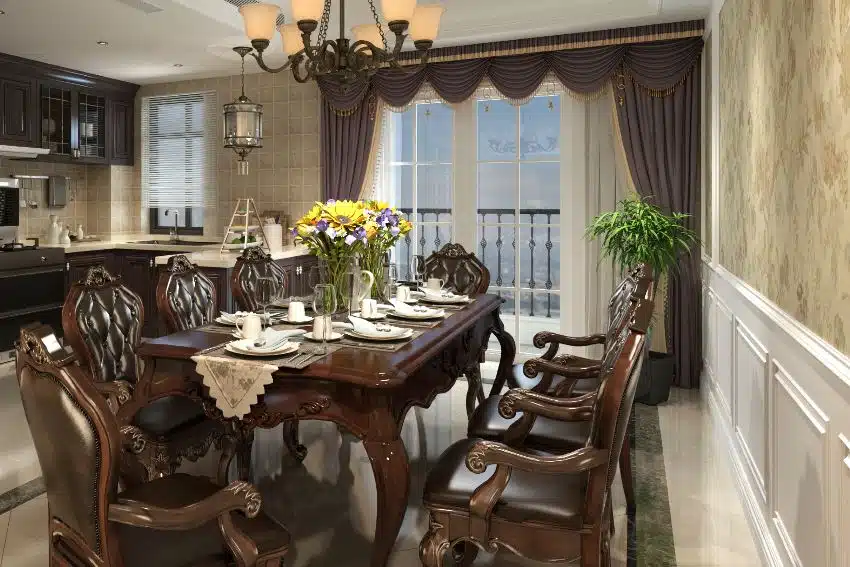 1. Take measurements of the total length of your entryway with some extra margin to make it more visually appealing. It is best to use the smallest units for better accuracy. The measurement will be your basis for purchasing the correct rod length for your portiere and curtain lengths.
For adding the pleating or creasing effect, a curtain panel should be 1 ½ times the width of your total length. Read more about choosing curtain rod sizes and measuring here.

2. Take measurements of the total height of your entryway. The total length will be your basis for purchasing your curtain fabric. When installing above or outside the doorway, allow a 2 to 4 inches allowance. For clearance between your floor and curtain edge, add ½ inch clearance. See our article about standard curtain sizes here.

3. Once the rod brackets are installed, take the portiere rod, slide through the curtain panels, and mount the assembly on the brackets. There are different curtain headers, such as pleats, eyelets, rod clip rings, and wave headers, each giving a different look.
Inside Doorway Installation. Tension rods are best for inside doorway installation as they come in adjustable lengths by twisting the rod to release the pole. A longer tension rod is recommended for a more stable rod.
Outside Doorway Installation. When choosing the length of your portiere rod, allow a 2 to 4 inches allowance. When purchasing your portiere rod, it usually comes with a set of brackets and screws, and this hardware is where your rod will be mounted and secured on the wall.
Using a portable hand drill, screw the brackets in place. For heavier portiere fabrics, add drywall anchors to support the weight.
Visit our guide to layered curtains for more curtain styles for your home.