Take a look at what lighting professionals are choosing as the top 10 modern linear chandeliers for the home.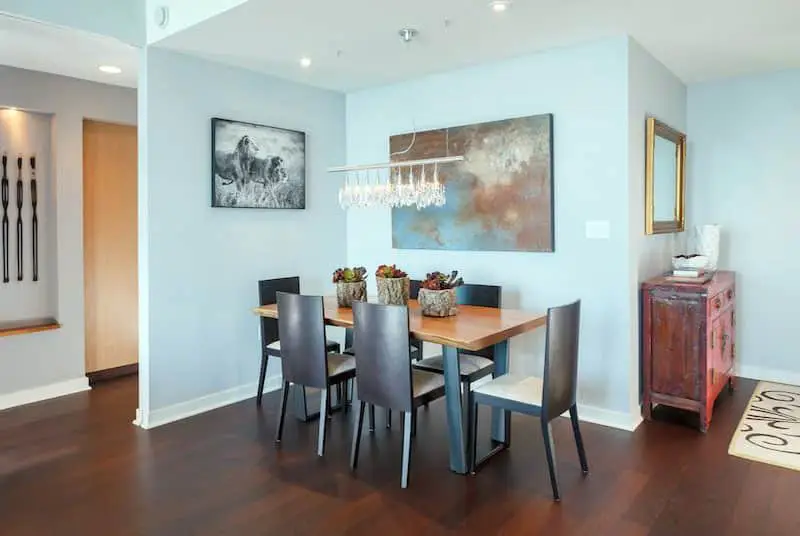 There's no denying the allure of a chandelier to add sophistication and style to a room. Adding a chandelier is a great way to bring in a sexy vibe to the bedroom, chic glam to the closet, visual interest in the kitchen and elegance in to the dining room. Below we share the top 10 modern linear chandeliers along with the best places in the home to make them stand out and shine.
What is a Modern Linear Chandelier?
There's an interestingly deep history behind the invention, use, and evolution of the chandelier. It had its humble beginnings as a simple conglomeration of two wooden beams nailed together at their centers to form a cross with candles on spikes at the ends. In fact, the etymology of the term – chandelle of French origins – literally just means "candle holder".
Undeniably, it was an innovation brought about by the need for light during the darkness of the night. But centuries of refinement and cultural appropriation have transformed it into a symbol of class and luxury.
It went through different phases in its design. Chandeliers started out wooden, transitioned to masterfully ornate combinations of metal, crystal, and glass, and more recently, have adapted a more functionalist approach to their form.
The gallery we'll be showcasing today is a variation of the contemporary chandelier form that proves to be both functional and stylish – the linear chandelier.
These types of fixtures can be differentiated from most other types of chandeliers by their shape and orientation. While most chandeliers prefer to adapt a more radial form, linear chandeliers, as indicated by their name, are rectangular or oblong. With a dominant longer axis, these types of suspended lighting fixtures are commonly used for similarly long areas or spaces, such as long tables and bars.
The Advantages of Linear Chandelier Lighting
With the functional flexibility of a long, rectangular orientation, the linear chandelier can be used in a variety of contexts and design situations. Long dining tables, kitchen islands, and breakfast bars are just some of the examples.
Another characteristic advantage of a linear type lighting setup has over other types is its innate symmetry and clean look. If you're going for a balanced and harmonious look for the space, you need not look any further than linear chandeliers.
With all these in mind, there is a large variety of design conditions and interior home spaces where linear chandeliers can be used effectively. Here are a few examples.
Where to Use Linear Chandeliers
Dining Rooms – Where better place to use long, rectangular lighting than on long dining tables? Dining rooms could also opt to have bar setups, in which linear chandeliers are also perfect. A good rule of thumb is to keep linear chandeliers and lighting designs in mind when considering dining spaces that is designed to accommodate a fairly large amount of people. Outside of functionality, chandeliers are always a good way to add some style to a room.
Kitchens – Kitchens often come with long working countertops, spacious central kitchen islands, or elongated breakfast bars. All these spaces work exceptionally well with linear chandeliers and can benefit greatly from the copious amount of lighting these chandeliers provide. This is especially true considering the amount of visual clearness needed in performing cooking tasks.
Outdoor Spaces – Exterior patios, terraces, and decks can get a lot out of linear chandeliers. For most homeowners, these spaces are used as social gathering spaces, for events like family barbeques, house parties, or pool parties. As with any space that has to accommodate people, these outdoor spaces need good lighting. On another note, linear chandeliers can also be a conversation point or accent piece for the space – a sort of nice display piece for the guests.
Bathrooms – Plenty of bathrooms, especially the impeccably designed luxury variants, use linear chandeliers as a sort of centerpiece for the ceiling. It's a good source of lighting, and lighting is needed for bathrooms, toilet rooms, and powder room, as everyone and their mother can attest to the importance of being able to see yourself clearly in the mirror while grooming. Linear chandeliers also help give a nice ambience to the bathroom space, a room which is often thought of secondarily when designing a nice home. Visit this page to see more bathroom chandeliers.
Our List of Amazing Modern Linear Chandeliers

1. One Allium Way 4-Light Crystal Linear Chandelier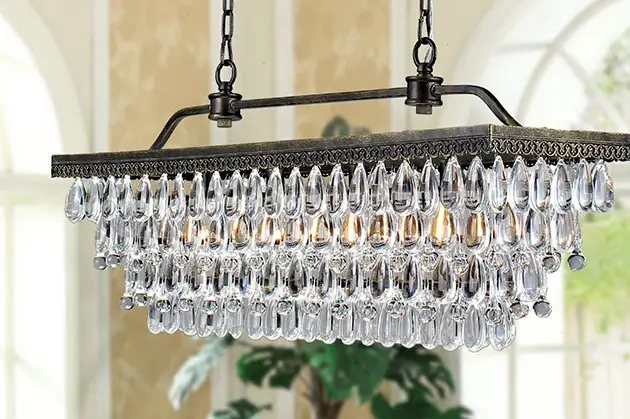 Buy this at Wayfair
Style: French Country Style
Design: Metal and glass with antique finish
Description: This elegant chandelier has a touch of modernity and would look beautiful in a dining room or kitchen. This four-bulb, 60 wattage crystal beauty is best suited for traditionally designed spaces. That said, it has a style that is just contemporary and flexible enough to go with plenty of other interior design styles. It has 228 glass droplet accents and at 39-inches long, should be suitable for dining spaces, social gathering areas, and formal kitchens.
Take special note of the warm white bulbs used for the fixture, the wrought iron construction on its supporting chains and framework, and the old school charm of the crystal droplets. This is the chandelier you would want to go with if retro chic is your preference.
2. Willa Arlo Interiors 5-Light Kitchen Island linear Pendant chandelier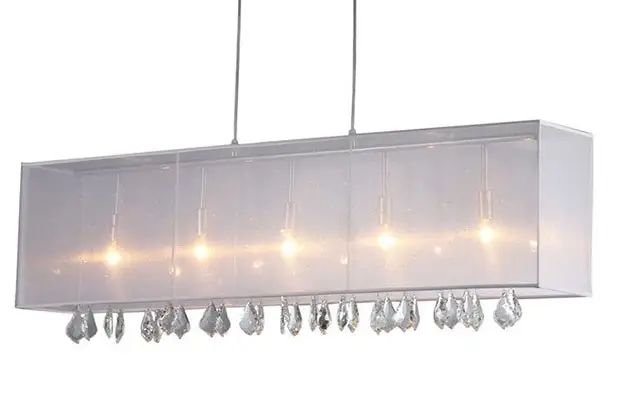 Style: Contemporary
Design: Glass and metal in chrome finish with mesh
Description: Shaded chandeliers have a knack for radiating a warm, ambient glow but keeping it subdued enough to prevent any unwanted and unnecessary glare. This particular design uses graceful rows of crystal glass to add some glamour to the fixture piece. A dynamic and flexible chandelier such as this is suitable to be used in kitchen islands for the most part, but can be readily utilized for breakfast bars, long dining tables, and kitchen counter tops.
The LED bulbs can be dimmed to get the ambiance you want. The row of five bulbs also adds a stylish effect to the overall fixture.
3. Willa Arlo Robbe 9-Light Crystal hanging linear Chandelier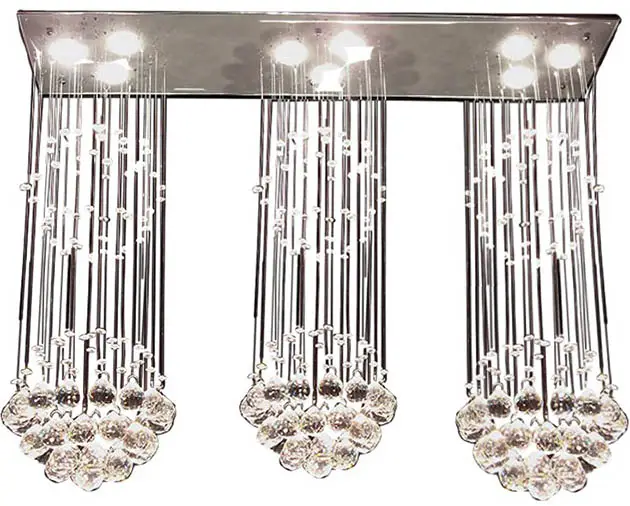 Style: Glam
Design: Glass and metal in chrome finish
Description: Crystal chandeliers since several generations ago have been considered the epitome of interior design class and styling. This type of contemporary re-imagination of the original glass chandeliers of yore can give your home a splash of old-timey elegance while still keeping a contemporary and more updated style.
These types of chandeliers can be most well-utilized in either a small to medium sized formal living room or a formal dining room. It is sure to serve as an eye-catching piece of design especially to house guests.
4. Ella Crystal Rain Drop Linear Chandelier
Buy this and see more here
Style: Eclectic Contemporary
Design: Crystal and brushed stainless steel with metal tension wires
Description: Some linear chandeliers have designs so eye-catching that they might as well be the centerpiece of a room and not merely a source of illumination. This design in particular showcases strings of crystal glass. The two varieties of crystals, round and rectangular, are carefully arranged to create a tapering pyramid of illuminated glass and creates an amazing lighting effect.
This light fixture is compatible with a variety of bulbs including LED, dimmable and halogen. Use this chandelier for long formal dining room tables for both your family's and house guests' viewing pleasure.
5. Meurice 42-Light Kitchen Island Modern Chandelier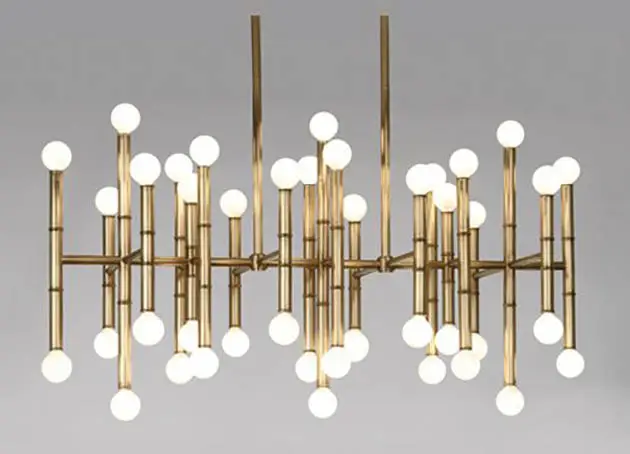 Style: Industrial Modern
Design: Tubular brushed brass with brass rod supports
Description: If you're looking for a stylish, contemporary, and raw look for your linear chandelier, look no further. This chandelier gives a clean, industrial modern feel to any room with its brushed copper finish and 42 individual light bulbs adorning the piece. The soft white glow helps create a homey ambiance to your spaces.
These types of chandeliers can be used in living rooms, dining rooms, and hallways.
6. 7 PM Modern Linear Rectangular Chandelier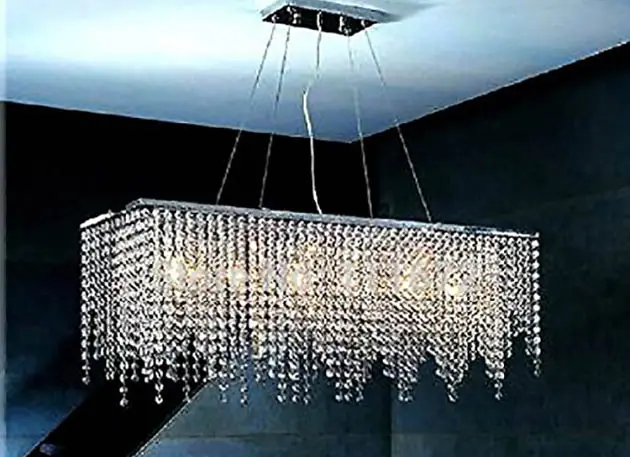 Buy this and see more here
Style: Modern Glam
Design: Glass and metal with metal tension wires
Description: The chrome finish and ornately cut glass crystals hanging from the main metal frame makes this chandelier a sparkling, shimmering symbol of high-class elegance. The seven bright bulbs illuminating the chandelier piece bounce light off of the numerous glass crystals and create a wonderful effect.
Chandeliers of this class are usually utilized for formal gathering areas, large formal living rooms, or high-end dining room setups.
7. Broadway Contemporary Linear Crystal Chandelier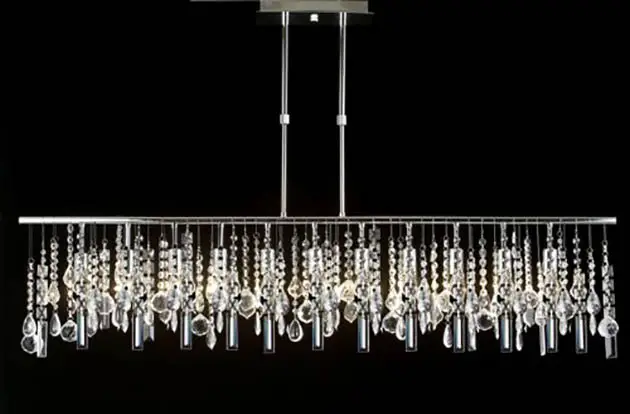 Buy this and see more here
Style: Modern Glam
Design: Crystal glass with metal support rods in chrome finish
Description: Modern and contemporary, this Broadway linear crystal chandelier has 11 light bulbs that are lined in a row along with various hung crystal glass finishes. The simple one-line support frame system takes attention away from the support components and places them onto the actual glass crystal part of the fixture.
Use these linear chandeliers for kitchens, breakfast bars, and corner dining areas. You could also choose to use them for smaller dining room layouts.
8. Langley Street 6-Light Candle-Style Chandelier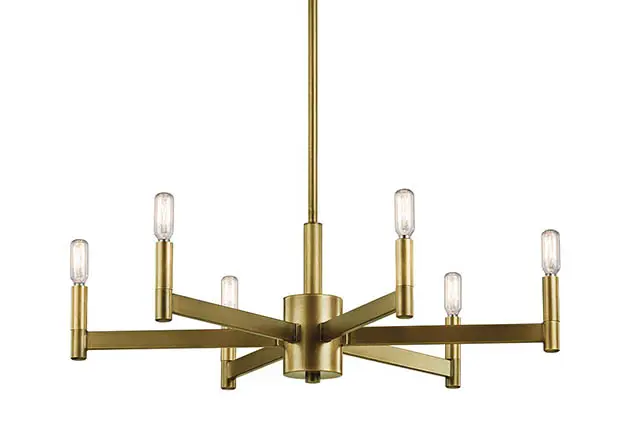 Style: Modern Industrial
Design: Metal in brushed bronze finish
Description: Hanging this modern and industrial 6 light chandelier adds a stylish classiness to any space. The bronze finish goes extremely well with the warm white glow of the light bulbs and is reminiscent of older authentically bronze variations of hanging chandeliers.
Suspend these types of chandeliers over dining tables in formal dining rooms for your home feasts and parties. Foyers or main vestibules in the house will also appreciate this type of lighting fixture.
9. Light Society 18-Light Sputnik Chandelier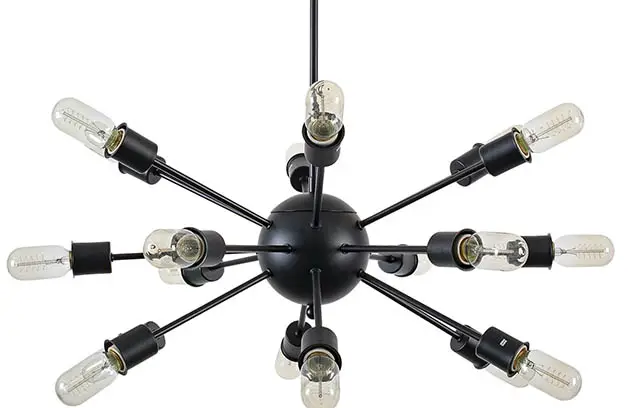 Style: Eclectic Contemporary
Design: Sputnik design in black powder-coated iron with support rods
Description: These types of chandeliers are dubbed "Sputnik" chandeliers. These starburst chandelier types add a very distinct retro-eclectic feel to any living space in the house. The matte black finish of this particular chandelier creates a very stylish look.
Sputniks are good additions to lounging living rooms, especially those with themes and aesthetics that match the chandelier. You can also choose to use it for smaller sized round dining table setups.
10. Trent Austin 8-Light Shaded Chandelier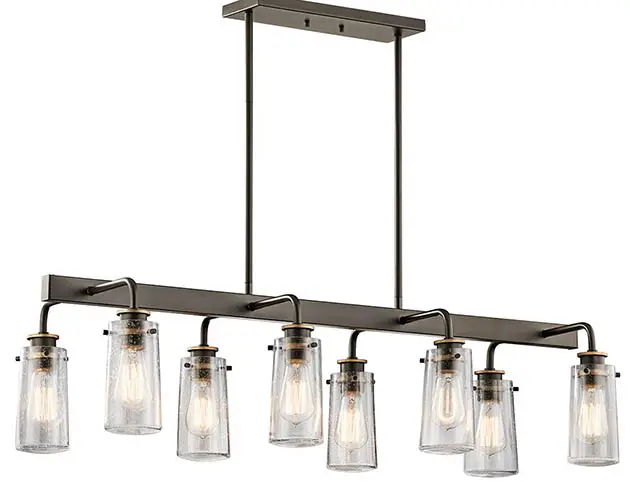 Style: Modern Industrial
Design: Glass crystal with steel in bronze finish
Description: This 8 light linear chandelier has a very vintage, retro, mid-century modern industrial flare to it, because of the wrought iron support frames, glass jar bulb shades reminiscent of old mason jars, and warm-white LED light bulbs that give it a very nostalgic kind of glow.
Use it for quaint family spaces such as living rooms, breakfast bars, sun rooms, and dining tables.