Here we share our types of canopy roofing design guide including the different styles, materials, and the best canopy, pergola & gazebo roof protection options.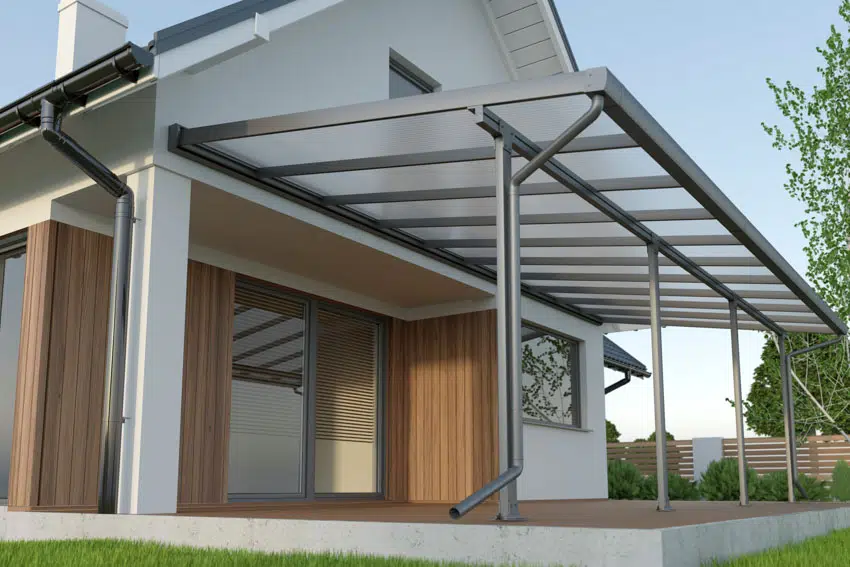 A canopy roof is an above-head structure that is often used to give protection from rainfall or sunlight. It is commonly viewed as a shading connected to the outside of a structure. It is also employed as a decoration and to highlight a pathway or area of a structure.
Indeed, canopy roofs have shown to be quite efficient and have traditionally been used for outdoor activities. They have offered a great balance of artistry, advancement, and functionality throughout the last several years.
Whether you are planning a gathering, an informal picnic, an outdoor meeting, or camping, canopy roofing may provide the protection you need. It will also provide an entertaining aspect and an aesthetic element to any outdoor event. Let us discuss the different types of canopy roofing.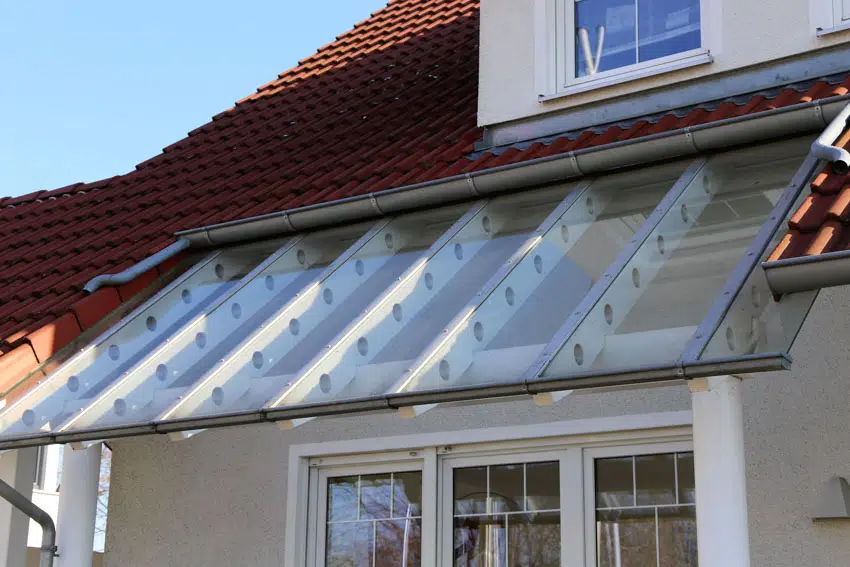 Here we share the different types of roofs for canopies.
Shade Canopies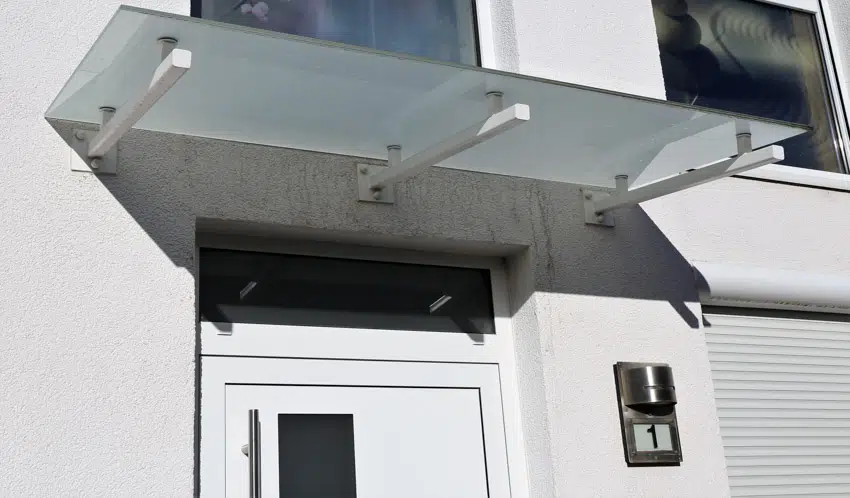 Shade canopies are the most basic canopy roofing style and are ideal for regions with limited usable floor space. The single center post might occasionally impede sight lines more than some other alternatives, but they are an excellent choice for people on a short budget who need to shade a particular location.
Moreover, shade canopies provide the most effective shielding against harmful UV rays. It also provides a pleasant covered spot in your outside environment. Whether you are planning a patio picnic, a day at the seaside, or a recreational activity in your yard, a shade canopy will provide total relaxation in any outdoor location.
In addition, shade canopies are widely obtainable, practical, and economical, making hauling easy at any time and from any location. They are also huge enough to provide shade for the entire outdoor area.
Whether you want to protect your child's playground or your swimming pool, a shade canopy would be a great way to provide protected coverage.
Even amid a blazing summertime, shade canopies can provide a cool, shaded, and restful environment, allowing you to avoid the burning sun. Shade canopies are also lightweight and portable. They are very easy to assemble.
Garden Canopies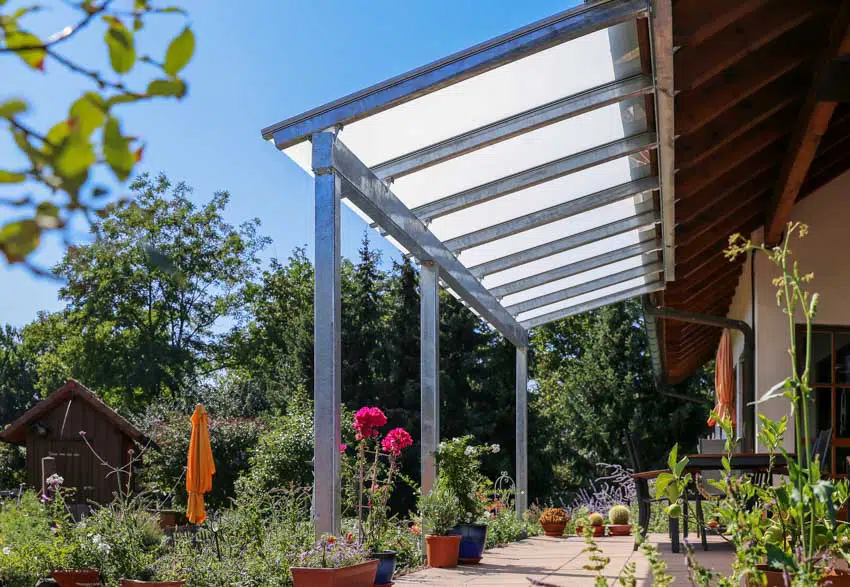 Garden canopies can be easily installed around most types of porches, decks, and backyard areas to provide a beautiful atmosphere in your outdoor area. It will also aid in providing your outdoor space with proper protection from the sun.
When preparing an outdoor family gathering, we highly suggest investing in a garden canopy. This type of roofing canopy has an exquisite design with screened sides to keep mosquitoes at bay as you enjoy in your garden.
There are also screened garden canopies, which have comparable advantages and functionalities to standard garden canopies but in a simpler form. It is indeed simple to spend a delightful afternoon in the garden or plan a calm and desirable dinner in an outdoor atmosphere with this type of canopy roofing.
A garden canopy, not like some other outdoor shading solutions, could be constructed away from your house if desired because it can be a freestanding construction project.
Whether you want a garden canopy that is connected to your house or one that is quite far from your garden, you can always find some garden canopy specialists that can design and install one for your property.
Retractable Canopies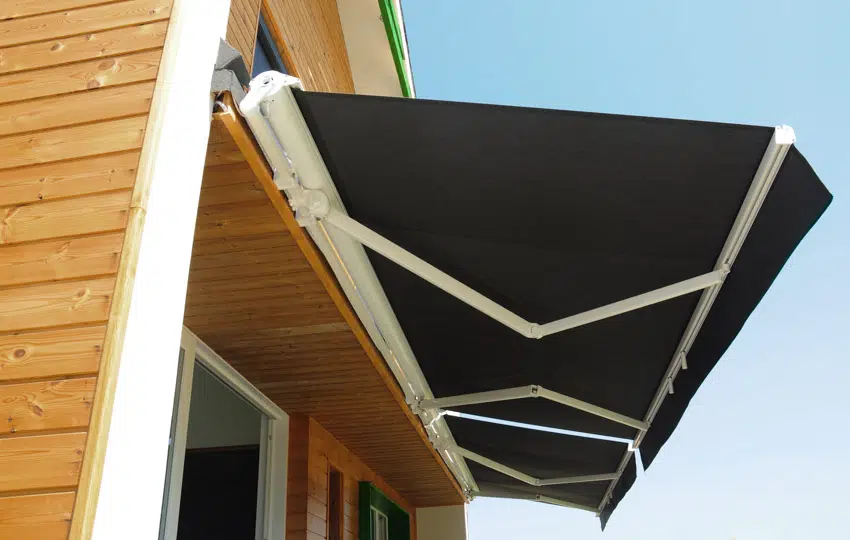 A retractable canopy is a mechanical type of canopy roofing that covers a specific location whenever the weather gets bad and retracts when the weather cooperates. This sort of cover can be very expensive, probably one of the most pricey types of canopies.
They are, nonetheless, well worth the investment. They are also recognized to be more durable than other varieties of the canopy. Retractable canopies also hold an edge in terms of enduring strong wind, which is generally accompanied by rainfall.
Water is channeled away from your recreational area through a retractable canopy as well. Moreover, a retractable canopy on a pergola-style framework can resist severe wind of up to 80 mph when stretched and even stronger gusts when retracted.
Ultimately, installing retractable canopies increases the value of your property. They are intended to enhance the façade of your home.
Wanting to invest in a retractable canopy is equivalent to building an additional dwelling at a fraction of the expense. Amazing modern pergola designs that use a retractable cover significantly expand the outdoor living space.
Entrance Canopies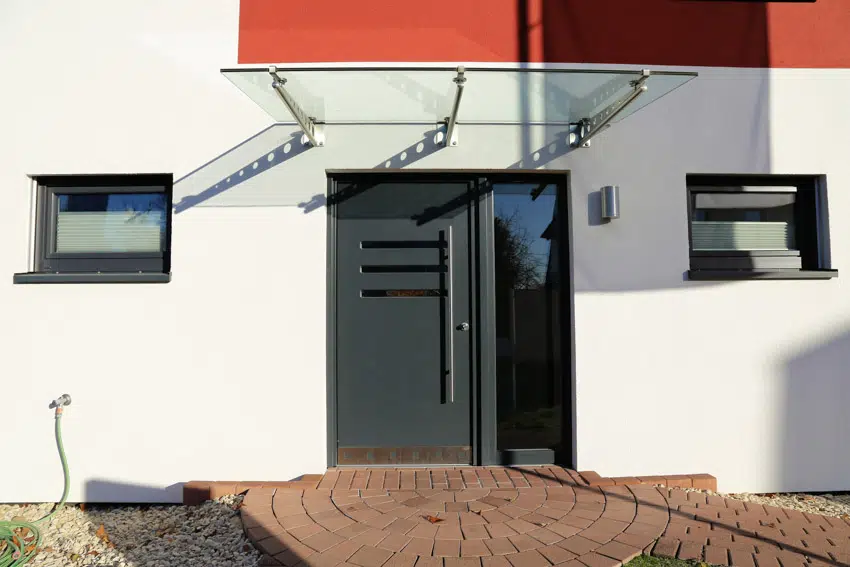 Entrance canopies provide all-year protection from the outdoor elements for your building's entryway and guests, while also establishing an inviting and identifiable entrance. These canopies are typically found near building entrances.
Hence, they may allow some illumination while also protecting against UV rays. An entrance canopy is beneficial to a building since it not only highlights the entrance area but also improves the appearance of the entire structure.
You can also add signboards to your entrance canopy to highlight essential details, the store branding, and to greet customers. If your entrance is big enough, you can even convert your entrance canopy into an additional store location.
Cantilever Shade Canopy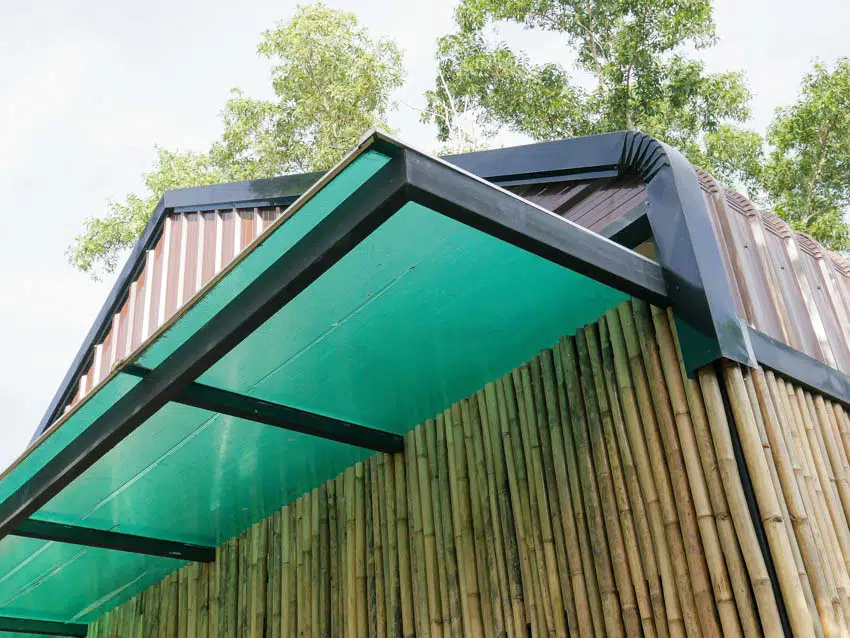 This type of canopy roof has a modest appearance since it is sustained by suspending branches and has columns at the rear of the construction. Horizontally positioned beams protrude beyond the vertically placed columns.
Cantilever shade canopies reduce column interference, resulting in greater open space beneath the shade. They also provide customized and varied product solutions that are suitable for a vast array of purposes.
These canopies' applications comprise covered car parks, playgrounds, swimming pools, bleachers, and outdoor seating places. They come in a range of architectural styles and layouts, including winged, arched, and sloping roofs.
Carport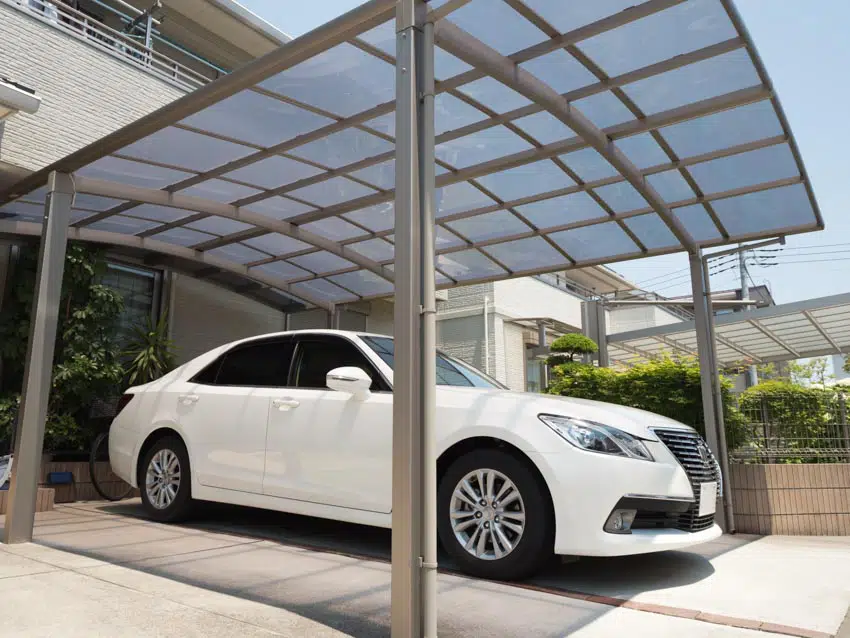 Building a carport canopy, which is also referred to as a portable garage, might be the greatest solution for covering your vehicles from inclement weather and UV radiation.
Indeed, carport canopies are ideal for storing landscaping supplies, building equipment, and cars so that they do not deteriorate or fade in the hot sun, or become corroded or saturated during torrential rainfall. Carport canopies or portable types of garages come in a variety of sizes, with some also featuring sides as well as panels.
Nonetheless, keep in mind that severe heat can be quite damaging to your vehicle, causing wear and tear and reducing the life of your car by years. As a result, we suggest that you use carports or portable garages to safeguard your vehicle from changing seasonal circumstances.
Canopy Tents
Constructing a canopy tent or massive canopy will give your visitors a location to seek protection from severe storms and blistering sunlight if you are planning a surprise party, family gathering, or a huge outdoor get-together.
A canopy tent is indeed an excellent choice for alfresco weddings since it provides a calm and secure environment for your attendees and families to celebrate. You can even use these canopy tents to provide sanctuary for your pets and safeguard them from the sun's glares.
In the realm of outdoor structures, a canopy tent is most commonly defined as an extendable metallic framework over which a material covering is placed. Canopy tents are distinguished by their pointed roofs and airy sides that enable you to walk beneath them. They are often called pop-up canopies.
Canopy tents are normally classified into two types: slanted-leg tents and straight-leg tents. The topmost area of a slant leg canopy tent is generally smaller than the space at the bottom.
A slant leg canopy tent, for instance, may be 10′ x 10′ between the legs at the bottom but taper to 8′ x 8′ at the peak. A straight leg canopy, on the other hand, has the canopy top's corners right over the legs, thus its base measurements are similar to the shade coverage at the peak.
Shade Sails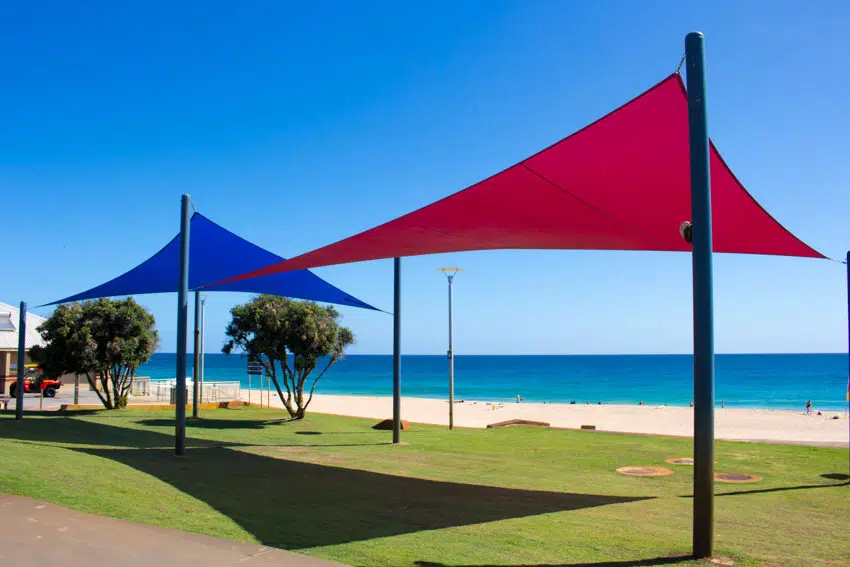 A shade sail is made in a similar way as a boat sail, but it is attached to an exterior building or roof to produce a canopy. They provide sun protection when twisted or slanted vertically.
Moreover, shade sails are often made of UV-resistant fabrics and come in a variety of sizes, forms, and hues. You can take into account those options that are made out of high-density polyethylene fabric while looking for the best-looking sail.
Shade sails are made up of a stretchy membrane that is tensioned between many anchor locations. Although they are often placed indefinitely, they are inexpensive and simple to install.
In regions where strong sun exposure is excessive, these canopy roofs are typically attached above public gathering spots such as dining spots and playgrounds.
Roof Materials
Here's the different roof materials so you can find the one that is best for your home, needs and weather conditions.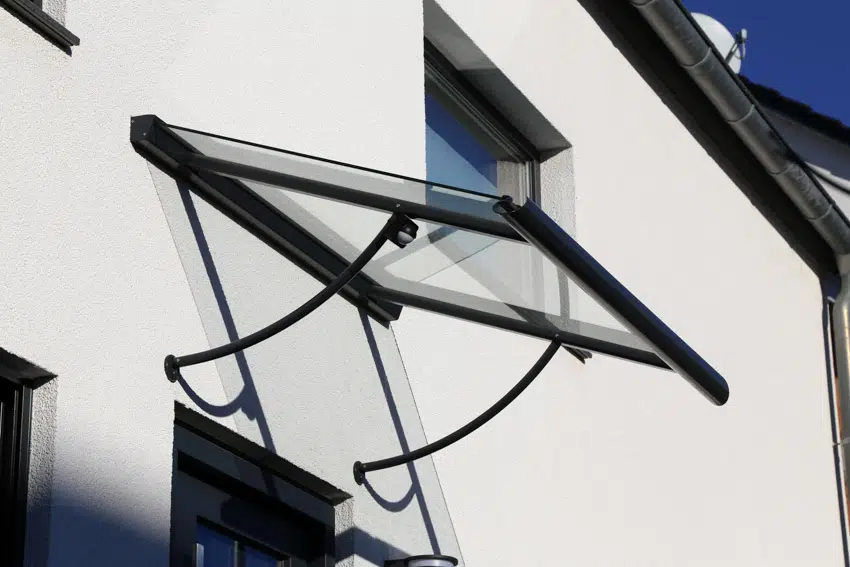 Polycarbonate Roofs
Polycarbonate canopy roofing material is an inherently clear thermoplastic that transmits light practically as efficiently as glass. It is also extremely strong and impact-resistant, making it almost unbreakable.
However, polycarbonate can also be translucent, opaque, or colored. It has a maximum survival rate of 25 years. Numerous polycarbonate variants are co-extruded and constructed with a UV filtration system. It is relatively affordable and has great structural strength. Indeed, it will keep its resilience and pristine appearance for a long time.
Aside from that, once the cause of a fire is eliminated, polycarbonate would be independently extinguishing itself, and it will not stimulate or contribute to the spreading of the flame. Minimal heat transmission qualities keep the area beneath cool even in scorching and sunny conditions.
On the other hand, unlike glass, you will not have a definite vision of the sky except if you select transparent solid polycarbonate. During heavy rains, polycarbonate roofing might reverberate and release annoying noises.
Glass Reinforced Plastic
Glass-reinforced plastic (GRP) components are also recognized as fiber-reinforced plastic (FRP). It is made up of glass fibers within a polyester resin substrate.
The admixture produces a durable and non-brittle compound. The versatility of this canopy roofing material is indeed one of the main advantages. It resembles glass in terms of structure and appearance as well.
Furthermore, depending on your needs, glass reinforced plastic can be translucent or solid, and it comes in a variety of colors. When a UV-stabilized coating is applied, it provides UV shielding to the individuals and objects beneath.
However, the sunlight can damage transparent glass reinforced plastic roofs and degrade colored panels after some time. The very same circumstances will gradually cause the material to deteriorate.
A glass reinforced plastic roof is also less impact-resistant than a polycarbonate roof. It has a more limited life expectancy than some of the other alternatives, lasting around 10 years only.
This material's surface could be coarse, making cleaning extra challenging. Lastly, glass reinforced plastic necessitates more periodic upkeep than conventional roofing materials.
Glass
A hardened glass canopy or pergola is indeed a stunning enhancement to any household property, regardless of its age. It has excellent acoustical qualities, and a glass roof will make less noise when it rains heavily.
Glass also provides a pristine as well as a polished surface with an appealing appearance. The roof glass panes will be completely transparent, making them ideal for stargazing and bird viewing.
Glass, on the contrary, is marginally more pricey than other canopy roofing materials. It can also be dangerous if the panels are of poor workmanship and do not utilize hardened glass that comes from a reliable supplier.
Furthermore, glass provides little to zero UV resistance. Hence, if you want to install glass canopy roofs, you should request the maker to incorporate it with a UV filter.
Polyester
A polyester canopy can be used to shield your outdoor activity or location. It can cover you as well as your colleagues from the elements, such as direct sunlight, rain, or wind.
Polyester, an ideal material for a canopy, is durable and necessitates less urgent maintenance – however, the canopy should still be preserved tidy and dry. Its modest weight and minimal thickness make pitching much simpler when travel and storage areas are restricted.
Waterproofing a polyester canopy, on the other hand, is a vital step in keeping it operational. If you are not going to make it waterproof, its life expectancy will be shortened.
Polyethylene
Polyethylene is one of the most commonly used materials for canopies for a variety of reasons. That includes its high water resistance, durability, moderate weight, and UV protection. Polyethylene canopies are an excellent choice for consistent travelers.
Nonetheless, you have to keep in mind that polyethylene is combustible, which is why companies seal it with fire retardants.
Vinyl
If you come across a canopy constructed of vinyl, you do not have to be concerned since vinyl is a very durable canopy roofing material. Vinyl canopies are frequently treated with vinyl resin to make them more waterproof and UV-resistant.
Since it is heftier than polyethylene, polyurethane, and polyester, folding and transporting it would be much more difficult. It is up to you whether you consider this a restriction or a disadvantage.
What Is The Best Material For A Canopy?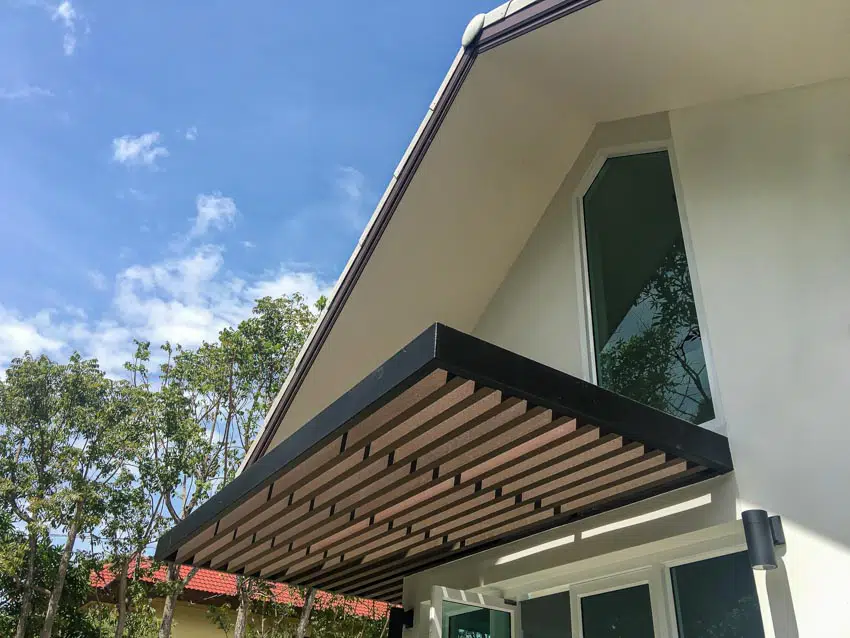 Arguably, polycarbonate would be the best material for a canopy. A polycarbonate canopy is extremely sturdy and long-lasting. Its life expectancy is quite long, which normally spans around 15 to 20 years, with the majority of manufacturers providing 10-year or longer warranties. This material is nearly unbreakable due to its extremely powerful impact resistance.
Furthermore, polycarbonate possesses great optical qualities, shielding up to 99% of the sun's harmful UV rays while allowing natural lighting to pass through, making it a perfect choice for safeguarding individuals and the property as well.
These same features make a polycarbonate canopy resistant to sunlight, snow, and rain effects including warping, bleaching, yellowing, and other signs of degradation. Because it is particularly resistant to harsh changes in temperature, it outlasts many other common canopy building materials. It is also fireproof.
Ultimately, polycarbonate is a very lightweight material that allows for less framework weight without losing toughness or durability. Shipping and assembly are less difficult, which might help in cutting down expenses.
What Material to Use For Pergola Roof?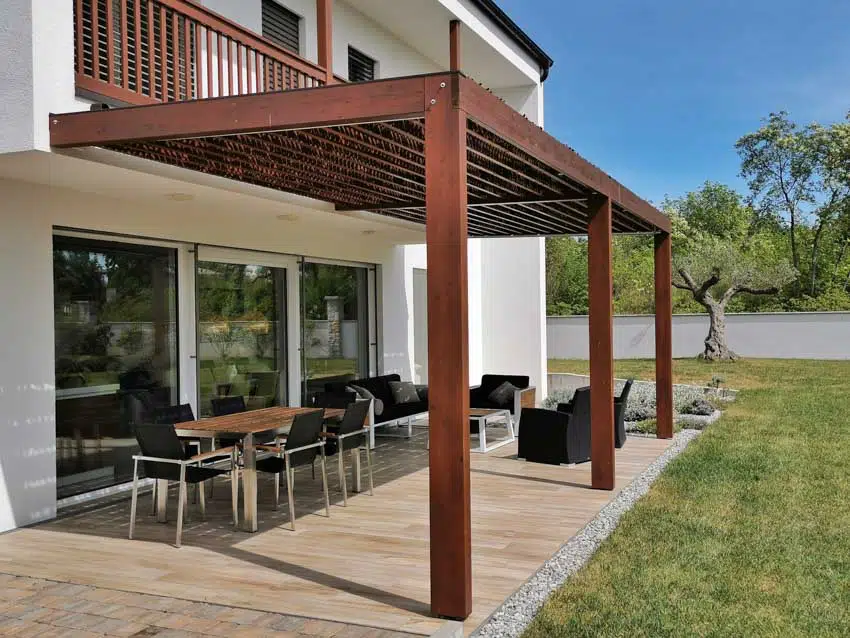 Metal louvers would be the best material for a pergola roof. The material of the pergola roof is an essential factor to consider regarding whether mechanical or manual adjustable louvers are used. Marble and stone are better left to the middle ages.
Wood can add a rural or antiquated vibe, but it rots throughout time. Plastic or vinyl will appear wonderful at first, yet will discolor and deform over time.
Nonetheless, metal louvers, such as aluminum, would be the best choice for a pergola roof. Because aluminum is both sturdy and compact, it becomes conceivable to manage its controls with silent electric motors.
A metal roof, when sealed with high-quality powder covering, will keep out corrosion-causing rainfall, ice, and snow for practically a lifetime.
What Material to Choose For a Gazebo Roof?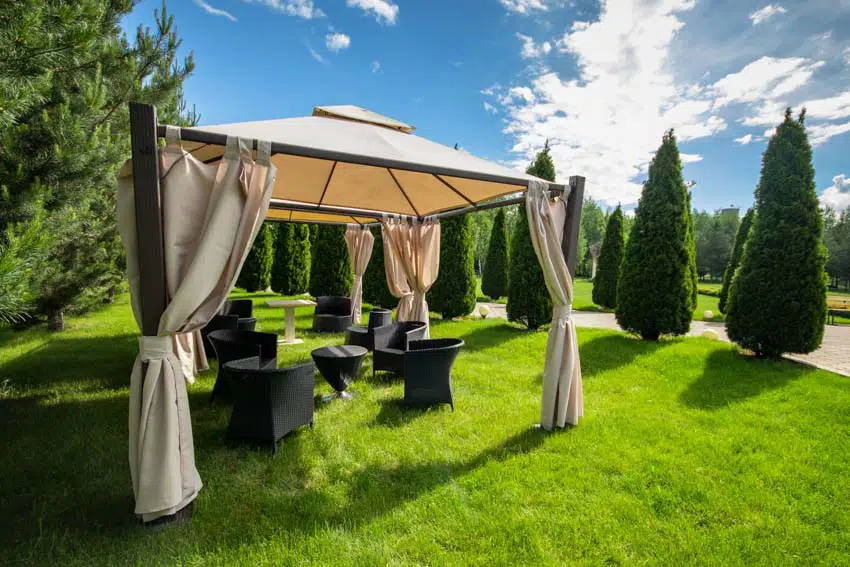 Asphalt shingles are a common and arguably the most preferred material choice for gazebo roofing since they can be properly matched to the design and color of your home's roofing structure.
These types of roof shingles are simple to install, but the procedure might be time-consuming. However, they can survive for generations assuming proper care is regularly performed.
Roofs for soft top gazebos constructed of acrylic, on the other hand, are renowned to be the most enduring due to their exceptional weather resistance.
Acrylic gazebo roofs are very low-maintenance since mold and grime can be easily removed from acrylic coverings. Acrylic coverings are obtainable in a variety of hues and can potentially last for a decade.
See more related content in our article about the best gazebo ideas on this page.