This guide describes overlapping fencing including information about lap fence panels, benefits, different styles, and overlap fence design tips.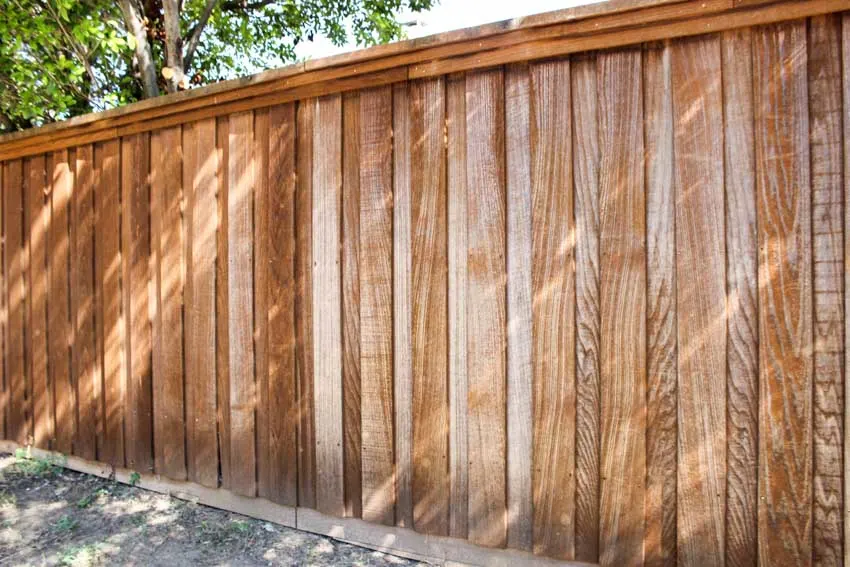 Among the most common types of fencing is overlapping fencing. It is made of horizontal and partly overlapping wood slats in a classic pattern. Every overlapping panel fence is supported by a sturdy timber framework that attaches the panel and allows it to be easily slotted into wooden or concrete fence pillars.
Truly, it is critical to select the appropriate types of fencing for your property. Fortunately, these overlapping fence panels provide a significant degree of privacy at a low cost.
Overlapping fencing is a fashionable and cost-effective solution to secure and protect your yard. Continue reading to learn more about overlapping fencing panels and the numerous advantages they provide.
What Is An Overlapping Fence Called?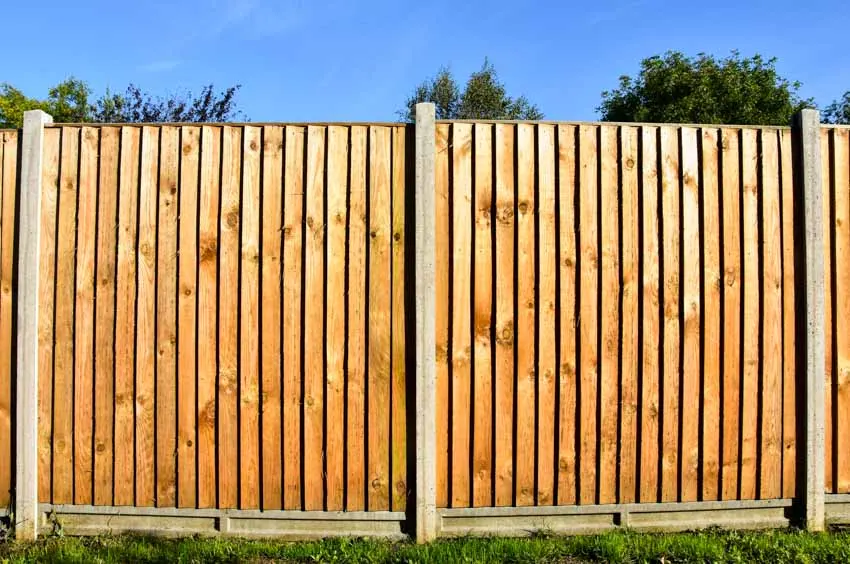 These overlapping fence panels, which provide excellent quality, are also known as lap fence panels. These high-quality wood fencing panels offer the finest timber fortification for any yard.
Lap (overlapping) fence timber panels get their name from how they are constructed: horizontal wood slats that overlap each other.
Overlapping Fencing Benefits
Overlapping Fencing Provides Enhanced Privacy: Overlapping fences are fantastic for perimeter fences and offer a suitable outlet for further privacy. Perhaps you have neighboring houses that look out over your yard, or you wish to establish your particular enclosed retreat.
Fortunately, these types of outdoor structures are made with sturdy timber battens for increased strength and closed horizontal slats for enhanced privacy. A horizontal wooden fence effectively protects you from unwanted access and individuals with prying eyes.
Horizontal planks with a tongue-and-groove or overlapping style provide maximum seclusion. For smaller yards, overlapping panels that allow in air and sunlight would be a great option.
Overlapping Fencing Increases the Security of Your Property: A revamped fence is an excellent method to increase the security of your property. Fortunately, the strong and well-enhanced design of overlap fencing helps in protecting both the interior and exterior of your property.
This design prevents unwelcome creatures or individuals from entering your property. Overlapping fence panels range in height from 3 feet to 6 feet, allowing you to select the appropriate panel height for your security needs.
Overlapping Fence Panels are Extremely Durable: Overlapping fence panels are made with a robust timber frame and are normally finished with a timber conditioner to offer increased durability and a better lifespan. These pressure-treated and top-quality lap fence panels, which are usually available in green and brown wood panels, are built to be solid, long-lasting, and impenetrable.
Overlapping Fence Panels Aesthetically Improve the Appearance of Your Outdoor Space: Fencing can be utilized for much more than just delineating the boundaries of your garden. It can be used to divide portions of your garden.
These panels also enhance the overall appearance of your outdoor space. Overlapping fence panels are available in a range of sizes and designs, allowing you to build the ideal barrier for your property.
Overlapping Wood Fence Panels are Environmentally Friendly: Overlapping wooden fences are available in a range of fence styles. They are also environmentally friendly because wood is biodegradable.
This is also another big advantage of installing an overlapping wooden fence on your property. You could reduce wood decay and termite infestation without affecting the environment by using stabilizers and preservatives. An overlapping wooden fence is also fairly simple to remove if you opt to go with a new fencing style hereafter.
Lap Panel Fencing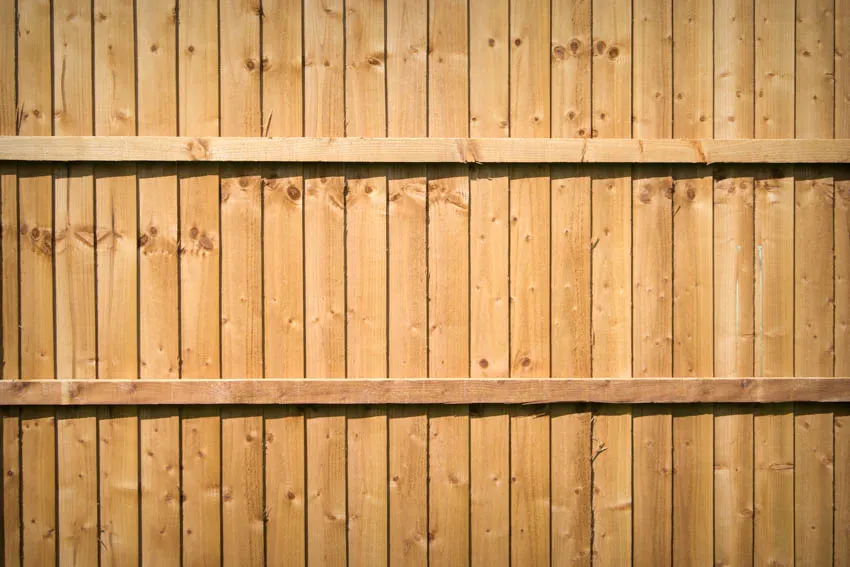 Lap panel fencing is a low-cost substitute for sturdier panels like feather-board or tongue-and-groove. As previously stated, these panel fences are also known as overlap panels.
Some might even call them waney edge fence panels. Originally, these panels were purchased as a cost-effective option for a distressed acquisition to replace wind-damaged or decaying perimeter fencing, which was commonly constructed between concrete pillars.
Finely sectioned slats run horizontally all over the lap panels to make these lap fence panels. Such slats span the entire width of the fence panel and are frequently held in position by vertical support beams. Ultimately, the panel is linked together by a framing that goes around the border of the panel and holds all of the slats intact.
Overlap Fence Panels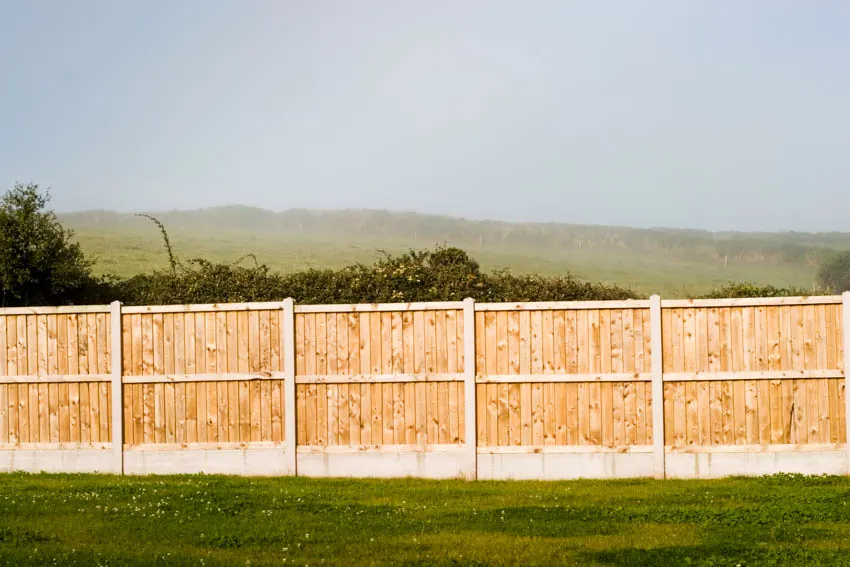 Overlap fence panels are often pressure-treated to prevent decay and are robust and well-constructed. Overlap fence panels are the most widely known solution to acquire the privacy you desire in your yard without sacrificing aesthetics.
It is constructed with a wooden structure in which the wooden slats are fitted horizontally, resulting in a panel with no gaps or openings. See more types of wood fences here.

Overlapping Wood Fence Styles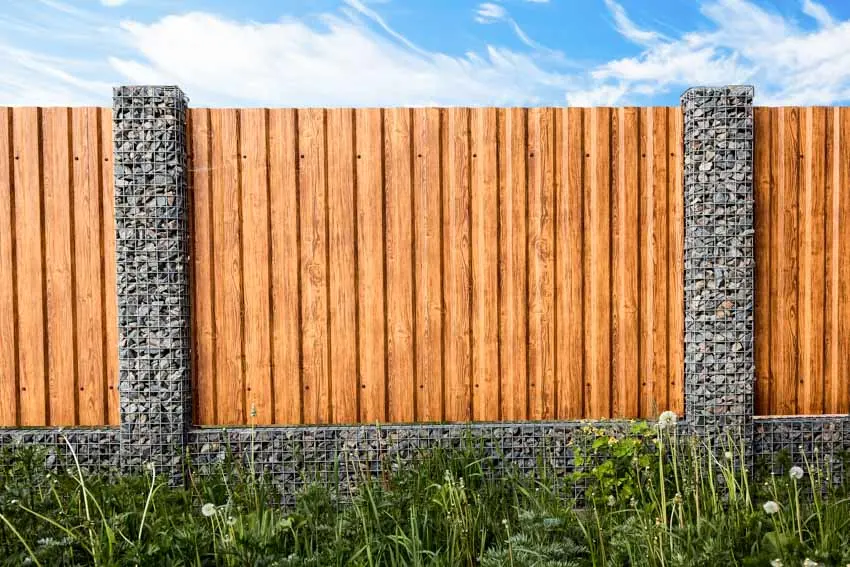 Here we share the different styles for overlapping wood fences.
Board On Board Fence Overlap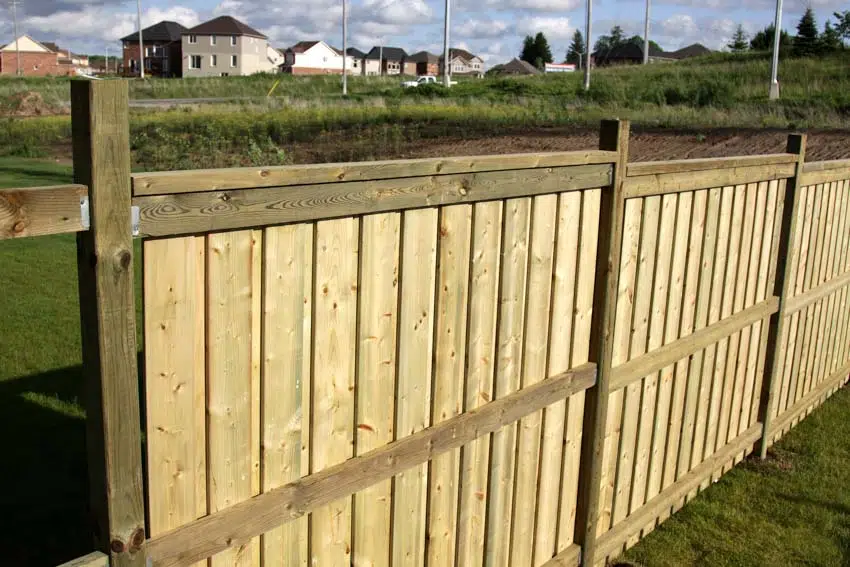 Board on board fence overlap is a one-of-a-kind solution to bring beauty and consistency to your landscape. The fence design is the same on both sides, allowing you and your neighbors to appreciate the pleasant side of the fence.
Overlapping pickets on the very same side of the horizontal railing define a board on board wood fence overlap. A shadowbox fence alternates the pickets on different sides of the fence railing, whereas a board-on-board fence will not feature a gap.
Tongue And Groove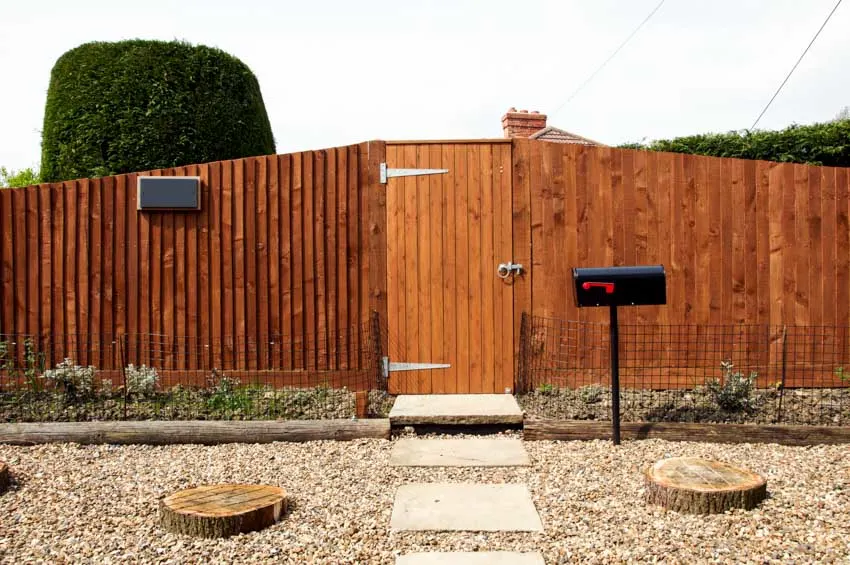 Tongue & groove effect panels, which are obtainable with a flat or convex upper end, are a staple of the quality overlapping wood fence panels assortment. They have a tenon and mortise jointed framework for increased durability, and the infill is made of tongue and groove effect style boards.
These panels are typically 0.66-inch thick, as opposed to lap fencing's 0.16 to 0.23-inch thickness, and are usually made up of 21 wooden stakes. Moreover, these tongue-and-groove overlapping fence panels normally come in both vertical and horizontal configurations.
The panel style features no railings, hence both sides of the panel seem identical. This style of fencing is also commonly referred to as double-sided fence panels.
Board On Board With Cap And Trim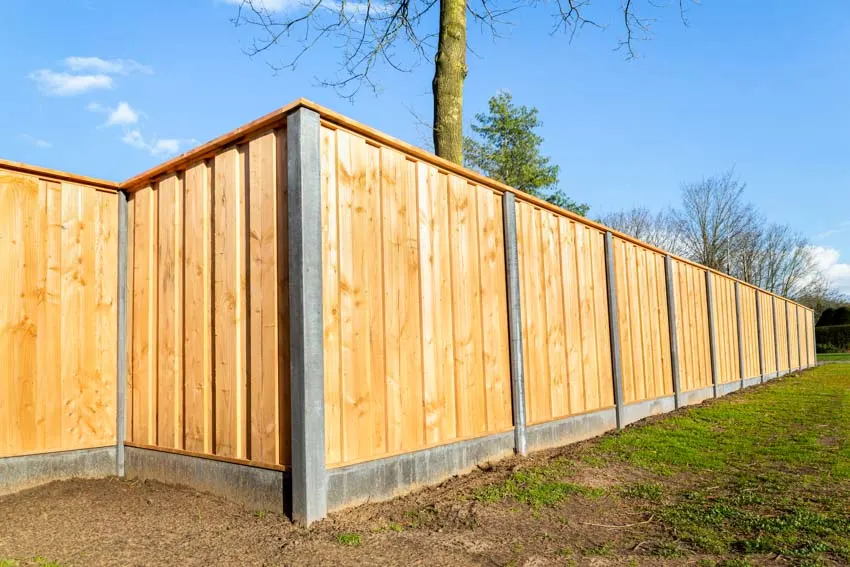 Board on board fencing with cap and trim appears to be identical to solid board fencing with cap and trim, except the fence boards overlap to provide privacy. Board-on-board with cap and trim is an excellent approach to enhance the aesthetics and elegance of your home.
On one side, the fence is normally capped with a 2 x 6 redwood cap as well as a 1 x 4 top fascia. When the wood cures, there will be no noticeable gaps between the fence panels.
Dog Ear Board On Board Nail On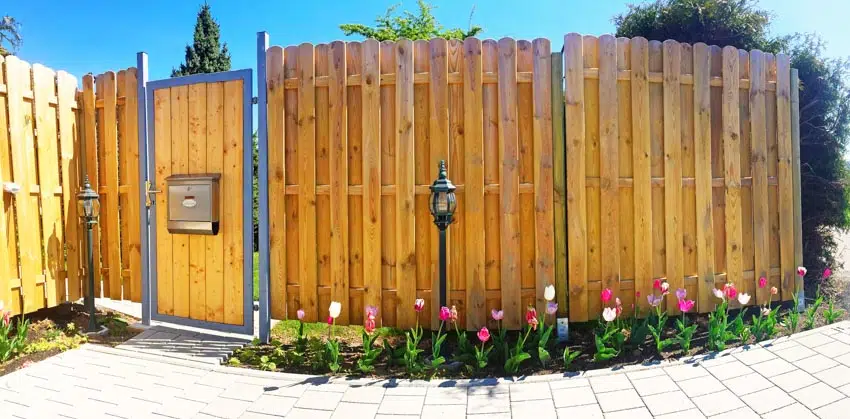 Dog ear board-on-board nail-on is constructed by having to overlap vertical dog ear fence planks on top of one another. Privacy is provided by board-on-board fencing.
Once the wood dries, there will be no obvious gaps between the fence planks. The physical durability of the 2 x 4 frame on dog ear board-on-board makes it a strong fencing solution.
Shadowbox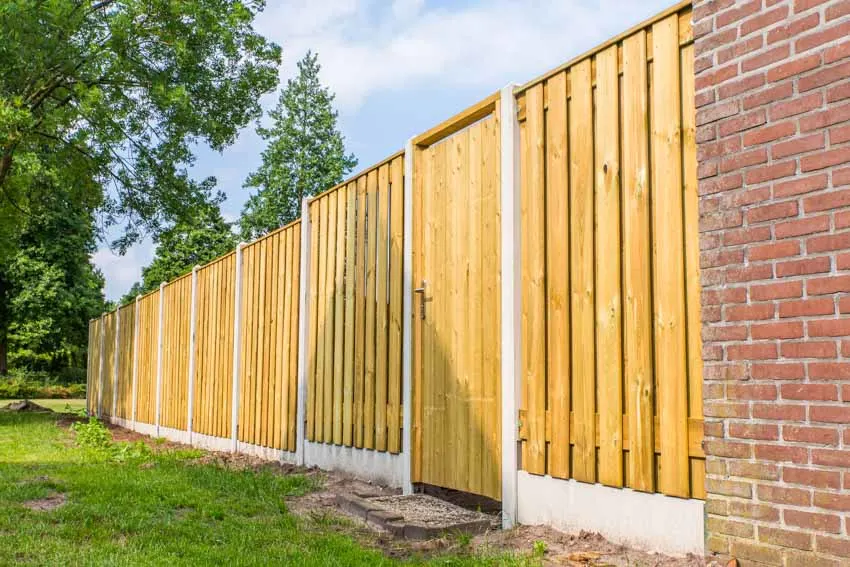 Shadowbox fence designs are made by alternating fence panels on both sides. The 2 x 4 railings are located at the top and bottom of the fence, which is comparable to dog ear fencing as aforementioned. The fence appears to be the same on either side.
When viewed directly, the boards seem to be overlapping on opposite sides of the 2 x 4s to provide seclusion. With that in mind, the fencing is not secluded and can be seen through from any angle.
Tall Vertical Fence Panels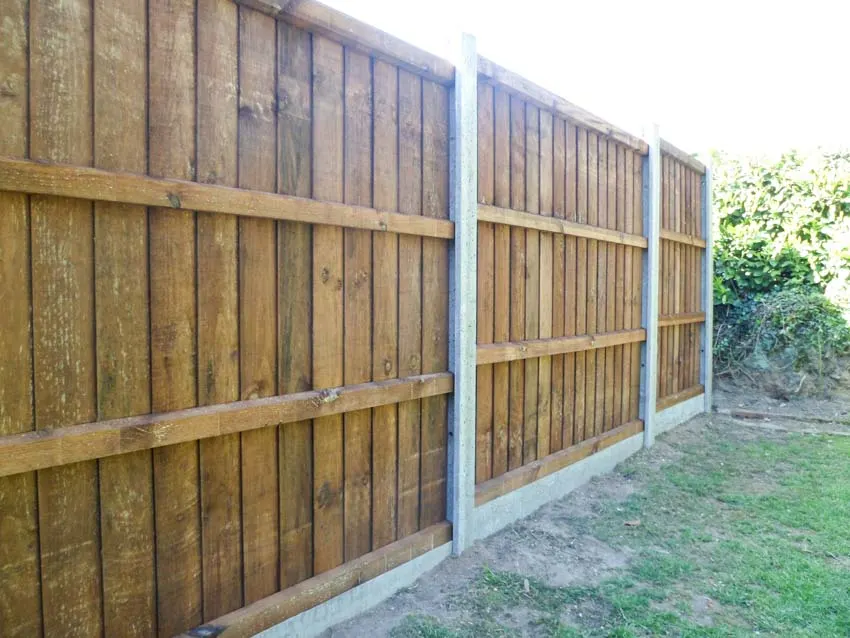 Tall vertical fence panels that are overlapped or butted side to side provide sufficient privacy. They also shield the wind, which is beneficial in the wintertime but not so well in the summertime. This type of overlapping wood fence is effective at keeping inquisitive neighbors out while also offering wind and noise mitigation.
What Is An Interlap Fence?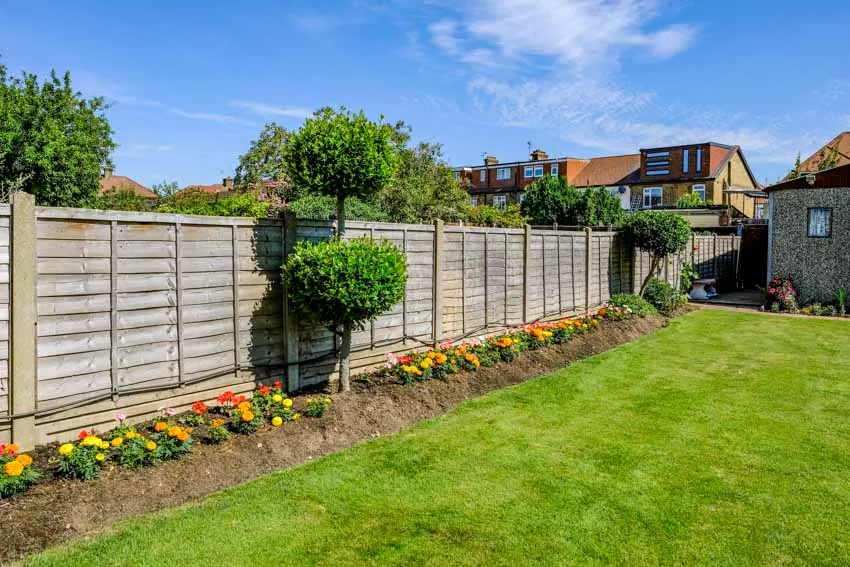 To offer enough privacy, interlap fences are typically built of prefabricated or custom-made fence panels with vertical boards overlapping on opposing ends of three horizontal railings.
What Is A Vertilap Fence?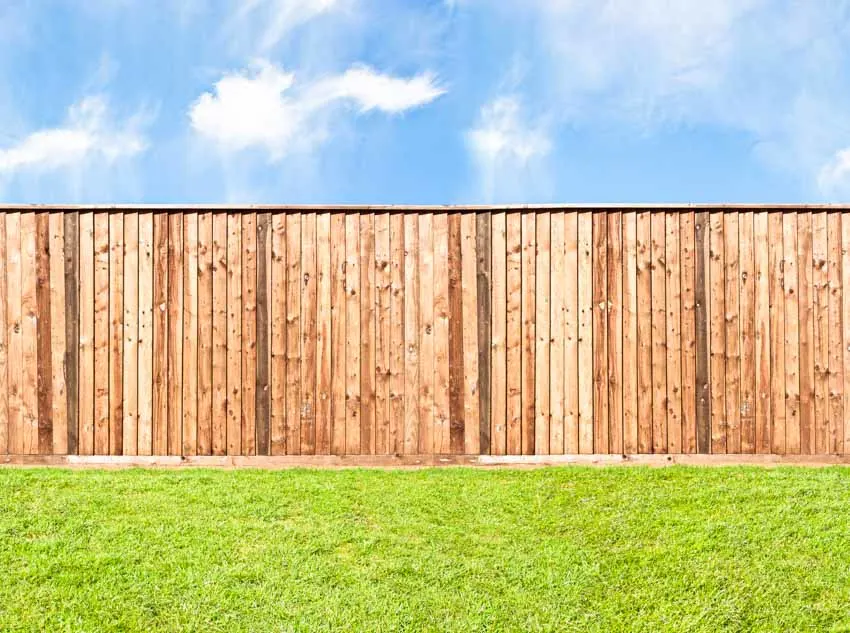 If you want an extremely heavy-duty fence panel, vertilap fencing would be the ultimate pick. A vertilap fence design entails that each wood panel encompasses a portion of the next wood panel, allowing no light to pass through while creating an incredibly private fencing space and giving enhanced durability to the fencing panel.
The extra strength of a vertilap fence is ideal for security purposes, and it also assists if you or your neighbors have pets to keep them on the right side of the fencing. They come in both horizontal and vertical overlaps along with some heavy-duty boards that are made-to-measure.
How Much Do You Overlap Fence Boards?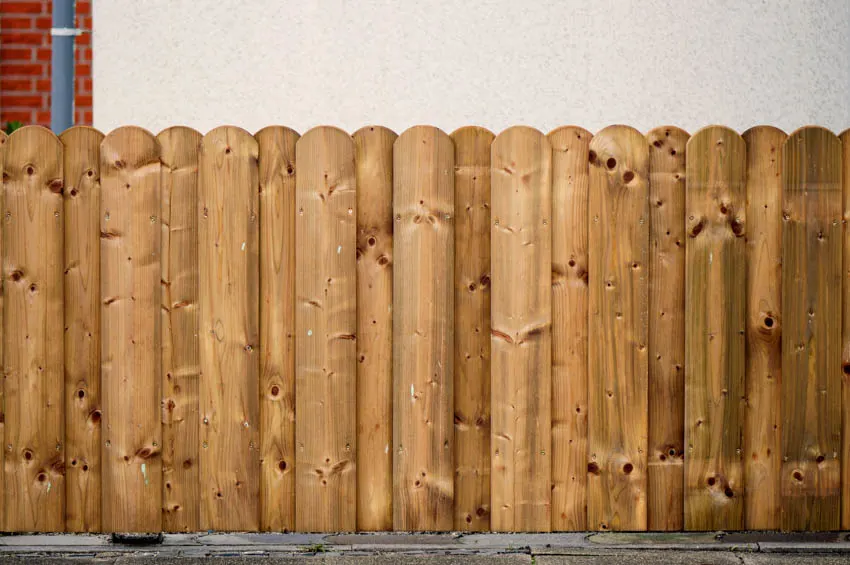 The fence boards that are in a solid privacy overlapping fencing are either placed firmly together or spaced 0.375 to 0.250 inches apart to enable the wood to contract and expand in both dry and wet climate conditions.
Moreover, because it is equally appealing on both sides, the board-on-board style of overlapping fencing is frequently employed as a "friendly neighbor" type of overlapping fencing.
The fence panels alternate on the railings' sides, overlapping by at least 1 to 1.5 inches on each end. Because the precise width of a 6-inch board is 5.5 inches, 6-inch fence planks could be spaced roughly 3.5 inches apart.
Indeed, in addition to evaluating the number of boards required, you must also establish the spacing between the overlapping fence boards so that you can purchase enough timber to complete the task.
See more related pictures in our article about lattice fence designs on this page.