Craftsman Bungalow house plan with 4 Bedrooms that's designed and crafted to charm with 2,268 Heated S.F. 4 Beds 3 Baths 2 Stories.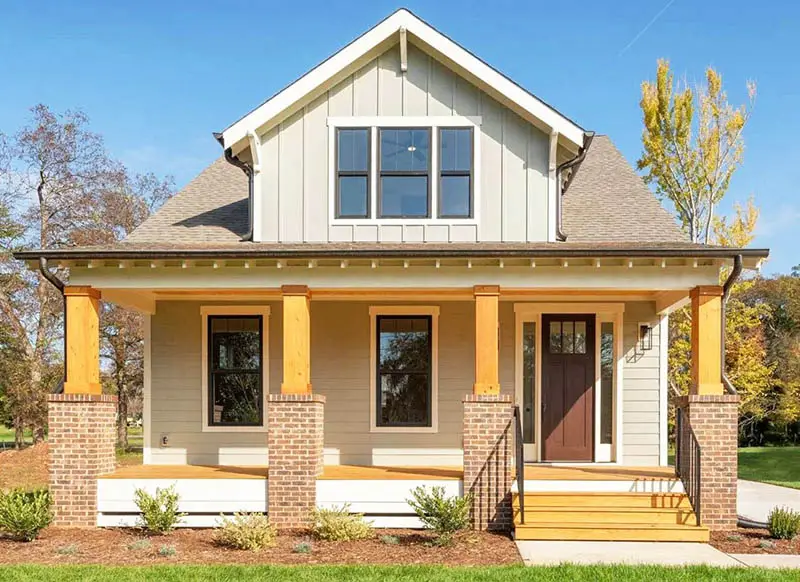 The All-American classic Craftsman Bungalow charms its way until the 21st Century as it is still one of the most popular architectural-style for homes today.
The modern Craftsman Bungalow brings along its quaint qualities with a straight and simple architectural style that's sized just right.
Deemed as a cost-efficient home design, it looks good, comfortable, and practical for any modern family.
Craftsman Bungalow House Floor Plan
As one approaches the beautiful front porch, you get an immediate sense of positivity in the air, thanks to its warm wood and brick materials highlighted with sun-kissed accent hues.
The 2-level craftsman bungalow offers more than its cheerful and welcoming façade. Boasting a total of 2,268 square feet of heated floors with 4 bedrooms, 3 bathrooms and has a spacious open plan that's passing through from the porch area to the living, dining, kitchen, den and finally opening to a covered rear porch.
See this house plan on this page.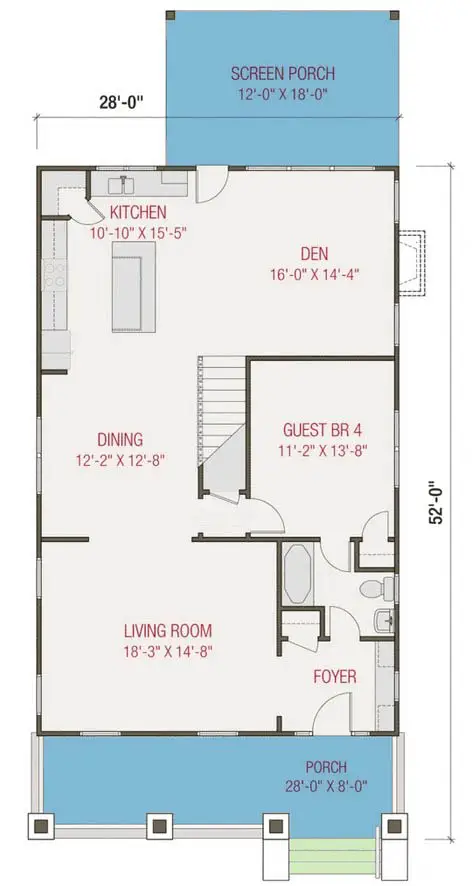 House Plan #50179PH
Open plan is one of the hallmarks of the all-American style, allowing natural light, ventilation, and views to flow through. The first level graciously offers 1,232 sq feet of living space designed to connect the indoors to the outdoors making each space accessible and easier to pass through while providing a natural cross-ventilation throughout the property.
The unobstructed views make it easier for you to keep an eye on your young ones while you may be in the kitchen, dining, or living room areas. In addition, the flexible space allows you can configure it in many ways making it a multifunctional area that is energy-efficient and has a workable traffic flow.
As a bonus, a guest room is provided in this ground level which allows you to still have that privacy and safety when you have guests for a sleepover. The guest room can also be transformed into a home office or crafting or playroom for the kids.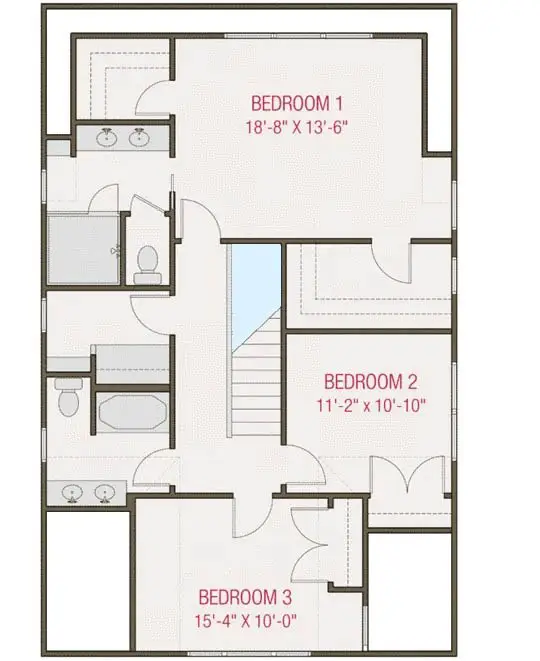 Level 2 has a total of 1,036 sq. ft where 3 bedrooms that are well-planned to have privacy and natural light and each accessible to a full bathroom. Bedroom 1 is suitable for your master bedroom as it offers a walk-in closet and wardrobe and en suite bathroom.
Notice how strategically located are the closets creating an added sound buffer, in between adjacent rooms. An extra room is provided between bathrooms for that much-needed storage space.
Craftsman Bungalow House Exterior
Modest yet picturesque, the beautiful exterior showcases a balance of elements with symmetrical architecture and simple accents. The wide gables and prominent dormer are typical features of the classic Craftsman bungalow house adding to its cozy and homely look.
Aside from its impressive structural form, you'll love the soft caramel weatherboarding around the home and interesting details such as the exposed rafter tails and roof brackets that add character to the whole look.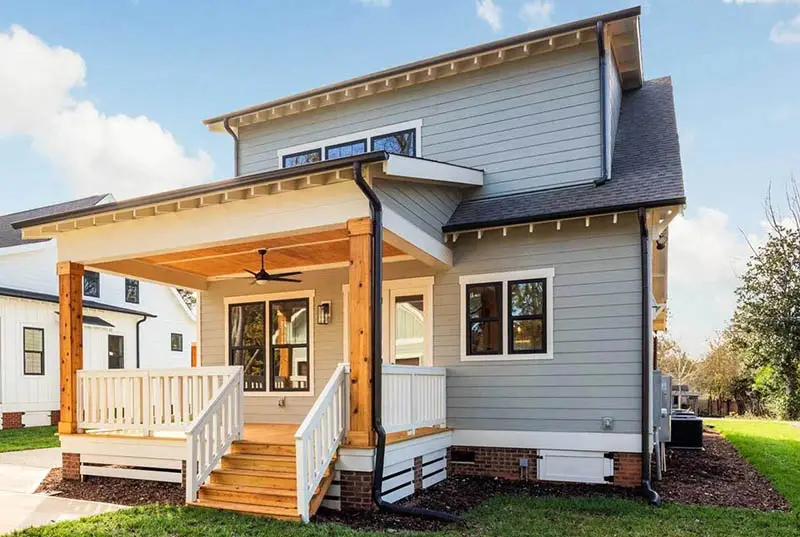 Looking for a spot to unwind? This rear covered porch is your private escape, perfect to stretch out and enjoy some leisure time solo or with the family. And since it is just near the kitchen and den area, you can use it as an extended space for any event or occasion.
Craftsman Bungalow House Interior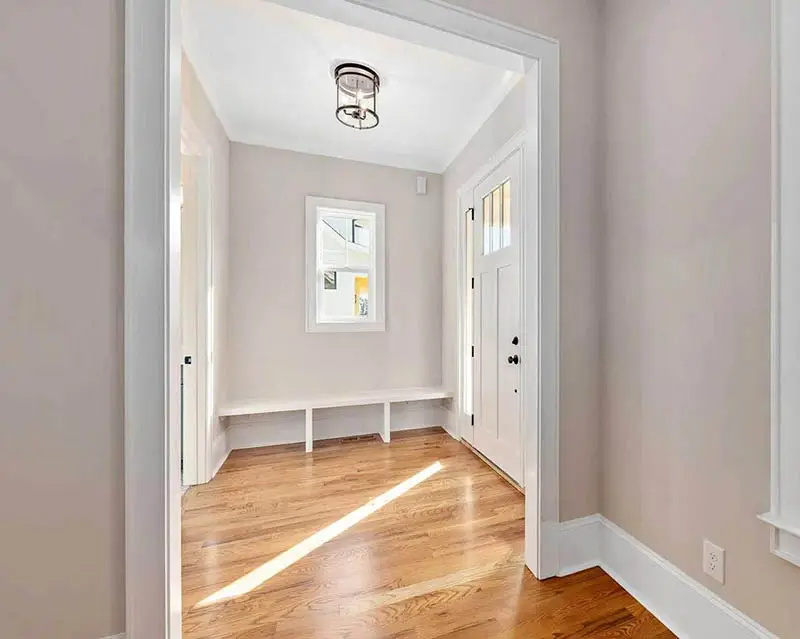 The modern take on this craftsman bungalow is more evident as you go inside, where clean and white trims with beige colored walls and excellent craftsmanship is shown in the architectural details.
The foyer greets you with light and warmth while easing your visual senses with the relaxing color scheme and flowing space.
Living Room Layout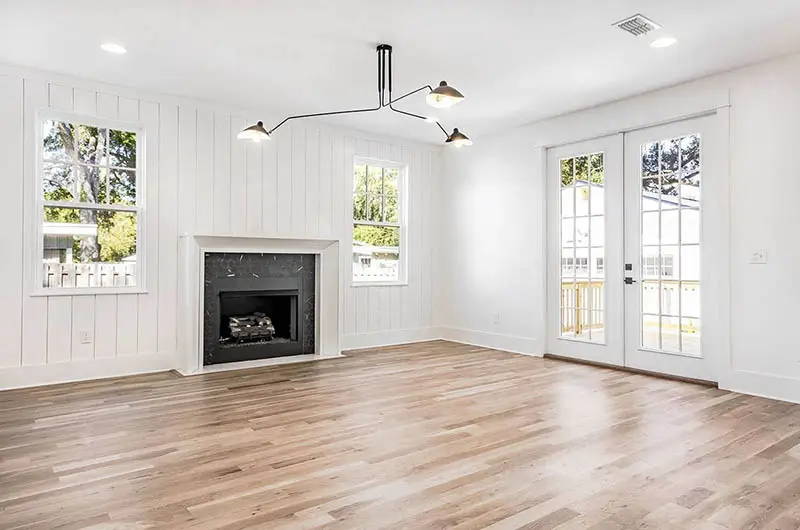 With such a spacious living room, the design possibilities are endless and its regularly shaped perimeter allows furniture and décor to be configured easily.
The fireplace mantle shows a lot of potential as a stunning focal point for the room. A large sculptural wall art or a painting is great wall decoration for the place. Furthermore, the hearth of the home adds value to the whole property, just the perfect gathering point, a desirable feature for any family.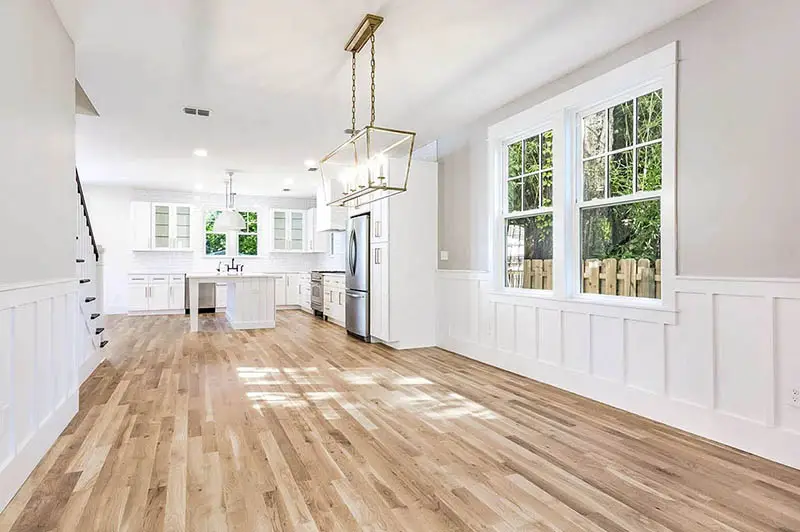 The great thing about light-colored walls is that you are able to highlight and appreciate the finer details as they are truly a display of workmanship.
Homes with wood flooring never fail to project that sense of coziness and the floor's excellent pattern and texture make the space look even larger and airy. Wood flooring is a primary component of modern craftsman style houses.
Kitchen Layout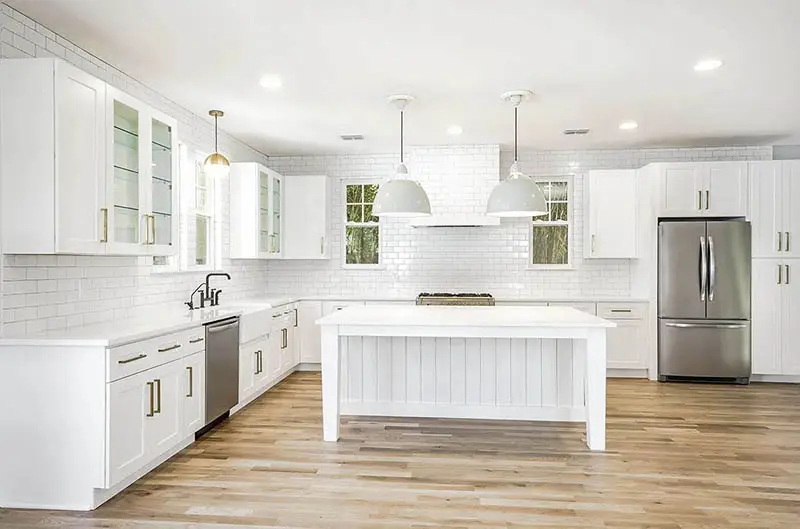 Truly a dream kitchen, the whitewashed walls and brightly lit space creates a relaxing atmosphere just perfect for a home's busiest space. This practical kitchen design incorporates timeless finishes such as white subway tiles and the classic eat-in kitchen tables that are flexible to be moved or expanded any time.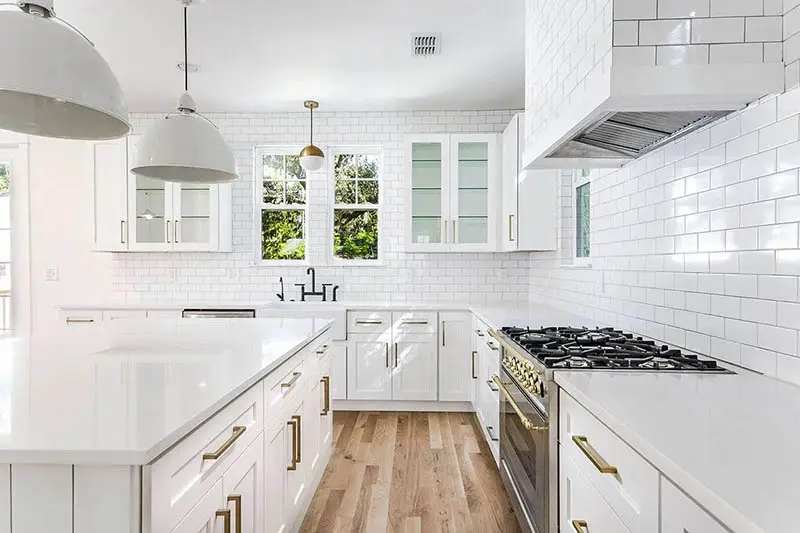 Beaming with delight, the bright and clean kitchen is embellished with timeless gold pull hardware adding elegance and warmth to the look. Speaking of your kitchen cabinets, you have a lot.
You'll find the spacious storage space is strategically designed for the end-users such as the glass doors on your cupboards making it easier to see what's inside your cabinets
Upstairs Layout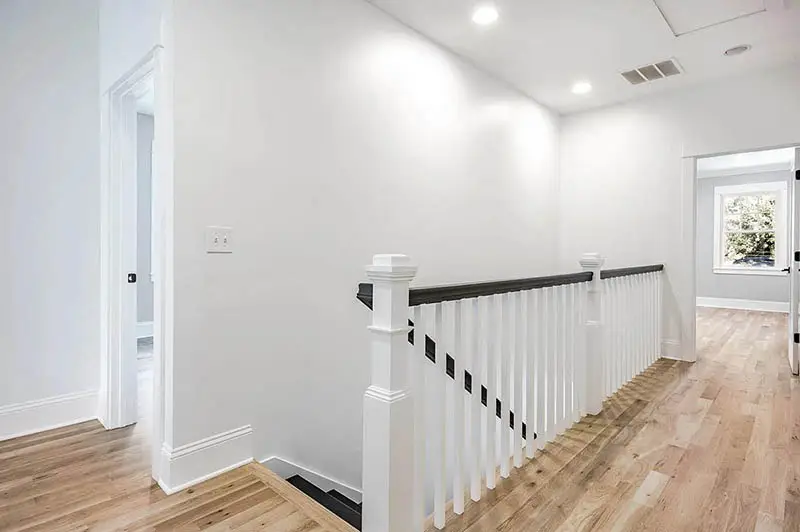 A peek into the second level, you'll notice the bright interior follows through in each room as well as the warm wood flooring that runs through all the rooms creating a cohesive look.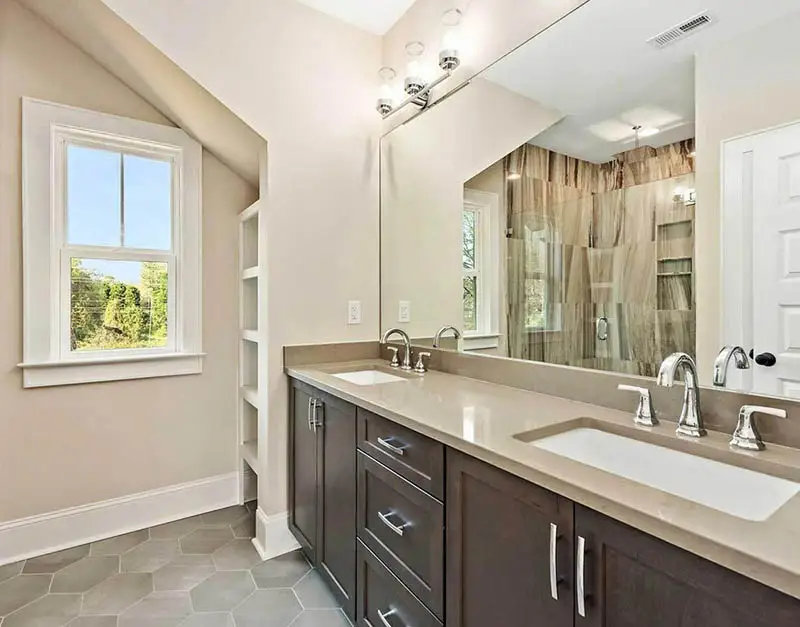 A surprising geometry, but fits perfectly with the whole aesthetic is these hexagonal textured tiles. Not only does it look updated but also adds visual weight to the space. Making most of the space is an extra shelf is provided that's great for storing linens and towels.
Though, the vanity is undeniable the highlight of this stunning bathroom, with a wall-to-wall mirror, and beautiful deep brown vanity cabinet that goes along with it. With lighting that's without glare and shadows, it's the perfect spot to do your makeup.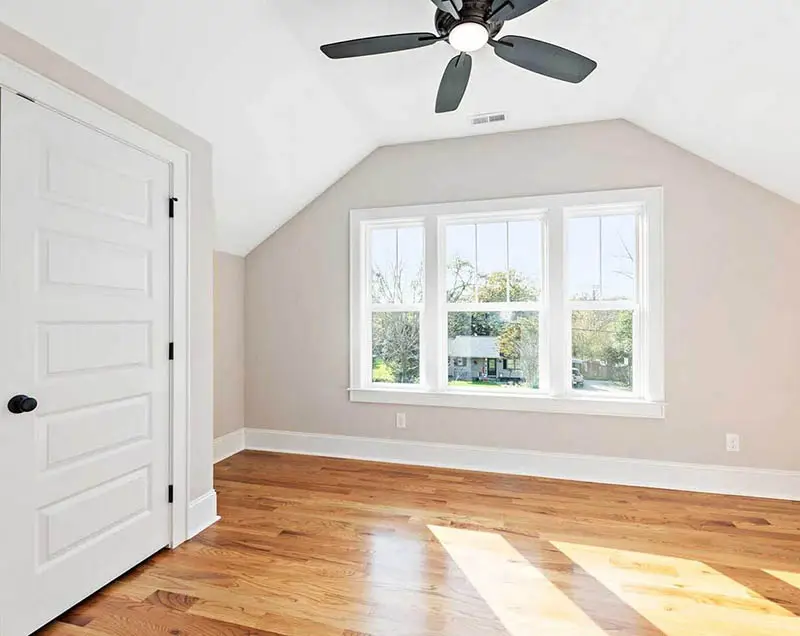 Every room in this home is perfectly lit and this bonus upstairs bedroom space is just the perfect nursery or playroom and with the airy atmosphere. The rooms design allows it to be transformed into any type of room you need.
Well-crafted, spacious, functional, and beautifully designed, this lovely home belongs to the modern day family that wants a manageable home that caters to the whole family needs.
See all of the details for this house plan on this page.