In this guide, we share different faux stone flooring ideas including what it is, materials, designs, pros and cons, costs, painting and indoor & outdoor options.
Stone flooring will always have an elegant and luxurious feel to it, wherever it may be installed. It's been a popular flooring option for many years now, adding an elevated value to a home. But like everything else, it has its drawbacks that can be non-negotiable when you make the decision.
Price is one of the major make-or-break factors when deciding whether you're going for natural stone or faux stone for your flooring. Many homeowners settle for the second option because the first one is impossible to purchase with the budget they have. But for homeowners who really want to make use of the aesthetics of natural stone flooring but are hindered by their budgets, what they do instead is choose faux stone flooring.
Faux stone flooring was initially manufactured in the 19th century. Its long history actually started out using authentic natural stones. The stones are sliced into slabs, which are then used for the flooring. This is what's used for real stones today but not faux stones.
In the 1950s, cement became part of the composition of faux stone flooring. This addition gave the material its synthetic label but it's also the one responsible for making the material sturdier and more stable to use as a flooring option.
What Is Faux Flooring?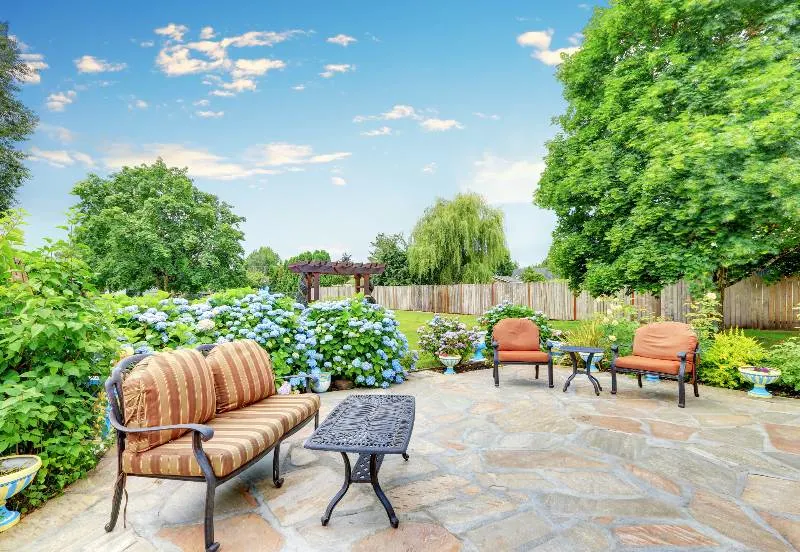 Faux stone flooring involves the use of artificial materials in order to mimic the look and aesthetics of authentic stones. Faux stone flooring options are widely varied, from one material to the other.
Features and designs then follow depending on what materials are mixed to develop this manufactured flooring.
Concerning materials, concrete is one of the primary elements mixed to create faux stone flooring. The mix is expected to produce a lighter material with similar pigmentation, making it look like authentic natural stone.
Because of this pigmentation and their different variations, faux stones then come in different sizes, thicknesses, colors, and stone patterns. The colors are also chosen to match the colors of natural stones so differentiating one from the other will be difficult.
Faux stones were structured to be lightweight and versatile, making them compatible with many types of applications, from standard flooring use to unique ones like chimneys and accent walls.
Faux Style Stone Flooring Options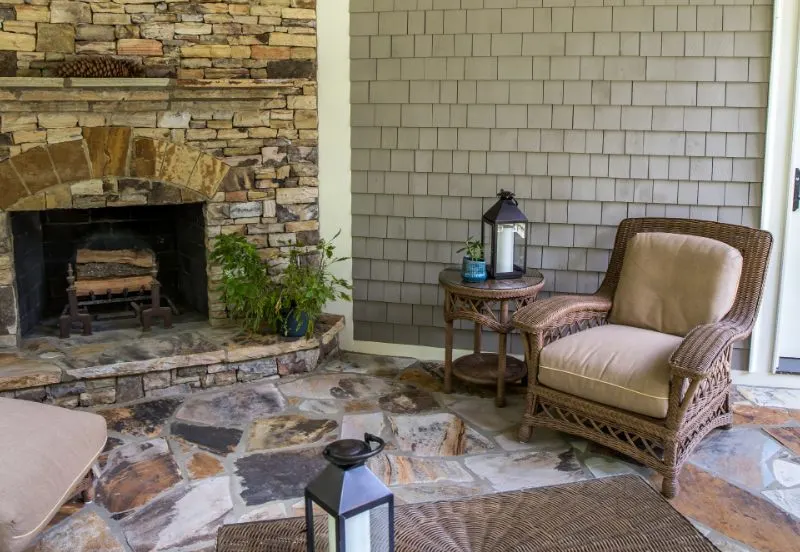 When considering the options you can explore for your faux stone flooring, there are several that are worth exploring. Most of them though are similar when it comes to the benefits they offer, particularly in regards to aesthetics, cost, convenience, easy DIY installation, and low maintenance. There are several factors though where they differ from each other.
While the aesthetics look very similar to authentic natural stone, there's a major difference with how it feels underfoot as flooring. Faux stone flooring is guaranteed to be more comfortable than some options, even feels warmer, and has some shock absorption properties.
In these aspects, one type of faux stone may differ from the other which is why it's still better to explore your options thoroughly.
Choosing this highly versatile material for your flooring will give you options like vinyl, tiles, slabs, laminate, and even concrete. They have their respective strengths and weaknesses, as well as unique characteristics you can benefit from. You simply need to choose the ideal type that can give you what you need and envision for your flooring.
Faux Vinyl Flooring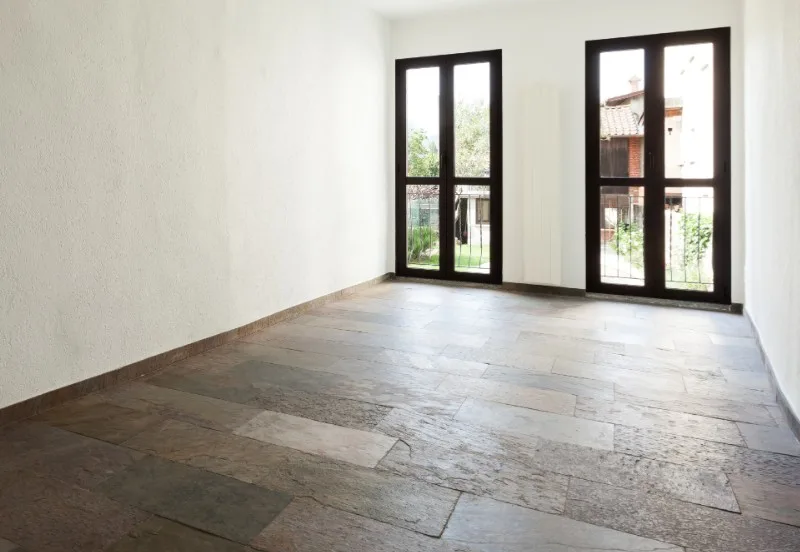 Faux stone vinyl is a popular construction material that homeowners love using in their houses, not only for flooring but also for other applications inside the home. Vinyl is a favorite among homeowners and DIY enthusiasts for a reason.
Here are several reasons that might convince you to go for stone look vinyl flooring.
• Can mimic all the different aesthetics of natural stone – From unique blends of colors to complex variations and veining, all natural stones are within your reach since the faux stone vinyl can capture their aesthetics easily.
• Feels more comfortable underfoot – While they may have similar aesthetics, natural stones are known for having a hard and cold surface but this is not the case if you choose faux stone vinyl flooring. Faux stone vinyl is a type of engineered tile designed to be warmer to the touch and more comfortable to walk on.
• Incredibly low maintenance – This type of flooring is ideal for those who have a busy and cramped schedule and don't have enough time to regularly clean the flooring thoroughly. Sweeping and damp mopping is enough to keep the floor in excellent and clean condition.
• Resistant to abrasion, scratch, and stain – Faux stone vinyl flooring can stand regular wear and tear even when installed in areas with high foot traffic.
Luxury Vinyl Tile With Stone Style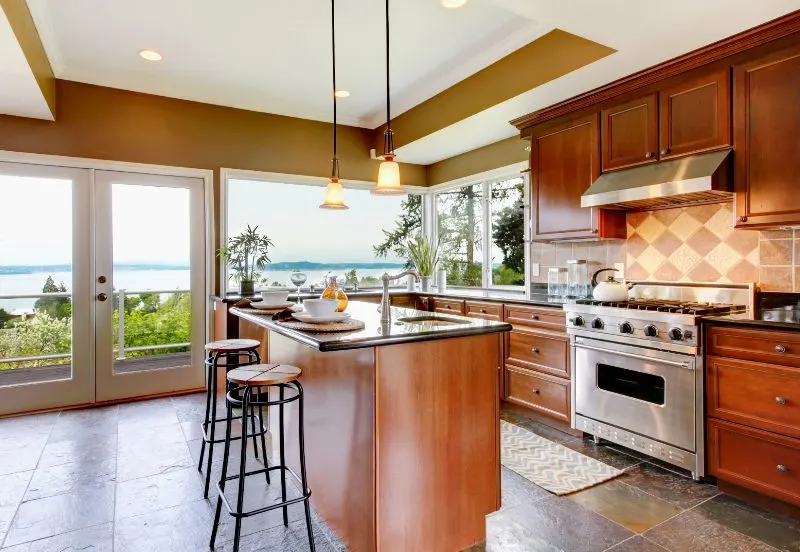 One of the preferred types of vinyl used by homeowners is the LVT or the Luxury Vinyl Tile and the one with a stone look can be used to make elegant flooring. This material is offered in a wide variety of patterns, colors, and textures. And the best thing about LVT is that it closely resembles the design it's mimicking, whether it is a stone look or authentic wooden aesthetics.
Luxury vinyl tile with stone look is usually 100% waterproof and so it won't be an issue if you install it as flooring either in the kitchen or bathroom, which are areas daily exposed to moisture. In addition to this, LVT is also popular for its high durability and so your flooring will not have an issue where it might buckle or swell over time and with too much exposure to moisture.
LVT usually has 3 to 4 layers, depending on how it is structured. These layers include backing, vinyl core, print layer, and wear layer. The wear layer is sometimes not included since it only serves as a protection layer but most LVTs have them to add to their durability and hopefully, lifespan.
And when it comes to installation, you can either use them as click-float or glue-down, depending on your preference. The former is a DIY-friendly installation where the vinyl planks are assembled first before laying them down on the subfloor. The latter on the other hand is handled more often by professionals, where the planks are glued down on the concrete one by one to be more thorough.
SPC Flooring With Stone Design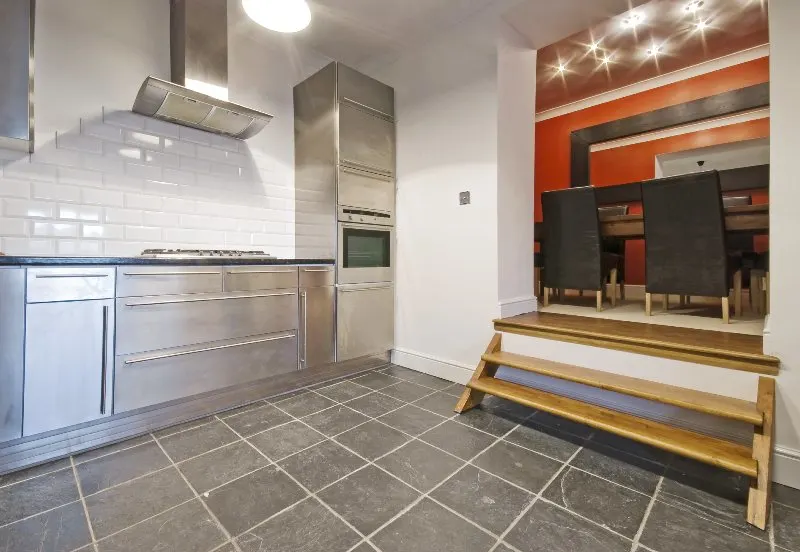 SPC (Stone Plastic Composite) with a stone look offers the stability and aesthetics of high-quality authentic natural stone flooring. This material is an excellent flooring option compared to other types of faux stones due to its rigid core that adds stability to your flooring.
It's also the reason why you get to experience both the aesthetics and convenience of a high-end natural stone just with the SPC, which is way more affordable and even more comfortable and warmer underfoot.
SPC flooring with a stone look is also easy to maintain like most faux stones flooring options. It is durable and can do well even when installed in areas with high humidity and foot traffic. The realistic natural stone aesthetics is also a favorite of homeowners and DIY enthusiasts.
Other beneficial characteristics you can enjoy are the following:
• Easy to clean and low maintenance
• Easy installation
• No sealing required
• Used high-end materials to produce SPC
• Offered in a wide range of realistic stone options
• More environmentally friendly
• Most are 100% waterproof
• Resistant to abrasions, scratches, cracking, and even rusting
• Affordable and cost-effective
Faux Laminate Flooring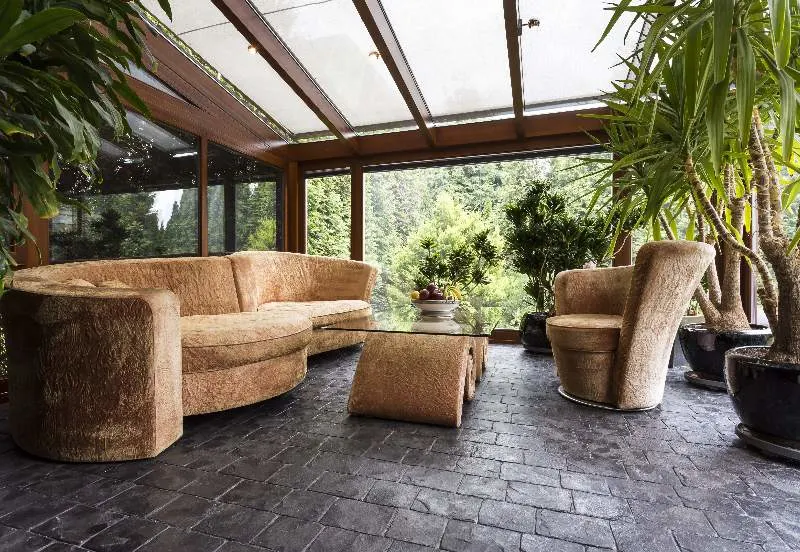 Another faux stone option you can use for flooring is faux stone laminate flooring. This is the best shot you have if you want to spruce up your flooring and make a big change and make a good impression without spending too much on it. You can make use of the traditional Victorian look or you can go with a modern minimalist faux stone flooring.
Faux stone laminate flooring is as flexible and versatile as the other faux stone options. You can choose concrete, marble, and even slate for the aesthetics of your home. The materials that this faux stone is made from are kind of similar to the SPC.
Stone Look Tile Flooring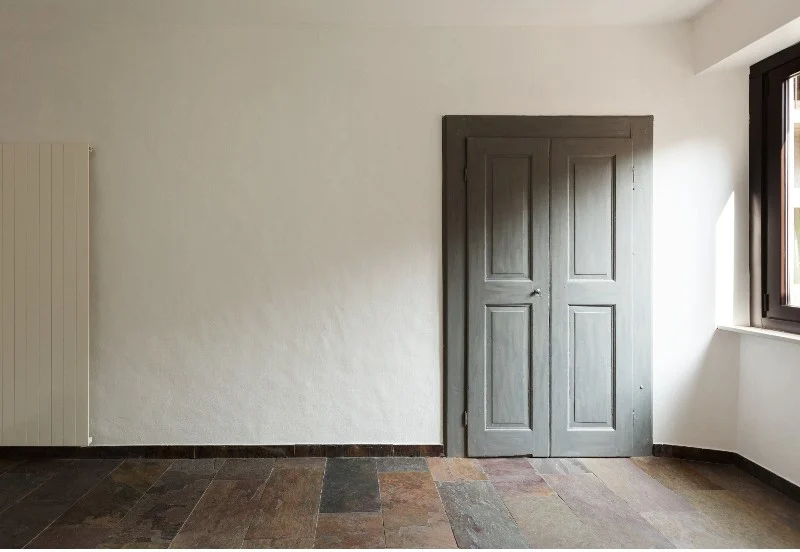 Faux stone tile flooring is a durable and affordable option you can check out. This option is also similar to vinyl in the sense that this is one of the most common forms that homeowners purchase faux stones.
And if you're also considering this option for your flooring, here are some of the benefits you can expect. Options of authentic stone designs (Different types of floor tiles such as marble, porcelain, ceramic, etc.)
• Easy to care for and maintain surface flooring
• No sealing of the tiles is required
• Excellent moisture resistance
• Cleaning can be accomplished by simple mopping or sweeping
Concrete Floor That Looks Like Stone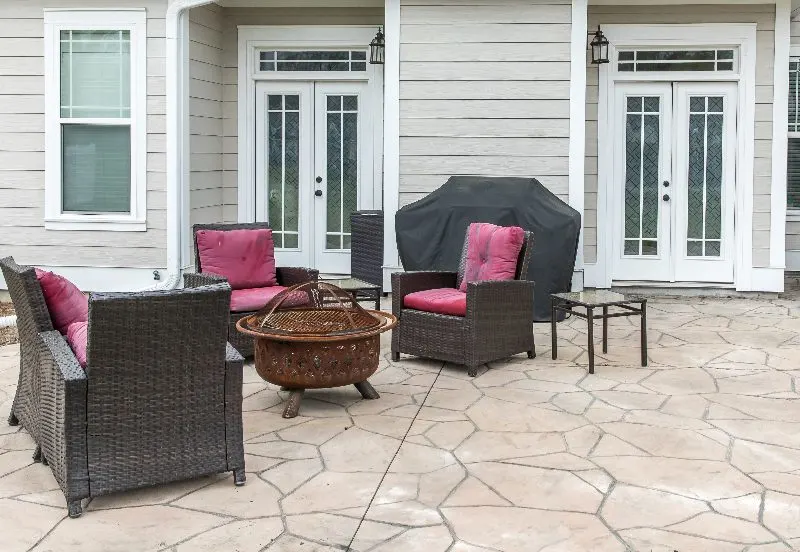 Concrete is a popular and mostly required material you will need in the construction of your home. Its notable feature is its simple white to a gray color with a rough texture. If you're considering faux stone concrete flooring, there is a high chance that you will only get and make use of the aesthetics of concrete flooring.
Since faux stone only mimics the aesthetics of natural stone, this means concrete faux stone won't have its signature rough texture. If this is exactly why you chose faux stones then it's a great idea but if you're actually after the texture to avoid slipping on the floor, you can just go for the authentic concrete flooring. The good thing is that it's not an expensive option in the first place so choosing from either will be a cost-effective decision.
Another major difference between authentic concrete flooring and its faux stone version is its installation. While you can choose to DIY, installing authentic concrete flooring might need an expert hand.
Faux stone concrete flooring, like most of its type, can easily be assembled and glued down. If you're talking about faux concrete floor finishes though, it is an entirely different matter that requires understanding and technique in the workability of the material.
Outdoor Flooring With The Look Of Stone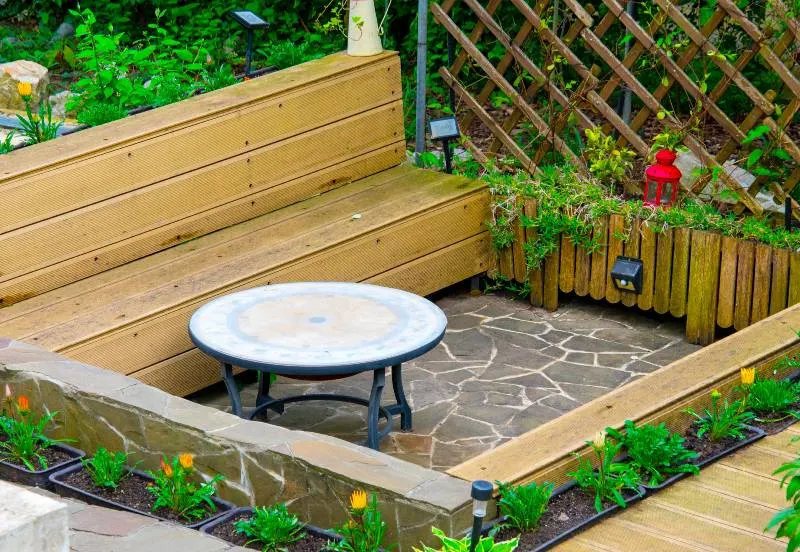 Working on your outdoor flooring requires more consideration than working on the flooring inside your home, especially since there is a high chance that the flooring will be exposed to outside elements that can damage the material.
You will need a material for your flooring that can stand wear and tear from exposure to sunlight and other weather elements like rain and heavy winds. And if you're not going for an authentic natural stone, choose a durable and waterproof faux stone option.
The good thing is that most faux stone options you can choose for your outdoor flooring are durable and waterproof in the first place. They have a protective layer that can help against possible damage from external elements.
One of the easiest and durable selection for an outdoor flooring is a concrete stone look finish. Another popular option is a porcelain stone look floor tile that is weather resistant, long-lasting and attractive.
Floor Paint With Stone Colors & Texture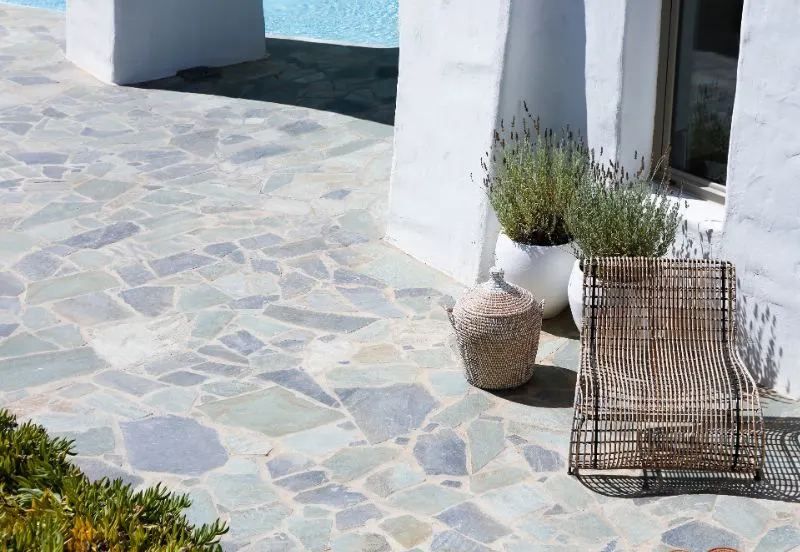 Can you paint over your faux stone floor? Definitely. But you have to make sure first that this is really what you want.
Painting over your faux stone flooring may actually be counterproductive since faux stones are manufactured to mimic the aesthetics of authentic natural stones in the first place. And painting over these patterns and designs is not a good move for this type of material.
If you're set on painting over your faux stone flooring, it's your decision. Make sure that the paint color you choose matches the colors used in the room where the floor is.
Consider the colors of the walls and the ceiling, as well as the furniture and other elements in the room. Take into account the vibe that you want the room to have.
Painting on the faux stone floor may be your last option if you don't have the time to start the project all over again or you don't have enough budget to spruce up your floor. While not recommended, it's still possible to accomplish.
One thing you can do with painting though is faux painting. This does not mean painting over the faux stone floor but painting over the floor to mimic the natural stone look. You won't need to use faux stone tiles and planks in this case.
Replicating the natural material's look though will require talent and attention to detail. If you don't execute it well, your floor will just look like a kid's art that you might end up painting over it the natural way. This means that you need an expert to work on it and make sure to explore all your options.
Going for faux painting may be incredibly difficult and there's a chance that there are other better options you can take. If this is what you want though, feel free to learn all about it or hire a professional to work for you.
Faux Material Flooring Costs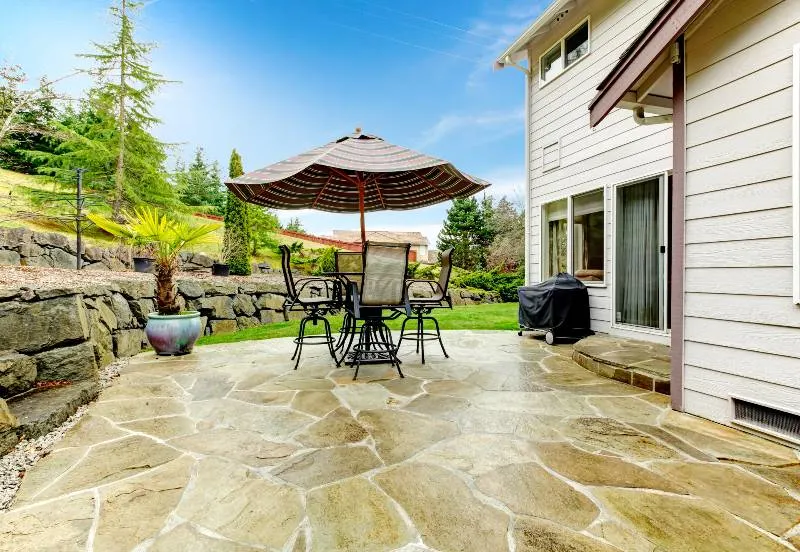 The cost of faux stones is one of the major reasons why they are manufactured in the first place. Natural stones can be incredibly expensive and some homeowners won't be able to afford them. The solution to this is to choose faux stone flooring instead so you'll get to enjoy the aesthetics of natural stones at a more affordable price.
While individual types of faux stones may vary in price, they range around $12.50 to $25 per square foot so an entire flooring project of 20 square feet can set you back a good $250 to $500.
Advantages & Disadvantages of Stone Style Faux Surfaces

The next practical step to take is to consider its pros and cons. You would need to take into account the advantages you'll benefit from using faux stone flooring and if the drawbacks are worth handling. Some of its obvious benefits include the following: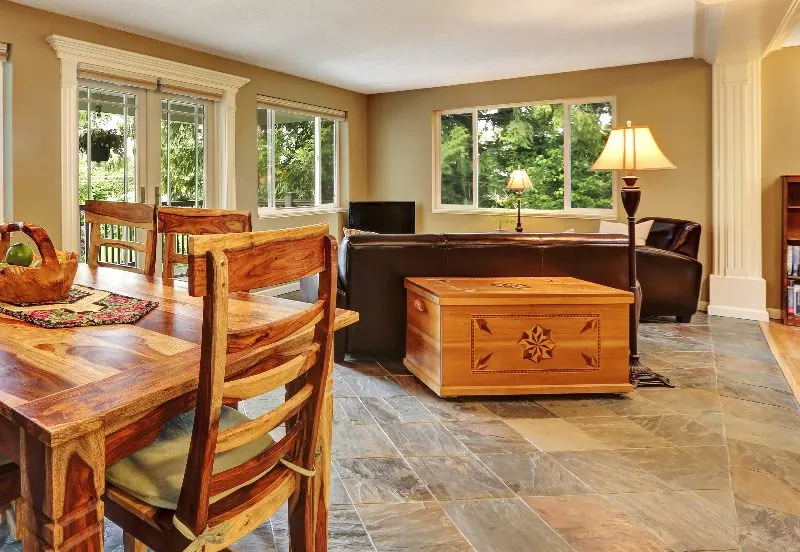 • Easier to install – Most faux stones are integrated with the tongue-and-groove system where the tiles can easily click in place.
• Easier to repair – Since it uses a convenient system that makes it easy to install, you also follow this system to disassemble the pieces and take out the parts that need repair or replacement.
• A wide variety of options to choose from – Faux stones come in a variety of forms, styles, colors, and patterns so you'll definitely find something that fits what you're envisioning.
• Realistic aesthetics – Despite not being authentic, faux stones have realistic aesthetics that will make you think what you have is the real deal.
• Environmentally friendly – Compared to using natural stones, faux stones are a step toward environmental preservation since their manufacturing does not involve quarrying (which has detrimental impacts).
With all of these advantages, you also need to look at the disadvantages you will have to be okay with. Some of these drawbacks include the following:
• Not exactly the same look as authentic natural stones – While faux stones can mimic natural stones, you're not really getting the real deal at the end of the day. And if you choose faux stone flooring, you have to be okay with that.
• Needs protection from impact – Faux stones tend to crack and loosen when not protected from impact, which can shorten your flooring's overall lifespan and require repair in the process.
• Requires gentle cleaning – Since faux stones are susceptible to damage, cleaning them with aggressive commercial cleaners will not be good so stick with a vinegar and detergent solution instead.
See more related content in our article about the types of flooring materials for interior design on this page.