Here's our guide to French doors vs sliding doors including pros and cons, cost and different types.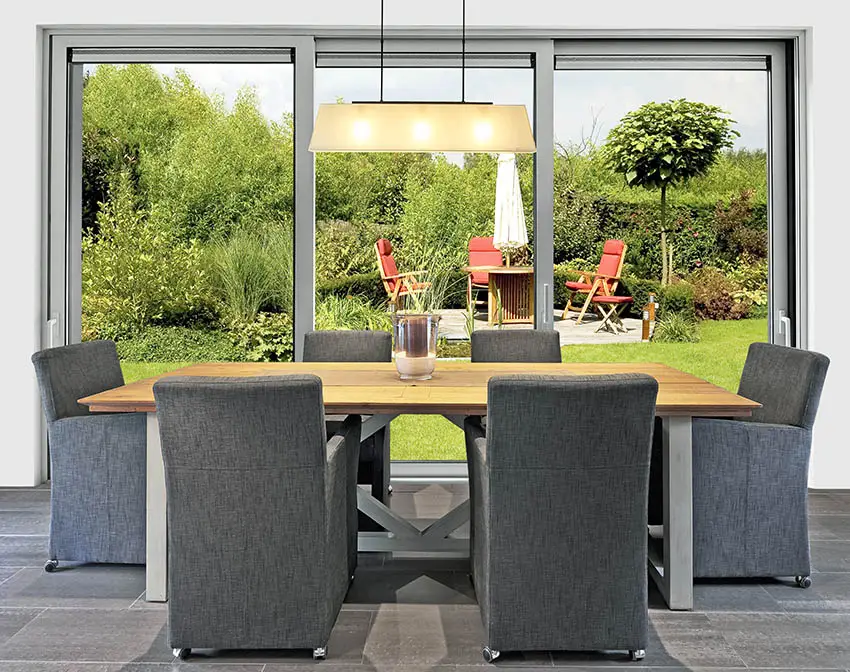 Doors hold a special place in many cultures, echoing beliefs and showcasing art and architecture. As doors are an indispensable part of any building, our homes will have different types of doors.
One special entryway we do love passing through is our doors to our outdoor living areas. May it be a patio, veranda, or a terrace, these are delightful portals to our enjoyment of nature.
What is a French Door vs Sliding Door?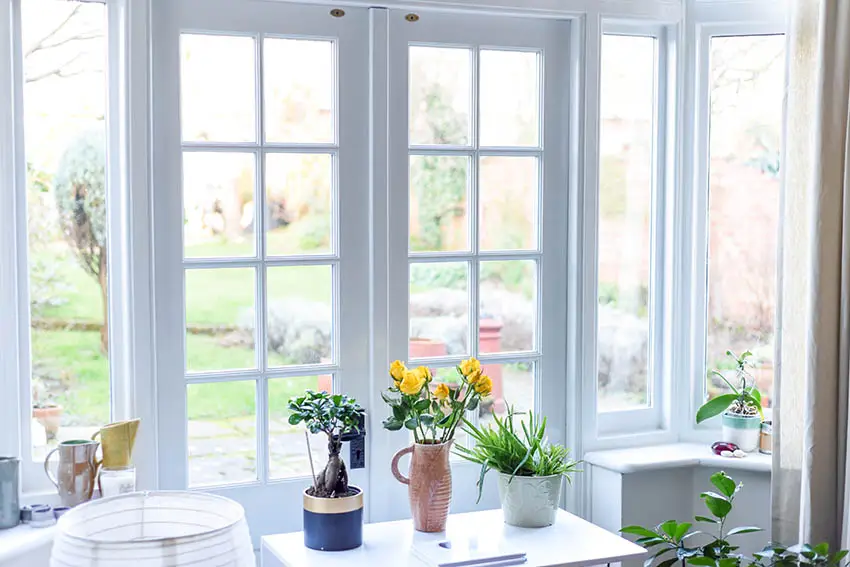 Both French and sliding doors are the most popular types of passageways between our indoor living and the outdoor areas, but do you know the difference between the two doors?
The main distinction between these two types of doors is how they open. French doors swing open and are held by fastened hinges on one side of each door leaf (typically two), just like that of your standard door. They can either swing outwards to your patio or inwards to the house, depending on your preference.
A sliding door, on the other hand, will open or has its door panels slide through a track to open. If you have two-panel patio doors, each panel typically will slide open on the side it is nearest to. There are also three or four-panel patio doors that can slide on one side to reveal a large opening.
Pocket versions for patio doors are also available that neatly tucks away in your wall, and works well if you want an unobstructed view and access through the opening.
When it comes to your home's style, French doors are more suitable for traditional themes such as country-themed architecture or if for a transitional-styled home.
Meanwhile, If you're leaning towards a modern style, you'll find sliding patio doors are great for a modern look with the absence of mullions or frames on your glass panels.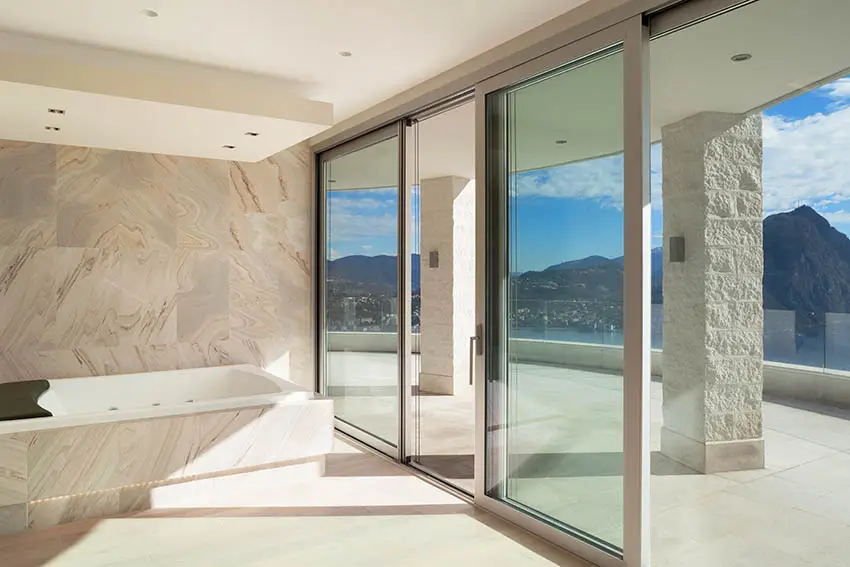 Types of Patio Door Openings
Aside from the overall design, knowing what type of patio door openings can help you narrow down your search among a good range of patio designs.
Sliding Doors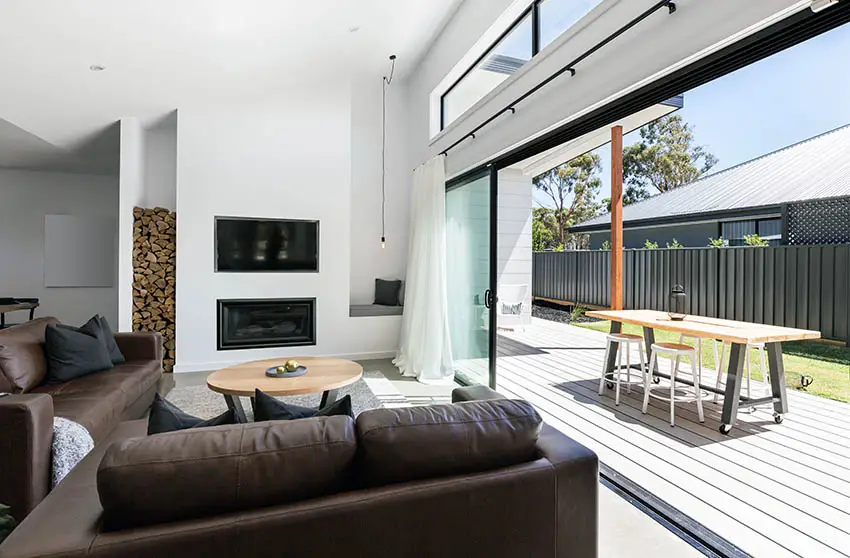 A popular option for contemporary-themed patios is the sliding doors that are typically made from clear glass panels without any mullions or divided glass panes.
The mechanism allows the door panels to glide through horizontally. When opened the sliding door panels slide along the track to either side.
When you have two sliding double doors, each panel slides to the nearest side. Though you'll also find sliding doors with two or more panels that slide on only one side. Double sliding doors can also have one panel fixed and the other as the moveable panel.
Sliding patio doors are great in maximizing both the indoor and outdoor spaces without the need for the door leaf when opened leaving your doors neatly flushed against your wall. Read more about the different types of sliding doors here.
Side by Side French Doors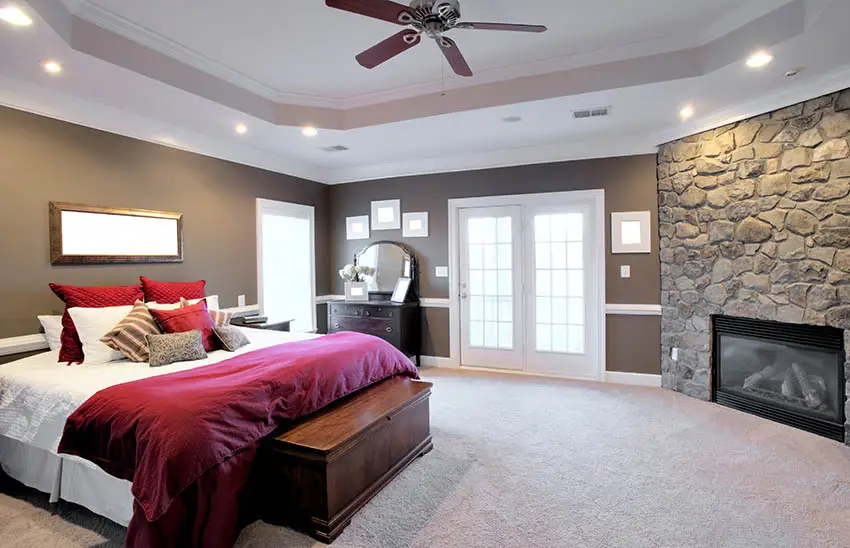 Most French doors come in pairs typically surrounded by fixed windows such as a transom on top and sidelight window surround on both sides.
The side-by-side French door is technically a double door with a paneled framing, with its balanced look it's a great base or focal point for both your interior or your patio area.
Single and Double Hinged Doors

Patio doors that swing on one side, either inward or outwards have a single hinged door. The hinge installed has components that only allow a limited arc, typically on a 180-degree swing on one side.
For a double-hinged door, a 360-degree arc is allowed having a patio door that swings on both the indoor and outdoor area.
Inswing or Outswinging Doors
If you have limited space on your patio, an inswing patio door is a suitable choice, given that you've got ample space in your interior. With your door leaf out of the way, you can maximize your outdoor area.
Outswinging doors are more common for spacious patios which allow each door leaf to swing outward to your patio.
French Patio Doors Pros and Cons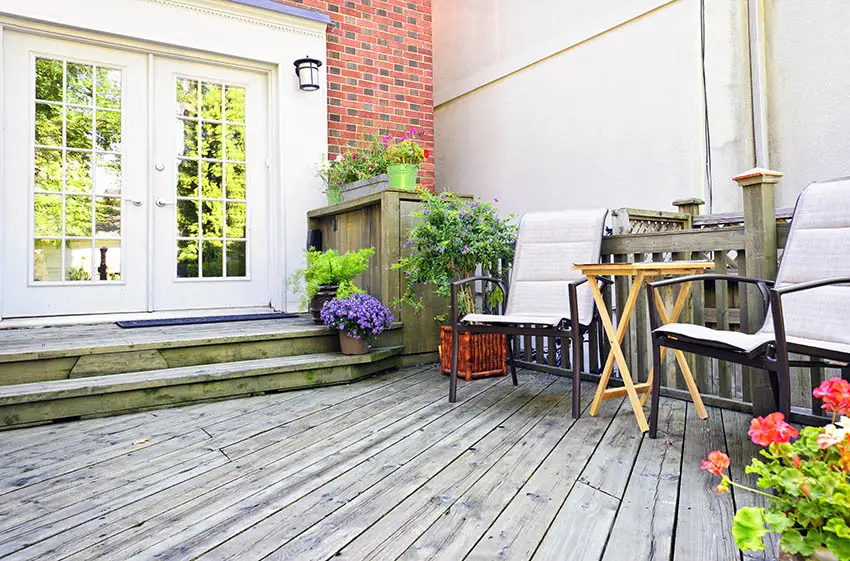 A French door gives an extra look for a plain-looking room while adding charm to your outdoor living. You can distinguish a French door from other types of patio doors with their squarish wood or UPVC mullions and muntins that make up the door panels.
French Patio Doors Pros
Traditional Charm – Captures the old charm of the country and other traditional themes that create a homier feel for your patio, especially when matched with brick and other classic materials.
Easy to Install –French patio doors are relatively easy to install compared to sliding doors that need an additional tracking system to be affixed on both upper and lower parts.
Versatile Designs – Traditional patio doors have squarish mullions and muntins, but you can also employ other interesting designs to fit your style.
Easy to Open – French doors have a very straightforward opening mechanism, just like the typical interior hinged doors.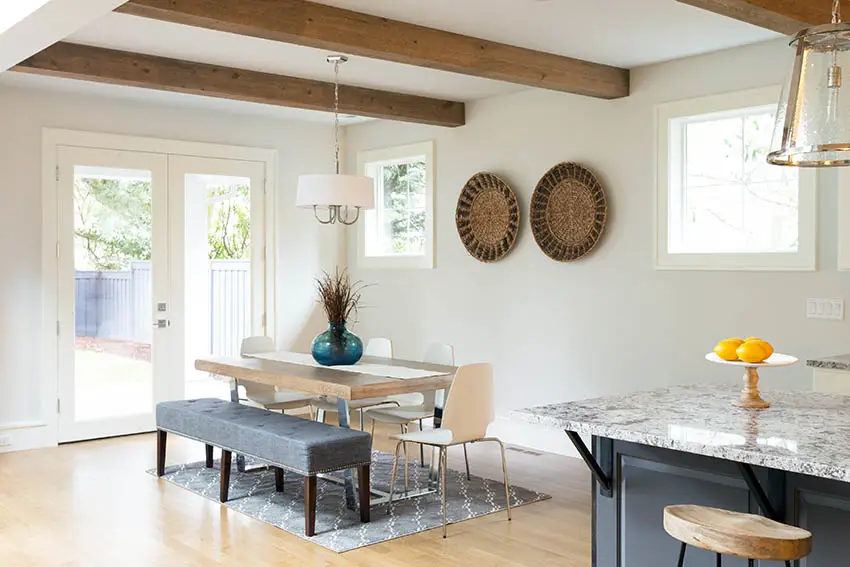 French Patio Doors Cons
Additional Space – With a door hinge, opening the door needs a swing space. This can eat up valuable space for a wide French door which is not doable for homes with smaller rooms.
Obstructed Views – When closed French doors can obstruct views from the outside, especially if you have half of your French door boarded up or have a lot of muntins or frames that run through the glass panel.
Meticulous Cleaning – With intricate frames and glass panes in between door panels, maintaining and cleaning each small glass pane and in-between crevices can be a challenge.
Expensive – Compared to sliding doors French doors are generally more expensive than sliding doors.
Sliding Doors Pros and Cons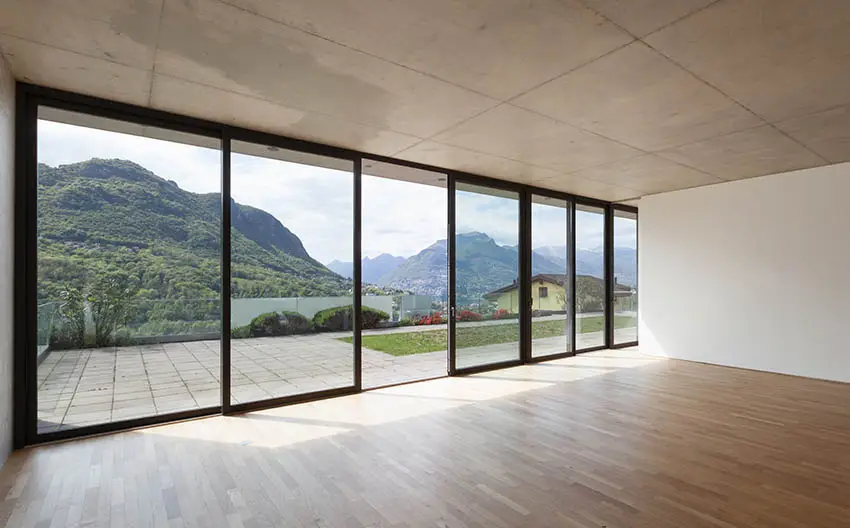 The growing popularity of sliding doors has proved that it becomes the standard patio door for the modern home. Having a sliding door patio alone can actually raise the price of a property.
Sliding Doors Pros
Sleek Finish – Sliding doors typically come with an all-glass framing without any muntins, although there are sliding doors that include some muntins or mullions to hold up wide sliding doors.
Saves Space – Since sliding doors neatly slide toon either or both sides to open, the flushed door panels mean you are free from providing a space for the door swings.
Unobstructed views – Most sliding doors come without any paneling to support the glass pane especially when the glass is tempered glass. This means you can enjoy the full view of the outdoors without any panels obstructing the views.
Easy Maintenance – Without muntins you have a sleek and smooth glass door making it easier and quicker to clean.
Sliding Doors Cons
Expensive – Generally, with the complex installation and high-grade glass material, most sliding doors can be expensive compared to the conventional patio doors.
Complex Installation – You'll need an upper and lower track to be installed. It is advisable to have a professional install your sliding doors to ensure the structural integrity of the tracks where the sliding doors will be installed.
Difficult to Open – Sliding doors are relatively easy to open provided that you need to clean periodically your tracks from trapped hair or debris.
Though there are sliding doors that can be heavy especially with triple pane windows or that have a large area coverage. This can be difficult for kids to open.
Lack of Privacy – The great thing about French doors and other patio doors with hinges is that you can partially open your doors provided that a stopper is placed to prevent them from closing. This is useful if you have a windy day yet want air and light to still pass through the indoors.
Without the muntins in French windows also means the see-through glass allows the indoors to be exposed outdoors.
Although, you can opt for a one-way window film to allow you to see through when viewing inside while viewers outdoors cannot see what's behind the glass pane. This can be an added expense for your sliding door patio.
French Door vs Sliding Door Price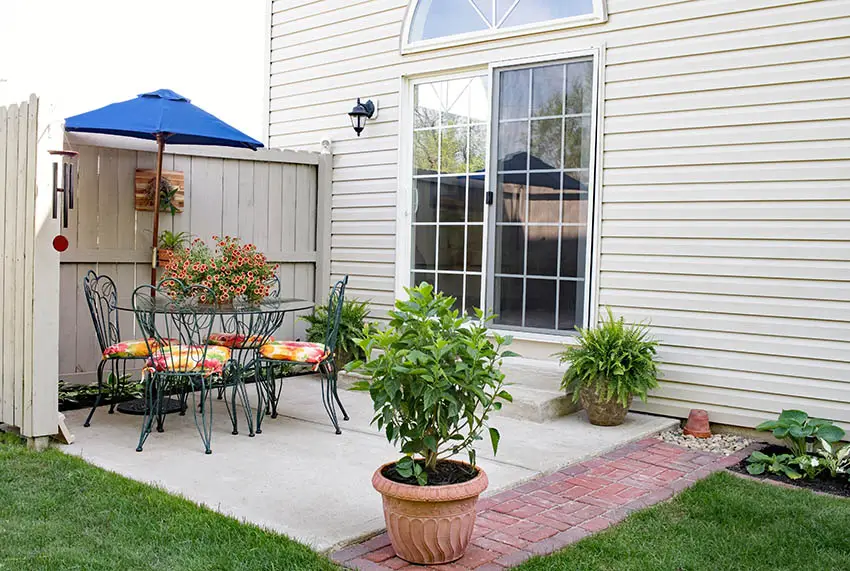 Installing or replacing both French and Sliding doors are costly yet rewarding entryways for your patio.
Many factors can influence your patio door price. If you want to know more about the pricing better ask for free quotations from expert contractors who specialize in installing patio doors.
As a guide, we've gathered the national average on how many French and Sliding doors cost.
Factors that can affect the price:
French Door or Sliding Door Sizes
Brand
DIY or Hire a Pro
Zipcode
Material
Added Features
Replacement or Installation
French Doors vs Sliding Doors Installation Cost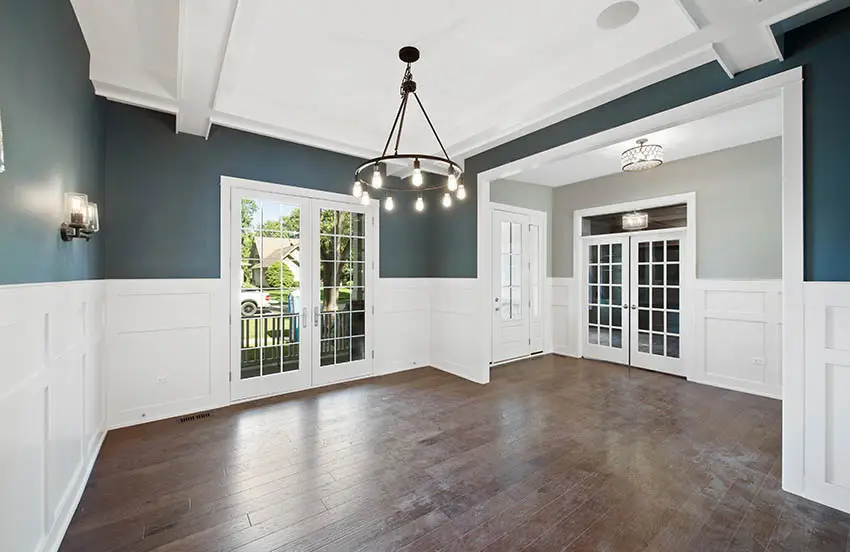 French doors to some extent more affordable to install than sliding doors depending on many factors such as the location of your home, door brand, and features you want to include.
The average of installing a French door ranges from $1,000 to $4,000 while having a maximum cost of $8,000 with a national average in the U.S. of $2,500.
Sliding doors, on the other hand, costs between $2000 to $4,000 with a maximum cost of $4,804 and a national average in the U.S. of $2756.
Installing French doors in a brick wall costs between $2,500 and $6,000
A sliding screen is a great way to prevent insects from getting into your home. Which can cost around 150-250. Retractable Screens, on the other hand, cost $400 to $600
Replacement Cost
When replacing doors, French doors can be more expensive than sliding doors. French doors have an average of $800 to $5,000 replacement cost while replacing sliding doors has an average of $700 to $2400 cost.
French Doors vs Sliding Doors Infographic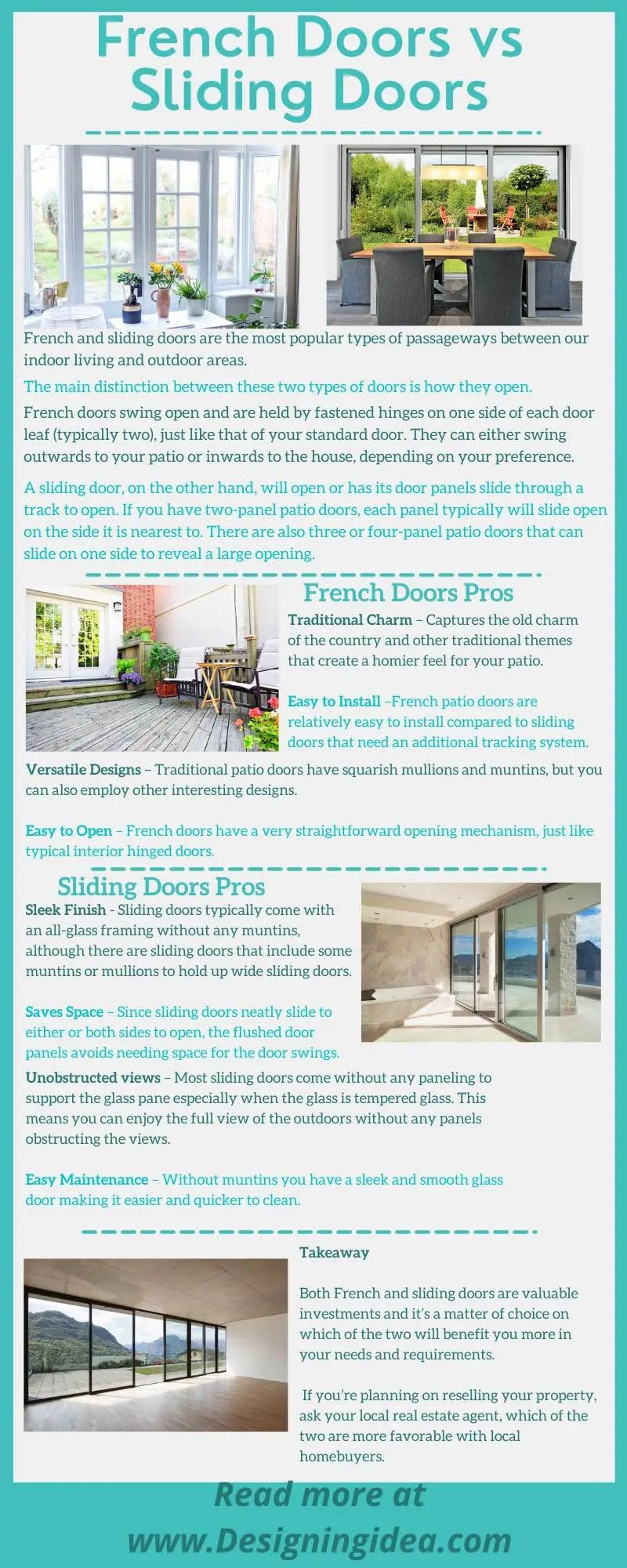 French Doors vs Sliding Doors Takeaway
Both French and sliding doors are valuable investments and it's a matter of choice on which of the two will benefit you more in your needs and requirements.
If you're planning on reselling your property, ask your local real estate agent, which of the two are more favorable with the local home buyers.
Which do you prefer for your home patio when it comes to French doors vs sliding doors? Let us know in the comments section. For more related details visit our article about dining rooms with French doors.