Here's our gallery of beautiful dining rooms with French doors including an assortment of styles and design ideas.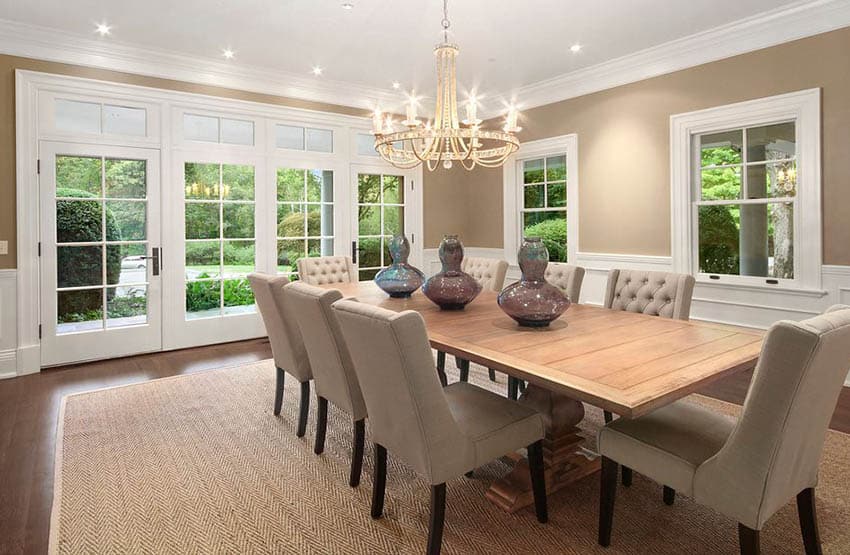 French doors are a western architectural design element that could be considered a "classic". It's rustic, old-world charm continues to captivate people and add a little more personality to any style of home. The seemingly simple silhouette of French doors might be a classic, but its claim to fame is well-deserved as it is very versatile, and can match any design style, with the right modifications.
Variations of French doors have been used on more contemporary architectural designs, and has always successfully added a nice touch to any space you use it for. In fact, nowadays, you can see that this style of doors are also applied in non-traditional ways such as room partitions, toilet partitions, shower enclosures and more.
French doors come in a wide variety of materials and styles. Like modern doors, you can find one made out of wood, metal, PVC or uPVC, and choose from a large variety of glass types on the market. The advent of modern materials and engineering innovations paved to to develop more varieties and styles which were previously unimaginable. Although French doors were originally swing doors, you can now also find sliding French style doors, double-swing doors and even bi-fold doors. No matter what material or color though, French doors undeniably lend a timeless elegance and appeal to any space that has it.
The elegant French provincial-inspired formal dining room in the picture above mixes a lot of modern and classic elements to create its look. The use of classic furniture pieces/silhouettes combined with a couple of modern touches such as the blown glass vase and the chandelier create a very elegant and romantic setting. Large white French doors allows natural light into the room, and adds more personality to the dining space.
Benefits of French Doors in the Dining Room
French doors let in an abundance of natural light through their glass panel design
Create room definition for your dining room with a clear entrance and exit
Gives the illusion of additional space with unobstructed views through glass in to the next room
French doors can provide soundproofing which is desirable to separate a living room or kitchen from a dining room
Adds value to the home
French doors look beautiful and elegant
Here are some gorgeous samples of dining rooms with French doors for ideas and inspiration: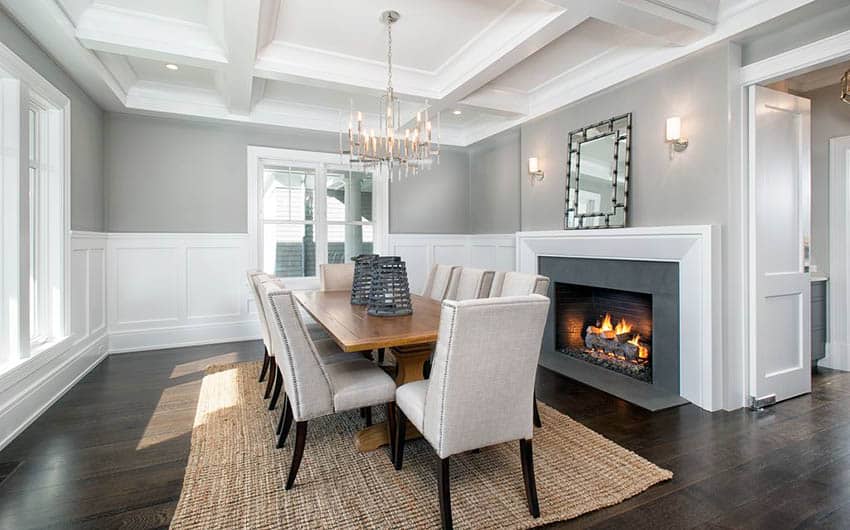 This is another French-provincial inspired dining space, but it adds a more contemporary touch by using more rectilinear types of chairs, accessories and materials with clean, straight edges. White French doors and windows are placed around the wall of the dining area, matching the classic wall paneling style. The combination of soft and hard edges make this space look very of-the-times yet still appeal to older tastes.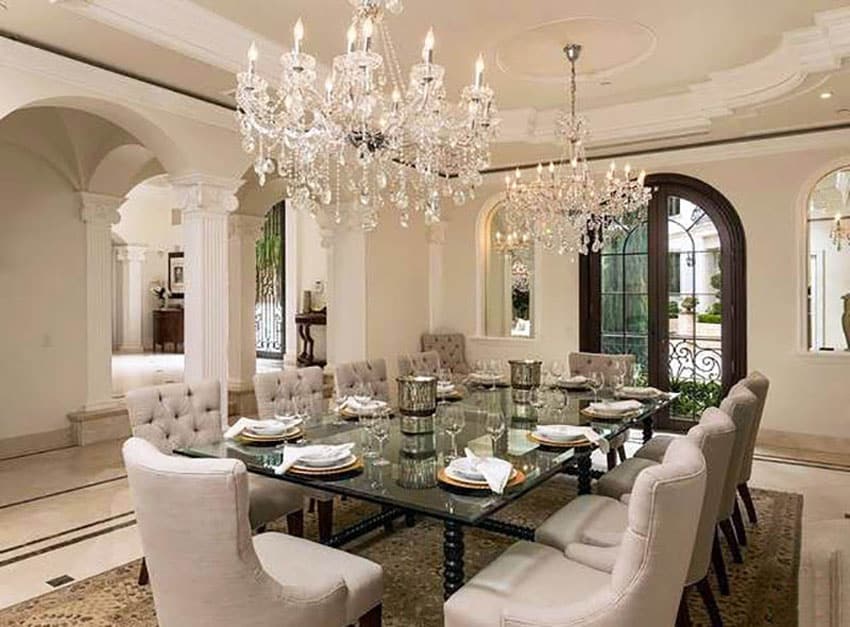 While the previous dining rooms with French doors feature more symmetric and rectilinear silhouettes, this example uses more curved forms of furniture and accessories, combined with modern materials, creating a Victorian style design. Faux classical columns can be seen framing archway openings, as well as a classic solid Mahogany arched French door to complete the look.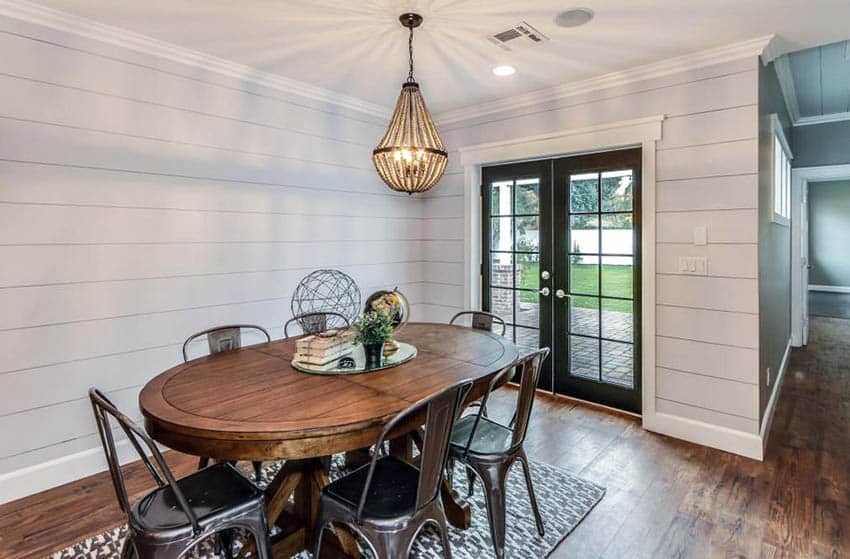 This is an excellent example of a modern interpretation of the classic French door. It has a slimmer profile as it uses metal for its framing, and uses an industrial-style paint finish that matches and completes the overall look this small dining kitchen is trying to achieve. The shiplap dining room design provides a rustic home feel and pleasant ambiance.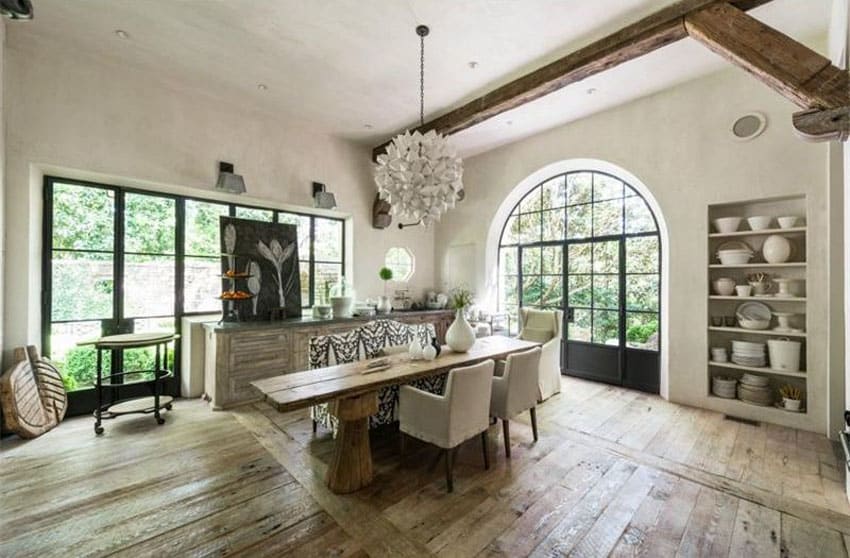 By playing around with scales and proportions, this rustic dining room creates a very "grand" ambiance despite using simple materials. High ceilings were taken advantage of by using large French-style doors in black painted framing to keep consistent with the rustic concept. One wall has a large French double-door with an arched transom, while another wall's length is spanned with a series of French double doors.
An ode to the classic French door – this small kitchen-dining room has a set of double French doors with a thick solid wood frame painted in white. What makes this design more unique is that the French style doors were also used on the overhead cabinets to match!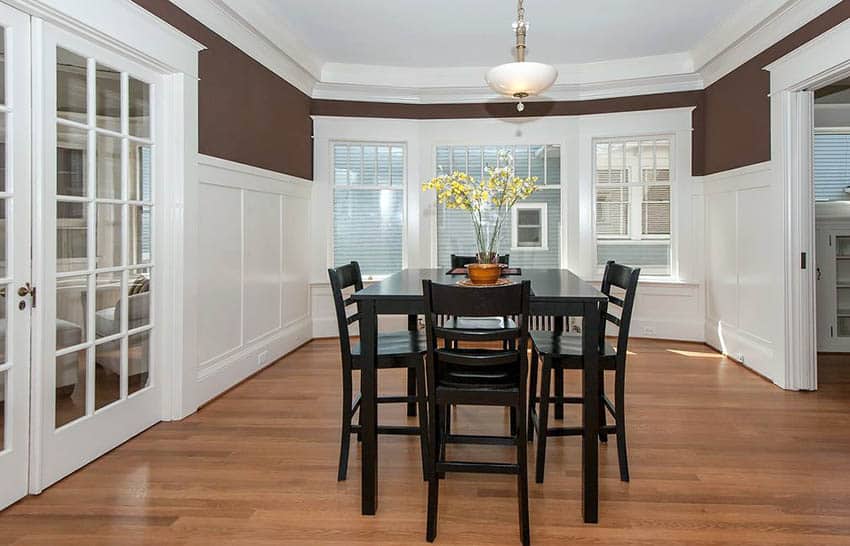 A very simple and subdued small two tone dining room maintains an elegant flair as it has a classic combination of wall panelings and French doors and windows. Clean & simple lines make this humble space look elegant despite not having much decor.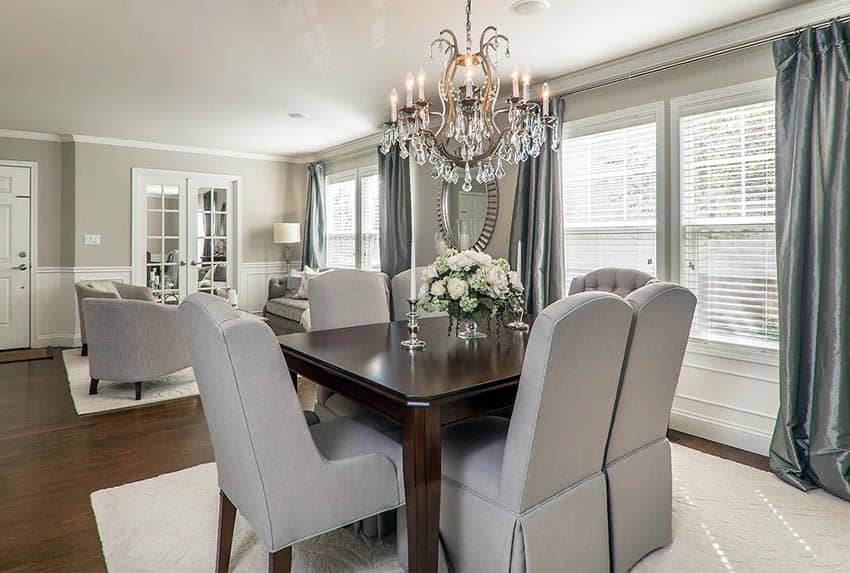 Open layout combined with large doors and windows help make this dining area look bright and spacious. If you would look closely, the double French doors by the living area is fixed with mirrors instead of clear glass, creating an illusion of a bigger space.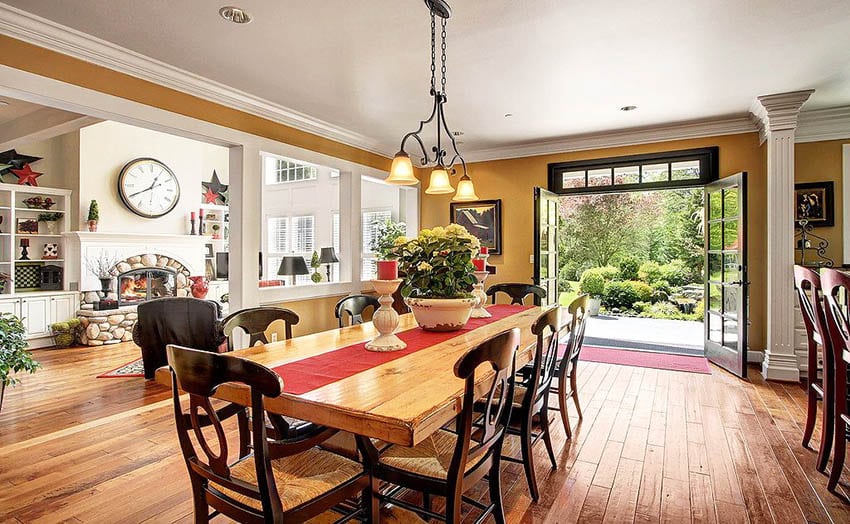 Black-stained double French doors used in this large dining space is a definite eye-catcher, as the rest of the other Queen Anne furniture pieces and finishes uses natural wood colors.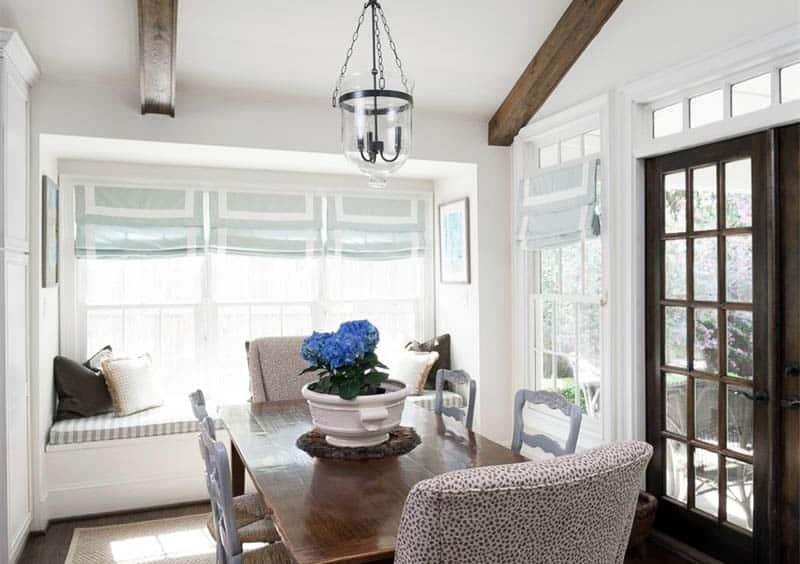 A quaint dining room with a small reading nook and lilac Chippendale chairs set a very rustic yet chic vibe to this small space. The large French doors and windows help improve the over-all ambiance of the small space as it makes it brighter and look more spacious!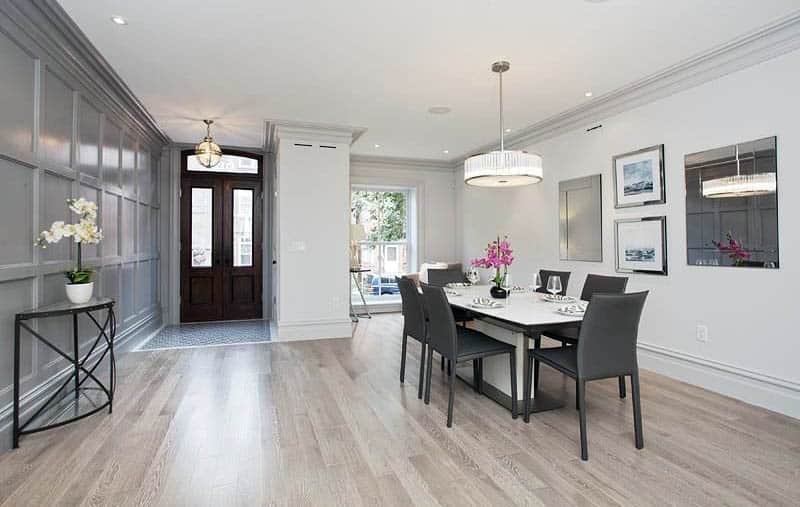 Add a little flair to your modern dining room by incorporating classic elements such as found in this charming design. One large wall has been fixed with wood wall paneling, but painted in gray to give it a more contemporary feel, and uses French doors, adding an old-world charm to the clean space.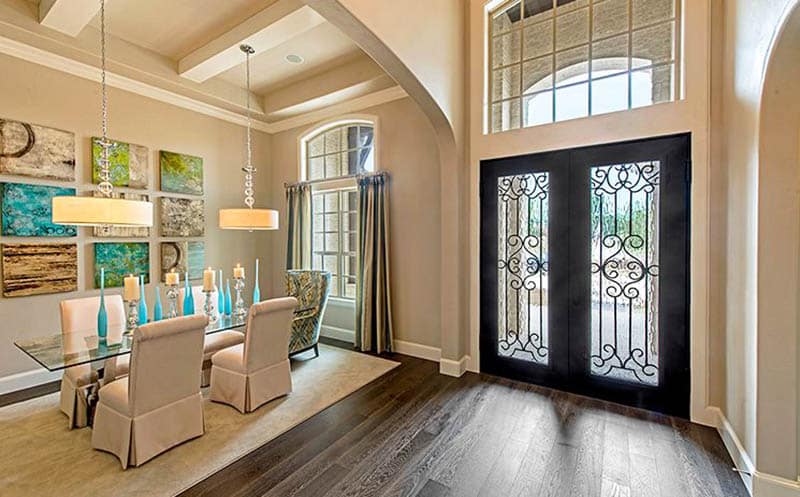 The ceiling height is definitely taken advantage of in this dining room, as the large French doors and windows adds quite a high French-style transom above it, bringing in more natural light into the space, hence creating a more appealing ambiance.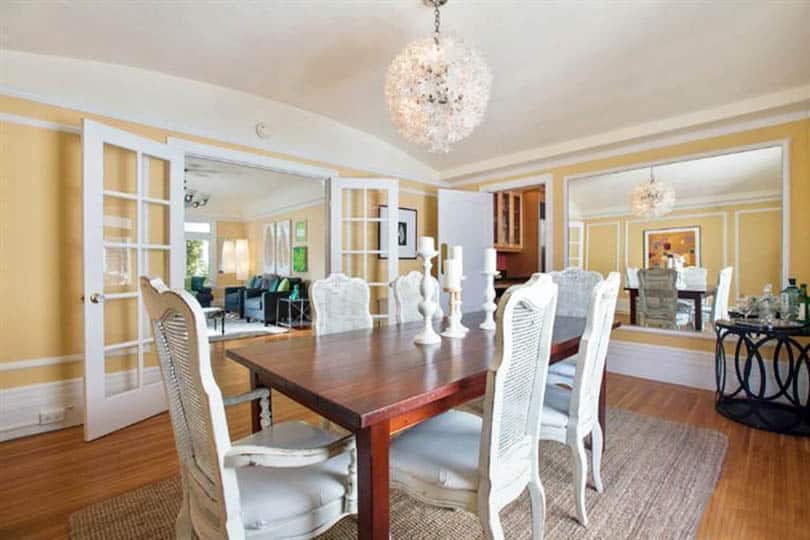 The natural weathered condition of the antique dining chairs balances out the clean smooth lines of the floors and dining table, adding more texture and character to the formal dining room. The living room and the dining room are separated by a large double French door, thus creating a charming yet spacious-looking design.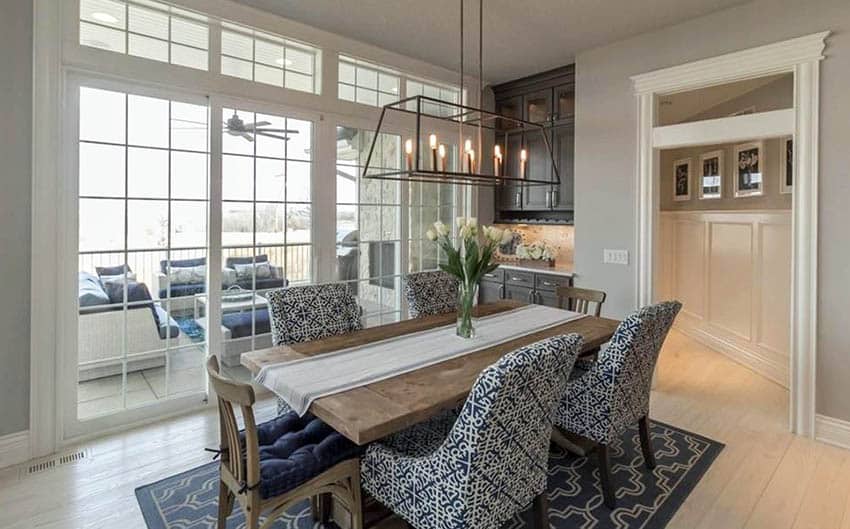 This dining room with French doors helps connect this rustic & contemporary space to the outdoor patio area. Because it is a sliding French door, you can open it up and connect the two spaces when you need more. The combination of classic architectural elements and furniture silhouettes create a beautiful medley in combination with modern textiles and accessories. A light greige dining room paint color brings in warm tones of brown combined with lighter tones of white and gray for a pleasing design.