In this split level home designs guide you'll see what it is, its pros and cons, types, remodel and additions tips, and landscape ideas for split level homes.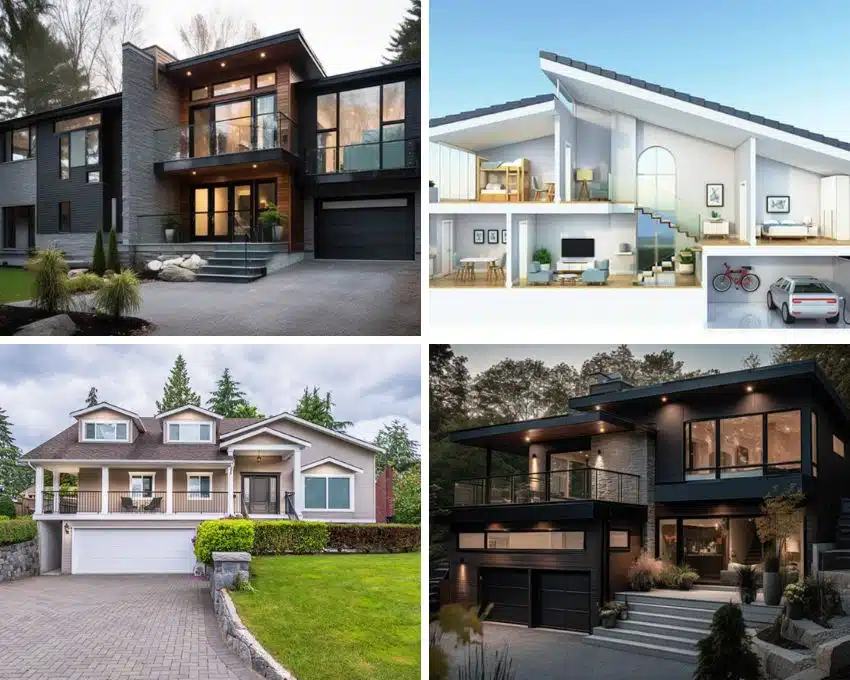 Whatever location you choose for your future home, you will probably have no trouble locating a split-level home there.
These split-level homes are highly prevalent and appealing for a wide range of reasons, whether you are searching in rural settings, suburbs, or somewhere that is closer to the city.
Split-level homes were popularized in the 1950s and 1960s, especially in the United States, and they remain a popular option for homeowners nowadays. They have several advantages, including the possibility to create various living spaces within a single house and more efficient use of space.
Indeed, a split-level home is worth the research. This design can be used in a variety of home styles, including farmhouse, contemporary, modern, and traditional.
Quicklook: Types of Split Level Home Designs
• Traditional
• Bi-Level
• Split-Entry
• Side-Split
• Back-Split
• Hillside Split-Level
• Reverse Split-Level
What Is a Split Level Home?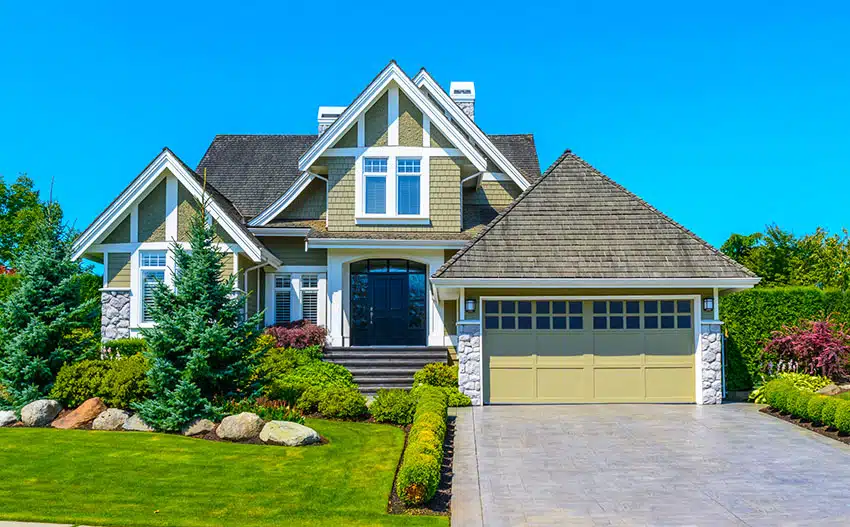 Split-level houses are frequently built on sloping or uneven lots. This form of housing is intended to complement the natural structure of the land, and it frequently has various levels of living space to accomplish this.
The term "split-level home" refers to a particular style of house where the floor level is divided into multiple levels. Essentially, a split-level home has staggered levels.
This usually implies that when you walk in through the main door, you will be welcomed by a staircase leading up to the bedroom level and another leading down to the basement.
The basement of a split-level home is almost often finished too, allowing it to serve many functions. It will typically have a single bedroom as well as a laundry area. Numerous split-level homeowners also intend to utilize the primary space of their basement as a living room or central space for entertainment.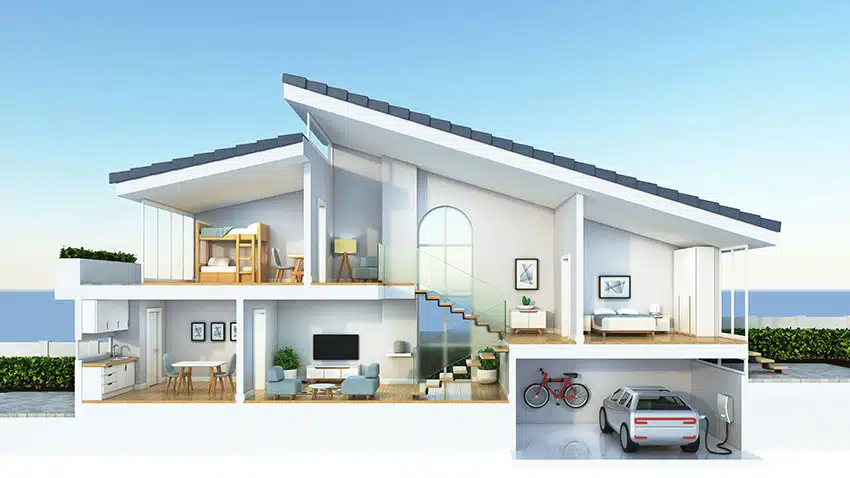 Moreover, a split-level home is sometimes distinguished by having at least two levels of living space accessible by a short set of stairs. The entry level of a split-level home is frequently the same as the garage level, with the main living rooms positioned on the level above. Bedrooms can also be often positioned on the top floor.
Another simple way to conceive of split-level houses is that no particular floor occupies the entire footprint of the house. Some might have huge main floors with kitchens and dining rooms, but they gradually give place to staircases leading to the other two levels.
Although the floors of a craftsman-style house and other widely known designs overlap, the levels of a split-level house are staggered as aforementioned.
Floor Plan for Split Type Residences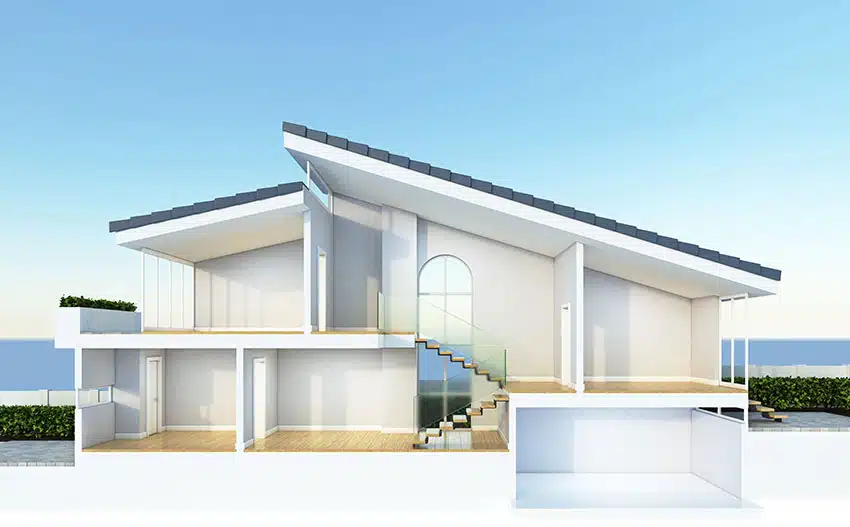 Here is an idea of a floor plan for a split-level house:
Floor Level 1:
• Garage
• Entryway
• Utility space
• Family room
Floor Level 2:
• Living room
• Dining room
• Kitchen
• Half-sized bathroom
Floor Level 3:
• Master bedroom
• 2 extra bedrooms
• Full bathroom
This is only one illustration of a split-level home floor plan; numerous versions exist based on the size and layout of the property. Some split-level homes have multiple levels or different arrangements of rooms on each level. A basement is also typical in split-level homes, which can be used for additional living space or storage.
Furthermore, homeowners must understand what is involved in designing and constructing a slope before purchasing a split-level property.
Numerous people purchase sloping lots without realizing the complexities of building on a slope in comparison to a flat area of land, which can lead to additional obstacles during the development process.
Even though many homebuyers have preconceived ideas about how they want their home to appear or function, it is critical that any changes to the design fit with the site. This guarantees that the construction is both cost-effective and makes the best use of the current landscape.
The vast majority of homebuilders will need to develop a large portion of the design based on the slope's arrangement to guarantee that the home settles properly.
Once a contractor or designer has seen the site and the slope in actuality, they will have a greater understanding of the difficulties of the project and will be able to give home plans that are customized to that particular site.
Ultimately, constructing a split-level home around a site's slope typically implies that purchasers wind up with a far better place that is more sustainable, more practical to reside in, and more cost-effective to construct.
Pros and Cons of Split Style Residences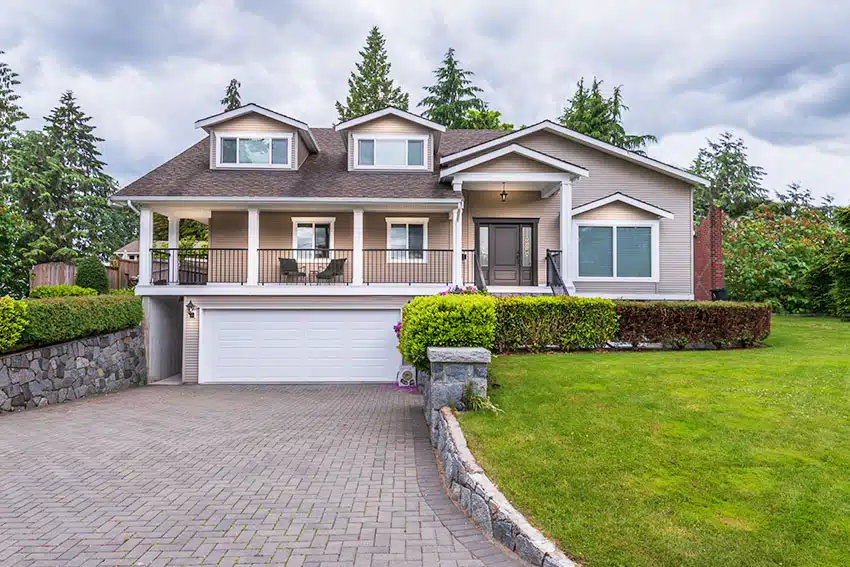 Here are the pros and cons of split-level homes:
Pros of Split Type Residences
Maximized Separation of Spaces: Split-level homes allow you to establish two living spaces within the same property, which is ideal for families with kids or homeowners who want a dedicated room for gathering.
This aspect is especially beneficial since it allows for greater privacy and the opportunity to designate specific zones for different activities. A split-level house, for instance, might feature a family room or playroom on the lower level, whereas the top level might have a living room and a more formal dining room.
Efficient Space and Privacy Usage: Another benefit of split-level homes is that they make good use of space. A split-level home can effectively provide increased space division for households better than an open floor plan. This reduces the possibility of noise flowing between rooms and boosts privacy.
These homes can make the most of their available square footage since the floor layout is divided into numerous levels. This is particularly handy in compact homes where every square foot matters.
Split-level homes also make the best use of vertical space, thus there is usually abundant yard space for outdoor family events.
Enhances the Curb Appeal of Your Property: Split-level homes often have a distinct and appealing design that distinguishes them from traditional single-level homes in terms of curb appeal. This can make them more appealing to potential buyers or tenants, thereby increasing the home's worth.
Can be Affordable: Since split-level homes are often more inexpensive than single-family homes of comparable size, hence you can get a lot of space that is still within your budget. As a result, a split-level home might be an excellent first home for a young, developing family.
Aside from that, a split-level home could provide you with three floors and possibly a crawlspace in the basement for additional storage. Moreover, each space seems unique, giving you more options for dividing up your home as you see fit.
With a split-level home, you may often enjoy more square footage without needing to overpay for the type of land that is generally involved with that size in other houses.
Easy Indoor Navigation: Some residents of split-level homes brag about how effortless it is to move from one area to the next, regardless of what floor they are in.
This would be useful when you are carrying grocery items in from the garage and want to get into the kitchen fast, or when you need to watch TV in your basement while remaining close to your main door in case somebody knocks on the door.
For this reason, many families with young children adore split-level houses. They still provide room and privacy, yet you may walk around without being away from your kid that needs supervision.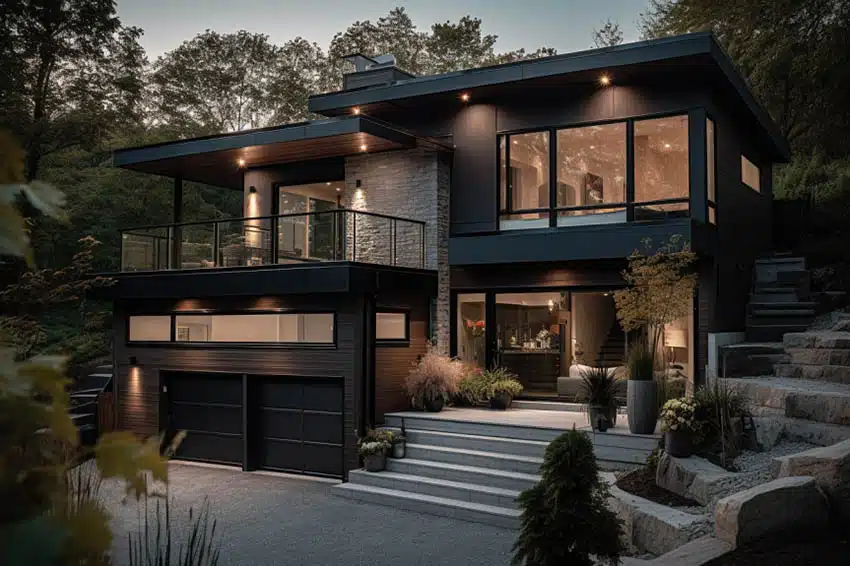 Cons of Split Type Residences
Construction May be Complicated: The most difficult aspect of constructing a split-level home is the land as well as the slope itself. The more the site is modified or altered, the more difficult the construction will be. However, working with the natural terrain can help to reduce the difficulties of constructing a split-level house.
Individuals with Restricted Mobility May Face Challenges on Stairs: One of the biggest disadvantages of split-level homes is the increased number of stairs.
Depending on the arrangement of the house, homeowners may have to climb multiple levels of stairs daily. This can be inconvenient for individuals with mobility issues, and it can also be exhausting for young children or pets.
Renovation Can be Challenging: A split-level house might also be more difficult and expensive to renovate than a single-level home.
This is because of the requirement to engage with many layers as well as the possibility of structural concerns. For instance, it may be essential to adjust the house's foundations or support beams to change the plan or add extra features.
Types of Split-Level Type Homes
Split-level homes come in a variety of types, each with a distinct set of features and design aspects. Here are some of the most popular split-level home designs:
Traditional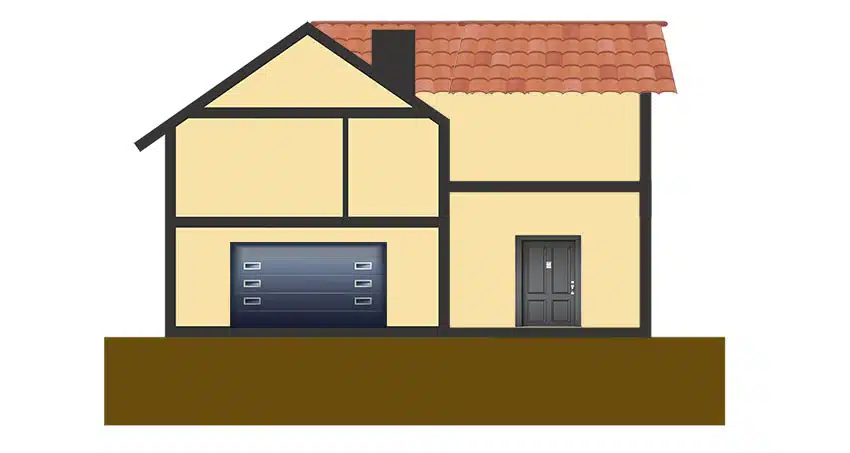 This is the most popular and traditional style of split-level house. The entry level is usually on the same floor as the garage, the major living areas are on the floor above, and the bedrooms are located on the uppermost floor.
Bi-Level Style Residence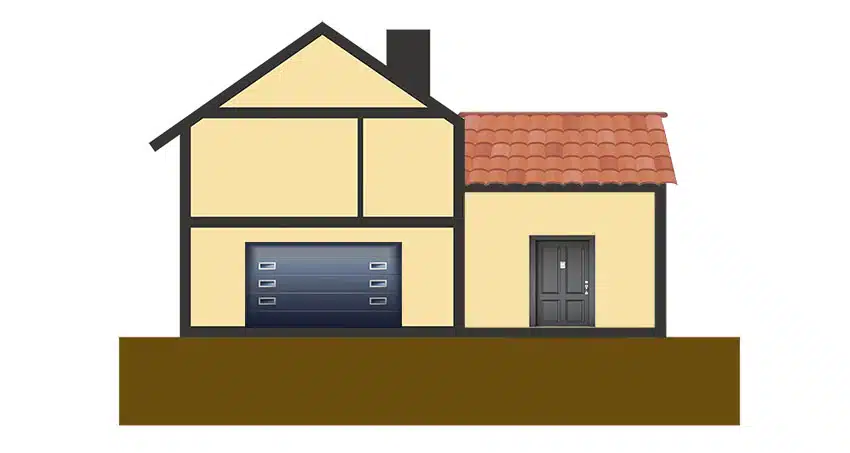 A raised ranch, commonly referred to as a bi-level home, features two levels of living space instead of three. The garage is usually on the same level as the entry level, and the major living areas and bedrooms are on the upper level.
This type of split-level house is often smaller in size than traditional split-level houses.
Split-Entry Style Residence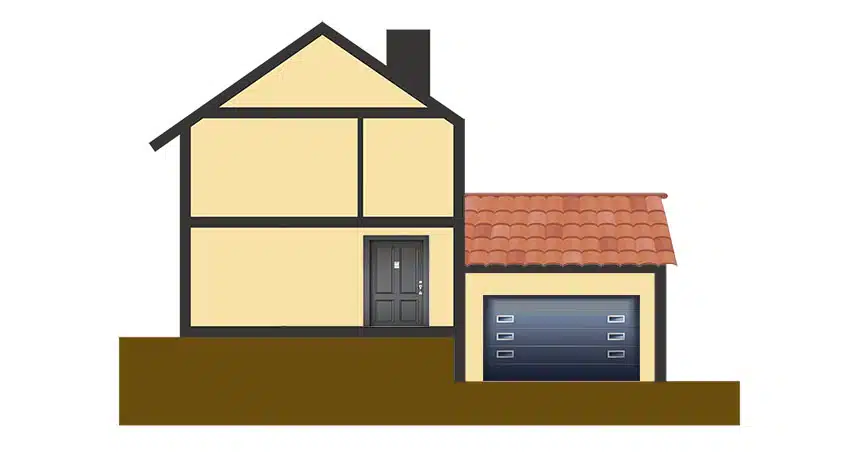 A split-entry home is comparable to a typical split-level house, except that the entry level is higher than the garage. A stairway leading up to the main living areas and bedrooms gives this type of split-level house a more open and spacious atmosphere.
Side-Split Style Residence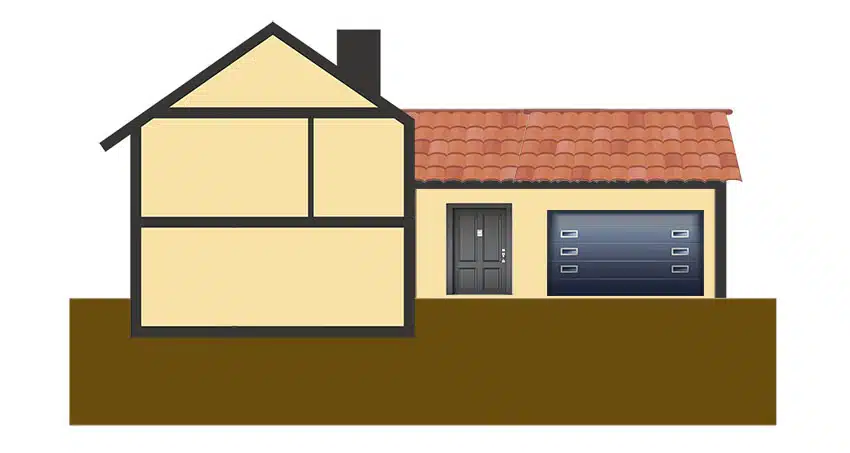 A side-split house normally has three or four floors, with the entry level placed on the same level as the garage and the major living areas and bedrooms normally situated on the upper levels.
A side-split house is distinguished by the feature that the levels are offset from each other instead of being placed directly on top of one another. This provides the home with a more asymmetrical aspect while also making it look more spacious and airy.
Back-Split Home
The floor plan of a back-split home is divided into four or more floors, with the entry level situated on the same level as the garage and the primary living areas and bedrooms on the upper floors.
The floors in a back-split house are piled on top of each other, as opposed to being offset like in a side-split house. This makes the house appear more symmetrical and might make it appear more compact and pleasant.
Hillside Split
The entry level of this type of split-level home is normally on the same level as the garage, while the primary living areas and bedrooms are on the higher levels.
In comparison to other types of split-level homes, hillside split-level homes frequently have a more dramatic and aesthetically appealing architecture.
Reverse Split Style Residence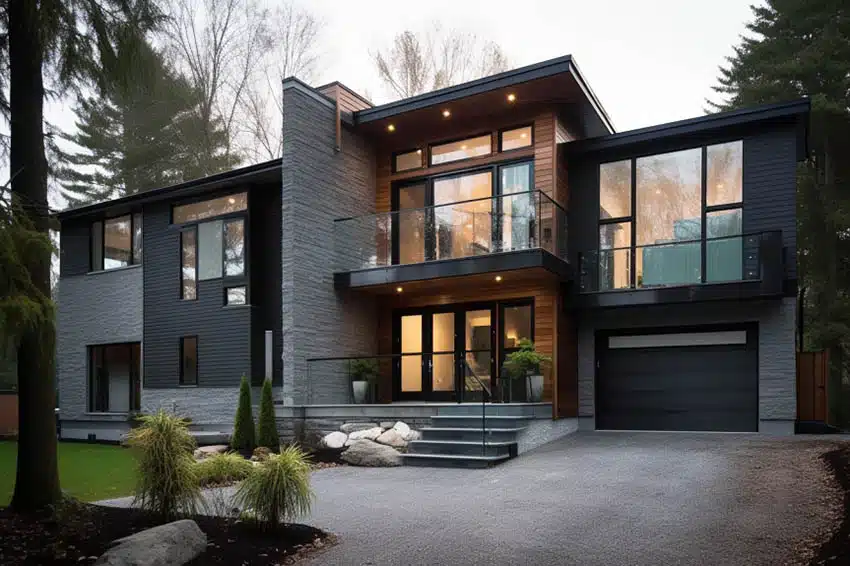 A reverse split-level home is closely related to a traditional split-level home in that the entry level is the same as the major living areas and bedrooms, except the garage is on the lower level. This style of split-level home is frequently built on a slope or hillside, and it can be more modern and creative in design.
Home Interior of Multi-Tiered Homes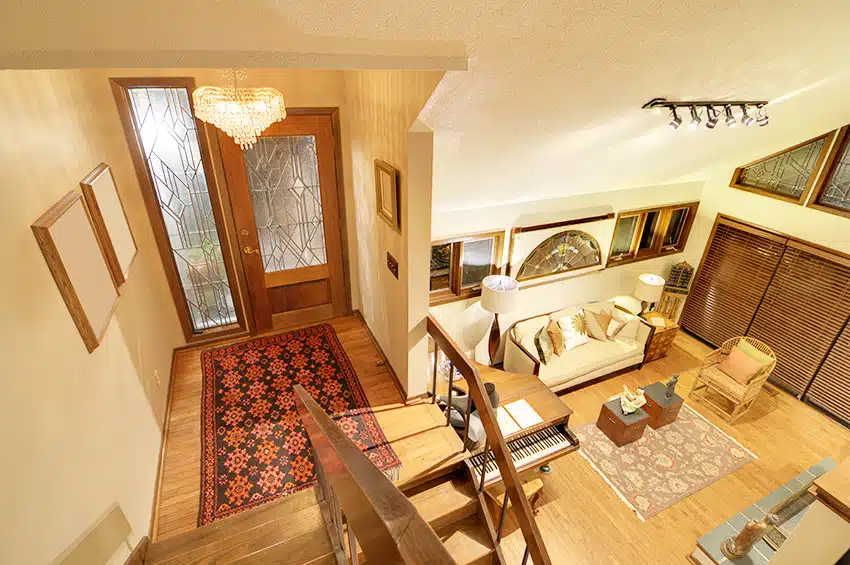 A central staircase unites the multiple floors in the interior of a split-level home. The primary living areas such as the kitchen, living room, and dining room, are typically positioned on the mid-level and open to one another, resulting in a spacious and useful living space. This floor may also have one or two bedrooms as well as a bathroom.
A split-level home's lower interior level is frequently used as a distinct living area and may feature a family room, extra bedrooms, and a bathroom. Because this floor is frequently reached through a separate entrance, it is perfect for use as a guest suite or rental room.
The upper interior level of a split-level home is normally dedicated to bedrooms, which may include a master suite with its own bathroom as well as a walk-in closet. Extra bedrooms and a full bathroom might also be found on this level.
The interiors of split-level homes have a distinct and useful plan that can be tailored to the demands of each family. The central staircase and open floor plan on the mid-level provide a vast and coherent living space, while the individual floors provide privacy and the ability to accommodate multi-generational living.
Home Exterior of Multi-Tiered Homes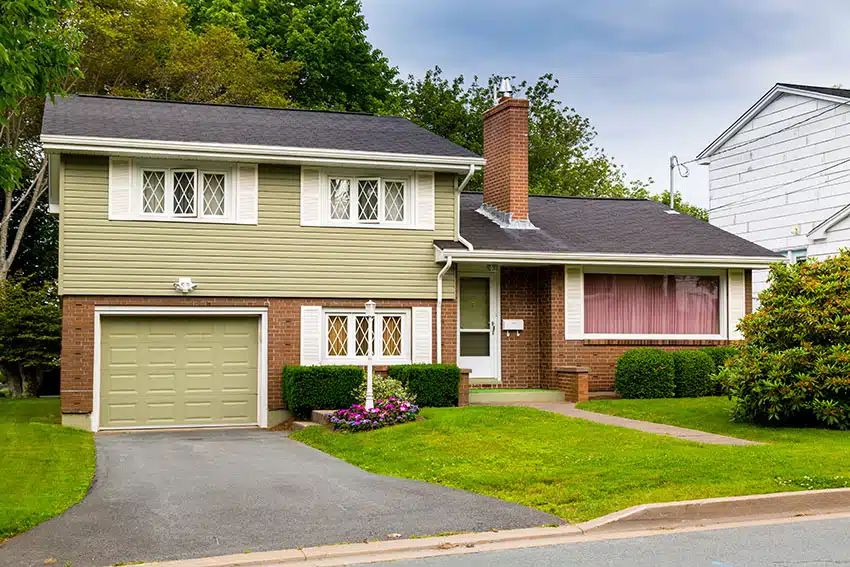 The exterior of a split-level home is often intended to blend in with the adjacent neighborhood and can be made of several materials such as stone, brick, wood, or siding.
A split-level home could also display many architectural characteristics on the exterior. It may feature a gabled roof with a steeper pitch on the upper level than on the lower level.
It might also have a front porch or an enclosed entryway, which can be a lovely addition to welcoming guests. A split-level home's exterior windows are often larger than those of a standard single-story home since they are designed to let in more natural daylight and give a better connection to the outdoor space.
A split-level home may have a number of exterior elements such as a lawn, a backyard patio, or a deck. These exterior areas can be used for gathering, relaxing, or simply taking in the scenery.
Furthermore, the exteriors of a split-level home are intended to be practical, convenient, and appealing. It is a form of home exterior design that is well-suited to a variety of lifestyles and can be an excellent choice for families searching for a comfortable and useful outdoor living space.
Remodel Tips for Multi-Tiered Homes
Split-level homes, with their special multi-level architecture, can be challenging to remodel. Nevertheless, with careful design and attention to detail, a multi-tiered residence may be remodeled into a modern, useful, and stylish place.
Here are some tips to assist you in understanding the process of remodeling a multi-tiered residence:
• Begin with a clear plan. Before you start any remodeling project, you should have a precise vision of what you want to accomplish. Take into account your needs and design preferences meticulously, then prepare a comprehensive strategy outlining the project's scope.
• Concentrate on the flow of the home. One of the most difficult aspects of a multi-tiered residence is the lack of continuity between the levels.
To address this, you have to concentrate on generating a sense of flow between the various areas of the house. This can be accomplished by using consistent color palettes, comparable finishes, and similar design components.
• Revamp the kitchen. The kitchen is always the center of a multi-tiered residence, thus it is critical that it is reliable and fully functional.
To give the space a fresh, modern design, try upgrading the cabinets, countertops, or appliances. To generate a more open and coherent concept, try opening up the kitchen to the surrounding living areas.
• Make a coordinated floor plan. If the multiple levels are not coordinated in a seamless manner, a multi-tiered residence can feel disconnected.
Consider changing the floor layout to provide a more smooth transition between the multiple levels to solve this. This could entail knocking down walls, creating new doorways, or rearranging the arrangement.
Maximize the storage space. Multi-tiered residences may have little storage space, thus try making the most of what you have. Incorporate built-in cabinets and shelving units for additional storage, and maximize your neglected places such as the space under the stairs.
• Improve the amount of natural light. Because multi-tiered residences can feel dark and tight at times, it is critical to bring in as much natural light as possible. This can be accomplished by applying skylights, windows, as well as glass doors.
• Redecorate the exterior. Due to its distinctive design and arrangement, the exterior of a multi-tiered residence can be difficult to remodel.
To begin the process of remodeling the exterior, first identify the features that you like and then those you don't like. – Not So Big Remodeling: Tailoring Your Home for the Way You Really Live, Sarah Susanka, Marc Vassallo
Nonetheless, there are various techniques to increase your home's curb appeal. You can try replacing old windows and doors, painting the exterior walls, arranging fresh landscaping, and upgrading the siding.
• Do not overlook the basement. The basement of a multi-tiered residence is sometimes disregarded, but you should remember that it may be a valuable room for a wide range of uses. Take into account converting the basement into a private office, playroom, or extra living space.
Home Additions
multi-tiered residence additions can be a terrific way to improve the size and functionality of your house, but the design and location of the addition must be carefully considered to guarantee that it fits smoothly with the preexisting structure.
There are several distinct types of multi-tiered residence additions to take into account:
Upper level additions. These additions are often constructed on the upper level of a multi-tiered residence, usually above the main living rooms. They can be utilized to add bedrooms, bathrooms, and home offices.
Lower level additions. These additions are typically constructed on the multi-tiered residence's lower level, commonly in the basement. They can be utilized to provide more living space like a family room, laundry room, entertainment space, or home theater.
Mid-level additions. These additions are normally developed on the mid-level of the multi-tiered residence, generally off the main living space. They can be used to make a room feel more open and unified or to add a formal dining room or private workspace.
Exterior additions. Decks, patios, porches, landscaping, outdoor kitchens, swimming pools, spas, and play areas are all additions you can incorporate to the exterior space of a multi-tiered residence.
Landscape Ideas for Multi-Tiered Homes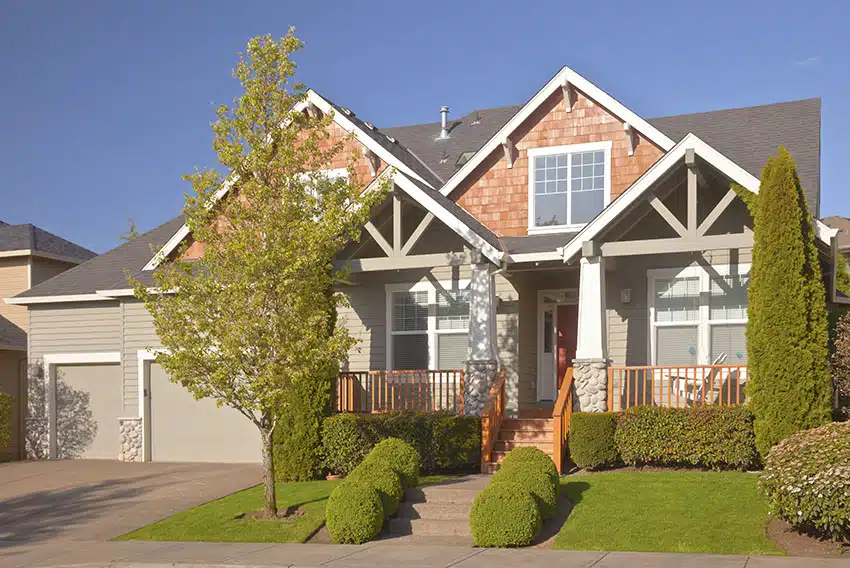 A well-landscaped multi-tiered residence may become more attractive to potential purchasers and may raise the property's value. It can also enhance the overall design and curb appeal of a multi-level residence as well as create a sense of privacy in outdoor settings.
Several landscape ideas for multi-tiered homes can be used to improve the exterior area and add aesthetic interest.
Adding layers and vertical elements, establishing outdoor living spaces, adding plants to define spaces, providing water features, adding a layer of lighting, employing color, and incorporating functional elements such as a fire pit or outdoor kitchen are just some ideas to improve your landscape.
Are These Multi-Tiered Homes Harder To Sell?
Due to their lack of popularity, the impression of outdated architecture, and the possibility of limited resale value, multi-tiered homes may be harder to sell. These factors, meanwhile, do not always make a split-level property difficult to sell.
A multi-tiered residence can be just as appealing to homebuyers as any other property style with the proper marketing, pricing, and preparation.
See more related content in our article about bungalow style house design here.