Painting kitchen cabinet doors different color than frame design guide with color combination ideas that will match your kitchen interior.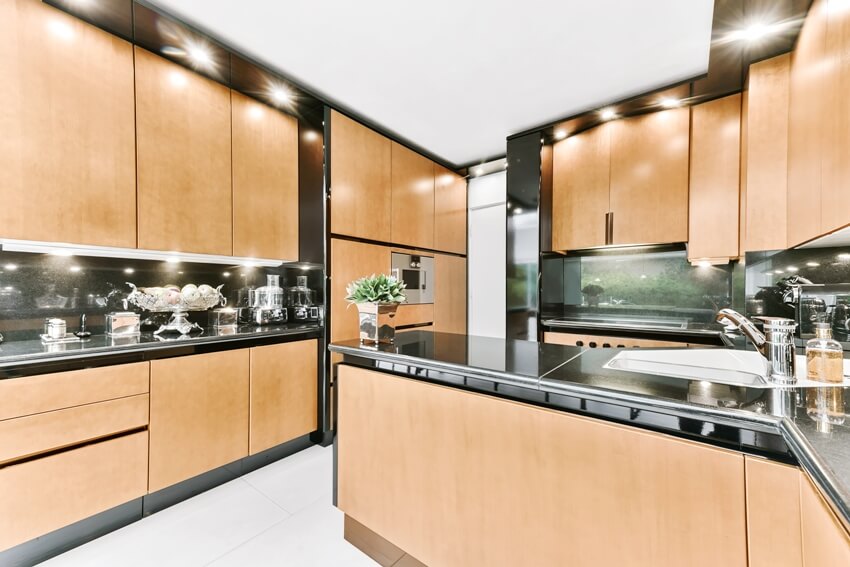 When it comes to interior decorating and designing, a variety of different colors is really quite alright. All that matters is that you're happy with what you end up with at the end of the day.
Although there is quite a following for color coordinated homes, there are also a lot of homeowners who aren't really all that into an overly monochromatic and uniform look.
If you want to go with kitchen cabinets that don't match the frames, it isn't really a major cause of concern. You can even find a way to spin it and make it work for you.
Again, it really all comes down to what your preferences are. You can have different colors for your cabinets and trims and for as long as the end result is a cohesive and harmonious look.
Here are some combinations worth looking at if you want to look beyond just the usual white kitchen (although white kitchens are statements in themselves, too).
Can Kitchen Cabinet Doors Be A Different Color?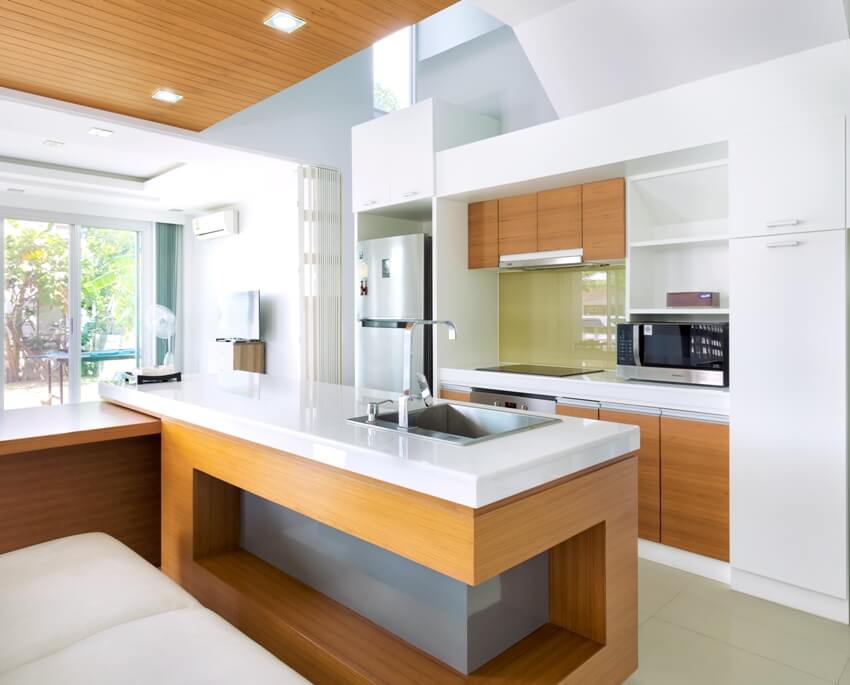 Absolutely yes. Color really is a kitchen's best friend. With the right combinations, you can completely transform your space into something clever and transformative.
You can highlight the best features of your kitchen as well as downplay the parts that you don't really want so much attention to. Here are some combinations to look at for different color cabinet doors and frames.
Two Tones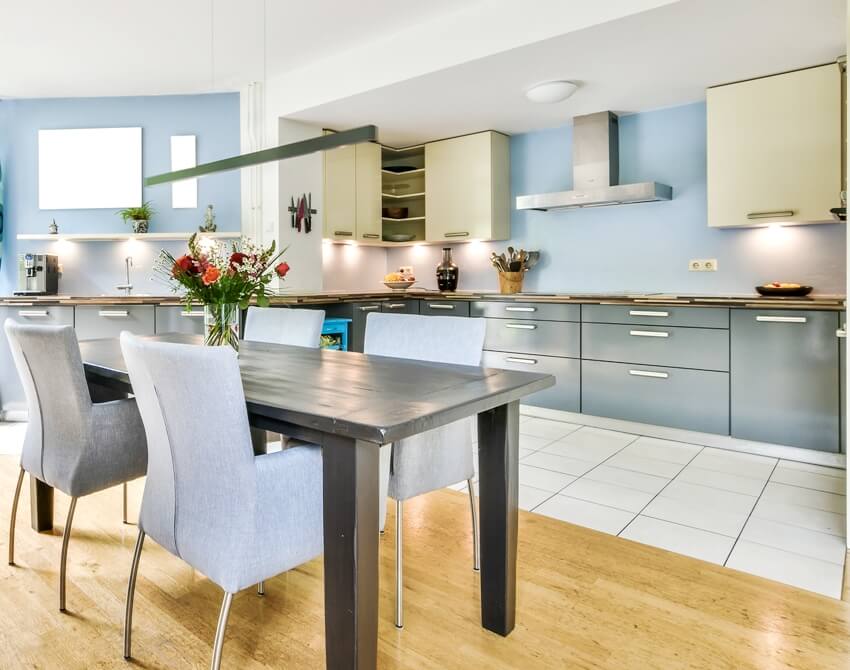 A two-toned approach to your cabinet doors can change the vibe of the entire kitchen. It can brighten up one area and kind of put in a mood vibe in the other.
It's the best way for you to be able to create a truly personalized or customized look. If you're planning to break out of the all-white and wood-toned zone, your kitchen cabinets are the best place to start. See more two tone kitchen ideas here.

Here are some kitchen cabinet color combos worth looking at.
Dark blue and sky blue
Two shades of the same color is one of the most failsafe approaches if you want to be a little adventurous with your cabinet door and frame colors but you just aren't there yet and you haven't decided to go completely avant garde just yet.
Pair this with bright white ceilings for added height and you've got a kitchen that mimics the look of the sea and the sky.
Sage green and barn red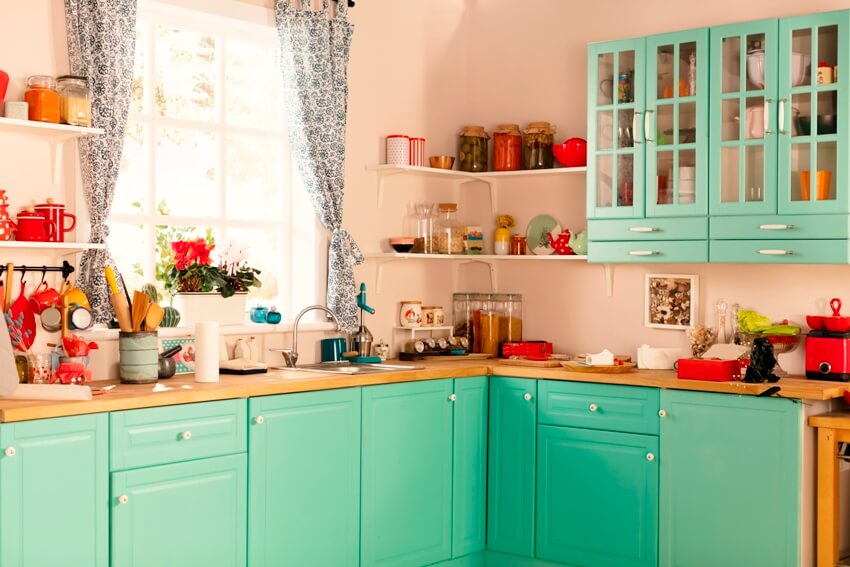 To avoid the risk of having a color combination that looks a little too Christmasy, go for muted and soft tones of red and sage green to pull off the look.
It also helps if you have warm undertones in the other elements of your kitchen such as wood tones in your floors and kitchen island.
White and leaf green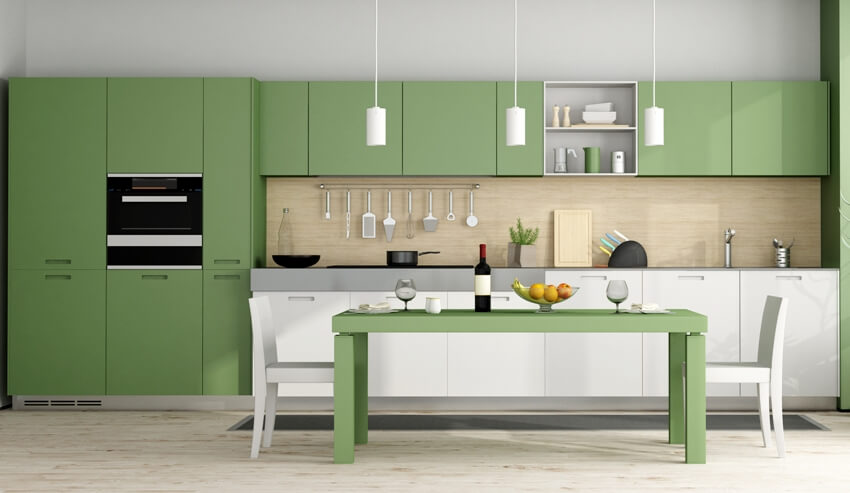 If you want a crisp white kitchen to still be your mainstay look, it doesn't always have to be a solo act. You can add in a pop of color with a vibrant leaf green color either on the cabinet doors or frames.
This color combination draws the eye into your chosen focal point of the cabinet without being too overwhelming.
Red and black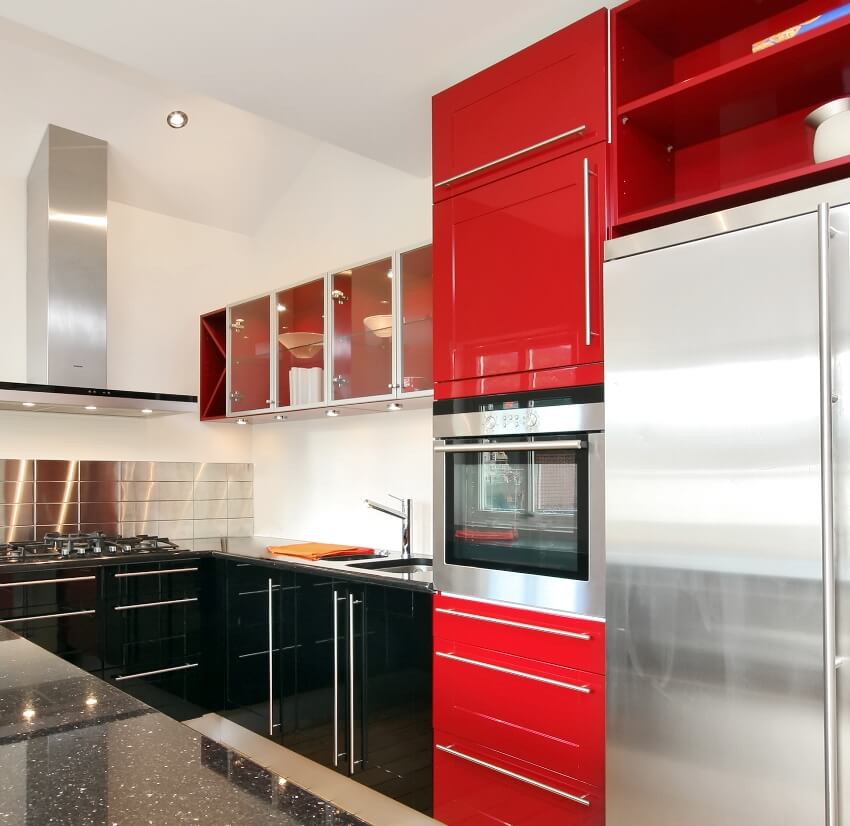 This is a dramatic pairing as both colors are dark and dramatic. For some reason, though, it works. It's best if you paint your cabinet doors red and paint the frames black.
A red and black combo makes your doors appear like they're floating as the black frames kind of fade off into the background.
Grey and hot orange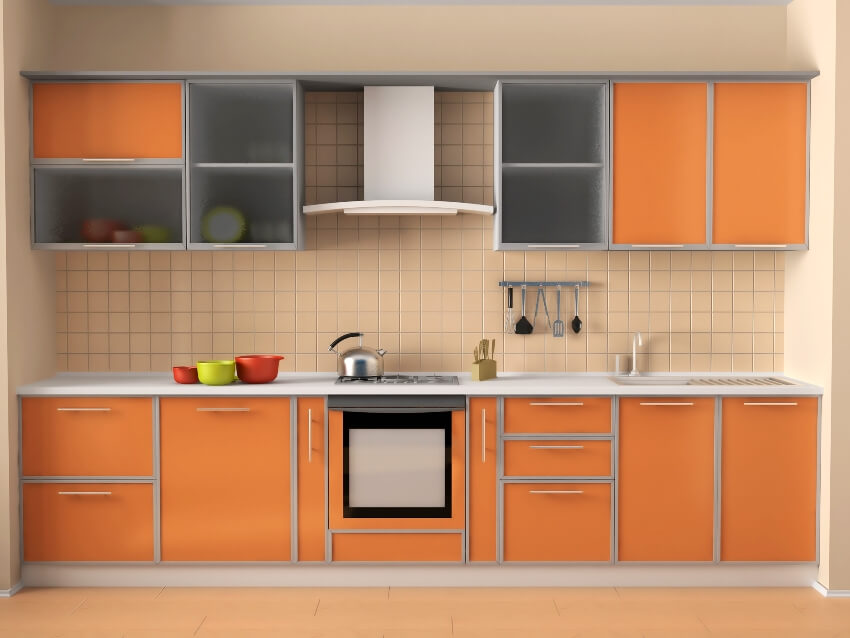 Gray is one of the most neutral and changeable colors out there but for some reason, it has enough interesting features for it to hold up all on its own.
Why let it stand alone in your kitchen though when you can make the space come alive with a splash of fiery orange? Paint the cabinet doors a soft and neutral gray and paint your frames a shocking orange for that exciting pop in your cabinets without ending up with a look that's too heavy.
Butter yellow and flame red
There's something really charming about the butter yellow and flame red combination. If you want kitchen cabinet doors that can make a statement, you would definitely want to look into this color pairing.
The fiery red is the showstopper whereas the butter yellow mellows it down and adds some dimension to the frames. It also has a farmhouse look so if you're going for a rustic or farmhouse vibe, kitchen cabinets with these colors will definitely be able to pull that look off.
Kitchens are meant to be homey and comfortable and this color pairing does just that. Check our gallery of farmhouse kitchen cabinets here.
Cabinets With Different Colored Doors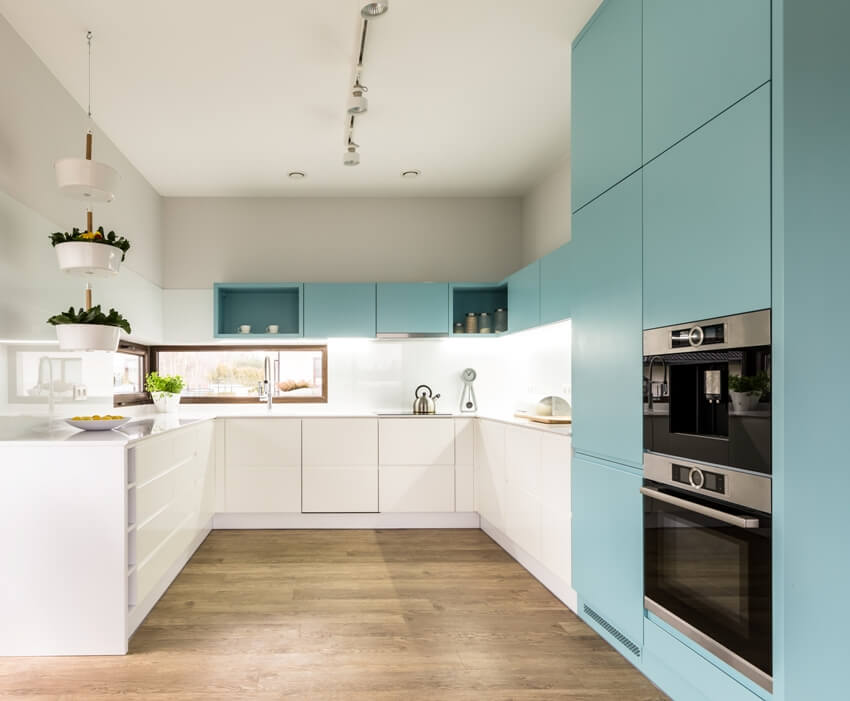 Your kitchen cabinet doors don't have to match at all. Again, the reiteration is that you can make them look however you would like them to look like. It really all boils down to you and what your preferences will turn out to be.
You can play around with the colors and materials that you would like to use. Read more about the types of kitchen cabinet materials to get more ideas.
One thing to note though when you're opting for mismatched colored cabinet doors is that you have to take care choosing the colors that you use. Go for colors that have a sense of cohesiveness or that you can tie together once the entire look is finished. You have to take care of how everything flows.
It also helps a lot if you consult the professionals when you're at a designing standstill as they can give you some insights on what can be done.
Here are some painting kitchen cabinet doors different color than frame tips to to use when opting for different combinations.

• Don't mix something too traditional with something overly contemporary. You would want the styles to be fluid as much as possible. See our gallery featuring beautiful traditional kitchen cabinets here.
• Changing the paint colors is OK for as long as your cabinet door styles still match.
• Pay attention to your insurance coverage. If you're already starting to spend some money on home renovations, even if it's something as small as cabinet door paints, you should protect your investments at all costs.
For more related ideas, visit our guide to kitchen cabinet styles with the types of cabinetry, doors, and finishes.