Here you'll learn about cottagecore house design including interior & exterior style elements, colors, furniture,decor, and differences between cottagecore and cottage houses.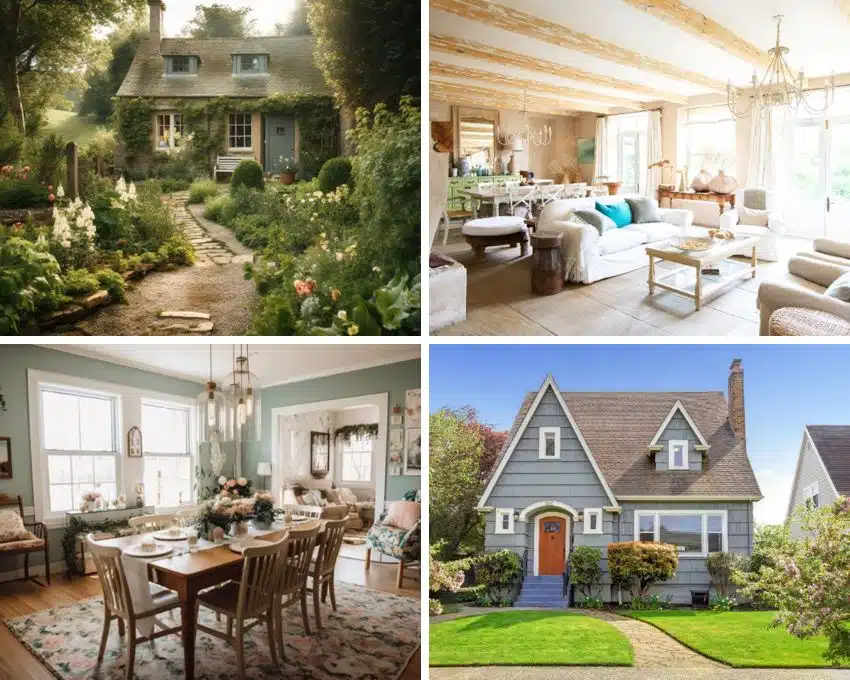 Cottagecore is a design trend that has gained traction in the past few years. Its essence is all about celebrating a more straightforward way of life. To be more specific, it's about celebrating countryside life.
This type of aesthetic embraces vintage charm, natural beauty, and the peaceful mindfulness of sustainable daily living. Cottagecore house design replicates how it looks and feels to turn back time and live in that reminiscent era. It capitalizes on natural materials like stone and wood and a cohesive incorporation of nature, such as house plants, flowers, etc.
There's a unique appeal to this design's attention to detail and unique sense of rustic charm. It uses a lot of antique or vintage pieces, florals, and even quirky accessories that all contribute to the homey ambiance it eventually creates.
It's visually aesthetic and incredible at promoting sustainable living because of organic textures, materials and the staple of repurposing items that would've otherwise been thrown out. This house design is for you if you love DIY projects and restoration. Read on to get inspired by the fascinating world of Cottagecore!
What Is A Cottagecore House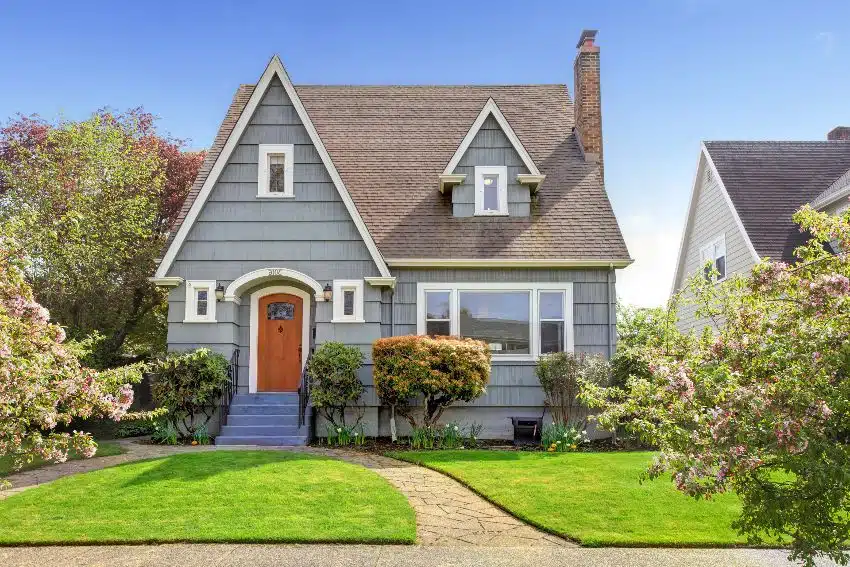 A cottagecore house is a house design that embodies the lifestyle and aesthetic elements of the cottagecore design movement. This design trend concerns vintage décor, natural elements, and traditional craftsmanship.
It highlights and romanticizes the beauty of country living and a simple, rural life. At the same time, it promotes being kinder to the environment and living sustainably.
If you've ever yearned for an idyllic life in the country, then cottagecore is for you. Cottagecore is a movement centered around the simple existence of pastoral life. – The Little Book of Cottagecore: Traditional Skills for a Simpler Life, Emily Kent
These houses are typically very quaint, cozy, and trim. They feel very country or rustic both in the exteriors and interiors. Some elements that stand out are vintage furnishings, stone fireplaces, thatched roofs, wooden beams, and distressed wood.
These are all the usual elements in a rural pastoral household. This means it can be very low maintenance and on the low end of the price range to bring together.
As for the interiors, this design may include but are not limited to natural materials, organic textures such as stone and wood, soft pastel colors, and floral patterns. The overall aesthetic of a cottagecore interior is meant to evoke feelings of profound peace, being grounded and having a solid connection with nature, and living the true principles of a simple life.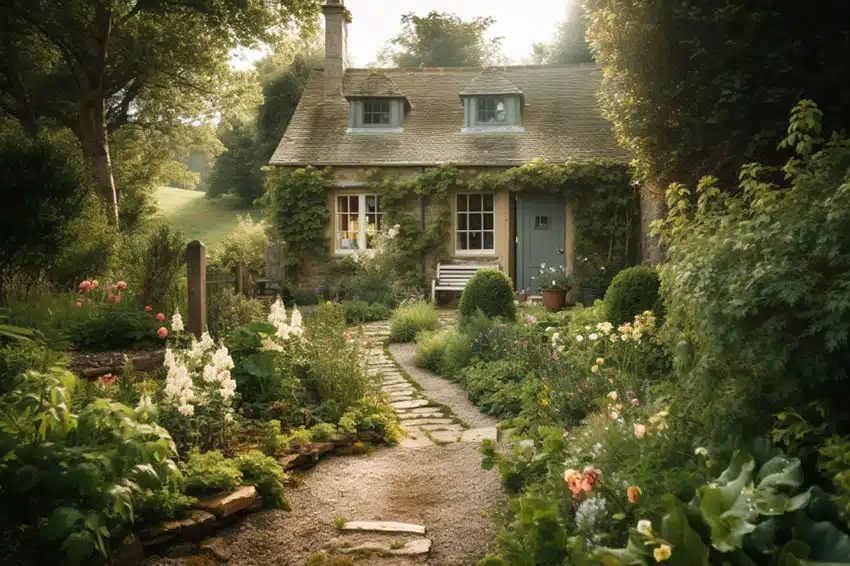 This design trend has gained so much popularity in the past few years, especially for the demographic that wants to "slow down" their way of life and those who would like to live mindfully.
A lot of people find the rustic and cozy appeal to be a far more welcoming respite to the lightning-speed pace of this modern world that we live in.
Cottagecore Style Elements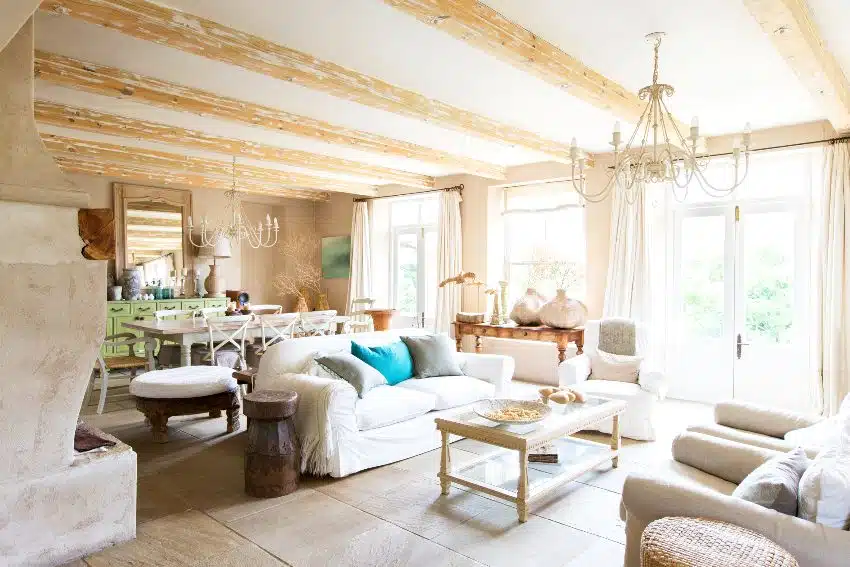 As previously mentioned, the cottagecore trend is about romanticizing rural pastoral life's beauty and simplicity. For a better breakdown of what it's all about and how to replicate the design style, here are some style elements and ideas you can keep in mind.
Floral Patterns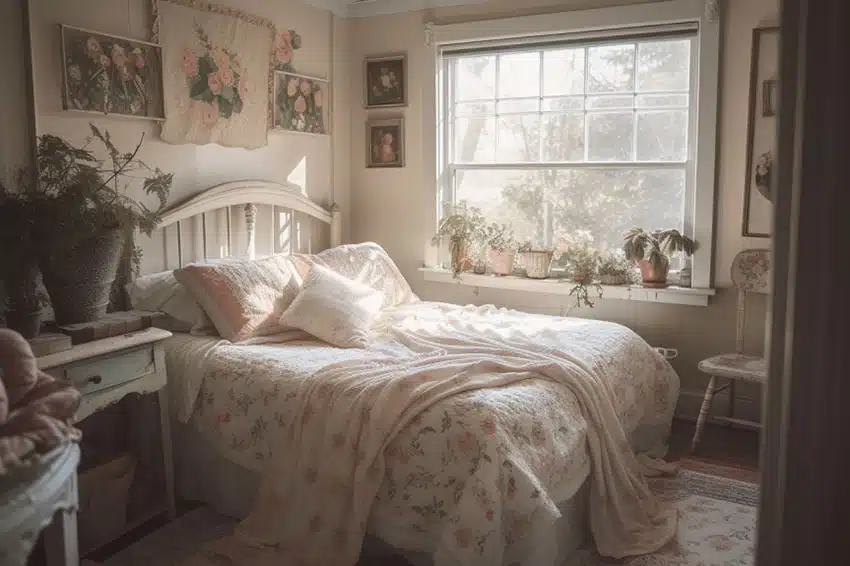 The floral patterns used in cottagecore design are inspired by vintage wallpaper designs and textiles. These botanical flower designs are typically small and delicate prints in soft pastel colors like blue, lavender, and pink.
They can also be everywhere in a cottagecore layout, from the wallpaper to the curtains to the bedding. They're best paired with wood, wicker, jute, and other natural textural elements to create a warm and inviting atmosphere.
Some of the most popular floral and botanical motifs used are wildflowers, daisies, roses, and other botanical elements such as vines and leaves. Incorporating florals is a key element in creating that romantic vibe and having that warmth and coziness in the design.
Natural Materials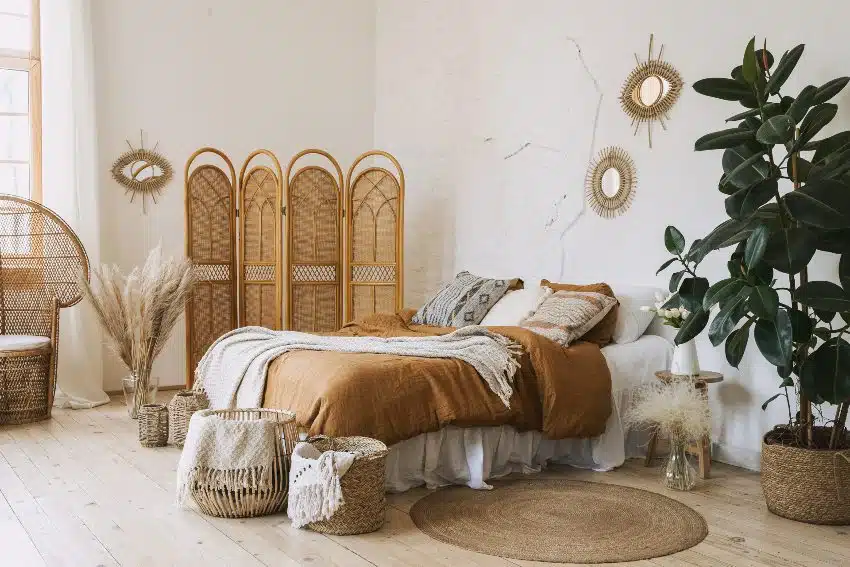 Wood: Wood is a crucial element in cottagecore design. It is practically ubiquitous, from the flooring to the furniture and the other decorative elements used in the layout. The wood's natural grains add textural context to the layout. Also, distressed or weathered wood can add to the romantic and nostalgic aspect of cottagecore.
Wicker and rattan: These materials are popular in this design. They're used for decorative elements such as baskets and furniture pieces. They have a rustic and natural look that adds to the space's warmth and texture at the end of the day.
Stone: Stone is another mainstay material in cottagecore design. It is often seen in accent walls, flooring, fireplace surrounds, and backsplashes.
Using stone can add a sense of permanence and solidity to the space. It also tends to look and feel more historical while, at the same time, still connected to the natural world outside.
Natural fibers: Natural fibers such as wool, linen, and cotton are some of the most commonly used fibers in cottagecore design. They're great for upholstery, curtains, and bedding. These materials add a natural and soft look to a cottagecore layout.
Pastel Colors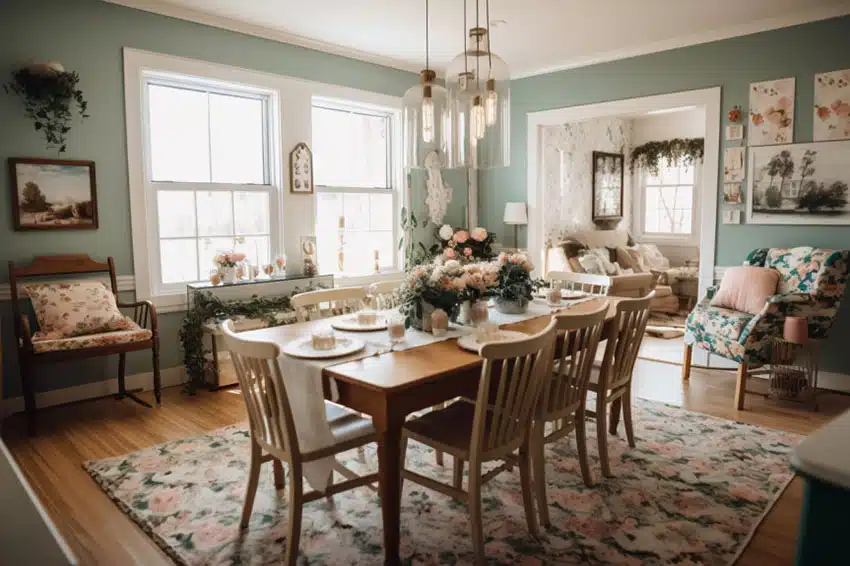 Pastel colors are great for creating soft and dreamy-looking aesthetics for interiors. This is the main reason this is the best color palette to play with if you want to create a genuinely authentic-looking cottagecore design. Here are some recommended pastels to explore:
Soft pink – This color is both feminine and romantic. It can easily translate into the interiors you are trying to create. They can be used in the home décor elements, tapestries, and even in a room's accessories.
Light blue – This is a color that's associated with the ocean and with the sky. Both of these things are natural elements central to the cottagecore design. It's great for bedding, tapestries, and other design elements you can use in the space.
Pale green is a calming and relaxing shade often associated with nature.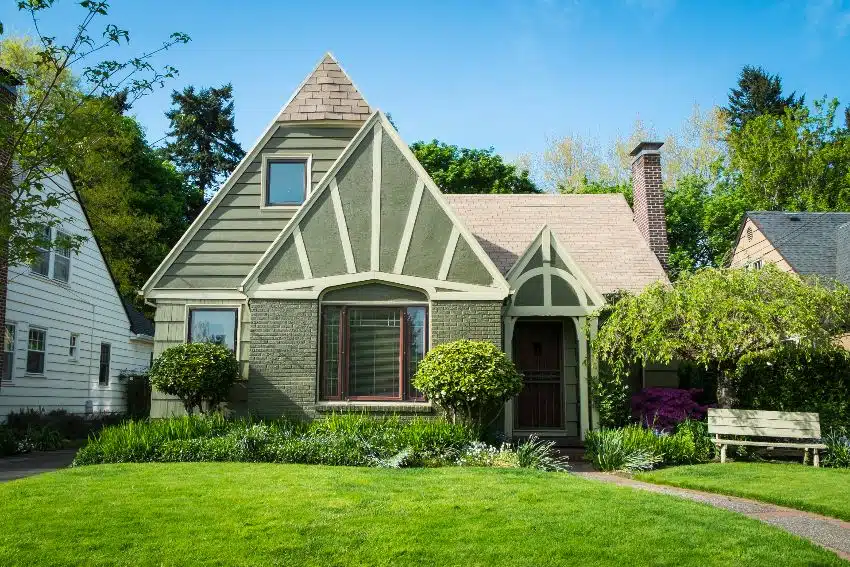 Lilac – This color is a soft variation of purple. It is popular in cottagecore design because of its whimsical and romantic nature.
Soft yellow – This color is often associated with warmth and sunshine in general. It perfectly depicts what a romantic or nostalgic simple rural lifestyle is all about.
An additional note when using pastels for cottagecore design is that you must ensure that the overall color scheme is kept soft and muted as much as possible.
Bold and bright colors might clash with the romantic and dreamy atmosphere you are trying to create. You might end up deviating from the design style you are trying to achieve at the end of the day. Focus on how the colors come together in harmony to create a design style that's genuinely cohesive and impacting.
Vintage and Antique Items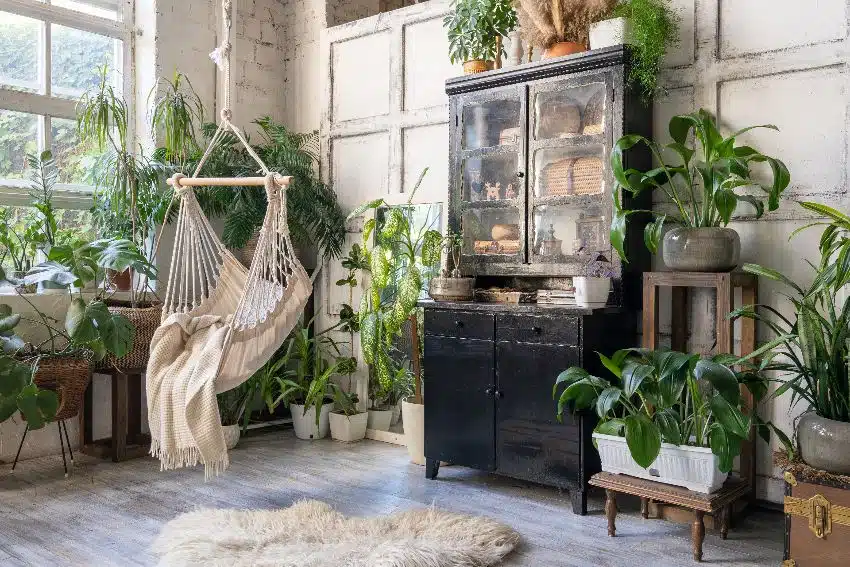 These items play a significant role in the heart and soul of the cottagecore design. They bring a sense of history and old-world charm to the space and can help make your space look and feel quite "lived in ." Here are examples of vintage or antique items that you can incorporate into your aesthetic:
• Decorative objects such as antique clocks
• China tea sets with floral decorations
• Quilted blankets and pillows, preferably those with embroidery on them
• Lace tablecloths and doilies
• Distressed or weathered wooden furniture pieces, such as farmhouse tables
• Antique cutlery and silverware
• Vintage kitchen appliances and books
• Botanical prints depicting greenery and the outdoors
• Handmade shabby chic items
• Cozy aesthetics
• Nature inspired décor
• Romantic decor with details like candles, flowers and cozy linen fabrics
Romantic details are nostalgic and whimsical. Here are some examples you can incorporate into your cottagecore design.
Vintage mirrors: These intricately carved frames are great at reflecting light. They're excellent, making the room appear bigger and brighter than it is and adding a tremendous romantic touch to the space you're decorating.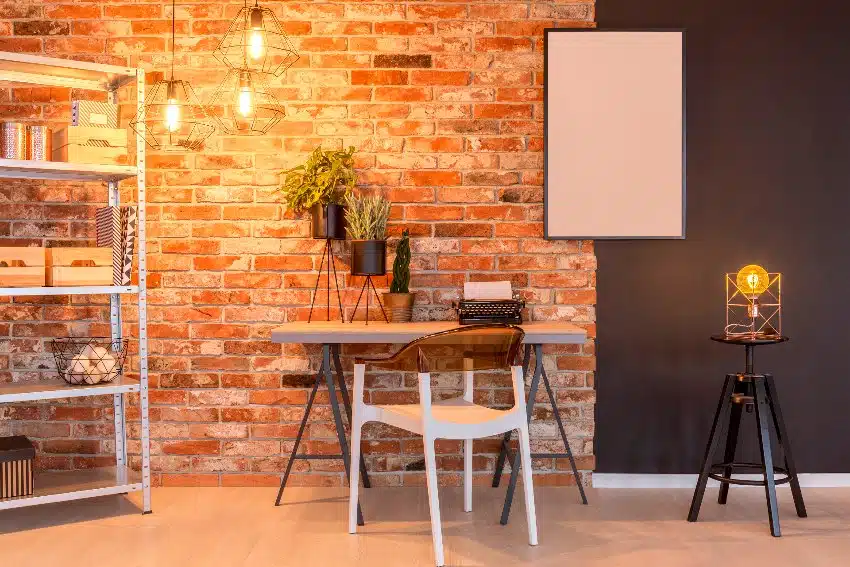 Romantic lighting: Go with soft and warm lighting. This will allow you to create a romantic, cozy atmosphere that embraces the cottagecore aesthetic. You can play around with candles, fairy lights, or even interesting-looking lamps to nail the look down at the end of the day.
Cottagecore House Interior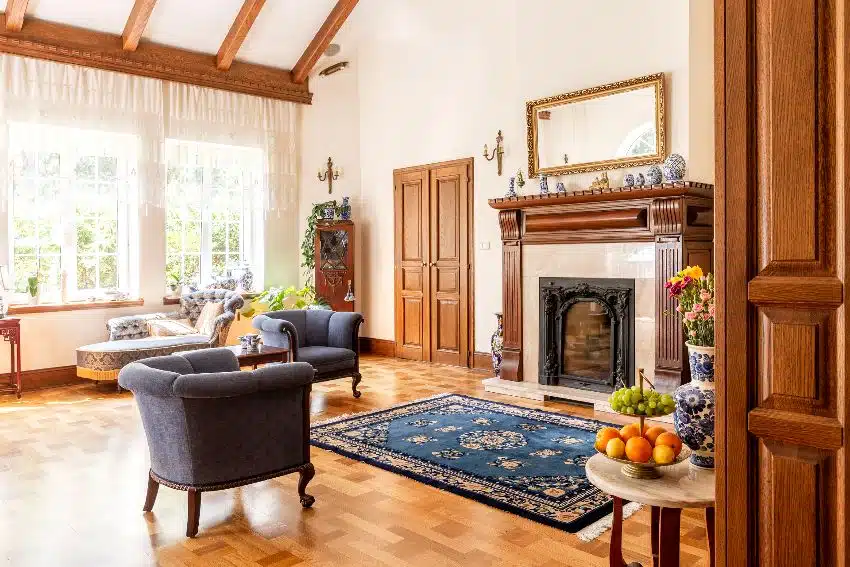 Cottagecore house interiors emphasize using vintage or antique décor, natural or naturally derived materials and colors, and simple elements. All these things brought together can help create a welcoming and romantic atmosphere.
There's a unique appeal and market to cottagecore home interiors because people often want to retreat to something much more relaxing and straightforward when they enter their front doors.
It's a great idea for evoking a sense of tranquility and calms in the home space without trying too hard or spending too much on the design elements you want to create.
Cottagecore Bedroom Design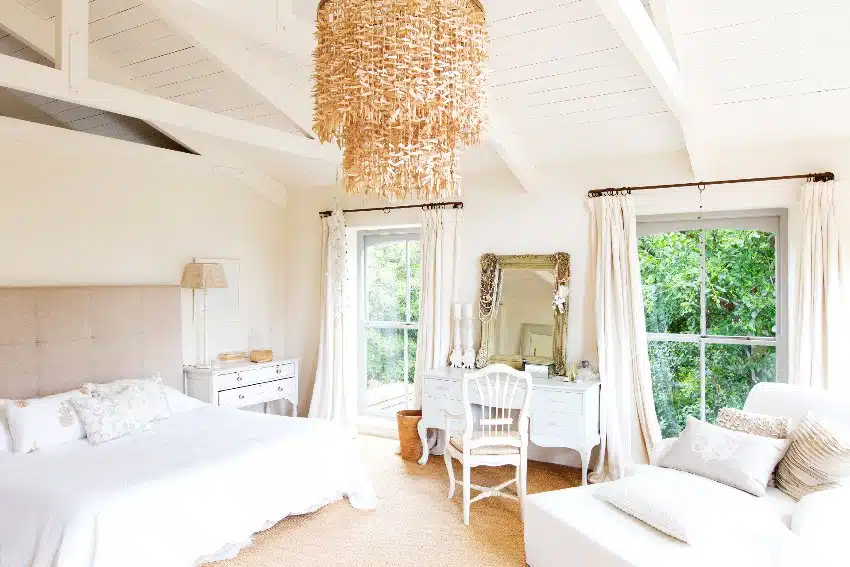 Creating a cottagecore bedroom design involves incorporating natural elements seamlessly alongside vintage or at least vintage-inspired décor. Here are some ways for you to actually pull that off:
• Choose colors that are soft and warm. Go with shades such as blush pink, cream, or sage green. The general rule of thumb is always to start with a color palette that feels calming and soothing. Something that you would want to sink into at the end of the day.
• Embrace nature in your bedroom design. Attempt to bring the elements of nature into the bedroom by incorporating plants and fresh flowers. An herb garden by the window sill is a good idea.
• Add floral prints. We've been saying this repeatedly in this article, but only because it is a staple in the design. Add them to your bedding, wallpapers, or anything else you can think of.
• Add bedside lamps, and soft lighting for that dimmed and romantic lighting atmosphere.
• Incorporate materials such as linen, wicker, and wood in your bedroom aesthetics. This helps create that much-needed connection with nature.
For example, you can start by adding a headboard made of wood, a wicker basket by your bedside, and so much more. Play around with it and the materials and décor elements you have handy or readily available.
• Choose rustic-looking furniture. For example, you can anchor the design down with a four-poster bed made out of distressed wood alongside a wooden chest of drawers to create that cozy sense of warmth and hominess.
• And, of course, don't be afraid to personalize your space. If you have one, add personal décors such as family photos, handmade items, or even your personal figurine collection. Make the space feel like it's your own personal retreat.
Cottagecore Kitchen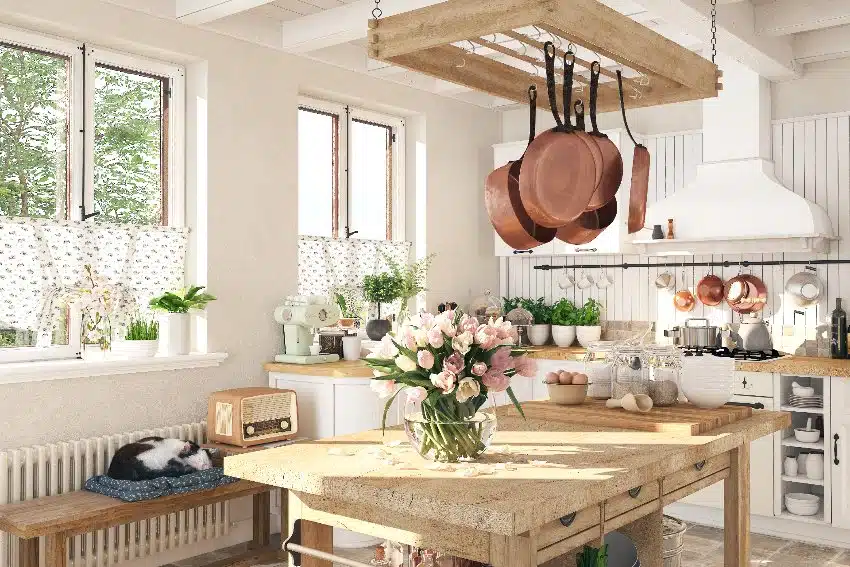 The kitchen is the heart of the house and one of the most heavily used areas. If you want to nail down your design aesthetic, the kitchen is usually a significant space to prioritize. Here are some steps to creating a kitchen you and your family can enjoy spending time in.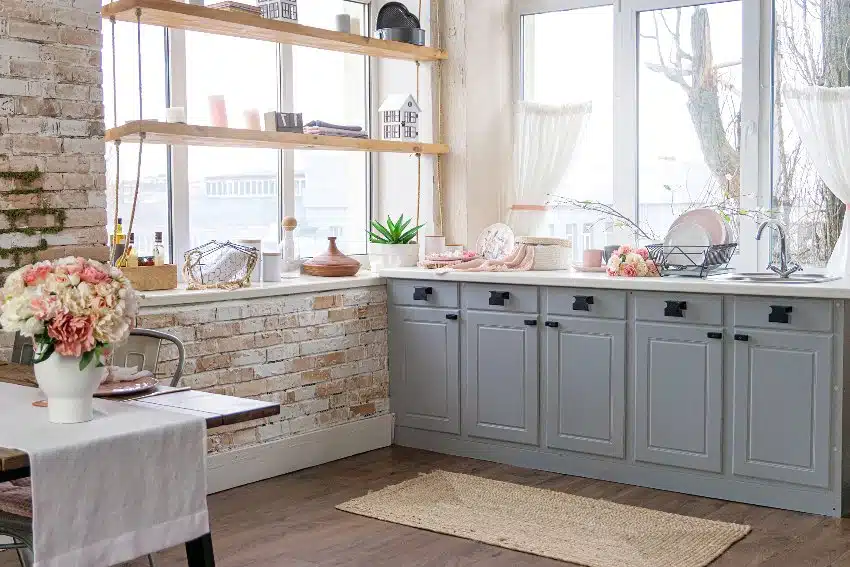 1. Install open kitchen shelves. Cottagecore kitchens are well known for having open shelving instead of closed-off cabinets with doors. This helps create a lighter and airier atmosphere. This is also a great venue to showcase vintage glassware, cutlery, and dishes.
2. Use vintage or rustic décor such as copper pots and pans, enamelware, woven baskets, and even wooden utensils in the kitchen. Suppose you want to really commit to the look and complete it. In that case, you can even hang up the occasional vintage cookbook or artwork.
3. Get a farmhouse sink installed. This is a popular theme in cottagecore kitchens that you can easily replicate. Add the finishing touches by opting for a vintage-style faucet as well. Again, it's all about commitment and really seeing the design through.
4. Get modern appliances that are retro-styled or made to look like they're vintage. This brings the look together for your kitchen design.
5. Use materials such as wood and stone for the kitchen. Do this by opting for wood elements such as wooden cutting boards instead of plastic ones. Go with natural stone countertops for your kitchen's focal point base. Go with linen dish towels, so everything looks and feels natural and organic.
Cottagecore Living Room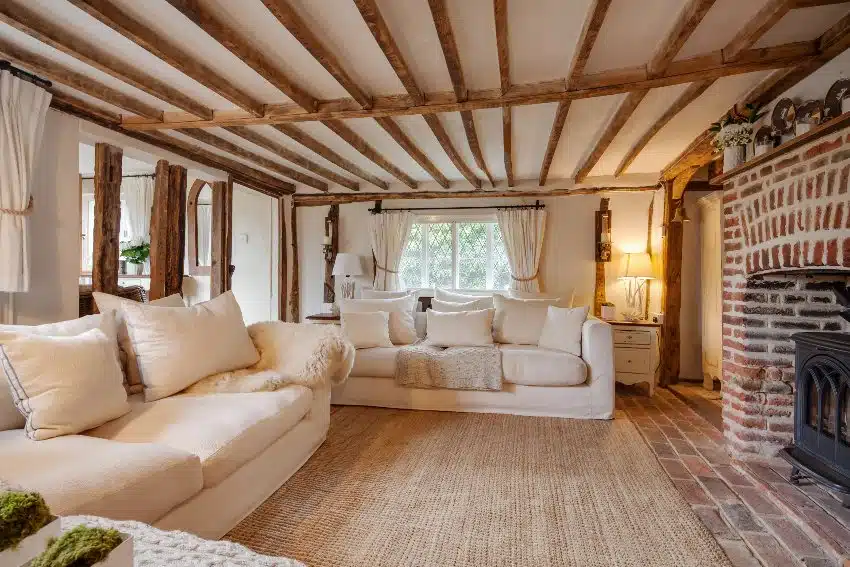 Here are some ways to bring a cottagecore living or dining room to life:
• Introduce wicker, rattan, and other natural wood elements into the space. This can bring in texture and warmth. For example, add a comfortable wicker chair alongside a sturdy wooden coffee table.
• These furniture pieces are usually the first things that draw the eyes when you enter a living room. So it's a great starting point in designing your living room in this aesthetic.
• Use floral patterns in your upholstery, cushions, throw pillows, and curtains. You can up the ante even more by choosing floral prints in your wall designs and wallpaper choices.
• Work on creating a really cozy seating area. Arrange your seating area around a specific focal point, such as a fireplace, to make the space appear more lived.
Also, feel free to mix and match different types of furniture. You can bring in a mishmash of rocking chairs, sofas, or even armchairs and footstools.
• Lighting is also everything, so invest in cozy-looking lamps and wall scones to give your living room area a soft and warm glow, even at night.
Cottagecore Bathroom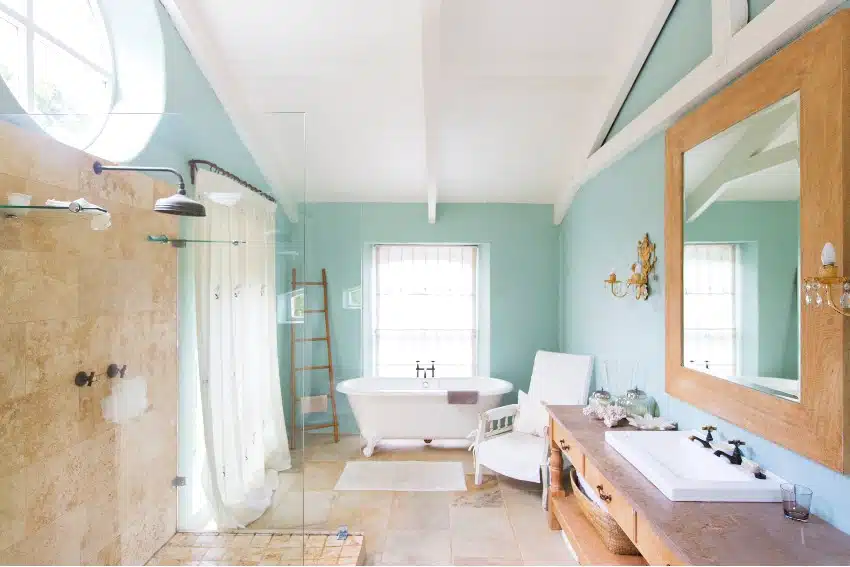 Another central space to redesign in the home is the bathroom. Here are some tips on bringing your cottagecore aesthetic to this space.
• Use vintage bathroom fixtures. Go with clawfoot bathtubs, for example. Those things immediately take you back to earlier and simpler times.
• You may also add an antique mirror or even a wooden vanity made of distressed wood. When you bring these things together, they're sure to add a sense of character and charm to your bathroom space.
• Use country materials such as wicker baskets and wooden shelves for storage. You can place your bathroom essentials and towels in these nifty little things.
• Install vintage lighting such as sconces or a chandelier. It may be odd to have a chandelier in the bathroom. Still, for some reason, it works for cottagecore bathroom aesthetics.
• Work on adding soft textures such as plush rugs, fluffy towels, or cozy bathrobes that have been hung up. These elements are great for creating a more relaxed and luxurious-looking bathroom space.
Cottagecore Decor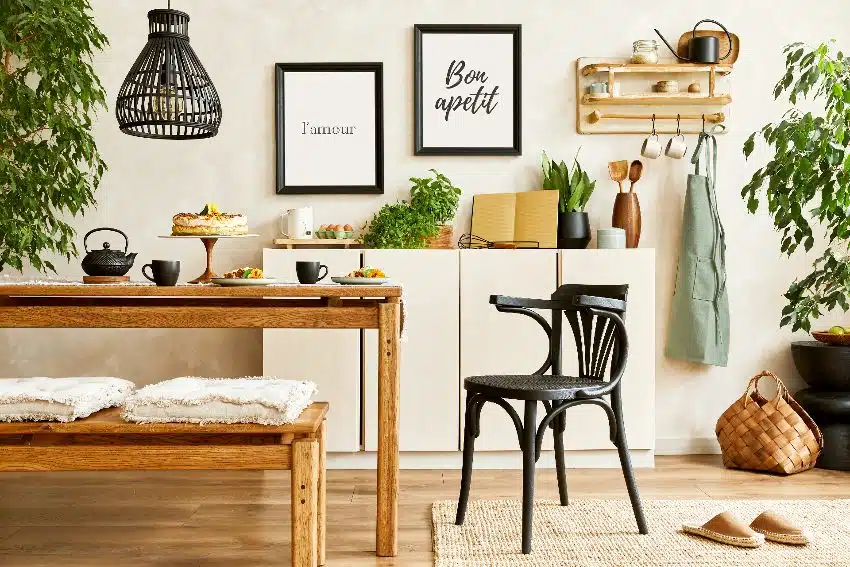 Cottagecore decor offers a warm, rustic atmosphere by using natural and conventional elements and blending together aspects of vintage, shabby chic, and rustic designs to produce a cozy and welcoming ambiance.
Distressed woods, vibrant colors, floral or gingham fabrics, and traditional furniture pieces are all common elements of cottagecore décor. These components combine to create a welcoming area with a charming, classic appearance.
Cottagecore Colors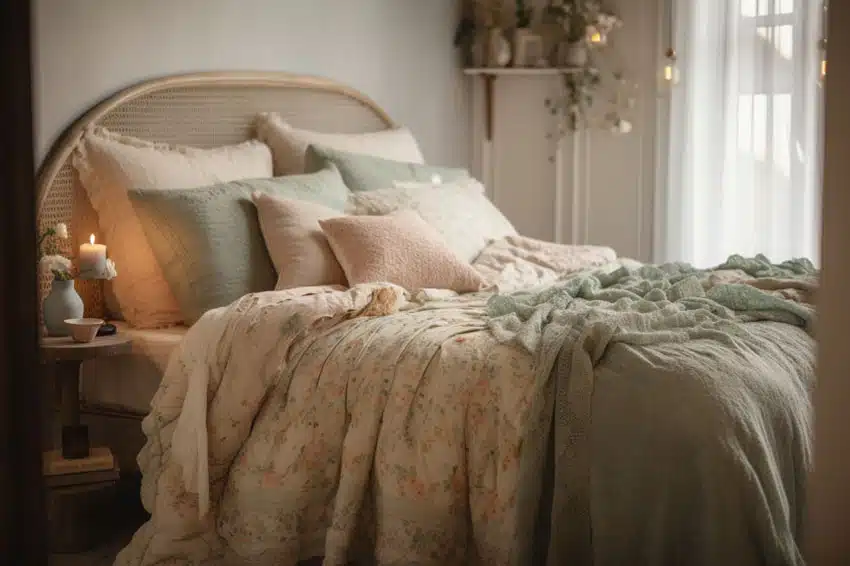 Muted and earthy hues like gentle blues, light greens, beiges, and white are typical of cottagecore design.
Another common pattern for this look is floral. Pink, yellow, and lavender hues add a soft splash of color to the otherwise plain background.
Deeper hues like navy blue and burgundy can be used to neutral colors to give the design more depth.
Cottagecore Color Palette
The cottagecore color palette usually features soft and muted shades, earthy tones, and nature-inspired tones that evoke a feeling of simplicity, calm, and nostalgia. These colors are often the same colors that you can see outside. They can include shades of pale blue, lavender, soft pink, beige, brown, and green.
Here are some of the most popular cottagecore color palettes:
Sage green: This type of green is relatively soft and muted. It is reminiscent of the leaves in the countryside. It can be pretty great in creating calm and tranquility in your cottagecore interior.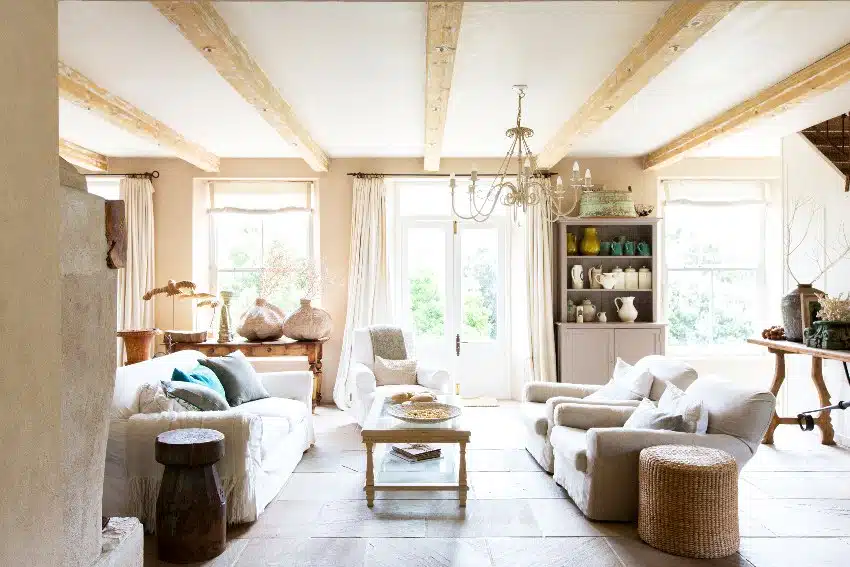 Cream and beige: These colors are pretty neutral and warm in nature. They're great at creating an inviting and cozy atmosphere and are perfect enhancements for that vintage and rustic style cottagecore aesthetic you're trying to bring together farmhouse decor.
Soft pink and lavender: These colors are pretty delicate and romantic. This combination is hard to beat if you're into that dreamy vibe.
Rust and terracotta: These colors are warm and earthy. They're great for adding that vintage and rustic charm to the space that you're designing. They can also make the space feel warm and comfortable.
Cottagecore Aesthetic Wallpaper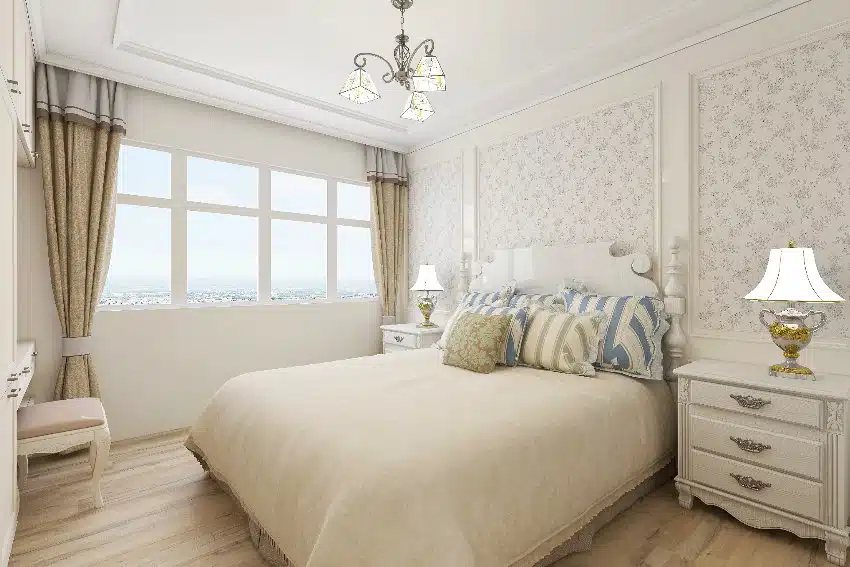 Cottagecore's wallpaper typically features floral patterns, natural scenes, countryside landscapes, and similar vintage designs. These wallpaper designs are cozy and charming and can be quite reminiscent of the simple and peaceful lifestyle in the countryside.
They also typically come in soft and muted colors such as soft neutrals, earth tones, and pastels. These colors can be soothing and quickly transform the room you're designing.
Cottagecore Bedding
Cottagecore beddings typically feel very soft and rich to the touch. They feel cozy and rustic and make you want to sink into them. Usually, this can be achieved using materials such as wool, linen, or cotton.
It's also best to play around with patterns such as checks, stripes, and florals. Make sure that these materials you go for are not only durable but also breathable so that you can create a truly inviting and cozy atmosphere.
Don't be afraid to layer your bedding. Layering is great for texture and added softness and coziness. This can help enhance that vintage or rustic feeling in your bedding.
What Is The Difference Between Cottage And Cottagecore?
Although they may mean one and the same thing, cottage, and cottagecore are two completely different things. Cottage refers to a specific type of physical structure, whereas cottagecore is more of an aesthetic design or a lifestyle choice, even,
When you think of the word "cottage," it is more of a cozy garden and small house, typically located in some village somewhere or a similarly rural area. Cottages are made of naturally occurring materials such as thatch, wood, or stone. Cottages also often feature outdoor spaces such as patios and gardens.
On the other hand, cottagecore is more of a lifestyle aesthetic. What it does is that it romanticizes the concept of a much simpler and more rural way of life.
Like smelling freshly baked bread, it's a refreshing difference compared to the technology-driven and fast-paced lives we have all been quite acquainted with. Cottagecore also refers to activities related to traditional skills, such as crafts, baking, and gardening.
It may also include anything and everything you can do yourself directly related to life at home. It capitalizes on the concept of a slower pace of country life. This aesthetic draws its concept from antique or vintage styles and plays with elements such as soft, muted colors, lace, and florals.
A cottage is a physical structure, whereas cottagecore is a cultural movement that has become a trend with a cult following. It goes beyond fashion or home décor. It's a whole new way of life. It really comes as no surprise why the cottagecore lifestyle has been and still is being taken on as a trend.
We see this cottagecore trend staying over the years to come as more and more people get burned out from the instant gratifications of modern life. They want to go back to a simpler time when things were simpler, slower, and more romantic. And that's exactly what the cottagecore way of life brings to the table.
If you really want to capture the feel you could hire an interior designer with experience in creating cottage core interior design and house plans. Another option is to start looking at Instagram and Pinterest for ideas that you prefer.
If you would like to try it out, what's great about a cottagecore home is that you don't have to go all-out and fully commit if you aren't sure about it yet. You can start small such as in a small corner of a room, or an entire room in the house. See how it fits into your lifestyle and your philosophy and take it from there. And more importantly, have fun.
Visit our guide to cottage bedroom style for more related articles.