Here we answer what color paint goes with dark brown furniture, including some matching factors to consider, and paint colors for bedroom & living room designs.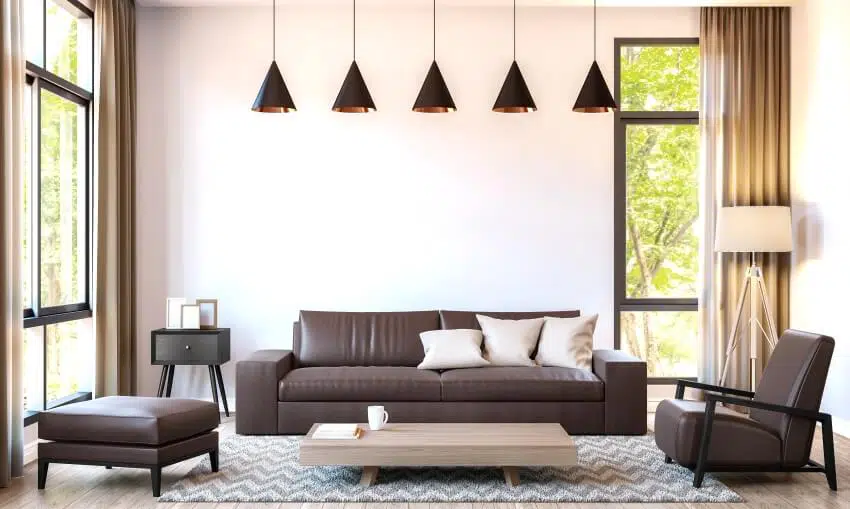 The first thing to remember when selecting the color paint to go with your dark brown furniture is what mood or theme you want to create in your room. The color brown is generally perceived as a warm color but the atmosphere the earthen hue brings actually varies depending on its shade and undertones.
For dark brown furniture, for instance, that has cool undertones such as gray, a light blue paint is a fitting match. While warm undertones such as yellow will go best with furniture with a blue-green tinge.
Although brown is not presented on the traditional color wheel and is usually presented as a dark shade of orange, whereas the tangerine tone's complementary color is blue. This makes blue colors a general match for your brown-hued color.
Paint Colors For Bedroom With Dark Brown Furniture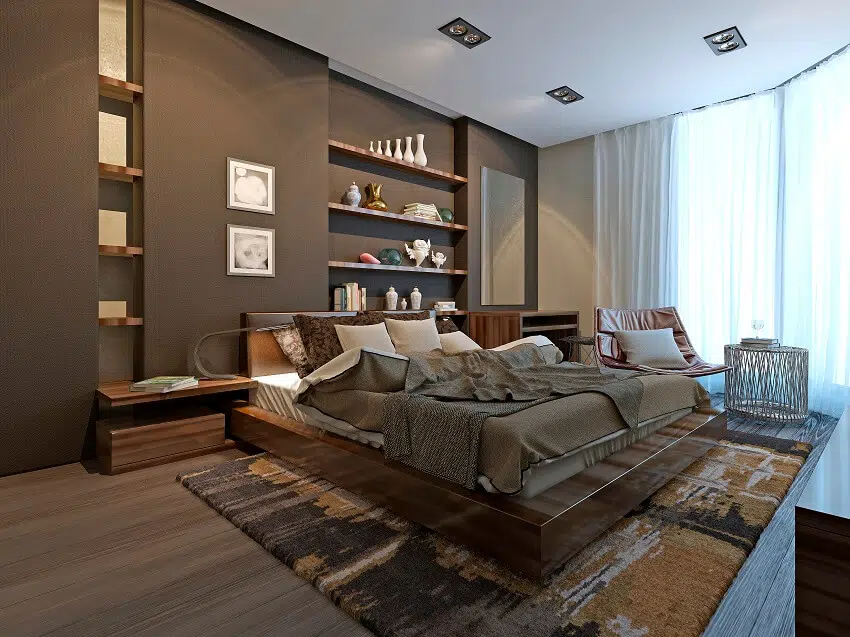 Dark brown furniture is generally achieved by adding a mixture of black. Therefore, the best paint color to match your furniture will depend on the levels of orange and black added to your dark color.
Since you're painting a bedroom, you want a cozier atmosphere with your paint color. We've curated the best of the paint colors for a bedroom with the corresponding dark brown shades. Read our paint colors for bedroom with dark furniture guide for more like this.

Brown-on-Brown – Dark Browns with Warm Undertones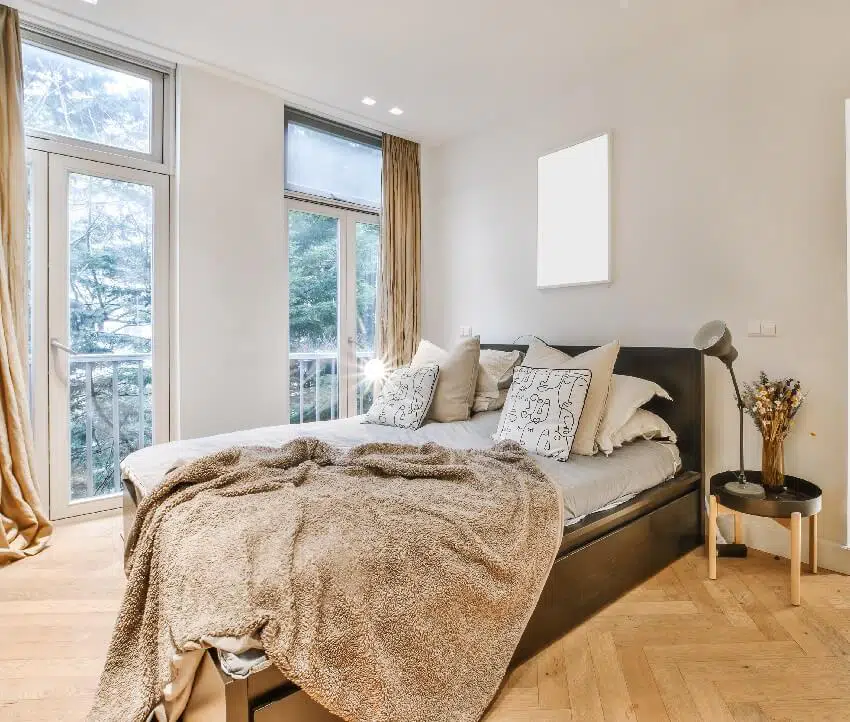 While we've been discussing undertones and the goal of not overwhelming a space, brown-on-brown can be a great option for more experienced decorators if you want a cabin or rustic feel with warmth. The brown-on-brown color will need to have variations of the color to give a layered feel to your dark furniture.
Cinnamon #652A0E – The reddish tone is great with varying colors of beige and cream, such as Sherwin Williams Unfussy Beige, or a lighter variation, such as the Sherwin Williams Pineapple Cream (SW 1668), provides a soft transition. Creams and beiges also work great as accent walls for a subtle contrast against darker furnishings.

You can use white accents such as the Sherwin Williams Shell White (SW 8917) or the Sherwin Williams Arcade White (SW 7100). Sherwin Williams Pineapple Cream (SW 1668) Sherwin Williams Shell White (SW 8917) Sherwin Williams Arcade White (SW 7100)
Brown-on-Gray – Dark with Warm Undertones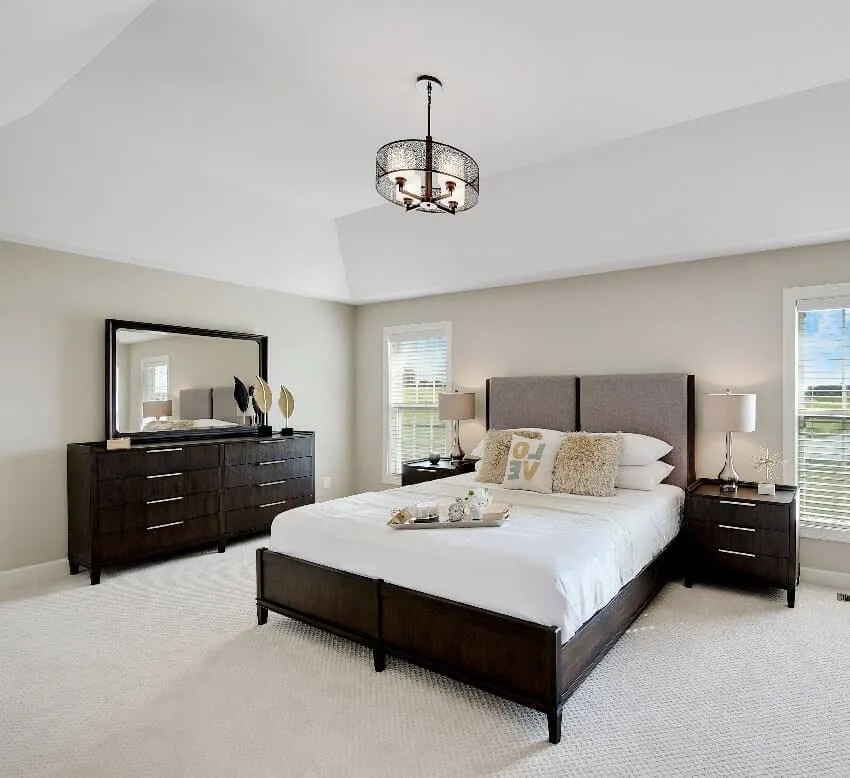 Brunette #3B1E08. If your dark brown furniture covers a large area, a cool tone will make it more balanced and harmonious. Gray is a fitting paint color for bedroom walls that subdues dark furniture's reddish undertones.
Choose a 70% white and 30% gray shade, such as Sherwin Williams Alpaca (SW 7022) or Farrow and Ball Cornforth White No.228. Sherwin Williams Alpaca (SW 7022) Farrow and Ball Cornforth White No.228
Brown-on-Black – Dark and Cool Undertones
Cedar #4A3728 – A black paint color is great for rooms that receive a lot of light and strategic artificial lighting during the night to create that moody space. Black may not be for everyone, but it gives a relaxing atmosphere with the right elements and accent colors. Benjamin Moore's Nightfall Benjamin Moore's Soot black
Match your dark brown-toned furniture with blacks with greenish or blue undertones, such as Benjamin Moore's Nightfall and Soot black paints. Accent colors can include warmer white and cream shades such as Benjamin Moore's Bashful or Swiss Coffee.

Benjamin Moore's Bashful Benjamin Moore's Swiss Coffee
Brown-on-Green Blue – Dark with Cool Undertones
Chocolate #2E1503- For a coastal-themed bedroom, green, blue paints with gray undertones will look great with your dark chocolate furniture. A soft aqua like Benjamin Moore Palladian blue is a muted, cheerful, relaxing shade that helps your darker furniture visually pop. Benjamin Moore Palladian blue Marina Isle by Behr
Another option with a soft and darker shade of green is the Marina Isle by Behr. The gorgeous color pairs well with the earthy tone and works great with deep greens and white accents.
Living Room Paint Colors With Dark Brown-hued Furniture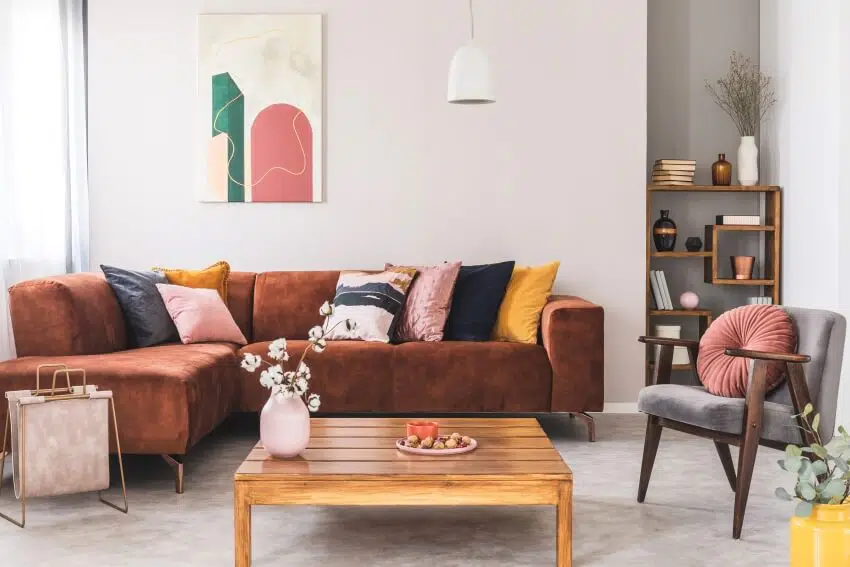 Unlike the bedroom, the living room will need a livelier and welcoming vibe where people can gather and feel comfortable. With dark hued furniture, there are certain colors you can work with to create a more cohesive space. You may read more about our best living room paint colors guide for more information.
White for a Classic or Traditional Theme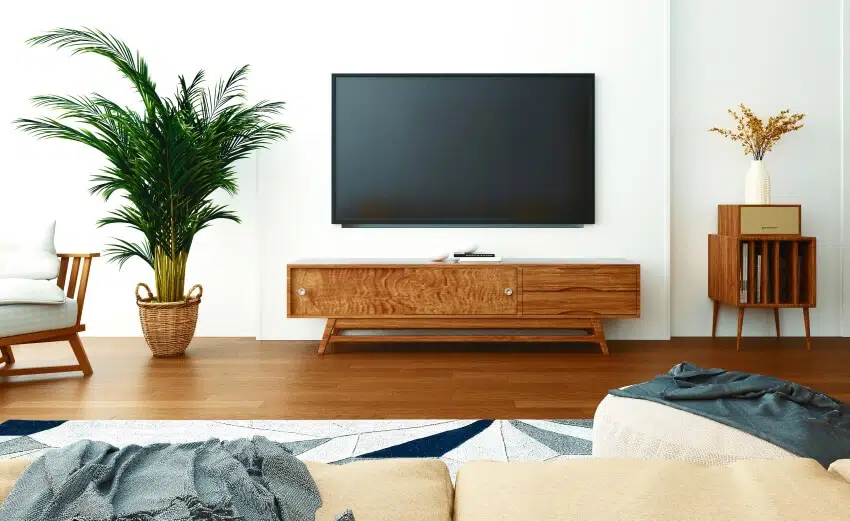 It's hard to go wrong with the classic white wall paint, and since it's a neutral color, it goes along pretty much with any color, especially dark tones.
The contrast makes Your dark brown-toned furniture look great against the white backdrop. You can add two shades lighter from your furniture as your accent tones. Sherwin Williams: Chantilly Lace OC-65 Behr: Frost 57 Benjamin Moore: White Heron OC -57
Green for a Nature Theme
Lighter shades of green are ideal for gathering spaces. According to color psychology, we associate greens and browns with nature, which can have a calming and harmonious effect.
Even if the room becomes crowded, using this palette in rooms intended for gatherings can help your guests have a calm and relaxing time. Sherwin Williams: Liveable Green LRV 61 Behr: Breezeway MQ3-21 (Color of the Year 2022) Benjamin Moore: North Shore Green LRV 71
Gray for an Industrial Theme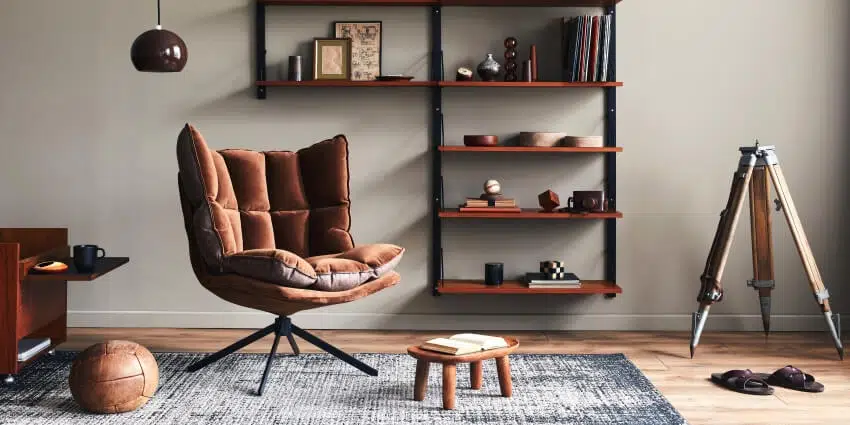 When you have a leather sofa with a dark brown-hued color, a charcoal gray will create that industrial feel to the space. You may also create a transitional space or mid-century inspired room, depending on the style and profile of your furniture. Gray is a neutral hue that will work well regardless of the undertones of your dark living room furniture. Sherwin Williams: Misty 6232

Behr: Silver Feather
Benjamin Moore: Iced Cube Silver 2121-50
Navy Blue for a Palladian Theme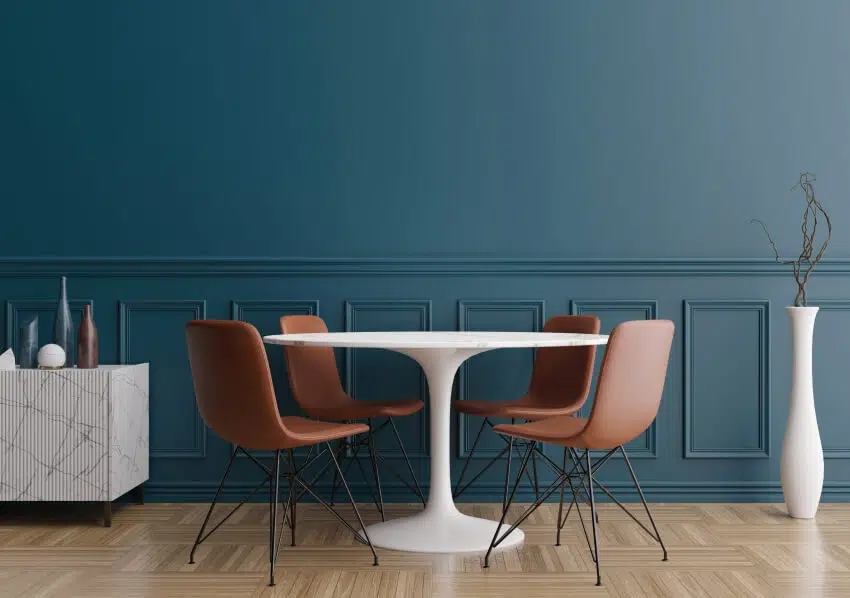 Behr Dark Navy is a fitting family room paint color if you have the perfect space for a dark hue, such as in larger rooms or brightly lit rooms. A dark navy blue looks stunning with white trim and molding with your dark furniture.
A navy blue room with black and white accents has a crisp style. Behr's Dark Navy can be paired with a variety of metal finishes, but keep them brushed or muted to avoid clashing with the rich wall hue. Sherwin Williams: Bracing Blue 6242 Behr: Night Flight
Benjamin Moore: Newbury Point Blue
What Color Makes Brown Furnishings Pop?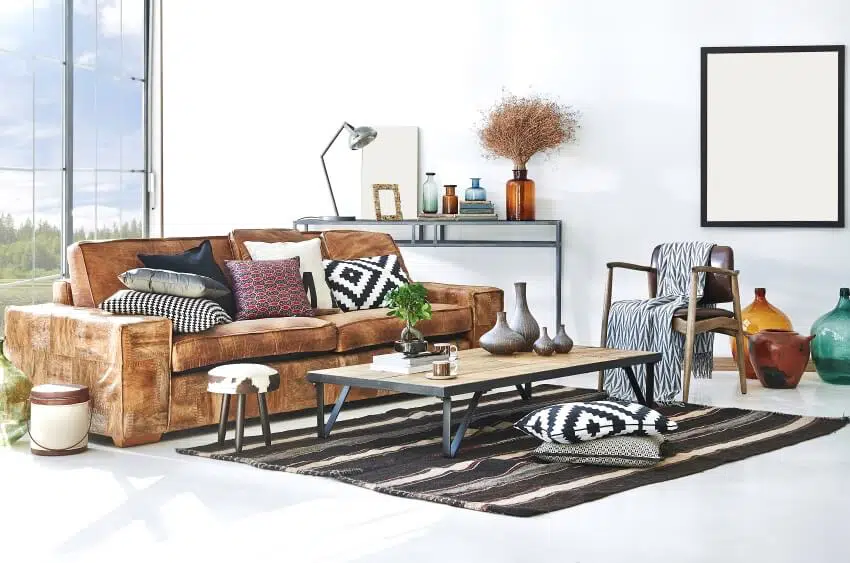 When you want to showcase your brown furniture generally, the lightest hue will give the best contrast relative to the color temperature and shade.
White Tie by Farrow and Ball

White Tie by Farrow and Ball
This shade has a pale cream that brightens up a room effortlessly and, as a background, will allow other colors to be dominant yet not stale or boring due to its warm undertones. It's a lovely hue that can also be used with other elements, such as cabinets, moldings, or trims.
Tallow by Farrow and Ball Tallow by Farrow and Ball
If you're looking for a peachy undertone, this color paint is the perfect choice as it warms up a room and is versatile to work with in achieving either a modern or a traditional interior.
Belgravia by Maryland Belgravia by Maryland
For a backdrop that showcases furniture while complementing the architecture of an interior, the matt finish of Belgravia is a great choice due to its classic tone. The white ground marble hue shows off the curvature of architectural elements while allowing the furniture to pop visually.
What Colors Go With Chocolate Brown?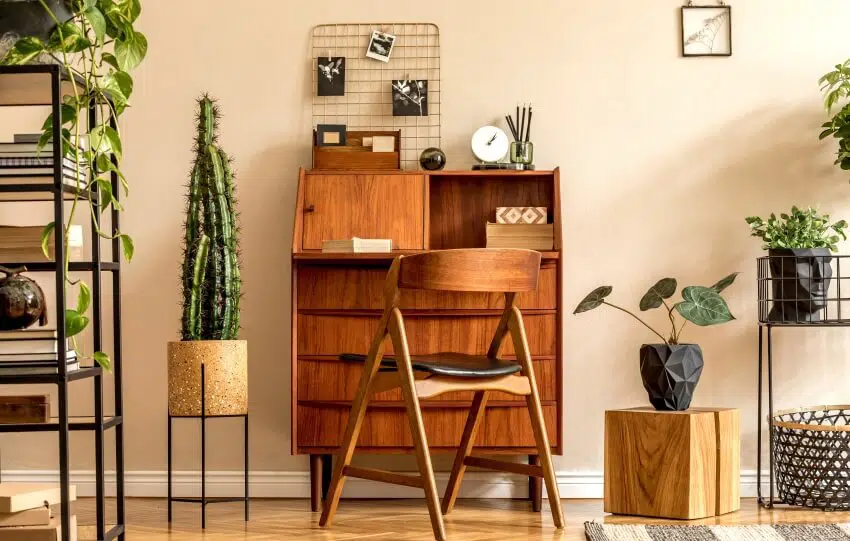 Chocolate hues go excellently with navy, baby blue, or cobalt blues. But the earthen tone actually goes with almost every color. White, cream, or sepia tones are great options for a softer shade scheme, especially for an interior color palette.
Best Cream Color for Chocolate Brown Soft Cream Color HEX #F9F9EO
Soft Cream HEX #F9F9EO, RGB (249,249, 224). The lovely hue works well for living rooms, kitchens, and other areas with larger square foot coverage, while the paint colors allow dark shades to thrive, such as chocolate hues.
Best Green Blue Color for Chocolate Brown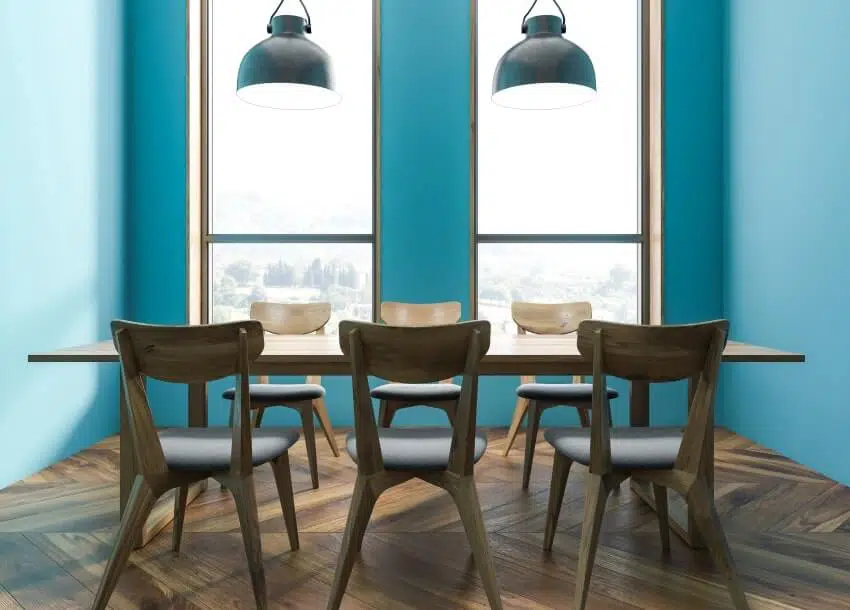 A Light Aqua almost mint, HEX #C0E3E3 RGB (192, 227, 227) brings a cool and modern combination with your chocolate brown. If you're worried chocolate tones might create an outdated look, this tone is a safe combination. HEX #C0E3E3 RGB
Best Pale Pink Color for Chocolate Brown

If you're looking for a fun and comforting vibe out of your brown-hues, the dusty pink will balance the earthy tone with the more vibrant and youthful shade. The Dusty Pink has a HEX code of #e1ad9d RGB (225, 173, 157). HEX code of #e1ad9d
Wood and Paint Design Factors To Consider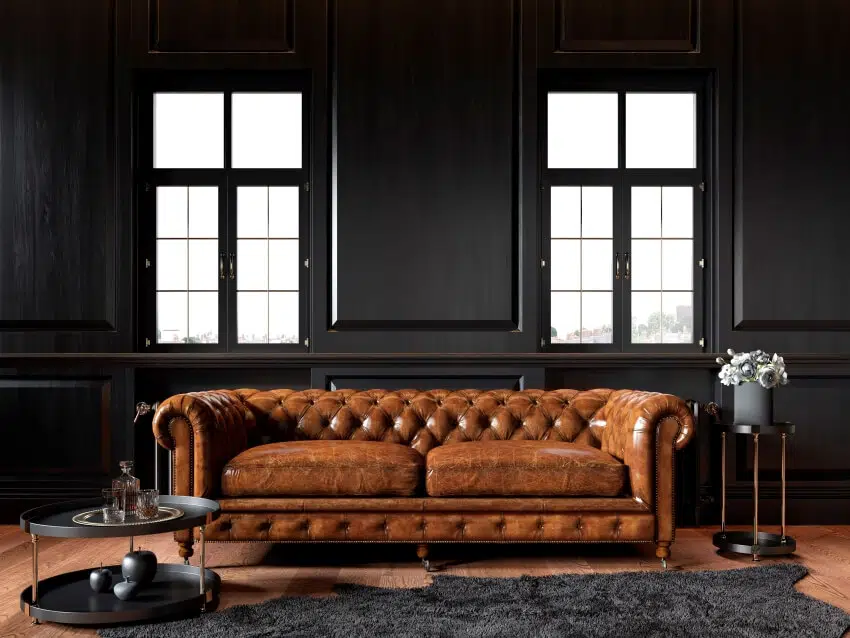 • Size of the Room – Darker shades make the room feel smaller and lighter, which can help enlarge the space's feel. Use lighter hues with more lighting fixtures to add balance to dark furnishings.

• Amount of Natural Light – Maximize natural light if possible, to lighten the heaviness of darker furnishings.

• Color Temperature – Since dark brown-hues are warm, pair them with similar shades for a cozy and harmonious ambiance. Pairing them with contrasting cool shades can balance the look and help prevent the room from feeling too heavy.

• Hue Saturation – Use vibrancy shades to get energy and muted shades to have a more calming effect. Pairing high-contrast colors like cream or light gray against dark brown-hues can make a big impression. For an alternative, choose harmonious shades such as earth tones to tone things down.
• Wall Paint Finish – The different paint finishes can impact the amount of reflectiveness of the room's lighting. Matte finishes absorb light, which can darken an area, while glossy ones can help enhance lighting.
• Existing Decor and Accents – If you have a particular hue for your current decor accessories or accents, you may choose a shade that complements these elements. Rugs, curtains, and art can be paired together for a cohesive design.

• Wood Tones – Match the wall hues with the specific undertones of the wood furnishings for a connected style.
Does Grey Go with Brown-toned Furniture?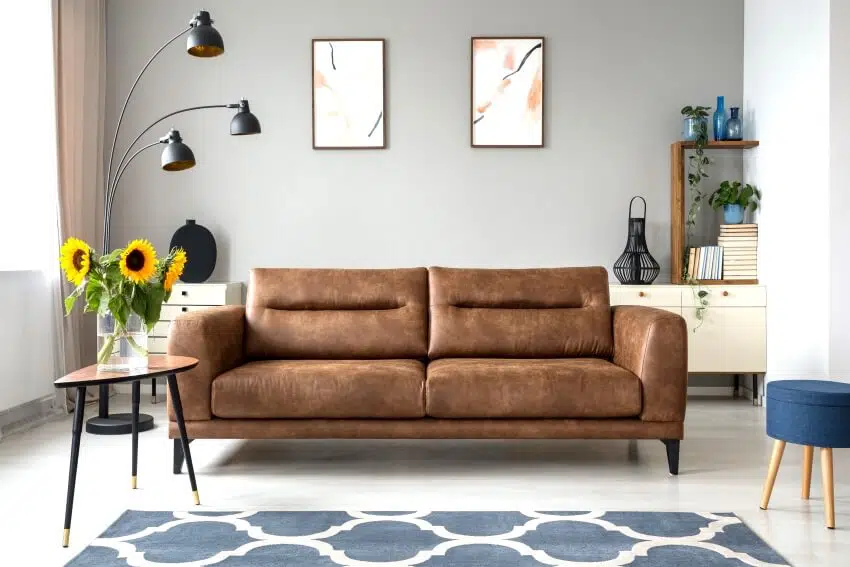 Grey and brown are both neutral colors, so they will complement each other perfectly. True, some people may find a dominant neutral room uninteresting. And using the wrong shades of browns and greys can be overwhelming.
This is why the right shades of both hues must be balanced. It's also crucial to think about the rest of the decorations in the area.
While browns and greys are both practical colors, combining them can be difficult. If your furniture is all brown, there are plenty of grey accents to choose from. Aside from the walls, all your decorations may have some grey.
Visit our guide about what colors go good with brown for more related content.