Welcome to our gallery sharing creative attic bedroom ideas with large and small design styles, skylights, slanted walls, decor and furniture.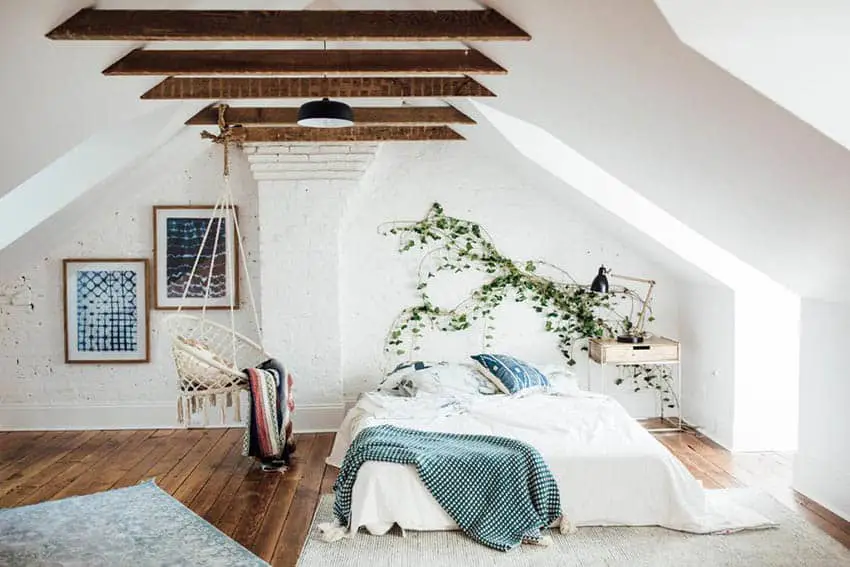 Attic spaces are often used simply for storage, ventilation, and in cases where the attic has enough space, they are utilized as an extra room in the house. There is always that unique novelty in having an attic bedroom, as it is unique in every house, and comes with its own quirks, pros and cons.
The most attractive aspect of an attic space would be its uniqueness. Roof design plays a lot of role in the layout of the attic space, but the sloped ceilings can be a very interesting design feature that you can only have in attic rooms. But perhaps the most attractive feature of attics would be the windows, especially when there are skylights installed.
One of the pros of an attic bedroom, is also one of its cons – the unique ceiling slopes/layout could make designing your bedroom quite difficult or challenging, and storage can be quite difficult to plan as well.
The biggest disadvantage of it though, would probably be insulation and moisture. The attic space is very close to the ceiling, making it the most vulnerable to ceiling leaks & is quite challenging to keep a comfortable temperature during the hottest and coldest months. If you can overcome all these, however, the attic bedroom could possibly be one of the most attractive features of any home.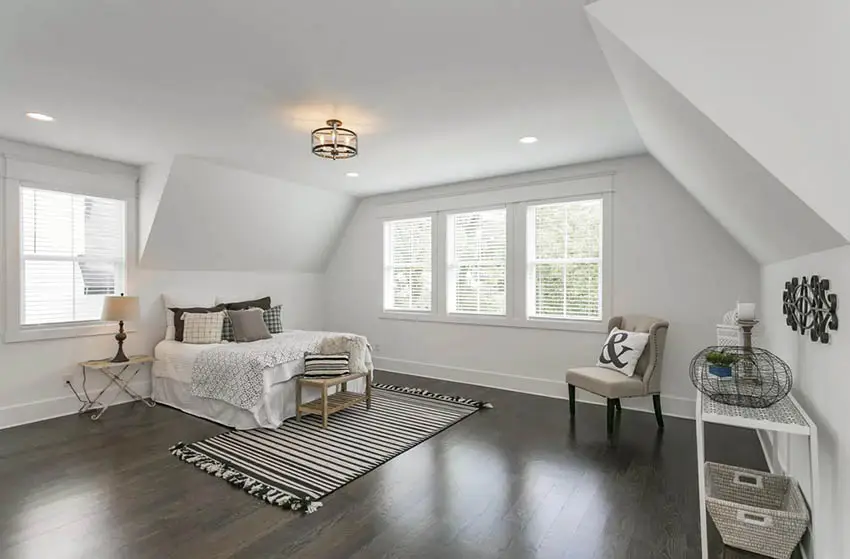 To guide you in successfully decorating your attic, here are some essential tips you can use:
Lighting – each attic is unique, and would require special attention to lighting – both natural and artificial. For attics with limited number of windows, if adding a skylight is not an option, it is essential to ensure you have enough lights to brighten the room. You can use low-profile recessed lights, and even hanging lights if space permits.
Windows & Skylights – by placing your bed under dormer windows or skylights, you will be able to enjoy and take advantage of the attic's unique features. You can also take advantage of the natural light by placing a reading nook, sitting area or a desk close to a window.
Window Treatments – windows & natural light are, by all means, good. But sometimes, we want to keep the sun out to keep the temperatures more comfortable, or for privacy, or sometimes, we just want to rest more. Always remember to choose the best window treatments according to the type of window you have.
Storage – space could be quite limited in some attic spaces, so it is essential to plan storage carefully, as standard cabinets/wardrobes don't usually fit. Custom built-in storage, or beds with storage underneath are the best option for attic bedrooms. You can also place off-the-rack storage shelves/cabinets on low wall areas of the attic to avoid space wastage.
Furniture – while some attics are spacious enough to fit standard furniture sizes, it is best to use furniture which are slim and low-profile to make the space feel larger. Opt for lower beds and items with slim profiles. If space permits, you can add unique pieces such as a hammock or an attic loft bed.
Paint – try to keep your paint and finish choices light and bright to make the space look more inviting and spacious.
Decor – despite the challenging space, don't be afraid to add unique features such as brick walls, murals and adding artworks to make your room feel more lively
Attic Master Bedroom Designs
Below are some excellent attic bedroom examples you can take inspiration from.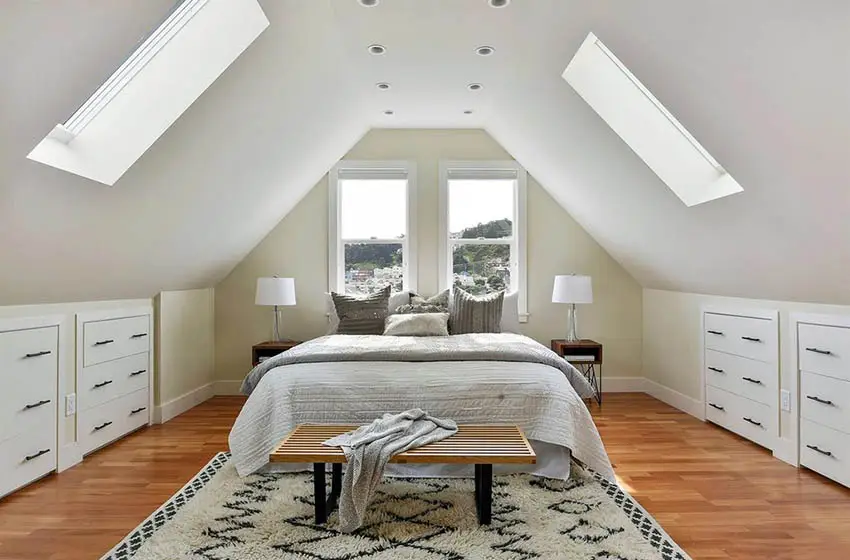 The simple layout of the attic master bedroom helped in making quite a simple approach to the design of the space. The bed was placed at the center of the room right under two casement windows, close to the two skylights, but not directly underneath it.
Two low walls bedside the bed were used as a built-in storage which was designed to look like a freestanding 3-drawer dresser. See more bedroom built-in designs here.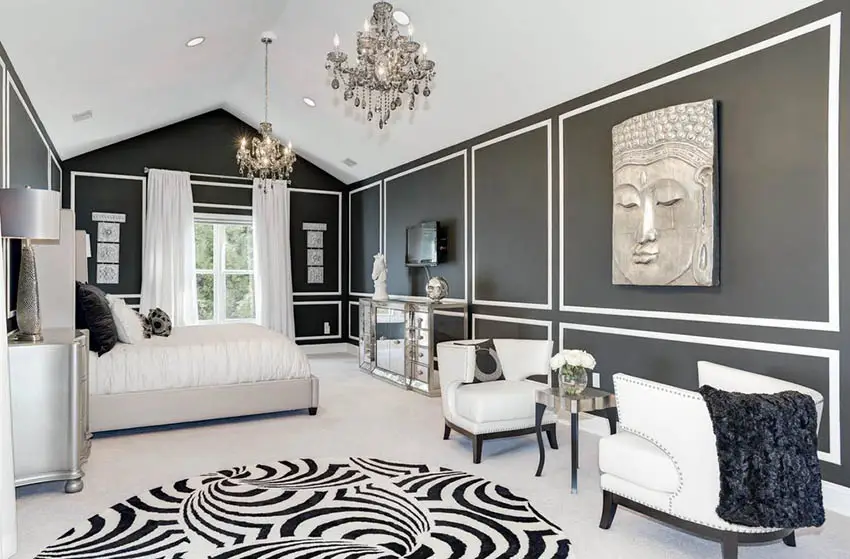 Unlike the other examples, this attic space has much more space/volume, allowing you to use standard furniture and storage pieces. As such, the use of black paint on the walls was a great choice to contrast it with the white furniture pieces. See more black bedroom designs here.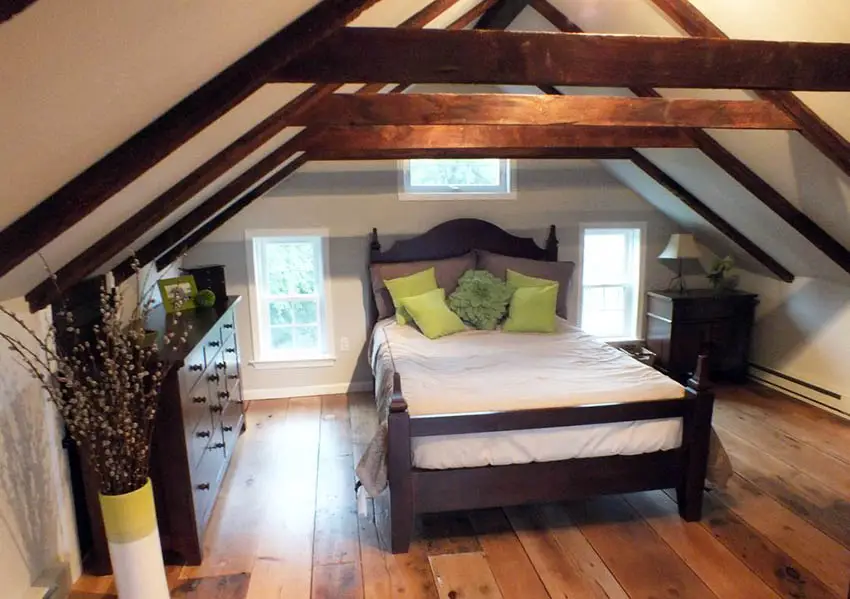 The unique feature of this attic bedroom would probably be the exposed wooden joists and beams on the ceiling. The gorgeous solid walnut roof supports add more character to the space, but it also makes it a little more difficult to deal with. For this example, a simple approach was used, wherein low furniture pieces were favored to help preserve headboard space. It was able to fit in a wooden twin sized, a console drawer and a small side table along with other decorative items.
Attic Bedrooms with Slanted Walls
Having a bedroom with slanted walls can pose unique challenges especially when it comes to storage, bed accessibility and room space. However, by using custom built-in storage units, proper bed positioning and lower profile furniture one can greatly increase the bedroom's usability.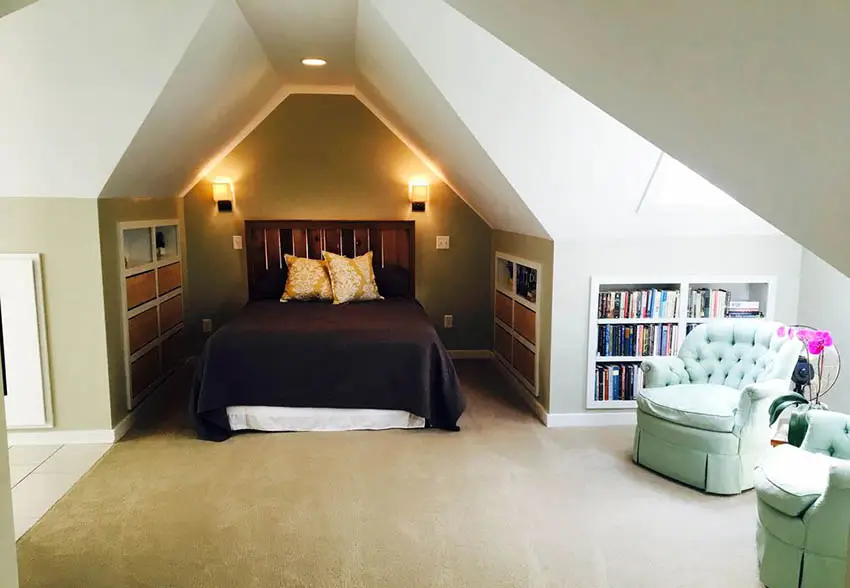 Taking advantage of every nook and space available, this design strategically placed the bed in an area where direct sunlight would not reach the bed to help ensure an undisturbed sleep, while the reading nook/sitting area takes full advantage of the windows. There are also built-in storage shelves and drawers to help maximize the space.
Girl's Attic Bedroom with Slanted Walls
This dreamy attic bedroom has so much space and headroom it doesn't seem like much of an attic. Because of the generous height of the ceiling slope, they were able to place a massive accent hanging lamp, setting a very feminine ambiance to the space.
Purple Attic Bedroom With Slanted Walls and Skylights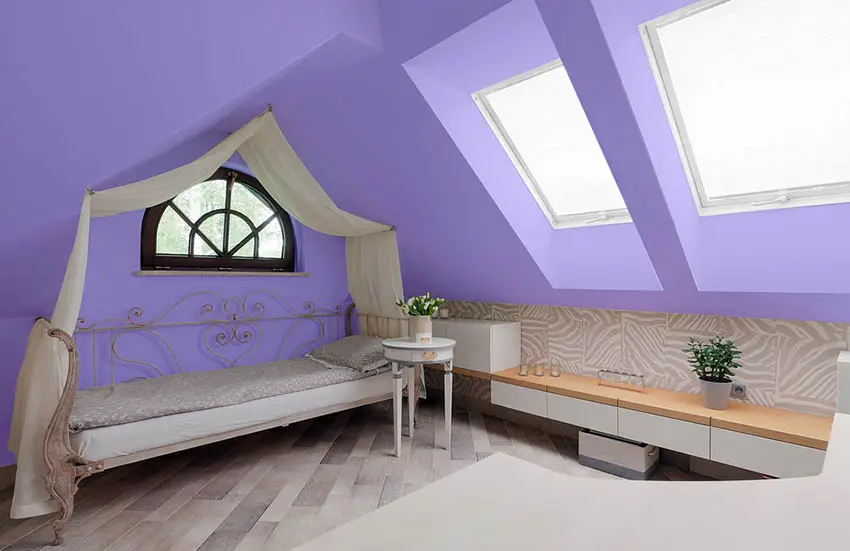 This attic features a unique combination of contemporary & classic furniture pieces. It has an empire style metal daybed complete with a fabric canopy, and is paired with very modern built-in storage along the low walls.
Attic Bedroom and Artist Studio Combo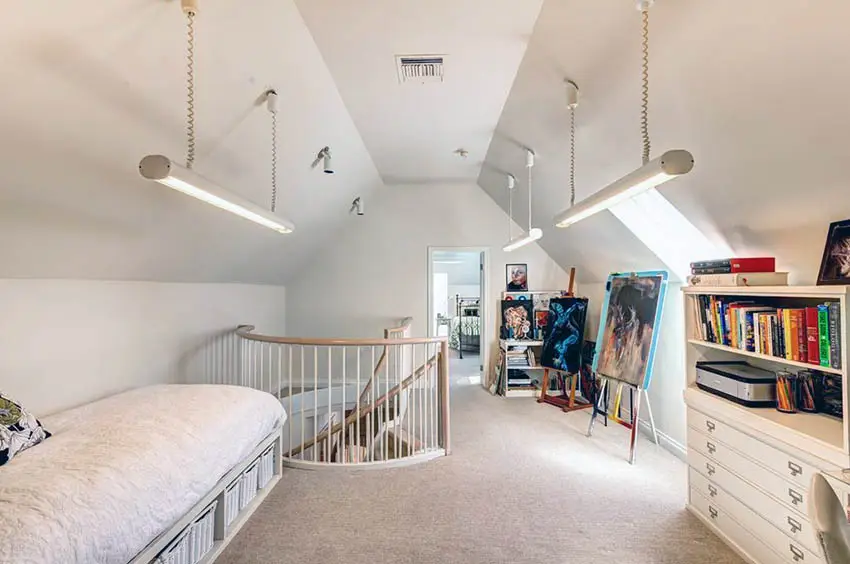 This spacious attic bedroom doubles as a perfect private studio for a budding artist. Large skylights provide an inspiring view and tons of natural light to aid you in creating your next masterpiece. The mansard roof also allows enough headroom and space to install hanging tube lights for sufficient artificial lighting during the night.
Attic Bedroom Nursery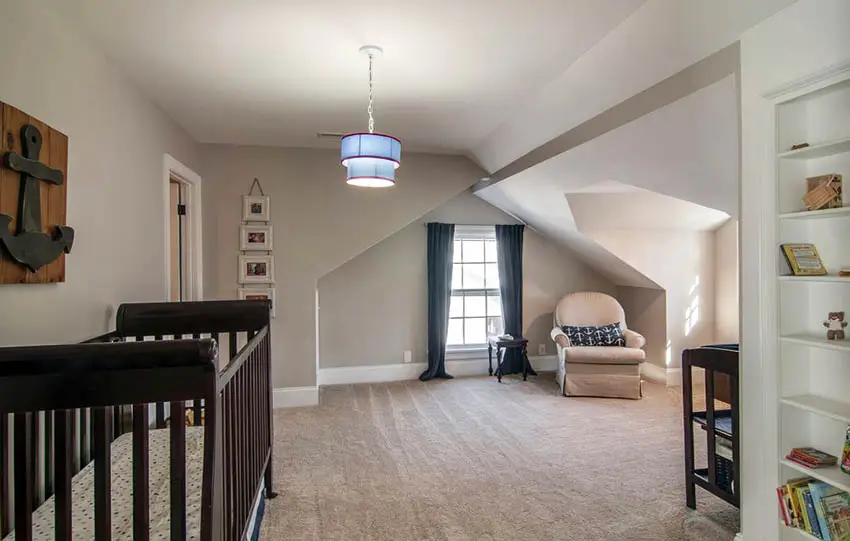 Used as a nursery room, the crib was placed a bit away from the windows to help keep the baby undisturbed during rest, while open play areas were placed by the windows. You can also see the use of built-in wall storage to help keep things in order.
Attic Bedroom with Wood Plank Slanted Walls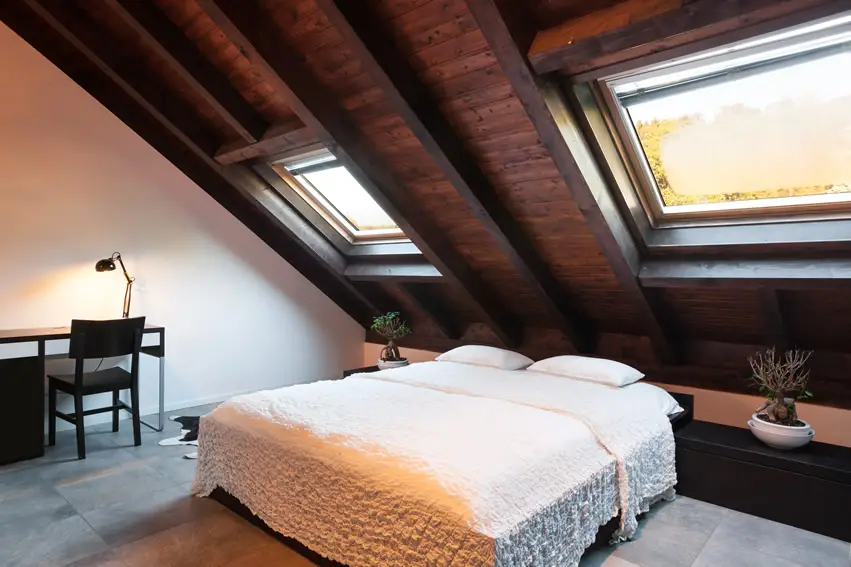 What is unique about this attic bedroom is the stunning antique wood panels on the ceiling which matches perfectly with the faux concrete floor tiles. The resulting contrast of textures & materials creates a very bold industrial look, while maintaining a classy/elegant feel to the space.
Large Attic Bedroom With Skylights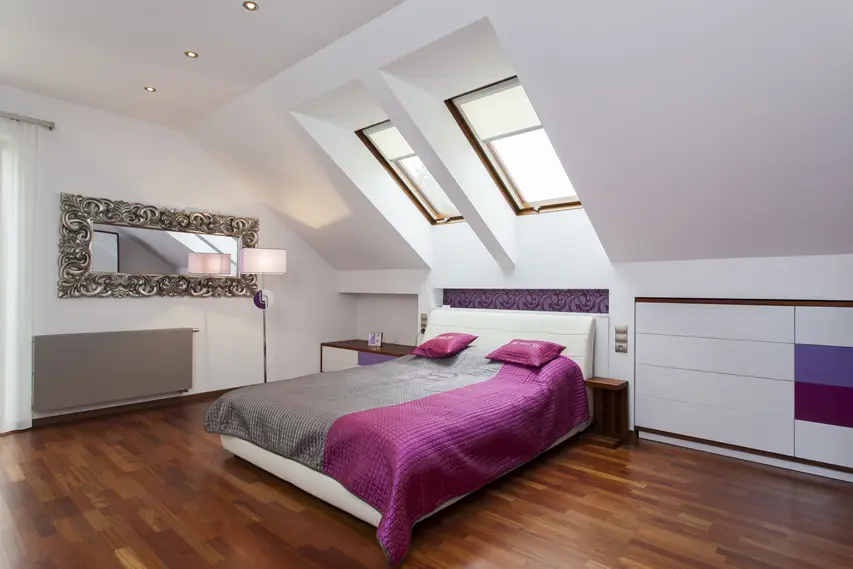 For people who enjoy sunlight in the mornings, this bed is placed strategically so that the morning sunlight hits you. It adds built-in, electrically operated sunscreens om the skylights to help control the sunlight going inside as well.
The interiors goes for a more minimalist look, opting for clean finishes and rectilinear silhouettes. See more designs with a bed in front of a window here.
Bedroom with Sitting Area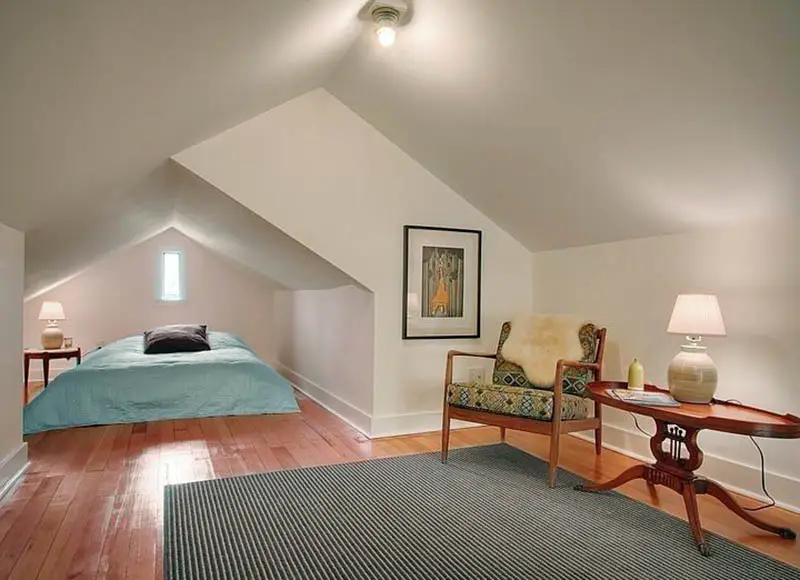 If there's simply not enough headroom, you can simply use a very low platform bed or even place the bed directly on the floor.
Victorian Style Attic Bedroom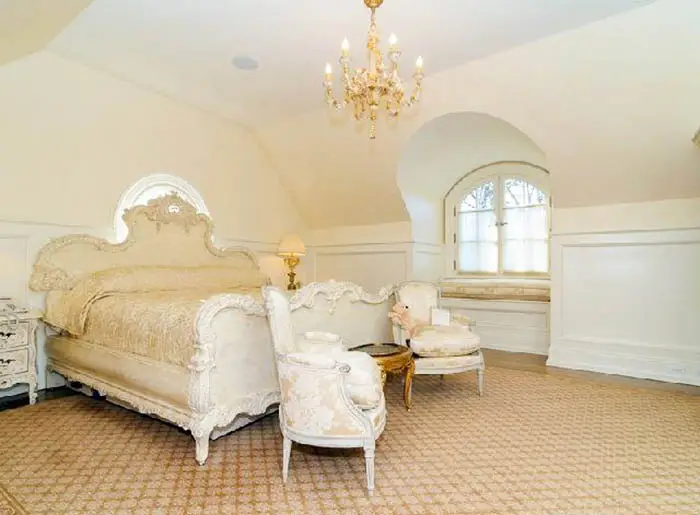 Massive Victorian style furniture on an attic bedroom was possible because of the high mansard roofing. The very generous ceiling height allowed the use of hanging chandelier that perfectly matches the white and cream color scheme.
Cozy Kids Attic Bedroom with Platform Bed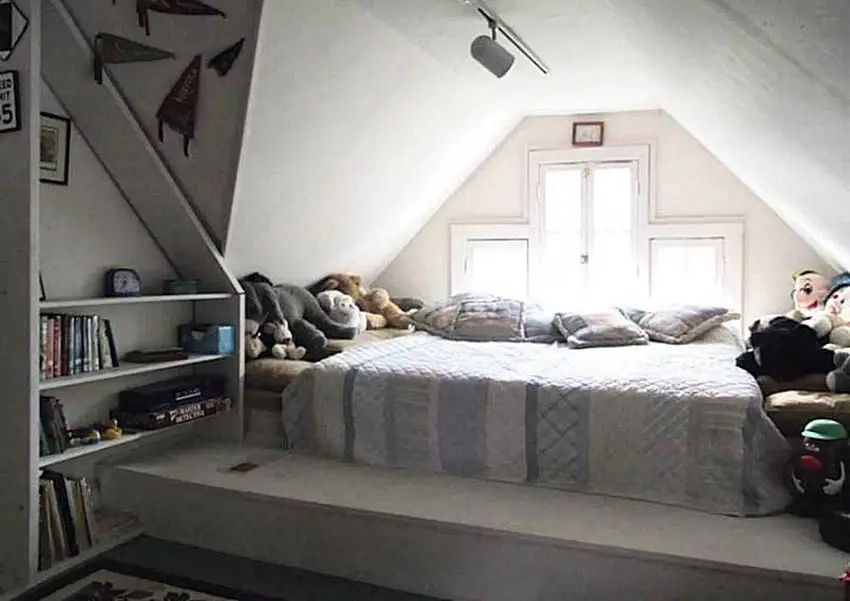 Another interesting approach to kid's attic bedrooms is placing the bed on a small raised platform right by the dormer windows to create a very nook-like private atmosphere. Storage can be integrated inside the, platform, as well as the remaining walls.
Attic Bedroom with Low Ceiling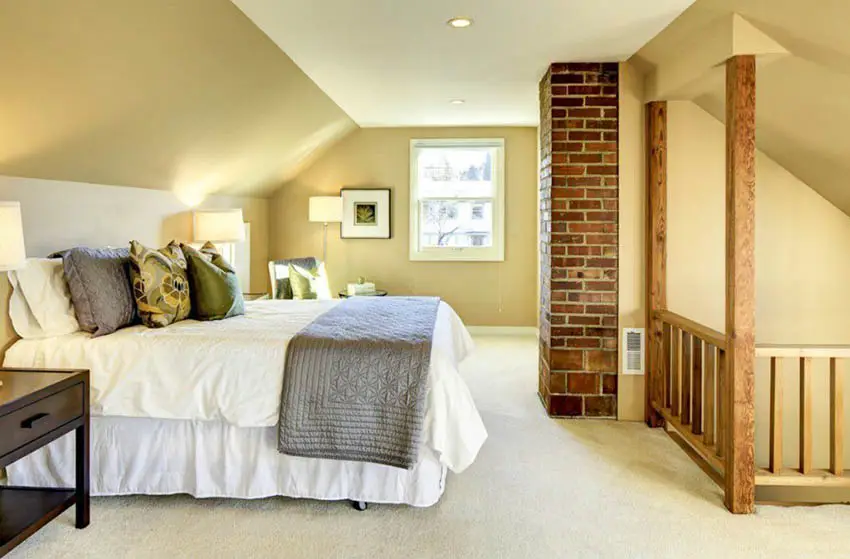 Warm yellow gold walls creates a warm & relaxing ambiance for this attic bedroom. While the room itself has a pretty straightforward approach to design and decor, focusing on classic timeless elements, what makes this space more interesting would be the brick columns and the antiqued wood railings. Both of which add texture and pattern to the simple/plain design of the bedroom itself.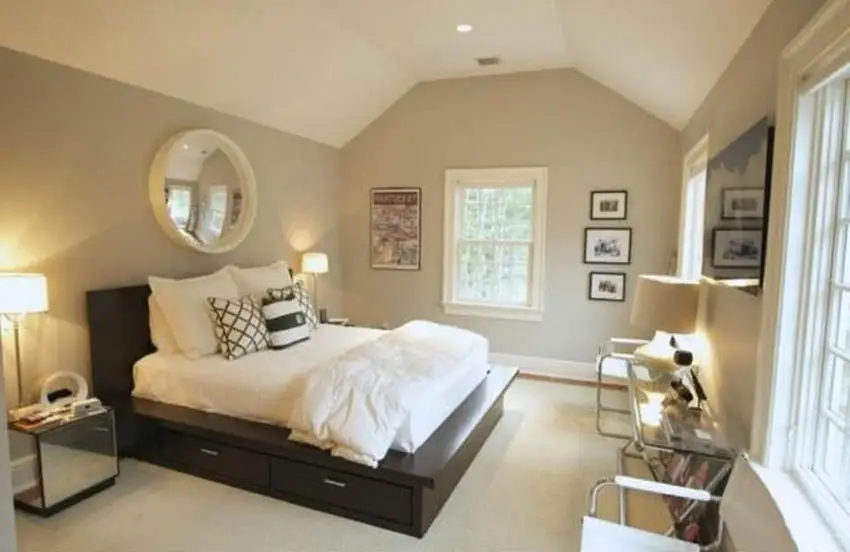 Because this tan bedroom also has a high mansard roofing, it is also not as challenging to space plan. However, it was able to follow some of our essential tips, making this bedroom a perfect place for rest and relaxation.
Small Attic Bedroom Ideas
Just because an attic is small doesn't mean it can't be used as a stylish bedroom space. Here are a few small attic bedroom design ideas.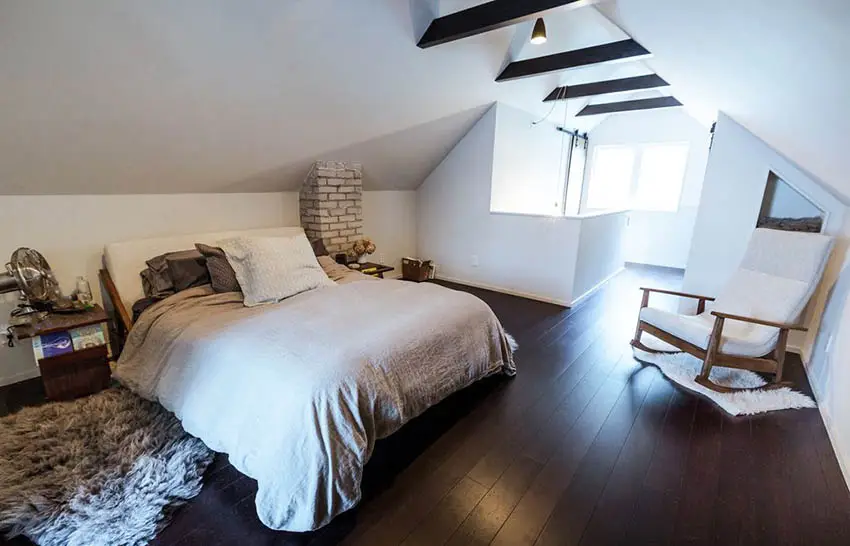 Even with a more challenging layout, this attic bedroom was still able to make the most out of the available space it has. Because it is a bit smaller and uses dark wooden flooring, walls and ceiling were painted in white to keep the bedroom from looking dark. Low furniture pieces were used to help keep the head away from the ceiling.
Attic Bedroom with Canopy Bed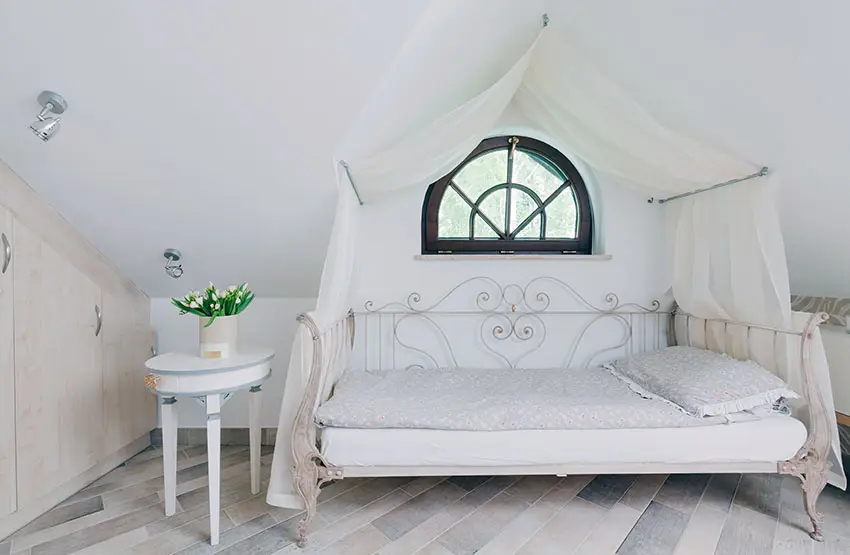 When viewed from this angle, you will also notice the built-in cabinets placed along the walls, as well as the diagonal layout of the faux wood tiles.
Attic Bedroom with Swinging Daybed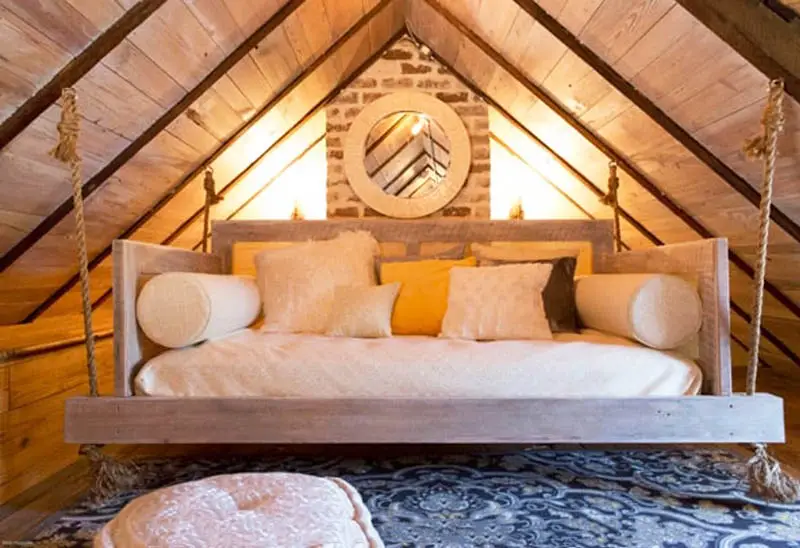 Image Attribution
Maintaining the unique rustic vibe of the ceiling panels, a hanging daybed was installed and attached on the attic ceiling, right behind the brick-clad column.
Small Attic Bedroom with Sloping Ceilings and Bookshelves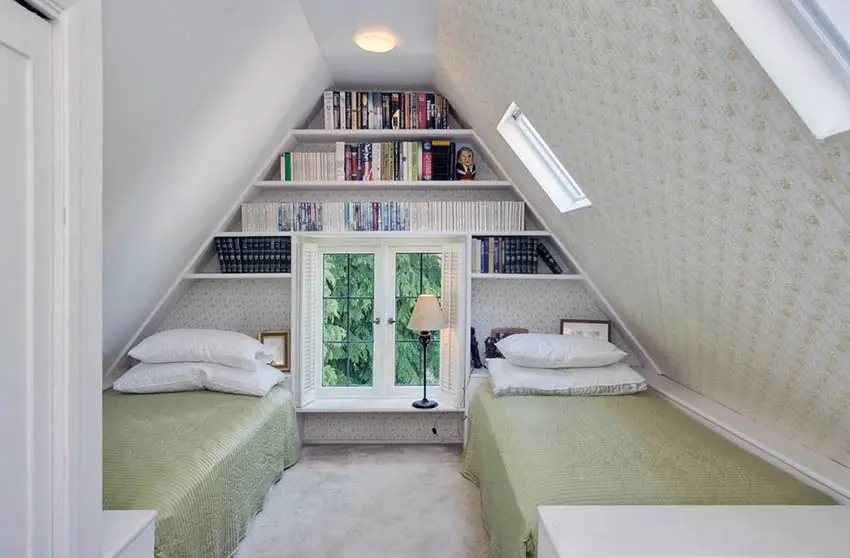 Since the space is very tight and narrow, the two single beds were built-in flush to the low wall, and a built-in bookshelves were installed around the dormer window to take advantage of the wall space. Light colors were used on the walls and floors to maintain a light and pleasant atmosphere.
Small Girls Attic Bedroom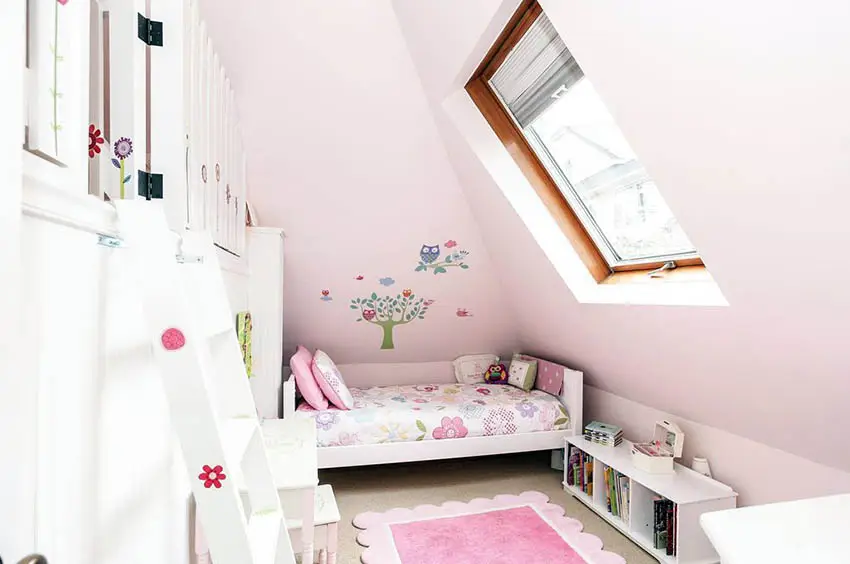 Attics, once properly ventilated and prepped for occupancy, is a great candidate for kid's bedrooms both for its novelty & ergonomics. Kids would not have trouble with headrooms as much as an adult would. Kid's furniture pieces fit perfectly in such settings. Try decorating the walls or ceilings with murals or temporary decal stickers to give it a more personalized feel.
Visit our page featuring bedroom layout ideas for more creative ways to a plan a design you'll love.