Here you will find out about chalk paint bedroom furniture including what it is, the pros and cons, best paint colors, and tips on how to use chalk paint on furniture.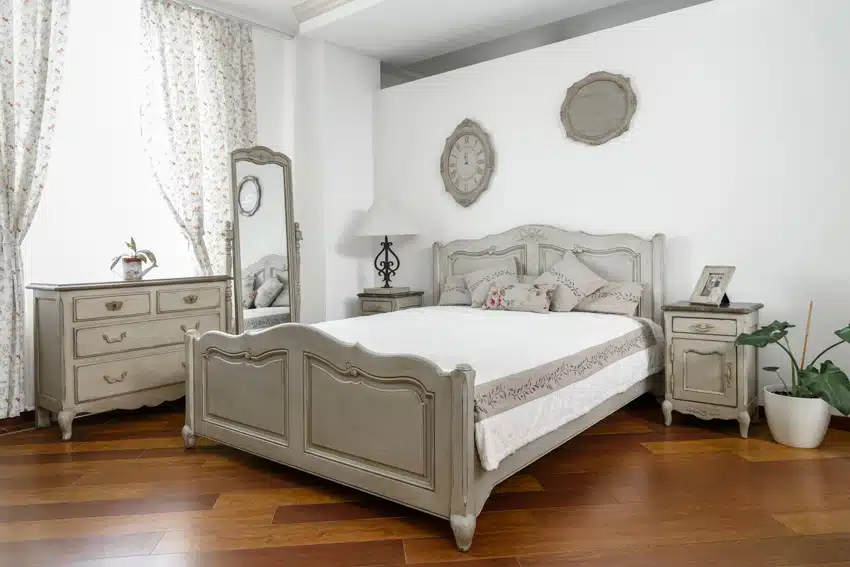 When scrolling through the DIY content on various social media platforms and websites, you will undoubtedly come across a plethora of projects that employ chalk paint to produce a gorgeous, distressed look on bedroom furniture.
If you are planning to paint your bedroom furniture for the very first time, chalk paint would be a terrific solution for instantly providing them with a fresh appearance. You do not even have to be a skilled painter to produce great results; all you need is your favorite paint color, a brush, and chalk paint to beautify your bedroom furniture.
Chalk paint is most commonly used to provide brand-new designs to old bedroom furniture or to make modern furniture look elegantly weathered. The beautiful thing about this type of paint is that there is no significant learning experience or any preparation work required. You can start by taking action right away.
What Is Chalk Painted Bedroom Furniture?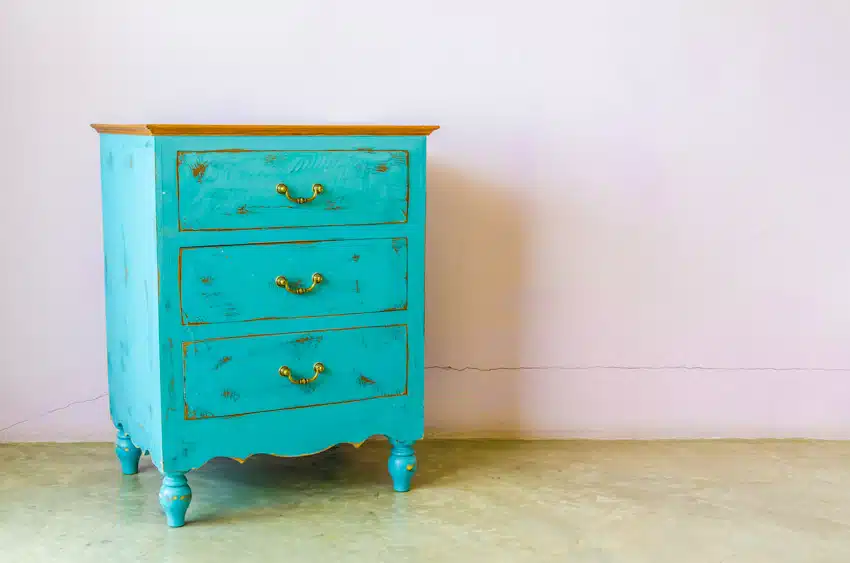 A chalk-painted piece of bedroom furniture, as the name indicates, uses chalk paint to update or distress the bedroom furniture. Chalk paint is a stylish bedroom furniture paint that is straightforward to use and dependable. Normally, it can be used to efficiently paint several bedroom furniture materials such as wood and metal.
Chalk-style paint has grown in popularity as a way to give bedroom furniture and other home furnishings a vintage, rustic, or shabby-chic look. The gentle, ultra-matte surface of chalk-style paint distinguishes it at first glance. The term used to describe this type of paint comes from the fact that it resembles a chalk-covered surface.
This type of paint is normally water-based, which means it can be cleaned with water rather than mineral solutions, and it is quite thicker and simpler to work with than traditional paint. Chalk paint is suitable for individuals who wish to add personality and classic appeal to their bedroom since bedroom furniture can effortlessly be imparted with a distressed look using this paint.
However, it is vital to remember that chalk paint is not the same thing as chalkboard paint, which changes any surface into a chalkboard where you can scribble with chalk and quickly erase it.
Nonetheless, chalk paint for bedroom furniture is more comparable to traditional wall paint, albeit with a distinct finish. You also have to remember that it is not ideal for someone to write or draw anything on a furniture surface that uses chalk paint. Moreover, this type of paint is ideal for both novice and experienced bedroom furniture painters.
It is a foolproof furniture paint that may be used to achieve any desired effect. From color-blocked, modern décor to wooden bedroom nightstands that need a makeover to genuinely aged rustic finishes appropriate for much-loved antiques, chalk paint can be your best friend for resolving all of your bedroom furniture challenges.
Chalk paint comes in a virtually infinite variety of colors. The developer of this type of paint, Annie Sloan, has produced a color palette influenced by 18th and 20th-century décor and architecture.
Chalk Paint On Bedroom Furniture Pros And Cons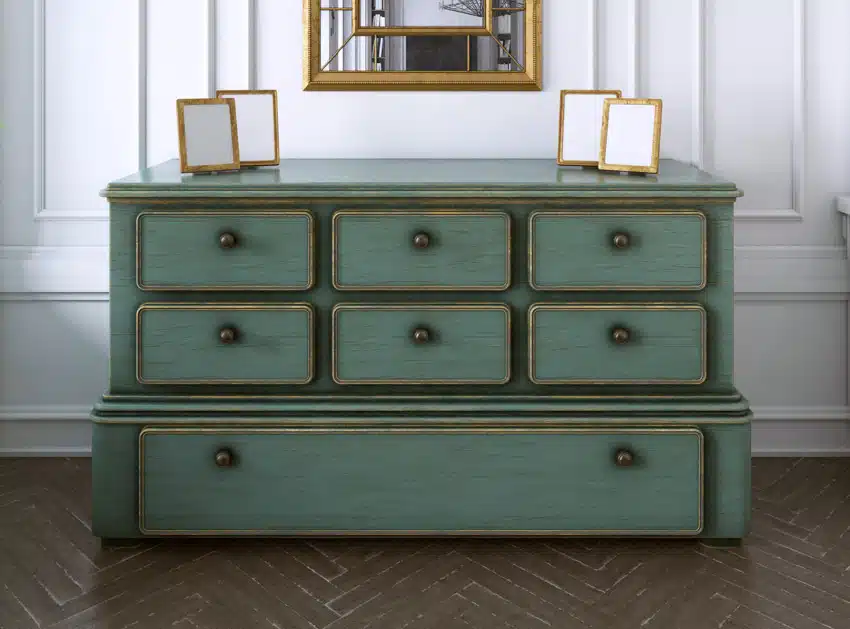 Here we share the advantages and disadvantages of bedroom furniture with chalkboard paint.
Pros Of Chalk Paint on Bedroom Furniture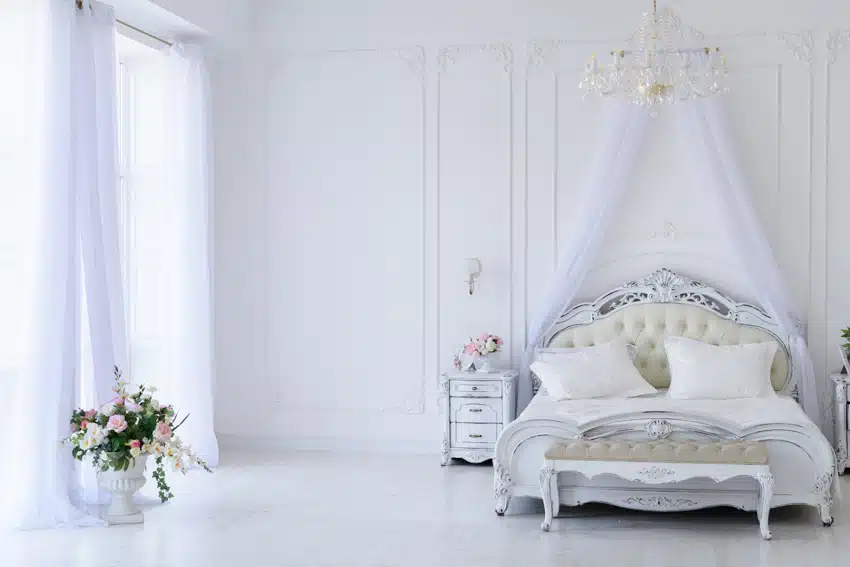 Easy Application; No Preparation Work Needed: Preparation is one of the most difficult aspects of any bedroom furniture painting process. Before you can start painting, you should initially sand, clean, and prime the furniture surfaces.
That is a significant amount of labor. The fact that no preparation is necessary is one of the numerous reasons why so many people adore chalk paint for painting bedroom furniture.
Usually, most types of bedroom furniture can be painted with chalk paint without needing to be primed or sanded if the surface is clean and dry. To give the chalk paint additional traction on excessively smooth surfaces, only minor sanding is required.
However, you will not need to bother about removing prior applications of paint before you start applying this kind of paint.
Gives a Flawless and Attractive Coverage To Your Bedroom Furniture: Because chalk paint is generally thicker than ordinary paint, you only need one or two applications to completely cover a piece of furniture.
A can of chalk paint also lasts far longer than other paints because it requires less to coat the same surface. It offers bedroom furniture a gently weathered look and is uncomplicated for distressing techniques. It is also an excellent choice for elaborate bedroom furniture designs.
It is Water-Based: Chalk paint, a water-based paint, is made specifically for decorating bedroom furniture, thus it has very little odor and little volatile organic compound (VOC) content. It is indeed highly forgiving whenever you commit a blunder.
Spills and drips are easily cleaned up, and if you accidentally put it somewhere you do not originally want, you can effortlessly wipe it away. Because of the way it is manufactured, it can be applied to almost any furniture surface and utilized to create a variety of ornamental effects.
It Provides Your Bedroom Furniture With a Long-Lasting and Durable Surface: After allowing chalk paint to set on top of your bedroom furniture, it produces an extremely durable and long-lasting finish. As the wax coating cures, it hardens and offers a scuff- and scratch-resistant quality.
Initial Drying Time is Very Quick: The rapid initial dry time is a clear advantage because it helps keep messes to a minimal level. Because the paint initially dries as you work, you will not have messy paint all over your hands as you proceed with painting to the next spot.
Cons Of Chalk Paint On Bedroom Furniture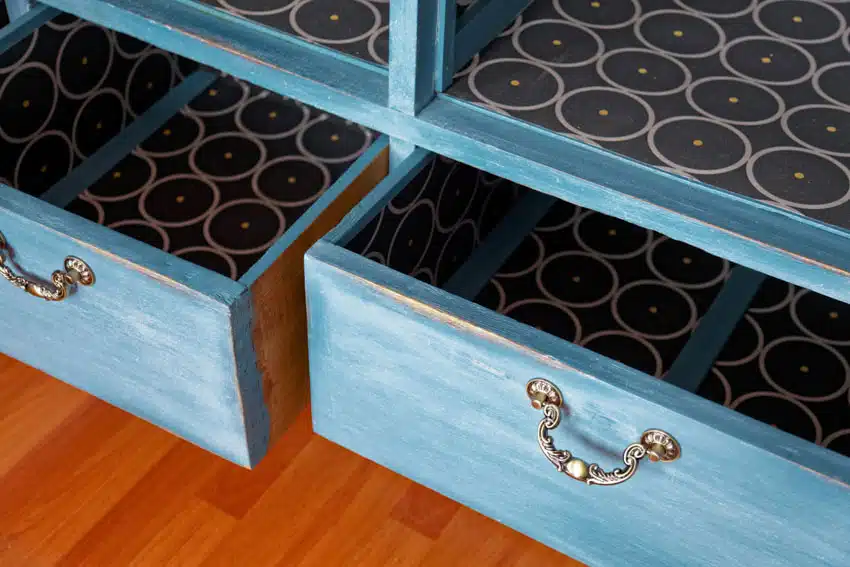 Might Add Extra Expenses to Your Bedroom Furniture Painting Project: Chalk paint is not only marginally more expensive than latex- or acrylic-based paint but also necessitates sealing and specialized equipment. A protective coating is required to provide the highly durable quality that chalk paint is known for.
The topcoat necessitates the application of a specialized wax brush, and since the paint is quite thick, a stiffer paintbrush is preferable. That implies you will need to spend more money on wax or sealant in addition to specialized types of paintbrushes.
Takes a Long Time to Dry Between Coats: Even though chalk paint appears to dry quickly, it really takes quite a while to dry between applications.
You must wait 24 hours between coats to guarantee excellent adherence and a beautiful finish. This indicates that getting a bedroom furniture piece to its perfect appearance can take days.
It Requires Waxing: Although chalk paint is renowned for its durability, the paint alone will not provide you with that incredibly long-lasting exterior layer.
Without a protective coating, chalk paint is readily scratched. Waxing is a two-step procedure in which you administer the wax using a brush and then clean and buff it to remove any residual wax.
Not Organic: While some types of chalk paint can be eco friendly, non-toxic and low VOC it is not considered organic. In addition some chalk paint brands do contain solvent based materials that may be harmful. Check the individual product label to ensure it meets your requirements.
Chalk Paint Colors For Bedroom Furniture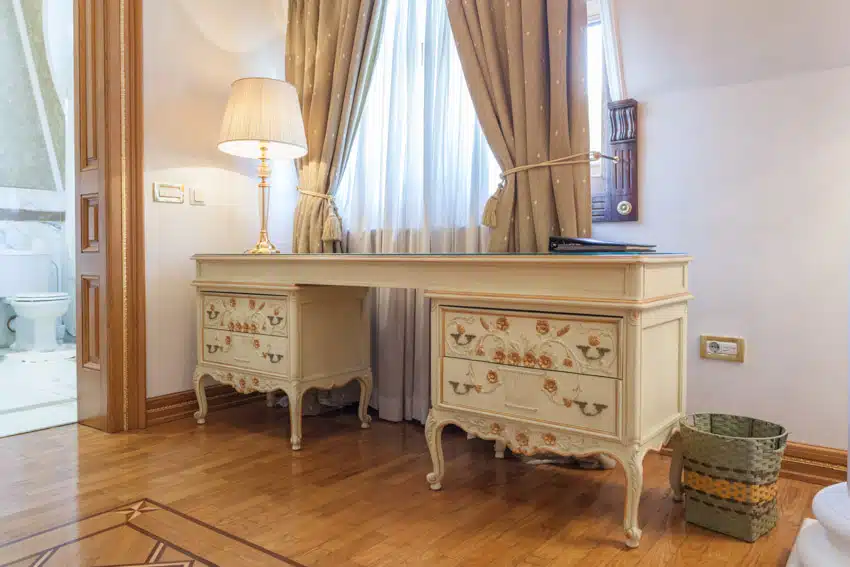 Here are some of the different chalk paint colors you can use for your bedroom furniture:
• Pure White: This pristine, pure white chalk paint color is ideal for modern bedroom designs, and it neutralizes bold bedroom furniture colors.
• Old White: The chalk and gesso color, old white, is a gentle off-white chalk paint shade that goes with any color of bedroom furniture. You may even use it to soften any of the other chalk paint shades to achieve the ideal color you want for your furniture.
• Gray: The Chicago gray chalk paint hue has a tint of blue and is sleek, refreshing, and sophisticated.
• Black: The Athenian Black chalk paint color is a real, profound black that you can apply to your bedroom furniture pieces. It is inspired by the opaque patterns and striking silhouetted figures created on Ancient Greek ceramic materials.
• Brown: The rich, warm brown seen in the rustic French countryside and also in mid-century modern architecture served as the inspiration for the chalk paint hue "Honfleur Brown." This dark brown goes well with bedroom furniture pieces in vivid colors like hot pink and lime green.
• Red: The Emperor's Silk is a vivid pure red chalk paint hue that is evocative of a jacket's silk interior. You can use it to add a splash of color to the interior of a bedroom closet or drawer.
• Light Pink: Antoinette is a delicate baby pink chalk paint hue inspired by 18th-century French decorative items and furnishings when the richest red piles of earth were blended with white to create a velvety pale pastel for walls. It is great for painting feminine-themed bedroom furniture.
• Hot Pink: Capri Pink, titled after the luxurious Italian island paradise, is influenced by the bold vibrant pinks that fill traditional palettes around the world. Capri Pink is a real hot pink with depth and vitality that is both provocative and enticing, accentuating your bedroom furniture.
• Dark Blue: Napoleonic blue is a dark blue chalk paint color fascinated by beautiful ultramarine and azure blue dyes. Those looking for stunning masculine bedroom ideas can use this color on the furniture.
• Pale Blue: Greek blue is a pale blue chalk paint blue captivated by the color found on antique doors, windows, as well as bedroom furniture that is typically worn and distressed.
• Green: The Antibes green chalk paint is a vivid emerald green that is occasionally pure but sometimes softened with white. In some countries, the color can also be encountered on rustic country-style bedroom furniture.
How To Use Chalk Paint On Bedroom Furniture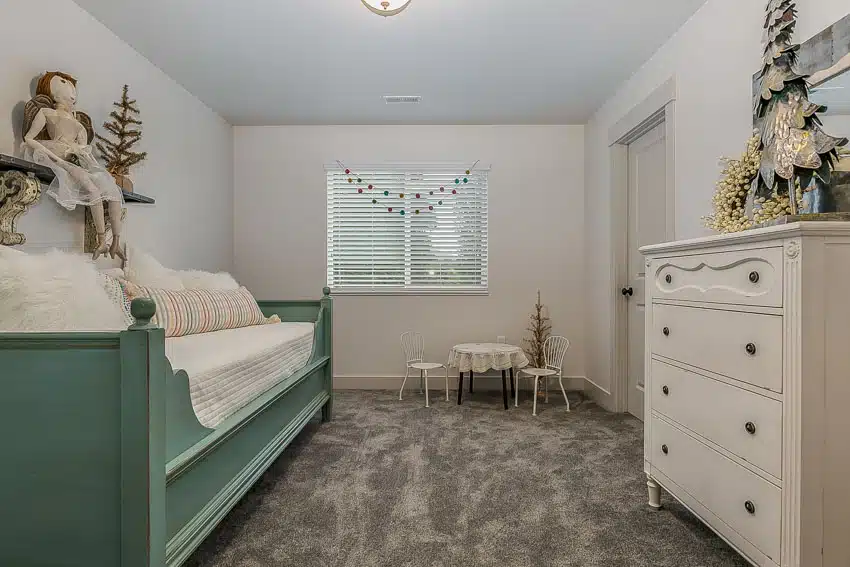 Painting Bedroom Furniture With Chalk Paint: Step-By-Step Instructions
• If practicable, start by removing any hardware such as latches or handles from your bedroom furniture.
• Use a damp towel to clean your bedroom furniture piece. When cleaning it, avoid using any harsh cleaning solutions.
• Start stirring your preferred chalk paint color in its can or container. You can use a stirring rod or whatever you have on hand.
• Immerse your paintbrush into the paint and directly apply it to the bedroom furniture. Gently glide the paintbrush in all directions and all over the furniture piece as you paint.
• Allow the first application to dry completely. This might require 1 to 3 hours depending on the weather conditions.
• When the first coat has dried, you can now apply the second coating to your bedroom furniture piece using the same approach.
• Allow the paint to dry completely.
• Administer the chalk paint wax in the exact way you would apply the chalk paint. Distribute it with a brush or a lint-free fabric in all directions. Working in portions, remove any leftovers with a lint-free rag. Be certain that all of the paintwork has been waxed.
Note: Keep in mind that you can use your different types of furniture styles in the bedroom as soon as the special chalk paint wax is touch-dry, and it can take approximately two weeks to attain its maximum hardness. Take special care with the furniture piece at this time frame.
Is It Better To Brush Or Roll Chalk Paint?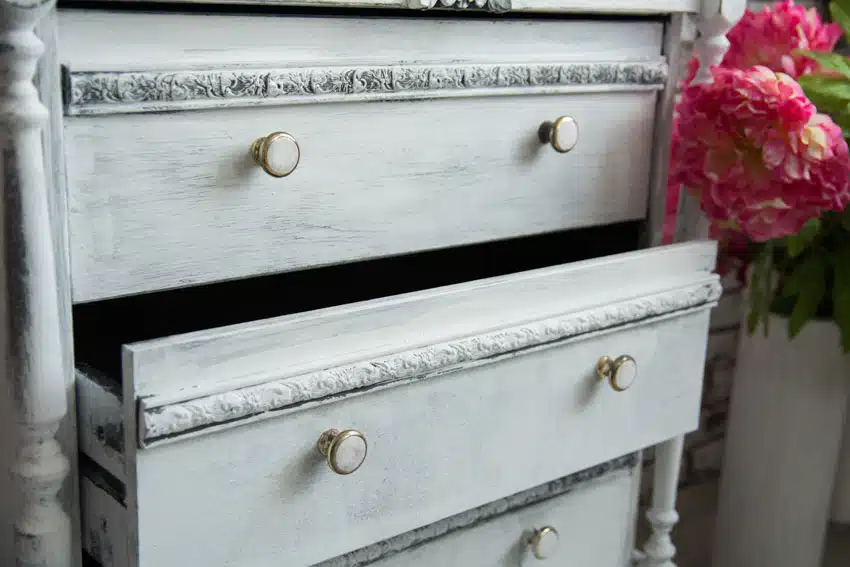 You can choose to apply chalk paint with a brush or a roller as it will ultimately depend on the size of the bedroom furniture piece you are painting. Your preferred applicator will determine how you apply the paint.
For instance, using a roller can help you easily paint a large bedroom furniture surface, while a paint brush can help you reach those areas that are hard to access using a roller.
When applying chalk paint with a brush, you should look for a smooth, even finish that also has natural, long, and flexible bristles.
Is It Better To Paint Furniture With Chalk Paint Or Regular Paint?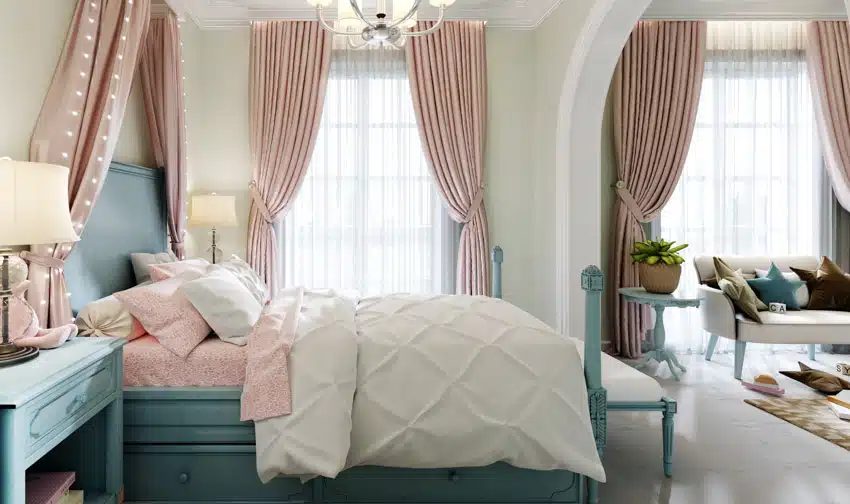 If you want to expedite your bedroom furniture painting process, then painting with chalk paint would be a better choice. As previously said, one of the primary benefits of chalk finish paint is that it does not necessitate extensive preparation work.
It is quite simple to put on, and it is very convenient. Aside from that, chalk paint has a thicker quality, thus drips are not quite as noticeable as with latex or other forms of paint. It applies smoothly even on already-painted bedroom furniture. Furthermore, chalk paint is water-based, which allows for quick cleanup using water, and it produces very minimal fumes.
Another alternative to chalk paint is milk paint. This type of paint is organic, biodegradable, odorless, fast drying and non-toxic which can make it a great choice. See our comparison of milk paint vs chalk paint here.
In terms of easier cleanup and maintenance after curing, regular paint like latex-based ones might sometimes have the edge against chalk paint. Chalk paint's matte finish, once cured, is typically more challenging to keep clean. Numerous latex-based paints have glossy finishes, and it is known that the glossier the finish, the easier it is to wipe down and maintain.
See more related content in our article about chalk paint kitchen cabinets on this page.