Here's our guide to man cave flooring ideas including most popular types for your interior design.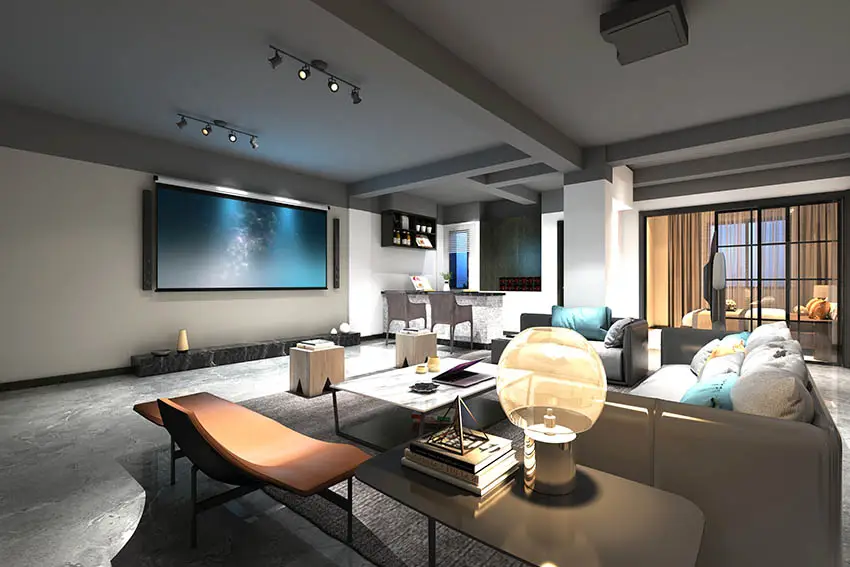 The term man cave may seem outdated, but man caves, like she sheds, are still the rave. A man cave provides a place to unwind in solitude, hang out with friends, watch sports, play video games, or work on a project.
Typically, when designing a man cave, the emphasis is on layout and décor. The flooring is often overlooked, and yet flooring can provide the finishing touch to round out the room.
It can be difficult deciding on what flooring to install in a man cave, and it helps to decide when planning the project, not after all the other elements are completed. Flooring options depend on the overall design and purpose, such as using flooring to augment the design, add comfort, reflect lighting, add accents, or create a rustic touch.
Choosing the flooring can actually be fun and creative, matching it to the room's elements and theme. Most man caves have a particular topic that drives the décor, and the flooring is a big part of tying it all together.
Read through this informative guide for man cave flooring ideas. Whether you're looking to make your space luxurious, woodsy, sports-themed, or a personal expression of your favorite hobbies, man cave flooring offers numerous options.
Luxury Vinyl Flooring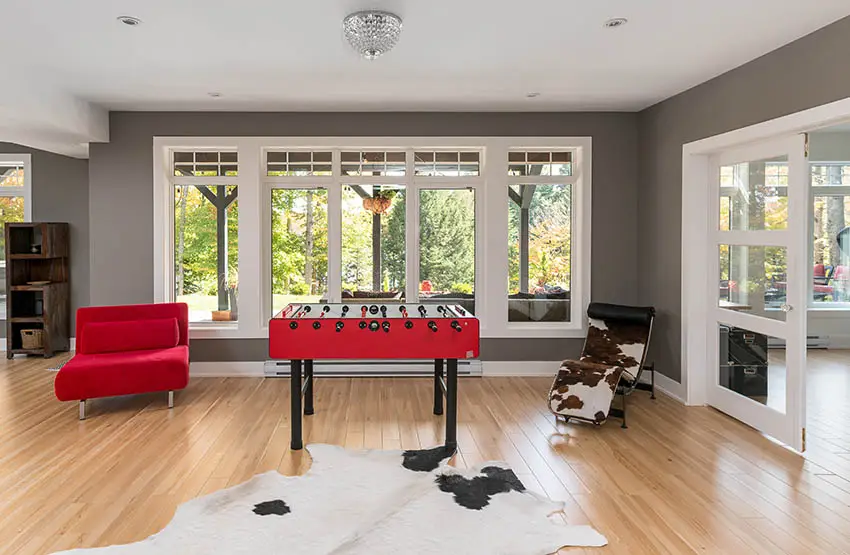 Luxury vinyl comes as planks or tiles and makes a great option when durable flooring is needed. Luxury vinyl is long-lasting and resilient, with some brands even being waterproof.
For a man cave with lots of activities, projects, or constant wear and tear, luxury vinyl holds up and resists tears or damage. The surface is easy to clean and works great for a man cave located in a basement that may be susceptible to water leakage. Most luxury vinyl brands also include attached padding to combat cold basement floors.
Installing luxury vinyl in a man cave makes it simple to match almost any style and design. Luxury vinyl flooring comes in many colors and finishes.
Vinyl planks resembling hardwood floor planks are offered in many choices to look just like popular wood flooring. The thick vinyl planks are hard to distinguish from natural wood and resist mold with its water-tight surface. Read more about SPC flooring which is a type of vinyl flooring that replicates the look of natural wood.
The same is true for tiles made to look like many types of stone and expensive marble floorings such as limestone, dolomite, and quartz. Clean up is as easy as a quick vacuum or sweeping and a damp mop when needed.
Laminate Flooring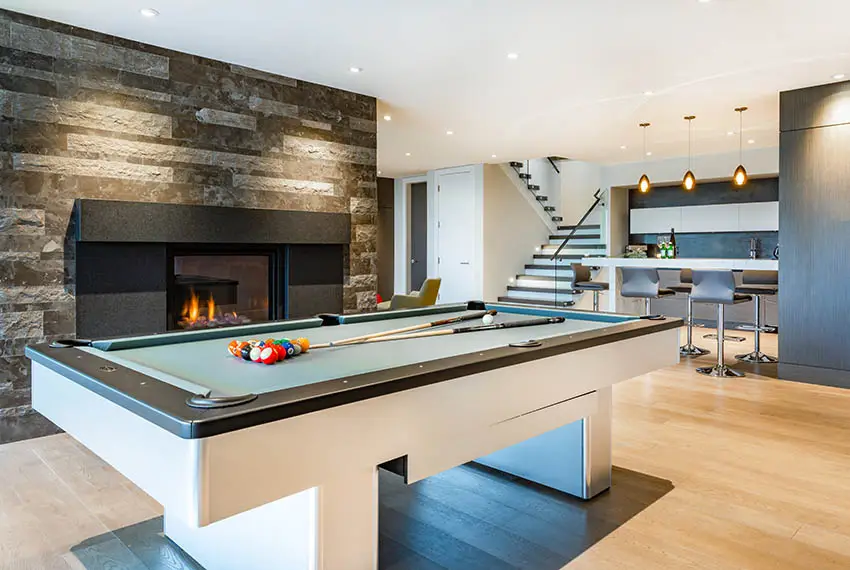 Another durable choice for flooring in a man cave is laminate flooring. Laminate is affordable and, like luxury vinyl, comes in choices that resemble expensive natural wood and stone options. Laminate is considered a floating floor, installed over an existing foundation.
A DIY homeowner can install laminate easily, but it's recommended to hire a professional installer to avoid any problems later. Laminate also provides a waterproof surface, and many brands offer padding for warmth and comfort.
We've put together a comparison of laminate vs vinyl flooring on this page to help you decide between these two popular options.
Man Cave Carpet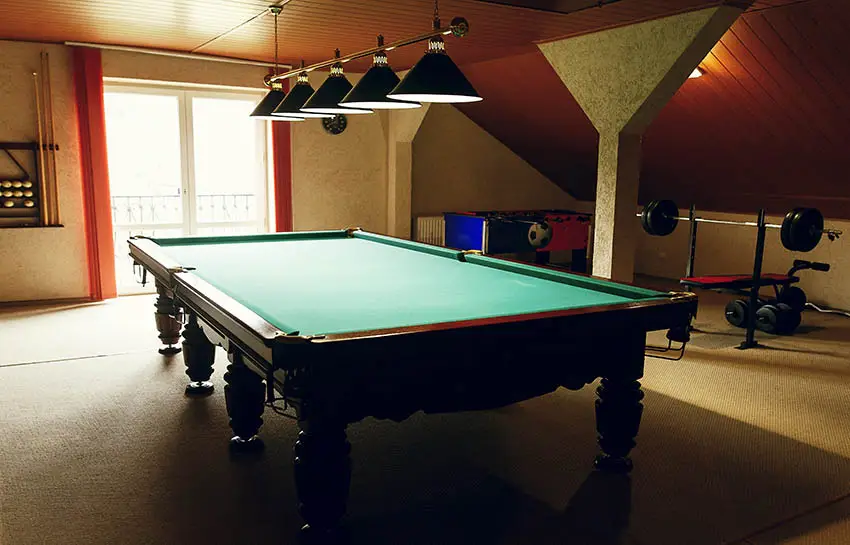 Carpeting for a man cave includes quite a few options to enhance the theme and look of the room. A favorite carpeting option is to use carpet tiles.
Carpet tiles typically come in 18″ x 18″ squares. In addition to solid colors or patterns, carpet tiles come premade with sports team logos for a man cave made for a sports fan. These carpet tiles include alternating solid color tiles to create an attractive and sports-centered visual effect.
Examples of other carpet tile patterns include geometric patterns, themed patterns such as country living or beach life and carpet tiles with various heights to create a 3D look.
Carpet tiles come with attached padding and double-sided adhesive strips making them easy to attach to concrete floors and other flat subfloor materials. They are also long-lasting and made to be stain-resistant. See different types of carpet here.
Rubber Flooring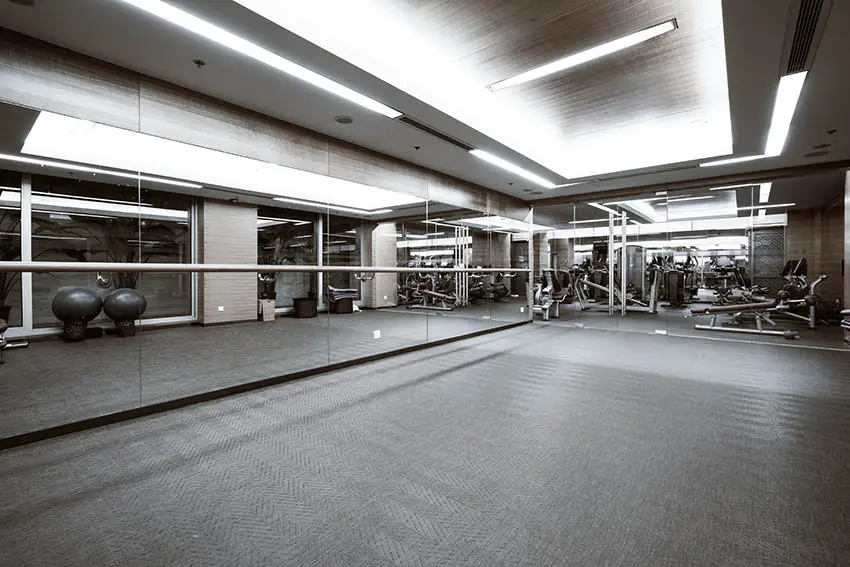 Rubber flooring is made from composite rubber and comes as a thick sheet, easy to roll out over a concrete or tile floor. It also comes in tiles arranged to cover a custom surface area.
Rubber flooring for a man cave creates a surface that can withstand heavy weights falling, such as tools or weight lifting equipment. It makes an excellent choice for a home gym or garage with its shock-absorbing qualities and easy clean-up.
Because rubber flooring is not installed or attached to the surface underneath, it's easy to replace should spills with materials such as oil and grease occur.
Interlocking Floor Tiles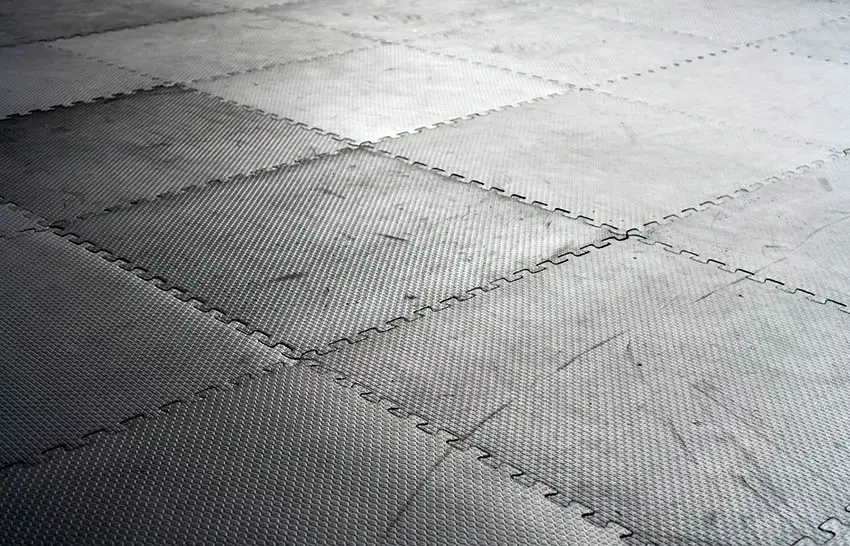 Interlocking floor tiles work the same as the peel and stick carpet tiles but are made with vinyl or rubber in addition to carpet.
Individual tiles allow a man cave floor to be put together with custom designs and patterns to match the deco and room's theme. A man cave with a 50s diner theme looks great with black and white interlocking floor tiles.
Interlocking wood tiles have jigsaw-type connections to create a seamless floor. They create a classy look for a man cave office or a man cave meant to be a personal retreat area. Man caves with Interlocking wood tiles work well for a library or study.
Hardwood Flooring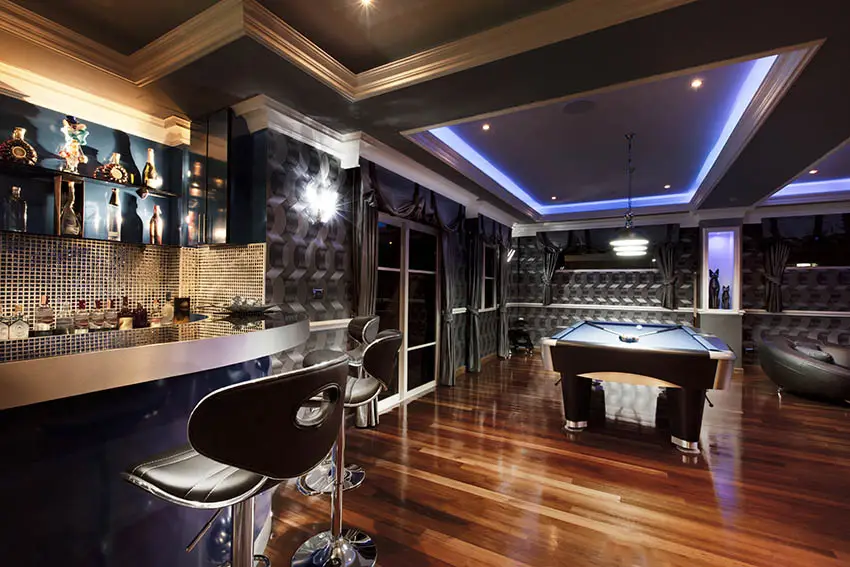 If a man cave needs to have a classic style, hardwood flooring is the perfect option. Hardwood flooring is timeless and withstands foot traffic and daily use.
Some hardwood flooring companies include flooring with water-resistant finishes for those spills bound to happen when friends visit the man cave. For a basement, engineered hardwood flooring is a must or use vinyl made to look like wood.
Stained Concrete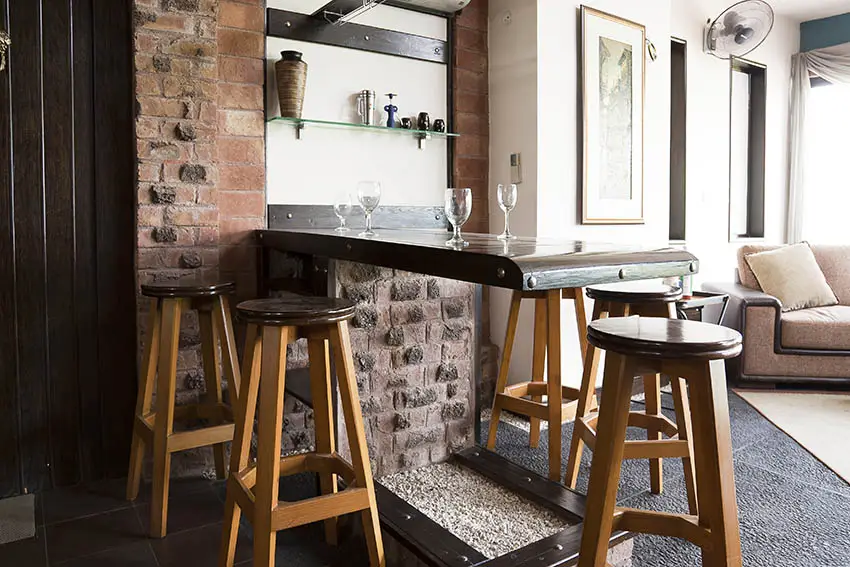 Many man caves are delegated to a garage, basement or outdoor shed, and these areas typically have dull concrete floors. Concrete may work in some instances, but staining concrete makes an easy and inexpensive option to liven up the flooring.
Concrete stains come in various colors, allowing the floors to match the room's theme or design. It's essential to use a high-quality stain made for concrete and apply it evenly unless you want to add an artistic touch.
Once the concrete floor is completely stained, it will look like a new floor at a fraction of the cost. See more types of concrete floor finishes on this page.
Epoxy Floors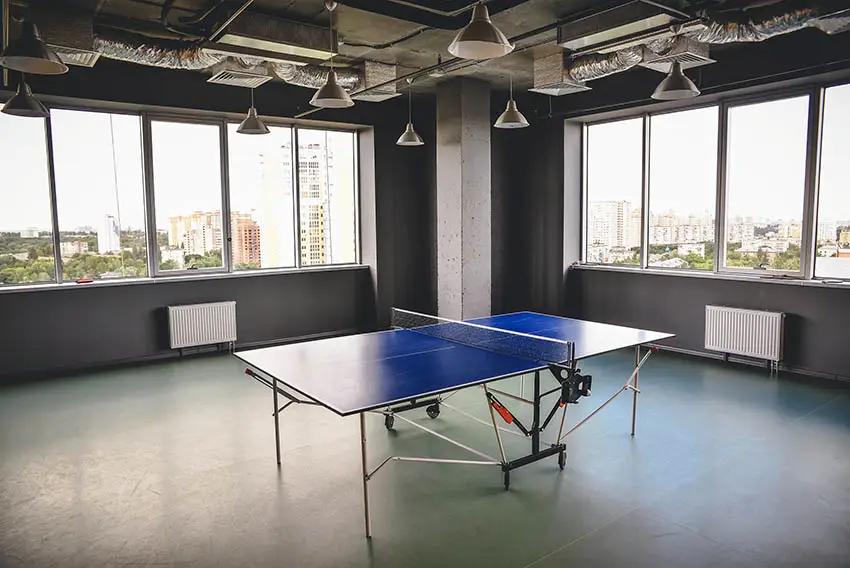 Epoxy floors are created with a special coating applied over a level, prepared surface free of cracks or breaks in the foundation. It's a must for man caves meant to entertain often with chances of frequent spills, including alcoholic drinks, wine, beer and food.
The process of applying epoxy is not an easy task. When the epoxy is prepared, and then hardener added, it begins a race against the clock.
Epoxy dries in two hours making it difficult to finish an entire room in one application. However, the benefits of this damage-resistant and sleek flooring make it worth the extra work.
Disadvantages of epoxy flooring include it being difficult to remove, it creates a cold surface for bare feet, and moisture trapped under the surface of epoxy flooring causes severe damage.
Game Room Flooring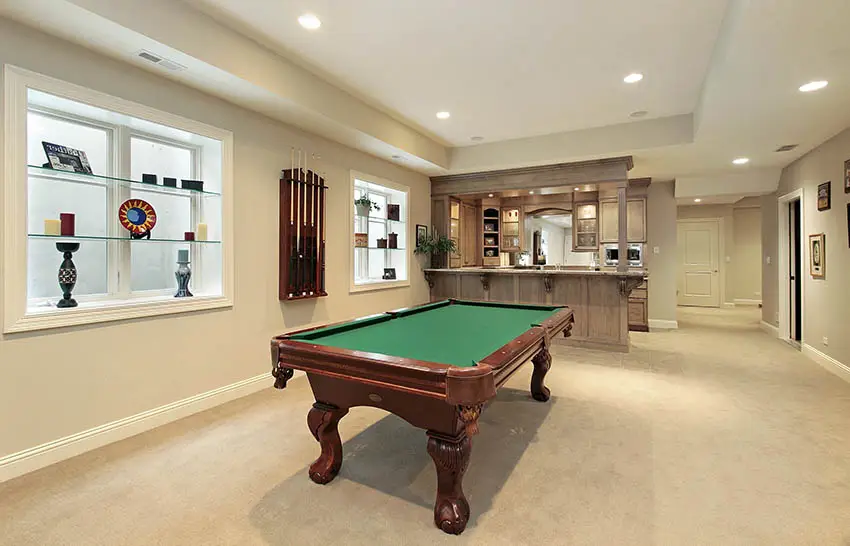 Back in the day, the coolest friends had game rooms complete with a pool table, foosball table, a VCR including plenty of movies and a wet bar. The concept still makes for the best kind of friends today, and a man cave doubling as a gaming room makes for a favorite hangout.
Game room flooring should be conducive to gaming with characteristics such as being resistant to stains, comfortable on bare feet, having a smooth surface to move around a pool table or foosball table, and being able to handle rough use.
Carpeting is welcoming and comfortable for gamers, making it an excellent cushion for sitting on the floor. Carpeting for a game room needs to be durable and stain-resistant.
Choosing carpeting such as Berber with mixed colors helps hide permanent stains or spills. Berber is woven with thick, heavy yarn in various sized tufts known as loops. A Berber carpet typically has a lighter base color with darker colors and shades mixed in, making it easier to hide dirt.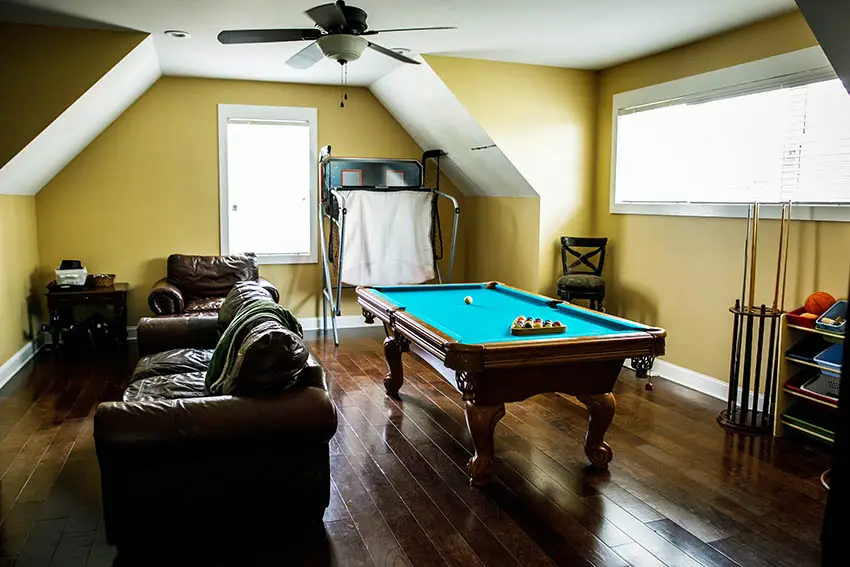 Hardwood flooring is an option for a gaming room but often works well in a space meant for more distinguished gaming such as chess and cribbage.
Hardwood is a classic choice, and even though it's long-lasting and durable, it may not be as comfortable as carpeting. For a less-expensive alternative to hardwood flooring, luxury vinyl provides a low-maintenance option with the look of natural wood.
While carpeting works for a casual, well-used game room and hardwood lends itself to a more classic look, it helps to determine what the game room's use involves. If a game room is a place for children to play and keep their toys, Berber carpeting is a softer alternative to vinyl or laminates.
If teenagers will use the game room for video games, eating, and inviting friends over, an outdoor carpet provides easy clean-up, durability, and is mold and mildew resistant.
For a more adult game room with a pool table, bar, large screen TV and comfortable furniture for visiting and watching the big game, laminate flooring handles a lot of foot traffic and cleans up easily.
Vinyl options also make a good option for a busy game room, including wood-designed planks or tiles made to resemble stone. Laminate flooring also withstands spills and heavy use for many years of game room enjoyment.
What's your favorite man cave flooring ideas? Let us know below. For more related designs visit our page about small man cave ideas here.