Here we share our black doors with white trim ideas including the pros and cons, different front door designs, suggested paint combinations, and best type to use.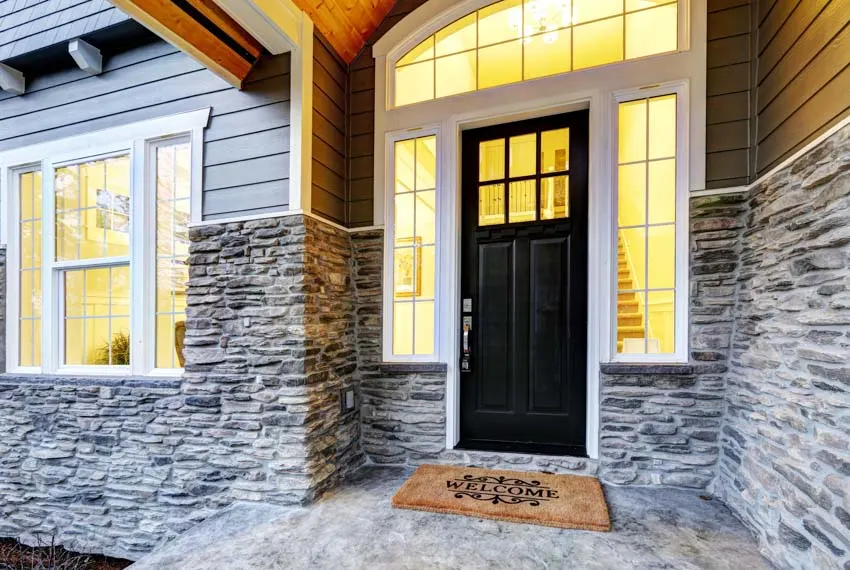 Black doors that are paired with white trim can create a look that's both timeless and stylish. But it's not all that easy to pair just any white trim color with any black door. There are certain variables to consider.
Still, when paired right, a light trim surrounding a dark black door can be very dramatic. It creates a striking visual worth checking out if you're after a highly attractive-looking doorway.
If your goal is to create drama, nothing gets the job done as well as contrasting colors. And the contrast between black-and-white is one of the most dramatic out there.
This is why black doors with white trim are so popular among homeowners. In this article, we're going to explore some great color combinations (yes, there can be quite a lot) that will allow you to nail down this inviting color combination.
Black Door With White Trim Designs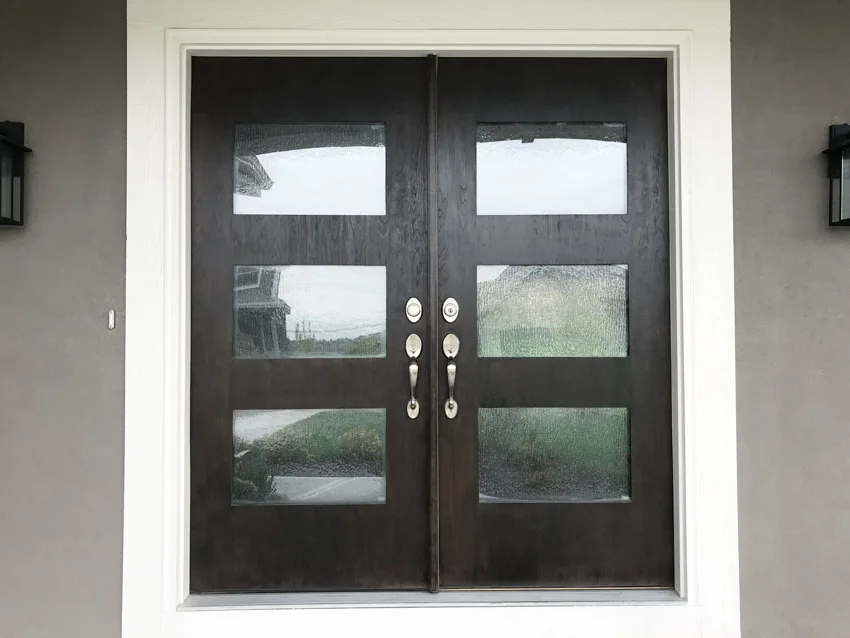 A black door with a white trim design isn't as cut and dry as it sounds. In the decorating world, black-and-white can come in various shades or tones. It almost always isn't the exact shades in their purest forms.
There will always be some type of variation one way or the other. This is what makes the concept difficult to apply in the real world. Understanding color tones and which ones work well with another can be technical for some homeowners.
Understanding the factors that may affect these color tones will be the best way for you to ultimately be able to choose the perfect colors that will suit your needs at the end of the day.
Light reflectance value: LRV or light reflectance value is one of the most important things to understand about color. This numerical range will stand for the amount of usable or actual visible light reflecting from a painted surface when a light source is aimed at it.
The truest black color has an LRV of 0 because it does not reflect any type of light at all. On the other hand, the truest white color has an LRV of 100 because it reflects 100% of the light right back.
The black and white paints created by paint companies are, at some point, nuanced because they are almost always paired with small amounts of other colors. The more you understand the LRV of a certain color, the easier it will be for you to find what you want.
So if you would like to get a color that is closer to true black, you just need to look for a type of paint that has an LRV as close to 0 as possible. The same can be said for true white.
If you want something highly reflective, try to go for the highest LRV range that you can get your hands on to achieve the results or the effects that you want.
The proper sheen: Another measurement of how much light bounces off of a painted surface is the sheen of the paint. It all boils down to the composition of the paint. Paints that have a higher percentage of enamel in the mixture tend to have a higher sheen.
What this ultimately means for the finished painted surface is that not only are they more durable, but they are also easier to clean. You need to make sure that you choose the right sheen of paint for your painted door as well as for its trim.
Gloss: Paints with a gloss finish reflect the most amount of light and have the highest sheen. Gloss paints are commonly used on woodwork elements such as cabinets, doors, and certain types of furniture styles. People usually favor gloss paints for doors because of the added durability they provide.
This also means that the surface can be easily wiped down without any risk of getting the finish destroyed. The downside to gloss paints, though, is that they easily show any imperfections, such as trails of dust, fingerprints, and so on.
Semi-gloss: This type of sheen also reflects quite a lot of light back, but not as much as the gloss finish. It's best for trim work because although it doesn't look as formal or as fancy as high gloss paint, it's still pretty easy to wipe down, and it still has a lot of added durability to it.
Satin: This type of finish has just a smidge of sheen to it. What's great about satin finishes is that they hide flaws quite well while, at the same time, they still have a certain degree of durability. If you have imperfections on the doors, a satin finish might be a good type of paint to go for.
Matte or flat: This is the best type of paint finish for covering a lot of imperfections, as they can hide it so well. The downside to this, though is that this type of paint finish isn't all that durable.
If you paint it on areas that tend to go through a lot of daily wear and tear, a flat or matte paint might not be a good idea. Flat paint isn't all that common on doors and trims because of this very reason.
Black Front Door With White Trim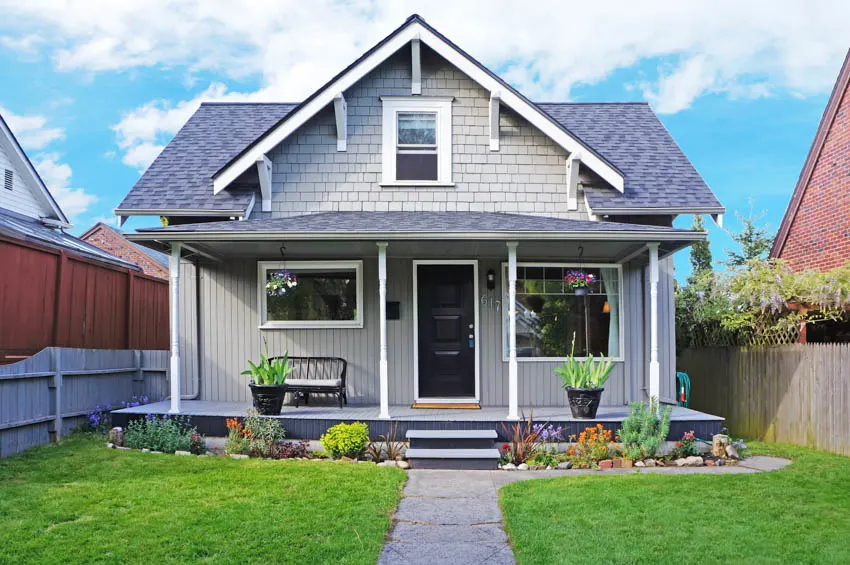 Black front doors with white trim can look great as standalone, or they can be great when it comes to complementing the rest of your exterior doors as well.
When you hit the right hue for your front door color, it can make your entryway look very chic and sophisticated.
Try to go with a deep black so that you can bring in some added drama. Either way, you just can't go wrong, as it's one of the most classic colors out there.
Black Interior Doors With White Trim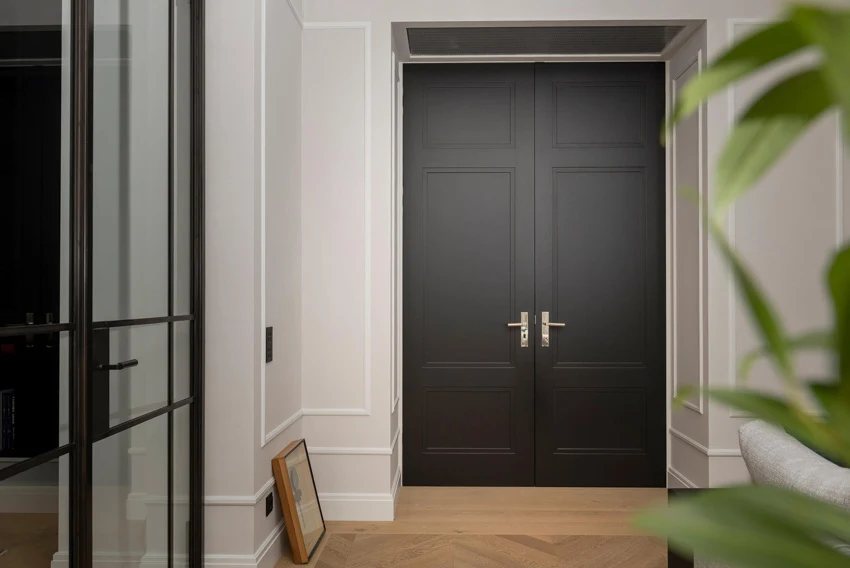 Painting your interior doors black and pairing it with some white trim is a classic look. What this does is that it accents the rest of the color palette and design elements in the room that you're putting it in.
If you pair this black door with some distinctive brass hardware, then what you get to create is a classic yet highly sophisticated look for your interiors. If you want to pull off this type of look, the recommendation is to go with the deepest black and the truest white you can get your hands on. The extreme contrast will make your interior doors stand out.
The white trim around your dark interior doors highlights the silhouette of the doors and makes them stand out. It also means that you will have less trouble when it comes to blending the trim out with the rest of the colors in your home.
White is a color that can go with anything, after all. Going for high-gloss paints for your interior doors can make them look amazing. It also packs on to the door's added durability.
Black Door With White Trim And Gray Siding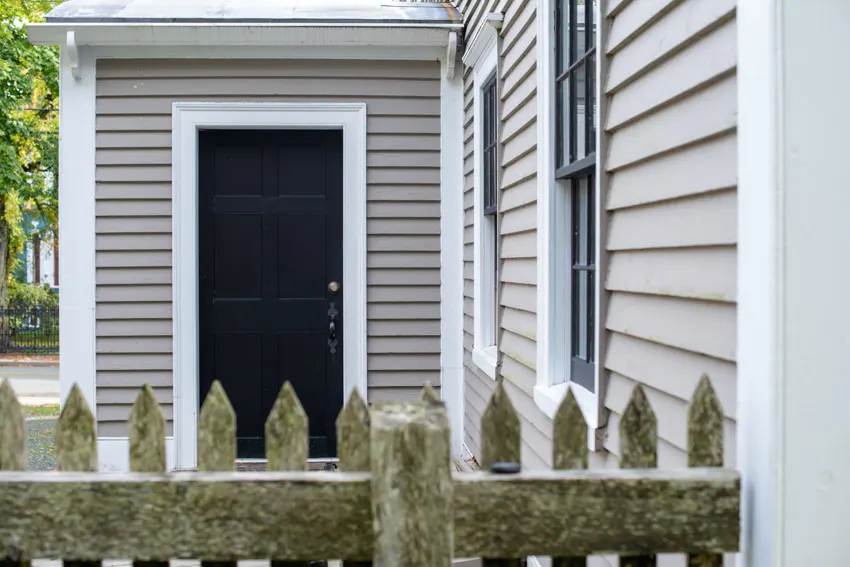 Black doors with white trim and gray exterior siding can create a rather seamless combination that's restful and nice on the eyes. If you like an attractive-looking door but aren't all that fond of really making it overly dramatic or a standout, you can pair it alongside some gray siding, which can sort of soften the contrast quite a bit.
This is great for interior areas where you don't want a lot of starkness introduced, such as bedrooms, dens, family rooms, or other types of room in a house that are meant for rest.
Doors And Trim Black and White Paint Combinations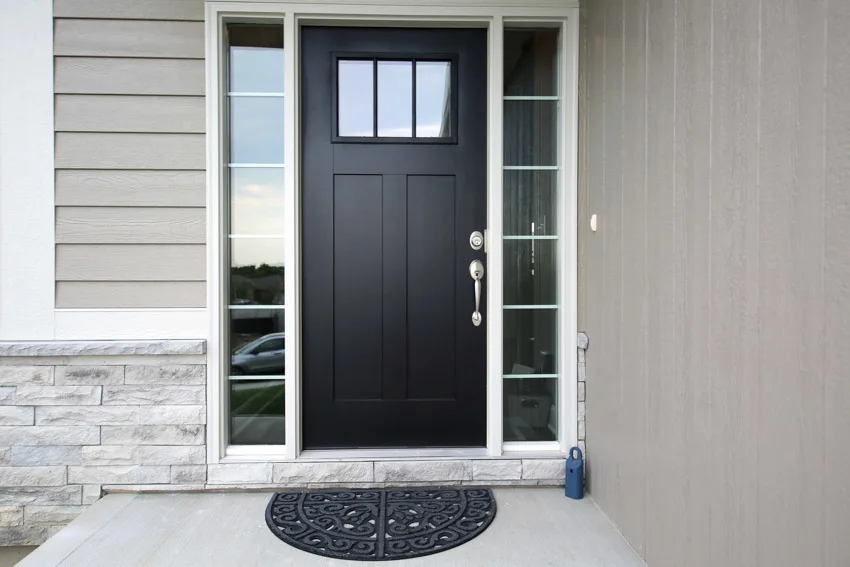 Here is a list of professionally produced combinations for your black door and white trim that will surely be worth looking at.
We've included brand names and paint codes for easier reference.
White Dove OC-17 By Benjamin Moore And Onyx 2133-10 by Benjamin Moore

Benjamin Moore White Dove (OC 17) Benjamin Moore Onyx (2133-10)
White Dove is a universal white paint and something that you can never go wrong with. It's a non-stark white that has touches of cream. It also has hints of gray , so although it has warm undertones, it's very subtle. It pairs well with Benjamin Moore's Onyx, one of its truly warm black colors. It's a rich shade with hints of warmth.
This combination makes your door façade look and feel like a cozy hug and, although still sophisticated, can feel very welcoming. White Dove has an LRV of 85 while Onyx has an LRV of 4.99.
Pure White 7005 By Sherwin Williams And Black Magic SW6991 By Sherwin Williams Sherwin Williams Pure White (7005)

Sherwin Williams Black Magic (SW6991)
Pure White is a clean and crisp white paint without any stark or harsh undertones. It has hints of gray in its undertones.
This paint color has all the crispness of a white trim without being too bright and cold. It pairs perfectly well with Black Magic, which is a warm paint color but has a true black undertone.
This shade is warm but at the same time has a dark neutral color, a very rare trait for black paints in general and a true gem to incorporate in your doors and trim. Pure White has an LRV of 85 while Black Magic has an LRV of 3.
Simply White OC-117 By Benjamin Moore And Black Beauty 2128-10 By Benjamin Moore

Benjamin Moore Simply White (OC-117)

Benjamin Moore Black Beauty (2128-10)
Simply White isn't a true white color. But when set in interiors that receive lots of natural white, it can look quite crisp and bright. It's great for doors positioned in sunnier or cheerier areas in the home.
It pairs very well with Black Beauty which is a rich and dark shade that has hints of warmth in it. Depending on the lighting, it will have instances wherein it may match with a decor piece, such as a a rich charcoal gray color throw.
If you want something a bit more subdued and laid back, such as for areas in the home where you don't want any stark or sharp colors to be in, this can be the perfect color combination. Simply White has an LRV of 91.7 while Black Beauty has an LRV of 3.26.
Farrow & Ball Railings #31 And Farrow & Ball Blackened #2011 Farrow & Ball Railings #31 Farrow & Ball Blackened #2011
If what you're in the market for is a somewhat dark gray or soft black shade paired with a creamier white one, then this combination might be the perfect one you're looking for. Railings is a soft paint shade that has cool blue undertones to it. It has an LRV of 6.24.
Blackened, on the other hand, is a cool white shade that has hints of gray in its undertones. It looks very similar to bone white or the type of white that has been aged. It has an LRV of 72.
Benjamin Moore Icicle 2142-70 And Benjamin Moore Soot 2129-20

Benjamin Moore Icicle (2142-70)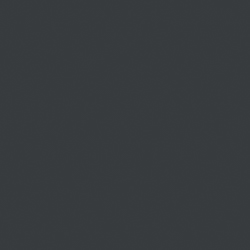 Benjamin Moore Soot (2129-20)
This paint combination pairs a warm creamy white shade with a mild black hue. It's perfect if the color combination you're after is something that has a rather aged look. Soot is a moody black color that has blue undertones to it.
It is one of the darkest blacks on the list and has a low LRV of 4. Icicle, on the other hand, is a soft white color that looks a bit aged because of its greenish-grayish undertones. It is still highly reflective with an LRV of 84.
If, at any point in time, you are still undecided or unsure about what good black-and-white combinations you can come up with, you can always stick to the classic tried and true rules. The easiest way to do this would be for you to pair warm with warm and cool with cool.
Warm black and white paints have beige, pink, or yellow undertones. Cool black and white paints, on the other hand, have undertones that are either blue or purple. If you're having trouble identifying the undertones, lay a paint chip sample on a bright white piece of paper.
This makes it easier for you to identify the undertone now that it has been laid against a stark white paper background. You might also want to go with pairings recommended by paint brands. Each paint shade usually has a complementing hue for it.
What Is The Best Black Paint For Interior Doors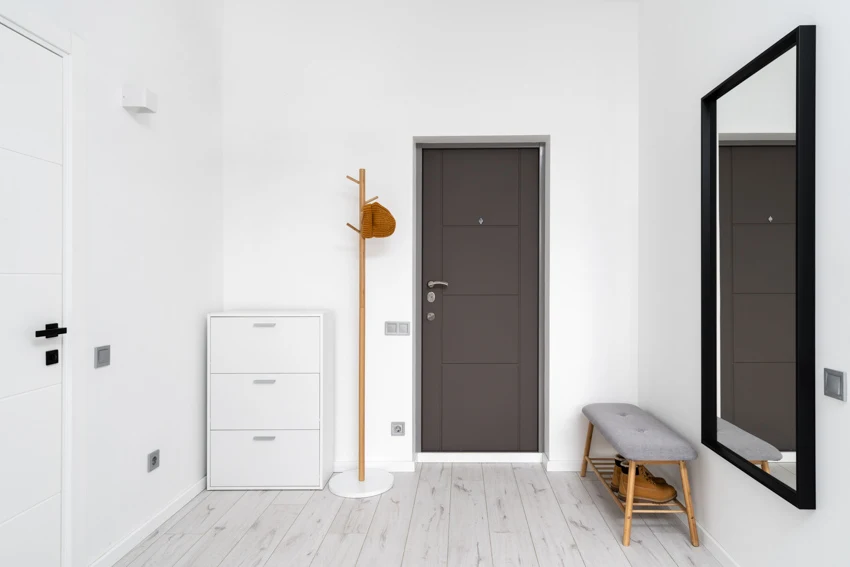 Painting your interior doors black is fairly easy. It can even be a project that you can opt to do yourself. The hardest part is deciding- what paint will go best for your interior black doors. The good news is that there are a few top paint options, so it should be easy to whittle it down.
Choosing the best black paint for your interiors will bank on a few things. It should complement the rest of the colors in your interiors. It has to look right in the kind of lighting that you have. You also need to decide right off the bat if you're going for a sharp contrast or a soft one.
We've listed the top best black paints for most types of interior doors below: Sherwin Williams Iron Ore (SW 7069): Iron Ore is one of the most versatile black paints on the market. It's a deep charcoal gray color but in most lighting scenarios, it tends to look very dark.
It's a neutral type of black which means it doesn't have any strong undertones peeking through it. It can work with all kinds of spaces because of this. It isn't suitable to put this in a very stark bright room through because it will tend to look a bit dark gray.

Benjamin Moore Wrought Iron (2124-10): This is a softer type of paint hue. It doesn't look too stark against gray or white walls. It's also fairly neutral, but it has blue tinges in its undertones.

Benjamin Moore Black (2132-10): If you want a true black, this is it. This is a great paint color for your interior doors, especially if you have modern spaces, and it pairs well with crisp whites. It's a classic aesthetic but its true nature tends to bring in a contemporary vibe or appeal to it. It's very dark with an LRV of 4.5. Farrow & Ball Pitch Black (264): This is another true black option. This color has a lot of depth to it and has a suede-like finish that tends to look and feel very luxe. If you are looking for dark-blackpaint that doesn't have any noticeable undertones, this is the color to beat.
When Painting Doors Black, Do You Paint Both Sides?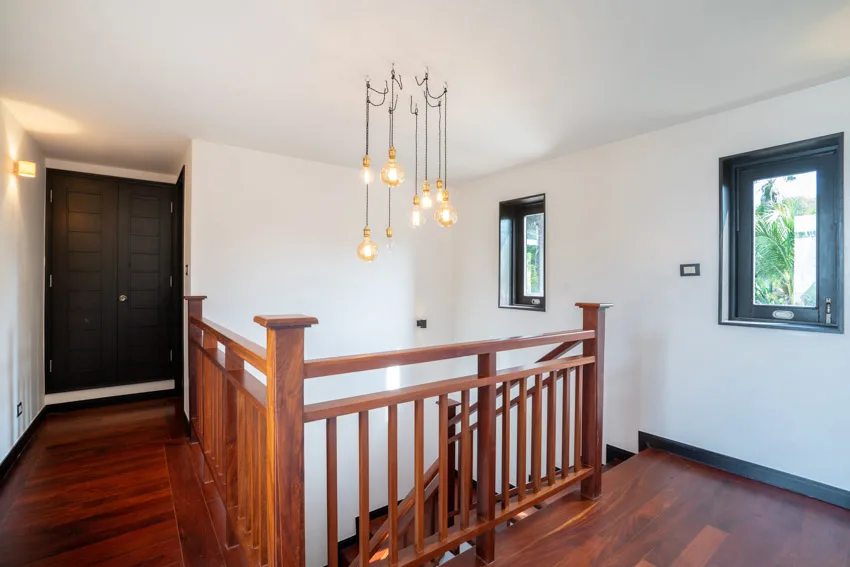 This is a common question; the short answer is a resounding no. You do not have to feel obliged to paint both sides black , especially if it doesn't happen to work for the aesthetic that you're going for in the other room.
The beauty of painting interior doors is that you can match whichever door side with the color scheme or palette of the room it faces. It can be whatever color and design you want it to be.
It's also important to note that if you decide to paint only one side, you need to paint the edges of the door the same color as with the direction it's traveled through most. For example, if your door opens toward the side that's painted black, it would be best if you paint the edges the color as well.
What Is The Best Black Paint For Exterior Doors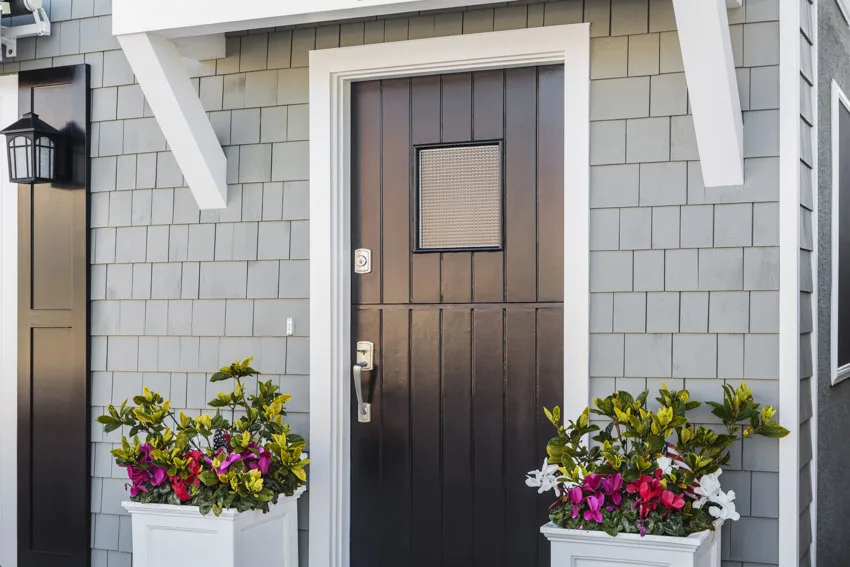 Here are some of the most popular black paint choices for exterior doors:
• Benjamin Moore in Jet Black: This is a classic paint color.
• Benjamin Moore in Mopboard Black: This is a classic hue.
• Sherwin-Williams in Black Magic: This is a glossy shade with extra boldness.
• Benjamin Moore in Soot: This moody gray-black color is very impactful as front door paint.
What Does A Black Front Door Mean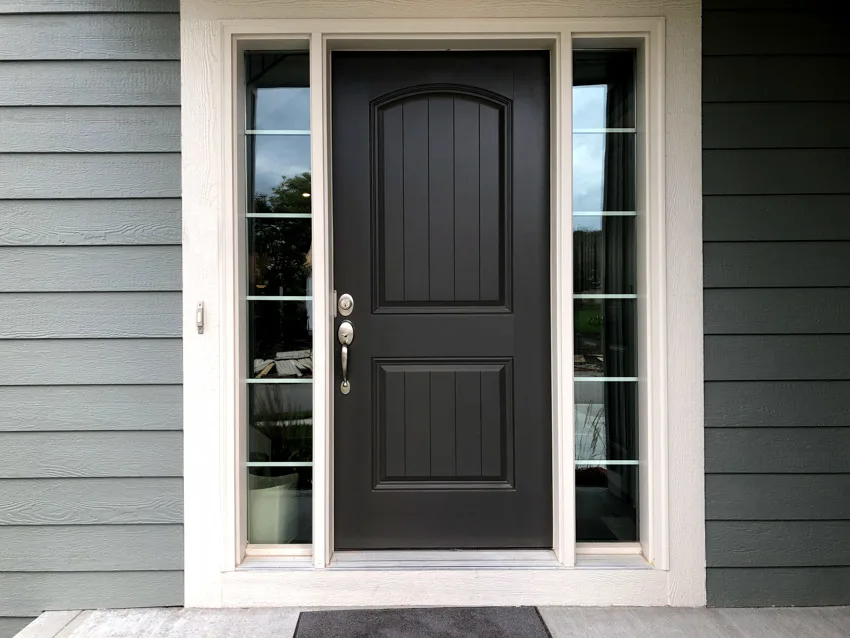 A classic black door is a symbol of power and traditional elegance. A door this color is similar to a woman's little black dress. It looks great on everyone. It's a trendy color, and it's very chic and "in" right now, but at the same time, it is likely prone to stand the test of time.
As for symbolism, a black door denotes authority and strength. A person who paints his or her front door this shade would like to convey the message that this home is a place of sophistication and substance.
Here's a quick breakdown of the symbolic interpretations of this popular hue.
| Symbolism | Meaning |
| --- | --- |
| Strength & Protection | Promotes the feeling of security and safety |
| Elegance, Style & Sophistication | Makes a stylish and bold statement |
| Power & Independence | Reflects confidence and strength |
| Luxury & Modern Aesthetics | Reinforces a contemporary and upscale design |
Black Front Door With White Wall Trim Pros And Cons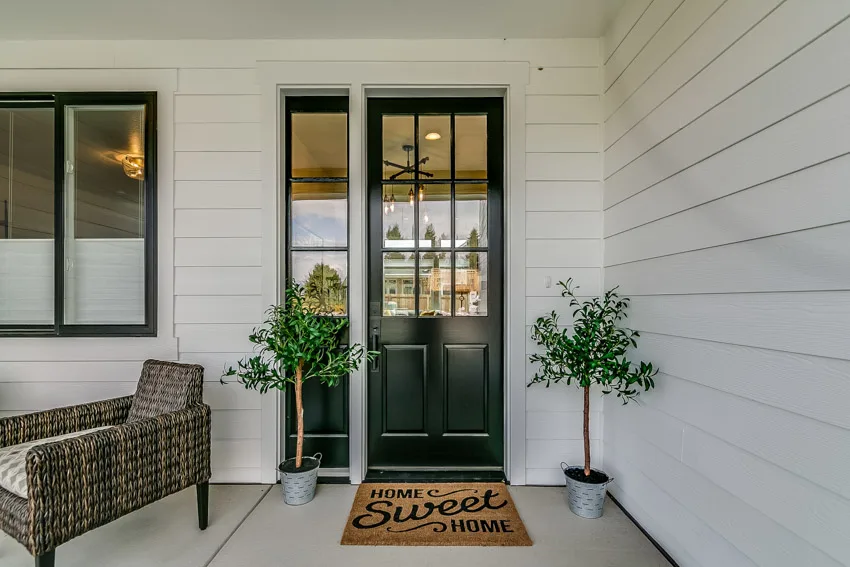 If you are a bit on the fence about a black door with a white-trim color combination, here are a few things to take a look at. There are advantages and disadvantages, and looking at both sides of the coin will be your best strategy in eventually deciding whether this is for you or not.
Pros Of Black Doors With White Trim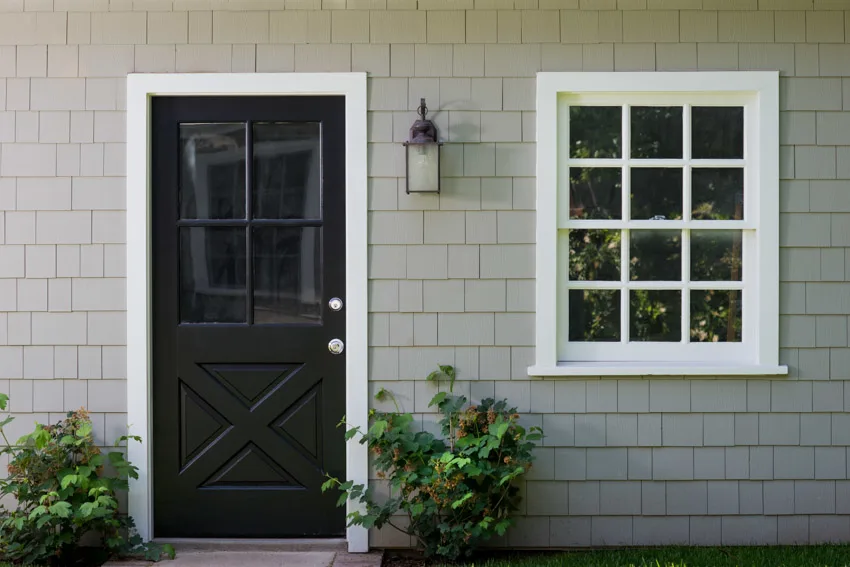 It looks stylish: Black doors with white trim are having a moment right now and it's for a very good reason. Nothing is quite like it visually.
The effect that this color door has is very chic and sophisticated. It can make your doors stand out and make them look like they have been custom-built and not just one of the standard doors that you can buy from the home store.
It's very versatile, design-wise: This trimpairing delivers a very versatile look. If you like playing around with the décor and style of your home or like changing things up occasionally, this may be the most versatile door and trim color you can go for.
A black door with white trim can look right at home in a farmhouse design, a modern or more contemporary design, or even a traditional one. It tends to morph along with the décor or theme that it's surrounded with and this hasn't escaped the eye of homeowners and interior decorators alike.
It creates an easy focal point: Doors for both interior and exterior faces are welcome breaks along an otherwise wide expanse of uniformly painted walls. Opting for something dramatic like this for a front porch paint color combination can draw the eye in.
It can also immediately be the focal point of the space. If you want something that serves as a door and doubles as an accent, then combining the two shades will serve you well in that area.
Cons Of Black Doors With White Trim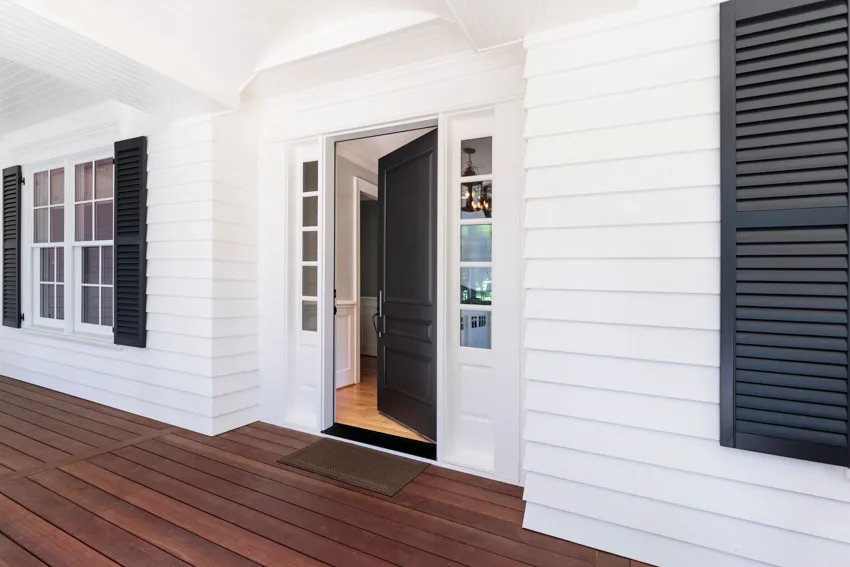 Any imperfections will be easily visible: Doors tend to be in the line of sight of a lot of wear and tear. After all, it gets used frequently day in and day out.
There are also a lot of instances wherein it can be handled quite roughly, such as being slammed and the like, either intentionally or unintentionally.
This can cause scratches and leave other marks on the door. A black door can make that highly visible. It doesn't hide imperfections well and this can be a real downside especially if you're particular about how the door will look over time.
It's trendy, but trends can have limited timelines: Black doors with white trim are all the rage right now, and that's great.
However, one thing to keep in mind is the fact that all trends can come to an end. You need to consider right off the bat if you love this look enough for you to keep it long after it's "in" or trendy.
Are Black Painted Doors Out Of Style?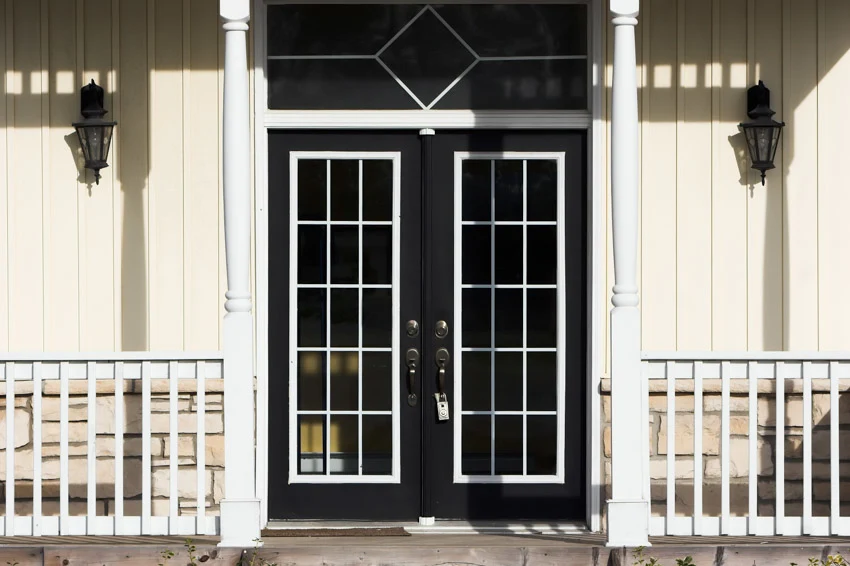 Black is a color that never really goes out of style, so we will go as far as saying that the answer to this is no. People have been painting their doors black for several centuries now, and we don't see it going out of style anytime soon.
See more related content in our article about what color walls go with dark wood trim on this page.