Here's our guide to interior garage wall paint colors, including the best paint color for the interior, wall color recommendations, and more.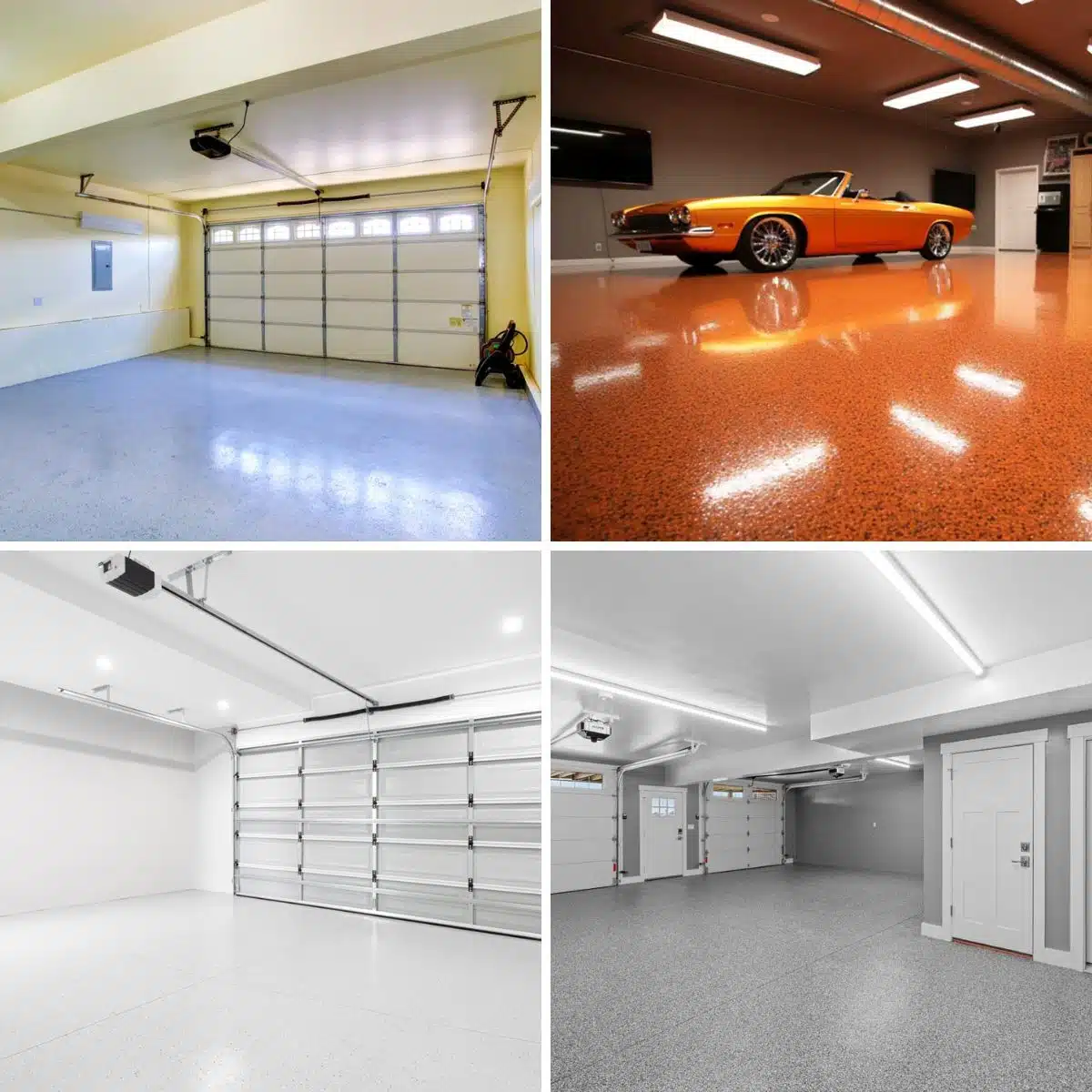 When designing or renovating your garage, selecting what paint colors you'll use is crucial. The paint color you'll apply to your garage walls will have a huge impact on its appearance.
If you use the perfect paint color and finish your interior appearance will be greatly enhanced. Plus, it will give a more pleasant ambiance that truly elevates your comfort level and satisfaction.
In this article, you'll be well-informed about making your garage interior eye-pleasing and extraordinary. Let's begin!
Best Garage Paint Colors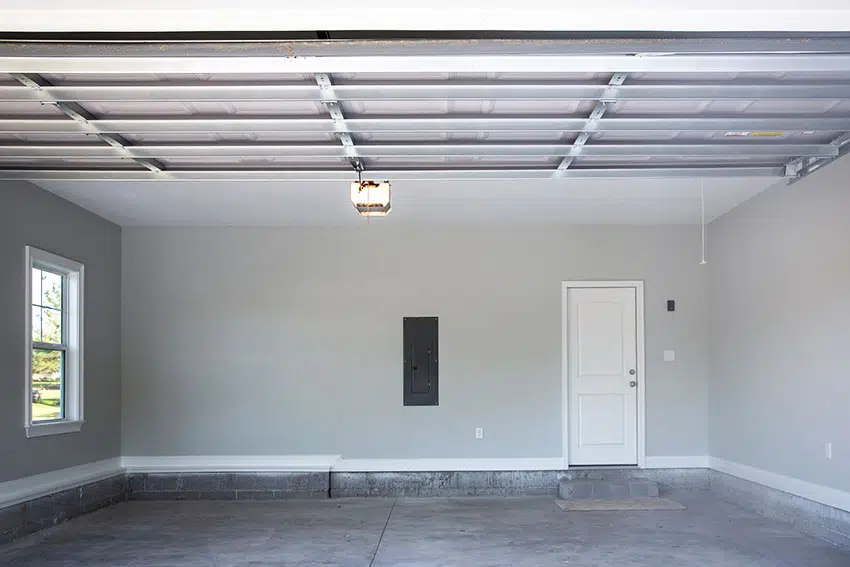 Why is it important to choose the best paint colors for your garage interior? That's because it will add more value to your house and improve the overall feel of the space.
Choosing the best colors will truly make your space to be much more distinctive. Plus, you can proudly show it to your visitors and neighbors!
There are known effective ways of making the interior look a lot more eye-relaxing and inviting. Painting your walls with neutral colors, painting your cabinets with bold colors, and painting your garage doors with vivid colors are some of the best color combinations you can try.
However, it still depends on your preferences. But what if you haven't got any ideas yet on how to choose the best paint colors for your garage interior? Here are some tips.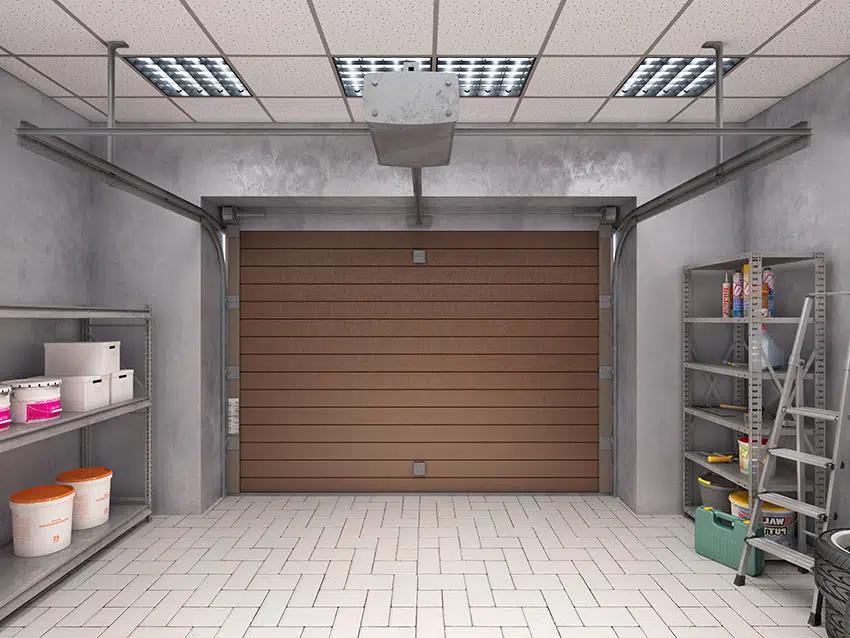 For your garage walls, you need to use paint colors that are very easy to clean. Since this space is where you park your vehicles, your walls might get dirty frequently.
Neutral colors such as beige, tan, or gray are some of the best colors you can paint on these walls, as they are all easy to maintain and clean. Using these colors is the best choice for your wall because if they get dirty, it won't be obvious.
For your garage floors, it's advisable to use speckled flooring coated with a top-grade Polyaspartic floor coating. But when choosing speckled flooring, ensure the colors match well with your walls.
Lastly, for your garge cabinets, the top choices are beige, dark gray, soft gray, and tan. Your cabinet paint colors should blend well with your wall to make it look neater and eye-pleasing.
Garage Color Recommendations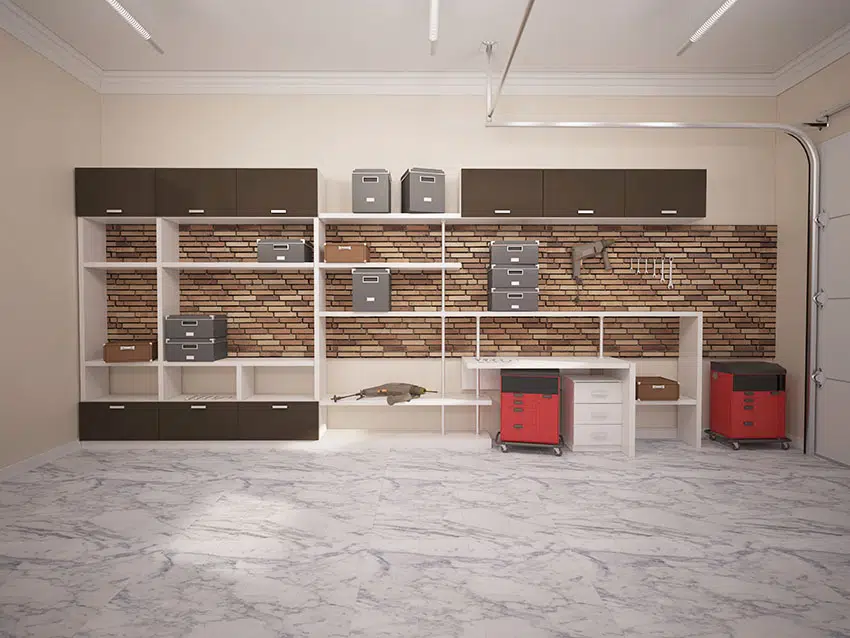 When it comes to the best interior garage wall paint colors, most people prefer painting their walls a shade of white, as it gives a bright and vivid look.
However, white isn't always the best option. Why? Because it easily gets dirty. Touching your bright white walls while you're fixing your car is one of the worst things that can happen, as the stain will be so hard to clean. White and other light colors can easily reveal stains, especially if you choose the wrong paint finish.
So if white isn't the best option, should you go for dark colors? Well, dark colors might be advantageous in some ways as it does not easily get dirty. Even if you accidentally touch it with your dirty hands, the stain won't be obvious.
But still, dark colors aren't the best option. Why? Dark colors, such as dark blue, black, or dark grey, can make your space appear confined and dim. The lighting in every garage must not be dim as it might cause accidents whenever you're parking your car or fixing something.
Yes, light colors such as bright white, yellow, and green, and dark colors such as dark blue, black, and gray aren't always a good idea for your walls.
These are the most recommended colors you can apply to your garage walls:
• Beige
• Tan
• Neutral Blue
• Neutral Green
• Gray
So, if you're thinking of painting your garage walls, always go for neutral colors. These colors are straightforward to maintain. Stains and dirt can be easily cleaned with these neutral colors and even if they are not yet cleaned, these stains and dirt wouldn't look that obvious.
Neutral colors are also pleasing and refreshing to the eye. They make your room look brighter. Plus, they allow better flexibility in terms of design.
Nevertheless, before painting your walls, make sure to match the color of your paint to the colors of your garage door, floors, and cabinet.
For example, if your door, floors, and cabinets are painted brown, you can paint your garage walls with beige or tan. Additionally, if your door, floor, and cabinets are painted black or dark gray, then you can make your walls neutral blue or gray.
So you see, you wouldn't just paint it; you'll also ascertain that the neutral color you'll choose matches your door, floors, and cabinet colors.
---
How to Select the Best Color For Your Garage
For this section, we asked interior designer Danielle Porter for her best tricks for choosing interior garage wall paint colors, and here's her reply:
The garage is more than just a place to park your car. In many homes, it's used as a functional workspace, a tool shop, a car repair space, a storage area, and even as an art studio. Most homes, in fact, will tell you that the space serves multiple functions on any given day.
Choosing the right garage paint color not only makes it feel more inviting, like a place you want to be, but it can also increase its functionality.
Here's what you need to know when selecting the best paint color for your garage. Hint: it's not what you think!
The majority of homeowners will tell you that their garage is not considered a part of their home in terms of design, but the best garage spaces we've seen are essentially an extension of the home. They've considered the design, aesthetic, and details that the rest of the home already has integrated, and it changes how they see the space.
As we alluded to, the function of any given space is unique to the homeowners. When selecting your paint coat color, always consider the primary, secondary and ancillary functions of your space first. From there, you can take color psychology and put it to good use!
For example – yellow is known to boost energy and enhance visibility. No, it doesn't need to be used on all walls and from floor to ceiling, but integrating yellow in key areas, like a strip at eye level, or behind a workbench in a workshop can enhance visibility and increase productivity.
If your garage is primarily intended for parking your car and storing personal belongings, something more neutral is absolutely appropriate. That being said, don't be afraid to pull out an accent color at one wall with some applied trim or other material prominent in your home.
A soft hunter green with integrated wood cabinets that serve as mud room space might be exactly what you need to feel at home the moment you pull in to your space. The exterior colors of your home should also be considered with this approach – think of the garage as a transitional moment – connecting the exterior and interior and finding a way to use the space to create design harmony.
When selecting a color, keep in mind that the garage is one of the darkest spaces in your home typically. If you opt to go with a darker color on all walls – it's best to upgrade or add lighting in the space to brighten things up. You can also balance a dark color as an accent on a more neutral backdrop, like white or cream, to make it feel more welcoming while reflecting natural light.
No matter the color you use, your garage works hard, and the paint you select needs to work hard too. Because of the high-traffic nature of these spaces, it's essential to select a paint designed for the floors and/or walls and is damage-resistant.
Some common staining items in a garage used for parking a car are salt, sand, oil, and general moisture. High-quality paint with a glossy or semi-gloss finish will make the design look good – but more importantly, make it easier to clean.
So yes – the best garage paint color is not what you'd expect. It's simply not a one-size-fits-all all decision. If you're still having trouble determining the best color, we always recommend starting with a neutral white, gray, or beige and then enhancing it from there as the use becomes more defined over time.
In making this decision, always consider the function of your room, the style of your home, and the durability of the paint. Opt for a light color to brighten up the space, and don't be afraid to add accents to create a sense of personality. With the right paint color, you can transform your garage into a functional and inviting space that reflects your unique style
---
What Sheen is Best for Garage Walls?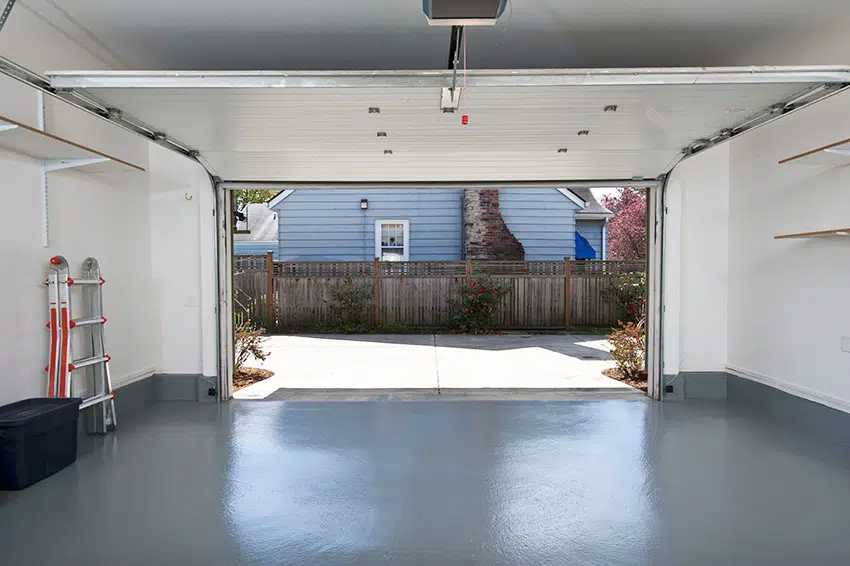 The best sheens for garage walls are semi-gloss and satin finishes. Why? These finishes are very easy to clean. If your wall gets stained, wiping it off with a damp cloth can already clean it. These sheens truly provide a much cleanable and easy-to-maintain surface.
What Color Paint Hide Flaws Best?
If you want color paint that can truly hide flaws, then go for darker colors. But, like I said earlier, dark colors make the garage look dim and confined.
However, if your walls have numerous flaws and you want to conceal them, then you may paint them with a dark color. But it would contradict many factors because the most recommended paint colors for garage walls are neutral.
Neutral colors are the safest colors to use when rehabbing a property. – The Real Estate Wholesaling Bible The Fastest, Easiest Way to Get Started in Real Estate Investing, Than Merrill
Neutral colors aren't that superior in terms of covering wall blemishes. But, you can still paint them with a neutral color and hide wall imperfections as well. How?
Just paint your walls with a neutral color scheme, then make sure to finalize it by giving it a matte sheen or flat finish. Matte paint finishes can strongly conceal flaws. See more related content in our article about creating a minimalist garage on this page.
How Can I Make My Garage Look Bigger?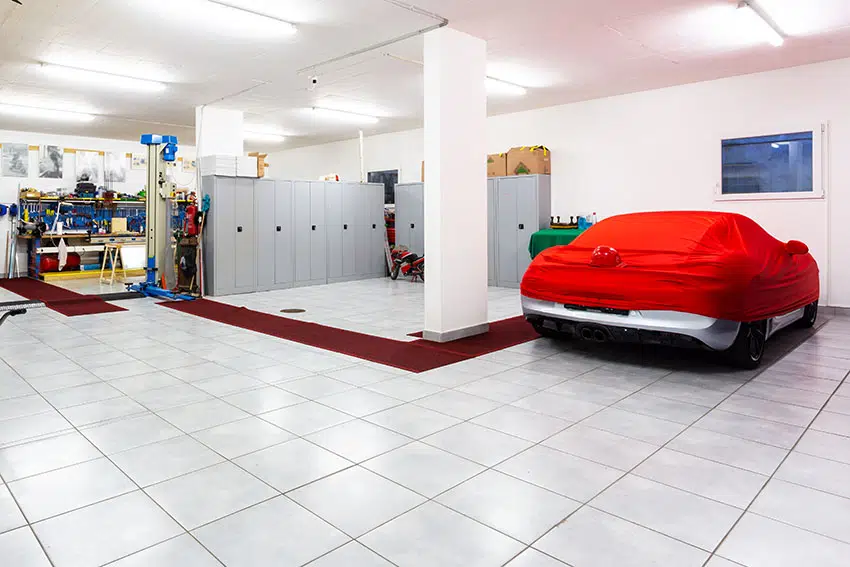 If you want to make your garage appear bigger, you can paint it white. But again, this will contradict another factor. White is difficult to clean, and it can highlight grime and stains easily.
This is especially true if you have bare drywall. In that case, you'll want to use a PVA (polyvinyl acetate) primer to seal the drywall before adding your new paint job.
If you've decided to use white, make sure to give it an eggshell or satin paint finish to make the paint a bit glossy and, at the same time, make it easy to clean and maintain.
Even though you used white paint, you can still enhance it by finishing it with eggshell, semi-gloss, or satin finishes, as these will help reflect the lighting in your garage, making it look bigger and more spacious.
If you don't have proper lighting conditions, you may want to install extra overhead fixtures to enhance the overall look and usability.
You can visualize different interior paint colors by using a garage design software program. This will allow you to enter the square footage and layout of your space and apply different wall colors to see what you prefer best.