Here's our nano glass countertops design guide including what they are, their origin, features, pros and cons, price, and important details you should know for your kitchen.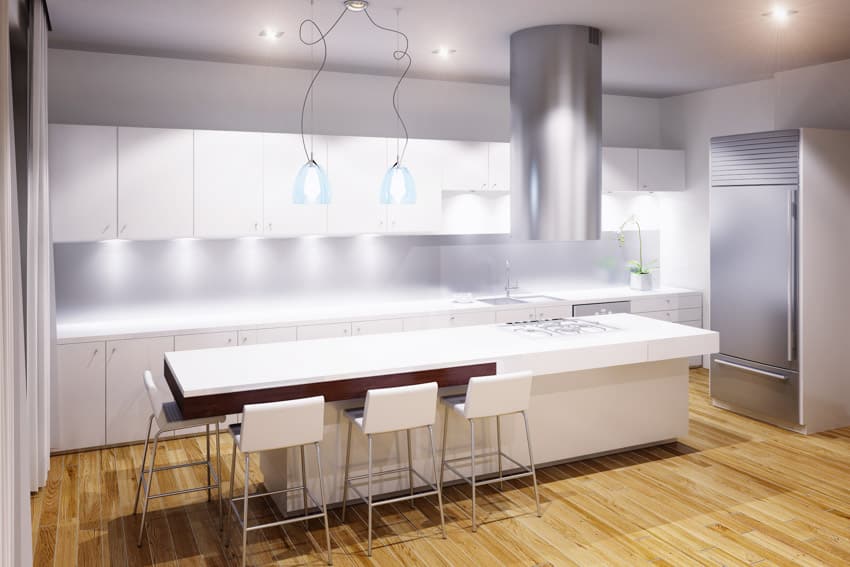 Nano glass countertops are relatively new to the kitchen design theme. But for starters, what is it?
It's commonly known as nano-crystallized glass but it also goes by other names such as nanoporous marmoglass and nano crystal stone. There's actually very little information about this particular countertop material that's readily available.
If you have been thinking about this or planning to look into this for a while now, then you've definitely come to the right place because we've gone ahead and done all of the research for you.
What Are Nano Glass Countertops?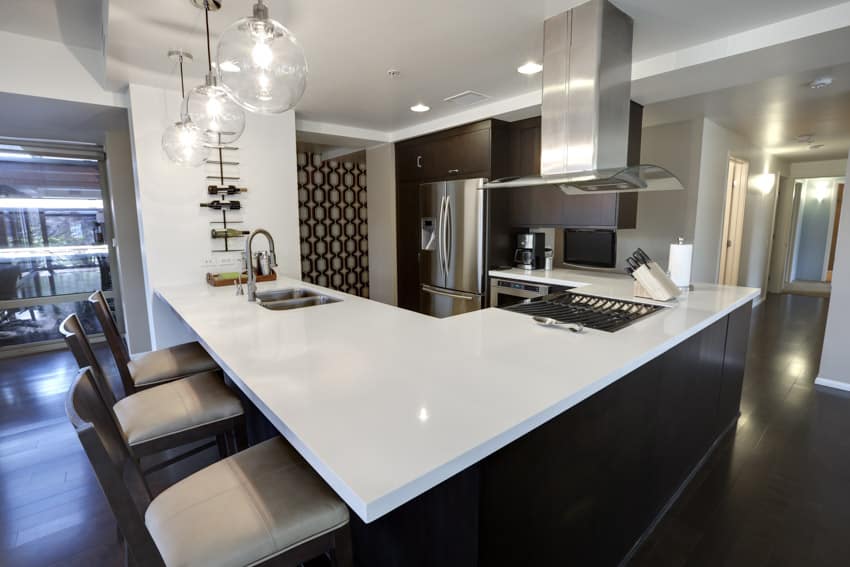 Nano glass is a factory-manufactured material that's a combination of natural materials and silica. Basically, nano glass offers the luxurious look of an all-white kitchen countertop that doesn't have veins or grout lines.
So basically, it's like a smooth and uninterrupted surface. Because of nano glasses predominantly white color, your design or color options can be a bit limited.
You need to tread carefully if you're aiming for a traditional kitchen look but then again if you're all about a modern kitchen that plays on dark cabinetry; then nano glass countertops can really turn out to be a treat for you.
This is a material that's very resistant to scratching and staining, making it a really durable and practical surface material choice in the kitchen. It's also quite easy to clean and is resistant to heat.
This is a pre-requisite in the kitchen and it is bound to guarantee that your countertop will have a lifespan that's bang for buck value for your money.
Nano glass is a material that's a little tricky to work with so installation can be complicated and a little costly with the quotes varying.
It really depends on the manufacturer or distributor in your area so the quote for its installation will be based off of that as well.
Where Does Nano Glass Come From?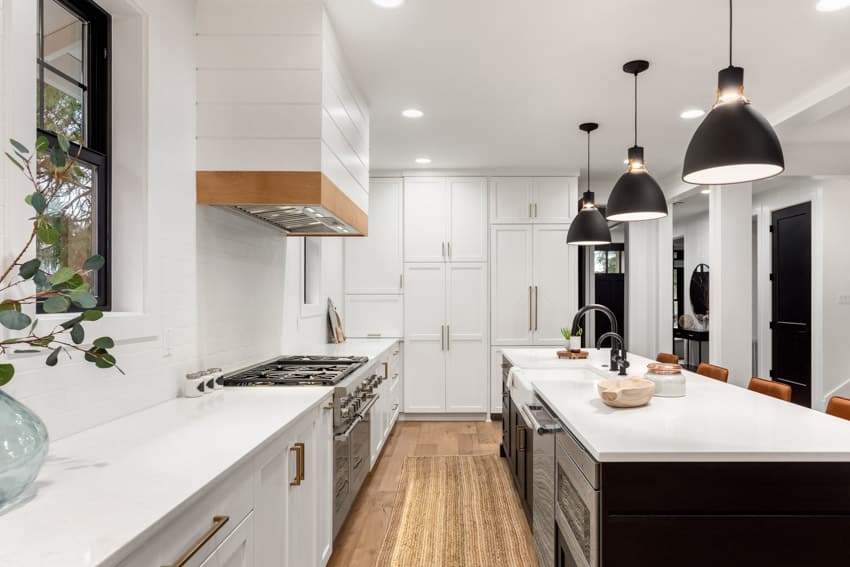 A majority of nano glass types of kitchen countertops were actually manufactured in China and then imported into the United States.
But as of late, there have been a few American companies that manufactured their own as pumped out branded versions of nano glass countertops so it's more readily available in the market now than before.
What Are The Features Of Nano Glass?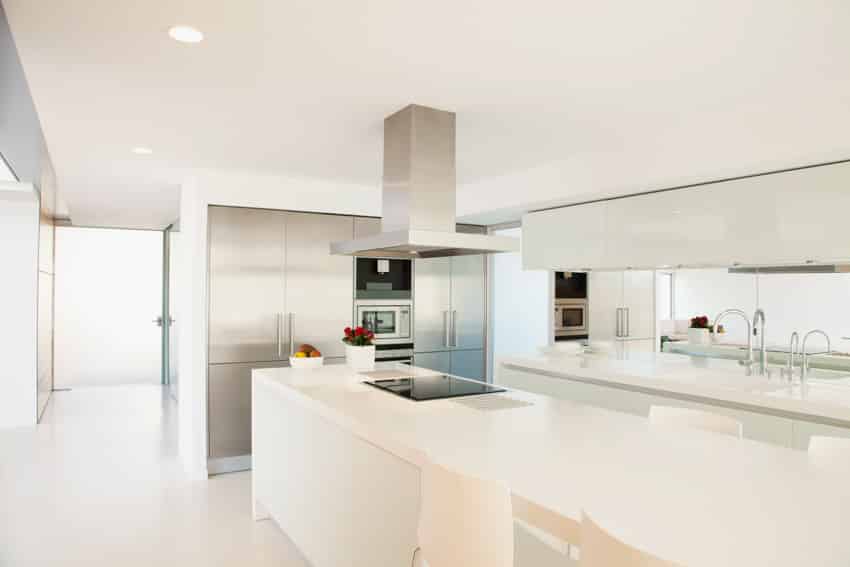 Nano glass is a material that can be easily cut up. The tools and techniques being used are pretty much the same as natural stone, although it has a few added challenges along with it.
It has the traits of ordinary glass but it is also chemically inert. It's much harder than ordinary or crystallized glass as well. It has a hardness rating of 6 to 7 on the Mohs scale.
It is completely radiation-free. It has been said that nano glass is a much more preferred material for countertops because it has an almost pure white color. This white color is actually a byproduct of the manufacturing process that it goes through.
It has become a cheaper and more flexible substitute for upscale white marble kitchen countertops.
There's just something that feels ultra-modern and advanced with getting a nano glass countertop for your kitchen. If you still have a few reservations about getting it, you aren't wrong. It's always important to get into a decision being very well informed about it through and through.
Nano Glass Countertops Pros And Cons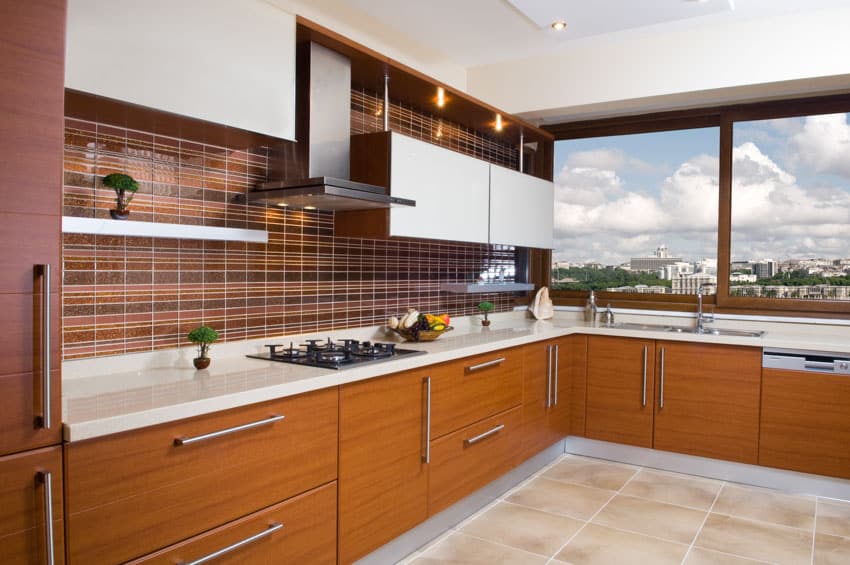 It's important for you to weigh out the pros and cons before finally deciding that nano glass really is a material you would like to keep as a personal installation for your kitchen countertop. Here are some pros and cons for you to go ahead and think about:
Pros:
• It is very strong and hard. The material is guaranteed to be durable and capable enough to take in a lot of weight, pressure, and even heat.
It does not easily break or chip.
• It's a cost-effective substitute for the costlier actual white marble.
• It's very water-resistant and can actually be quite thick, which is always a great quality for a countertop material in the kitchen.
Cons:
• Installation is difficult. This can technically be attributed to the fact that the material is so hard which means that it's also quite prone to being brittle and possibly breaking.
This is why you need to really get a professional to install your nano glass countertop for your kitchen.
• It's not really possible to trim it. It has a very solid surface which means that doing a DIY project on trimming it wouldn't be very smart nor will it be possible.
• It's costlier compared to the average typical countertop material although it's cheaper compared to real white marble as that's the costliest material of them all.
Nano Glass Countertop Price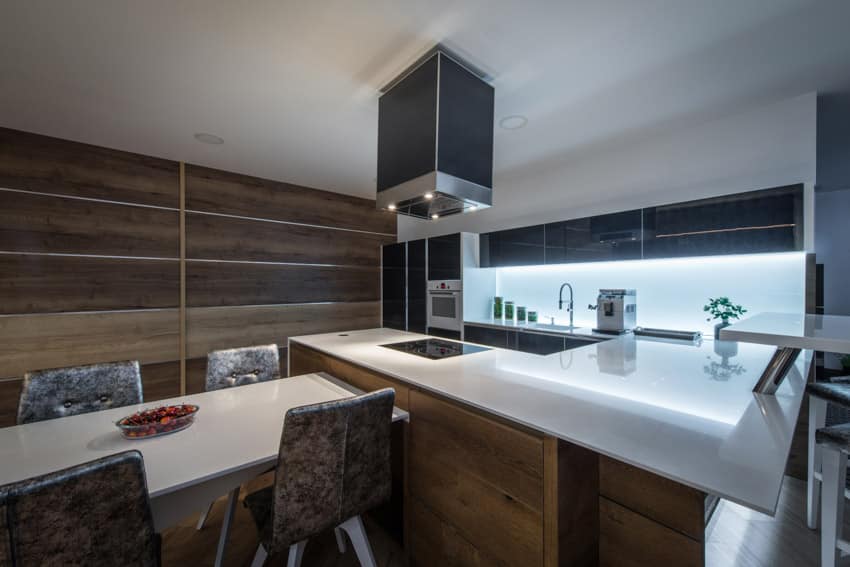 It's a little difficult to really nail down the exact cost of nano glass countertops as it's extremely dependent on where it's coming from.
It depends on whether it will get imported from other countries such as China or India or if it will be sourced from the States. The once produced and manufactured locally are a bit on the branded side and this means that it will be a bit higher up on the price spectrum.
So in order to get a great approximation of the costs, its good running average is at around $58 dollars per square foot.
A typical countertop has the size of 30 square feet so that pegs a nano glass installation anywhere from $1,700+ and upwards when you consider the installation costs as well.
Installation costs can range from $10 to $30 or upwards per square foot so that can be an extra $900 or so for professional services.
Is Nano Glass Durable?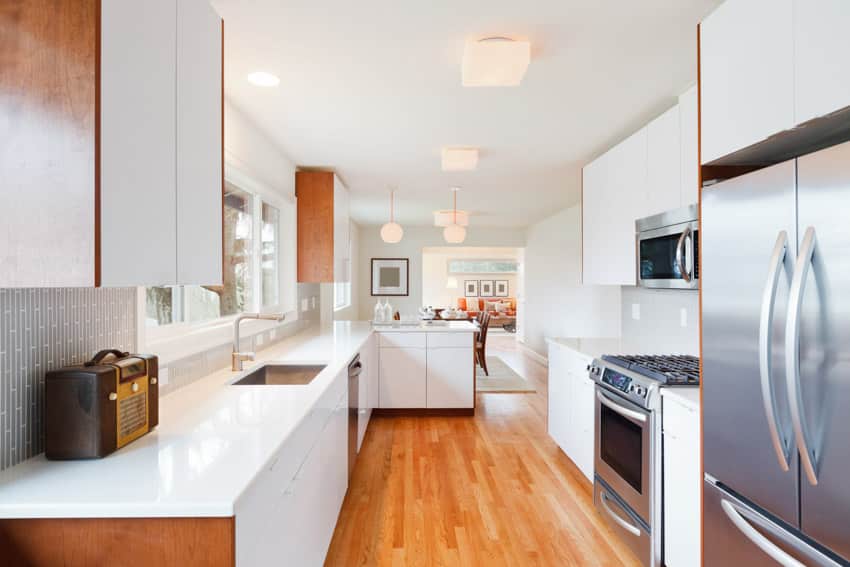 This is a very apt question to ask because nano glass is, as a matter of fact, extremely durable. It is not only durable due to its innate hardness, but it is also stain and scratch-resistant.
It has all of the aesthetics you might aim to look for in modern kitchen designs, along with function as well.
Nano glass is non-porous so it doesn't absorb spillage and it is highly dense to take on the weight of kitchen implements and stand against abrasions and corrosion as well.
Is Nano Glass Stain Resistant?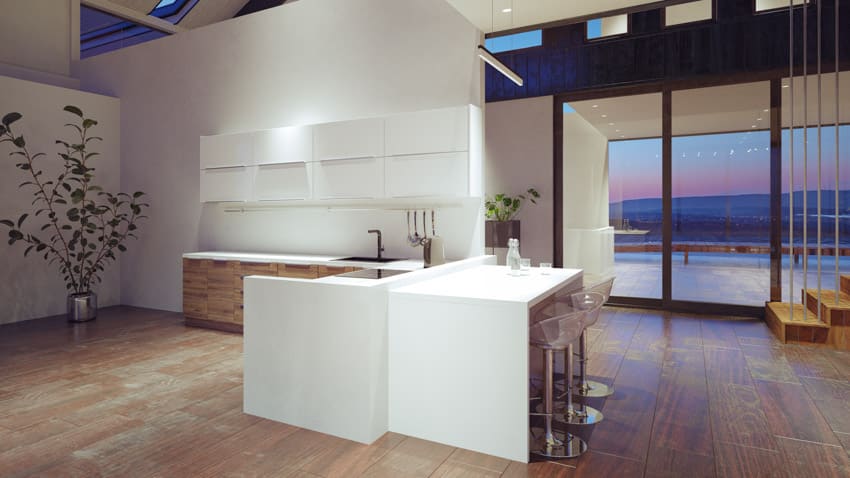 Yes, it is stain-resistant. Cleaning it is as easy as wiping it down with a soapy piece of microfiber cloth and then following through with another clean or fresh cloth.
It's particularly helpful for you to run it down with a fresh and dry cloth in order to get rid of any possible fingerprints. Our hands emit moisture that dust can adhere to, even if we aren't particularly sweaty.
So another dry wipe could really help keep your nano glass countertop clean and pristine.
Are Nano Glass Countertops Good For The Kitchen?
It's definitely a big yes. Nano glass is great for the kitchen, and even so much more than that.
It has a bright look that's also clean and easy to maintain, which is very helpful in the kitchen. It can make any room in your home appear spacious or bigger than it actually is.
If you have a kitchen that's a little challenged with space and you're worried that your countertop will make your kitchen look cramped, your nano glass material can turn out to be the perfect solution for that.
It is also a type of material that can work quite flexibly with different architectural styles, colors, and design themes in the kitchen.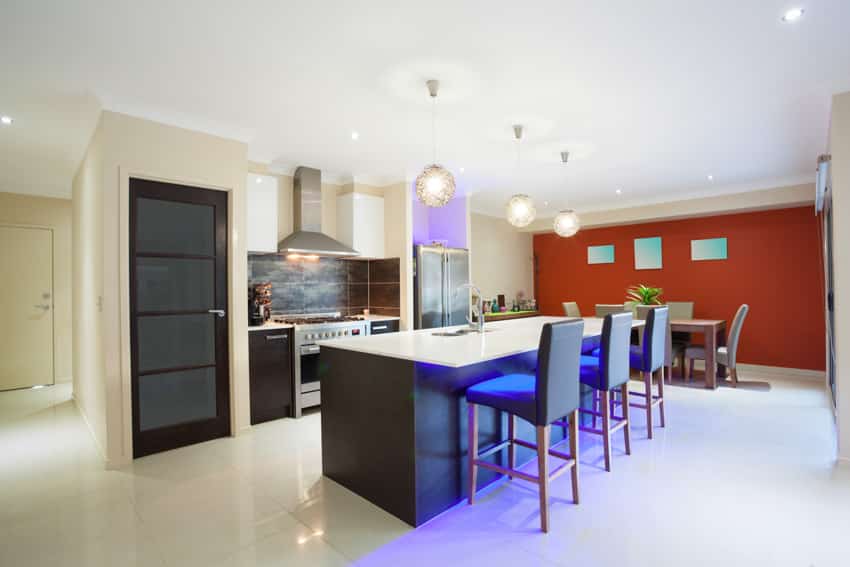 It does, however, work best for a kitchen that aims to be minimalist yet at the same time modern and intricate. It's a great balance of Spartan minimalism and artistry and sophistication as well.
It's definitely a material worth considering or at least looking into if you're planning on that next big kitchen improvement project at home.
It can be a little expensive but given the fact that it mimics actual white marble, which is one of the most expensive surface materials out there, you get value for your money while at it. Nano glass is a kitchen version of "getting the look for less" for as far as white marble is concerned.
See more related content in our article about cultured marble kitchen countertops on this page.