Welcome to our guide of the 15 best online furniture stores including thrift, discount, new and those offering free shipping.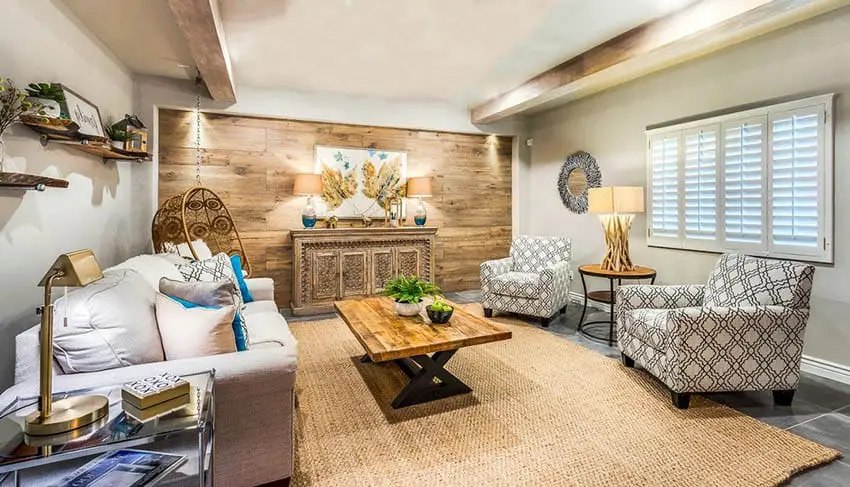 Reduce, Reuse and RECYCLE. As the old saying goes one person's trash is another person's treasure. I think this is especially wise in the sense of furniture, since it is long lasting and reusable. Secondhand and used furniture can save a ridiculous amount of money.
Most people get rid of their furniture when moving or when they are getting new pieces. Which means they typically want it gone in a hurry and will give great deals. Not only does it save money but it will potentially save an AMAZING piece from sure destruction.
Vintage and antique items that can only be found in antique shops and garage sales are becoming more and more popular as the times switch and people focus on using the things we have instead of constantly creating more and new things.
Some of the best places to find old but great furniture are online. Easier than roaming from store to store you can create your dream home from the comfort (or discomfort) of your own couch. This will allow you to be able to search for multiple items from a number of places as well as mix and match.
Plus the power of screenshotting and getting second opinion from family members or roommates can be much quicker than bringing the entire entourage to the furniture to try and find an end table.
In addition, these types of sites & apps offer opportunity to haggle and make offers to get the perfect pieces for the ideal price. Be careful though, items usually limited edition so it you don't snatch it up quick someone else will.
Best Online Thrift Store Furniture
Craigslist – If you have ever heard of a place on the internet to go find things, it was probably Craigslist. Craigslist is basically the classifieds in a newspaper, but VIRTUAL. This is one of the oldest in the books and was meant to bring communities together. Ads for selling things will typically have ones email address to connect the buyers with sellers.
Craigslist does not involve itself with the transactions or deal with any disputing between buyers and sellers. To post items, communicate with users and participate in forums all you need is a valid email address which can be easy, but not always safe. The site is only moderated by users flagging things that could be spam or misusing the site, other than that there is not a large amount of security.
Varage Sale – Varage sale is a fancy name for a virtual garage sale. Instead of having one weekend in every year where you carry all the dusting items from your basement to the front lawn, you can just take some pictures of it and not lift a finger until someone wants to take it off your hands. As for buyer, they can surf through listings in their PJs until they find their treasures.
To keep this app a safe environment members must connect their facebook accounts so that there are no fake names or photos. In addition, they also must be verified manually by a moderator into each of the community groups they wish to enter. If you are not in the location of the group moderators will ask you why you want to join the group. This happened to me personally since I was looking in the town I work in versus where it tagged me living in. It adds a more personal touch to the group and added security measure to keep things within a community.
A good thing about this app in particular is that it is gaining popularity, meaning that there will be more opportunity for buyers and sellers. This is will be an app available to both IOS and Android users.
Let Go – The app Let go will allow users to buy or sell items of any variety. This app discourages shipping items, due to the items usually being larger and more expensive to ship. Instead there are private chat options where users can interact and set up a meeting time and date to complete the transaction. This will typically require the transaction to be done in cash! This is something to keep in mind when going for a meet up.
The app will show the general location or community items are being sold so you can decide if it is worth the drive, and if you have a large enough vehicle to move the item that distance. For users to create a listing they will upload up to five photos, write a description of the item, and select a price.
Free is an option on the prices so keep that in mind when looking, things could be crazy inexpensive if someone is motivated to get rid of it. Beware that this app does not take any percentages of purchases, therefore does not get involved in disputes or refunds.
Offer Up – Offer up is an app that is similar to craigslist and letgo. There is no shipping options, the app is free to download and use, and will not take any transaction fees. General locations are given to connect buyers and sellers to one another.
The app allows users to browse items listing in nearby communities. Offer Up allows you to validate your account by verifying your facebook profile, scanning your photo ID, and taking a picture of yourself. This is an added feature to make the users feel safer with one another.
Offer up also allows users to leave reviews on buyers and sellers to show they are legit and how good or bad their items or service was/is. This app will be available for both IOS and Android users.
Chairish – Chairish is an app that if for reselling and buying curated home items. This is typically used for higher end and relatively unused items. This app is good for finding antiques and unique designer discards.
Chairish will typically have a higher price tag than the items on the apps listed above, but the quality is typically higher and the pieces are also able to be shipped. The sellers will receive 80% of the sell price and they will also take care of the shipping costs.
Krrb – Krrb is based off the word "curb", playing on the idea of curbs and garage sales and things of that sort. Krrb will be an app similar to the ones listed above, except it will take care of the transaction. They offer shipping, but with bigger items it is most often an in person pick up. The perks of using this app is that it is advanced in ways of finding the best items.
For sellers it will clearly show all the offers and interested parties, helping you earn the most money. It will also help the buyer by letting you know if you need to up your offer to get the item you have your eye on.
This app will not take a percentage of your earning but they do require credits to post items for sale on the site. These credits will be available for purchase or can be earned by participating in in app activities, such as buying, marketing or updating your profile. This is probably better to be used in larger cities with a lot of potential buyers for special pieces.
Facebook – Facebook is a very large database of people and information. There is a section called facebook marketplace that has recently become more popular, and there are also a VAST array of buying and selling groups.
There are groups for every community, type of item you are looking to buy or sell, age groups, etc, basically anything you can think of, there is a facebook group for that. In the marketplace it is public, and it will show your location. In groups it can be a closed group with moderators.
There are two different levels of security, so beware of when choosing which to use while buying secondhand furniture. This is another app that will require meeting in person as well as typically needing to pay in cash.
While all the above listed apps are good and have quite the variety of items, sometimes bigger stores are easier to find, sort of a one stop shop, less of a hit or miss. These places have larger varieties of items to use as well as a little better of descriptions and sorting.
That being kept in mind the prices are typically a little higher, which makes sense because they work a little harder to get what they have. Most are stores that also offer secondhand and vintage furniture that is available to ship. This will be a a feature that some apps and non stores may not be able to fulfill.
Best Online Discount Furniture Stores
Amazon – Amazon offers many new and used items on its site. It allows users to create shops within the store. This being such a large outlet will mean that it will be a site that will ship products.
While this can be expensive when looking for secondhand and discount furniture, it could be worth it if the product is a low price. Plus this method will mean that you do not have to meet up with a stranger, or figure out how to get the large item from one place to another.
Amazon will also allow for reviewing items and shops which can help buyers know the service and quality levels of each shop. Another good thing about amazon is that not just anyone can post a picture and sell what they want, there is more security measures that make the site safe and secure for shopping. Amazon will also handle all the transaction methods which will for quick and painless sales.
Wayfair – I use Wayfair a lot because of its vast furniture selection, discount prices and free shipping on items over $49. They only deal in brand new unused items, however, they do offer many vintage looking pieces that can help you get the furniture and decor style you want. For more savings check out the daily deals area for even better bargains on overstock items.
Etsy – While typically Etsy has been known for crafts, cards and hand made gifts, there is a large market for refurbished and vintage furniture pieces that has come to the light. Etsy is pretty well known which will make for a large group of users selling different things. This will give a larger and better quality variety of items available for purchase.
Etsy is similar to Amazon in a lot of ways. Users will have to pay to post different items, which means that not just anyone can pop up a picture and try to sell things. Etsy also handles transaction methods and shipping. The site allows you to rate shops and items for later buyers to know the quality of the seller and items. These all contribute to a simple and safe site that will make buying secondhand and vintage décor items fun and not stressful.
TINI (This is not IKEA – site is under maintenance at the time of this writing) – This is not IKEA (TINI) is a store that started as a Craigslist seller, then became and online retailer, until it finally became its own brick and mortar store.
This store offers unique, vintage furniture (unlike IKEA), all found form estate sales, auctions, garage sales, etc, hand picked to be for your home. This company will work to help find the perfect piece out there for your existing space.
A store like this is extremely reputable, seeing as it made its way from selling things on its own and then expanded due to its high quality and good service. TINI really has the best of all worlds with online options as well as an in person store.
The refurbished and the vintage finds that this store finds will surely add an inspired look to your home, without you having to do the footwork of running from estate sale to garage sales looking for a nice dining table.
Online Furniture Stores with Free Shipping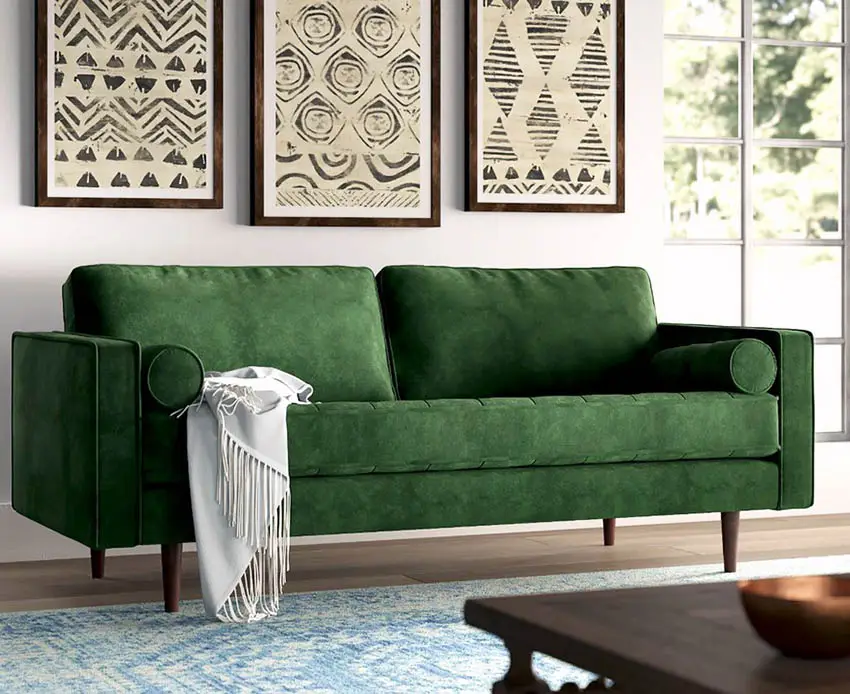 Boho-chic couch
The stores below offer only brand new furniture rather than used items.
Amazon – Amazon is a sure go-to for great deals with free shipping due to their huge selection. They even offer their own furniture brands such as Rivet and Stone & Beam for even better prices.
Wayfair – As previously mentioned Wayfair has a large furniture selection, great prices and free shipping.
Walmart – Walmart is trying hard to give Amazon a run for their money by offering low prices and free shipping on many popular furniture & decor pieces. They have a large selection and offer pick up from local stores if desired.
Target – Not to be outdone by their competitors, Target offers a large selection with free 2 day shipping even on big items such as types of beds & sofas.
Ebay – Ebay has been around a long time and still provides plenty of opportunity to find discounted furniture with free shipping included. Look under the price of the listed items to make sure that free shipping is included or click on the 'free shipping' checkbox under the delivery options on the left hand side of the screen.
Bed, Bath & Beyond – You might not expect Bed, Bath & Beyond to offer a large furniture selection, but they do, and at low prices with free shipping. For those looking for a specific design they even offer custom furniture where you can pick out the piece and the fabric to get the exact look you want.
Overstock – By offering continuous sales, flash deals and discount offers as well as free shipping on some items this site stays competitive. You can constantly find new items on Overstock at low prices.
Gardner White – This online furniture store bills itself as a true manufacturer to you option with free shipping. They offer furniture brand names you know and love. If you're looking for mattresses they will beat and price match any competitors price within 30 days of purchase.
LexMod – If high fashion with a modern flair is your thing make sure to check out Lexmod. They offer free shipping and a large choice of furnishings for every room in the house.
Urban Outfitters – While you might think of this brand for clothing it might surprise you to know that they also offer a curated furniture collection of minimalist, romantic, industrial, bohemian and retro designs. They also offer free shipping with orders over $50.
One Kings Lane – For beautiful designer home furnishings One Kings Lane does things right. They offer free shipping on many of their items as well as a wide selection of indoor and outdoor furniture and decor.
Second Hand Online Furniture Store Considerations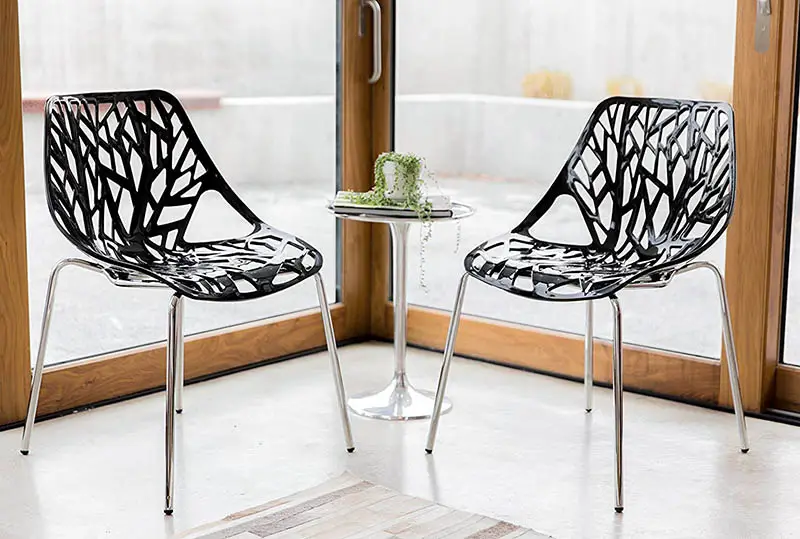 Stackable modern arm chairs – See at Amazon
Proceed with these applications with caution because most apps helping sell things such as furniture tend to require in person meet ups. This is beneficial because then the seller keeps 100% of profits. This is also beneficial due to not having to ship or worry about shipping errors. But since shipping is not really an option when it comes to furniture items, this will limit buying and selling to your general community.
Unfortunately using these types of apps will mean that you are meeting up with strangers from the internet. Basically exactly what your parents tell you not to do, STRANGER DANGER! Therefore approach with caution and STAY SAFE, make sure the meetup location is in a safe, public place, don't give out you address, go with a buddy, and makes sure someone knows where you are and what you are doing.
This is not meant to scare you, because every transaction I have made on applications has gone smoothly with not a single problem, but there is always a scammer or two floating around and I do not want you to get caught up in something less than ideal.
As mentioned, you will typically need to meet in person to purchase these secondhand items. This will make CASH the easiest form of payment transaction. Cash is becoming a less and less common thing though. It may be requested to use other methods of payment. Ex: Venmo, paypal, payapp, etc. BEWARE.
If using something like venmo or payapp, make sure you are with the person when you make the transaction and have the items, these apps are typically for transactions between people you know and not services.
Paypal has a secure transaction that is better for situations such as this but it will take a fee for using the service. Consider it if it is a larger price tag and make sure you are 100% comfortable with the item, the individual you are working with, and the payment methods.
Typically, the more people that use an app will make it better. This will be because they will be adding different items if they are active on the sites. If there is nobody there to sell there will be nothing left to buy. Some days it will be a bust, but other days you could strike gold. It all depends on when people are ready to get rid of their items, when you want to buy them, and where you are in relationship to the other users.
Some may say that if it is meant to be this is where you will find it. Most users are flexible with their prices especially if you offer to remove it yourself (less work for them!) Keep in mind that both parties are just people trying to save some money and things should go smoothly.
With all of these different options for finding all sorts of vintage and secondhand furniture, there should be no excuse that you can't redecorate your home! Again proceed with caution in any endeavor you may embark on! Make sure all meetings and transactions are SAFE AND SECURE.
Sometimes paying the extra few dollars for security will pay off in the long run. If it feels sketchy, it probably is. Use your instincts and common sense and you will be rewarded with coffee tables and sofas galore. Other than that happy bargain shopping!