Here we share the differences of a sofa vs couch including their comparisons to a sofa-couch-loveseat, and why a sofa is called a settee.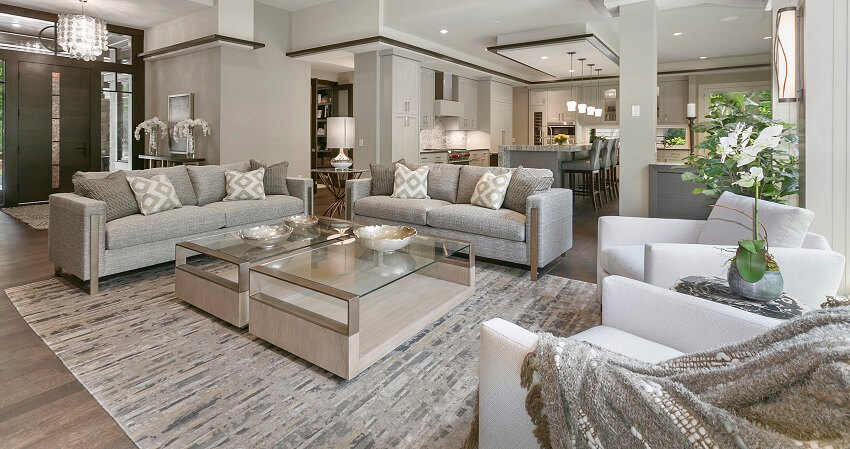 Nothing beats changing into your sweatpants, switching on the TV, and lounging on the couch after a tough, tedious shift at work. But wait, Is it a couch, or a sofa? You've probably been using "couch" and "sofa" alternately for ages without questioning if they're the same thing.
Whereas most of us have an unspoken assumption that "couch" is more informal than "sofa," few individuals, even experts, actually understand the distinction. Is it true that a couch is more comfortable than a sofa? Does it appear to be different? Do sofa and couch give a dissimilar experience?
Yes, it seems that there is not much of a difference between the two, that is why lots of people cannot exactly distinguish their difference. Well, in reality, they do have some similarities and differences. Continue reading to learn about the minor distinctions between them.
Difference Between Sofa and Couch
Though the terms "couch" and "sofa" are frequently used interchangeably to refer to the same type of furniture, couches and sofas differ somewhat in structure, design, and dimensions.
While most people confuse the words and don't care which one they use to identify the furniture, understanding the differences might help you choose the right seating for your house. A short rundown of the differences between a couch and a sofa follows.
A sofa is an upholstered bench with cushioning, two armrests, and enough seating for multiple individuals. This incorporates sectionals and loveseats, as well as a variety of comfy sitting alternatives. Learn more about sofa styles that would complement your living room.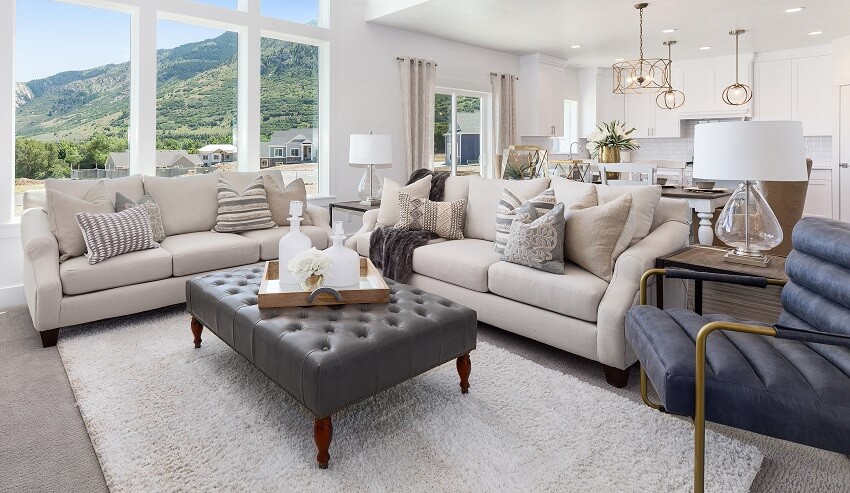 The term "sofa" is frequently used to describe the sort of seating that meets this specification. However, depending on the size, design, or placement of the sofa, it could be informally described as a couch.
Albeit the term "couch" is commonly used to refer to compact or simple sofas, couches come in a variety of shapes and sizes. Couches get their name from the Ancient French verb "couche," which translates "to lie down," and their shape matches that definition.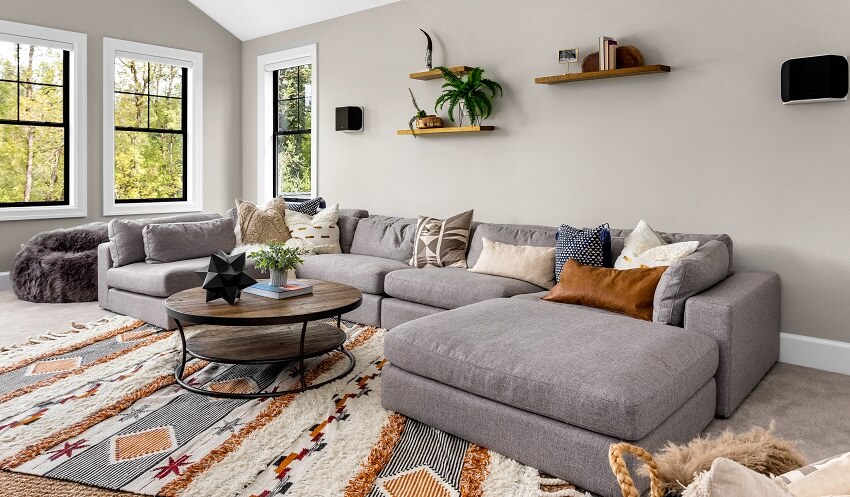 Like a French settee, they usually include one or no arms at all and are smaller than sofas. Nonetheless, you're more likely to hear "couch" used only to pertain to less formal sofas caused by years of the terminology being used alternately.
Sleeper Sofa vs Pull Out Couch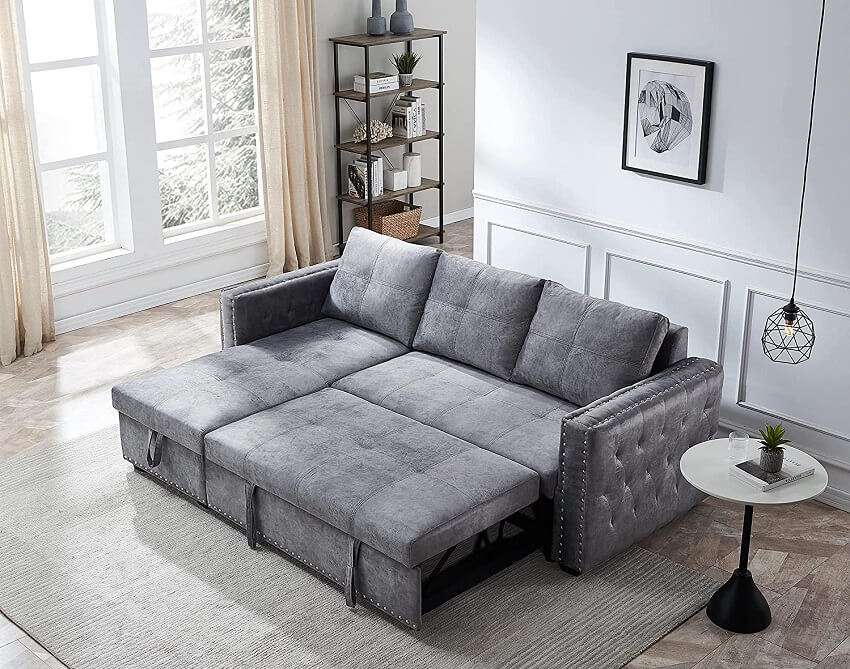 See this sleeper sofa at Amazon [sponsored link]
A sleeper sofa is a sofa that turns into a bed by pulling out the mattress. In most cases, the mattress is kept hidden and could alternatively pop out or fold out. A sleeper sofa's comfort and aesthetic, as well as the mattress it uses, may vary.
Using a sleeper sofa is an excellent approach to increase sleeping capacity without occupying as much space as a standard bed. They are available in a range of designs, pricing, sizes, and mattress selections, and can usually accommodate at least two individuals.
Pull-out couches, on the other hand, are intended to be used as a bed when fully extended. There isn't a regular mattress offered. Sleeping space is restricted since these beds also function as chairs. Pull-out couches provide just enough space for one individual to stretch out and unwind.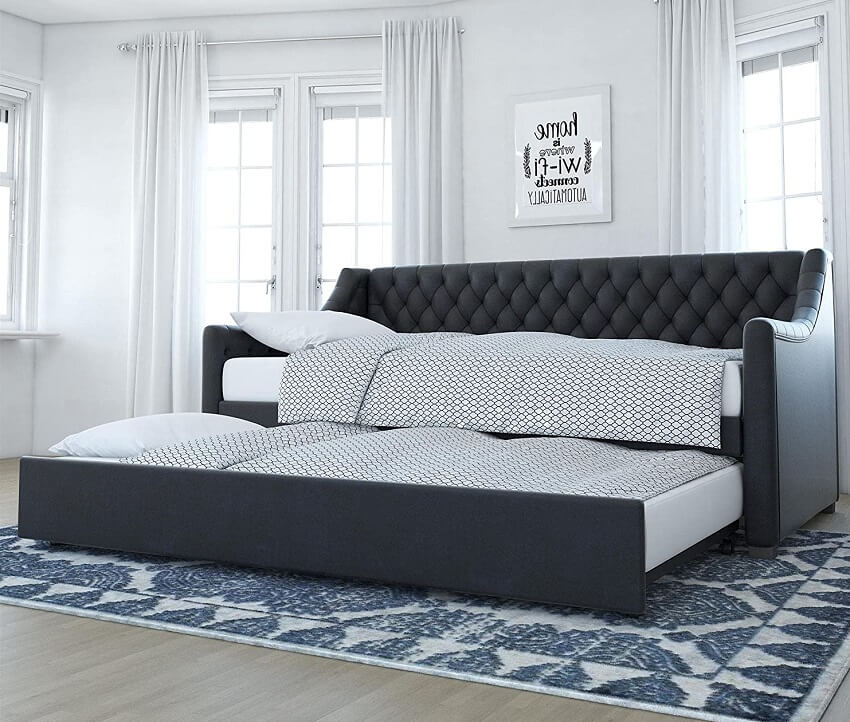 See this pull-out couch at Amazon [sponsored link]
This form of couch is great for a studio-type apartment or a compact space. A single piece of furniture can function as a couch and a bed, saving both space and funds. Finding the appropriate bedding, however, is a difficulty with this style of bed. Pull-out couches are available in twin or non-standard sizes.
Sofa vs Couch vs Loveseat
A sofa's primary function is to provide seating, and they may be found not just in homes but also in workplaces, reception rooms, and lobbies, as well as in bars. With an average length of roughly eighty-four inches, it is meant to support two or more persons.
Sofas, on the other hand, could be useful for sleeping due to their length. Some sofas also have a built-in feature that allows them to transform into a bed.
Couches are mostly used for sitting, however, they may also be used to sleep on, but not for tall people. Couches are commonly seen in living rooms, lounges, family rooms, hotels, pubs, and business offices, among other places.
It is made up of three parts: the frame, which is often composed of lumber, plastic, or metal, the cushioning, and the covering.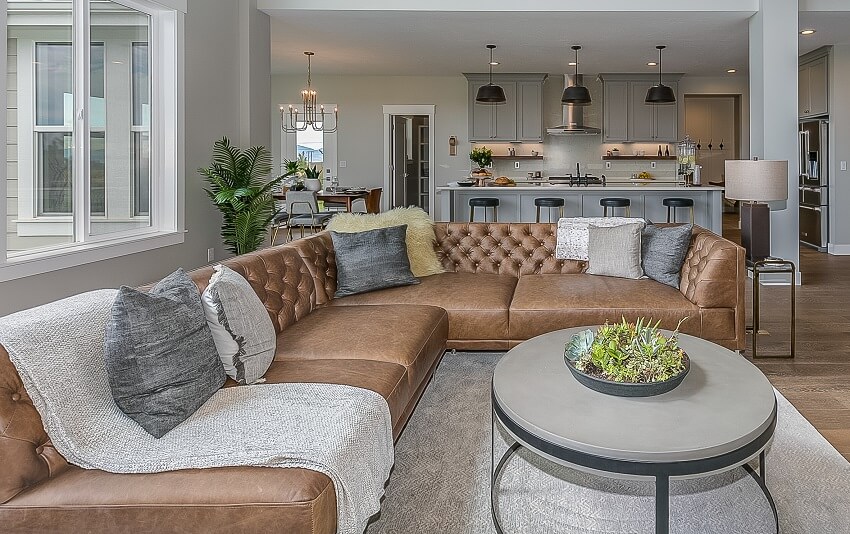 Sofas and couches are very similar in many ways. But in reality, sofas are sometimes bigger than couches. But, sofas and couches are much bigger than a loveseat.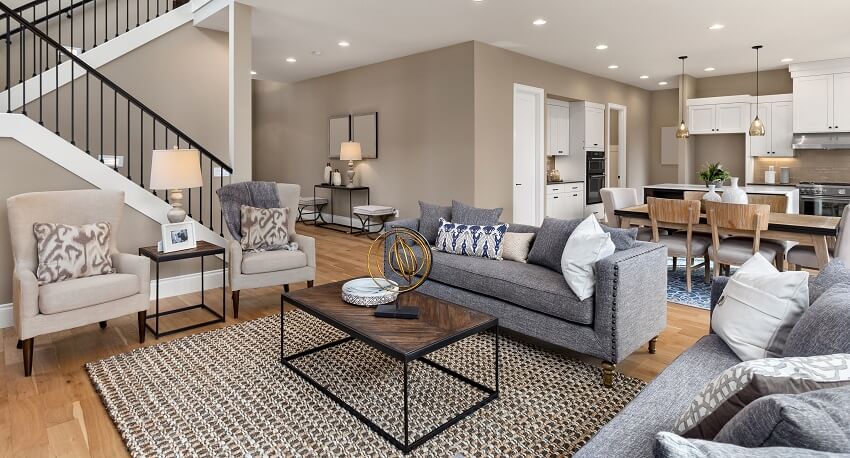 A loveseat, sometimes known as a dating seat or a mini-sofa, is a type of furniture made specifically for two people. Like the sofa, loveseats feature backs and armrests, as well as upholstery.
The usual length of a backseat is roughly sixty inches, as it is only meant to accommodate two people. Unlike sofas and couches, loveseats cannot be slept on as they have a short length.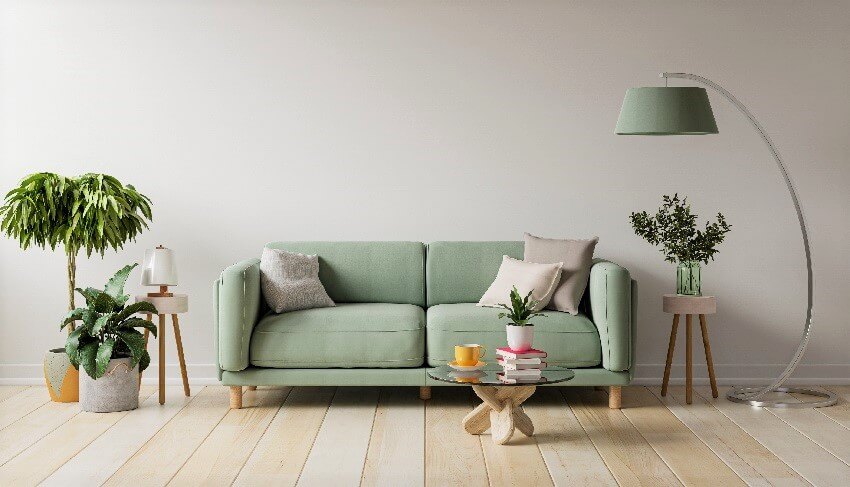 Nevertheless, all of these seats are designed to provide maximum comfort and relaxation. Their main differences mostly focus on size only.
Is A Sofa Smaller Than A Couch?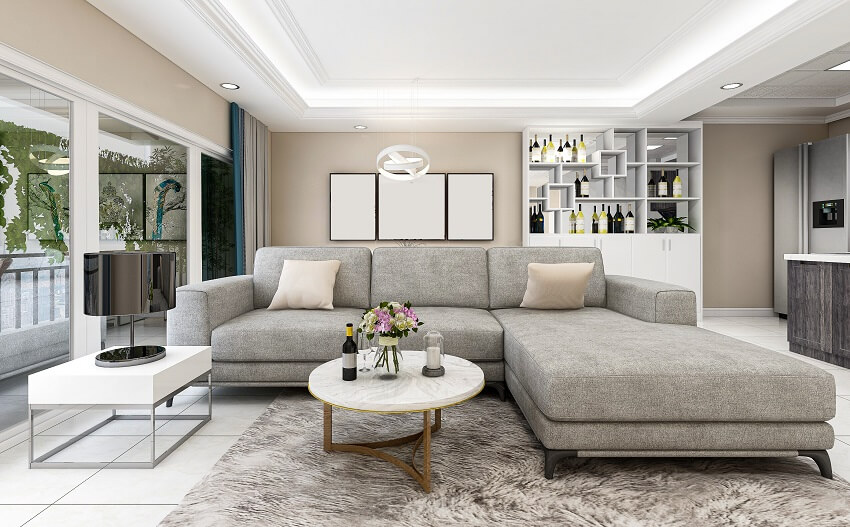 No. Typically, sofas are larger than a couch. Maximum occupancy is, without a doubt, one important factor that distinguishes the two. Couches are usually smaller, with seating for two to three people.
Sofas are typically bigger versions of couches, meant to seat four or more people. However, you may have seen a two-seater sofa, which is normally called a loveseat.
In a nutshell, the maximum capacity of a couch is only 3 people. There are no couches that can accommodate more than that. However, certain sofas do have a maximum capacity of 3, but some sofas can accommodate 4 or more people. That is why couches will always be smaller than sofas.
Why Is A Sofa Called A Settee?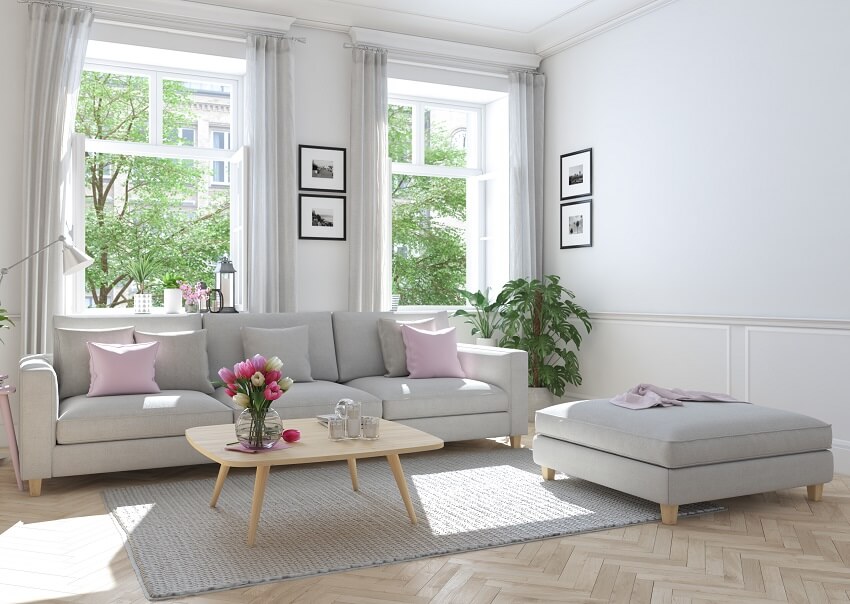 A settee is frequently called a sofa since it has a backrest. Nevertheless, the settee arose independently to a sofa, even if they currently have the same meaning.
A settee is defined by the Oxford English Dictionary as "possibly a whimsical version of a settle", which is traditionally referred to as a bench made out of Oak.
Hence, the settee evolved into a soft-seat bench, and as they grew increasingly popular in the 17th and 18th centuries, and different seats with the same vintage design were frequently matched. Because a settee also provides a comfortable seat, it is often called a sofa nowadays.
Visit our guide to the differences between sectional vs sofa for more related content.