Discover the different chair rail paint ideas with what color it should be painted, two tone suggestions, and options for dining rooms.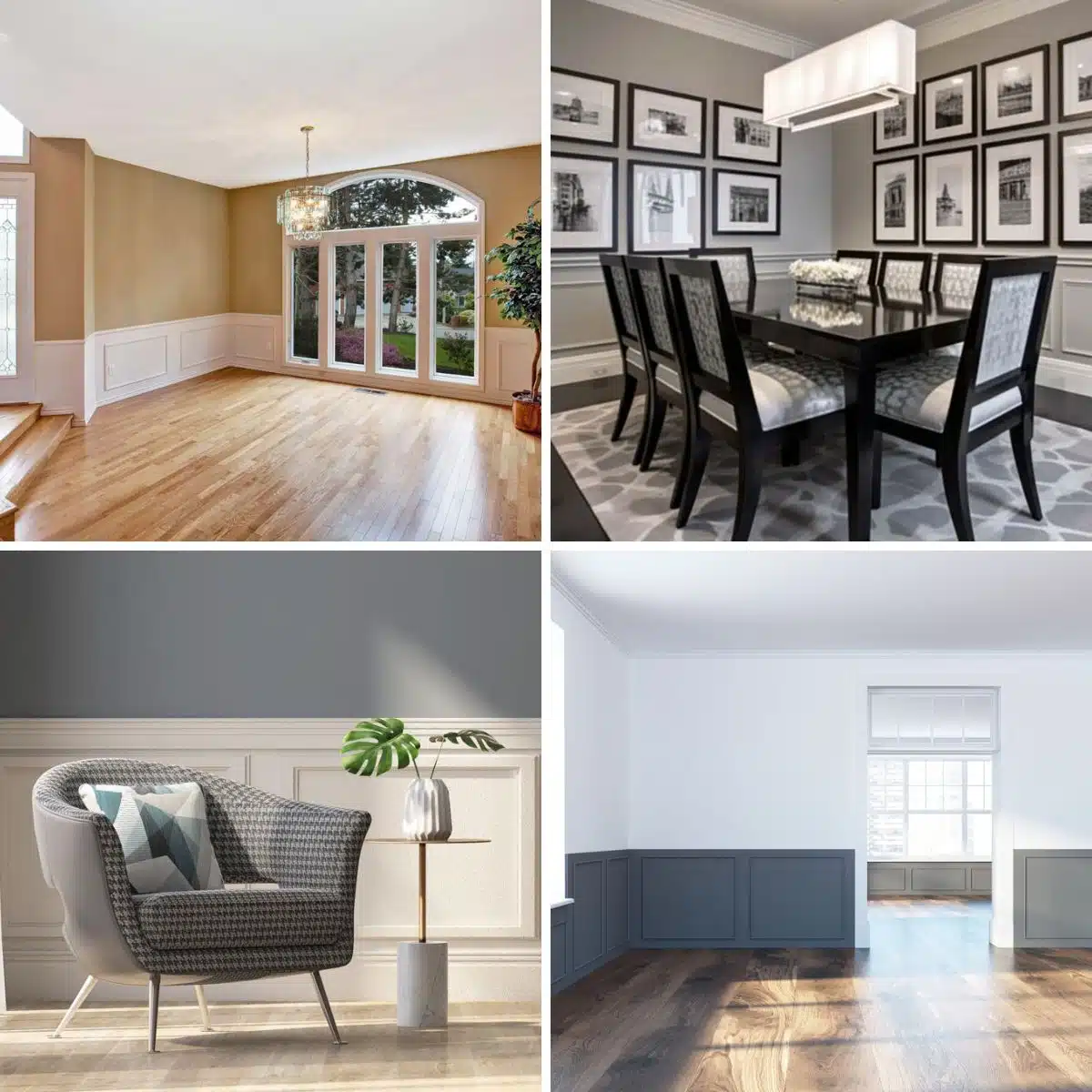 Did you know that choosing the right chair rail paint can make a massive difference in your interiors? Well, unfortunately, chair rails are frequently overlooked and underestimated. However, design experts know and understand that the real art of interior design lies in artistic intricacies, and yes, they know that well-styled and painted chair rails can boost your living space.
You might ask, what are the best paint ideas for my chair rail? We're glad that you're here if you're finding answers to that question.
Whether your goal is to remodel your dining room, give a refreshing update to your living space, or bring a hint of sophistication to your bedroom, the following chair rail paint ideas would be your map to exploring the best ways to revamp your chair rails and your indoor ambiance.
What Color Should A Chair Rail Be Painted?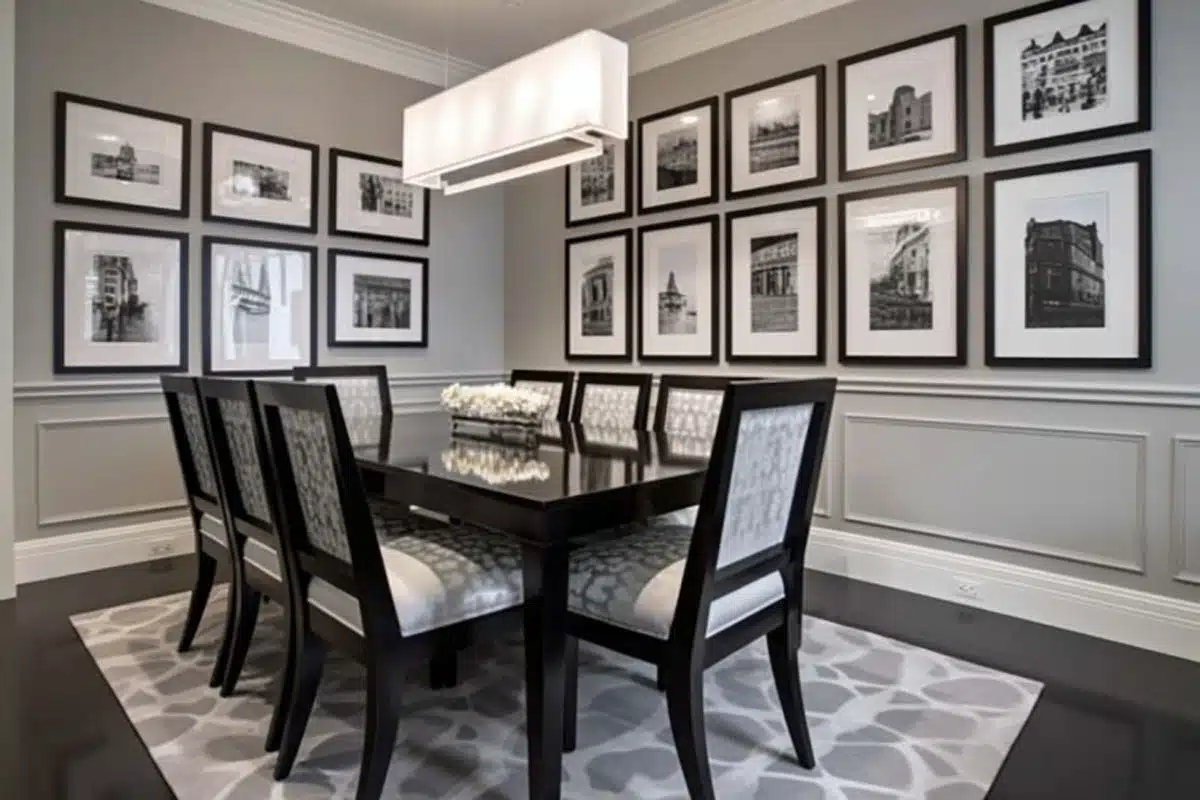 One way to achieve a well-balanced and coordinated interior layout is by picking the most ideal color for your chair rail. It can discreetly yet greatly complement the overall beauty of your entire color scheme while producing a pleasing-to-the-eye visual element.
| | |
| --- | --- |
| Choosing the Best Color For Chair | |
| White or Off-White | Provides a clean, classic look that matches well with many wall colors. Offers subtle contrast to light color walls. |
| Match the Trim | Goes with other room elements, décor and accessories. Cohesive look that has the same color as baseboards, window casings, and crown molding. |
| Darker Shade for Rail than Wall Color | A darker rail shade offers continuity and presents contrast without introducing additional colors. |
| Contrasting Colors | A contrasting color scheme adds character and makes a bold statement. |
| Natural Wood | For a warm rustic, traditional, country, or farmhouse design that goes with other wood finishes. |
| Two Tone Colors | The rail acts as a dividing line with it matching or neutral to one of the wall colors. |
As a general rule of thumb, the best color of chair rail must harmonize not just with your current color scheme but also with the general lighting and size of the room.
We asked some of the design experts in this field and below are some of their color recommendations:
Soft Neutral Colors
Interior designers mainly recommend painting your chair rails in neutral colors such as gray or beige due to their maximum versatility. They are an incredible paint color option as they can smoothly complement any color within a space.
Soft neutrals like gray or beige can help in generating a very serene and well-coordinated atmosphere in practically any setting. Moreover, these colors can be a wise pick whether your existing decor is traditional, modern, or contemporary. These neutrals can help your furniture pieces, such as chairs, tables, or other design features, to pop out.
If the color on the wall above and below the chair rail is not the same, then the color below a chair rail should always be darker than the color above. – Design Wise: Your Smart Guide to a Beautiful Home, Vern Yip
Muted Pastel Colors
To avoid overwhelming your current living space, muted pastel colors may be the way to go – in fact, they are a delightful and subtle way of incorporating discreet yet impactful color accents. The most popular muted pastels you can select from normally include pale green, soft blue, pale pink, pale yellow, or any comparable pastel shades.
Indeed, muted pastel colors can exude a sense of peace, personality, and subtlety to your current interior design. Thus, if you want to inject a gentle combination of colors, going for these chair rail paint colors would be the wisest decision.
A striped paint treatment below the chair rail anchors the room visually. Color Solutions, Vicki Ingham
Contrasting Colors
If you are fond of establishing a bold, striking interior design statement within your space, you can go for contrasting colors such as charcoal or navy blue – yes, they can be painted sparingly to your chair rail and convert it into a captivating design element.
Applying richer and deeper colors to your chair rails can effectively draw attention to the people occupying the room and can also produce a dynamic visual appeal. Also, chair rails in bold, contrasting colors can greatly transform any furniture piece into a work of art and make it a gorgeous focal point.
A chair rail provides an ideal opportunity to introduce an accent color. For instance a darker blue color on the wall beneath the chair rail helps make a tall room feel more intimate while still looking bright and light. – Victoria Decorating with a Persoanl Touch, Alison Wormleighton
Two Tone Painting Ideas for Chair Wall Rail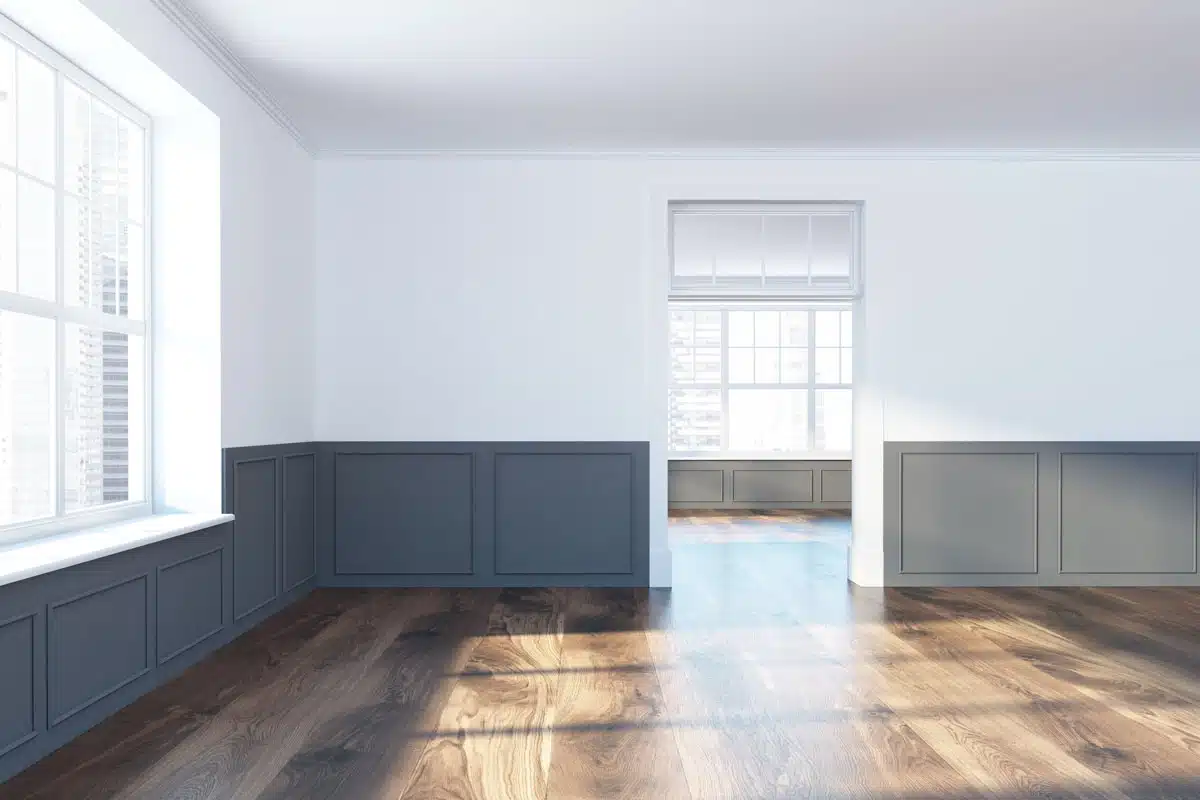 By combining two distinct tones or colors combined and harmonized, you'll get a two-toned chair rail that can massively contribute to the character, aesthetic allure, and depth of your furniture and living space. Two-tone painting can help accomplish a vast array of effects, producing a timeless and chic impact that will truly augment your interior design.
Pairing Contrasting Tones: Once you pair contrasting tones, you will see impactful, striking results in your interior design scheme. To give you an idea, you can consider pairing soft gray with ultra-crisp white or warm beige along with deep navy blue. By applying the two-tone painting technique to your chair rail, you will see the interplay of dark and light tones that add depth to your interior walls.
Two-Tone Paint for Open Floor Plans: Although open floor plans can expand your interiors, they can oftentimes lack that much-needed definition. You can consider using two different colors on adjacent walls or on the lower and upper portions of the same wall to visually divide two areas while retaining a well-coordinated and cohesive interior design.
Using two-tone paint for open floor plans can help you define different spaces in your home such as dining, living, and kitchen spaces, which can help you create an enhanced and balanced design flow. This can be done without even using room dividers to achieve the same goal.
Two-Tone Paint for Highlighting Architectural Elements: To further accentuate the architectural elements of your house, a two-tone painting would be an ideal technique. Making use of two distinctive colors can draw emphasis on certain design features, whether you have built-in shelves, intricate moldings, or stylish columns. For example, you can paint the surrounding walls and trims in contrasting tones to make the architectural elements shine.
Ombre Color Effect: Using two-tone paint for your chair rails can also be creatively achieved through the ombre color effect for a more artistic and aesthetically appealing impact. You can execute the ombre color effect in your chair rail by using first a dark-colored paint at the bottom of the wall, and as you travel the paintbrush upward, you will slowly transition to a lighter shade.
Dining Room Rail Molding Ideas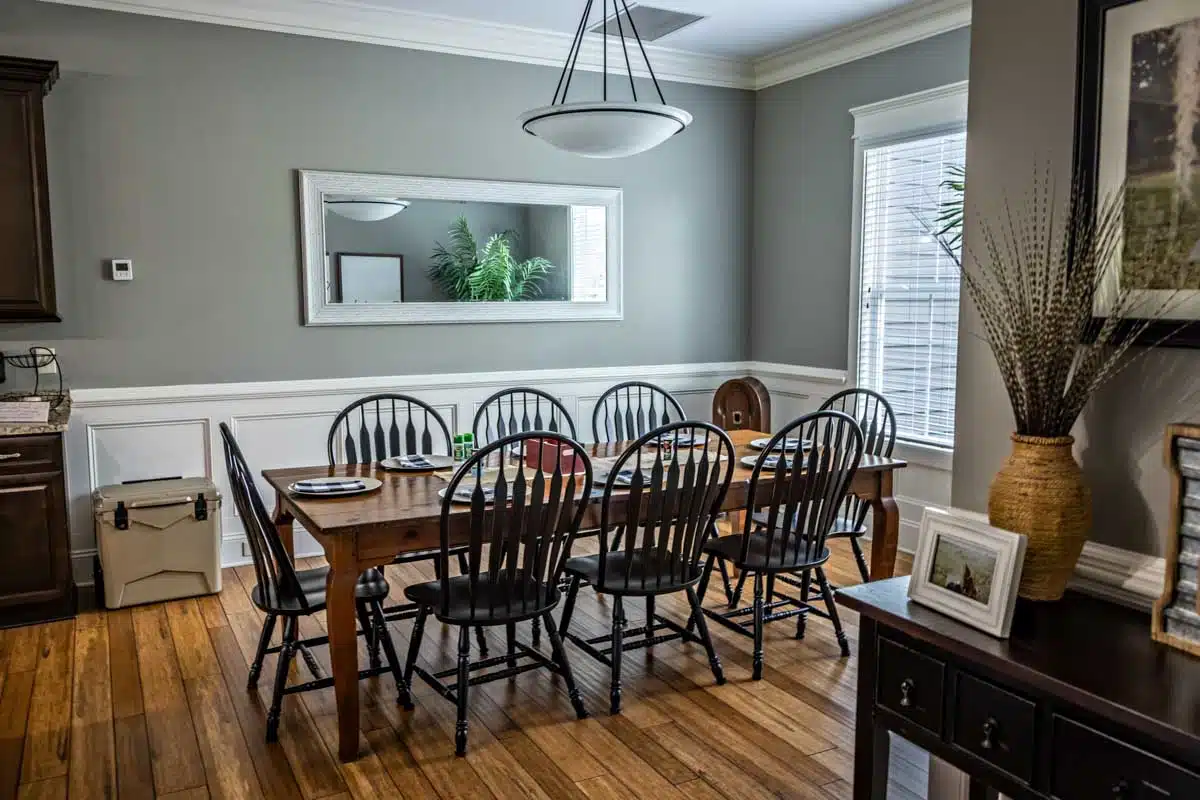 When it pertains to adorning your dining room, you will also appreciate the contribution of chair rails design-wise. Achieving a timeless, formal interior, cohesive ambiance, or a striking, impactful design statement, chair rails would function quite incredibly in your dining room.
Painting Chair Rail in Coordination with the Current Furniture Color: Your dining room furniture, especially your dining chairs, may have their colors matched with the color of your chair rail to achieve a sense of cohesion, consistency, and added elegance. By doing so, you can create a seamless aesthetic balance and connection between your furniture pieces and your wall.
The chair rail serves to keep furniture from scraping the wall, and originally it was used in dining rooms – Finish Carpentry A Complete Interior & Exterior Guide, William Perkins Spence
For instance, if you have wooden dining chairs, you may consider painting a complementary color for your chair rail, such as beige, brown, or khaki. However, whether your entire dining set is infused with warm wood tones, cozy upholstered seats, or streamlined design, coordinating their color with your chair rail will surely unite the entire dining room design.
Painting Chair Rails with a Contrasting-Colored Wainscoting: Contrasting the paint colors between your chair rail and dining room wainscoting would be a stylish and creative way to attain a dining room that looks timeless and more formal. Just to give you a clear picture, wainscoting is a unique design feature that normally involves certain paneling on the lower half part of the interior walls.
When paired with chair rails, adding wainscoting would be a great way to incorporate contrasting textures or colors. This also helps you define the space as well as the contrasted wainscoting function as a natural divider that visually separates the lower part of the wall from the upper part.
Striking Contrasts: If making a statement in your dining room is your cup of tea, choosing paint colors in bold, striking contrasts would be a very exciting option. Basically, all you have to do is pick a chair rail color that can dramatically contrast with your current dining room walls.
One expert recommendation we can disclose to you is the winning contrasting combination of deep navy blue with pure white or rich red with warm gray. These contrasts would indeed produce a striking impact in your dining room, lending energy, vibrancy, and an eye-catching centerpiece.
Living Area Rail Designs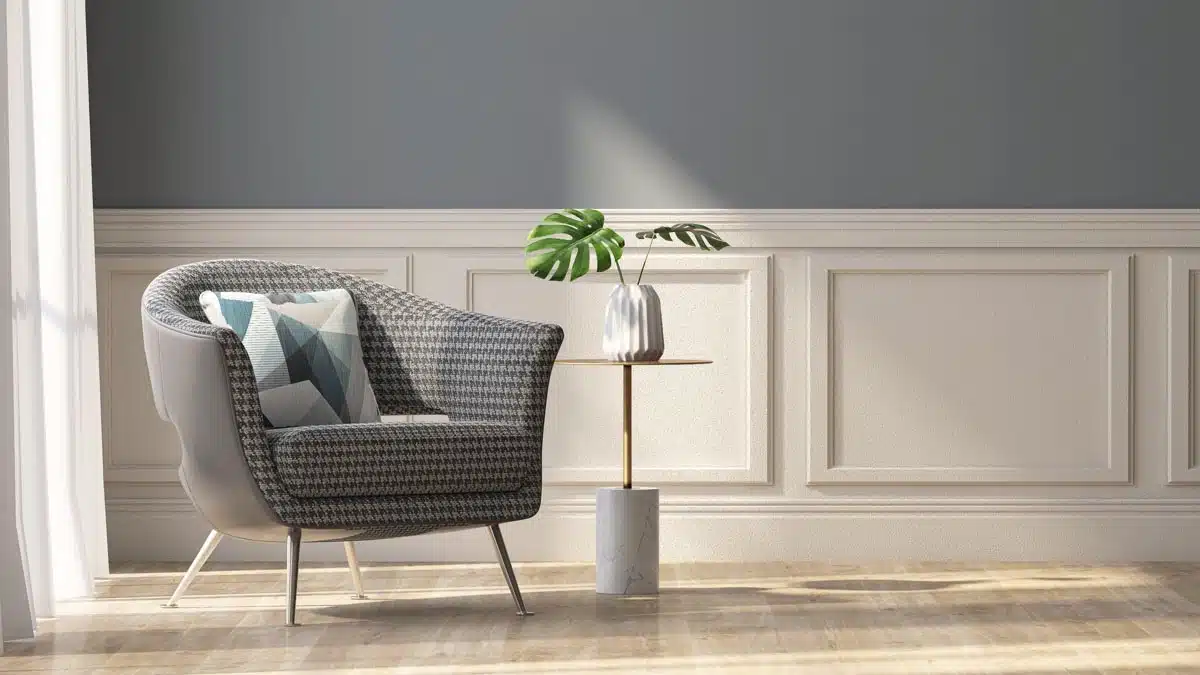 The right paint can redefine the space in your living area in a breeze, henceforth making it a centerpiece.
Furniture-Chair Rail Coordination: You can achieve a cohesive appearance in your living area by matching and coordinating the paint color of your chair rail with your primary furniture pieces such as couches, accent chairs, center tables, ottomans, and the like. This design technique would create a well-put-together living area.
Neutral Tone Serenity: Adding a sense of tranquility and serenity to your living area would be a snap by painting your living area chair rails with neutral tones such as light gray, beige, or pale blue. By choosing these colors, you can establish a living area that works best for handling gatherings or relaxing.
Energy-Boosting and Dramatic Hues: Adding energy and drama to your living area can be easily achieved using a dramatic, vibrant-colored rail. Such colors usually include deep burgundy, bright yellow, orange, or emerald green. These paint colors provide an enchanting focal point and a right amount of vibrancy and individuality.
When these dramatic and cold colors are matched with the proper amount of indoor lighting and decorative wall elements, no doubt your living area will look more interesting.
Bedroom Rail Ideas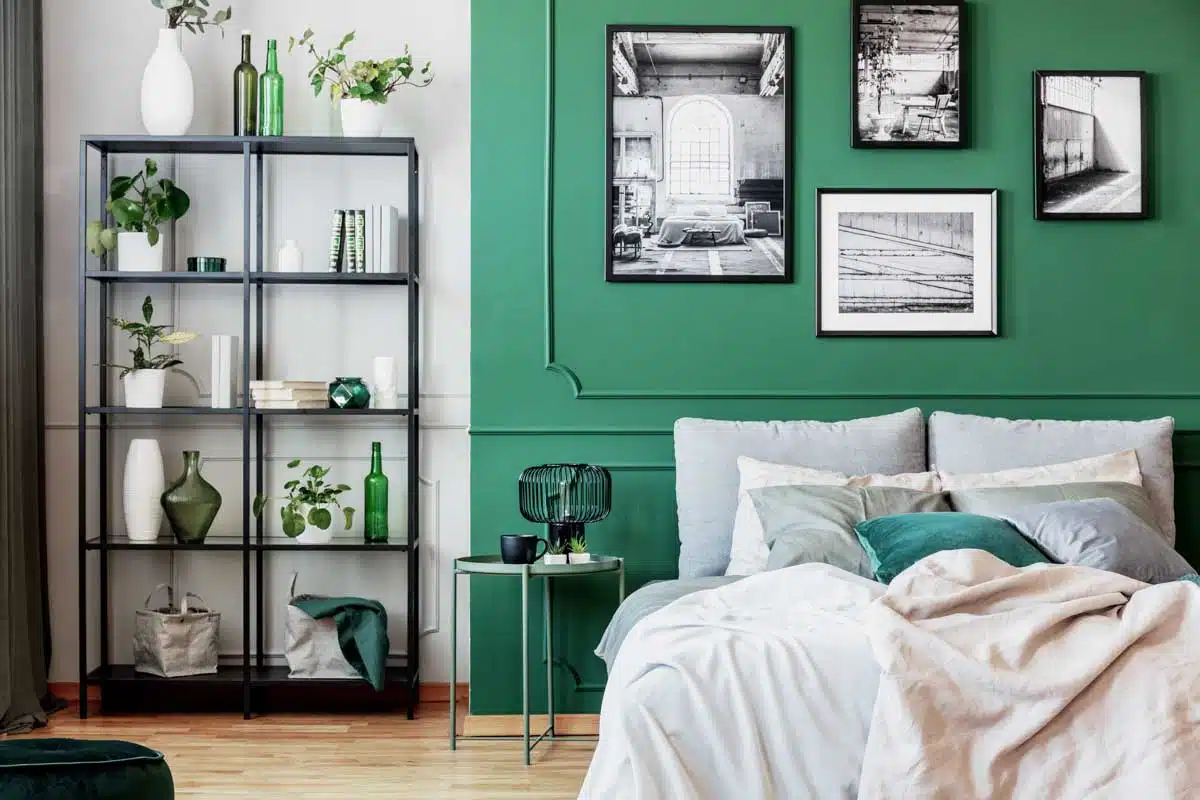 Chair rails are also versatile enough to fit any type of bedroom decor. Here are some expert suggestions on how you can elevate the atmosphere of your bedroom with the right choice of chair rail paint colors.
Calming Hues: Since bedrooms are always meant for resting, relaxing, and sleeping, choosing a color palette that's on the calming side would be the wisest paint color option for these rails. Opting for calming colors such as soothing blues, muted greens, gentle grays, and soft yellows can induce a bedroom haven that's full of tranquility and peace.
Interior designers normally suggest opting for these colors to foster a sense of relaxation and facilitate unwinding in your bedroom after a very tiring day. Even so, if you want to augment the positive impact of these calming colors, you can pair them with soft-brightness lights and strategically arrange some of the fixtures to highlight the texture and color of your chair rail.
Personal Expression (Any Color of Your Choice): Normally, bedrooms are the perfect place to express your personality – they're like a free canvas for individual expression. Indeed, this type or rail can act as your artistic outlet for exhibiting your creativity. Hence, any single color or color combination you want to incorporate on your walls, as long as it is according to your liking, can be used to paint your chair rail.
Interior designers usually suggest experimenting with different colors on your walls and chair rails. This may involve combining calming with bold tones or mixing playful color palettes.
Chair Wall Rail Paint Colors Chart
| Category | Colors |
| --- | --- |
| Whites & Neutrals | Pure White, Eggshell, Cream, Light Gray, Taupe |
| Darks & Deep Tones | Charcoal Gray, Navy Blue, Espresso Brown, Black, Deep Green |
| Pastels & Light Tones | Powder Blue, Soft Pink, Lavender, Mint Green, Peach |
| Natural Wood Tones | Cherry Wood, Oak, Walnut, Pine, Mahogany |
| Metallics | Gold, Silver, Bronze, Copper |
| Bright & Vibrant | Teal, Turquoise, Bright Yellow, Coral, Red |
| Earth Tones | Olive Green, Terracotta, Rust, Sand, Forest Green |
| Greens & Blues | Sage Green, Seafoam Green, Sky Blue, Denim Blue, Teal |
Should Rail Trim Be Painted Same Color As Walls?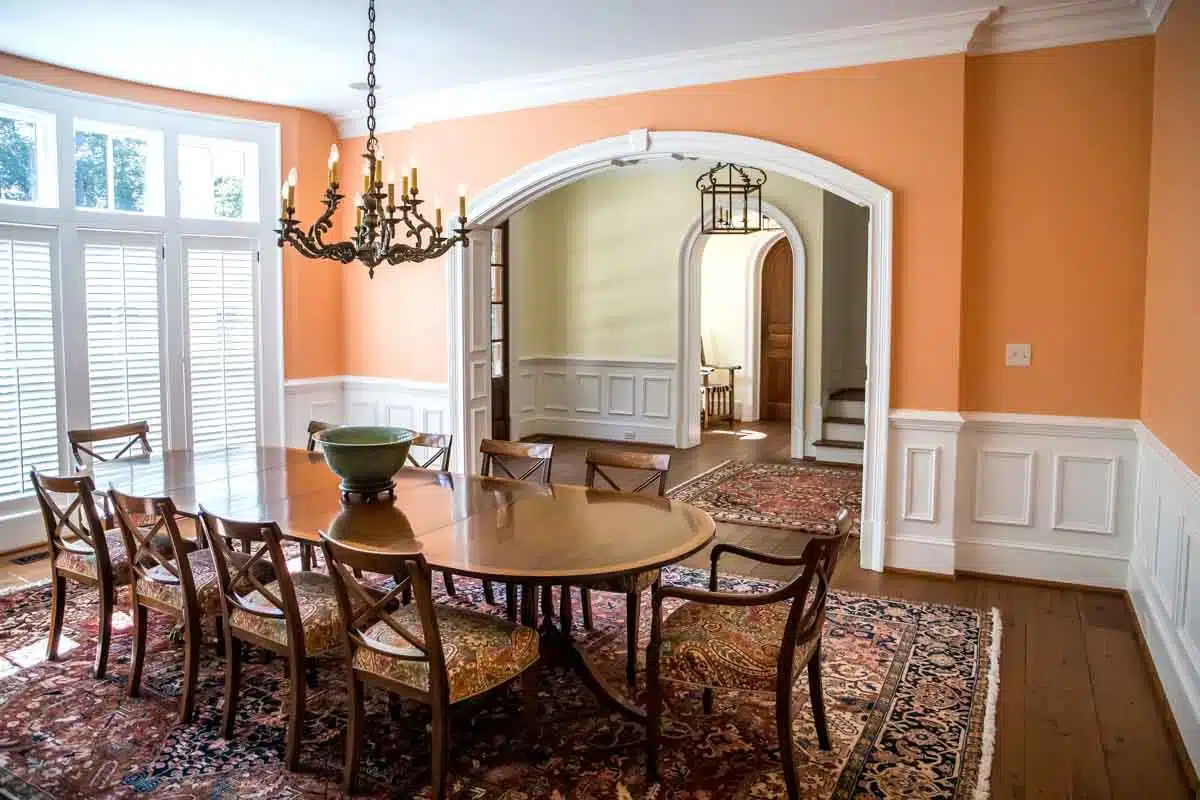 It depends on your personal preferences. However, painting your chair rail in the same colors as your walls is considered a classic choice as it promotes seamless design integration, consistency, minimalism, and continuity. By doing so, you allow your design features and other wall decorations to pop through.
Nonetheless, if you're going to ask some experts, they would normally advise you to paint your chair rails in the same color as your walls if your main goal is to highlight particular architectural elements or artwork. This will ensure a balanced wall effect and help you establish your decor pieces as solid focal points.
Does The Darker Color Go Above Or Below The Chair-Rail?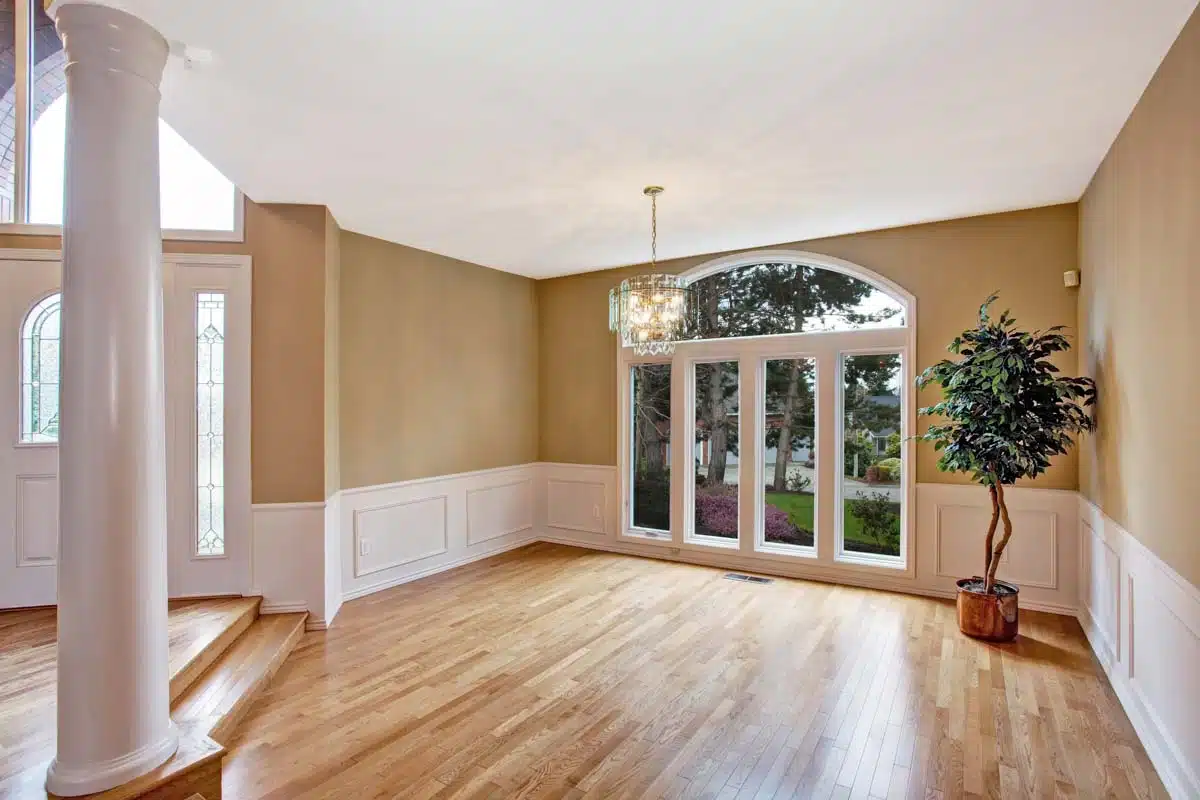 Although there is no strict and straightforward answer to this question, we normally encourage homeowners to place the darker color below the chair rail to ground the space effectively. This will help in providing balanced visual weight and the right amount of stability to the lower part of the room.
Moreover, darker paint colors can disguise scuffs, stains, and wear better than lighter colors. The part below is normally in contact with other furniture pieces; placing the darker color below the chair rail would help achieve minimal and manageable maintenance and repair.
How Can a Rail Make My Walls Look Higher?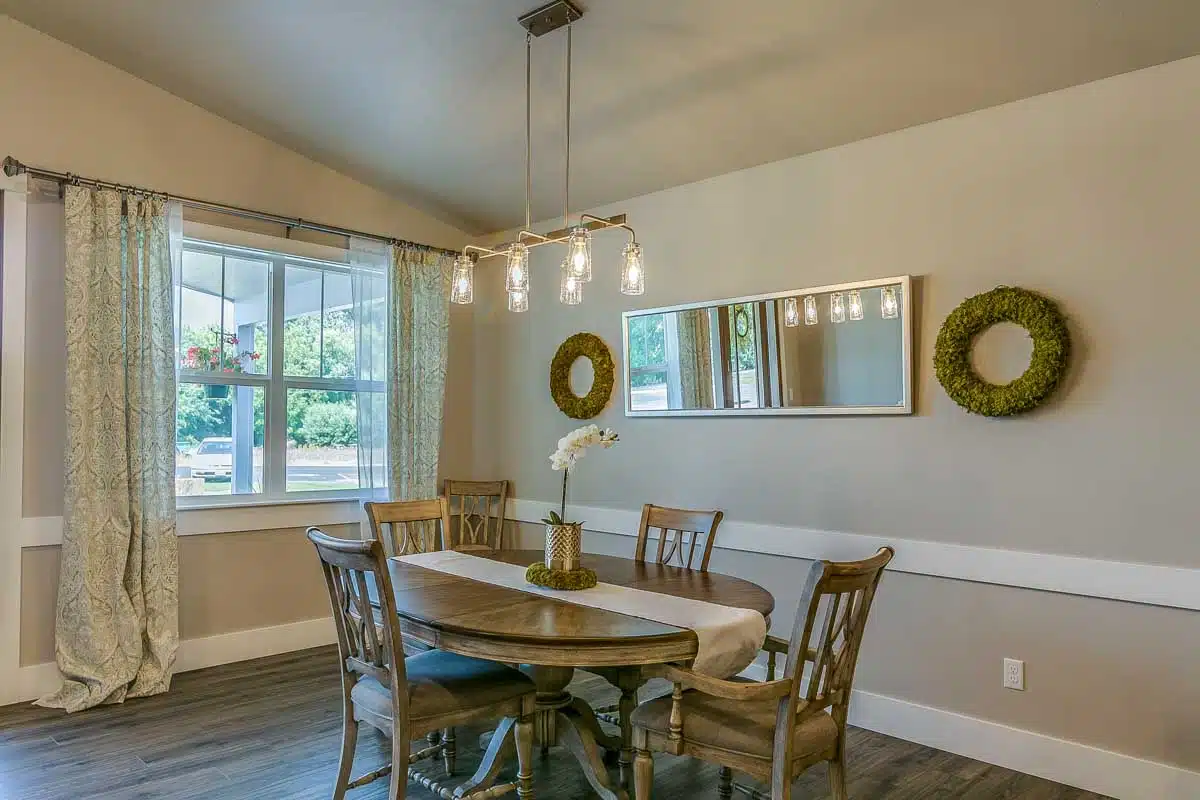 To make your wall look higher, we typically recommend installing the chair rail 36 to 48 inches above the ground. This would allow homeowners and guests to draw their eyes upward and create an illusion of a taller wall.
If you're not handy with DIY projects, hiring a contractor with trim and molding experience can help the installation go smoothly.
Always get several quotes from professionals to check the price before you commit. While you have an expert giving an estimate, make sure to ask questions about potential issues and the time line to complete the project.
Does Rail Molding Have To Match Baseboards?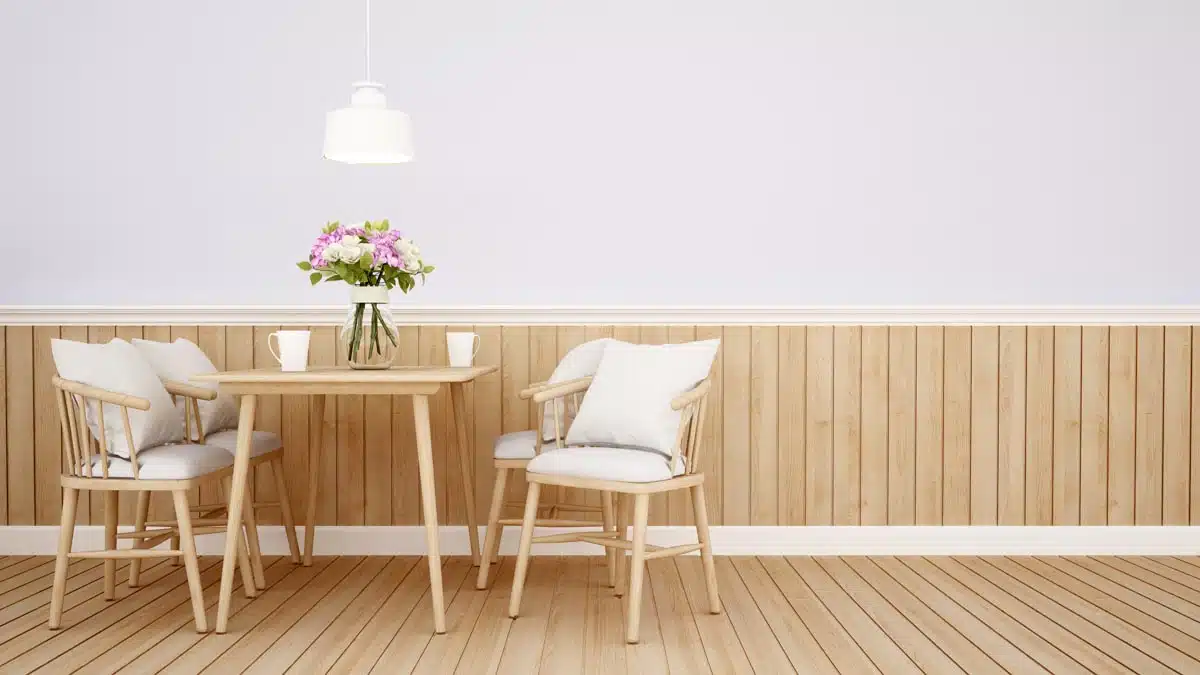 Matching the paint color of a chair rail with baseboards is quite a common option, but there is no strict design requirement regarding this matter. Professional designers only recommend finding the contrast between these design elements for an enhanced visual interest.
Generally, matching your chair rail with your baseboards can produce a pleasing experience and a seamless design flow, whereas painting them in contrasting colors can incorporate added character and depth to your space.
See more related content in our article about baseboard sizes on this page.