Here we share our guide to barn home kits including popular types, materials used and cost.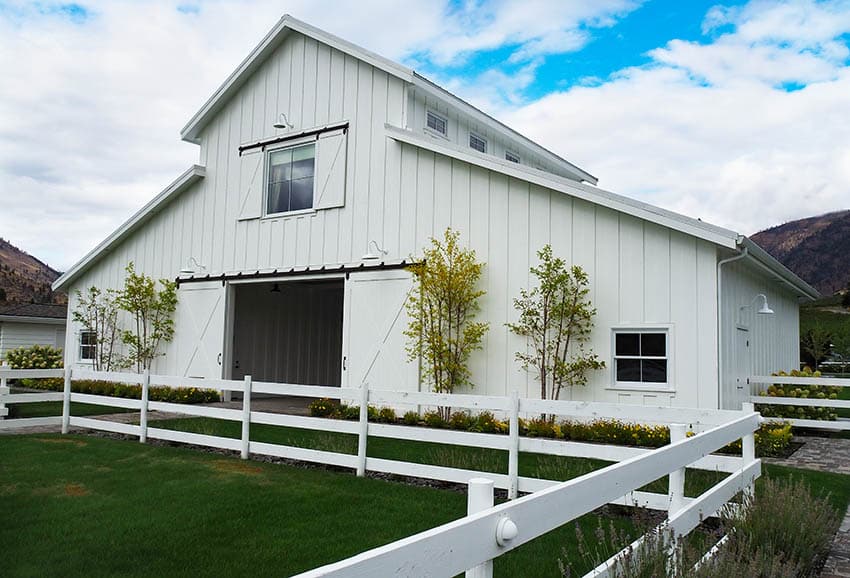 A barn home kit is a prefabricated project that includes all the materials needed to begin construction of a barn home.
This can include timber for posts and beams, the interior and exterior wall materials, other structural elements, and of course and instruction manual typically in the form of detail blueprints.
Types of Barn House Kits
As a prefabricated kit, barn house kits do not offer a lot of customization, but there are a few types of kits that you can chose.
On top of that each company has a different style or way of building, which can change the overall look. Some of the types that you can select and their benefits are described below.
Pole Barn Home Kits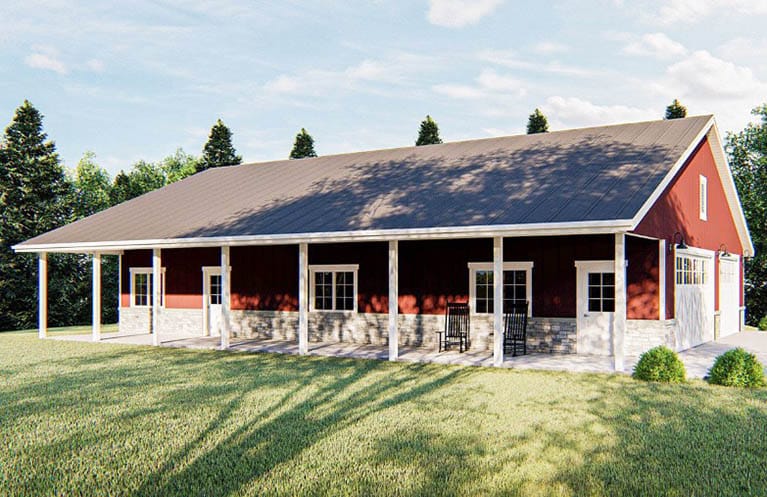 See this pole barn house plan with large covered porch at this link [sponsored]
Pole barn home kits are different from regular home because in most cases, there is no needed foundations. Instead, the poles are driven into the ground to act as the support for the metal panels. This type of barn home is quicker and easier to build than standard homes.
These types of kits can be found at local home improvement stores or shipped to the desired location from online sources. The kits come with all the supplies needed to construct the pole barn home.
Pole barn home kits do not need or include the following: insulation, floors, doors HVAC, or plumbing. If these are going to be a needed it will be an extra cost and something that needs to be purchased separately.
Based on the specific kit you get there could be different add on items or they could be included in the overall package. See more pictures of pole barn house designs on this page.
Prefab Barn Home Kits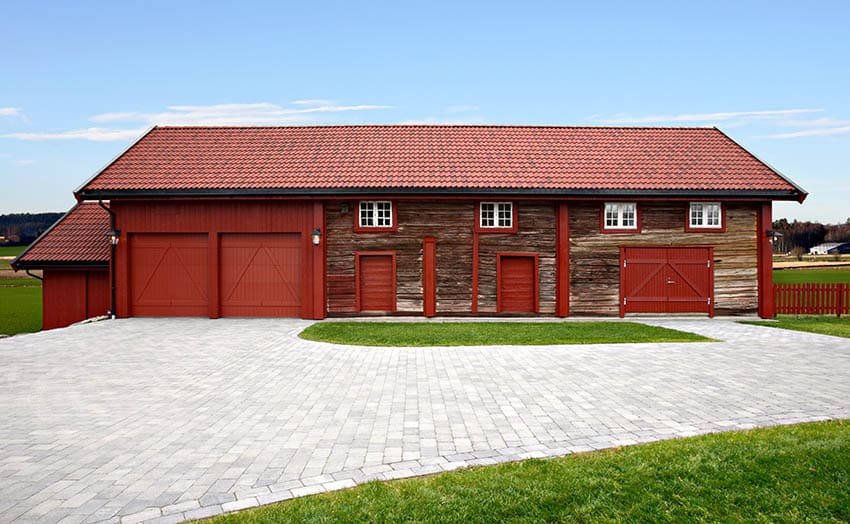 A prefabricated barn home kit differs from both a pole barn home kit and the standard home, in one large way. Prefabricated barn homes are put together off site, and then they are sent to the location, similar to if you bought a shed from a home improvement store.
Prefabricated barn homes have a few given layouts and designs, and can minorly customized as needed. These types of barn homes have similar items included as the pole barn homes but they do not require you to build them yourself.
Prefab homes can be a bit more expensive, due to the labor it took to get the house built, but it can save on the professional builders in the long run.
Similar to the pole barn home kits prefabricated barn homes do not need or include the following: insulation, floors, doors HVAC, or plumbing.
If these features are going to be a needed it will be an extra cost and something that needs to be purchased separately, but should be considered when the home is being manufacturer. If desired, some of these items can be added or included in the project.
Materials Used for Barn Home Kits
The primary materials used for barn home kits are metal or wood siding. However, many homes also utilize brick and stone cladding and cement panels.
Metal Barn Home Kits
Metal homes are made from metal structural poles that are attached to metal panels along the outside of the home. These kits often include metal materials for the trusses, beams, framing, etc.
There are also typically roofing materials, exterior doors, and vapor barriers that are needed for the metal barn homes.
Metal homes are great because they do not have any potential for splitting, cracking or flaking, and they are non combustible.
Post and Beam
Post and beam are made from wood structural poles. These kits often include heavy timber for the rafters, beams, framing, etc. There are also typically roofing materials, exterior doors, and vapor barriers.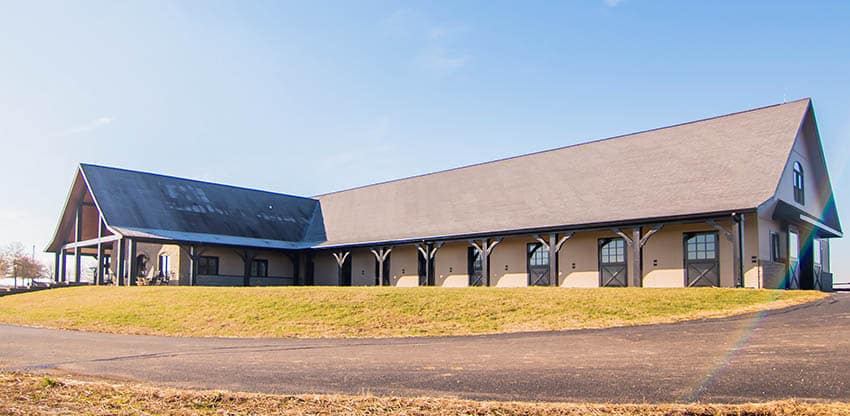 Barn House Kits Prices
There are a few considerations that can greatly affect the price of a barn house kit though, but the average cost of a pole barn home can be about $50,000 to $70,000. Things that can change the price of a barn home kit, some are described below.
Interior Design: The barn house kit comes with the needed materials and instructions for building the house, but the interior design is all up to you.
Adding casework, paint, appliances, furniture, etc are all in addition to the overall cost of the barn house kit.
Based on the style decided, the price addition could be vary. Flooring can be about $1000 to $5000 depending on the type. Painting could be about $1,000. Doors and windows could be about $2,500 each.
Required Foundations: While one of the biggest cost saving parts of this building method, in some situations there may be a needed foundation.
Certain locations and local requirements could affect the need for an expensive foundation. Foundations need to be done by a professional. This can be an additional $26,000 or more.
Utilities: The utility hookup is not included in the kit, which can be both a hassle and a large price addition based on the location and local requirements.
This is something that will likely need to be done by a professional, which can also raise the overall price tag. Plumbing could cost $10,000 or more, electrical could be $2,500, and septic could be about $3,000 to $9,500 extra.
Professional Builders: As mentioned with the utilities, professionals may need to be called in. If you are not an experience tradesman, or even and experienced do it yourselfer, there are likely some parts of the process that you are going to want to consult a professional.
This can be a hefty addition on the price, but going without could result in incorrect or dangerous circumstances.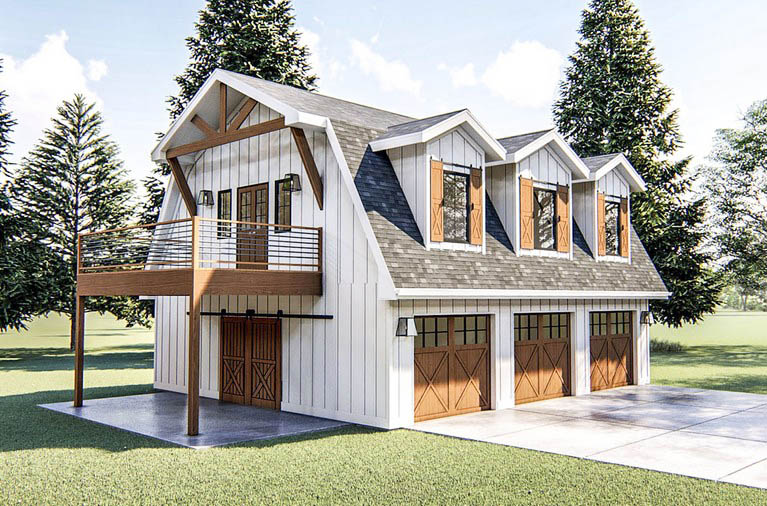 See this modern style barn home garage apartment plan at this link [sponsored]
Are Barn Homes Cheaper to Build?
A barn home can be cheaper to build than a standard home, especially if done as a DIY like it is meant to be. This saves on expensive labor that is commonly needed to build a standard home. Unfortunately, this DIY project is extremely large and requires a great deal of skills from team doing the project.
Typically barn house kits can run anywhere from $4,000 to $50,000 this is compared to a standard home priced at $150,000 to $450,000. There are a great amount of differences in the two structures that makes that price such a drastic change.
Barn style homes are comparable to the cost of many types of tiny homes which may be an alternative for those deciding primarily on price.
Are House Kits Worth It?
Barn House kits can be worth it, if you are planning on completing the project yourself, and if your project meets a few conditions.
For a standard build, a barn house kit should be a nice and easy (compared to building a standard home) set up. These types of homes are much more worth it in forgiving climates that would not require insulation or HVAC.
Overall, house kits are much cheaper to construct than contractor built-homes. The downside to this is they often don't have the same lifespan as these homes. They are also much faster to build than house designs built on site.
For more related designs visit our gallery of bardominium homes here.