Welcome to our penny tile shower design guide including their pros and cons, penny tile shower wall ideas, and helpful tips on how to clean them.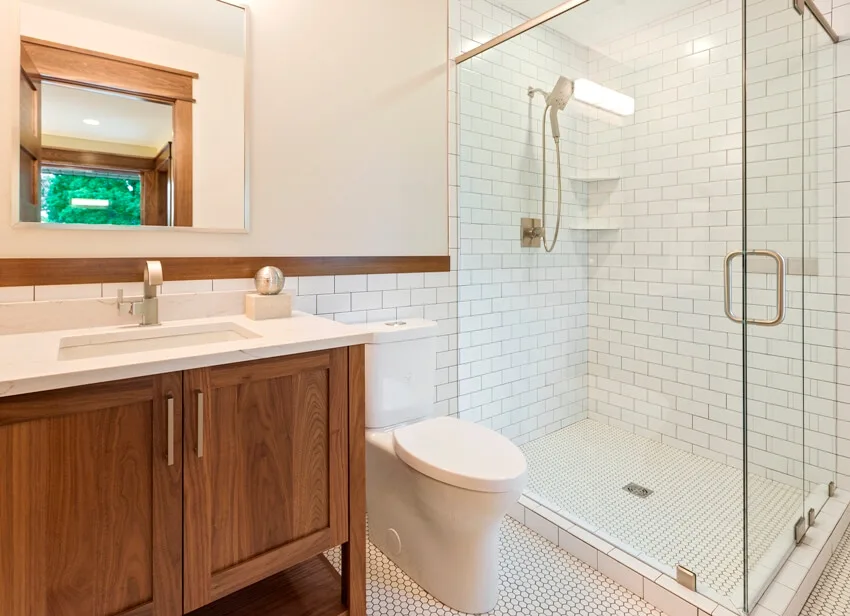 If you're thinking about having a penny tile shower, you're up for a classic feel that can transport you back to the past. Penny tiles were introduced way back in the 1900s, but that doesn't make them an element you can't use today. If you choose penny tiles for your shower, the ambiance they offer is more than just a classic appeal but also a retro vibe.
Penny tiles, a size of a penny with a quarter-inch measurement in diameter, can be made from ceramic, glass, metal, porcelain, and stone. While porcelain penny tiles are the most popular, glass penny tiles look elegant and stunning but are not durable. These tiles are grouped together and stuck with one another to cover an area like the entire bathroom shower.
A penny tile shower is guaranteed to be eye-catchy because while the style started a century ago, it's not a common sight in the bathroom, which can be to your advantage. The shower can accent the bathroom and give it a unique element to look at. But is it the ideal option for you?
Pros And Cons Of A Penny Tile Shower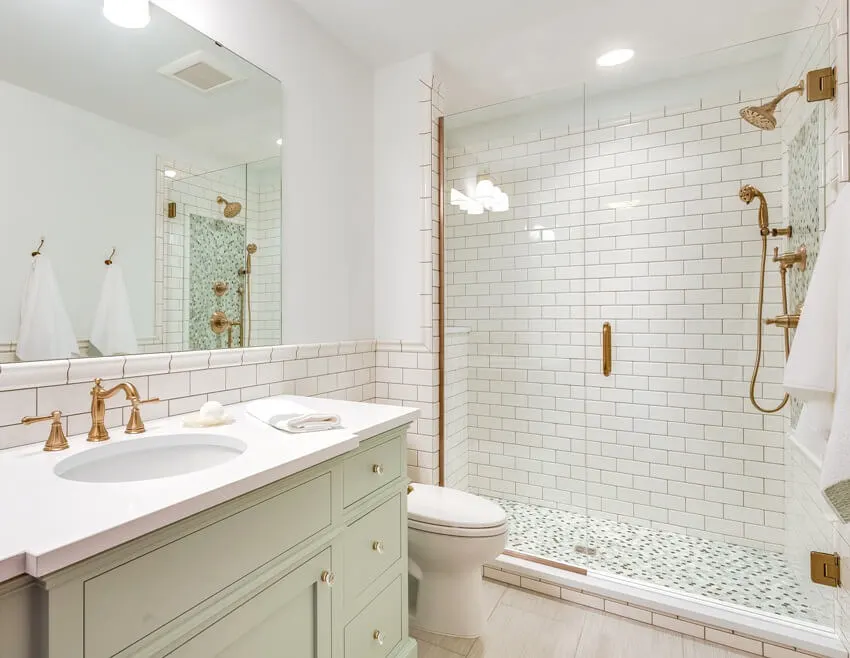 A penny tile shower will be an aesthetically interesting addition to your bathroom but like everything else, it has its own drawback. So before you make a decision, discuss the pros and cons of having a penny tile shower and check if the advantages outweigh the drawbacks that come with it.
Pros of A Penny Tile Shower
If you're set on a penny tile shower, check out these advantages you are sure to benefit from: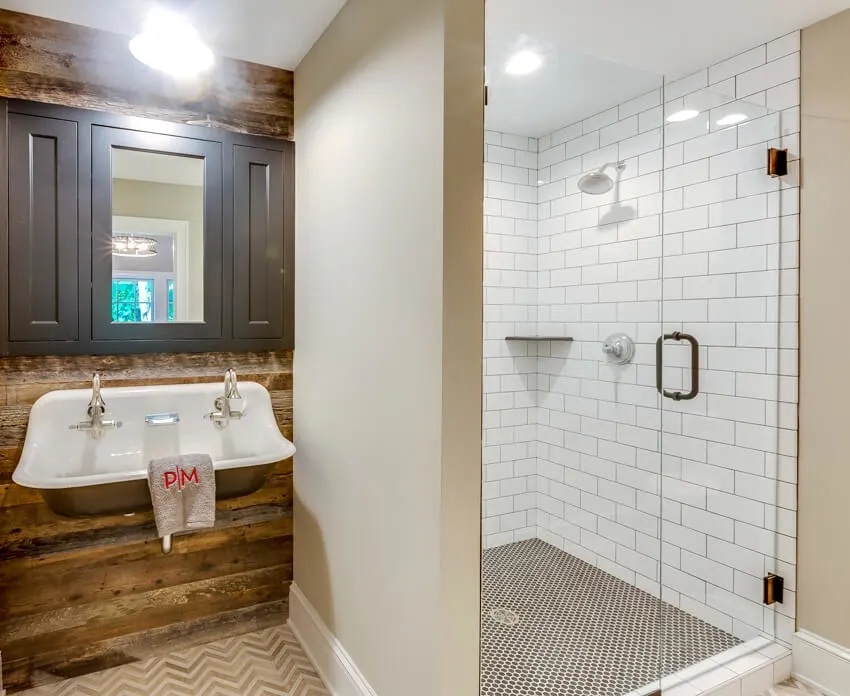 • Non-slip surface – Penny tiles can be installed in wet areas and spaces with high foot traffic, which means it is perfect for the bathroom.
• Durable – With tile sealer or epoxy, pennies or tiles are glued down to the flooring which makes it strong and durable.
• Flexible – With a design that can be matched with any style, from classic to contemporary.
• Stylish – More than just an incredible visual addition to the bathroom, it also offers unique tile shapes and styling to the shower.
• Easy to find – Materials for a penny tile shower are easily found in the market.
• A wide variety of colors and patterns – From its classic black and white version, a penny tile shower can come in a variety of colors and patterns, depending on your preference and creativity. You can go for a penny tile shower with a bold color or tile pattern, or one with a subtle shade.
When considering the surface, matte and glossy are both possible. Find out more penny tile flooring designs here.
• DIY-friendly – Can be DIY-ed but only if you really know what you're doing. DIY-ing a penny tile shower will not just lower the cost but also tickle your creativity.
Cons of A Penny Tile Shower
With all the advantages you can enjoy from a penny tile shower, these are the drawbacks that come with it: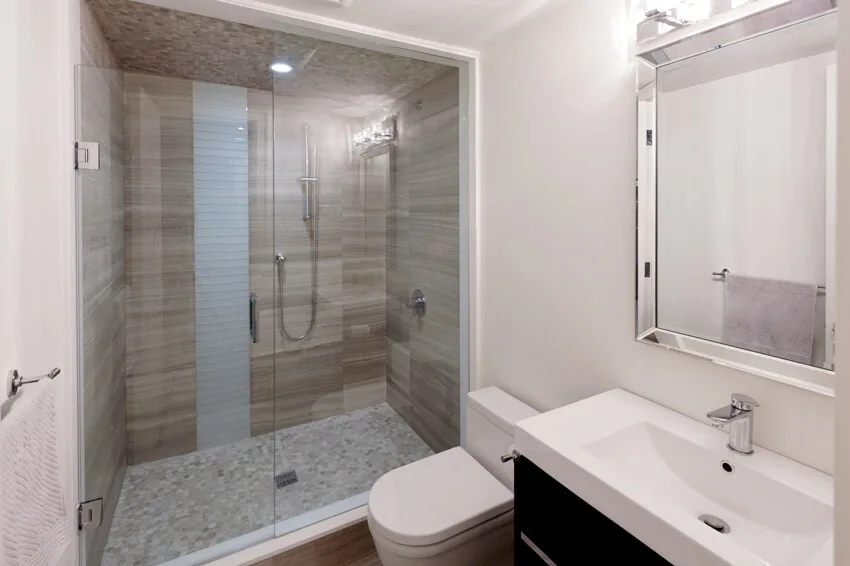 • Can be expensive – Even when upcycling pennies in your flooring, using penny tiles is actually more costly than using regular tiles. Pre-placed and designed tiles are more affordable because they do not require the intensive labor that involves gluing actual pennies on the floor and you would have to pay for pros to do this task for you.
• Complicated installation and removal – Installation of a penny tile shower is meticulous and time-consuming, which is why you need the help of a pro in it. If you are willing to try to DIY, make sure you know how and you have enough time to spend on installing these tiles.
Removing it is also a big challenge, considering it was built to be highly durable and not meant to be easily removed in the first place.
• Requires rigorous cleanup and maintenance – These types of floor tiles have many grout lines to cover; cleaning will take a lot of time and needs a meticulous and rigorous touch to it.
Penny Tiles For Shower Walls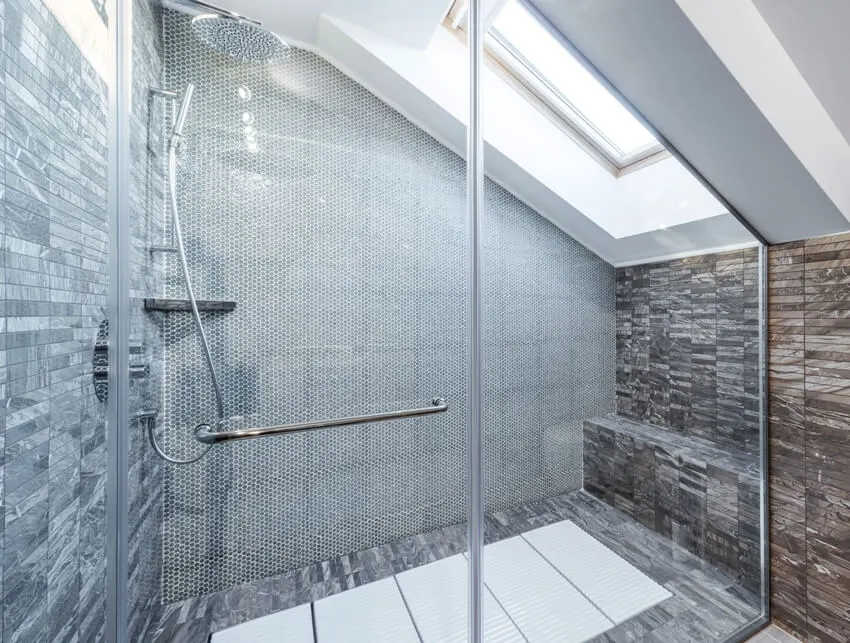 When considering penny tiles for your shower walls, consider the color and theme you have going for your bathroom. Since penny tiles are smaller, you can add more colors and patterns to your walls.
This is the reason why they are highly customizable, and if you plan to get creative with your shower walls, penny tiles are excellent for it. You have the choice of classic ceramic penny tiles, luxurious marble ones, and sophisticated and glossy glass tiles.
When it comes to colors, here are some considerations for your penny tile shower:
• Classic/retro black and white for a vintage look
• Contemporary and chic gray penny tile shower
• Coastal blue penny tiles and white grout shower
• Tan penny tiles shower for a warmer look
• Bold turquoise penny tiles and white grout shower
If you considering a pattern, sayings and phrases on the shower wall work wonderfully. And you can create the pattern in any color you wish to have. See our guide to the best tile for shower walls here.
Penny Tiles For Shower Floor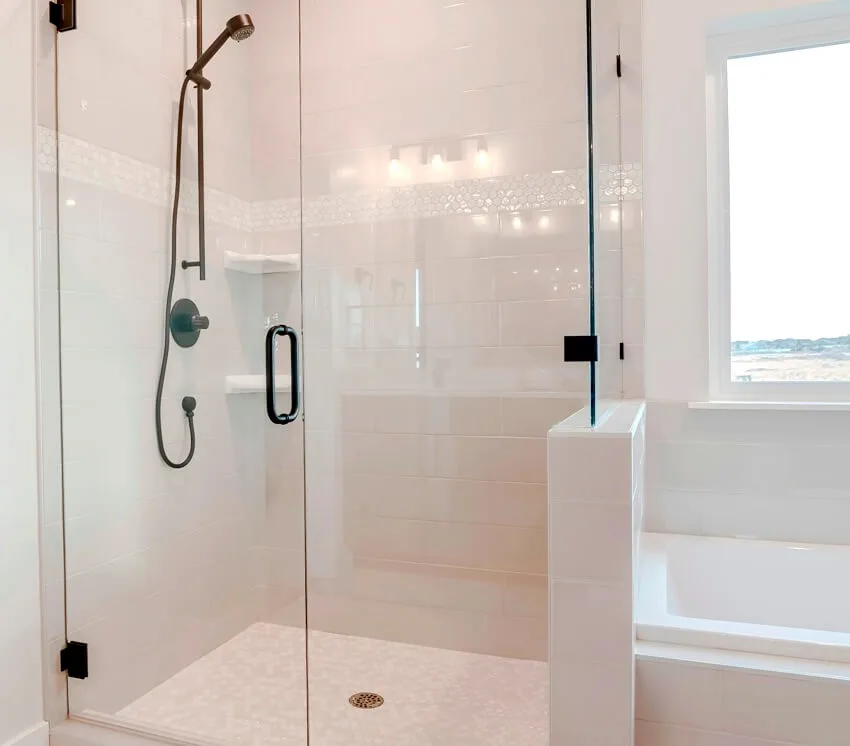 Penny tiles flooring is popular in the 1900s in diners and homes but the shower floor is an entirely different thing. Choosing penny tiles for the shower floor adds a unique and lovely texture, making it an ideal option in the bathroom since it adds friction and helps you avoid slipping.
You can choose penny tiles for both the walls and flooring, whether they are in the same color or in different ones. If you want to make a contrast though, you can do that with the grouts alone without needing different colors for the floor and the walls.
Here are some considerations for patterns and colors:
• Neutral white penny tile floor with black grout for added character
• Cozy blue penny tile floor with white grout
• Monochromatic and eye-catchy black penny tiles with white grouts
Is Penny Tile Good For A Shower Floor?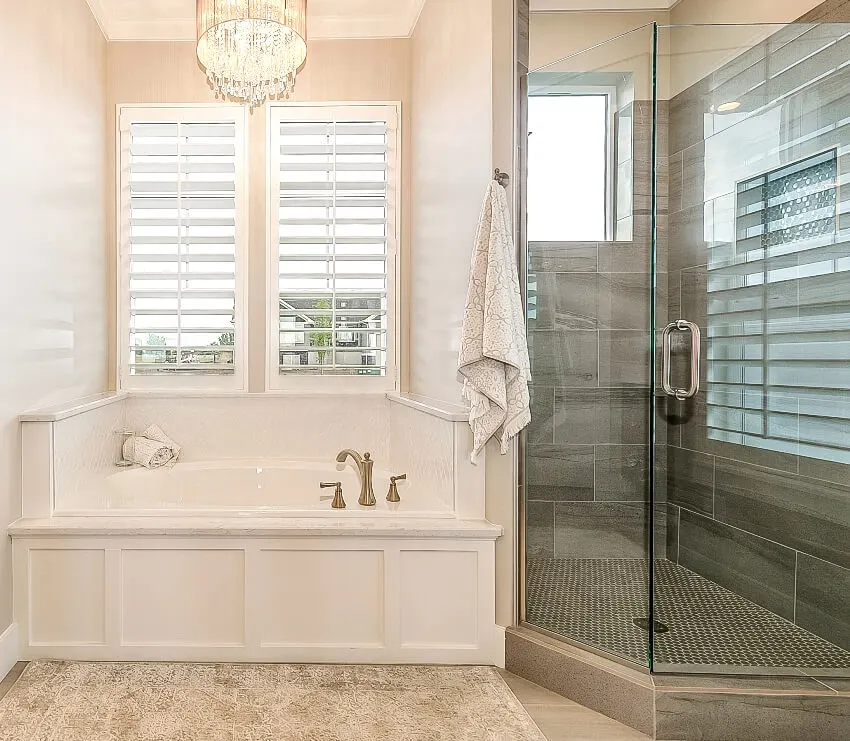 It is a fact that penny tiles are used for flooring in the 1900s but talking about shower floors, which always get wet, is a different matter. Wherever in the home, you install them though, penny tiles are an excellent choice for flooring.
Penny tiles are good for a shower floor because of the added texture and friction from the many grout joints in between the tiles. They are also extremely durable and so are resistant to wear and tear. Find more about what types of tiles are best for a shower floor here.
Is Penny Tile Slippery In A Shower?
Penny tiles can be slippery but the grout joints add texture to the flooring and your feet can glide over them without slipping. With a similar feeling to walking on hardwood flooring, you still need to be careful, especially if your penny tiles are made from glass. Glass penny tiles for flooring can be dangerous because they crack easier and feels slippery.
Is A Penny Tile Shower Hard To Keep Clean?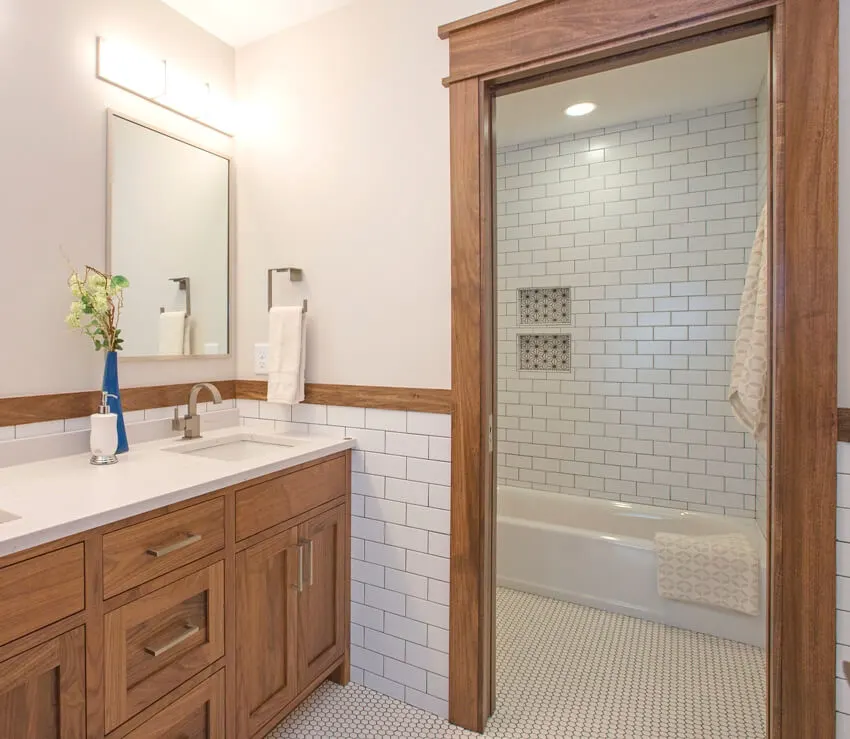 A penny tile shower may take a lot of time and effort to clean not just because the bathroom typically has high foot traffic but because of the little grout lines between each of the penny tiles.
You have to be meticulous and take the time in cleaning each grout thoroughly. And this is exactly how you maintain a penny tile shower too- by having a regular cleaning routine.
How Do I Clean A Penny Tile Shower?
In cleaning a penny tile shower, here is a simple guide to follow: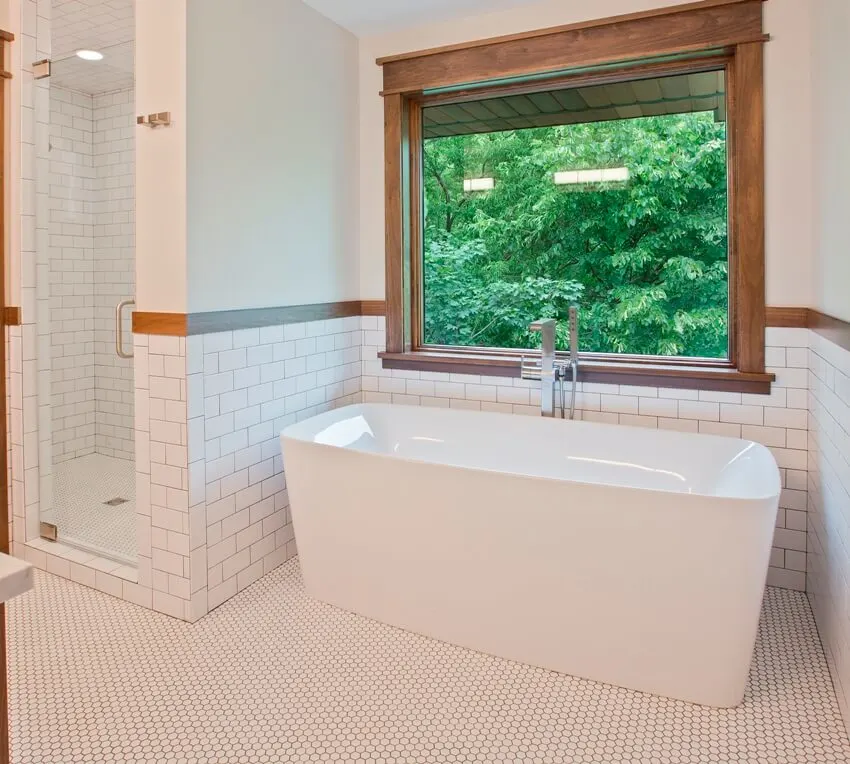 Step 1: Mix the cleaning solution you are going to use
This can depend on the type of penny tiles you have. In general, hot water is enough for cleaning but if you need to remove stains then mixing one part warm water and one part scouring powder works. For porcelain penny tiles, the vinegar and water solution is the way to go.
Step 2: Spritz the penny tiles
Rinse the penny tiles first to prepare the area for thorough and meticulous cleaning.
Step 3: Apply the mixture to the penny tiles
If you will be cleaning in general with hot water, just spritz it on the tiles for 5 minutes and wait for 20 minutes. For your scouring powder solution, let it sit for around 15 minutes while you only need around 5 to 10 minutes for the vinegar mixture.
Step 4: Scrub the penny tiles thoroughly
Get a soft bristle brush and scrub the penny tiles thoroughly, giving more attention to the grouts and joints. You can work in two directions of the surface.
Step 5: Rinse the tiles with warm/hot water
Use hot water for porcelain penny tiles but warm water for other types of penny tiles. Warm or hot water can ensure that the solution you applied will be thoroughly wiped out.
Step 6: Dry the penny tiles with a mop
Use a damp mop after rinsing and then a dry mop after that.