Here we share our gallery of raised patio designs including cost and popular types such as stone, brick, paver, concrete and tile.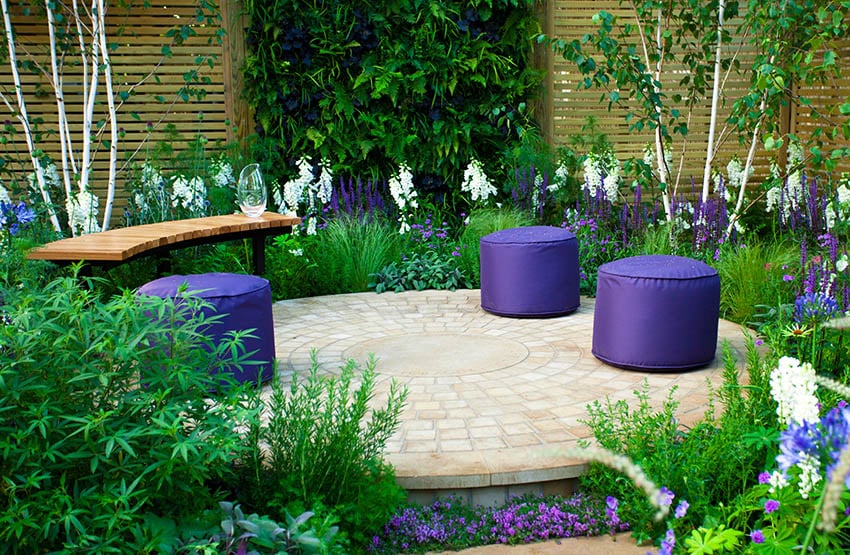 Building a raised patio in your backyard can help increase your home's outdoor living space and value. This can provide more opportunities for outdoor dining and entertaining.
What Are Raised Patio Designs?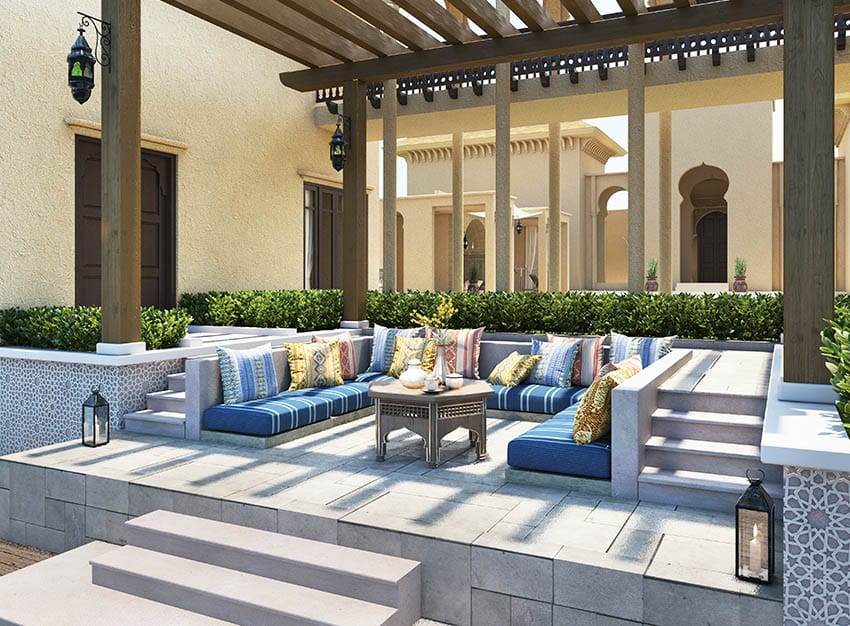 The difference between raised patio designs compared with normal patios is that it is built by raising it from the ground. The structure is usually made from retaining wall blocks and then finished with the material of your choice.
Some might confuse it with raised decks, but in order to differentiate the two, a deck will have a space underneath it, while a raised patio will not.
If you like an elevated patio, without the worry of having to clean underneath the patio, a raised patio is the best option for you.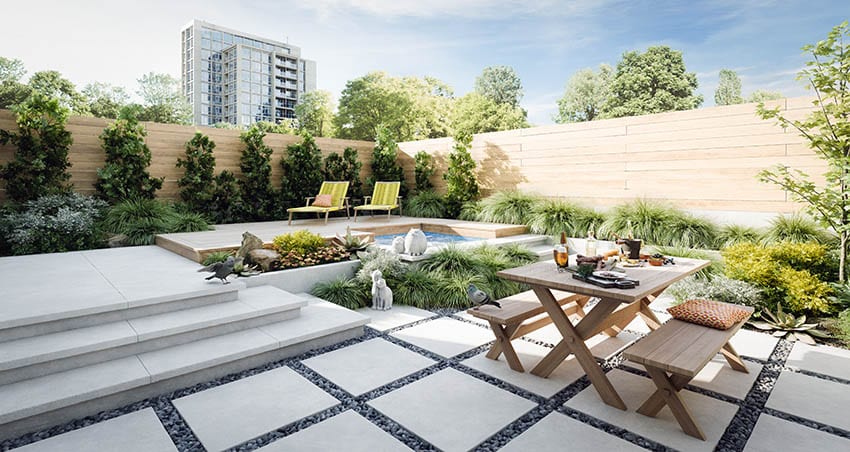 This modern raised patio is placed beside a small pool, so instead of smooth concrete, it uses large pre-fabricated concrete blocks for both the patio surface and the steps. This creates elegant, clean lines, and a light color scheme that matches the design aesthetic of the space.
Types of Raised Patios
Due to its solid structure you are able to use a variety of finishing materials for the flooring and outer walls of your patio. The versatility of raised patios makes them a very attractive option. Here are some of the most popular types of patios and their material options.
Brick Patios
Brick patios are one of the most popular materials for raised patios, the brick pavers give a very classic and rustic feel to your raised patio.
Over time, the environment will change the texture and color of your bricks and give them more 'personality.
If you prefer perfectly even surfaces and consistent colors, then this might not be the ideal material for you. But if you understand the rustic charm of bricks, then this is the way to go!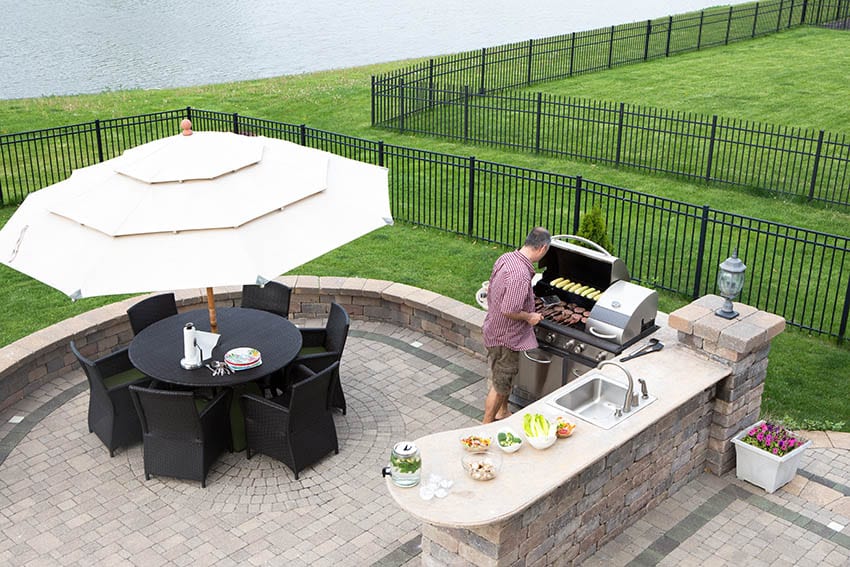 This decorative raised brick paver patio is well equipped with an outdoor kitchen complete with sink and stone countertops. The circular paver design makes a great frame for the outdoor dining table complete with large umbrella.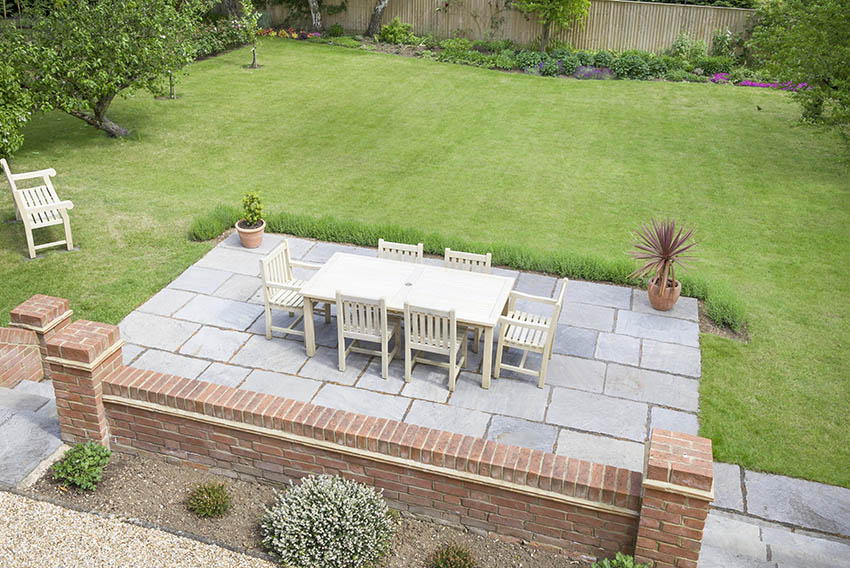 Combining brick and colored concrete pavers creates a nice variety of colors and textures, and can easily match any design style. You can also explore using colored concrete if you want to experiment.
Stone Patio
Stone patios are durable and can seamlessly blend with the environment. Perfect if you prefer a more "natural" look.
When choosing your natural stone, try to select locally available stones so that they will match the environment. Also, make sure to choose shapes and sizes that work best with your raised patio layout.
Some of the most popular types of stone to use are different types of flagstone, granite, sandstone, quartzite, limestone and travertine.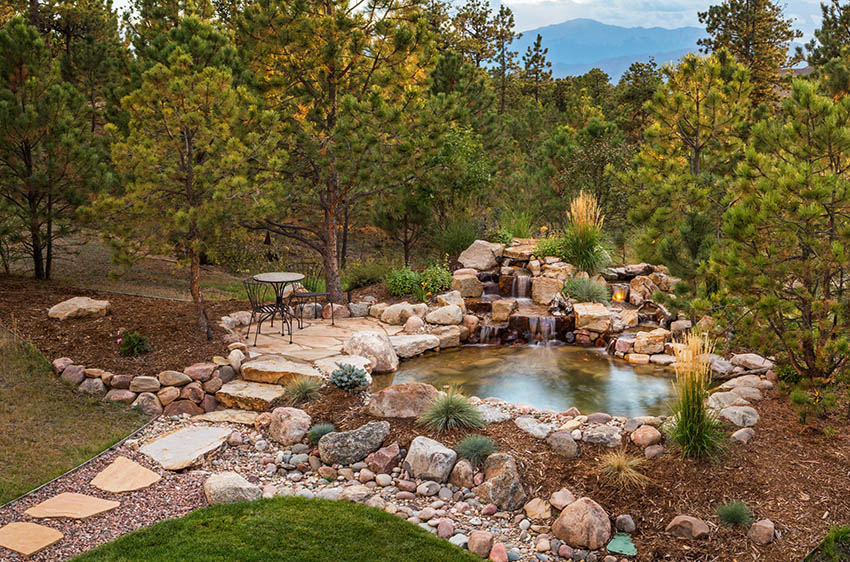 This beautiful custom raised flagstone patio sits above an alluring water feature waterfall that flows into a stone pond. Plenty of perfectly placed stones and plants provides a visually pleasing landscape design.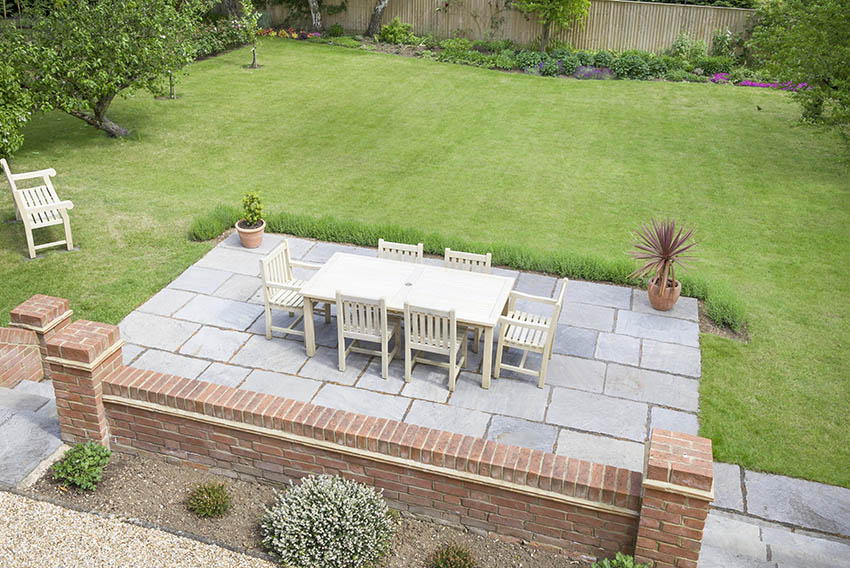 Raised patio designs that use stone can make an impressive area for backyard dining. This design uses large cut bluestone patio pavers with a gentle sloped grass landscape providing an excellent vista of the surrounding area.
Concrete Paver Patio
A concrete paver are a modern material that is low in cost, but can be made to look like bricks or natural stone. These come in a wide variety of colors and shapes, making them a great alternative to natural stones.
The disadvantage of concrete pavers is that the colors might fade over time and from constant use, so keep that in mind.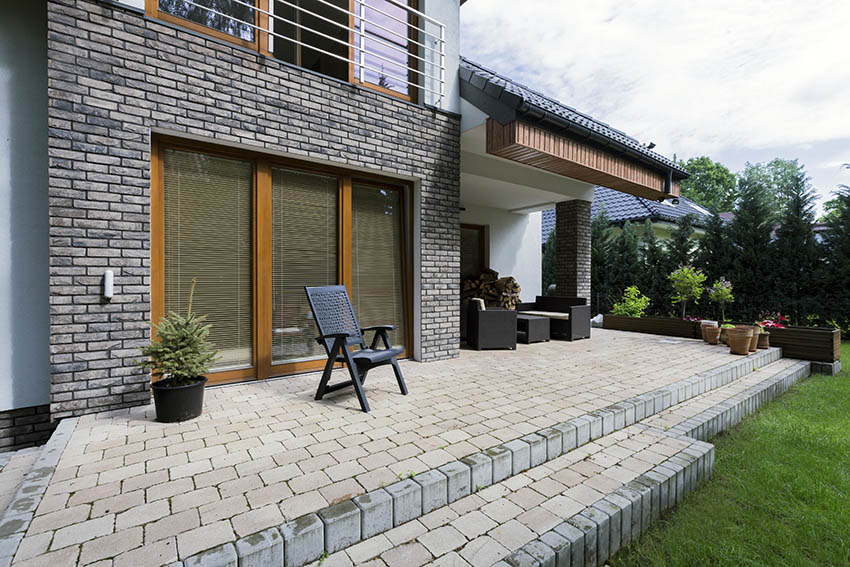 Solid concrete paver blocks were used to achieve this raised patio design. Because concrete pavers come in many different colors, you can combine 2 different colors, like in this example.
This patio uses gray/raw concrete finish for the outer paver blocks, and red for the inner blocks, creating a visual "frame" to the patio area.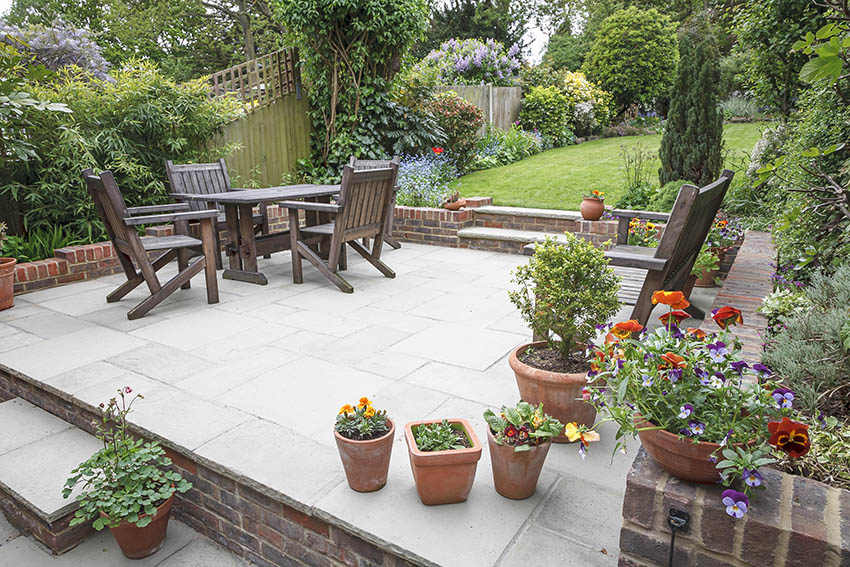 This raised patio features a combination of bricks and stamped concrete. the sides/front and the garden beds all use bricks, while the patio surface uses stamped concrete, made to resemble assorted sizes of stones.
Solid Concrete Patio
If you're not a fan of pavers and would rather have a more modern/minimalist look, then you can also use poured or solid concrete for your raised patio.
The advantage of using poured concrete is that you won't be constrained with any size or shape, as the concrete can adapt to whatever.
If you're using a smooth concrete finish for your raised patio, please remember that this material can be very slippery when wet, so design cautiously, especially if you have children, persons with disabilities, and the elderly at home.
You also need to make sure that your concrete patio will not be covering any sewer lines, otherwise, it will be very costly and time-consuming if you ever have any sewer problems that need fixing.
Poured concrete is also prone to cracks and fissures due to the natural movement of the ground, so that is also a factor you need to keep in mind.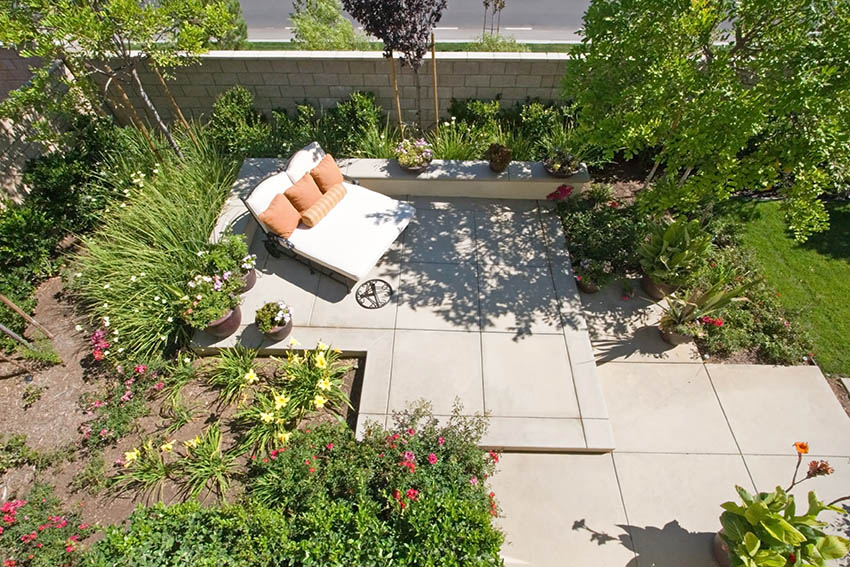 This modern raised concrete patio makes a relaxing platform for a large daybed surrounded by garden landscaping and flowering plants.

For modern style buildings with a minimalist look, a solid, poured concrete left in its natural color would no doubt look good.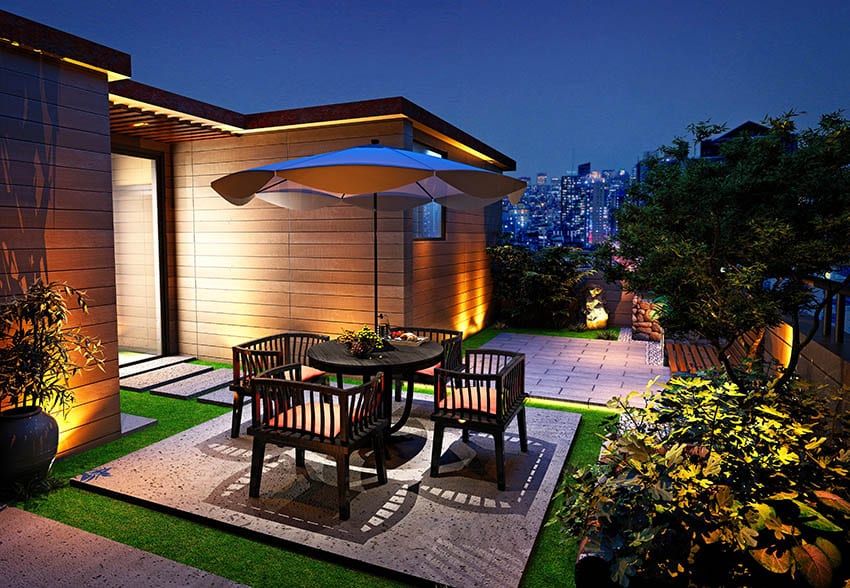 Another option you can explore with concrete decks is the terrazzo finish. Adding crushed stones or pebbles to your plain concrete will definitely give it a unique look.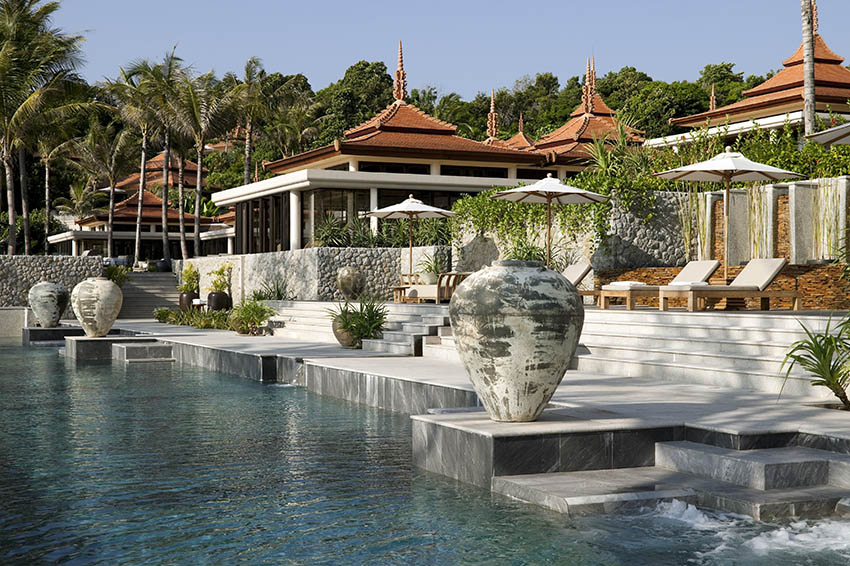 For this elegant Baliesque raised patio, a more modern look is used to balance out the intricate details of the walls and the roof. To achieve this, the patio uses a combination of slate tiles for the sides, and smooth, solid concrete for the surface to give it a modern, sleek look.
Tiled Patio
Ceramic and porcelain tiles can also be used for outdoor patios. Depending on the design of your tiles, it can either give your patio a modern feel, or a more classic look.
The advantage of tiled patios would definitely be the variety of designs, colors, shapes, and sizes available on the market. When choosing tiles for your patio, make sure to select tiles recommended for outdoor use – these tiles should not be too porous so that they can resist weather damage.
It is also recommended to use exterior-grade grout and unglazed tiles instead of glazed tiles so that it is not too slippery. Do note that this material can accumulate algae if it is often exposed to moisture and is not cleaned/maintained regularly.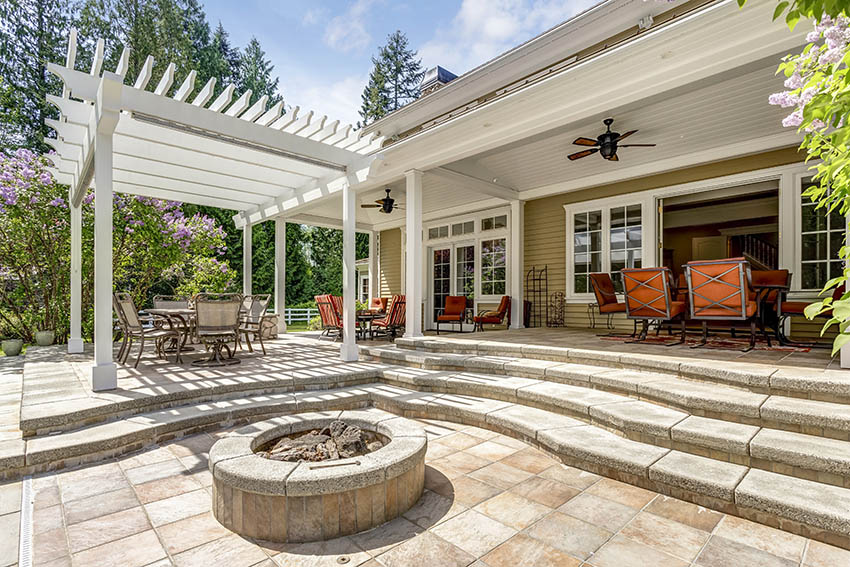 Most classic homes would look great with natural stone pavers, but if you cannot afford natural stone, there are a lot of tile options that look and feels like natural stone.
This image is a great example of such. The color and finish of the tiles used for the patio are perfectly in theme with the architecture of the space.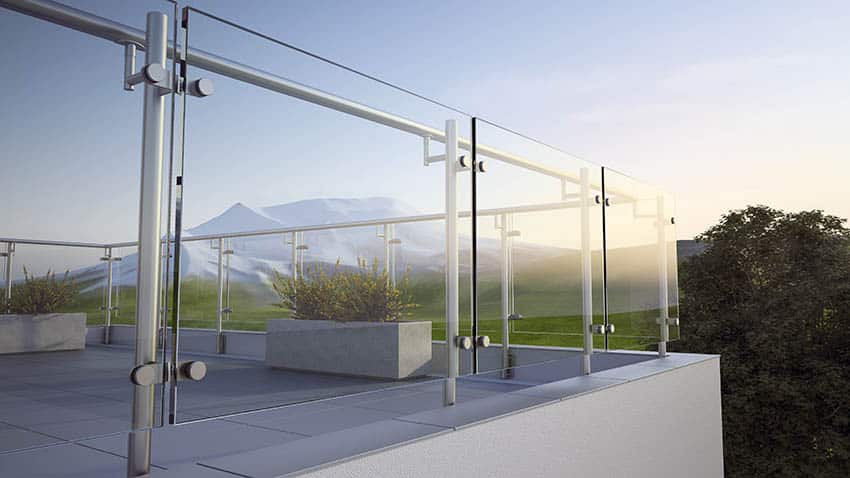 For modern homes, the usual choice of material is concrete, topped with porcelain tiles. This example even adds a stainless steel railing with glass panels, giving it a very contemporary look.
The addition of small concrete planters help add color and texture to space, so if your modern patio is too plain, consider adding plants to make it more lively.
Raised Patio Garden Bed
These are the plant boxes often integrated into the design of raised patios. These are usually made from the same material of your patio flooring/pavers, and can be installed in a variety of heights.
This is a nice way to add privacy to your patio space while maintaining a more natural look compared to railings.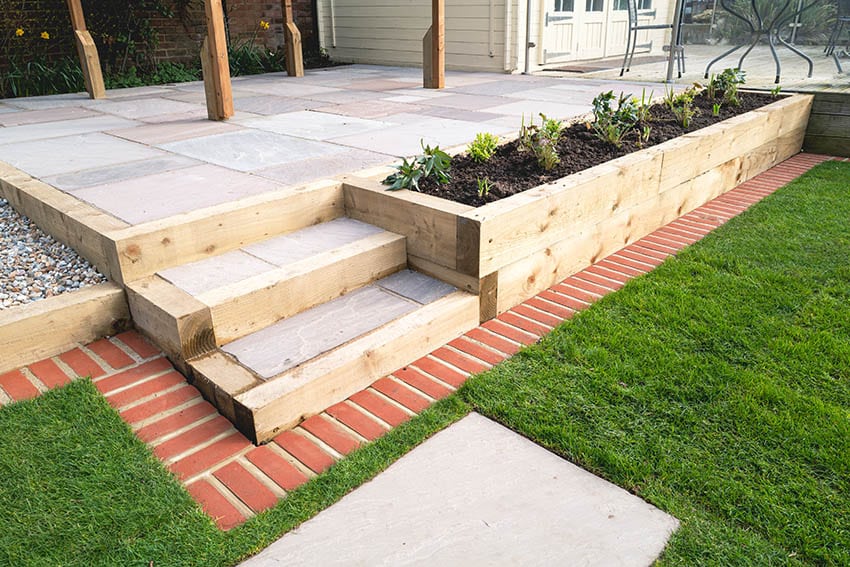 This raised patio features a unique combination of finishes. Instead of the usual bricks on the sides/edges of the patio, it uses solid wood. While the patio surface itself uses natural stones in various sizes to give it more dimension.
Raised Patio with Fire Pit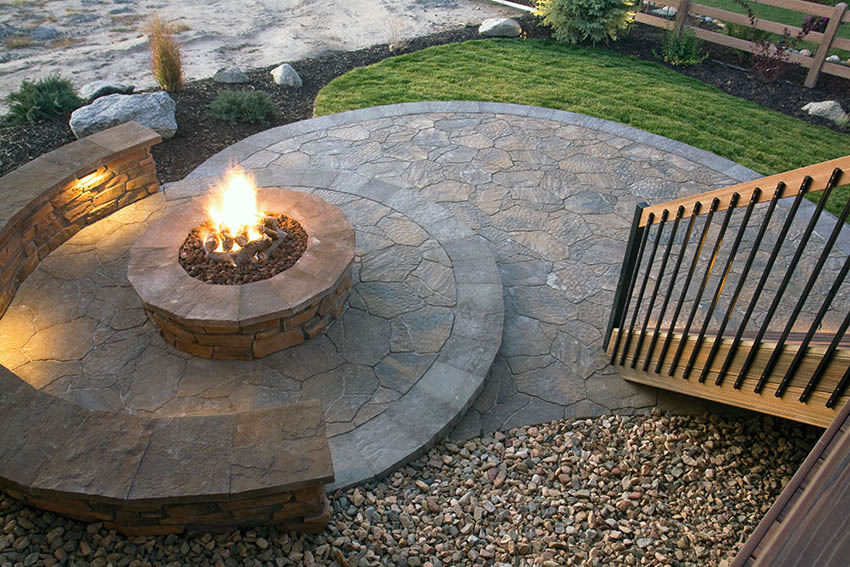 Aside from plants, fire pits are also a popular feature for patios. This unique patio design features circles, and finished with slate stone, creating a natural look with modern elegance.
Raised Swimming Pool Patio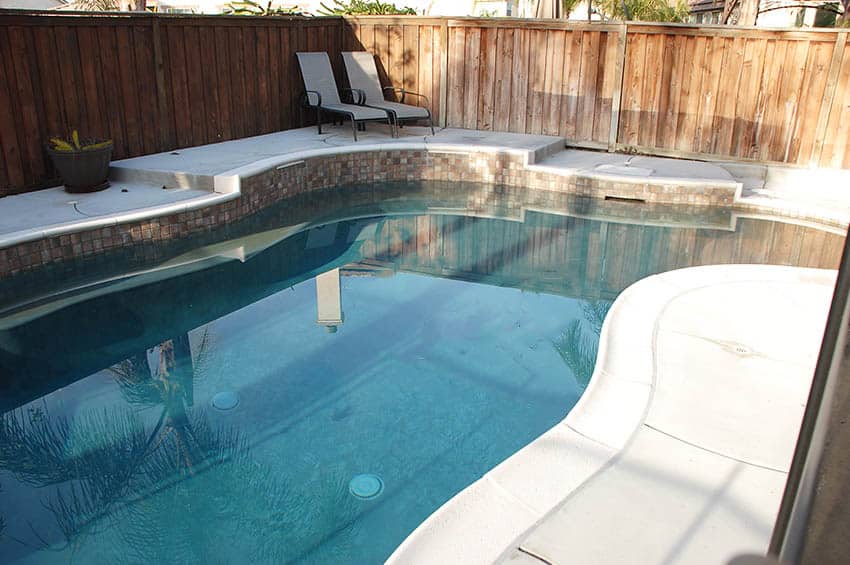 The surrounding area of the swimming pool is often wet/damp, so in this example, the poured concrete is not smooth, to ensure that it is not slippery when wet.
Raised Patio Cost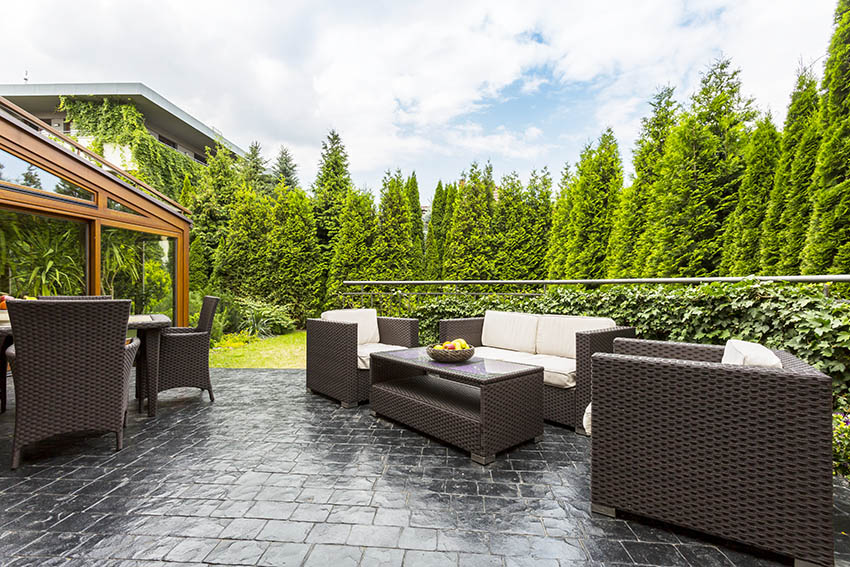 The average cost of raised patios that is finished with pavers is around $23 per square foot. The price can vary depending on the size, materials, and intricacy of your raised patio design.
If you add more features such as garden beds, higher elevation, and patio covers/roof, the cost per square foot would also increase.
Concrete Patio Cost
If you want to use poured concrete for your raised patio, the cost would depend on the thickness of the concrete. A 4″ thick solid concrete would be around $5.35 per square foot. This will be a plain concrete slab, so if you need a special finish, color, or coating, the cost will go higher.
If you're using concrete pavers, the average cost would be $2.5 to $5 per square foot. Cost will depend on the design, shape, size, and color of your concrete pavers.
Stone Patio Cost
Stone cost will vary greatly depending on the type of stone you are using. It can be as low as $5 per square foot, up to $30 per square foot if you're using limestone. This is definitely the most costly option.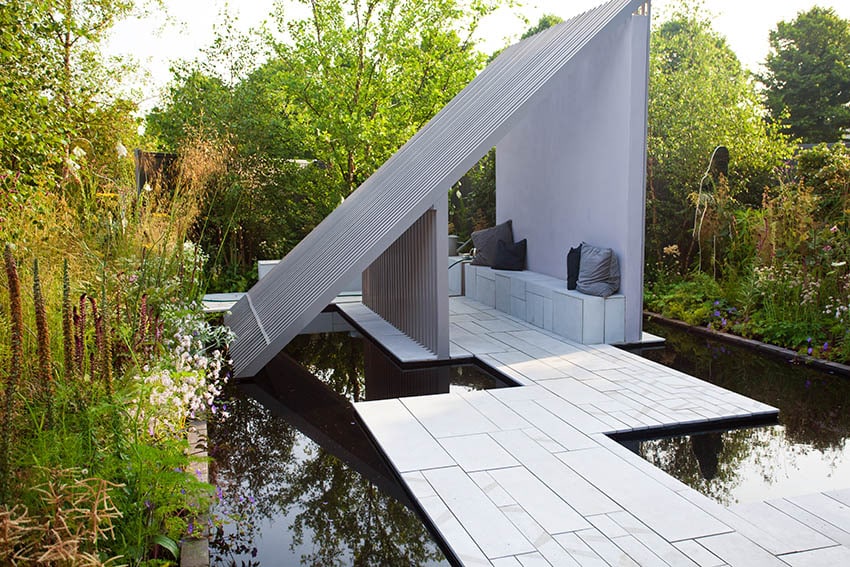 This unique deck uses ceramic tiles for the surface of the patio, but cut in varying sizes, which helps add texture and pattern to the otherwise smooth surface. The modern sloped canopy structure with sitting bench over the pond gives this landscape design a one of a kind ambiance.
Do Raised Patios Need Planning Permission?
This depends on the regulations of your state and your country, but in most cases, building raised patio designs do not need planning permission, provided that you are building within your residential plot of land.
You also need to make sure that it is not too high (the maximum height will vary depending on where you live).
If you're planning to make a raised patio addition to your home, do consult your local municipalities to check on the regulations, in order to adjust your planning to comply to their regulations.
Is a Deck or Patio Better for Resale?
Both patios and decks help increase the resale value of any property. However, patios or raised patios are cheaper to construct than decks, allowing you to get a higher resale value return.
For more raised patio designs content, see our article about the differences between a raised patio vs deck here.