Here we share our ranch home remodel guide including several tips and ideas on how to modernize the exterior and interior design of your ranch style home.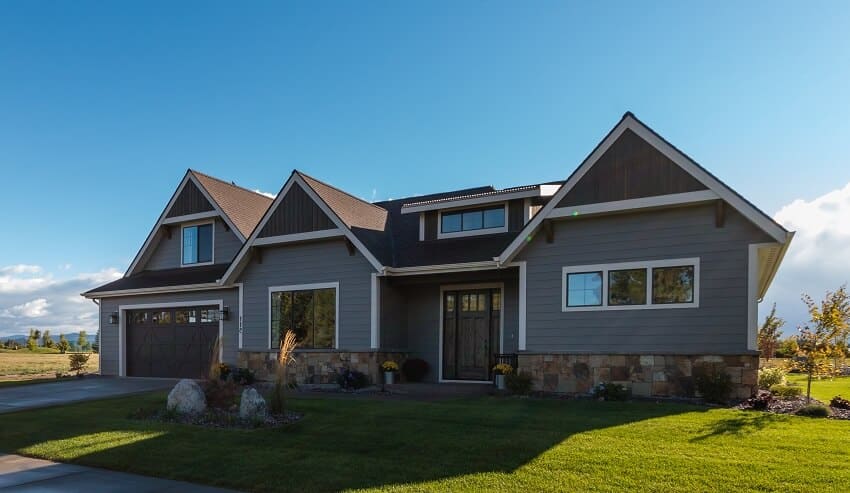 The ranch home has been around for about a century now. It has been a part of American living and architecture and it comes as no surprise if this is something that you would want to improve on and remodel instead of totally destroy and build upon. But for starters, what exactly is a ranch home and what are the parameters surrounding it?

What is a Ranch Style Home?
The benchmarks of a quintessential ranch home would usually revolve around being one-story buildings. They are also oftentimes made out of bricks, wood sidings, or a combination of both. They are also characterized by roofs with deep overhangs but with shallow pitches.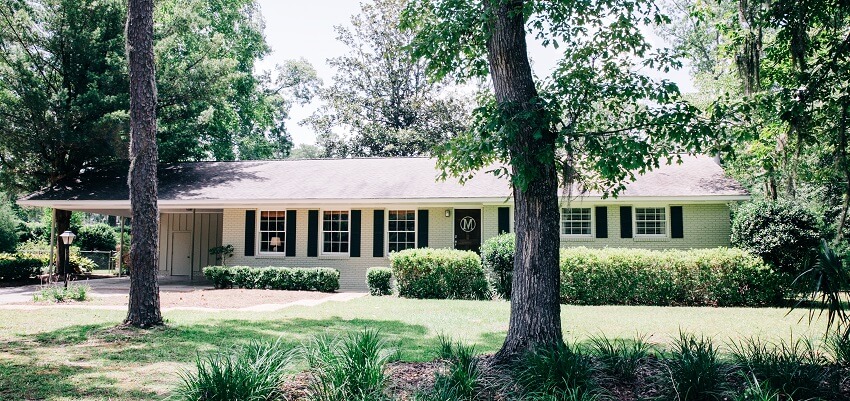 Ranch homes became popular in the post-war era because of how affordable they were to buy and build. They made for easy and comfortable living and they made great use of the outdoor areas surrounding the home as well.
It was the ranch homes that made backyard barbecue parties and other neighborhood and community gatherings so popular.
Over time, ranch houses were taken over by 2-story colonial buildings. But they're making a real comeback and ranch homes are now the prized jewels of fixer uppers. This is probably why you were brought over to this page.
Ranch Home Exterior Remodel Tips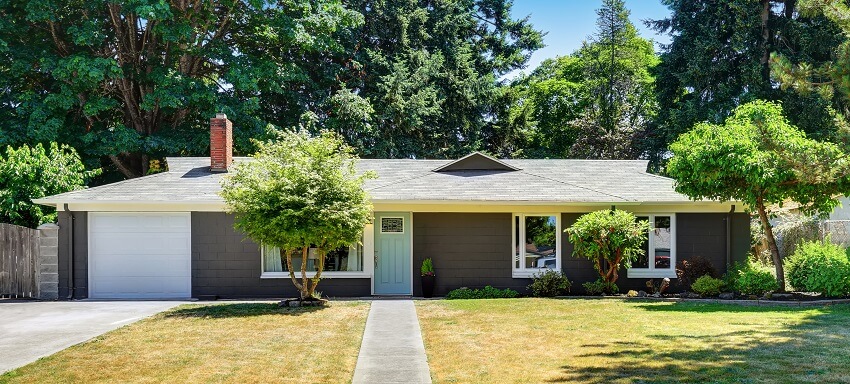 Here are some of the easiest and cost effective remodeling tips if you happen to have a ranch home in your hands that's just begging for a new look.
How Do You Modernize A Ranch House?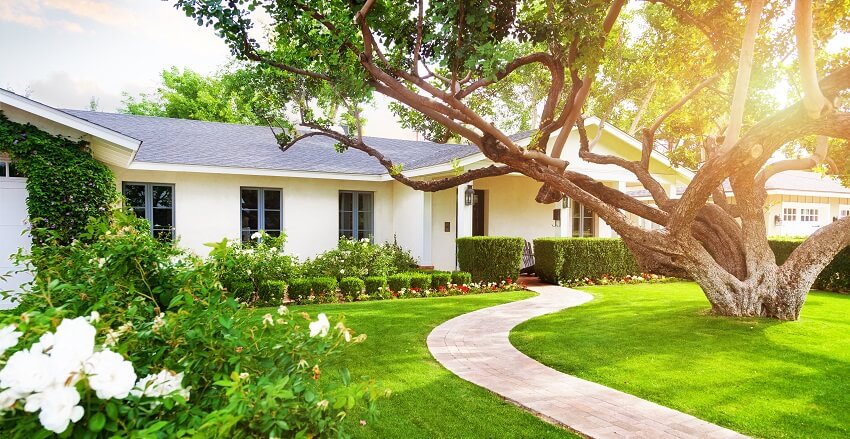 This is a common goal among ranch house owners. As charming and old world as the architectural design may be, it does come with some downsides.
Older styles catered to things that appealed to people and houses back in the day and those don't always reflect what we want to see and feel in the homes today. Here's a few easy tips to consider when remodeling a ranch style home.

Add A Porch To The Front Of The House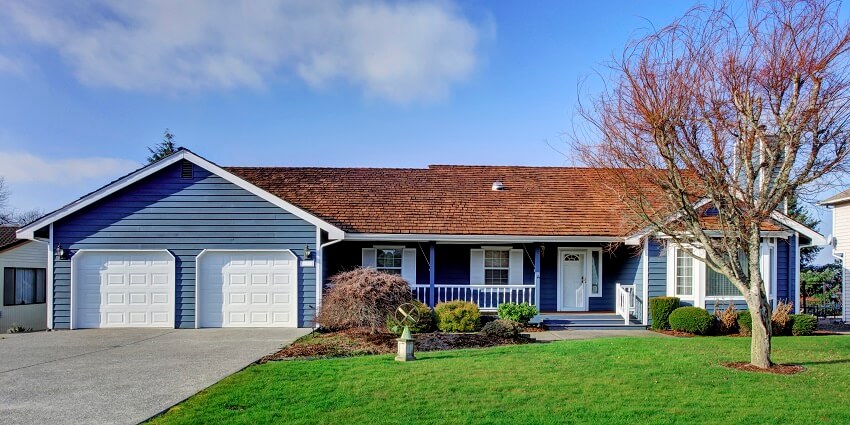 One of the things that make ranch houses really great is the way that they seamlessly connect indoor to outdoor living. Take a page out of that book by bringing some space for entertainment and taking visitors into the front of the house.
Ranch houses usually have these spaces at the back of the house. It would be nice to have a little something up front that would add even more to the coziness of the place. It's the perfect invitation for neighbors and guests alike and may even soon be one of the favorite spots for the family.
Add a Gable Above the Front Door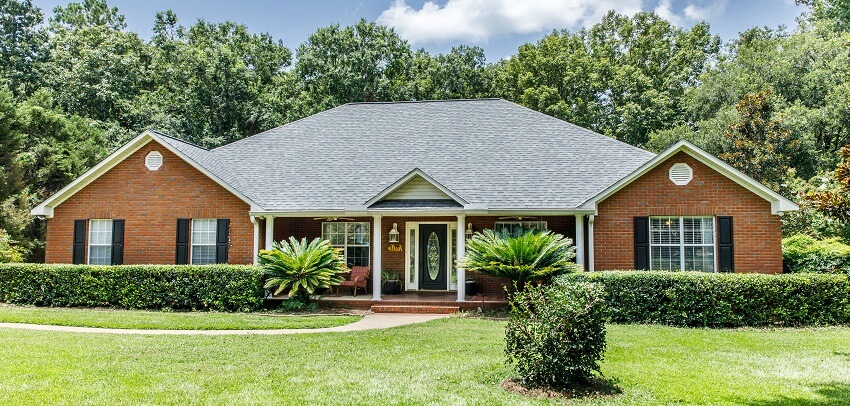 The exteriors of a ranch style house are often minimalist and simple. If you tend to find this too plain and bland, you can actually increase your curb appeal by opting to add a gable above the front door.
Incorporate your gable with a front entryway patio area and with the front door and you're bound to have an interesting definition right from your home's very entrance.
Gables are charming and they also bring in the added benefit of increasing the lifespan of your front door as it now isn't as exposed to the elements as it used to be.
Use Different Landscaping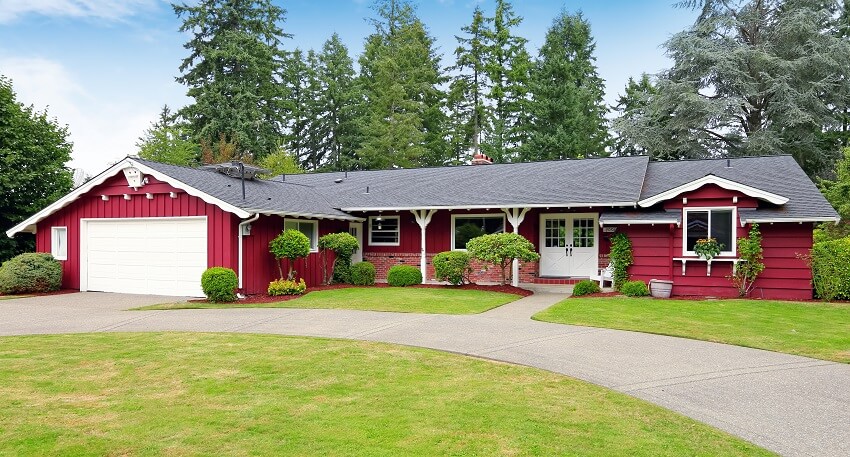 Landscaping doesn't always have to be complicated and professionally done. Play around with it and with the elements within it. It might help if you go a bit bigger with the plants as well as with the garden furniture.
Of course, you also need to consider if it works accordingly with the space that you're trying to remodel and more importantly, if the design is cohesive with the rest of the house.
If you don't have a green thumb and don't really know much about garden furniture, it would be best to get a professional landscaper in to get the job done for you.
Create A Front Door Focal Point
Embellish your front door. A ranch house's façade is typically plain and simple. An easy upgrade that wouldn't take up too much of your time and money would be to go for a front door that brings in a pop of color, making it the focal point of the home's design.
It would be quick and interesting to change the color of the front door. You could try having a bright red front door that stands out from the rest of the typically neutral ranch home's exterior aesthetics. A front door focal point draws the eye and captures the attention. It sounds so simple and easy but interestingly, it works.
Different Landscaping Heights
Play around with the landscaping levels or heights. Ranch homes are one-storied and minimalist in nature and they have the tendency to look bland on the exteriors. One way to play up its exterior look is to have varying levels or heights in your landscape.
It's visually helpful if you break up the shallow roofline and horizontal line of vision with taller elements such as trees, tall shrubs or plants, garden structures such as gazebos and pergolas, and so much more.
On top of the obvious aesthetics brought in by these vertical outdoor elements, they are also bound to amplify or boost your overall curb appeal. Hire out a professional landscaper but if you're feeling a little adventurous, this is a little project you can take on yourself.
Ornamental Fencing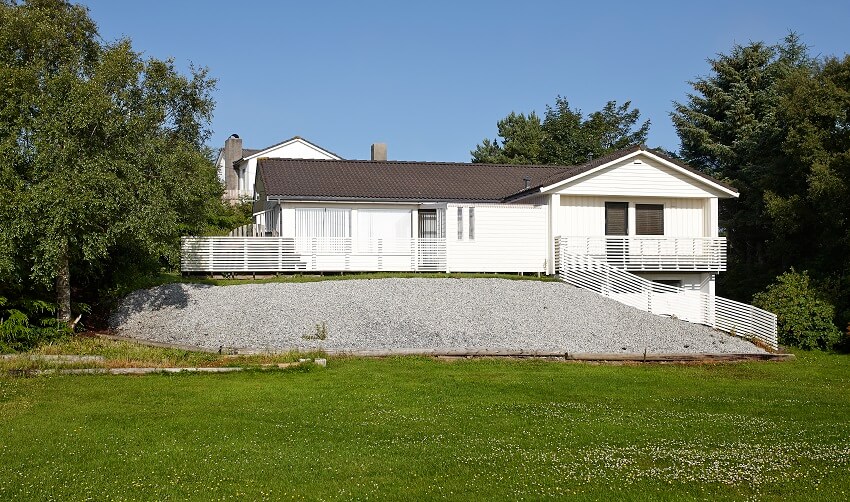 Use horizontal lines for the house trims and fences. Some ornamental fencing could improve the aesthetics of your ranch house.
Go for horizontal lines as they bring in a contemporary touch to the home's exteriors and can make the overall look and feel of the house so much bigger and wider than it actually is. Think of it as an easy optical illusion.
If you're working with a tight budget but you happen to have some handyman skills, you can even get it done yourself. It easily brings in a modern feel to an otherwise outdated looking ranch house and makes for a great decorative statement that's also easy to do.
Replace Old Raised Decks With a Tile or Stone Patio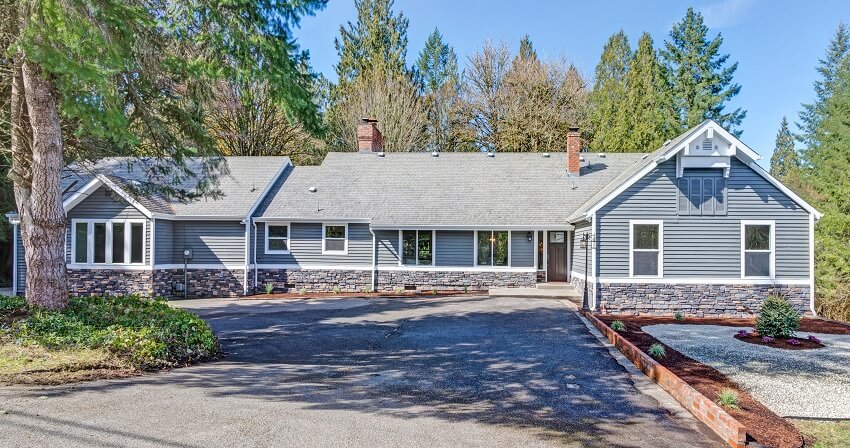 Raised decks in ranch style houses are oftentimes made out of wood and it might be a pretty good idea for you to test out its strength and integrity as well. It may be rotting in a few places and its foundation may have long been jeopardized.
A great way for you to modernize your patio area would be to just rip all of the old raised decks out and tile it or lay it out with natural stones. This is also a great way to make the house blend in with the rest of the great outdoors.
Ranch Home Interior Remodel Tips
Remodeling your ranch home doesn't have to be rocket science and it doesn't have to be extreme either.
Change a few things here and there and you're bound to have something that could completely upgrade the look and feel of the home. Here are a few things for you to try out just in case.
Raise the Ceiling to the Roofline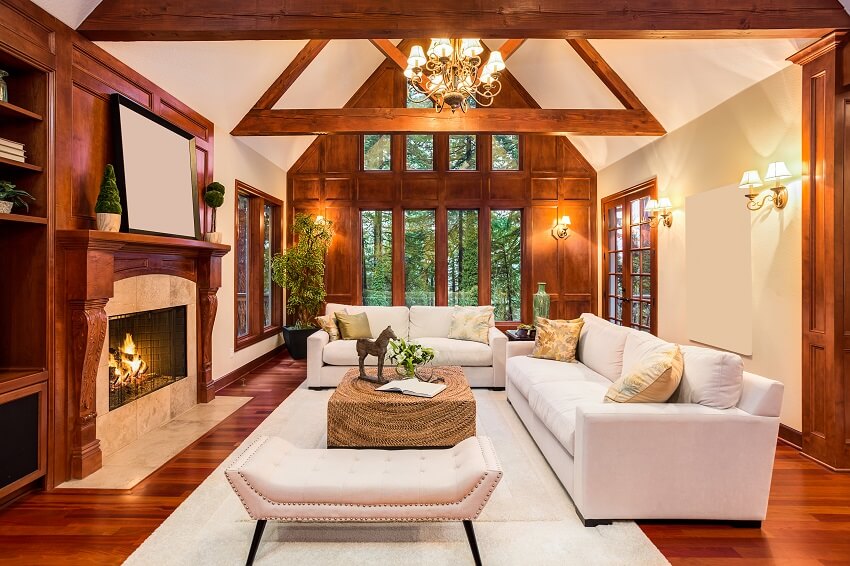 Try to see how you will be able to go ahead and lift your ceiling all the way up to the roofline. Low-slung ceilings are common to ranch houses and this isn't necessarily a good thing. It does pose an interesting angle on home improvements and modernizing it, though.
Low ceilings can make the interiors feel a little claustrophobic and cramped. One solution to this is for you to remove the pre-existing ceiling and put in a clean finish that works with the trusses way up in the attic.
Understandably, this will end up compromising your attic space but in return, you get to shoot for a spacier and airier vaulted ceiling that's more modern. It can also work wonders when it comes to opening up the space.
Replace Windows
If you happen to have tired old windows that look boxy and outdated, you might want to consider changing it up a bit by either replacing them altogether or framing them with a natural wood look.
Taking advantage of natural wood tones for the window frames will bring in warmth and brightness to the space and will further emphasize the casual and laid back vibe that ranch houses are quite famous for.
• Add a Bay or Bow Window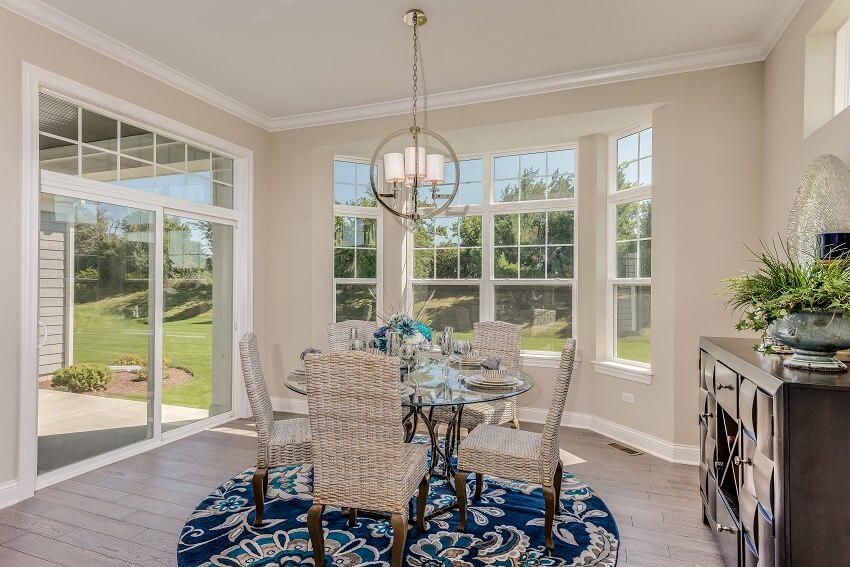 A true homage to the ranch style design for houses would have to be bay or bow windows. The look is modern and open and more than that, these types of windows are particularly great for bringing in lots of natural light inside the home.
Natural light is your best friend and it will work extremely well if you've also got a lot of visual interest in the surrounding exteriors of the home.
• Trade Double Hung With Casement Windows
Traditional double hung windows not only look outdated, they're also notoriously inefficient when it comes to energy use. Replace them with energy-efficient casement windows instead.
Casement windows are easy to open and close and they come with convenient crank handles. The design is simple and it can work well with any type of interior or exterior design of the house so you don't have to change a lot of its surrounding areas as well.
Remove Walls to Enlarge an Enclosed Room Layout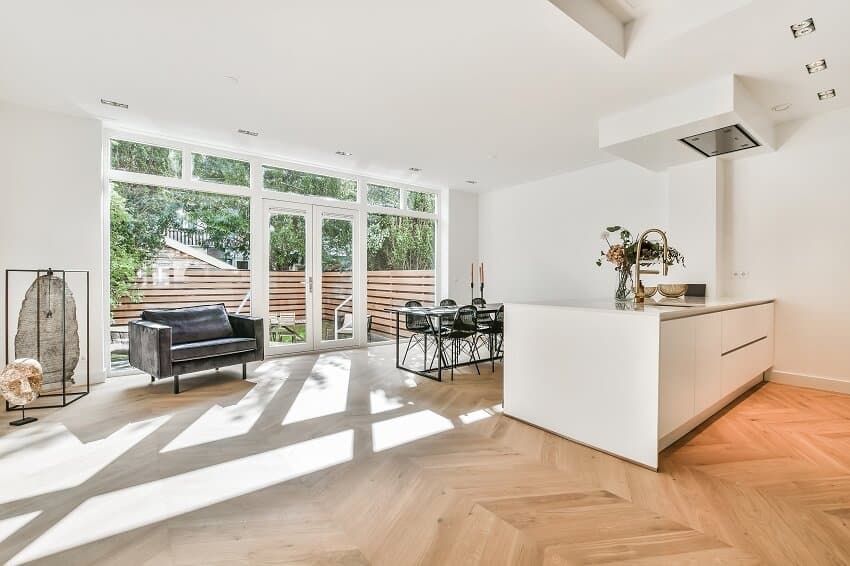 • Open up interior spaces by removing unnecessary walls
Walls are restrictive. This can be a challenge especially in old ranch style houses wherein certain elements such as walls can make the space look closed in.
Most ranch houses back in the day don't necessarily follow the open wide spaces concept found outside for the interiors of the homes.
Make sure that you consult a professional contractor as you need to make sure that the walls you're removing are non-load bearing. This can do wonders in opening up certain spaces from the inside of the home.
• Open The Kitchen To The Living Area
A common theme for the interiors of ranch homes back in the day is that the different rooms with different purposes are separated from each other. That isn't the trend anymore as these days, homeowners are opting for more open and more collaborative room spaces in the home.
The kitchen and the living area are 2 of the best things to kind of connect together with the use of open space.
Try to get the walls between them assessed and make sure that they aren't load-bearing ones. If you want a bit of separation without compromising the openness of the space, you can always put in furniture dividers such as open bookcases or even bar carts for entertaining.
• Add New Hardware, Appliances And Finishes
This seems to be the obvious necessary addition but something that a lot of homeowners don't really give that much credit to.
An update on the appliances, hardware such as door knobs, cabinet handles, and kitchen and bathroom fixtures can make all of the difference in the world.
It's all dependent on the kind of look you'd want to create for the home but more often than not, a great way to update without deviating too much from the ranch style aesthetic would be to go for brushed brass finishes.
Create Custom Fit Window Seat Or Bench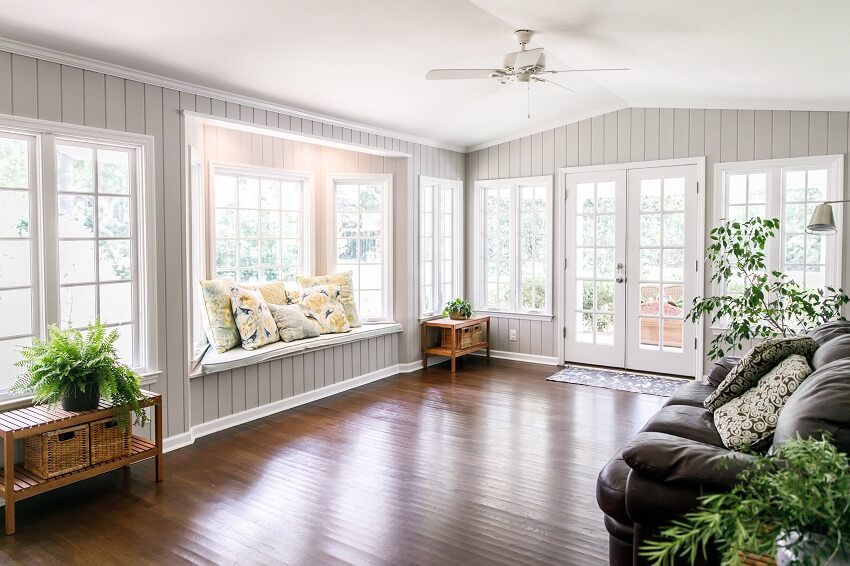 Custom fit window benches or seats such as dormer windows are a great update for any home, regardless of the style, but even more so for ranch style homes.
Window seats are cozy and comfortable and if you're a little more ingenious, you can even double them up as extra storage space which is a common problem for ranch style homes. Read more about different types of dormers here.

Swap Old Fashioned Hollow Core Doors For Solid Wood Frame And Panel Doors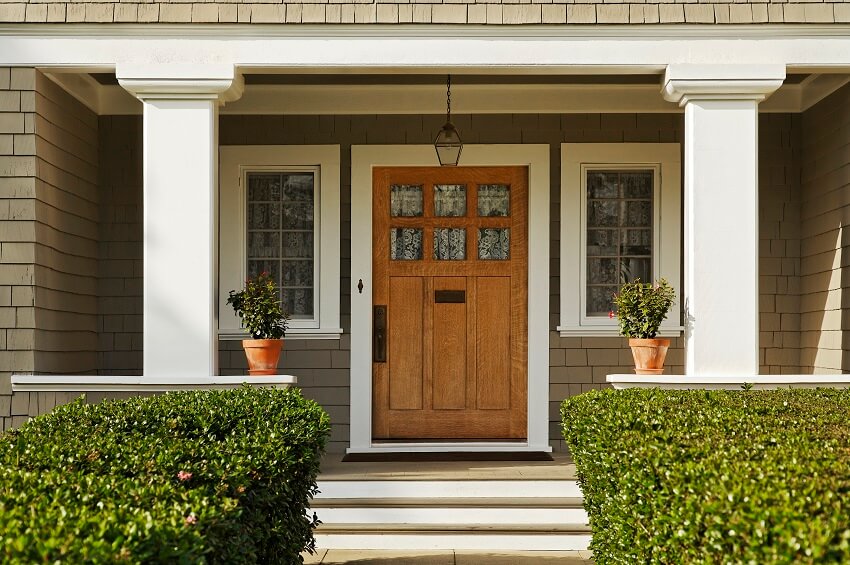 Hollow core doors are a thing of the past and they can come off looking a bit too plain and simple. Replace your old fashioned hollow core doors with solid wood panels and frames for the doors and see the space come to life.
Another upside apart from the aesthetics of adding a solid door is the durability and security that these doors bring in as well. See our article about hollow core vs solid doors here.

Use Square Cut Molding And Baseboards
Simple trim work is the way to go if the goal is to modernize a ranch style home. You ought to avoid any intricate details in the window and door casings and opt for the simpler and cleaner lines of square cut molding instead.
Naturally finished wood will brighten up the space with the warm undertones coming from the wood and it will make the home look more authentic, staying true to the ranch style concept by getting rid of the extra unnecessary fluff in the molds and baseboards.
Find more related articles by visiting our guide to different types of baseboards on this page.