See what is a tadelakt plaster finish including pros and cons, where to use and other design ideas.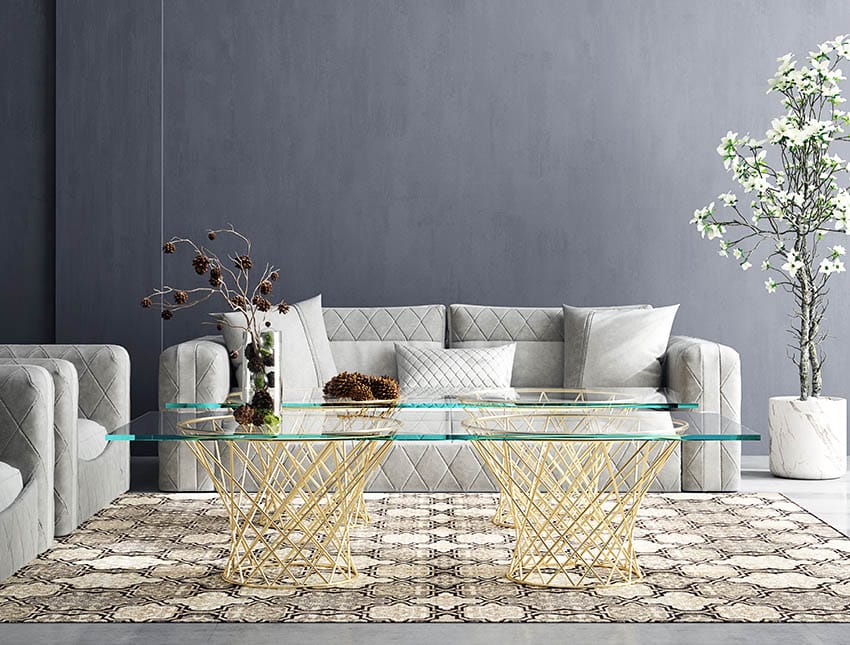 Envision a world where you don't have to spend your Weekends scrubbing mildew and grime from your shower tile and grout. Imagine no longer because the ancient art of Moroccan Tadelakt Plaster can give you a visually striking and low-maintenance wall finish that's even Instagram-worthy.
Tadelakt has a silky quality to it and looks smooth, not shiny but reflective. Tadelakt's appeal stems from its organic, earthy feel as well as its old-world warmth. You get that handmade allure and elegance from the labor and artistic talent of Tadelakt Plaster artisans.
You also get an eco-friendly product that is both resilient and hydrophobic. It may not be waterproof, but it is highly resistant to liquids. These are just a few more reasons to use Tadelakt Plaster in your home.
What is Tadelakt?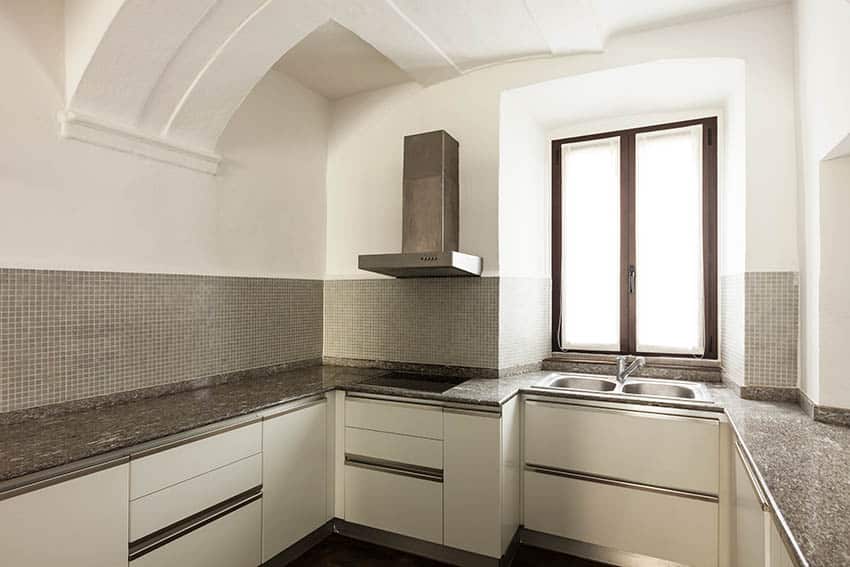 Tadelakt is a traditional Moroccan lime plaster finish originating in the High Atlas Mountains near Marrakech, where the lime used is still mined today.
Baths, sinks, water vessels, interior and exterior walls, ceilings, roofs, and floors are made of Tadelakt, a waterproof plaster surface. It's made of lime plaster that's been rammed, polished, and soap-treated to make it waterproof and water-repellent.
The word "Tadelakt" is from the Arabic verb "dlek," which means "to rub, knead, or caress." This is the final finishing stage, where the lime is polished with a smooth, silky stone.
Tadelakt is time-consuming to install but long-lasting. Tadelakt has a soft, undulating character, can form curves, and is seamless because it is applied as a paste. Any hue can be added to the mixture, but deep red is the traditional choice. It could have a gleaming or a matte finish.
Tadelakt Origins
Tadelakt is an ancient Marrakesh plastering technique that uses a specific lime produced on the city's outskirts. The raw material is derived from Quaternary carbonatic crusts with a composition alternating between marly limestone and calcareous marl rich in dolomite.
A geological phenomenon in the High Atlas allows the mixing of different components and the creation of lime with specific properties.
Tadelakt Pros & Cons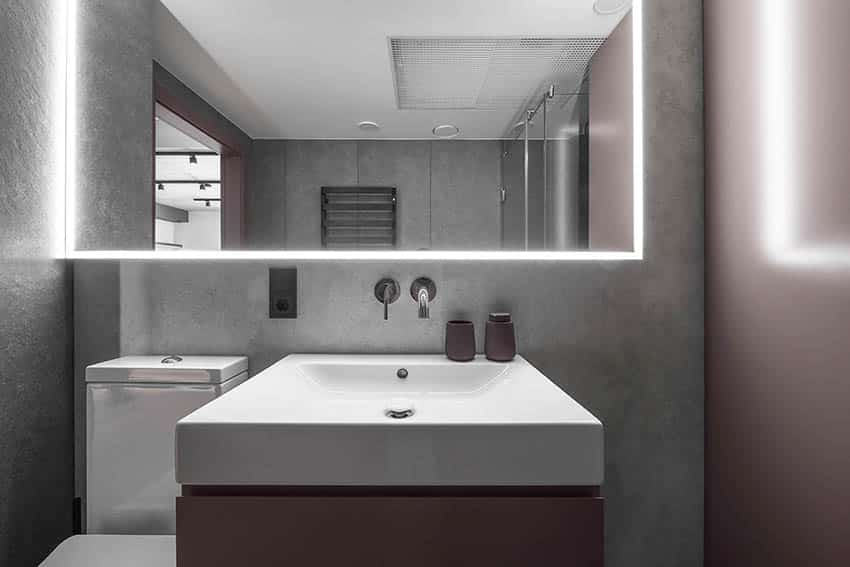 Here's the advantages and disadvantages of tadelakt to help you determine if this finish is right for your home.
Pros:
Easy Maintenance – Seamless Finish
Adds Visual Interest – Organic yet Modern
Versatile Finish for All Areas – Water Repellant
Hypoallergenic – Prevent Mold and Mildew Buildup
Healthy Finish for Humans and Environment – Low VOC (Volatile Organic Compounds) content
Timeless – Pigments does not Fade Overtime
Cons:
Pricey than most basic tiling or other finishing techniques – Though you can always have a portion or a focal wall to add the gorgeous finish.
Strong cleaning agents can damage the waterproofing abilities of the finish – Avoid accidental use of bleaches. If unsure, test a small portion on your Tadelakt finish, which is an inconspicuous portion of your wall.
Once your Tadelakt finish is damaged, you'll need to refinish or replace the whole area – Although unusual to happen for low traffic areas, and is still popular because of its longevity.
Tadelakt Finish Technique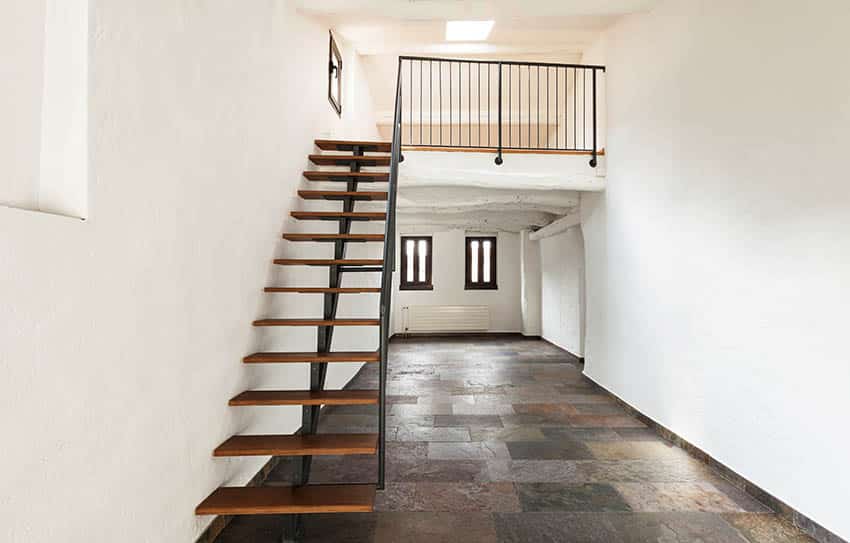 Information about this artisanal product (raw materials, history, manufacturing process, etc. ), its uses, and interactions with the environment will help improve the manufacturing process and the quality of the finished product, thereby promoting this ancestral heritage in the construction field.
The secret to creating the Tadelakt plaster finish is to work slowly and master the necessary hand techniques, working to the beat of the materials combined to create this finish.
The nature of the original carbonatic stone used for lime production is influenced by the compositional characteristics of this plaster.
The traditional burning process produces an underburned fraction, which forms aggregate when combined with the siliciclastic fraction of the original raw material. As a result, the lime for Tadelakt is more than just a binder; it's a ready-to-use material that doesn't require any aggregate other than water and, if needed, pigments.
Other distinguishing characteristics of this binder include the presence of magnesium hydroxide (brucite) and palygorskite, which, due to their fibrous structure, help prevent shrinkage fractures in the finished product. All of these characteristics combine to allow for the unmistakable identification of Marrakesh's original lime and the production of this specific plaster.
Where to use Tadelakt Plaster?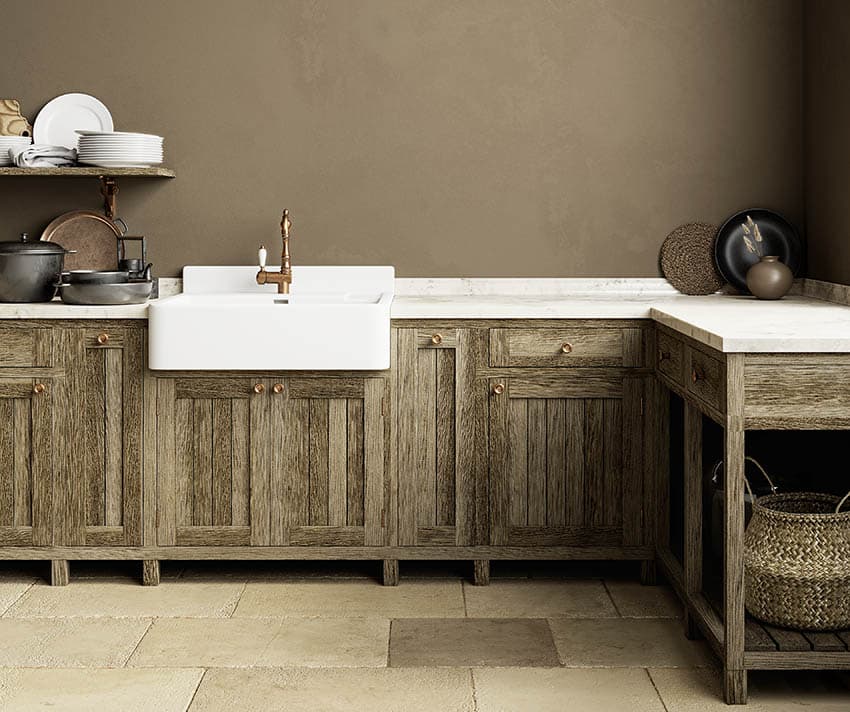 You can create authentic sumptuous interiors through the modern Tadelakt technique. Surface finishes are commonly applied to supports such as walls, floors, and ceilings. It is the only lime plaster that can be used to create a Moroccan look on floors.
Furniture and other decorative pieces, such as washstands, lamp bases, and vases, can also be finished with Tadelakt plaster.
Tadelakt plaster is a logical choice for wet areas because it repels water, making it an excellent choice for bathrooms, bedrooms, and even outdoor use such as pool or patio areas.
Bathroom with Tadelakt. Unlike bathroom tiles, which trap grime between the tiles, Tadelakt plaster is smooth and seamless, making it easy to clean. The sleek finish prevents mold and mildew, leaving a clean and healthy bathroom area with an artistic touch.
Shower with Tadelakt. The shower receives the most chemicals and is prone to absorbing moisture from the air. These ingredients work together to eat away at the grout between your tiles.
You won't have to worry about stagnant water dripping from your shower walls or mold and mildew forming with the Tadelakt finish. Aside from that, you'll enjoy a soothing ambiance with an organic and varied color palette. Read more about plaster shower walls here.
Tadelakt Exterior. Since Tadelakt plaster is water-resistant, it can also withstand heat, making it an excellent exterior finish for patios, outdoor fireplaces, pools, and other heated areas.
However, because the Tadelakt finish is commonly used as a flooring surface in Morocco, it is not recommended because it can be slippery, and stepping on a dry floor with hard footwear can easily damage it.
Extreme weather conditions can also have an impact on the appearance and water resistance of your Tadelakt finish.
Is Tadelakt Plaster Expensive?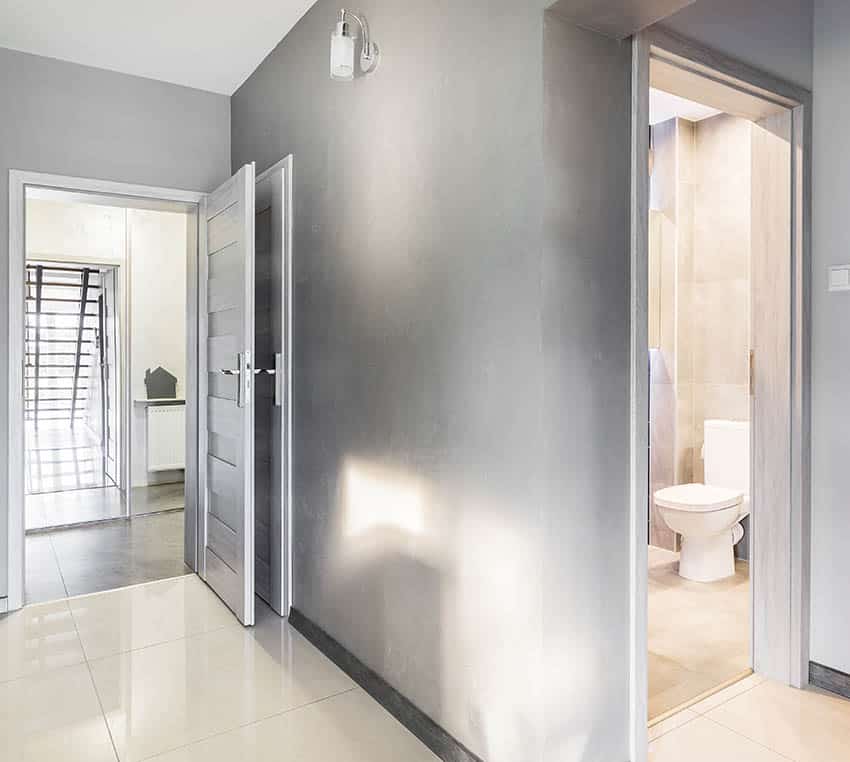 Tadelakt is comparable to medium-end tile work in general, though the tile material, as well as the cost and quality of installation and the level of skill required to install it, varies widely. With that said, the Tadelakt cannot compete with Walmart's lowest-end tile, but it can easily compete with tile imported from Italy.
Regular lime plaster or American clay plaster can be used elsewhere in the bathroom or kitchen where strict waterproofing is not required; these finishes are naturally molding and mildew resistant but are much easier to apply (and therefore cheaper).
Tadelakt should only be used in a bathroom shower stall, bath surround, or kitchen backsplash where it will be exposed to water regularly.
In wet areas, homeowners should expect to pay $30 to $50 per square foot for professional installation. Where water repellency isn't a concern, installation could cost as little as $15 to $20.
Before applying plaster coats, a professional installation includes hanging and prepping boards. To get a price quote, talk to a few Tadelakt specialists in your area.
You can try your hand at DIY Tadelakt if you're on a budget or can't find a Tadelakt specialist in your area. DIY applications are more than doable for those on a tighter budget, costing around $5 per square foot.
Are Tadelakt and Venetian Plaster the Same?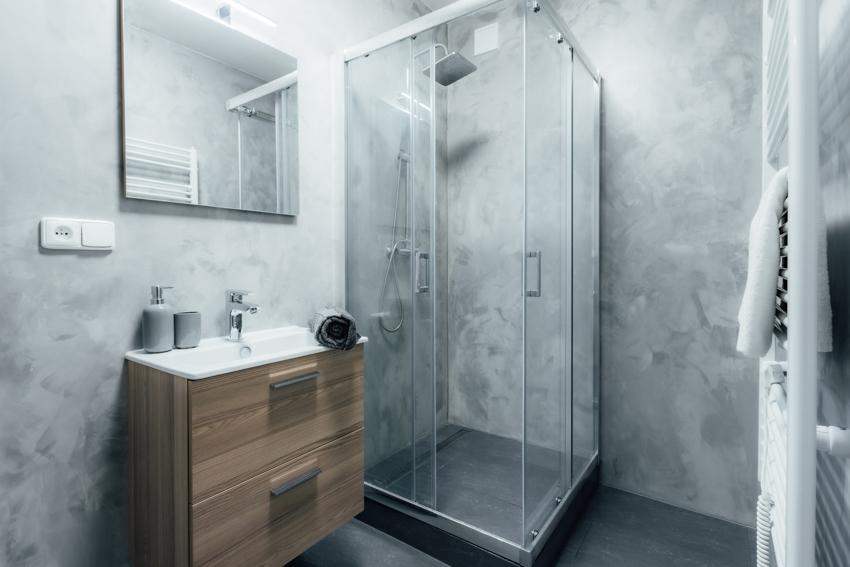 There are some commonalities between the two types of finishes. They're both lime-based, so environmentally conscious property owners can't go wrong. Because of their clean, restrained radiance, they complement a classic style.
The distinction can be seen in the way both are used. Tadelakt stands out in moist environments like bathrooms and kitchens because of its beauty and effectiveness. Tadelakt is ideal if you don't want to use tiles in those areas.
Tadelakt, in comparison to Venetian plaster, can make a much bigger impression in terms of interior design because Venetian plaster is more common and doesn't have the same exotic feel.
In the end, the decision between Tadelakt and Venetian plaster is a personal one, but for a truly unique and stunning Mediterranean finish, Tadelakt is the way to go.
Price Difference
Venetian plaster costs between $8 and $15 per square foot, even though it differs from Venetian plaster. Because Tadelakt is a longer process, I'm guessing it'd cost twice as much, depending on your space.
Can you do Tadelakt Yourself?
If done correctly, Tadelakt is the most difficult and tricky wall finish to apply. It takes a lot of invested time and effort to complete a long-lasting job, and it necessitates meticulous attention to detail.
Since humidity and temperature impact curing time, the faster the walls cure, the better you can expect to work on a wall until the wee hours of the morning, burnishing and babysitting it to keep the finish dry.
While considering the time and effort required, keep in mind that, like any artist dedicated to their craft, the result is absolutely stunning, and it also saves you money.
Takeaway
Tadelakt is most commonly found in high-end homes today, but that may change as more designers and homeowners become aware of this long-lasting and environmentally friendly material.
Tadelakt is becoming increasingly popular in the United States, where the striking finish has gained traction in interior design techniques over the last few years.
Tadelakt could be your ticket if you're looking for a unique designer finish that will make you the envy of the neighborhood. It's a feature that puts you in an exclusive club, at least for the time being. You're in the minority in the world of interior design if you have a Tadelakt shower in your home.