In this guide to the vinyl flooring on stairs pros and cons guide, you'll see its comparison to other types of flooring, and recommendation for the safest stair floor material.

It is considered an excellent option for modern homes because not only are they beautiful, they are also durable and budget-friendly. While you might have already heard that this flooring type is good in general, in this post, we're going to look into answering whether such material is suitable for stairs.
Of course, one of the primary considerations when discussing flooring options for stairs, is safety. You want the floor of your stairs to be both beautiful and safe to walk on, so you need a slip-proof surface for all ages. With that in mind, let's look at vinyl flooring on stairs, the pros and the cons.
Is Vinyl Flooring Good for Stairs?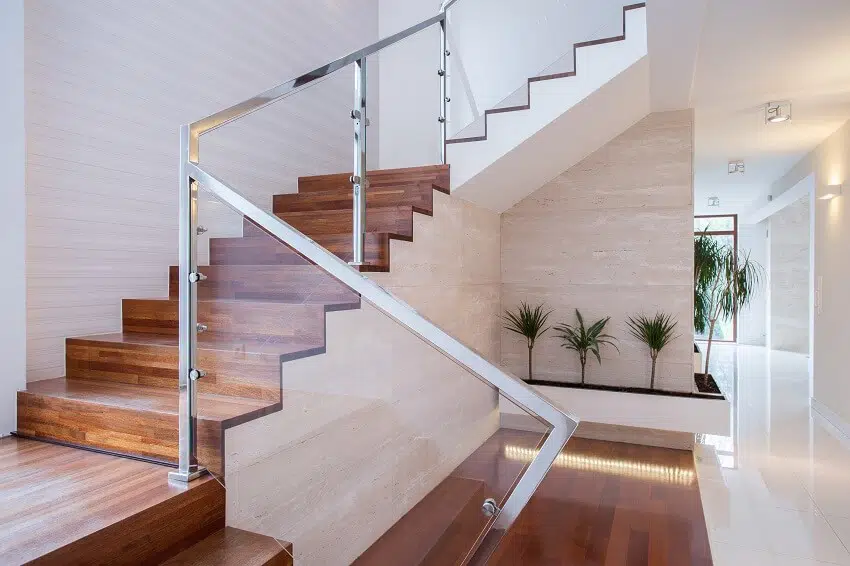 Your home's stairs are considered a high-traffic area. Since many people use your home's stairs daily, they need to be made of durable material. Also, since many stairs are prominently visible, you want to use flooring material that is beautiful and matches your overall vision of how your dream home should look.
One reason vinyl is so popular is its ability to mimic the look of more expensive flooring options, such as wood and stone.
It comes in various colors and textures; some are even attractively patterned. Given the variety of looks that vinyl can mimic, you are sure to find one that will match your vision and style.
Itis also durable, being both scratch and stain-resistant. As stairways are high-traffic areas, such material is suitable for stairs as it will resist getting scuffed or scratched from people's shoes.
Pros of Vinyl Strips for Floors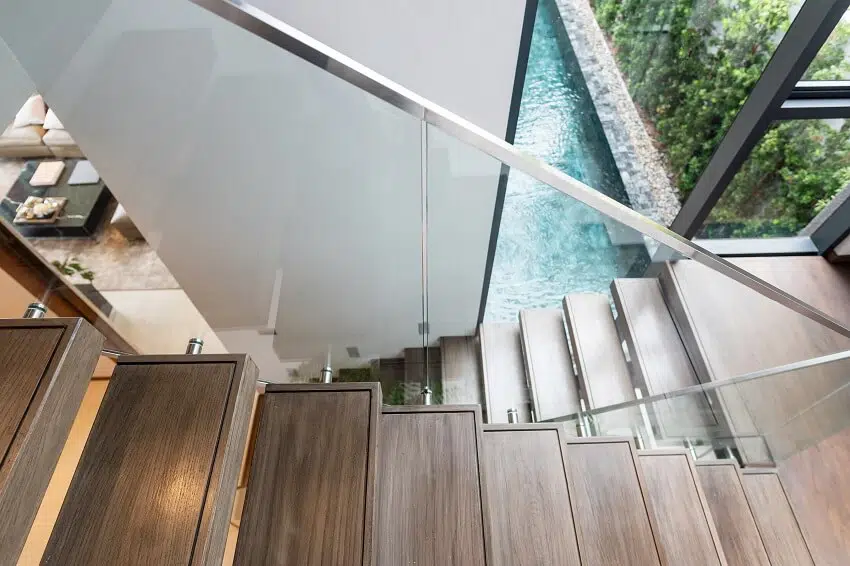 If you consider using vinyl in your stairways, these are the other pros of vinyl on stairs.
1. It is affordable
It should cost about $1-10 per square foot, and this is quite a bargain compared to hardwood or ceramic flooring. Hardwood flooring material will cost about $10-30 per square foot, while a ceramic floor will cost up to $35 per square foot.
2. It is easy to install
You don't need to hire a contractor to install this flooring; it's a pretty easy DIY project.
Most come in "peel and stick" form. You buy sheets of vinyl material, cut or trim them into the size you need, peel off the backing and stick it firmly on the floor—no need for nails or any special tools.
3. It comes in many attractive designs
Itis available in various colors, textures, and patterns. You will surely find the design that will match your particular style and taste.
4. It is durable
This material is durable and can last you up to 10 to 20 years. Many vinyl manufacturers are so confident in the durability of their products that they offer warranties of up to 15 years. They are scratch-resistant, so you don't have to worry about the high foot traffic scuffing up your stairs.
5. It is easy to clean
To maintain the look of your flooring, you need to sweep the surface regularly and maybe mop it weekly. Vinyl is waterproof, so spills are easily cleaned up.
6. It is comfortable to walk on.
This material feels soft to touch, making it a comfortable surface to walk on – even with bare feet. Unlike some materials, like tile, vinyl isn't really affected by the surrounding temperature, so it doesn't get too cold or hot.
Cons of Vinyl Material as Flooring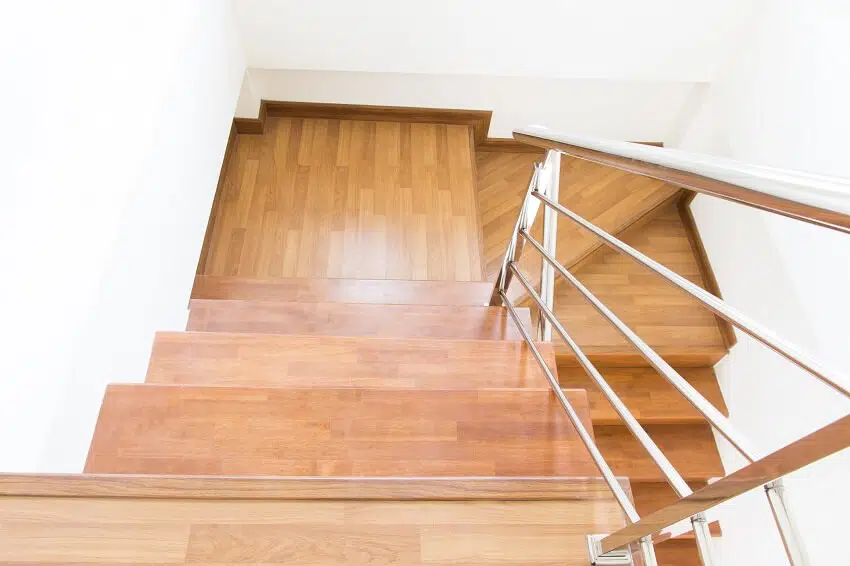 While there are many pros to this flooring stype, there are also a few cons. Before deciding on vinyl for your stairways, you need to study the cons of vinyl on stairs.
1. You need to have a completely smooth and clean surface to install this flooring material
Before installing such flooring, you need to ensure that the surface of your stairs is entirely smooth and clean. Imperfections such as holes and bumps will show through the vinyl as an uneven or bubbly surface.
2. It can be hard to remove
The back of this material has strong adhesives on it; the better to make sure the vinyl really sticks to the surfaces it's installed on. This means, however, that you need to be careful when installing it, as removing vinyl is time-consuming, and there's no way to do it without damaging the material.
3. It can be damaged by the sun
Vinyl is susceptible to UV damage. This means that if it's exposed to the sun, it can fade and become discolored. If your stairs get a lot of sun exposure, spend a bit more to make sure that your vinal flooring material has a layer of UV-resistant coating.
4. It can be dented
While vinyl is scratch-resistant, it's not entirely damage-proof. If something sharp or heavy hits a vinyl surface, it can leave a permanent dent on the surface.
Is Vinyl Plank Slippery on Stairs?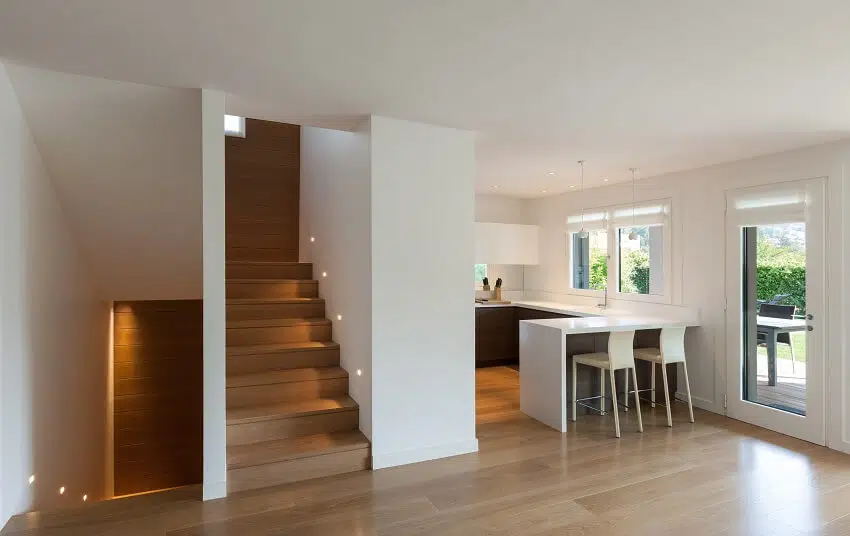 One problem with this flooring is that vinyl plank can be slippery on stairs. It is waterproof, which means water and other liquids don't seep into the material. However, they can linger on the surface, making the floors slippery.
Some high-quality vinyl plank flooring material can have an anti-slip coating which increases the traction surface of the floor. This is something you should look for when choosing this flooring for stairs. You can also buy anti-slip spray or anti-slip mats and rugs to decrease the risk of slipping.
How Do Vinyl Sheets Differ from Luxury Vinyl Type Flooring?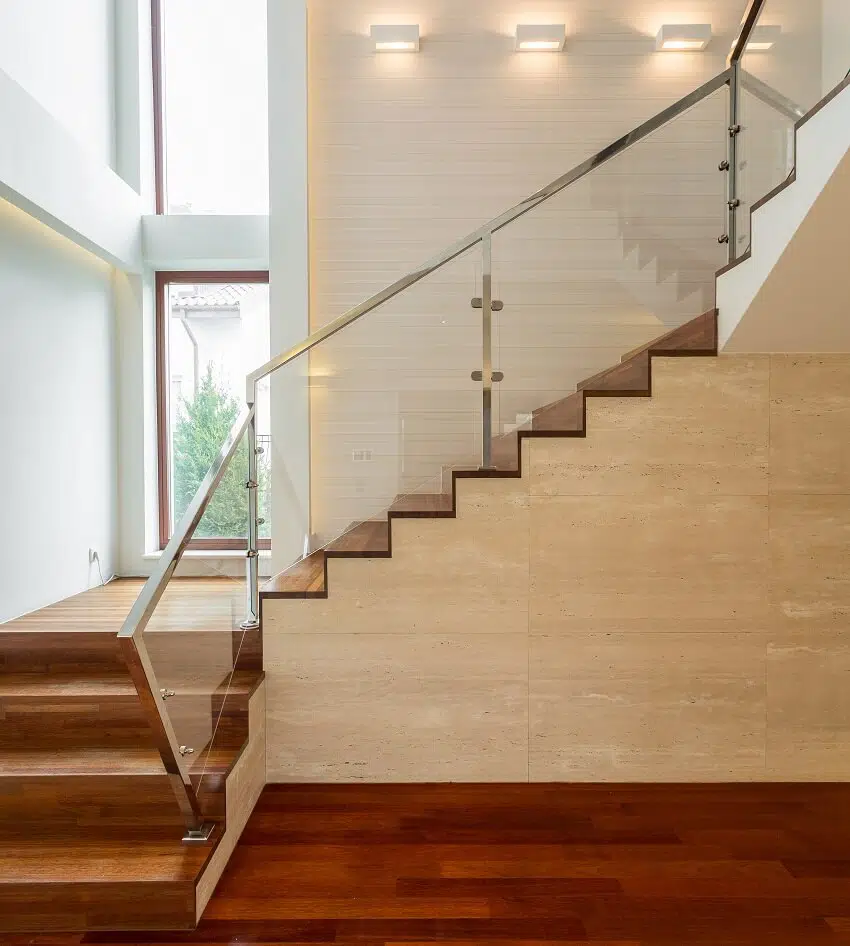 You can buy vinyl flooring in three forms, sheet vinyl, vinyl plank , and luxury vinyl.
Sheet or plank vinyl is either square of material or wide strips or planks of material. The vinyl is bonded onto a thin backing layer, usually felt or fiberglass. An adhesive material will also attach to surfaces, so all you have to do is peel and stick the material onto your floors.
On the other hand, luxury vinyl is a semi-rigid material that is sold as either planks or tiles. They use several layers of vinyl making it thicker and more robust than the standard type. They have click-lock edge joints, so you lay several pieces close together to form your vinyl floor.
Luxury vinyl flooring is more durable than standard type lasting as much as 25 years. However, it is also a little more expensive, costing around $2-7 per square foot.
What Is the Safest Covering for Stairs?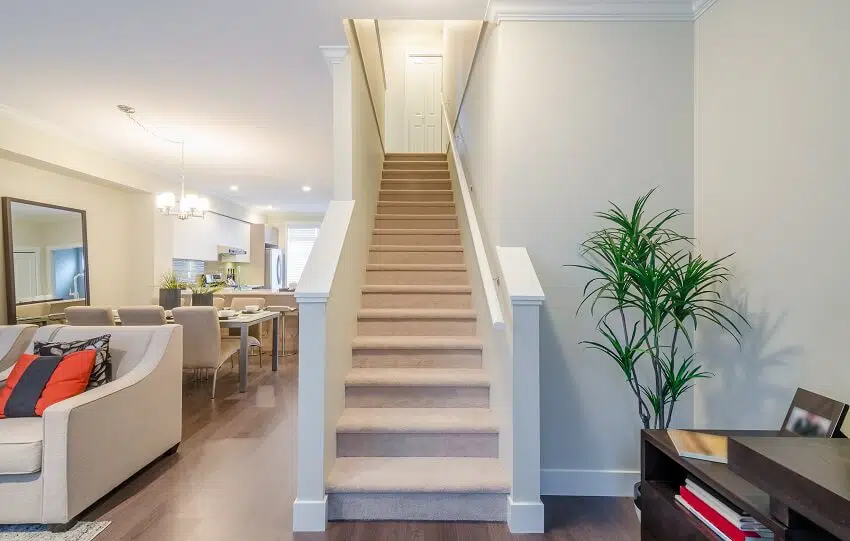 Most safety experts will agree that carpet is actually the safest covering for stairs, which is valid for stairs with vinyl. As we mentioned, if you want to keep your vinyl floors from being slippery, it's best to invest in anti-slip mats and rugs.
A good carpet can also help prevent slipping and add an extra layer of interest to your stairway. See the popular types of carpet here.

A carpet runner is great for showing off a beautiful vinyl floor. It will add color and increase traction without totally hiding the vinyl on your staircase. It's also cheaper to install and maintain than full carpeting, allowing you to have the best of both worlds.
Visit our indoor stair railing design ideas for more related content.