Here we share our Victorian kitchen ideas showcasing what it is, the style elements, the types of fixtures used, and the best modern Victorian kitchen decor tips.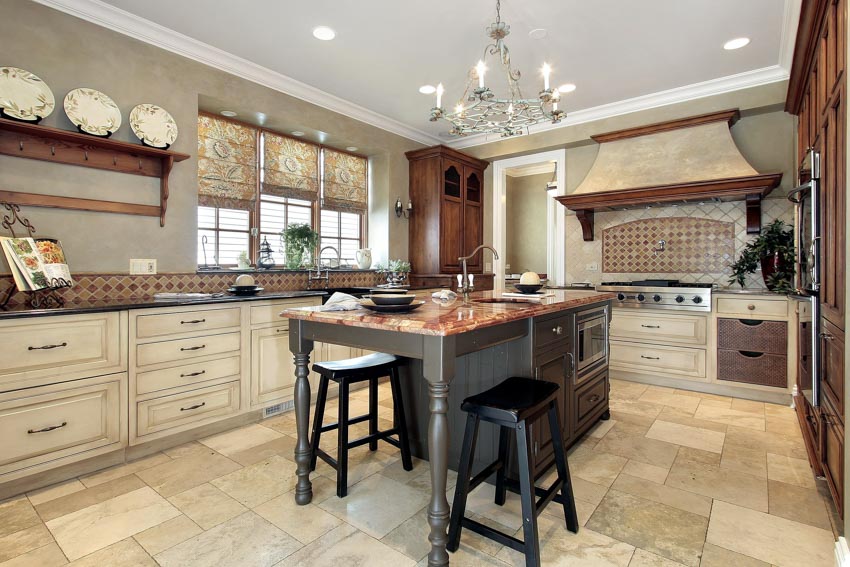 The Victorian kitchen was primarily the main area for activity in the home, housing the kitchen range, heating water, and preparing and cooking food. The range was a multi-purpose piece of equipment that included ovens, a boiler, and hobs arranged around a central coal fire built into the fireplace.
As a result, it became a natural gathering place for people to stay warm, sit down and spend some time with the family, and of course, have meals. The style has rich visuals, a dash of extravagance, and a passion for entertaining friends and family.
For this reason, it is understandable why many homeowners are excited about making the Victorian aesthetic come to life in their kitchens. These days, it can't just be all about aesthetics, though. It also has to be practical and functional before you fully commit to a kitchen remodel.
What Is A Victorian Kitchen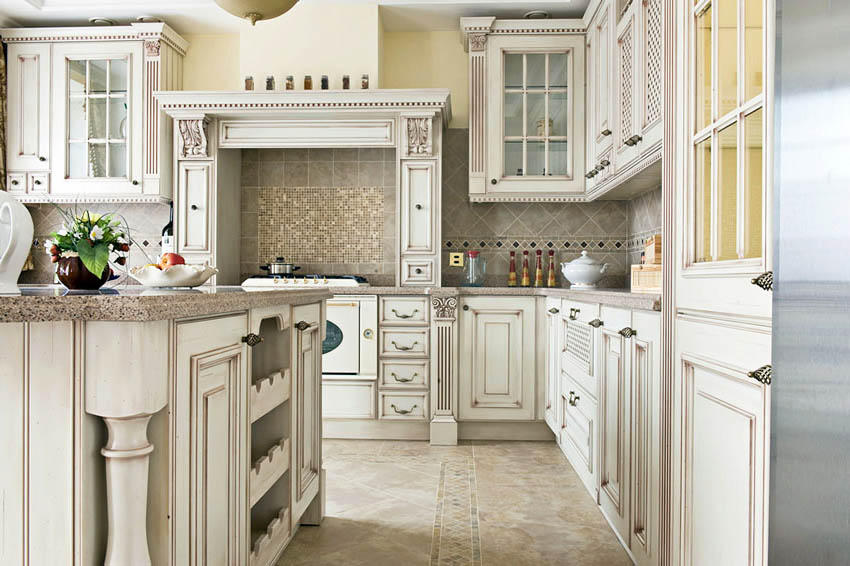 A Victorian-style kitchen is a design aesthetic for interiors inspired by the Victorian era. The designs incorporate Gothic elements like spires, dark hues, and ironworks while incorporating the warmth sought in a kitchen.
To fully appreciate what a Victorian kitchen has to offer, it's essential to understand what it's all about, to begin with, along with the bit of history that comes with it. All the surfaces and wall cladding in Victorian kitchens were washable, a key feature. Large central dining tables for meal preparation were standard in larger Victorian kitchens.
These tables were made of pine so people could clean them with sand, baking soda, and water. If you are fortunate enough to find one of these tables in an antique store, this constant scouring gives their wooden surfaces their worn-out and scrubbed aesthetic.
Commonly, the kitchen floor would be tiled underneath the table and made of wood in the areas around it. The lower portions of the walls were frequently tiled with white brick-shaped tiles or covered in tongue and groove wood paneling painted in glossy and easily cleanable paint for cleaning purposes.
Cleanliness and utility were important. Victorian kitchens ran like well-oiled machines. This concept still resonates with modern Victorian kitchen ideas to this day.
Victorian Kitchen Style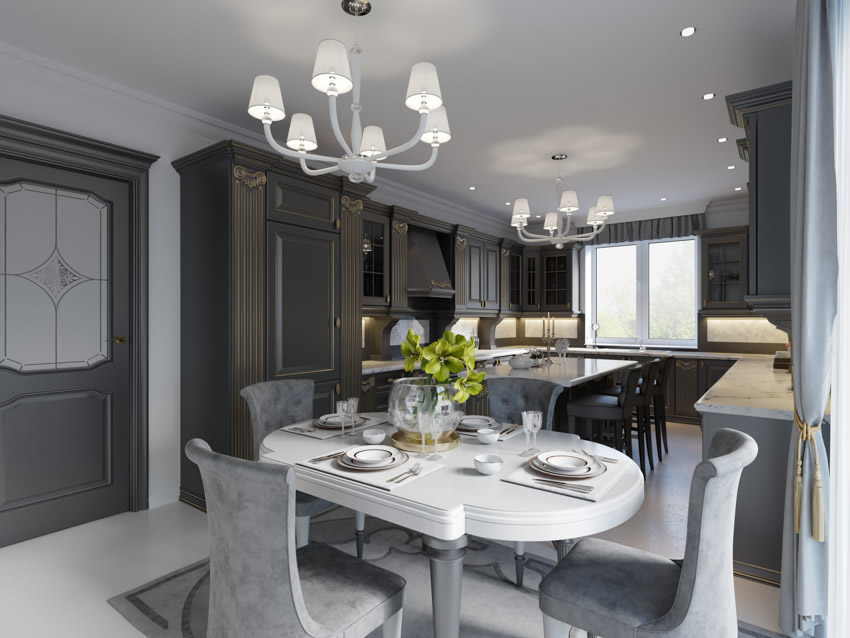 Still, there aren't any complex rules on what makes a kitchen design Victorian, but there are reliable traits or markers that you can check out.
Here are some Victorian kitchen ideas to consider when it comes to style.
They are focused on functionality: During this time, kitchens were fully operational and practical. This design meant that their main concern was sensible utility.
It wasn't part of the design if it didn't serve a purpose. Comparable to minimalism is utilitarianism. It's an aesthetic that appeals to people today because it makes them feel less stressed. It was typical in the Victorian era.
An open plan: The open layout is one of the defining details of a Victorian kitchen. When you enter a Victorian kitchen, you should feel spacious. Many contemporary styles have adopted this essential characteristic.
This layout stemmed from Victorian kitchens having a lot of household staff going to and fro bustling through the same workspace, so, of course, it's a prerequisite for it to be spacious and have an open-spaced layout so that they don't bump into each other.
They also often had large types of tables in the center that were used for food preparation and were used similarly to modern kitchen islands. This setup isn't always the case with today's Victorian-themed kitchens, but modern-day kitchens retain the open design nonetheless.
Well proportioned and symmetrical: On top of an open layout, Victorian kitchen ideas are highly balanced and symmetrical. Upfront and center will always be a rectangular and well-worn table. There should be a freestanding range cooker, open dressers, and other elements related to Victorian architecture.
It's embellished with industrial design elements: You can channel this detail into modern design by using raw materials. Revert to the fundamentals with your materials for a vintage utilitarian appearance that incorporates contemporary kitchen ideas.
The focus should be that the kitchen's layout would honor the area's agricultural and industrial past. To accomplish this, use various raw materials to highlight the kitchen's character, such as corrugated iron, bricks, and brass.
More on the brickwork: A large portion of a Victorian kitchen wall comprises exposed brickwork and exposed pipes. This foundry-like appearance even tends to appeal to modern and contemporary design.
You can still get the authenticity without overwhelming the space for those who aren't too fond of having entire walls made out of the brickwork. Go for bricks in your backsplash instead when considering these Victorian kitchen ideas.
Create contrasts with black and brass: Brass elements in the kitchen and black paint can create drama. On top of that, brass takes on a patina as it ages, so it also feels very weathered and historic. Victorian kitchens are known to have a penchant for embracing the darker side.
It has a somewhat gothic feel to it. You can create a Victorian visual statement by having the brass cabinet hardware against some black paint in the background. You can also work with brass alternatives such as copper.
Victorian Kitchen Cabinets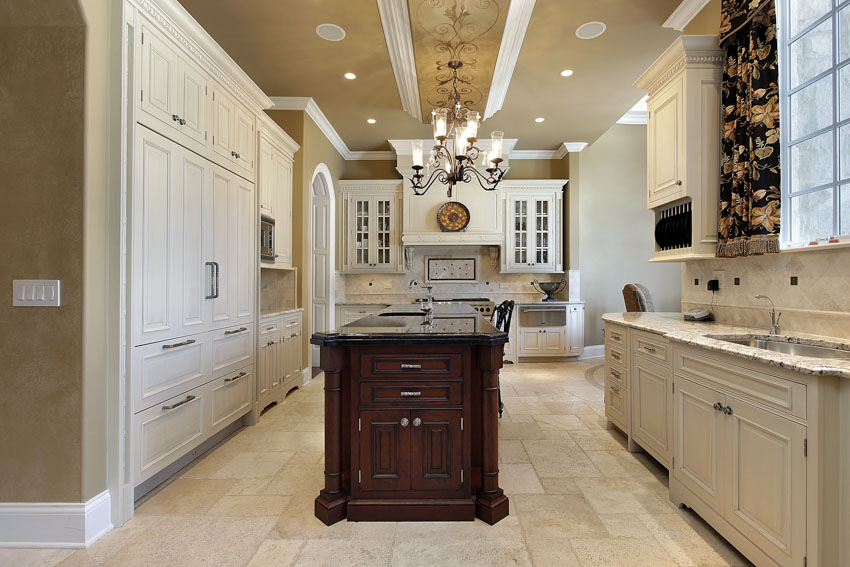 You may not be aware that some cabinetry options have been chosen with resale value in mind. Victorian cabinets are a specific type of cabinetry for Victorian homes that can significantly boost a home's value and reduce the time it spends on the market should you decide to invest in it.
One of the key characteristics that set the Victorian era apart from our contemporary kitchens was the Victorian kitchen cabinets. It had freestanding cabinetry and furniture, in contrast to our modern kitchens, where everything is built-in. Built-in cabinetry makes it much easier to customize the aesthetics based on your preferences.
Victorian kitchen cabinets came in various designs, but they all shared some characteristics. Usually made of wood, they frequently featured intricate carving and detailing. The kitchen cabinets are made with glass doors, so it is easy to see what is inside the cabinets.
Additionally, they are typically tall because Victorian homes frequently had relatively high ceilings. They were quite often very decorative and frequently served a functional purpose simultaneously. These Victorian kitchen ideas also offered helpful food and other supply storage space provisions.
Victorian Kitchen Sink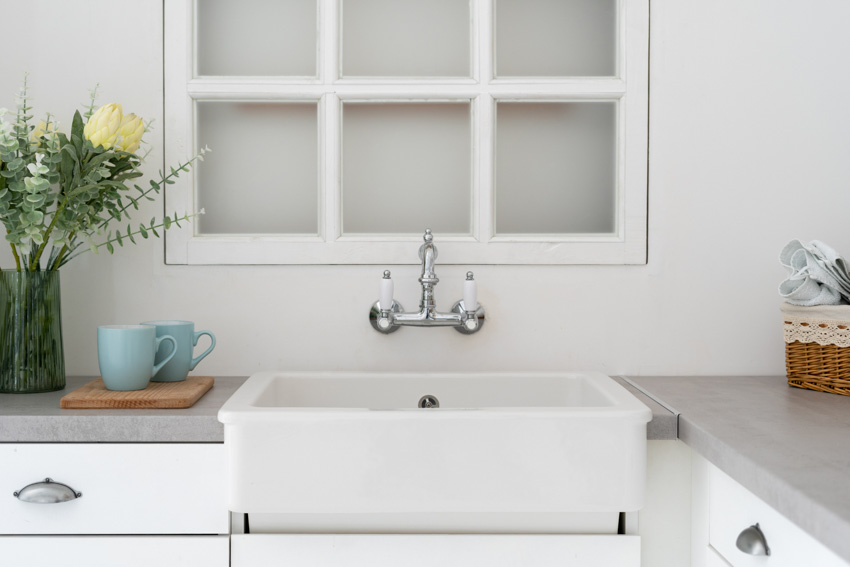 A farmhouse-style sink, also referred to as an apron sink, has a large basin and an exposed front that sits flush with your cabinets and countertops. It's central to the Victorian kitchen design. This sink style has a hint of country charm and offers several practical advantages, making it an excellent option for many kitchens.
Farmhouse types of kitchen sinks are typically much broader and deeper than other kitchen sink designs. These distinguishing qualities make daily use much more convenient in addition to satisfying a rustic appearance.
The farmhouse sink's large basin, which has an antique design, hearkens back to when the kitchen sink served multiple domestic functions. The sink was often used for much more than just washing dirty dishes, from washing clothes to bathing the kids. And it's simple to understand how an apron sink's deep basin could efficiently complete all these tasks.
Despite having a long history, this sink style has resurfaced recently. This might be a great option if you want to remodel your kitchen or add a little rustic charm, even if you don't want a full-blown Victorian aesthetic.
Victorian Kitchen Faucet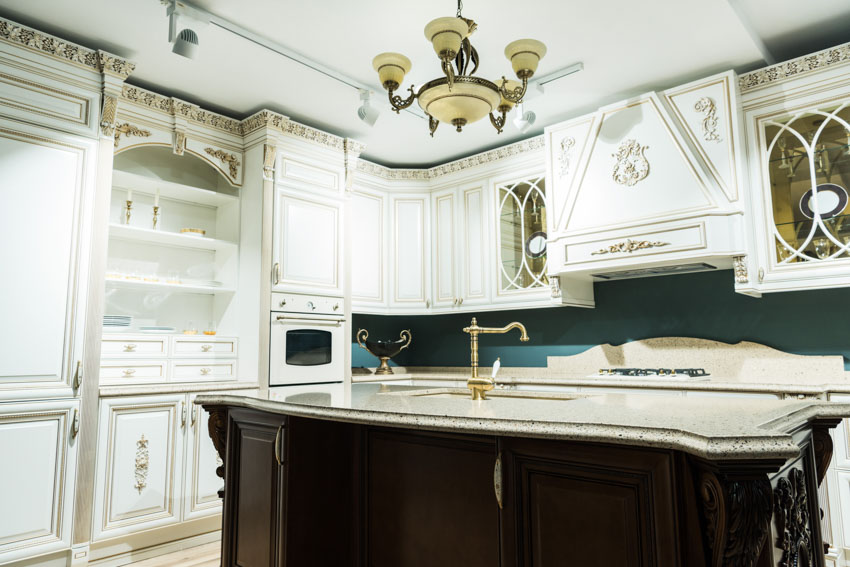 Victorian kitchen ideas don't discriminate regarding the type of metal fixtures used in the kitchen, but brass is the most common one. They can withstand high temperatures, are resilient to corrosion, need little maintenance, and are strong. Brass faucets are the ideal choice for homeowners trying to cut costs without compromising function or quality.
Solid brass kitchen faucets may be a bit on the high end, but they are sensible and well worth the upgrade. Of course, a great add-on is that they work well and fit right into your Victorian kitchen design.
Solid brass is a type of metal created by mixing copper and zinc. These components add to the metal's overall strength, which makes it one of the most durable and long-lasting faucet materials available.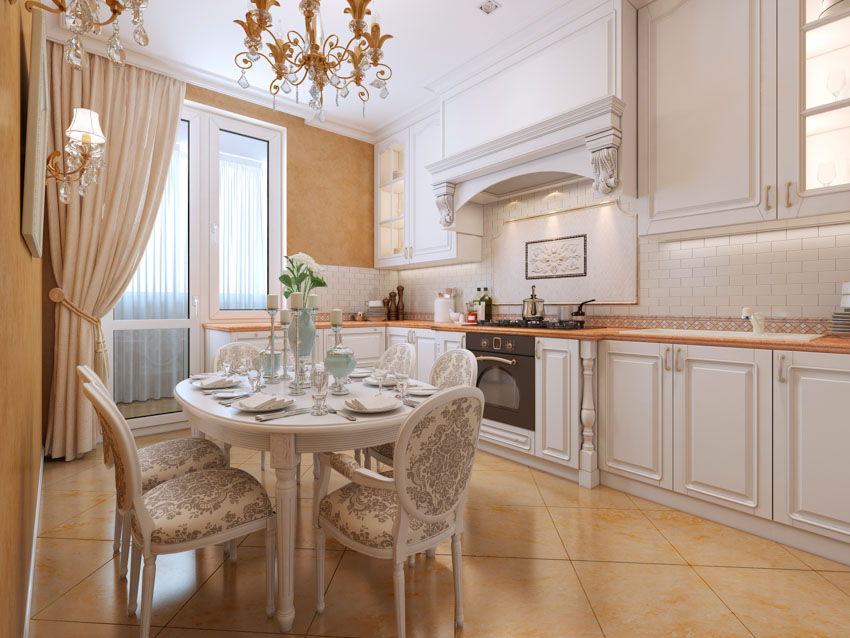 Solid brass fixtures can easily withstand the daily wear and tear that kitchen faucets experience and last for decades. One of the materials that resist corrosion the best is brass. This is especially crucial if you have hard water because it corrodes faucets more quickly.
If you're looking for high quality at an affordable price, brass-finish kitchen faucets are great alternatives to consider as opposed to expensive stainless steel ones.
Victorian Kitchen Lighting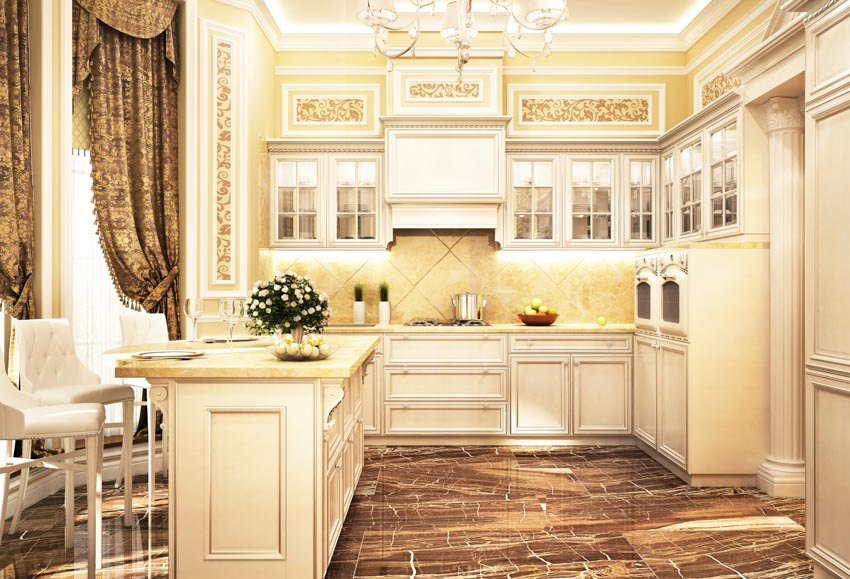 Throughout the Victorian era, candlelight was used for most common tasks, including dining, playing cards, and cooking—especially in places without gas—until electric light eventually took its place. Of course, that isn't the case with modern kitchen lighting.
These days, we go with more modern Victorian kitchen ideas where lighting options are concerned. This design is known for ironworks and seamlessly works with the industrial aesthetic, so opting for industrial types of lighting fixtures makes sense. This lighting style stands out for a myriad of reasons.
This style shines with vintage appeal and includes pendants with black metal, mesh, or fabric shades and vanity lights with clear seeded glass. Metal, leather, or wood with clean lines helps to refine the look. For a distinctly industrial look, look for lighting fixtures with exposed bulbs or wire cages.
This style has a factory floor flair without the splinters, thanks to accents in black or gold with exposed metalwork. These finishes give your home a sophisticated and elegant appearance on everything from lighting fixtures to faucets, hardware, and appliances.
If you want to prevent this style from looking too much like a warehouse, use a variety of finishes and textures. This look has a warm feel thanks to the rounded edges and simple colors. Don't be afraid to combine different materials, styles, and finishes. The doors of décor start to open if you add a tiny bit of mix to your match.
Victorian Kitchen Floor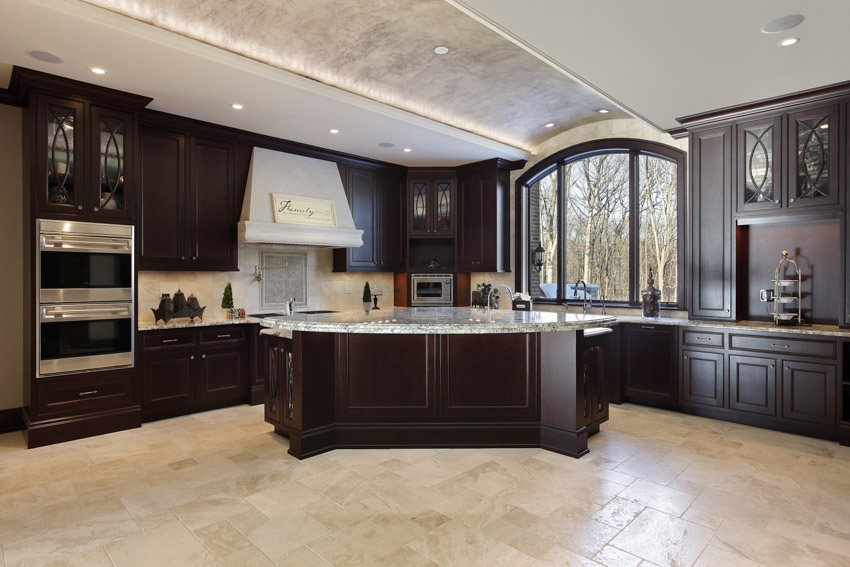 Wood floors from the Victorian period were typically unfinished and covered in wax or oil. They frequently became gray due to constant washing and "holystoning," or scouring with a piece of brittle and soft limestone.
Once long-lasting enamel paints were available, wood floors became more popular. However, floors with stains and varnishes didn't become common until very late in the Victorian era, when paint manufacturers began offering tougher, longer-lasting varnishes.
Older homes often have dark floors, but this is not the result of wood stains. The patina is caused by dirt that has become embedded in the finish over time and has darkened it; however, wood stain is frequently used today to mimic the appearance.
Among the Victorian kitchen ideas to consider when it comes to flooring is cork. Many people are surprised to learn that cork is a typical Victorian flooring material because they think it is relatively delicate. Cork has a long history as a resilient flooring dating back to the start of the 19th century. It is exceptionally durable, wears well, and is practically impervious to water. It is incredibly robust.
Cork is a very resilient floor material because of its distinct cellular structure. It feels soft on the foot and has a little "give." Yet it is incredibly resilient and tough. Cork flooring is naturally waterproof and highly protected from stains and chemicals, thanks to contemporary finishes. It can't absorb water because of the way its cells are set up.
Victorian Kitchen Décor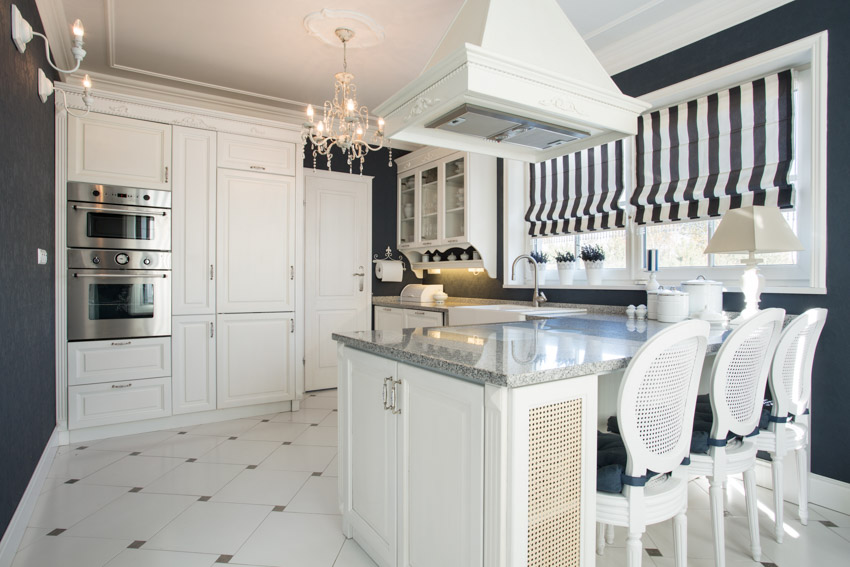 Some significant elements can help you bring a Victorian kitchen décor together.
A large center table: A prominent element of Victorian kitchens is the sizable center table. This is where relatives and friends can get together to cook, eat, and chat. Choose a table that complements the design of your kitchen, or opt for something more eclectic that incorporates various design elements.
Ensuring enough space around a large central table in your Victorian kitchen is essential to its integration. Make sure there is enough space for furniture and cabinets and for people to move around.
White kitchen cabinets: White cabinets are popular because they offer a tidy and airy appearance. They also give the impression that the space is more significant because it is less visually cluttered. They are also very adaptable; you can choose modern all-white cabinets or shabby chic white shaker cabinets for a more vintage appearance.
A darker color palette: The color scheme is among the most crucial elements when designing a Victorian kitchen. Darker hues like green and burgundy are frequently used in this style because they foster a warm, cozy atmosphere. Bright tiles or accessories are another way to add splashes of color.
Flooring: Wooden flooring is a raw, earthy component that you can use to anchor the Victorian kitchen's aesthetics. Although oak and maple are two common varieties, other options are available. There are numerous low-cost flooring options, including bamboo, for those who don't want to spend much money.
Molding: The use of intricate details is another distinguishing characteristic of Victorian kitchens. A typical decorative trim used in Victorian kitchen designs is crown molding. In addition to enhancing the room's ambiance, it can give cabinets more visual interest. Wood, plastic, and metal are just a few materials used to make crown molding.
Authentic Victorian Kitchen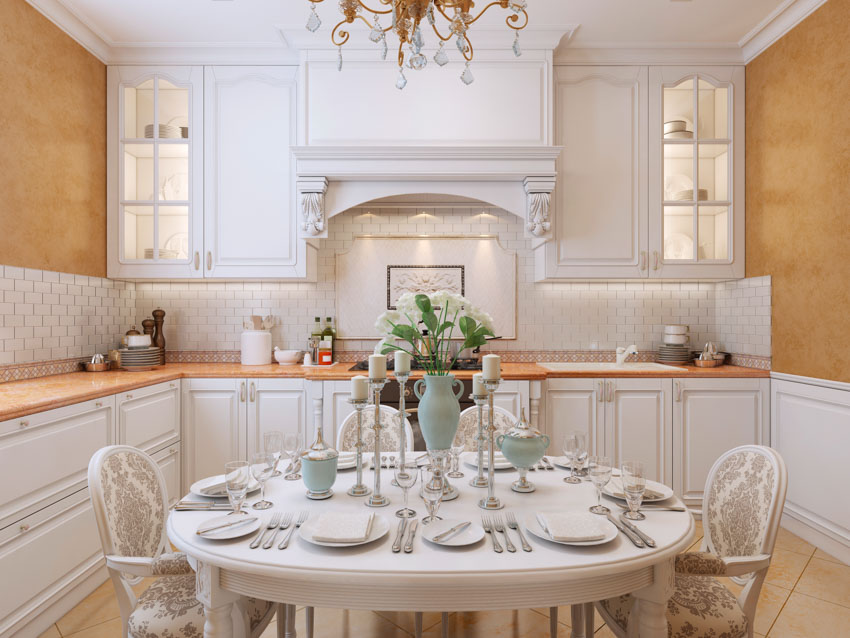 The difficulty in pulling off a truly authentic Victorian kitchen remodel is resisting the urge to go overboard with the details if your goal is to recreate a genuine 19th-century kitchen. It ought to be a functional area.
Stick to wooden elements and farmhouse-style furniture pieces, especially for your center table. Opt for customized, freestanding cabinetry. They may cost you a bit more, but they stay true to their Victorian roots if you want to keep them authentic. Stick to farmhouse sinks and copperware for your pots and pans.
Copperware tends to pop out more over time, gaining a patina that further solidifies your Victorian aesthetic in the kitchen. And, of course, since we can't have kitchens that are candle-lit, the next best thing would be to go for industrial-style lighting fixtures for the lighting.
Freestanding cabinetry: In any home, a freestanding storage unit is a great addition, but a kitchen designed in the Victorian style enhances the look you're going for. In addition to being a beautiful addition, it also provides valuable storage space and makes it simple to access food, spices, herbs, appliances, and cooking utensils.
For best results, ensure your freestanding pantry is constructed using materials that complement the other kitchen cabinets and that match the hues of the cabinets. It can be used to add a distinctive feature to your kitchen, but doing so will detract from the space's overall Victorian design.
Copper utensils and appliances: Throughout the Victorian era, copper was standard in many kitchens. The kettle, kitchen piping, taps, and even pots and pans all used it. You shouldn't go overboard with this if you want to create a Victorian-style kitchen in your house because it might make the space appear rustic. It would look very out of place with the rest of your home if made and designed in a contemporary style.
And most importantly, an open layout: Victorian kitchens are aesthetic, but after all, has been said and done, they are also primarily functional. It would be best if you had a lot of space to move around, particularly in the area surrounding your center table.
This can be challenging with small kitchen layouts, but it's not impossible. Get rid of the clutter and have the main elements in place, and you get to stick with an authentic Victorian aesthetic.
Modern Victorian Kitchen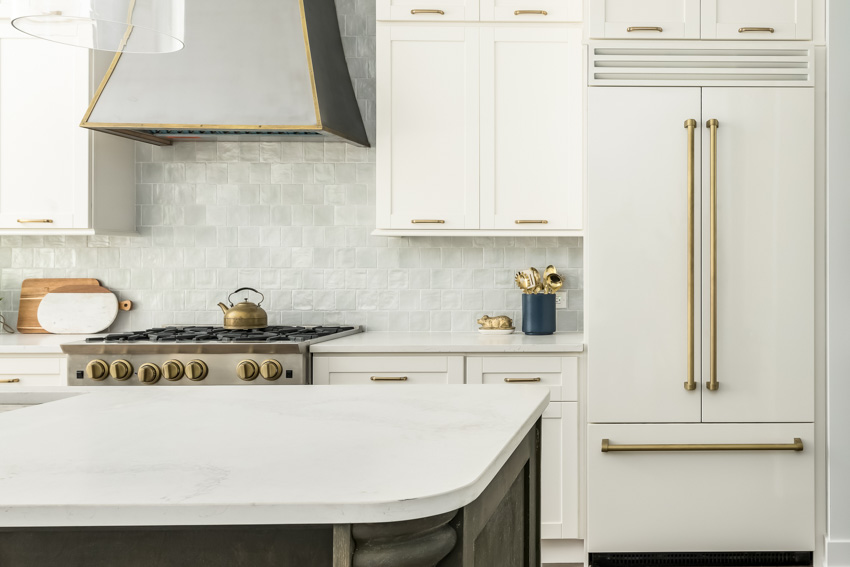 There are many options to consider when designing a kitchen in the Victorian style. Incorporating a design from the 19th century, a time of societal reform and railway expansion, into your home today is still possible.
Suppose you want to install a kitchen in the Victorian style in the modern era. Ultimately, the gist is to find the elements you like in an authentic Victorian kitchen design and tweak them to add details or modifications that work for you and your modern daily life.
Don't be afraid to add modern kitchen appliances and technology. You can stay true to the aesthetic for as long as you have its core elements in place: dark and moody colors, freestanding cabinetry, a wooden center table, copper appliances and cutlery, wooden floors, and glass-front cabinets.
Victorian Kitchen Remodel
A hallmark of Victorian-era kitchen design is the contrast of solid wood, such as oak and teak, with bright, unblemished worktops, which can be easily achieved in your 21st-century home. This is one of the most straightforward starter points in any Victorian kitchen remodel.
Without giving your kitchen a complete makeover, these two elements can be combined to produce a stunning effect in the space using cream or white kitchen cabinets or replacement kitchen doors. Marble and granite features should be avoided if you want to achieve a Victorian look because they are more appropriate for the Georgian period.
Pay attention to the floors, the color palette of the walls, the sink and fixture type, the industrial lighting frames, the functional scrubbed center table, and the copperware. Keep those elements in place, and you should be off to a great start with your Victorian kitchen remodel.
See more related content in our article about arts and crafts kitchen design on this page.