Welcome to our buying guide for the best rated massage chairs including the top features, how they work and the most frequently asked questions.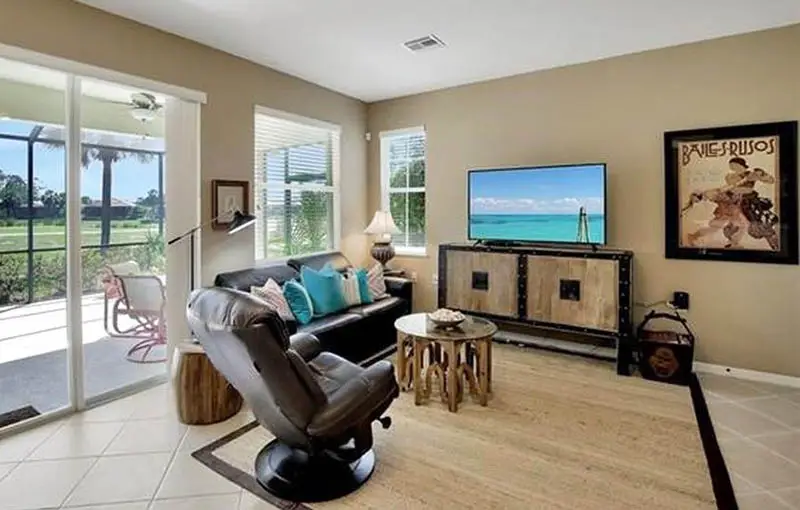 While there are a ton of great massage chairs out there, we have narrowed it down to the 7 best to help you get closer to the chair that truly fits you. At the top here we have the top 7 chairs listed and then below that there are separate categories based on prices and features that helps narrow things down without bombarding you with too much information!
Real Relax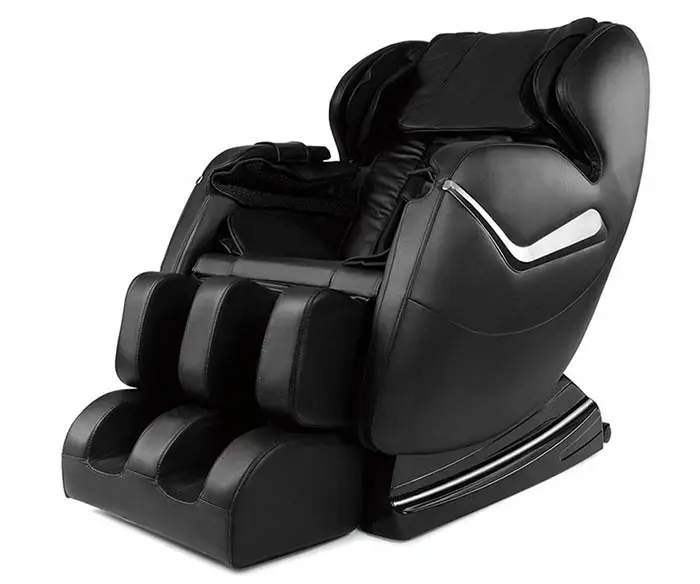 The Real Relax Massage Chair is a quality massage chair that has exclusive ergonomic features such as the armrest linkage system that helps keep the arms in a comfortable position even while reclining. On top of that the real relax massage chair comes with a reliable zero gravity function that makes the user feel weightless. This feature has 4 preset programs.
As for the typical features the real relax massage chair has 8 massage rollers, built in heaters, and 50 airbags, all strategically placed to best comfort the user and relieve the most pain and soreness. The weight limit is 400 pounds and is not recommended for users over 6 feet tall.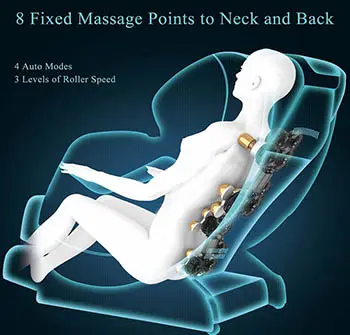 The best thing about the real relax massage chair is that it hold its qualities while staying at a reasonably low price – making it a great buy for those on a budget. The Real Relax Massage Chair can be found on Amazon.
Kahuna LM-6800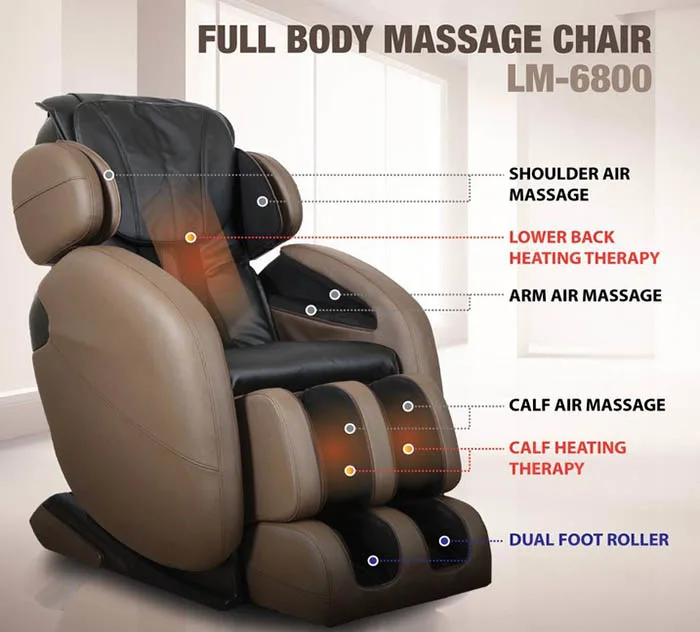 The Kahuna LM6800 chair recliner is an innovative design with a plethora of features available. This recliner can simulate a chiropractic massage or a yoga program (on top of a ton of other pre made programs), after doing a full body scan noting he problem areas. These programs provide the necessary relief for people who suffer from different sorts of pain, soreness and stress.
This recliner also offers stretchable and flexible footrests, enabling comfort for most heights. A buttock roller massage and heating in the back and legs also contribute to overall comfort. The Kahanu Massage chair has 4 rollers, with 3 different speed options and 36 air bag massagers. This product also utilizes zero gravity features, with 3 different positions.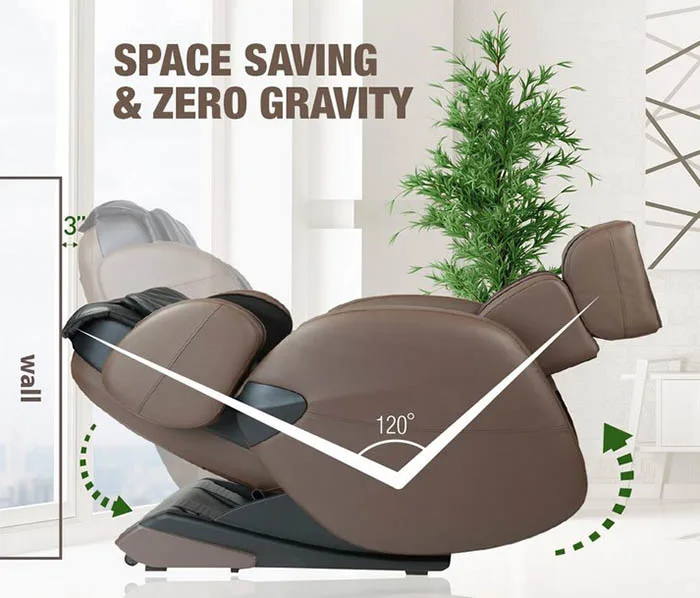 The LM6800 Kahuna Massage Chair Recliner can be found on Amazon.
Snailax Shiatsu Massage Cushion With Heat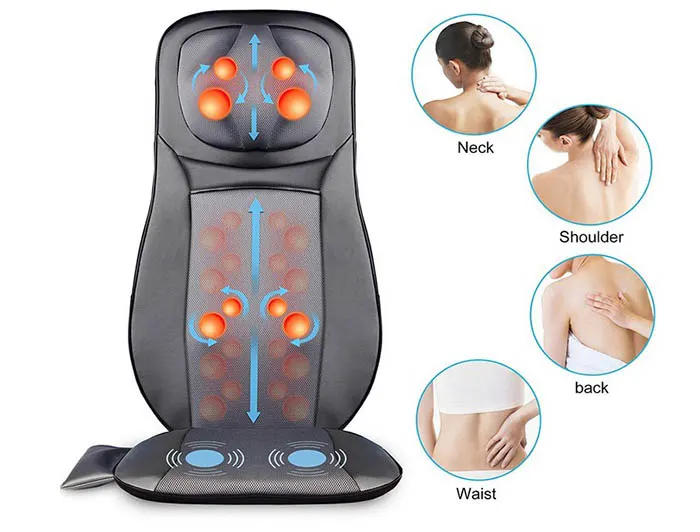 The Snailax Shiatsu Cushion is unlike the two massage chairs above, because this is not a chair at all. This cushion can be placed on a chair to turn it into a massage chair. The great thing about this cushion is that it is quite adjustable, both the neck massage area and the back massage area are adjustable depending on the person as well the chair the cushion is to be placed on.
The neck section has 4 massagers that allow for deep tissue massages, though it is adjustable it is recommended for people between 63 to 71 inches tall. The Snailax Shiatsu Massage Cushion also includes a back massager with 4 nodes and heat, with multiple programs and areas of focus.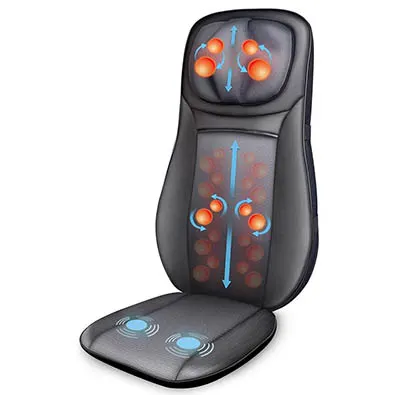 The Snailax Shiatsu Massage Cushion With Heat can be found on Amazon.
RelaxOnChair Zero Gravity Shiatsu Chair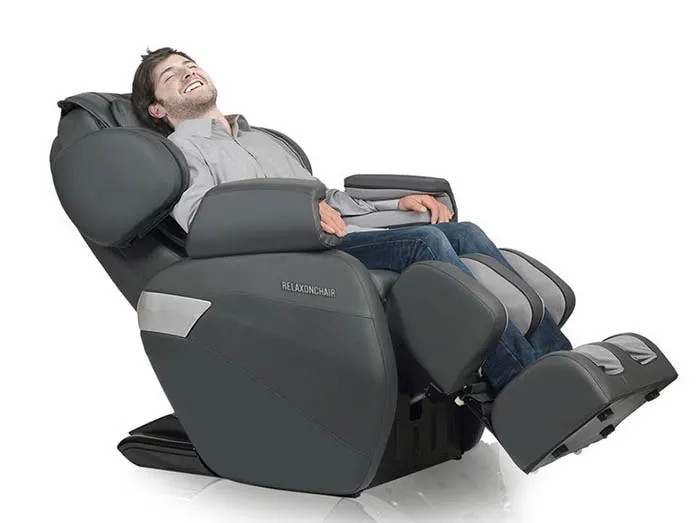 The RelaxOnChair Zero Gravity Shiatsu Massage Chair is a technology advance product designed with a remote that can control the massage roller, airbags and has multiple levels of intensity and speeds. The RelaxOnChair offers a zero gravity function that elevates the feet to the same level as the heart, which minimizes the strain on the body and requiring it to not work as hard. The seat also has rollers in it that can glide from the upper back to the buttock, for a full body massage. This massage chair also has a body scanning system to address the much needed areas to be massaged.
This recliner also offers deep tissue massage options, lower back heating pads, full body stretching, beauty hip, arm and a calf/ foot massager, basically it gets every part of the body taken care of.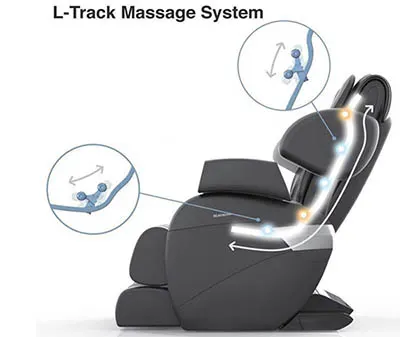 The RelaxOnChair Zero Gravity Shiatsu Massage Chair can be found on Amazon.
BestMassage Zero Gravity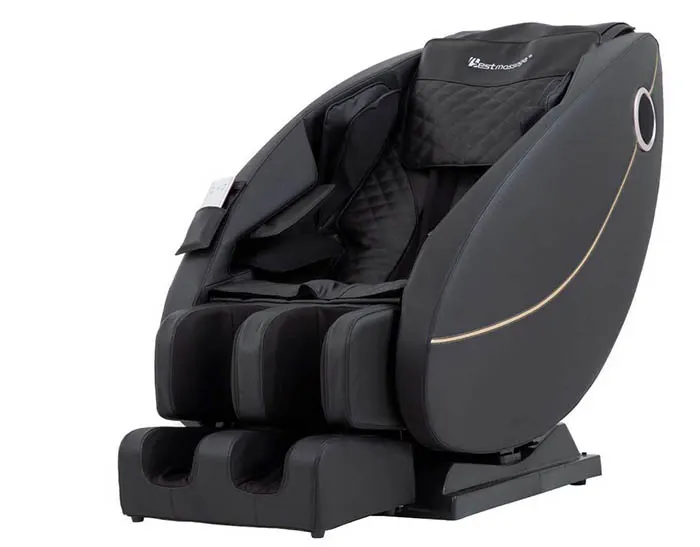 The BestMassage Zero Gravity is a great low cost alternative to the mentioned chairs, it has most of the same qualities including six massage modes. There is also a zero gravity function to elevate the feet to the same level as the heart, minimizing the strain on the body, massage rollers, airbags, multiple levels of intensity and speeds, lower back heating pads, full body stretching, beauty hip massager, arm massagers, and a calf/ foot massager. There are multiple airbags that inflate along the hip and waist to add compression massage for the back and pelvis area.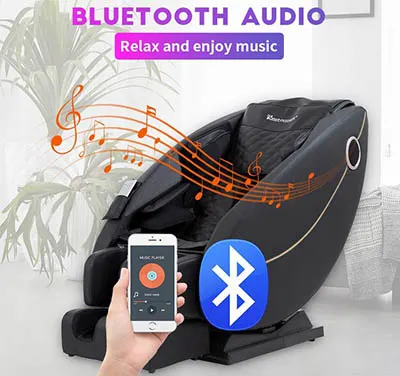 The chair is also equipped with bluetooth functionality to play your favorite relaxing music while you recline. The BestMassage Zero Gravity can be found on Amazon.
Ideal Massage Full Featured Shiatsu Chair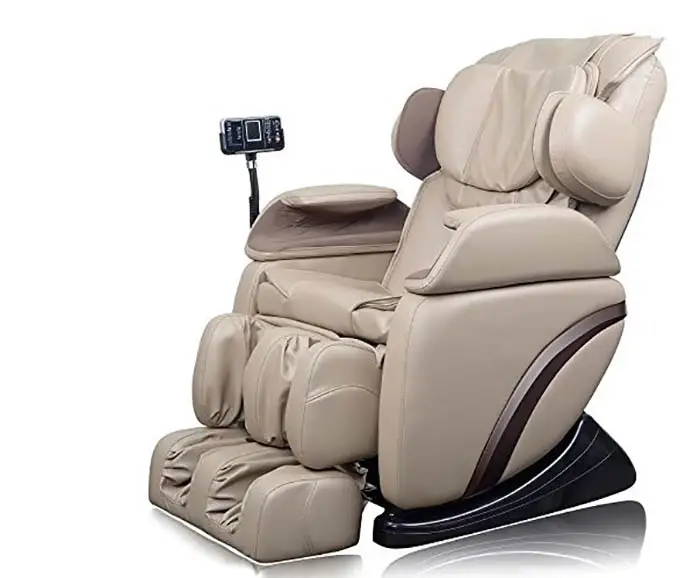 The Ideal shiatsu massage chair gives an uninterrupted massage from 5 minutes long to 20 minutes long, depending on how much time you have available. This chair has 4 different functions: Shiatsu, kneading, spinal rolling and vibrating. These functions are built into different programs to give multi functional massages.
There is also a manual mode for people that know exactly which methods they want and need, with that you can control the intensity, speed and the airbags. These airbacks and beads are everywhere, including the feet, seat and arm areas, which are not always included. There are 6 kneading beads in the feet area to give a fantastic massage to one of the most used areas of the body.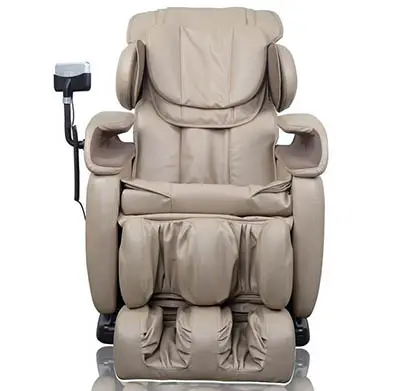 On top of these great abilities, the ideal shiatsu massage chair also has a built in heating mechanism, used to help relax muscles. It also includes a zero gravity feature. The Ideal massage Full Featured Shiatsu Chair can be found on Amazon.
Kahuna SM9000 AIR Float 3D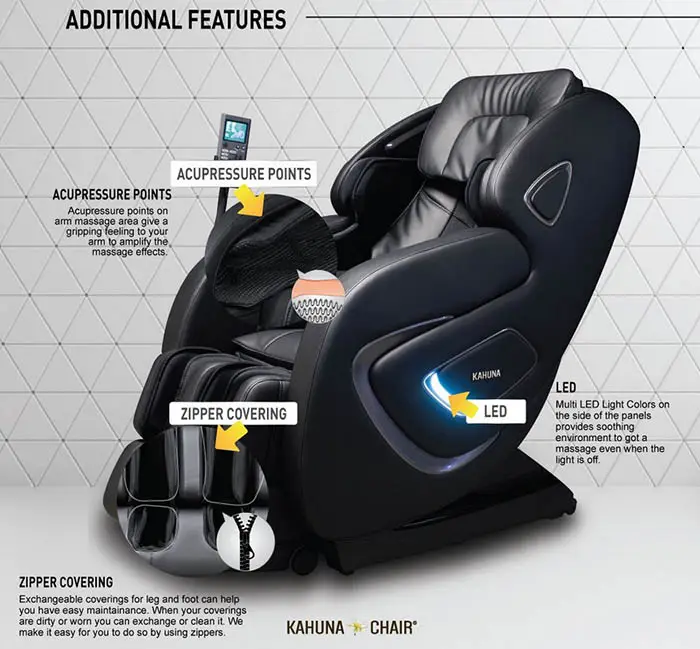 The Kahuna SM9000 is the same brand as another on the list, which it is good to note that there are a great deal of options and selections to a massage chairs such as this. If there are pieces of this that you like or don't like, there are other Kahuna chairs available of similar style and function.
This massage chair in particular is made for all body types up to 6 foot 5 inches and 320 pounds, and has a larger shoulder width than most standard massage chairs. That being said, this is still a space saving design, only requiring the chair to be 3 inches from a wall to properly transition from a seated to a laying position.
This chair uses AIR FLOAT 3D mechanisms and an SL Track system to be one of the most custom massages you can imagine, focusing on each individuals spine curvature to buttocks. This product also uses infared heating rollers to promote blood circulation as well as soothe the body. There are also dual foot rollers to massage the bottom of the feet.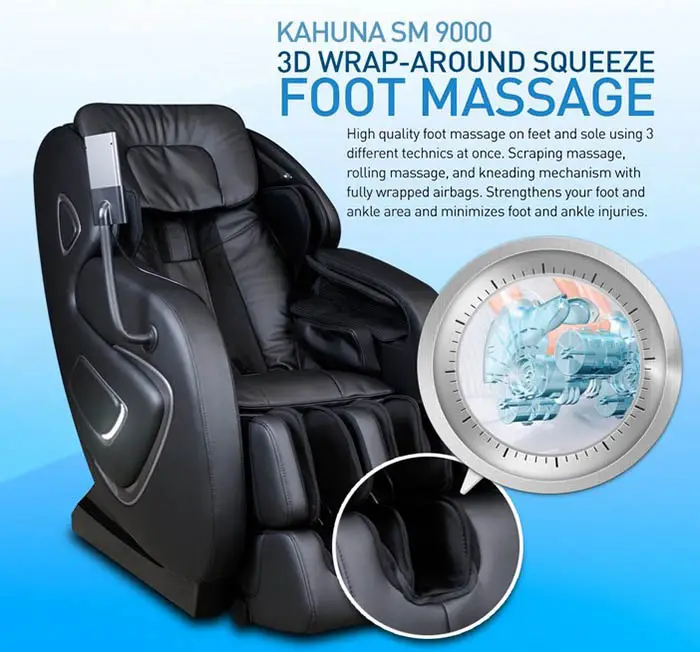 See the AIR Float 3D+ 6 Infrared Roller Mechanism Kahuna Superior Massage Chair SM-9000 at Amazon.
Best Overall Chair for Massage
When it comes to the best rated massage chairs the AIR FLOAT Kahuna Superior Massage Chair stands at the top, and you pay for what you receive. This Kahuna massage chair includes all the innovative features including AIR FLOAT 3D massage mechanisms that make for custom massages. This quiet and attractive seat is a real show stopper when it comes to massage chairs on this list.
Best Zero Gravity Chair Used for Massaging
Zero gravity is the next best thing when it comes to massage chairs, and The Kahuna Massage chairs Recliner is the best in that category. The Kahuna recliner is specifically made as a recliner which gets the feet to the same level as the heart, which minimizes the strain on the body and requiring it to not work as hard, which is relaxing and calming to the body as well as relieving pain or soreness.
Best Chairs for Massage Under $500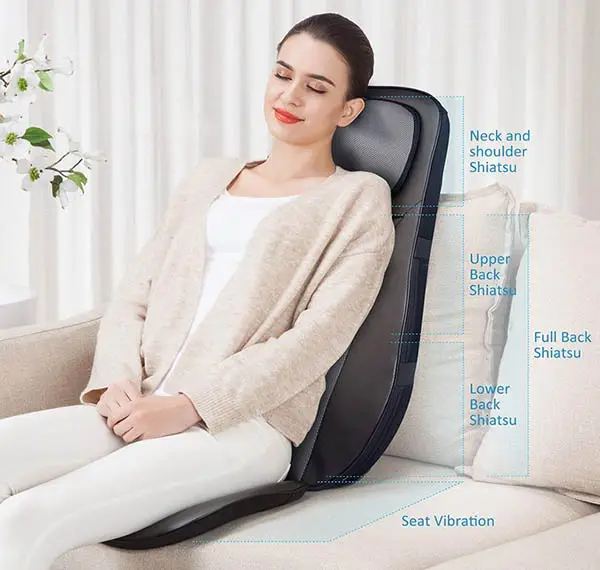 When it comes to buying a massage chair, it becomes a waste to stress about the money when you are already stressed enough to need a detox. The best way to stay under budget and get a quality massage is to stick with the above mentioned Snailax Shiatsu Massage Cushion With Heat. This massage cushion stays under $500 (running about $150 in some locations) while offering a great massage, heating elements and is adjustable. This is a great addition when money and space are worries.
Best Under-$1000-Massage Chairs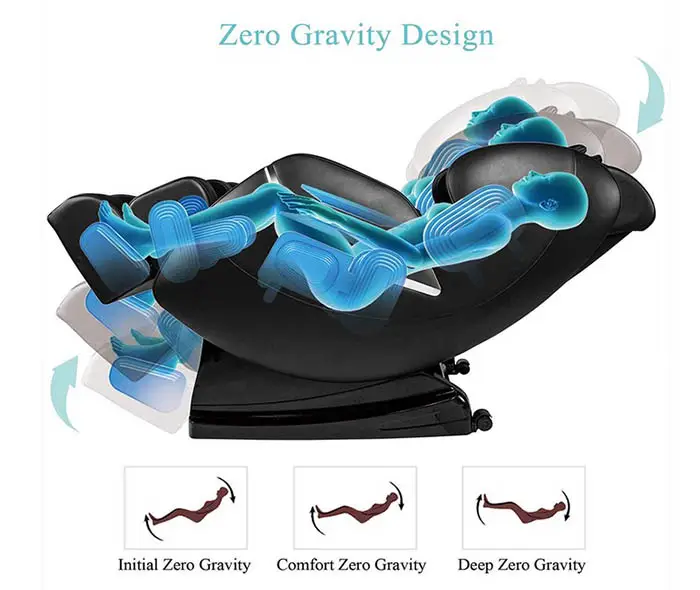 A step higher than the under $500, but still keeping it at a reasonable price market is the zero gravity Real Relax Massage Chair. As one of the best rated massage chairs it has all of the basic features you would expect with 8 massage rollers, built in heaters, and 50 airbags that are strategically places as well as exclusive ergonomic features such as the armrest linkage system with multiple preset programs. This is a great chair where quality meets pricing at a middle of the market product.
Best Massage System Chairs Under $2000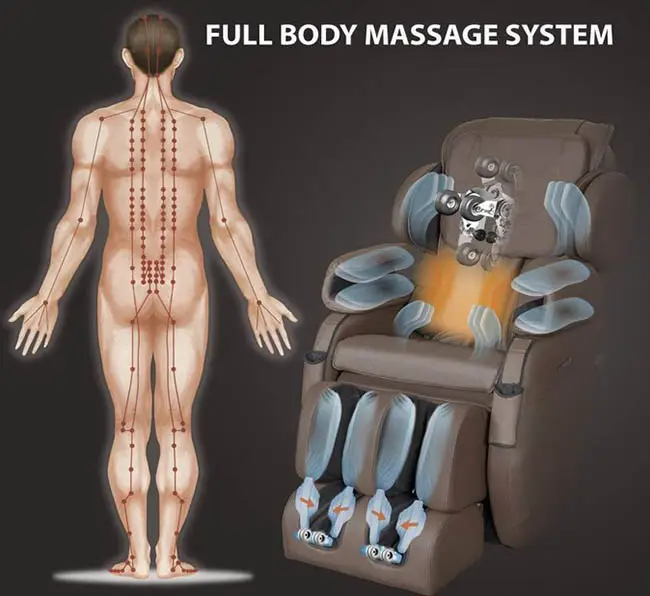 The best massage chairs staying under $2000 is another step above the last one and that is the RelaxOnChair Shiatsu Massage Chair. With its zero gravity abilities and upgraded controls the RelaxOnChair pushes forward into the higher ranked massage chairs. This model has heating and deep tissue massages that really help the user relax and relieve any pain.
Best Massage Pad for Chairs
The best massage chair pad is listed above as the Snailax Shiatsu Massage Cushion With Heat. This type of chair pad is relatively inexpensive compared to the other massage chairs that could be bought. Not only that but this type is portable and can be used wherever you are. This type of chair pad has less features than other, larger massage chairs, but that is to be expected with the price and size of the massage chair pad. On the go it really gets the job done.
Massage Therapy Chair Buying Guide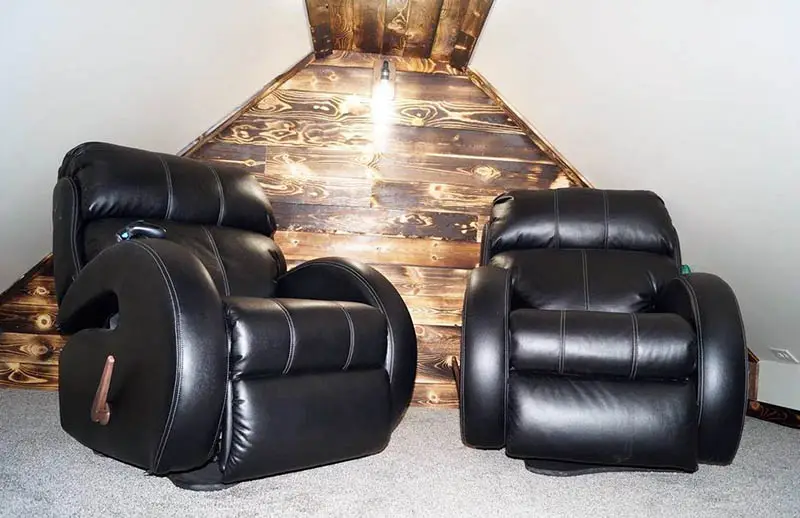 There a ton of different chairs on the market and based on the benefits and features you are looking for this is a guide to help you get the right chair that fits you. Starting off you have to think about the logical part of things you need, such as space, size, price, brand, etc.
After that you can get a little creative and enjoy picking out the different perks of each chair, whether you want shiatsu massages or deep tissue massage, there are even options for different parts of the body. On top of that there are material and color selections as well as add ons like heated seats, cup holder or even Bluetooth capabilities and fancy LED lighting.
When it comes to the massage chair it can be as basic or as over the top as your main needs of space and budget allow you to be. Even the most basic of model have some great features.
Benefits of Using Massaging Chairs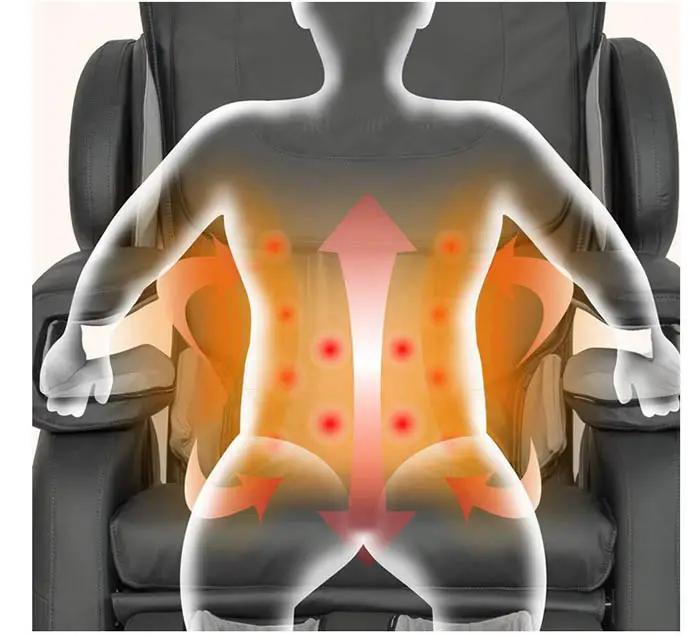 There are a great deal of benefits when it comes to massage chairs. These chairs are meant to bring comfort and relaxation while reducing pain. This is done in a number of ways and there are a lot of factors that should be carefully considered when buying a massage chair that are described below.
What to Know Before Buying a Reflexology Chair?
Type of Massage – Shiatsu, full body, upper back, lower back, neck, it is good to know what you need out of the massage chair so you can make sure those features are included in the massage chair of your choosing.
Available Space – it is important to know how much room there is in your desired installation location, massage chairs can get pretty large, and they need room to lean back and pull your legs up.
Size – based on the available space decides how large or how small of a massage chair you need, but also the size of the user of the chair can play a big part of what size chair should be purchased. Not all sizes are tailored to each size person.
Brand – Larger name brand chairs tend to have larger warranties, and more reviews, as it has been around the block a few times. Just because a massage chair is not the biggest name brand, doesn't mean it should be completely disregarded, the smaller names could be a cost saver with the same quality.
Budget – The budget should ultimately be the starting off point when it comes to massage chairs. There are tons of different ways that a massage chair can fluctuate in price dependent upon the needs and wants of the chair. Start with the needs and if that comes under what you are willing to spend, then start adding cool features with the wiggle room you have.
Massage Model Chair Features

As mentioned previously massage chairs can have some cool features that can be added or removed from some massage chairs. Some of these are needs and it can includes upgrade or different options when it comes to the initial feature, but there are also addition wants that can be added and upgrade with a price increase.
Massage Power – Each models idea of a soft massage and a rough massage differs, and it does take a little testing out to determine which setting is best for you. Due to that it is of great interest to select a massage chairs with multiple intensities to get the proper massage type for each individual need.
Heated Massage – The heated massage feature contains rollers that warm up or other mechanisms within the chair that provide warmth to the body in the chairs to add a deeper relaxation and muscle healer to the massage received.
Deep Tissue Massage – This technique of massage can be a feature to a chair and is often an option along with multiple other types of massages that are on the control remote. This is best used or musculoskeletal issues that are caused by strains or sprains from injuries. This technique involves slow deep strokes to target certain tissues.
Rollers – Most massage chairs include some type of rollers or bead that do the massaging part of the massage chair. Some upgrades to this feature is having rollers in extra places such as the buttocks, calves or upper neck.
Recliner Massage Chair – The Reclining feature for massages chairs are pretty common and are included in most basic of massage chairs. This feature allows for the heart to be lowered while the feet are raised to allow for an ease of blood flow.
Vibrating – The vibrating feature is a common feature that is included in most basic massage chairs along with other types of massages that you can get. This type of massage can be both soothing and stimulating to the body.
Foldable & Portable Massage Chair – Some types of massage chairs are able to be folded and put away when not in use. These are typically smaller and contain less features and options. They also make portable massage chairs, often in the form of seat covers or cushion that can go over an existing seat. These are commonly used in motor vehicles or couches.
Leg Massage Chair – A less common feature that sets some massage chairs apart from others includes a leg massager. This feature includes extra massage beads or rollers in the leg area of the massage chair to help get the full body massage feel.
Body Scan Technology – The body scan massage feature allows the massage chair customize the massage you receive to the scan it does over your body. This allows for the most accurate and precise massage you can get, since it is not just what you think you need or what, it is what you really need. The body scan used sensors and technology to detect each individuals body shape, size and curves to best tailor your massage.
Air Compression Massage – an air compression massage is a leg massager that can be a part of the massage chair. This applies a compression to the legs that helps with blood flow as well as lymphatic circulation. This relieves pain by releasing endorphins to the body.
Muscle Stretch Massage – A muscle stretch massage helps lengthen muscles and increase circulation. This is used to release the grip on certain muscular, neural and vascular structures so that the individual can have a better range of motion with less pain and discomfort.
Spinal Stretch Massage – A spinal stretch massage is more of a spinal decompression where the chair relieves the pressure on the spine. This often treats herniated discs, sciatica, pinched nerves and other painful back conditions. These are usually somewhat of a medical task, but some massage chairs have options like this that can assist in issues like this. Seek medical help first in situations of serious pain or discomfort.
Zero Gravity – The zero gravity feature is extremely common as it very helpful in making you relax. The zero gravity just means that your entire body is on the same plane so that your body does not have to works so hard against the gravitational pull towards the earth. In simpler terms it means there is not stress on your bones and all circulations are cleared and flowing easily.
3d massages
Extra Chair Features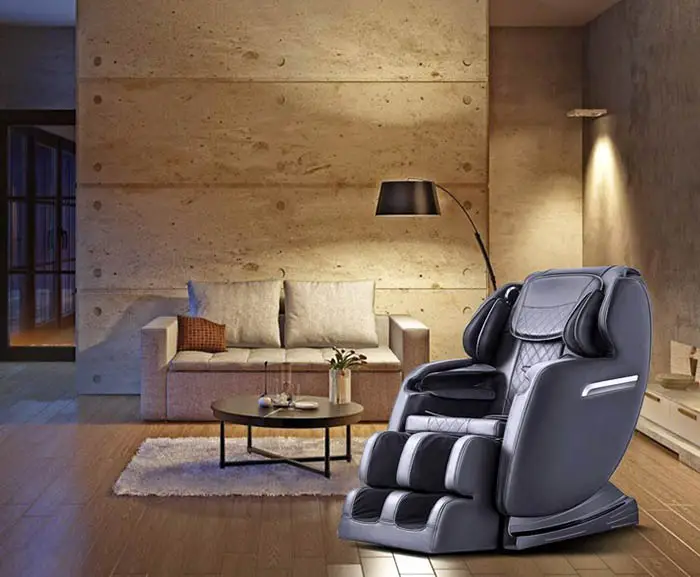 While there are a great deal of features listed about that are most commonly seen in massage chairs there are some additional selections and features that need to be selected or added to the chair based on each individuals needs and price range. Reminder that with each upgrade and added feature the price tag is also rising, along with the space the chair may need to take up.
Material – The materials chosen can usually be a vinyl or a upholstered seat and back. These have different types of cleaning and maintenance instructions. Heated seats may require a certain material. Select what fits your needs and style best.
Manual Controls – Older and more basic models contain manual controls for things like leaning back or putting the feet up. These are not particularly common anymore.
Remote Control – Any newer model contains a remote that allows feet to be raised, leaning back, heating, cooling, and any of the massage function like the rollers or beads, controlling where they should massage, the intensity, the speed and even why type of massage they should give.
Silent Operation – Some massage chairs offer a silent feature, which is helpful in a home setting if you are watching TV or listening to someone talk, that way the massage chair doesn't overpower the noise in the room. Plus if the chair is too noisy it can offset the relaxation which is the reason you got the chair in the first place.
Cup Holder – A cup holder is a great added item to a massage chairs to place either your phone or whatever relaxing drink you may have. These are often in the arms or there can be a table that pulls up from the arms to offer a place for your cup and any other materials you may use.
LED Lighting – LED Lighting can be included on massages chairs. This can be nice if you turn the lights off in the space to relax better but still want to be able to see when getting in and out of the chair.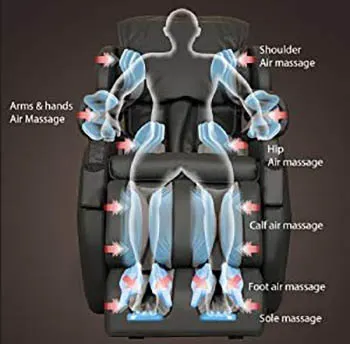 Foot Massage – Additional foot massagers are available in some massage chairs or can be purchased as a separate addition to the massage chairs to be used at the same time. These can also be extended for the taller individuals, or as a separate piece it can be easier to function with the size of the person using the massage chair.
Head Massage – Additional head massagers are available in some massage chairs or can be purchased as a separate addition to the massage chairs to be used at the same time. Head massagers and neck massagers are sometimes better purchased separately since all people are not the same height so they may fall in strange spots. On some chairs this is solved by having the massagers for these areas be adjustable.
Hip Massage – Additional foot massagers are available in most massage chairs, as it is in the center of the body. This area can have differing support, intensity and types of massages. Some even have programs that are specific to for the hip area.
Arm Massage – The arms massagers can be included in many massage chairs, typically offering a vibrate option. These are less common and make it so you are unable to have items like cup holders and flip up tables attached to the chairs.
Bluetooth Compatibility – Some high tech chairs offer the ability to connect to Bluetooth. Sometimes this is just a speaker in the chair, allowing you to listen to music or whatever show you are watching while relaxing. On other chairs you can sync up your phone and using an app you can control the chair.
Human Touch Massage Chair – A human touch massage chair offers a different sort of massage, making it feel more like a person is giving you a massage than a machine . This feature is typically offered as well as other type of massages based on the controls.
Shiatsu Massage Chair – A human touch massage chair offers a massage mimicking that of the Japenese style shiatsu massages. This feature is typically offered as well as other type of massages based on the controls.
Infinity Massage Chair – The infinity massage chair is a brand that is extremely advanced and has a great deal of the features listed above depending on what model is selected.
Office Massage Chair – For an office a smaller massage chair would probably be selected, as most offices are not the most spacious. This can take place of the traditional chair (just make sure not to use the massage part too frequently as it will hurt your muscles) or can be an addition to the space.
Car Massage Chair – There are certain massage chair covers that you can get that will go over your cars seats and either run on batteries or has the ability to plug into the car to give a massage while being in the car. These often have less of the features since it has to be mobile and cars typically are small in size.
Massage Chair Cost – Massage chairs range greatly in price depending on type and brand. Car seat massage covers are a great deal less expensive than a full blown chair that has a bunch of add on features. See above for the best chairs per price range.
How Do Chair Systems for Massage Work?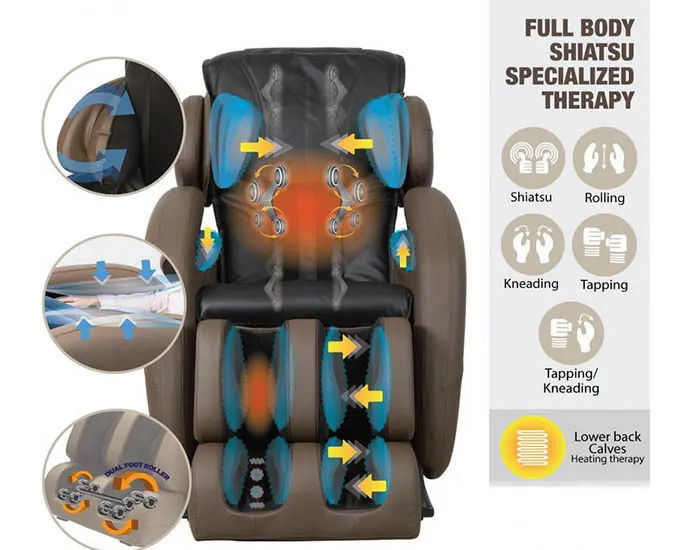 Massage chairs work in different ways for different people and different reasons. Based on why you are using the chair, relaxation or pain relief, changes the function and how they work on the body. Additionally each body if different and will react different ways to the massage. Based on the rollers or beads used and the type of massage given, the massage chair runs through its cycle to follow the program selected. The way the chairs affect the body based on function is below.
Massage Chairs for Pain Relief – To help with pain relief massage chairs manipulate the muscles into producing endorphins that help soothe and loosen up the muscles, all while creating a feeling of well being in the body. The heat and the movement of the beads and rollers promote the circulation of the blood which helps alleviate pain.
Massage Chairs for Relaxation – To help one relax the massage chairs do a great job with assisting with spinal alignment, this reduces pressure on the nerves causing relaxation and relief. This helps return the body to its natural alignment and properly flow blood through the body – especially when the feet are raised to the level of the heart, creating an even flowing pattern.
Chairs for Shiatsu Massage Frequently Asked Questions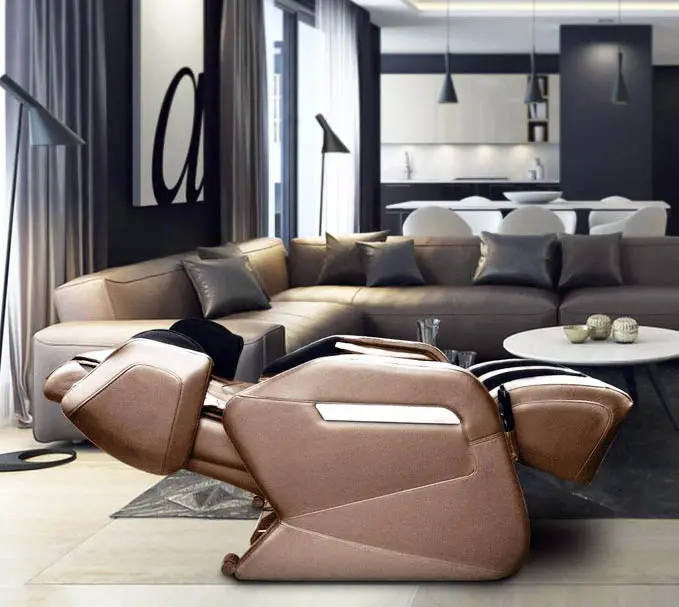 After throwing that much information at you, you are bound to have questions. Here are the most common things that people like you are wondering and the answers to the questions.
How Much Space Do I Need for Deep Tissue Massage Technique Chairs?
A massage chair at its smallest is similar in size to a standard recliner, needing spaces to flip the feet up and lean back, and some are even built in a semi reclined position. Massage chairs can run from about 40 inches to 65 inches in length, 30 inches to 35 inches in width, and 35 inches to 55 inches in depth. It is recommended to keep 3 or more inches around most models to insure the chair has extra room to recline.
Before you buy that chair for your bedroom, living room or man cave it's important to get its dimensions and measure the area to ensure it fits. If space is an issue there are other options such as massage cushions or smaller massage chairs available for purchase. Cushions or seat pads are great options for tight spaces, portable needs or cars that would want to be used with massage chairs.
Do Chairs with Roller Head Massage Feature Fit All Sizes?
Most massage chairs are generally the same size, which covers average sized adults. In some cases, for shorter, taller, larger or smaller people, the average size chair is not as comfortable or useful. There are some massage chairs that are built larger for larger individuals, when looking for these types of chairs it is best to check the width and weight limits, as well as the length depending on which area needs to be larger.
The same goes for smaller individuals, it is best to select something with a smaller width, length and weight limit as that signifies the smaller chairs. There are some adjustable areas that can come built-in with massage chairs as well, especially for the leg and neck area. The seat back can usually be extended to accommodate taller individuals. The feet also usually have an extendable piece for those with long legs. In some cases they do make bariatric sized massage chairs for those who need it.
Does a Massage System Chair Work?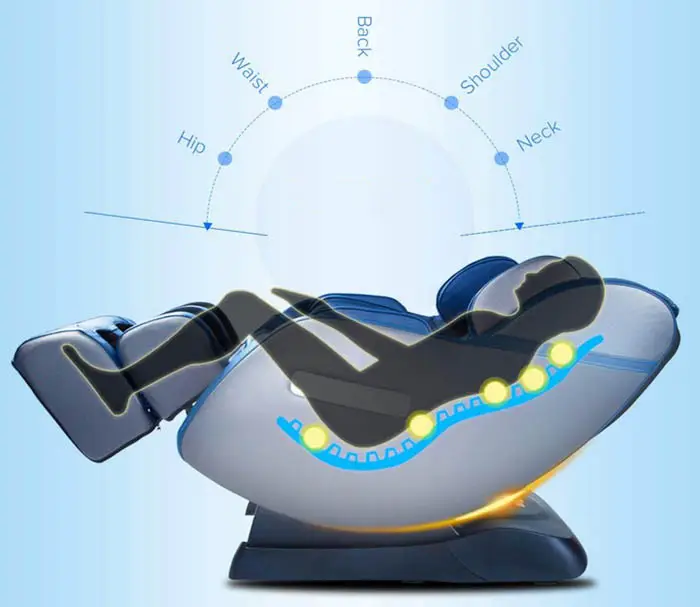 If used properly massage chairs do work! The big stigma behind them just being an unneeded luxury comes from people that don't need it, or people that do not properly use the massage chair and its programs. Whether it is vibrations, kneading or humanlike massages, each can help soothe different types of aches and pains. Massage chairs provide spinal alignment that helps reduce pressure on nerves. This relieves tension on the spine and relief to muscles that allows the user to relax as well as return to the proper alignment.
Other benefits of massage chairs are : Lowering anxiety, increasing circulation, boosting immune system, lowering blood pressure, relieving muscles pains and headaches, improving sleep quality, decreasing stress, creates flexibility. There are also certain conditions that can be improved or become less uncomfortable thanks to massage chairs. These should be discussed with a doctor prior to use.
Can I Use the Therapeutic Chair Every Day?
You should not use a massage chairs daily. Overusing a massage chair can lead to muscle damage, bruising to the tissues and inflammation of the muscles. On top of that if you use the massage chair every day you could develop headaches or other aches that you did not have to begin with. With certain conditions and ailments it is best to consult a doctor how long and how frequently your body should be in a massage chair. It is also best to talk with them if any signs of overuse occur.
How Often Should You Use Massage Therapeutic Chairs?
Massages chairs are best when you use them one to three times a week when you are feeling like you need one. If it does not feel necessary then it probably is not necessary and could cause more harm than good if you are not careful. Each of the sessions spent in the massage chair should be limited to 15 minutes. This is to give your body enough benefit without aggravating existing injuries or creating new ones. For the best results it is recommended to do some physical activity and drink water to aid in the removal of the toxins that were knocked loose from the massage.
Are Chairs with Swedish Massage Feature Good for You?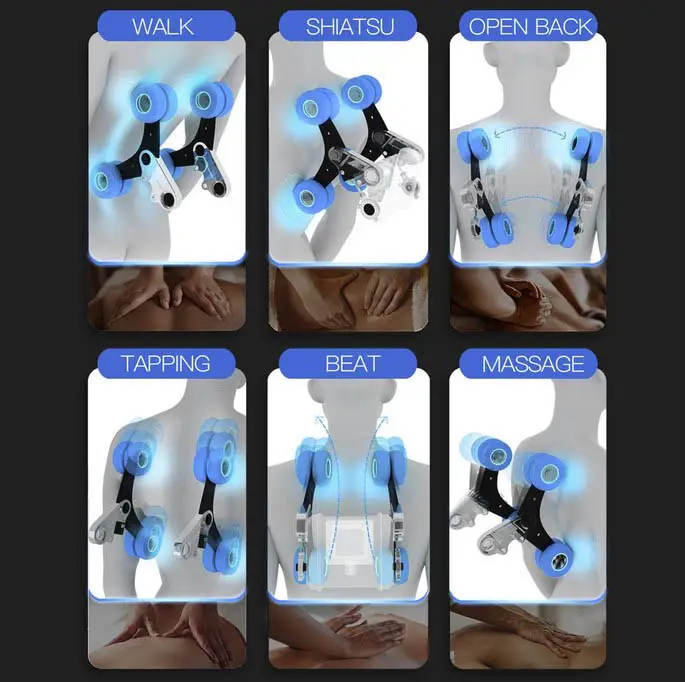 Massage chairs are good for you if you follow the correct procedures. As mentioned about it is important to limit the time in the massage chairs and only use them for certain purposes. On top of that it is good to consult which types of massages are best for your specific ailments or needs to make sure you are gaining relief from using the massage chair.
This is best found out with the body scan technology that is discussed in great deal above. This feature scans the body to find the size and shape of each person to create a customized massage that will benefit your body. This can make a massage chair not just good for you, but great for you. Massage chairs can be used with particular massage patterns for both pain relief an relaxation. As long as they are used in moderation, they help release endorphins into the body that create a feeling of calm and well being.
Will a Deep Tissue Feature for Chairs Help Sciatica?
Sciatica is a term that describes symptoms of pain, numbness, and/or weakness that radiate along the sciatic nerve from the lower back to the buttocks and leg. Another term that is used for sciatica is lumbar radiculopathy, which is a bit more medical. The symptoms that Sciatica causes are typically felt on only one side of the body.
Many people suffering from Sciatica find relief from by using massage chairs. They have a therapeutic massage that will help ease some of the pain found in the lower back and hip. Way back when the machines that they used to help with this type of condition were huge and looked like torture traps, but not things can be taken in a much more gentle route. When having a condition such as this though, it is good to consult with a doctor to best select the chair and massage programs that your body can and should be using.
Is It Bad To Sit In a Massage Type Chair For a Long Time?
Sitting in a massage chair while it is on for too long can be bad for your health and may even be dangerous. If you use the massage chair for extended lengths of time you could develop headaches or other aches that you did not have to begin with. Overusing a massage chair could also lead to muscle damage, bruising to the tissues and inflammation of the muscles.
We hope you enjoyed our guide to the best rated massage chairs. Visit this page for more types of chairs for your home.