In this guide to window air conditioner dimensions you'll see how to measure a window for an air conditioner and what air conditioner sizes to get for specific rooms in the home.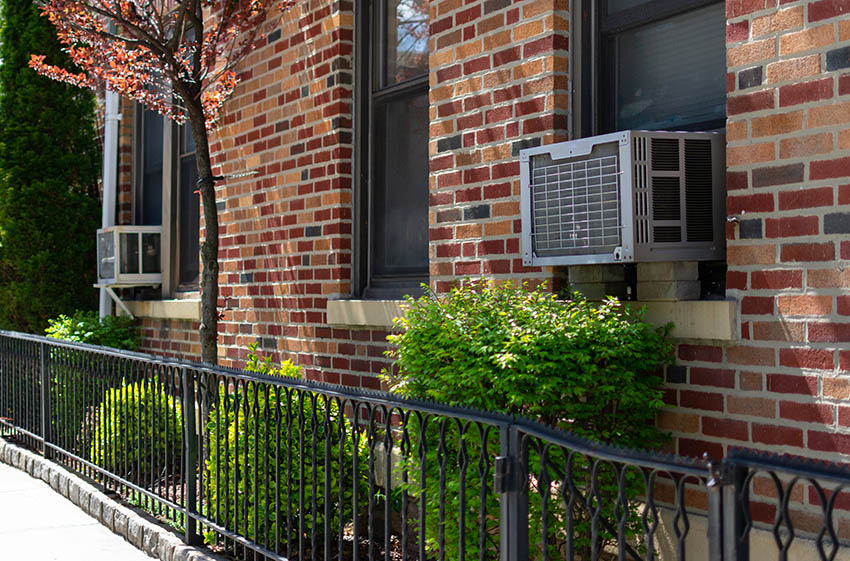 One thing that will save the whole family from high temperatures inside their homes is by installing air conditioning, and one of the most affordable options are window air conditioning units. Window air conditioning units are available at price points that are not too high for buyers, and they are efficient in cooling down a room.
One of the essential things to consider before buying a window air conditioning unit is the dimensions of the window. Knowing the window size will ensure that the air conditioning unit a homeowner will get will fit the window frame in height and width, avoiding any troubles with replacement.
Standard Window Air Conditioner Dimensions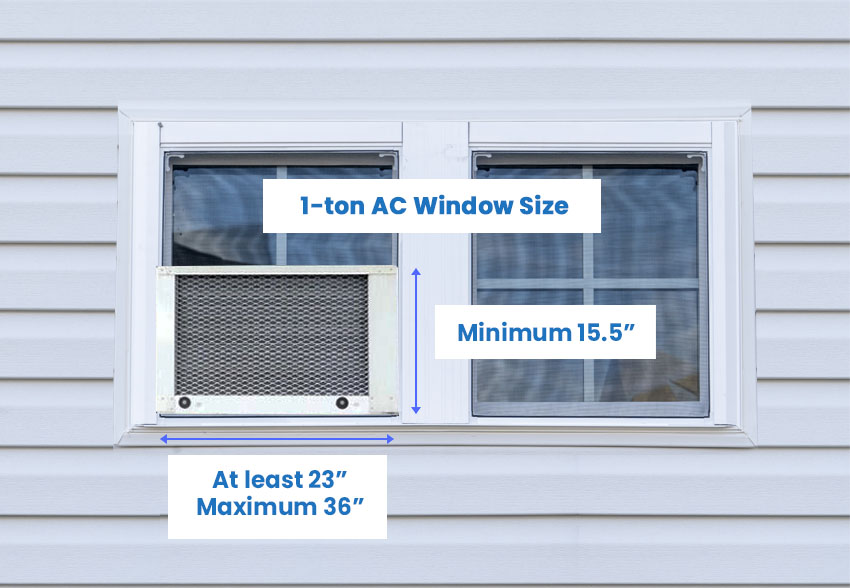 There are three pivotal dimensions to consider in choosing an air conditioning unit for any home: the minimum and maximum window length and the minimum window height.
The first measurement is the minimum window length which will need at least 23 inches or 58 centimeters for a 1-ton window AC unit. The maximum window length can go up to 36 inches or 91 centimeters for a 1-ton window AC unit.
The third point to consider is the minimum window height in inches and centimeters. The window should be high enough to be suitable for the air conditioning unit.
For a 1-ton air conditioning unit, for example, the minimum height should be 15.5 inches or 39 centimeters. 1.5-ton window air conditioning units will require different window dimensions, but the 1-ton is the standard.
Air Conditioner By Window Size
There are many AC units that will fit any window sill as long as measuring is done correctly. Generally, an AC unit will have minimum and maximum width and height for window casing across any brand, depending on the unit weight.
For 1-ton units, minimum window lengths will range from 23 to 24 inches or 58 to 61 centimeters, and maximum window lengths will vary from 36 to 38 inches or 91 to 97 centimeters. The minimum window height will usually range from 14 to 16 inches or 36 to 41 centimeters.
5000 BTU Air Conditioner Dimensions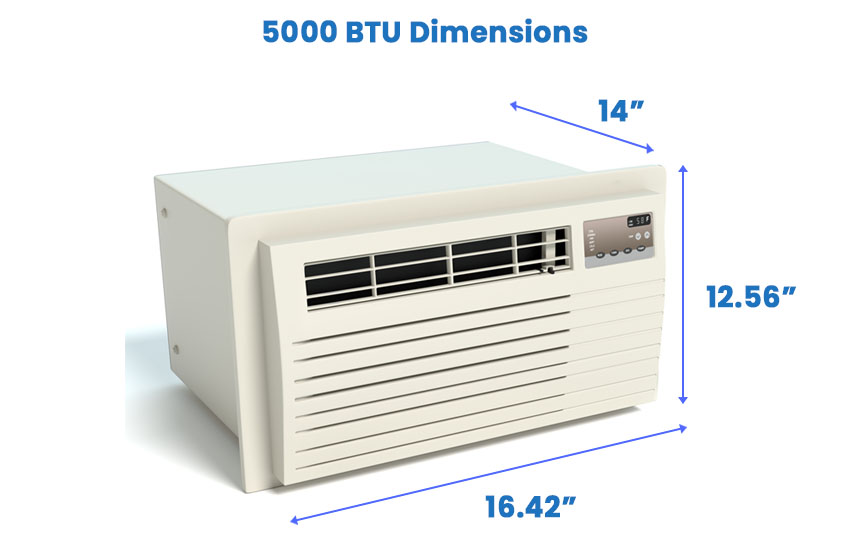 A 5000 BTU window air conditioning unit is mainly designed for double hung windows, which are 21 inches to 36 inches or 53 centimeters to 91 centimeters in width with a height of 13 3/8 inches or 34 centimeters.
Specific window air conditioning units with 5000 BTU will have a width of 16.42 inches or 42 centimeters, a depth of 14 inches or 36 centimeters, and a height from top to bottom of 12.56 inches or 32 centimeters. These air conditioning units usually weigh 41.5 pounds and are 110 volts.
Casement Window Air Conditioner Dimensions
See this window air conditioner at Home Depot [sponsored link]
Many homeowners who have casement windows installed in their homes struggle to find air conditioning units that will fit their windows but luckily, casement window air conditioning units are available for their use and perusal.
Usually, a casement window will require a width of 15 1/2 inches or 39 centimeters since these units will be more extended than they are more expansive.
Smallest Window Air Conditioner Dimensions
There are many sizes available for window air conditioning units, from small to large but small-sized units are the best and most cost-efficient for smaller rooms. A 10 by 10 or 100 square feet room will require an AC unit with 2000 BTU.
Since AC size this small is not always usually, it is best to choose between a small 5000 BTU air conditioning unit that is cost-efficient and fixed on the window. These units are generally 16 by 12 inches or 41 to 30 centimeters.
How To Measure A Window For An Air Conditioner?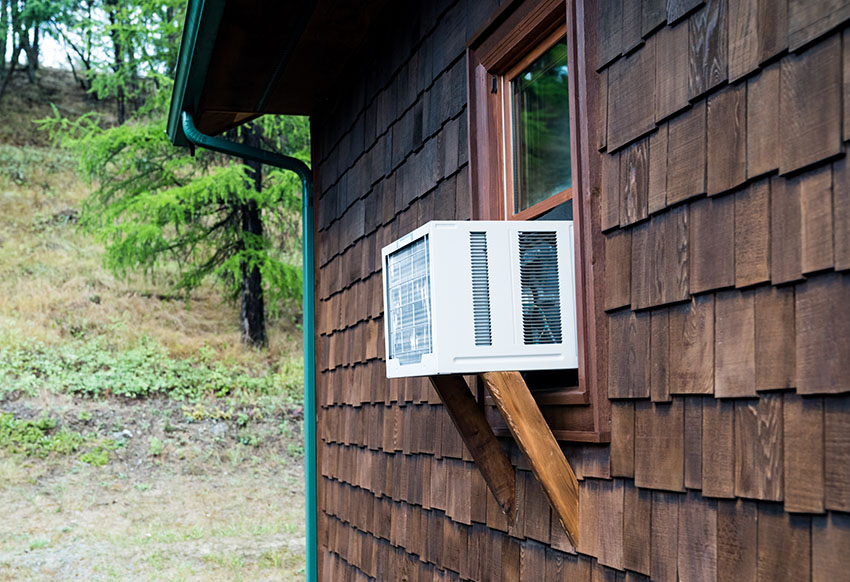 Measuring a window for an air conditioner is pretty straightforward as long as they know what they are doing, and this guide is here for anyone's reference. Once the square footage and window dimensions are secured, it will be easy to choose from the many choices available.
The foremost thing to do is to figure out what window will hold the AC unit, and the best choice is to ensure that it will be under a shade. Another thing is making sure that it is not in anyone's way that accidents can happen.
Once the window is chosen, open the window and use a tape measure to calculate side to side and top to bottom. Write out the dimensions and estimate for the second time to ensure accuracy. Window type is also the key so assess the style of window, whether it is a casement to a double-hung window.
The second thing to do is to calculate the AC size, which can be done by measuring the square footage of a specific room by multiplying the width by the room's length. Take a 10 by 12 feet room, for example, which equals 120 square feet.
What Size Window AC To Get?
The size of the window air conditioning unit any homeowner needs will depend on the size of the room they will use it in. If the size is incorrect, the room will get too hot, and it will defeat the purpose of the air conditioning unit.
Window AC Size Chart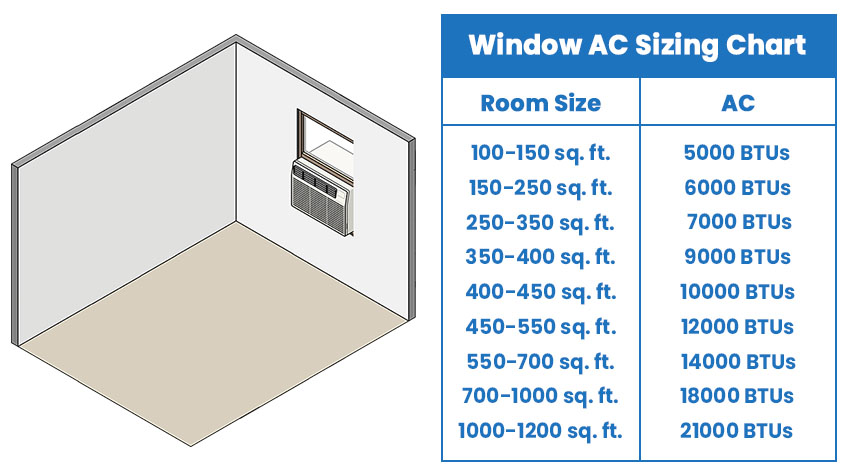 In a space that is 100 to 150 square feet, an AC with 5000 BTU is the right size. For 150 to 250 square feet of room, an AC with 6000 BTU will cool the place up.
A space that is 250 to 350 square feet needs an AC unit with 7000 BTU. 400 to 450 square feet of space will need an AC with 10000 BTU, while a room 450 to 550 square feet needs an AC with 12000 BTU. 550 to 700 square feet rooms require a 14000 BTU AC unit.
Bigger rooms at 700 to 1000 square feet will be cooled by AC with 18000 BTU, while 1000 to 1200 square feet halls will require an air conditioning unit with 21000 BTU. Buying a suitable unit for your room size with make it much easier to cool the space.

See more related content in our article about the types of home cooling system here.