See the different drawer front styles including what they are, materials used for drawers, standard drawer sizes and how to attach drawer fronts.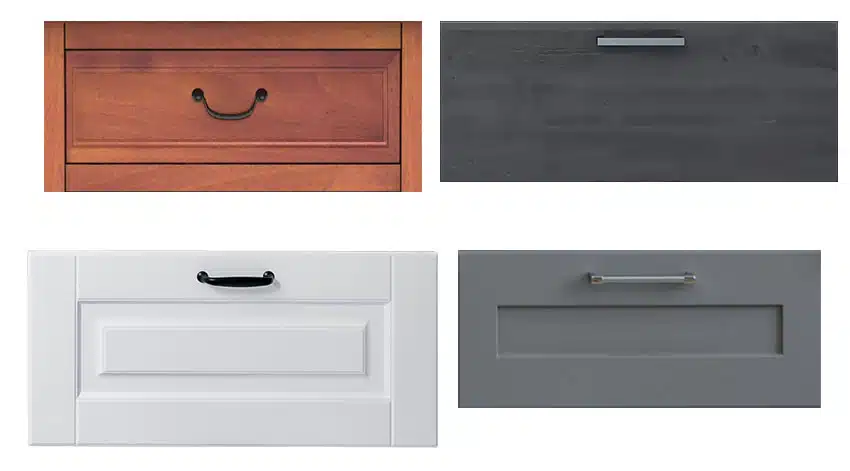 Drawer fronts may seem small and insignificant but they can actually transform and add a visual touch to a room or space. The style of the drawer front easily influences the general look of your drawers, along with the material used, the finish on the surface, and their overall design.
Drawers have multiple configurations and designs. You can easily match the style of your drawers to the ambiance and style you have going in the room and your home.
To settle on a design and style, learn everything you can about drawer fronts and the options you can consider based both on materials and styles.
What Are Drawer Fronts?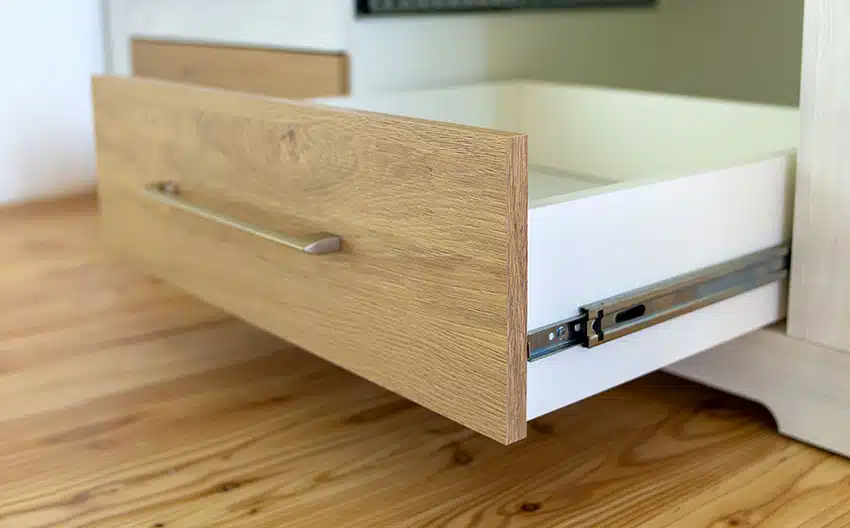 Drawers are more often used in the kitchen storage of smaller items like utensils and small kitchen tools. They can also be placed in the bedroom as an option for bedside storage for more intimate belongings.
More than just their functions, they also add to the room's aesthetics, supporting the ambiance you have going into the space where they are located. And with drawers, their fronts are the first things you will see and so will create the impression you want people to see.
Drawer fronts are the doors to the drawers similar to how cabinets have them. They are the facade you immediately see on drawers and may actually sway your decision on either purchasing the drawer or not.
More than just the general design of these fronts though, you also need to choose the material and style you want to use. Of course, you need to match all of these factors to the actual drawer and the space or room you place to place the drawers in.
Different Front Designs for Drawers
In choosing and building your drawers, it's important to take into account the front designs you can explore. Drawer fronts have a selection of styles you can explore to match your own profile and preference.
These designs will determine the overall feel of the drawers so your choice will influence the added visual value that the drawers will offer your room or space.
From all the designs you can explore, you need to match them with the size of the drawer since some fronts may not work on the configurations of small drawers.
And most of the time the go-to option is a slab panel front. This is on top of other front designs that include flat panels, inset panels, and raised panels. Match all of these panels with the drawer's ambiance and spaces.
Slab Panel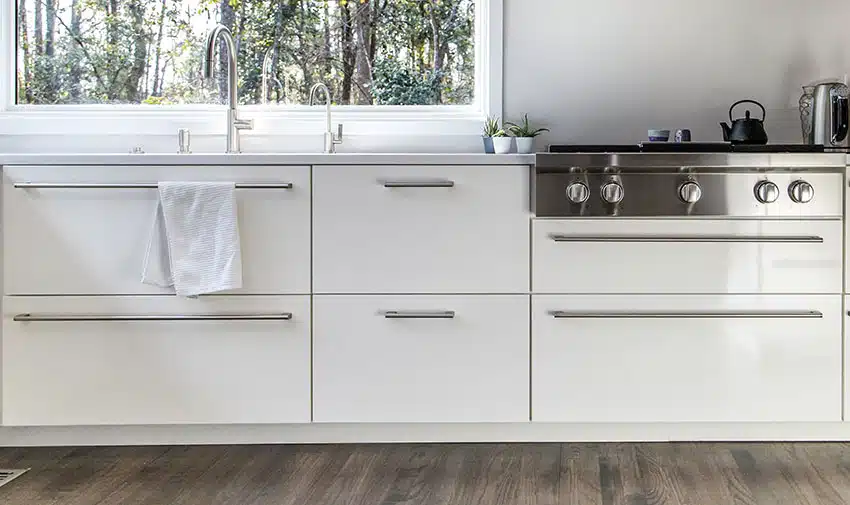 A slab panel is the most common design used for drawer fronts. This simply refers to a slab of wood that makes up the entire front, offering a seamless look for the drawer.
This wood slab can either be made of solid hardwood or engineered wood covered in hardwood veneer with edge banding on the sides, which is why it is also known as a solid drawer front.
Sometimes referred to as the European style, this slab panel drawer front was popularized in Europe, which is how it got associated with the said style. Ideal for a modern minimalist style, this design comes with one seamless continuous piece of material frame-free and other accouterments.
The slab is directly attached to the drawers, giving it a flawless and smoother look perfect for contemporary design applications. This clean design also makes it a practical choice that's easier to clean compared to other types of drawer front designs.
Flat Panel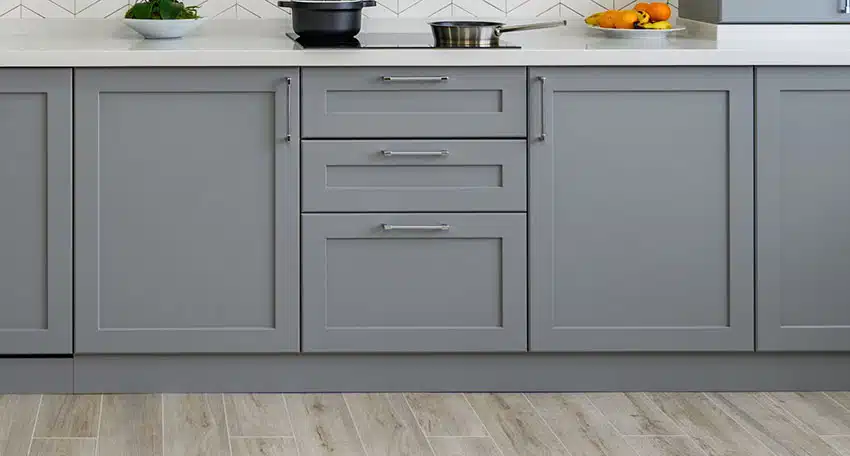 Flat panel drawer fronts, also known as recessed panels, are considered the mirror image of raised panels. They are described as recessed because the large center panels are indented and the edges are raised.
These drawer fronts have squared angles and can even be designed with bevels and ogee to make them look more interesting and unique.
This type of drawer front is similar to the slab panel in a way that it also offers a sleek and clean profile. It's also why this drawer front type also works well with modern and contemporary styles, as well as transitional looks. The major difference though is that it usually has frames, elevating the aesthetics of the drawers.
Compared to other drawer front designs, flat panels are considered to have the most flexibility because they are able to cater easily to different styles. It is considered an ideal option if you're thinking about changing the aesthetics of your kitchen now and then.
Inset Panel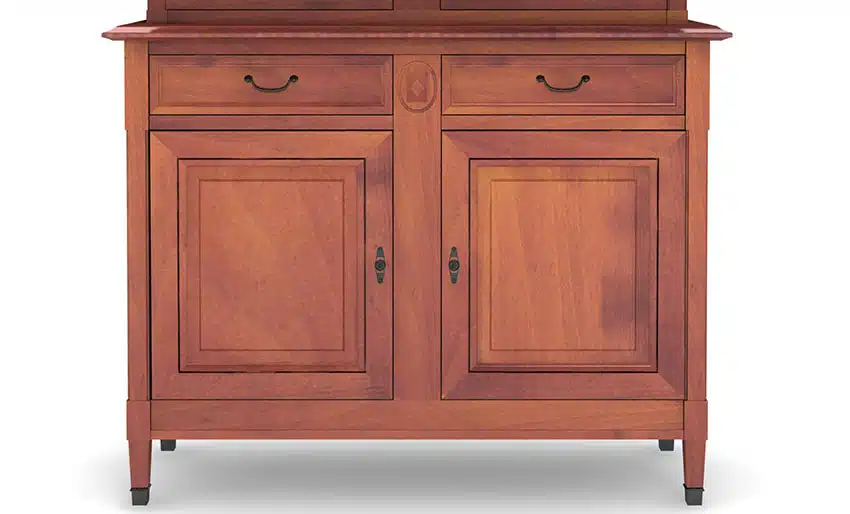 Considered to be one of the most popular styles used for furniture doors, inset panels may be often used in a shaker cabinet style but they can also be used in drawers.
These panels are usually confused and mismatched with recessed panels because they both have recessed center panels. The major difference though lies in their angles and add-ons.
While recessed panels look more traditional with an angled or beveled design at the sides of the recess, inset panels are more straightforward with a clean 90-degrees angle cut. Because of its clean cut, inset panel fronts for your drawers are popular both for traditional and transitional styles.
This drawer front style has been around for centuries ago, which is how it works perfectly with the traditional style. Its no-nonsense design is also simple yet adaptable and even integrates a sense of warmth.
Like overlay design, inset panels used in drawer fronts are flushed to the frame, completely exposing its face. Because of this configuration, it takes precise cutting and building to make sure that the panels fit the inside frame of the drawer.
Raised Panel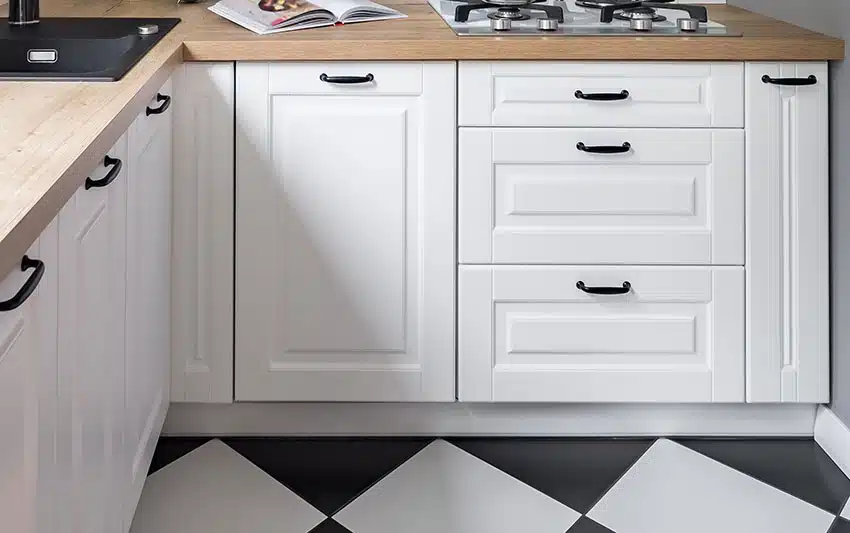 Notably, one of the more expensive style options you can choose for your drawer fronts, these raised panels feature a traditional and timeless feel to the drawers and the space they're placed in.
This drawer front is the opposite with a flat panel in a way that its center panel is raised rather than recessed. With how it is designed, it creates a groove that highlights its aesthetics and brings depth to the entire furniture.
Raised panel drawer fronts are the most popular option for the past 40 years and the grooved framework requires a high level of precise craftsmanship. This type of drawer front also has a thick center panel that makes it possible to taper it to the frame and this is also usually built using solid wood. These are two major reasons why it is an expensive choice.
If you want something elegant and luxurious for your drawers, raised-panel drawer fronts may look great for your home, with their detailed contours and profiles bringing depth to either your traditional or transitional-styled room.
Materials Used for Drawers
Besides the different styles and designs, drawer fronts can also be made from different types of wooden materials. These materials, along with finishes, can be chosen based on the aesthetics you are envisioning, your budget, and the wood frame you're using.
When deciding on the material for your drawer front, it needs to match the material used for the frame. While you can use different materials for the front and frame, make sure that they won't look out of place when attached.
More than just the many wood species (Like walnut, pine, or oak) you can consider, you can also take into account the actual structure and composition of the material. For drawer fronts and faces, MDF, hardwood, and wood veneers are the most popular options.
For the body and frame, plywood and melamine are preferred by many homeowners, woodworkers, and DIY enthusiasts.
MDF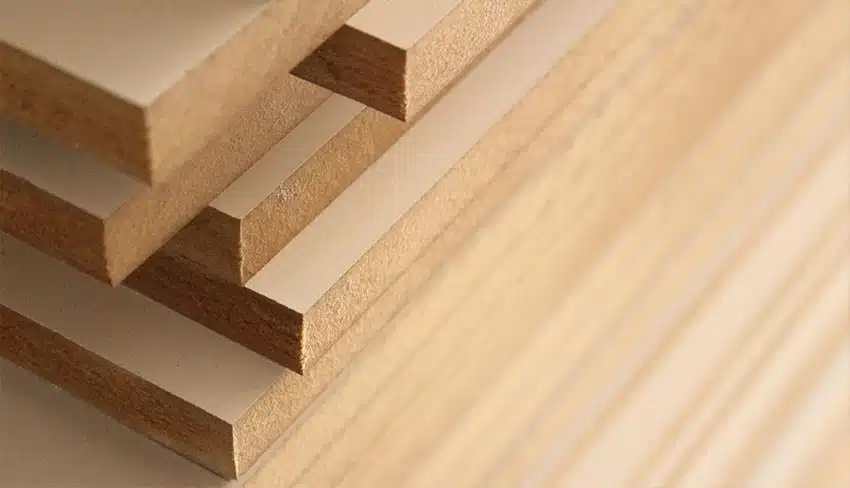 Medium-Density Fiberboard or MDF is a wood composite made from wood fibers, adhesive, and wax. This material is popular for its fine-grain pattern, low cost, and excellent workability. It is ideal for both interior and exterior cabinet components, from shelves and boxes to doors and drawer fronts.
MDF costs less compared to hardwood options but is still able to provide a sturdy structure for your cabinets and drawers. It is the perfect balance of affordability and quality, with wood fibers smaller than melamine chippings that allow the material to be denser and last longer in the process. You won't go wrong with this choice of material.
Smoother compared to plywood, MDF has excellent workability not just because of its clean surface but because of its being paint-friendly. If you want, you can even also use stained wood veneers to cover your MDF drawers.
This heavy and dense material is often regarded as synonymous with IKEA drawers. Since MDF is resistant to peeling and cracking and won't expand or contract so would stay smooth in the process.
Wood
The truth is that not all furniture doors and even cabinetry are made of wood so if you're looking for a pure wood option, hardwood is the ideal one to explore. Similar to MDF, hardwood is another popular option you can choose to use for your drawer fronts.
This option is guaranteed high quality and has a lengthy lifespan to boot. The length and quality would depend on the wood species you choose. Wear and tear, as well as maintenance, is also minimal and the drawer front can look as stunning as when you first got it even if decades have passed.
Unlike MDF, hardwood may be affected by temperature and season changes, expanding and contracting that can cause cracks in the paint of your drawer fronts (If you choose to paint on it).
This will not be the cause for stained surfaces though and daily wear and wear won't show. If you're choosing to have the drawer front stained, this is the better option.
The downside of choosing a hardwood drawer front is that it costs more compared to other materials. Since it is made of pure wood, it's typically more expensive to get compared to manufactured materials like plywood and MDF.
Melamine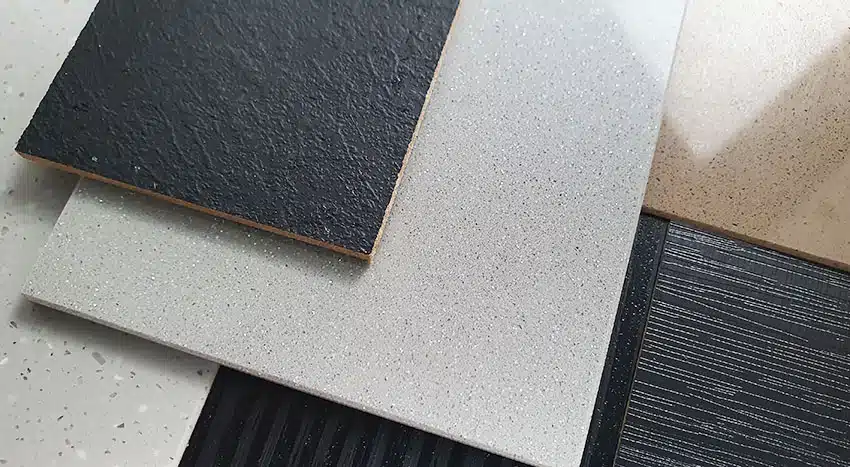 Another popular material for cabinetry is melamine, particularly with the cabinet's frame, interior shelves, and body. This durable material has a composite core (usually either MDF or particleboard) and then a paper-based product coat to complete the look.
Also known as TFL or thermally fused laminate, melamine drawer fronts usually have a band on their edges to protect and at the same time conceal their composite core. White melamine and wood grain melamine are two popular options for your drawer fronts.
One of the best things about melamine drawer fronts is their affordability and sturdy construction despite the low cost they come in. Even with similar quality though, wood grain melamine is a bit more expensive than white melamine.
And when it comes to the material's lifespan, it varies heavily on its use and upkeep. With gentle usage and regular cleaning and maintenance, your melamine drawer fronts can last for decades.
Wood Veneers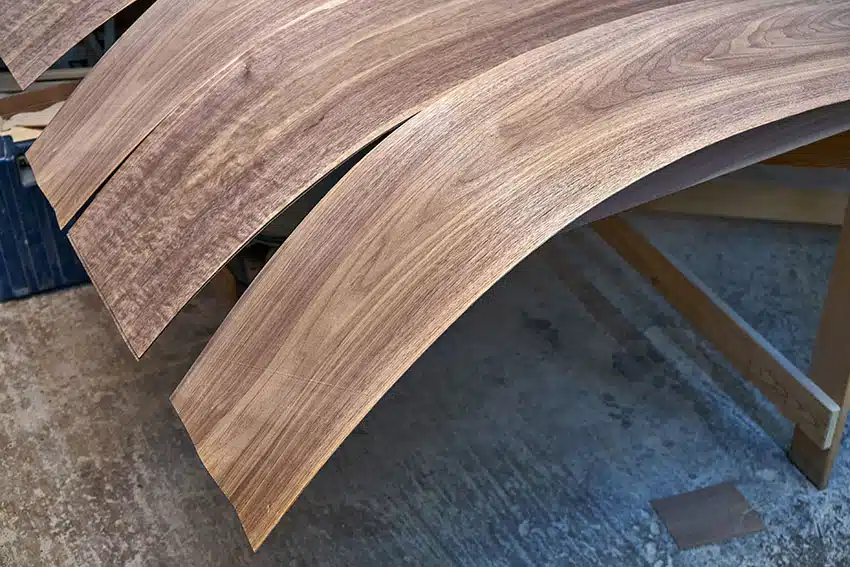 Wood veneers are materials you can also use for your drawer fronts. Just layer them on any composite materials to have a stronger and sturdier base you can make the most of. With this, you can enjoy the aesthetics of authentic wood without having to pay for the expensive hardwood that they usually come in.
Wood veneers are environmentally friendly since their composite core is commonly made from recycled wood fibers. They also offer a more uniform color and grain pattern and are less likely to warp compared to solid wood drawer fronts.
The downside with this material though is that despite being a stunning and affordable alternative to hardwood, its quality relies heavily on its composite core underneath.
Both cost and maintenance though depend on the wood veneers you've chosen. The composite core material chosen and the type of wood veneer will influence the price of your drawer fronts. And with the maintenance, less cleaning and low maintenance will be required for stained wood veneers compared to painted ones.
Plywood
An alternative to melamine, plywood is another popular material for cabinetry, especially for its frame and body. Made from thin wood chipping layers stacked on top of each other, plywood is held together by an adhesive.
Despite this simple construction, plywood is a durable and stable material that's also water-resistant and an incredible choice for cabinetry. The big difference between plywood and MDF though is that the former is pricier compared to other composite materials, which also include melamine.
The higher cost of plywood compared to other composite materials is justified because of greater stability and higher moisture resistance. Plywood is often paired with an outside coating like thermofoil, plastic laminate, or wood veneer.
On Measuring Cabinet Doors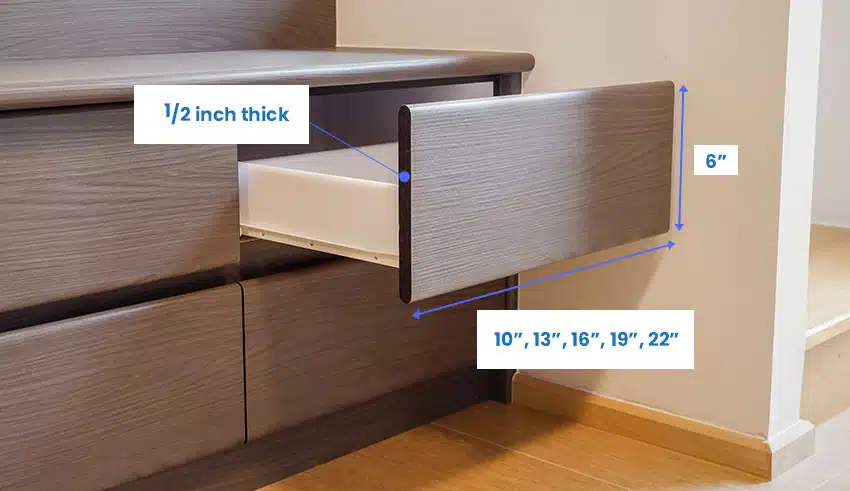 When working on the size of your drawer front, you must base your measurements on the drawer's body and frame. If you want some form of guidance in preparing the measurements of your drawers, here are some standard numbers you can consider.
• Standard Drawer Base – 6 inches tall
• Drawer Front Width – 10, 13, 16, 19, and 22 inches
For cabinets consisting of four drawers, the fronts are usually 6 inches and then 7.5 inches tall with widths of 13 and 16 inches respectively.
How Thick Are the Fronts of Drawers?
The thickness of your drawer fronts needs to be thin enough not to make the drawer look bulky and uneven and thick enough to provide the furniture enough protection and durability to function well.
To be on the safe side, measure the thickness of your drawer fronts to be half inch thick. It would be different though if you're creating a false front for your drawers and this would require a thinner unit.
On Replacing Fronts
If you have drawers along with your cabinets, changing their doors needs to be completed altogether to continue the sleek style you have in the space. If you don't have the budget to do so, you can work on the drawer front that needs to be repaired but make sure that the replacement has the same look and style as the rest.
More than just following the same style and design of the drawer, you can choose the opposite and elevate its aesthetics instead. You can choose to use the drawer fronts as the main attraction for your drawers and even your room.
How to Attach the Fronts to the Drawer Body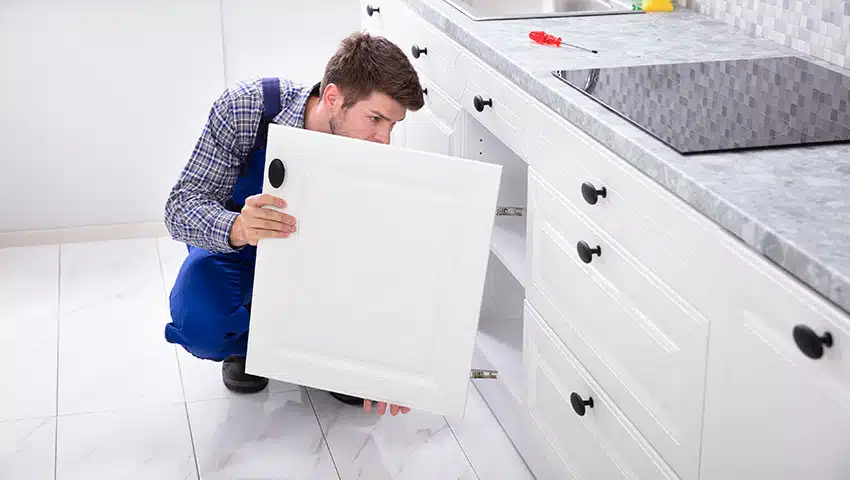 Sprucing up your kitchen or bedroom can be as simple as changing your drawer fronts, especially since these elements are the first thing you'll see in a drawer. The great thing about elevating the look of your home just by changing the drawer fronts is that it is affordable and at the same time easy to do.
Whether you're replacing your old ones or attaching new fronts to your drawers, you can actually save a lot by doing the work yourself. But there are several requirements necessary before you get your hands on this task.
First, you need to have the know-how in installing the drawer front (You can just study the manual or manufacturer's instructions thoroughly). And second, you need to have all the necessary materials and tools for the installation. Once you've set these two requirements, you're ready to start with the task.
If you don't know where to start on how to change or attach your drawer fronts, here are simple steps you can follow:
Gather all the materials and tools you will use for this task –

Wood
Handsaw
Clamp
Drill
Screws

If you're replacing the drawer fronts, make sure to remove all the nails and screws first then discard the decorative face panel.
Use a clamp to keep the drawer still and in position as you cut it in the desired size and shape.
Take out your handsaw and cut off all the extended wood from the drawer box (Especially if you plan for all sides to be flushed on the drawer box.)
Drill holes on your new drawer front's inside.
Slowly fit the drawer front into the box and tighten the screws into the holes.
See more related content in our article about the types of drawer slides on this page.