Find out what is a settee including its origin, its uses, comparison to a sofa, designs & materials used, styling and how to clean & cover a settee.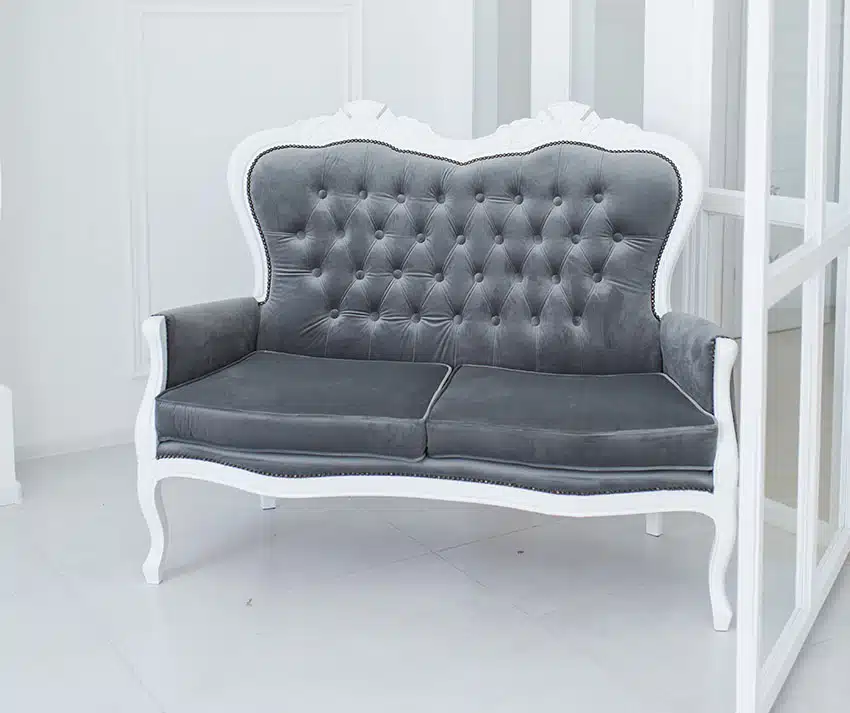 Settees are often long, ornate seats with high backs designed to accommodate anywhere from two to three people at a time. A settee, typically lighter and more portable than a loveseat, can be a better option than a loveseat if you are searching for a tiny sofa that can accommodate two people.
Its appearance can shift from a small couch to a bench, depending on what your use for it is. Sometimes it appears more like a bench than a mini sofa. In either case, a settee is available in such a wide variety of designs, contours, and hues that you can discover a spot in virtually any room.
What Is A Settee Used For?
Have you ever thought about where settees come from or their primary use, although you may have sat in one and may even have one installed in your home? The living room, the bedroom, or the spare room are all great places to put a settee sofa because of how comfortable its cushions are.
It is possible to dress it in various ways, including with a contemporary spin in genuine leather or as an attractive vintage item. Any house can benefit from adding a settee sofa, often referred to as a conversational sofa.
A settee is an excellent choice if you are in the market for a three-seater sofa. It will provide a comfy sitting spot without requiring significant space in your home.
Many patterns and colors are available for settees, some of which are more daring and work well as accent pieces. In contrast, others are more subdued and can easily incorporate into an existing design scheme.
Here are the various ways you can use a settee:
• Extra seats in the living area, or even as a replacement sofa
• A location for visitors to sit when there are insufficient chairs at the dinner table
• A dressing room or walk-in closet bench
• Seating at a home office workstation
• A bed with a bench at its foot
• A bench for guests to use while putting on their shoes
Sofa Vs. Settee (What's the difference?)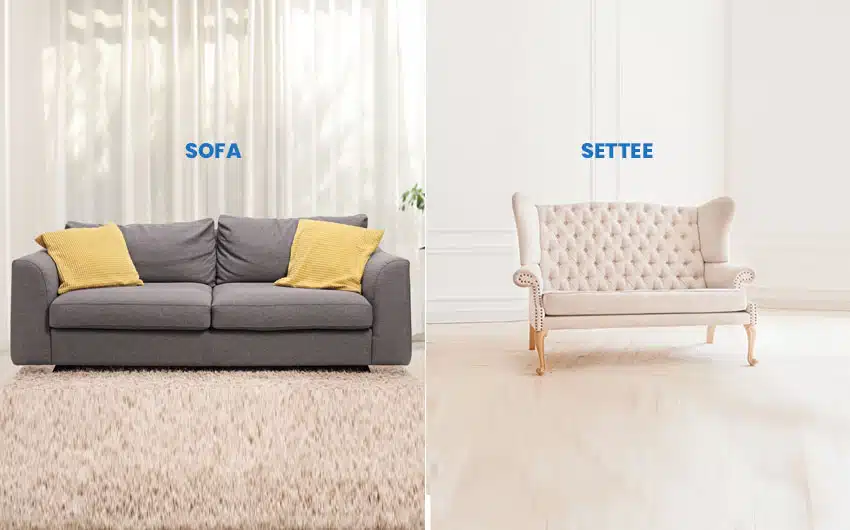 Settees are smaller and less plush than sofas, which are far more spacious and comfortable. Settees are more delicate sofas. One helpful analogy for them is a sofa combined with a bench.
The 1700s first introduced them. Back then, most settees had no upholstery on them. Even though most modern sofas are in fabric upholstery, people do not typically consider settees exceptionally soft because of their design.
We might see them used in sections of the home or businesses where you would take a brief seat. Still, we would not see them utilized in locations where you might want to curl up with a book or watch television.
A settee is often insufficient for a space intended to entertain guests. Sofas are typically the focal point of a family or living room's seating arrangement. Settees, on the other hand, are more adaptable than other types of seating due to their compact dimensions and diminutive stature. You might replace two chairs with a settee in a space that already includes a sofa.
In today's homes, settees are often in rooms other than the living room. It is a relatively recent trend. There are a lot of modern reinterpretations of the settee that are suitable for how we live our lives today.
However, note that while sofas can accommodate multiple people, settees have designs for a single occupant at a time. Settees are practically the same as lounge chairs for one person; they are a wonderful place to curl up with an excellent book.
They are also a good location to sit in your bedroom while you are getting ready for the day. They are essentially little sofas of an individual's size to provide more functionality without completely dominating a space with a full-sized sofa.
Sofa
• Larger and more comfortable
• Holds the room together
• Mostly in dining rooms and living rooms
• More than one person frequently utilizes them at the same time.
Settee
• Reduced in size and with a lower level of comfort
• Enhances the ambiance of a space
• You can utilize it in any given space
• Frequently used by only one individual at a time
Where Settees Originated From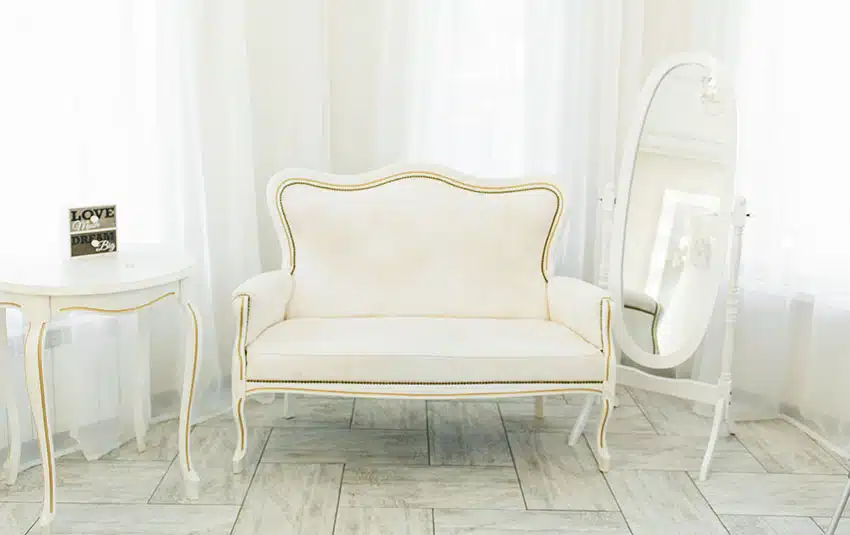 The 1700s saw the introduction of settees, quickly becoming an essential form of seating. Historically, settees were more formal and smaller versions of couches that eventually evolved into what is now often referred to as the sofa. Due to the more formal living environment in the 1700s, they were the primary seating option.
Sofas continued to be standard pieces of furniture throughout the 19th century. Because they offered a comfortable place for a young couple to talk to one another and become acquainted, you could always find them at the homes of more affluent individuals who hosted parties regularly.
As people's conceptions of what constituted comfortable furniture evolved and manufacturers responded by stuffing furniture more densely, settees gradually became less popular as household furniture.
Types Of Settee Designs
The majority of settees have a small footprint. Settees lend an air of refined elegance to any room they are placed in, thanks to their lean, exposed legs and streamlined design.
You have the option of selecting from a variety of designs, including one that has either a standard or curved shape. A settee can seem more like a bench or a small sofa.
While some settees can recline or transform into double or queen-sized beds, others perform the job of a loveseat's more streamlined relative. You can select homey, laid-back, and comfy settees or ones that are more fitted and include minimum detailing for the look of a high-end boutique hotel.
Settee Couch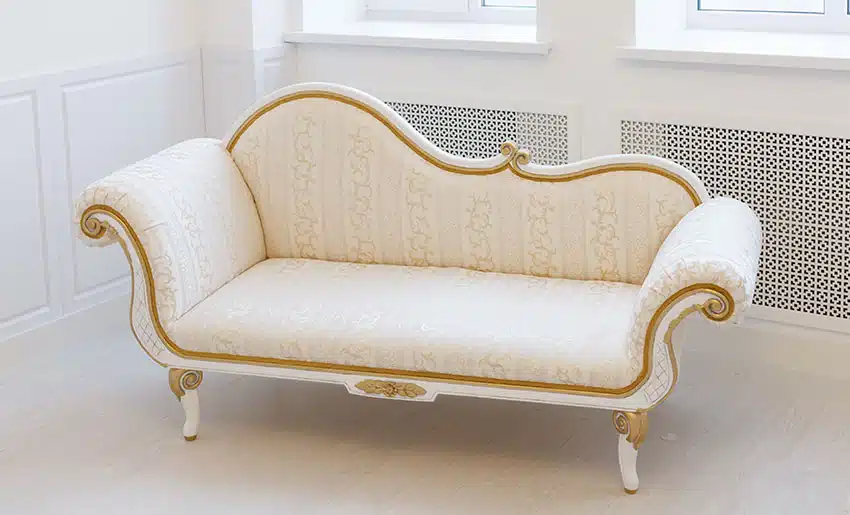 An upholstered seat with a back and armrest (occasionally upholstered) meant to accommodate two or more persons in a sitting or reclining posture is known as a settee couch.
Settee Bench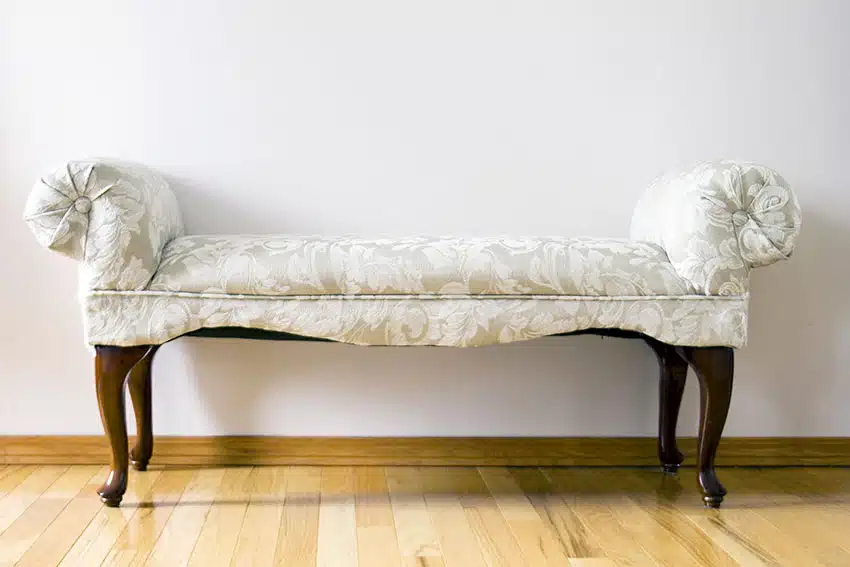 When would you call a settee a bench? A bench is another settee with an open area between the back and the seat. If there is no upholstery on it, you should unquestionably refer to it as a bench; if there is upholstery, you should continue to refer to it as a settee.
Dining Settee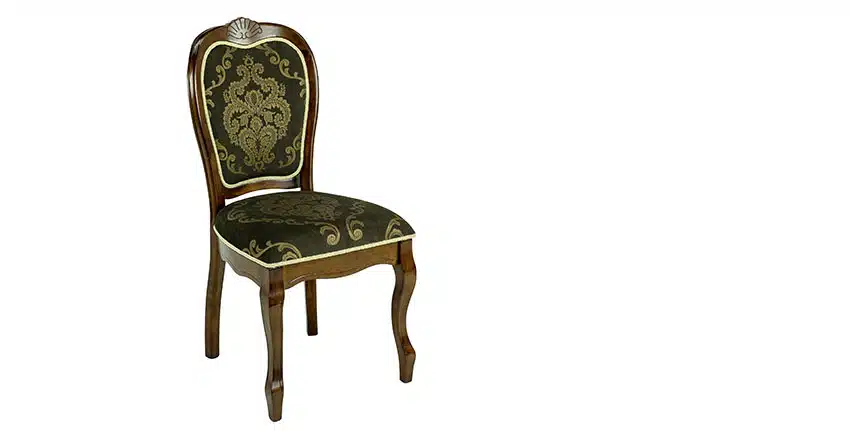 When you pull up a comfortable dining settee to the edge of your dining room table, you make it possible for more people to sit at the table at once than with individual seats. It encourages your guests to unwind and linger during lengthy dinner parties. It is also a choice that is very cost-effective.
Settee Chair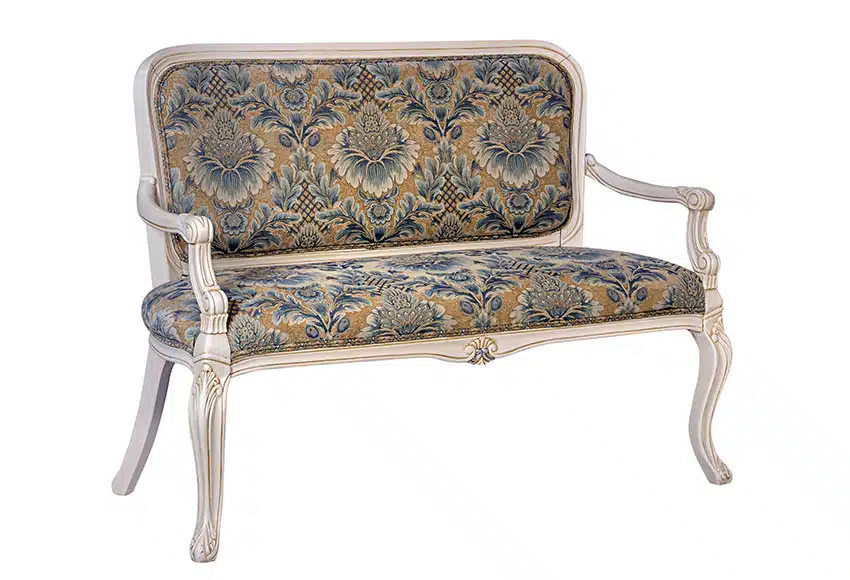 A settee chair is a sort of seat meant for a single occupant. It consists of one or more legs, a seat that is either completely flat or slanted to one side, and a backrest.
Chaise Settee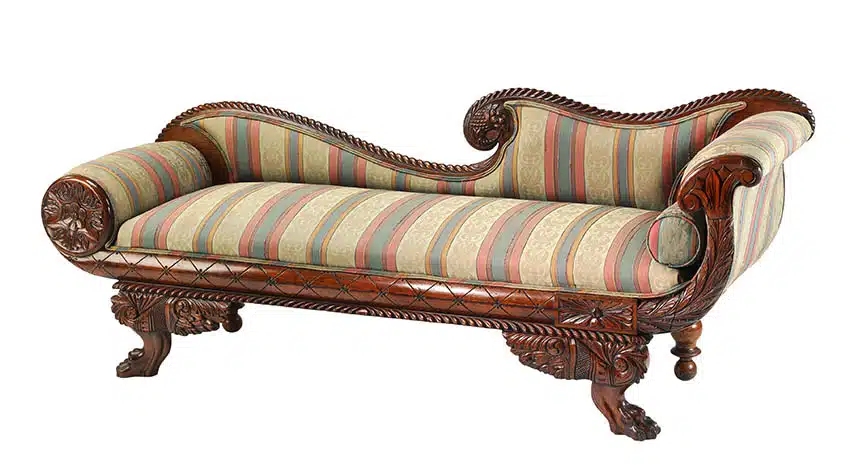 A chaise settee is an upholstered sofa shaped like a chair long enough to prop one's legs up. Another name for it is a chaise lounge. The term "long chair" is the English equivalent of the modern French term "chaise." It refers to any long, reclining chair in modern French interior design dictionaries.
In modern interior design, a chaise settee is most frequently attached to the end of a sectional or sofa. However, it can also function in some homes as a freestanding long chair.
Providing a place for household members to kick their feet up and relax more profoundly in a position between sitting and lying down contributes to a living room's overall aesthetic and atmosphere.
Armless Settee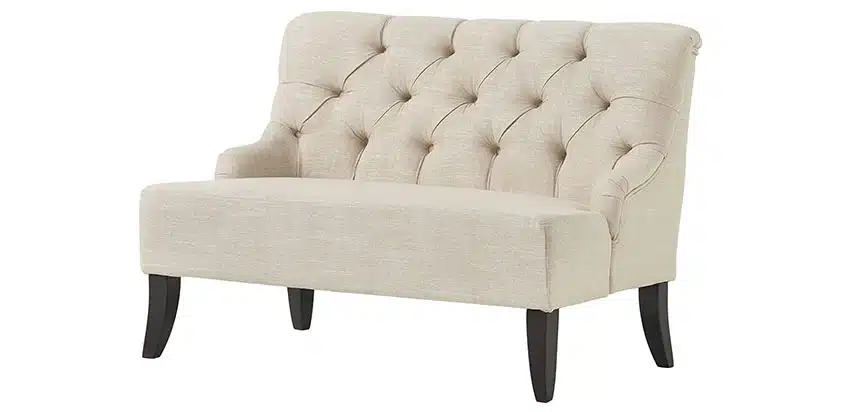 See this settee at Amazon [sponsored link]
Fabric is the go-to material for the upholstery of an armless settee. Traditionally, it has a streamlined appearance (when viewed from the side, it resembles a rigid "L" shape with legs).
High Back Settee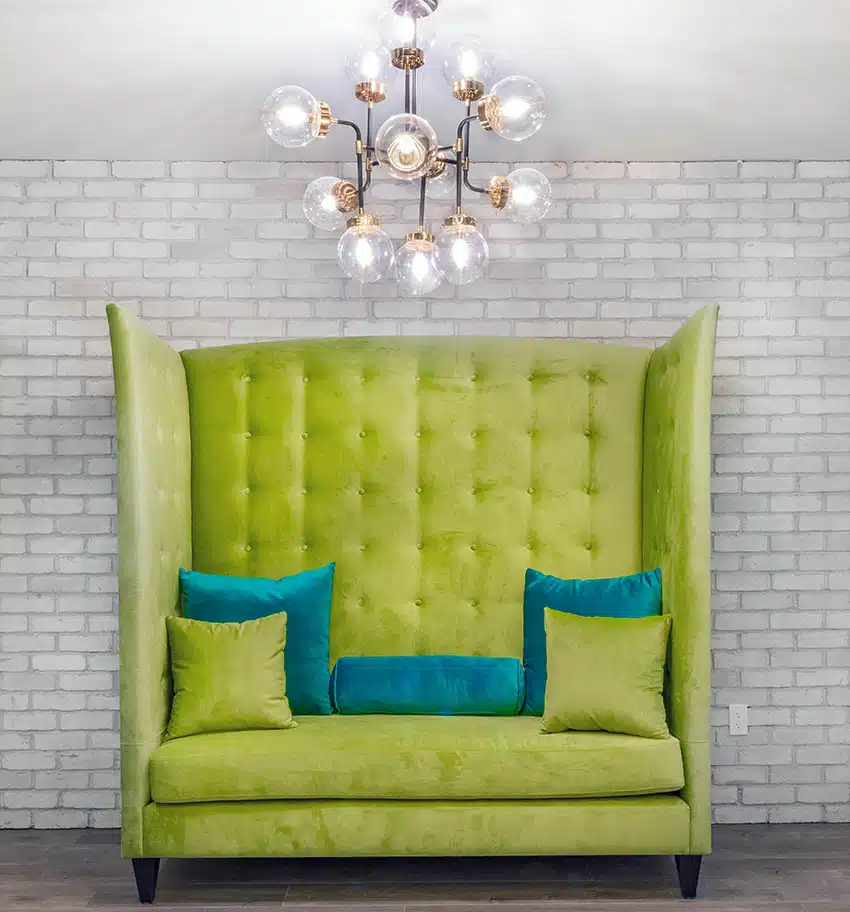 High-backed settees have a back that is significantly higher than the back of a conventional settee. As a result, they provide excellent support and comfort for the user's head and neck, which enables them to rest completely.
Round Settee
It is a Victorian ottoman-type couch that is circular and upholstered; it is also frequently referred to as a discussion seat. It features three or four-seat divisions and a center cone that acts as a backrest.
Curved Settee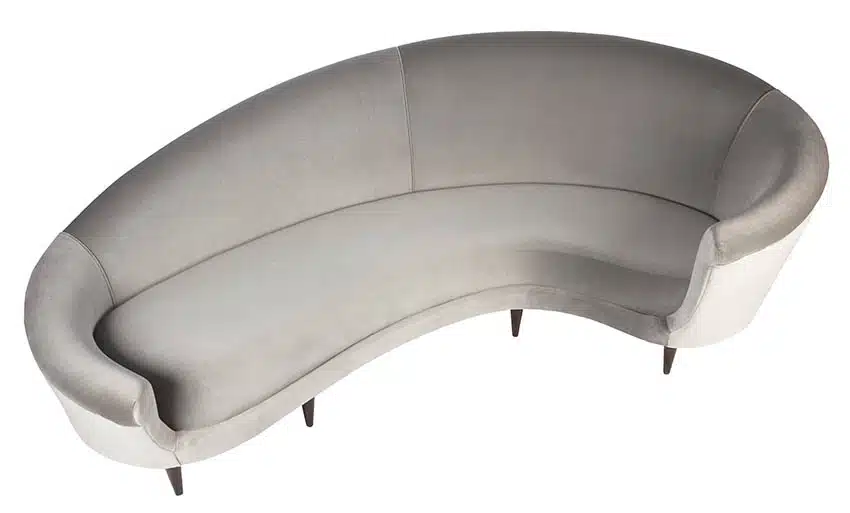 The Curved settee is a tuxedo-style settee with curved corners, a single down-wrapped seat cushion, three down-wrapped, removable back cushions, and two bolsters.
Corner Settee
Corner settees offer a significant benefit by transforming an unused space in your room into a pleasant gathering spot that can accommodate several individuals with complete ease.
In addition, compared to standard settees, they have a distinct advantage regarding the comfort level provided by the corner seat.
Victorian Settee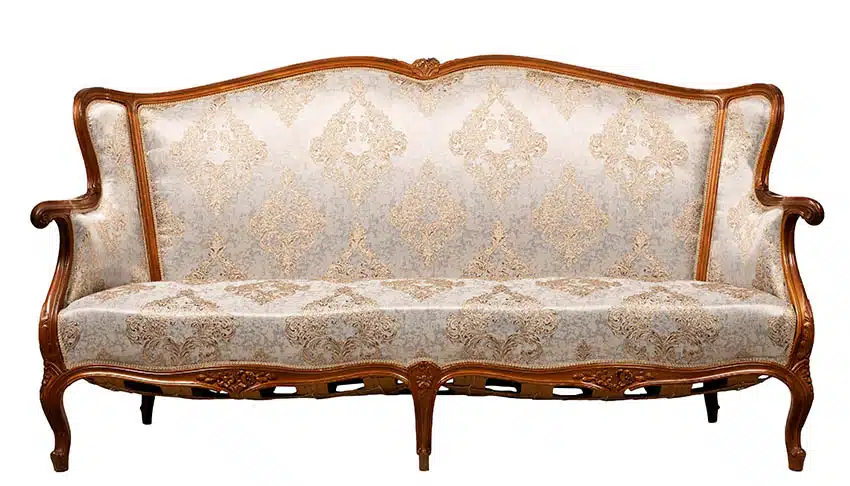 The term "Victorian settee" refers to settees that were popular throughout the Victorian era of the 19th century. Some of these items may be antiques that underwent repairs. In contrast, others are reproductions of furniture from the past that served as inspiration.
Antique Victorian settees, particularly those well-preserved, can fetch very high prices on the secondary market. These items have veneers in flame mahogany, walnut, and rosewood for decorative purposes.
Modern Settee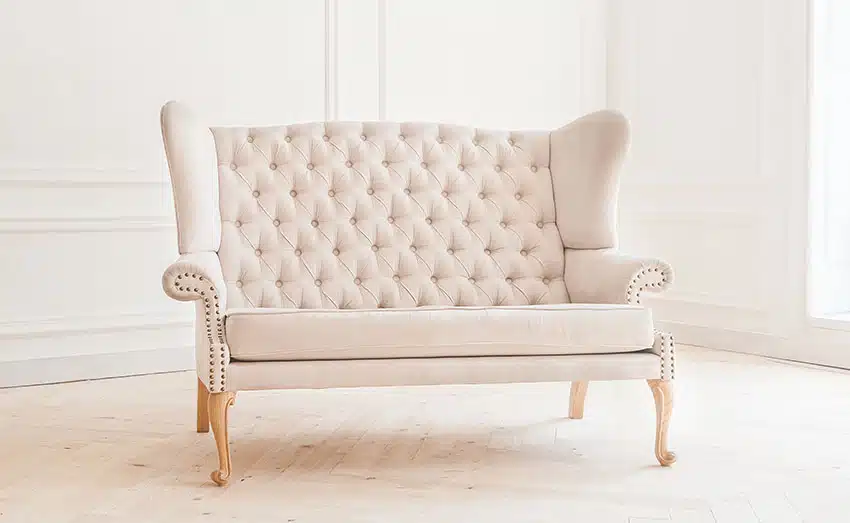 The style of a contemporary couch is all about cleaner lines and fewer decorative accents. The emphasis is on angles, geometric shapes, and crisp lines.
Therefore, straight lines and edges are among the most prominent characteristics of modern design. The room has a bold attitude thanks to the presence of settees with squared-off edges and angular accents.
Bedroom Settee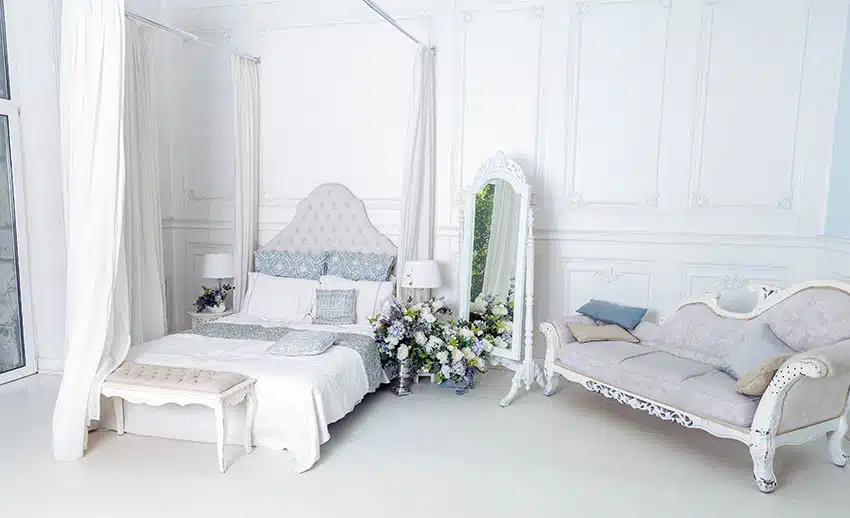 Adding a bedroom settee, which may provide additional seating for bedrooms of any size, is a crucial component in making the area feel cozy and welcoming.
You should use the private area in your house for activities more than just sleeping. Placing a settee in the bedroom may turn it into a spot where you can unwind, read, or watch television.
Tufted Settee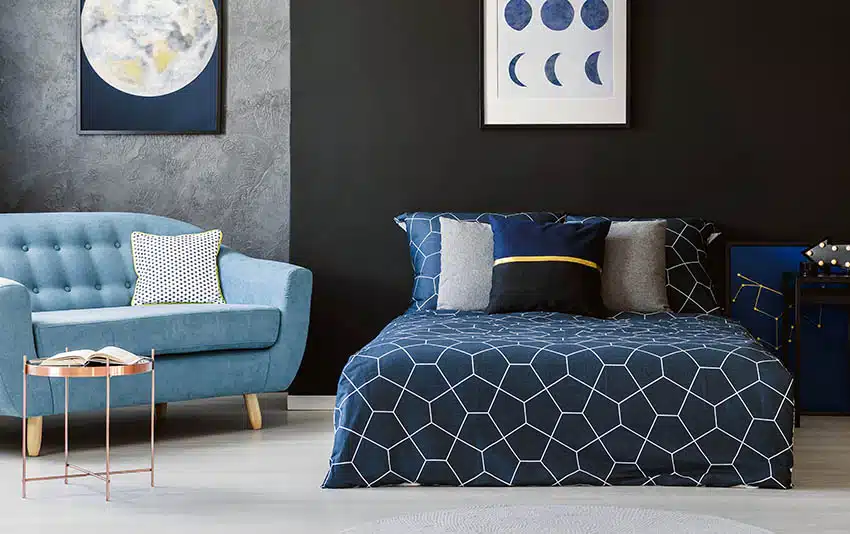 What exactly is it that a tufted settee is? The effect of tufting is accomplished by firmly stitching together multiple layers of fabric to create a pattern, resulting in indents distributed uniformly across the surface.
These depressions are traditionally closed up with a button, a knot, or a ribbon; however, a more contemporary approach is to leave them unadorned.
Settee Materials
When choosing the best materials for your settee, it is essential to consider the traits of each material. How those characteristics fit in with your individual needs, and how you style your home.
Leather – Leather has a reputation for being extraordinarily long-lasting and advanced compared to other materials on the market today. The fact that it can resist the wear and tear of regular life while being relatively simple to clean makes it a popular choice among individuals who have children and animals.
Velvet – Velvet upholstery is sturdy and long-lasting, making it ideal for settee upholstery. Although velvet is currently in style, it is a classic fabric with a lux appearance.
Fabrics – Your sofa can have many different kinds of fabric. Each variety possesses distinctive qualities, including resistance to stains and fading, sturdiness, or fashion.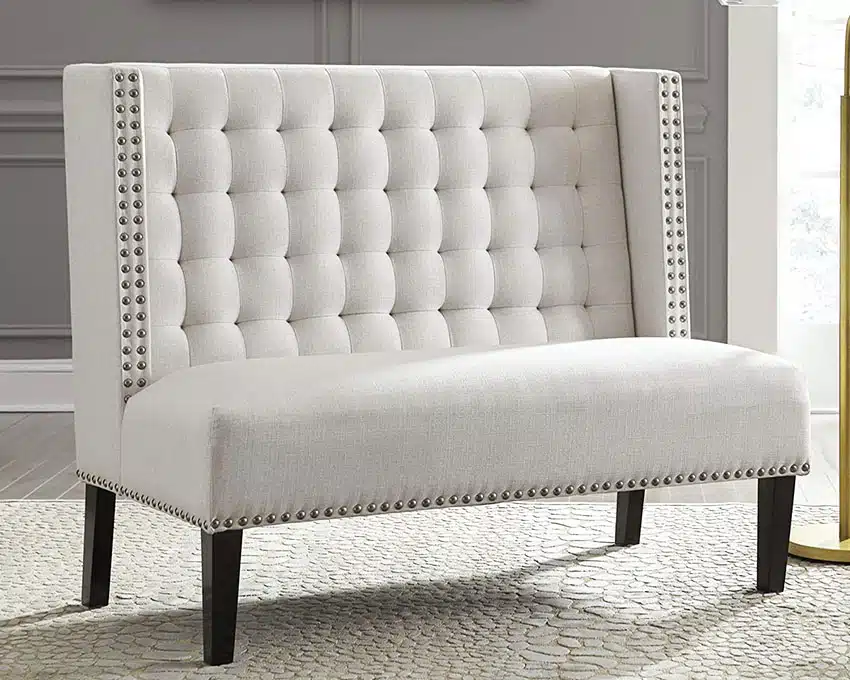 See this settee bench at Amazon [sponsored link]
The fabric of a settee will affect how it wears over time. Researching and getting familiar with the various possibilities might help you discover a piece of furniture worth your spending.
Linen – Due to its propensity to wrinkle and stain, linen is a material that should be limited to usage in settings with little foot traffic or restricted to adults' use only.
Wool – Wool is an excellent material since it is resistant to stains, wrinkles, fading, and pilling. Wool can also be combined with synthetic fiber to create a material that is even more stain resistant and simple to spot-clean.
Silk – Silk is a very fragile and supple type of material. Because of its fragility, it should be in a more formal area. If it gets dirty, it should be cleaned by a professional.
Cotton – Cotton has excellent resistance to wear and tear, as well as to fading and pilling. However, it does not have the same resistance to wrinkling and soiling as the other option. Cotton can boost its resilience and produce a fabric suitable for a home with children and pets when combined with other fibers.
Synthetic fabrics are man-made items that are supposed to replicate natural fibers and have a stain-resistant characteristic. Thanks to technology, some synthetic fabrics may look like natural ones.
Polyester – It is common practice to combine polyester with other fabrics to produce an upholstery material resistant to wrinkling, crushing, and fading.
Nylon – This fabric is known for its resistance to stains and status as one of the most durable for upholstery. It helps prevent this fiber's fading, crushing, and pilling when blended with other materials.
Acrylic – This manufactured fabric was initially conceived as a wool substitute and possessed excellent resistance to wear, wrinkling, soiling, and fading.
Olefin – Olefin can withstand scratches, stains, and exposure to sunlight and chemicals. It is an excellent choice of material for furniture meant for frequent use.
Vinyl – It is a fantastic substitute for leather that can be purchased at a lower cost while maintaining durability compared to leather.
Wooden – It's hard to go wrong with long-lasting wood settees. Wood was the traditional material of choice for furniture, and there are many different styles and design components that date back centuries. Hardwood settees add a touch of nature to the space, enhancing its aesthetic appeal.
The wood grain captures the viewer's attention, and the traditional allure makes the room's interior design cozier. Wood is the most environmentally friendly material for settee construction and has the most classic appearance.
Wicker – You can make wicker out of almost any material, natural or manufactured, as long as it is malleable and resilient enough to weave into a settee. In most cases, you won't even need seat cushions for short periods when sitting on wicker settees because it's already sufficiently comfy.
However, a few essential advantages come with seat cushions with your settee. Cushions improve the appearance of the sitting arrangement while also contributing to its comfort and aesthetics.
Styling A Settee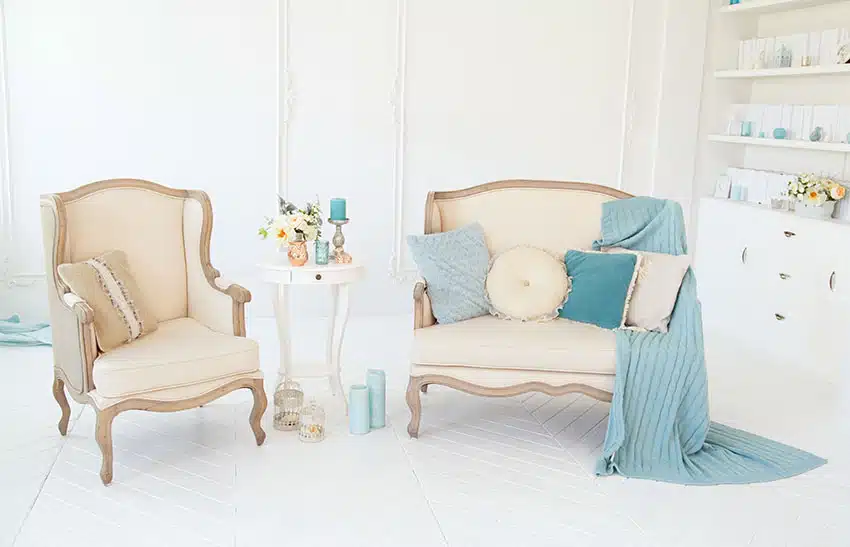 Is there not enough space in the bedroom for a couch? Why don't you give one of those in the lobby a try?
Put a couple of pillows and a piece of artwork behind the settee to create a comfortable space for putting on or taking off shoes. Just make sure you don't go crazy with all of the accouterments.
The use of excessive pillows and throws on settees is discouraged. You only need one lumbar cushion or two tiny square pillows.
Still, if you prefer, you may skip the pillows entirely and drape a cashmere blanket over one arm of the couch.
Here are a few ideas to try for styling a settee:
• Create a luxurious piece of office furniture out of a settee by styling it appropriately.
• Make a statement in the foyer with a stylishly arranged settee.
• You can use a settee as a booth seat or a bench at the dining room table.
• At the foot of a bed, a stylish settee is an elegant addition that you can style.
• Create an elegant seat for the powder room out of a settee.
How To Clean A Fabric Settee
Settees made of fabric not only look fantastic but are also quite comfortable. When it comes to cleaning fabric, though, they have the potential to be a significant headache.
However, accidents are inevitable from time to time. Unless you want to cover your sofa with one of those plastic coverings, you'll need to learn how to clean it.
You can reclaim the lounge-worthy status of your settee with some valuable how-tos. You need to look over the instructions provided by the manufacturer.
Before you attempt to remove stains from your sofa or freshen it up, you should always consult the cleaning recommendations provided by the manufacturer first. If you don't do it, you risk having your warranty voided or ruining your settee. The tags answer many cleaning-related queries.
Stay calm if you cannot locate the manufacturer's instructions. Your settee cushions should include a tag that informs you of crucial information, such as if the material is water resistant.
Remember that the tag may have instructions for cleaning the cover and instructions on the other for cleaning the cushions. Before you clean, be sure you're looking at the correct tag.
Please pay attention to the legends and what they stand for.
On the cleaning tag of your settee, you'll typically find one of four letters.
W – You can use it to clean this material if necessary.
S – No water. You are going to require the use of a specialized cleaning that is solvent-based.
WS – You can clean it with water or a solvent-based cleaner on this sofa.
X – You can only vacuum the material.
You must strictly adhere to the cleaning procedures recommended on the labels at all times. Try to clean a settee with water when the manufacturer specifies that you should only use a solvent-based cleaner. The water will leave a mark on the settee.
Do not put your investment in danger by doing this. Stay within the recommendations. They are aware of what would be best for your settee.
How To Cover A Settee

See this fabric cover at Amazon [sponsored link]
Doing the right way starts before you even purchase a cover for your settee. When shopping for one, you can decide whether you would like the store-bought ones or have one custom-made for your settee.
Custom-made covers usually have the best fit, but they are also costlier. Store bought ones may have size ranges, but they should do alright if you get a tight-fit stretch. Buy the stretch-type settee cover.
One-piece covers might cost less, but they could look better when pulled over the entire settee. You should tuck the extra fabric into the folds and crevices of the couch.
To keep the fabric in place and prevent it from shifting, push foam rolls or pool noodles into the crevices of the couch, such as beneath the seat cushions.
It would help if you pinned down any surplus cloth. You'll want to get your hands on some upholstery pins, smooth out the cloth, and then secure it in places where it won't be immediately noticeable. However, there is a possibility that the settee will become damaged over time if you do this.
There is also the possibility of using velcro strips to cover your settee adequately. Sew Velcro strips onto the cushions and the covers so you may fasten them to one another.
Suppose the cover fits poorly, for example, because the cushions are too thin against it. In that case, you can improve the fit by adding additional padding, such as batting. You can entirely prevent this problem by purchasing slipcovers with stretchable material right off the bat.
See more related content in our article about what is a loveseat here.