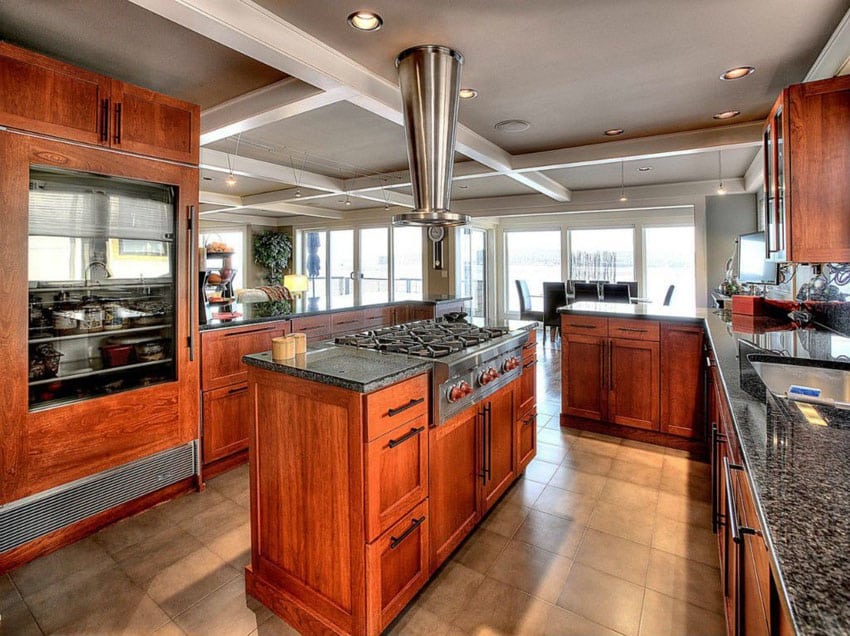 This gallery features beautiful cherry wood kitchens in contemporary, modern, rustic and traditional design styles. Kitchens with cherry wood cabinets offer a warm and luxurious look and match well with a variety of different countertop materials and finishes.
This kitchen is directly open to the dining and the living area, separated only by base cabinet counters which acts as the partition between other common areas and the kitchen. The result is a bright and light-looking kitchen, despite using solid cherry wood cabinets topped with black granite. The natural wood grains and texture of the solid cherry wood cabinets, combined with black drawer and cabinet pulls, creates a more raw, industrial feel to the space, while keeping its elegant silhouette.
Cherry Wood Kitchen Cabinets
Cherry wood kitchen cabinets are beautiful and ideally suited for those looking for a warm and elegant kitchen space. With their rich wood tones, cherry wood is often used in furniture and cabinets. The wood can be stained, or left to naturally darker over time. Since the wood readily accepts a finish there are many different cherry wood colors used with cabinetry.
Cherry wood comes primarily from the US or Canada and often has beautiful characteristics that make it highly sought after. This beauty does come at a cost, making cherry cabinets one of the more expensive choices. Availability is also a concern, as they are not frequently found in big box retailers. Therefore one must seek out an experienced custom cabinet builder to get the job done. Typically cherry wood cabinets can increase costs over regular birch cabinets by 20-25% or more.
There are other options for those looking to avoid spending the higher price for cherry wood kitchen cabinets. One is to purchase a high quality cabinet and stain them with cherry. The stain will penetrate the grain of the wood to give you the cherry look you desire. Another way to get a similar look is through glazing. Glazing your cabinets cherry is a process where a glaze coating is applied to the cabinetry to produce an aged or distressed look. Both glaze and stain are popular choices that will allow you to cut costs and get the look you want for your cherry wood kitchen cabinets.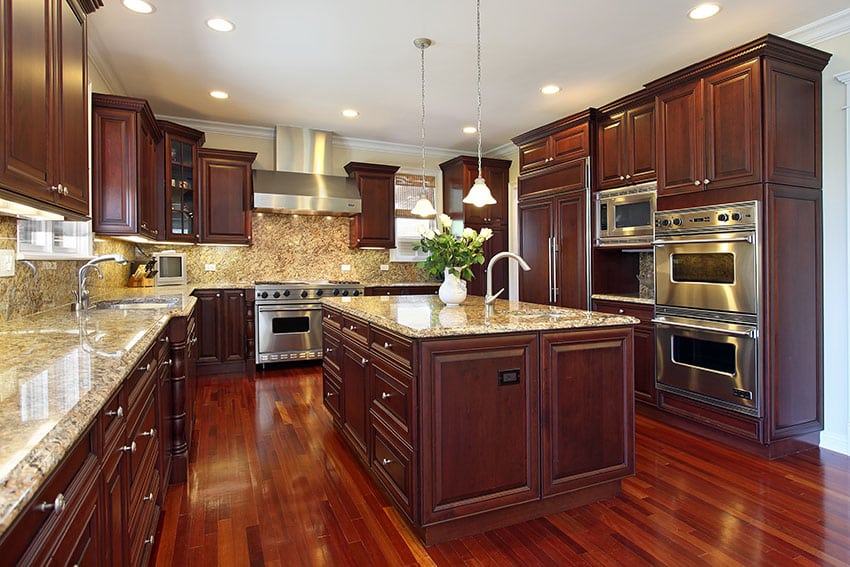 In the picture above the floors of this kitchen use solid cherry wood floors, so the kitchen opts for a darker cherry wood finish for its paneled kitchen cabinets, creating a subtle contrast between the two materials. Cornice details, vintage pulls and cream granite on the counters and the backsplash all combine to create a very elegant feel to this kitchen, creating a timelessly beautiful kitchen design.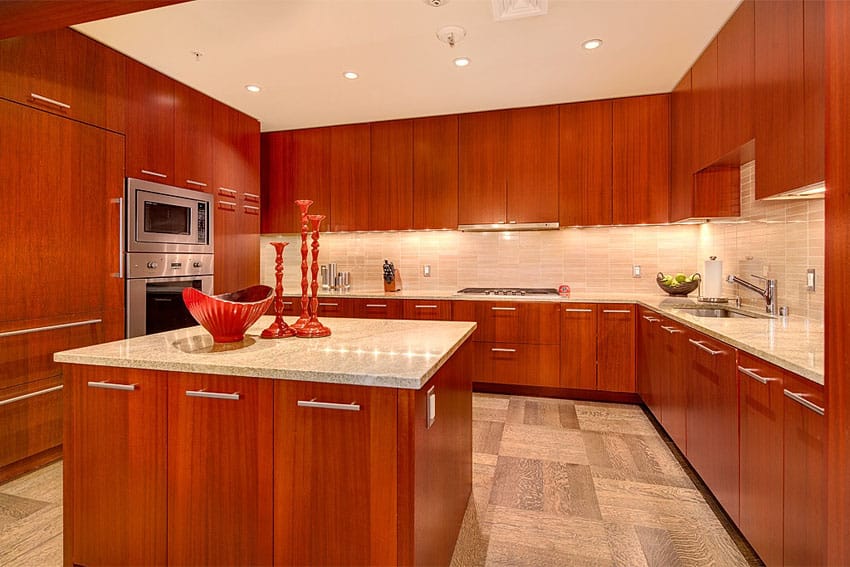 A large, contemporary kitchen which definitely maximizes all available wall space to create this kitchen design. At one side of the wall is a full-height pantry storage/cabinet with built-in refrigerator and oven tower. It uses cherry wood laminates all over, and the flat profile of the cabinets definitely gives it that clean, modern look. To help tone down the reds from the cabinet finish, the countertop materials is of light cream quartz, while the backsplash is cream-colored glass tiles.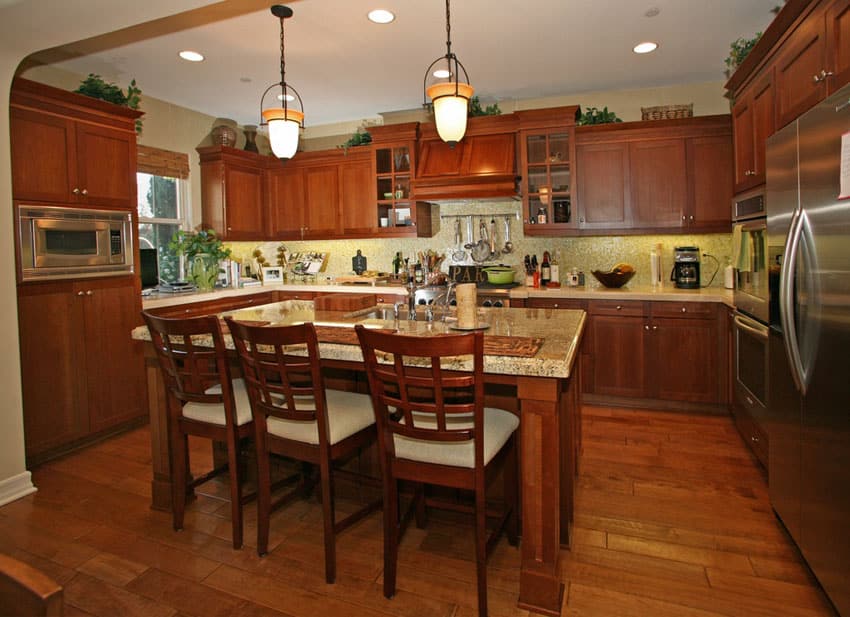 This is a country style kitchen which uses simple paneled kitchen cabinets in dark cherry wood finish. The elegant detailing of the cabinets gives it a elegant, yet modern appeal due to its clean, straight lines. In the middle is a kitchen island which also doubles as a bar/dining space. The countertop materials used are cream granite for the kitchen island, and cream quartz for the base cabinets. Meanwhile, the backsplash is adorned with light yellow mosaic tiles, adding texture and a soft pop of color to the surface.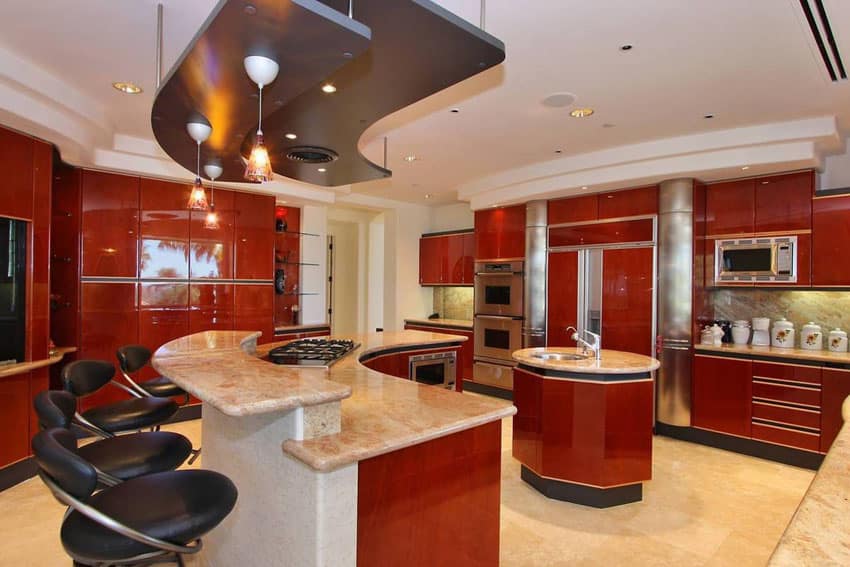 A spacious full-sized kitchen with a unique layout and combination of finishes. It uses high-gloss cherry wood laminates which definitely stands out from the cream colored floors and white walls. This is combines with cream granite for both the countertops and backsplash, as well as some matte black and brushed stainless steel finishes, giving it that contemporary feel.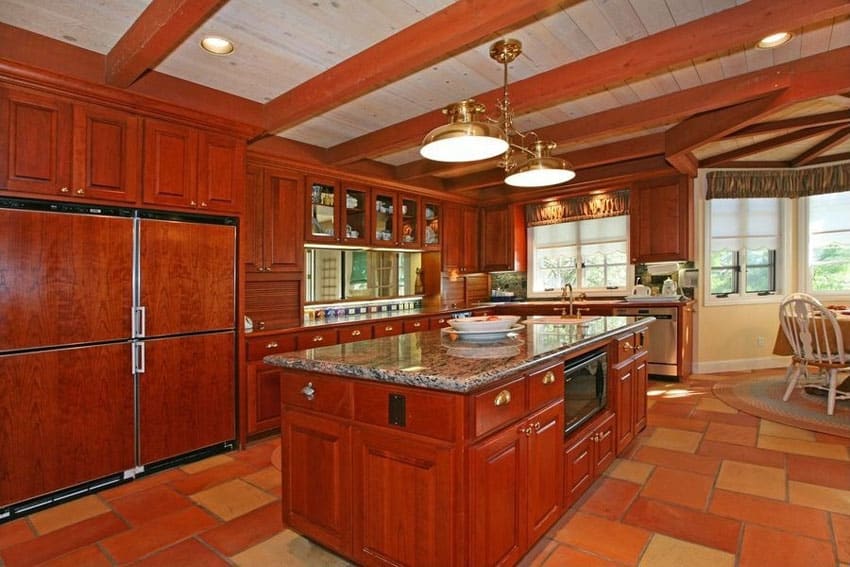 This is another country-inspired kitchen space with open floor plan which uses solid wood paneled cherry wood cabinet doors topped with thick slabs of gray granite. It has exposed ceiling wood trusses with the same cherry wood finish, while the planks used on the ceiling boards is of white-washed finish, helping neutralize and tone down the orange and yellow tones of the wood and floor finishes.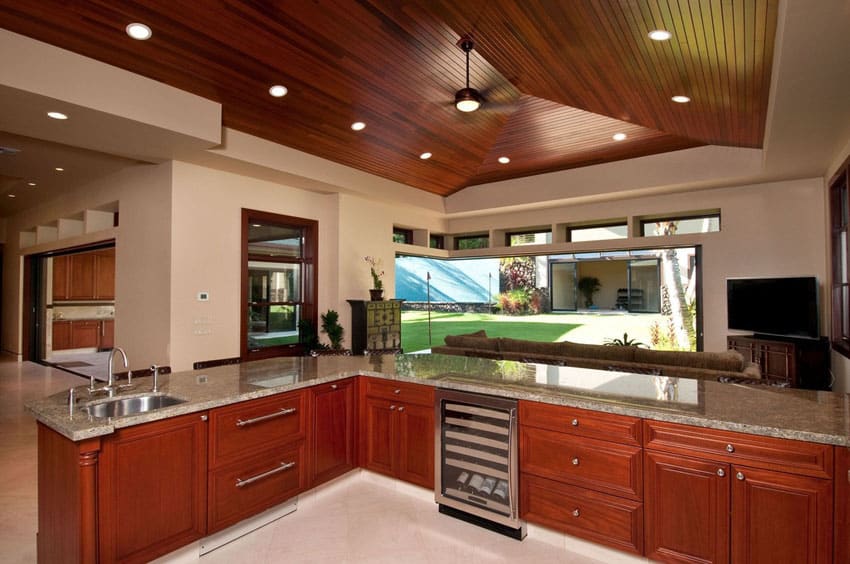 This spacious kitchen exudes a casual elegant appeal, with its use of solid cherry wood kitchen cabinets topped with beige granite. The open layout of the kitchen helps it make the space look brighter and more spacious, while the high, gabled ceiling is a perfect match to the kitchen cabinets, using planks of cherry wood, which also adds texture to the other wise plan and simple surfaces of the interiors.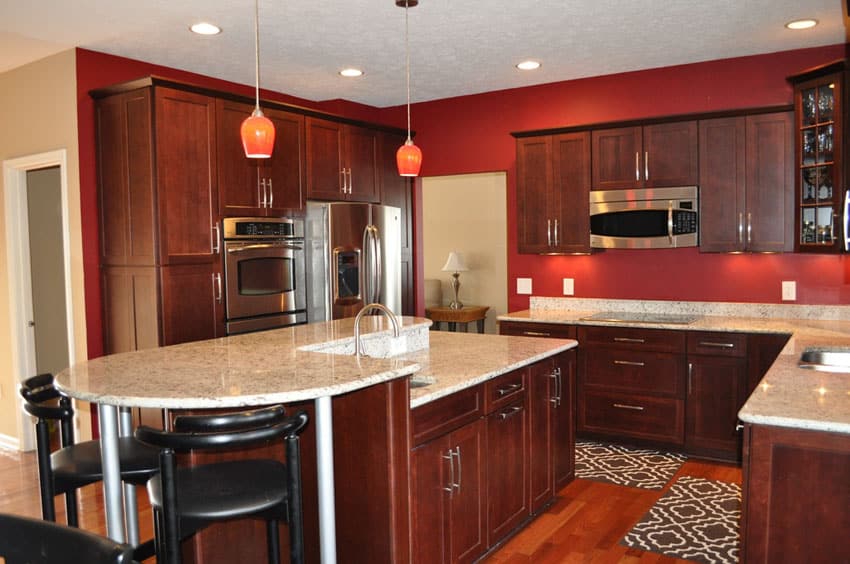 This is a kitchen which goes for a bold red color scheme, making stand out from the rest of the neutral-colored surfaces. The walls were painted in brick red, while the kitchen cabinets were laminated in a dark cherry wood finish, which also has a red undertone. To help balance out the colors, the counter top used is cream-colored granite, adding a neutral surface to the space while helping tone down the boldness of the red tones.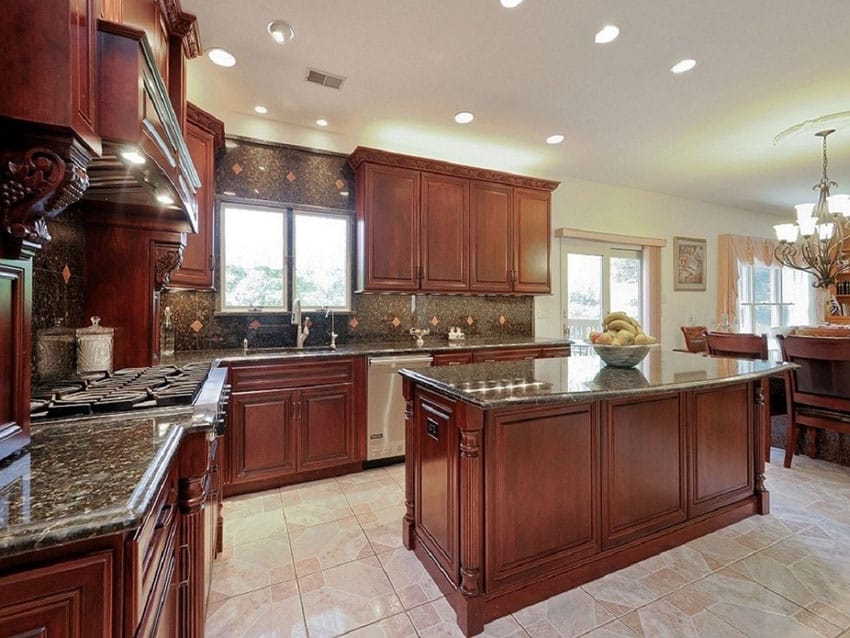 A classic style kitchen with traditional detailing looks even more elegant as it uses solid dark cherry wood for all its cabinets, combined with black granite counters and backsplash. Despite the classic look, it also applies some modern touches to it like under-cabinet lights to help illuminate the working space.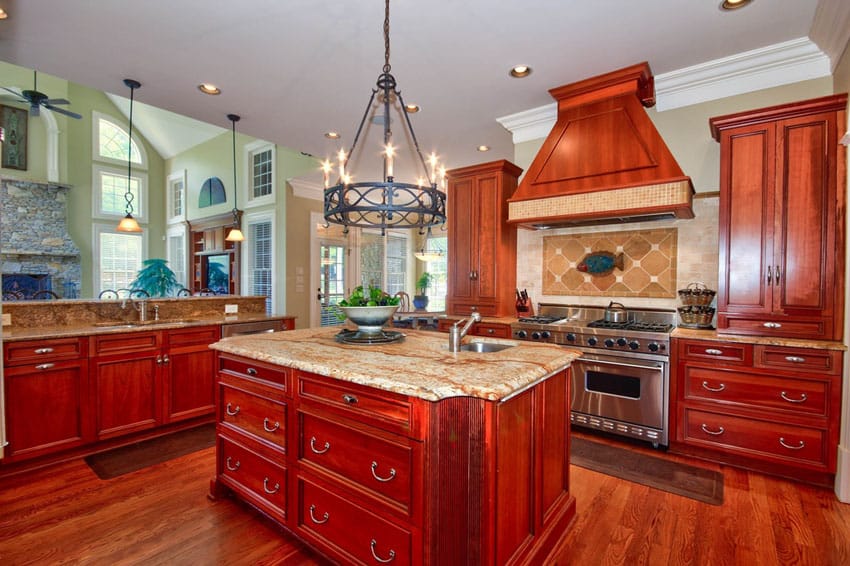 A classic style kitchen going for a bold all-wood look. Floors are engineered cherry wood, while the kitchen cabinets are of gorgeous paneled cherry wood, paired with cream lime stone. The undertones combined together looks a bit more orange, and therefore perfectly matching with the cream & orange tiles used on the backsplash.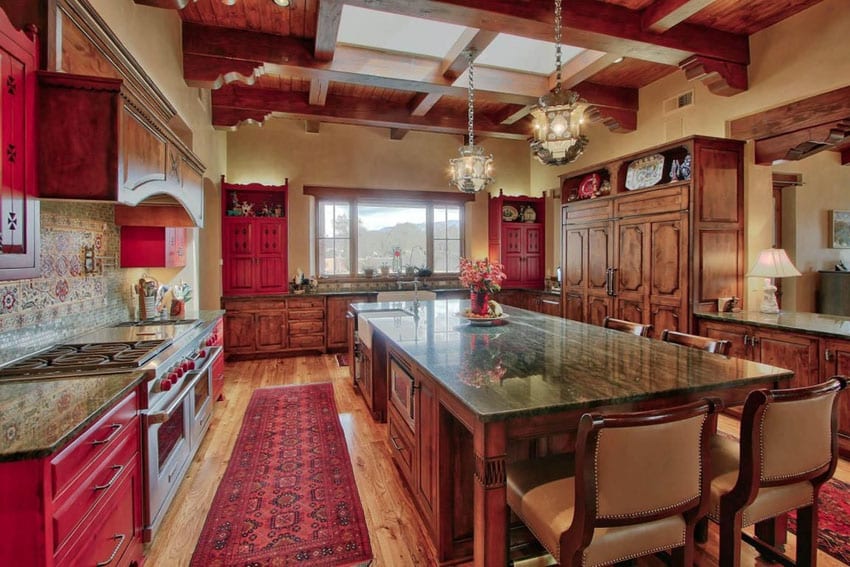 A very unique rustic country style kitchen which has a a variety of wood finishes. Floors are solid golden oak, while the exposed ceiling trusses with wood planks are solid teak. The skylight provides excellent illumination to the space, helping make the colors of the kitchen cabinets pop out. The cabinets is a combination of dark oak and red-stained cherry wood. There is also a massive kitchen island counter in the middle of the kitchen with dark oak base and black soapstone counter top.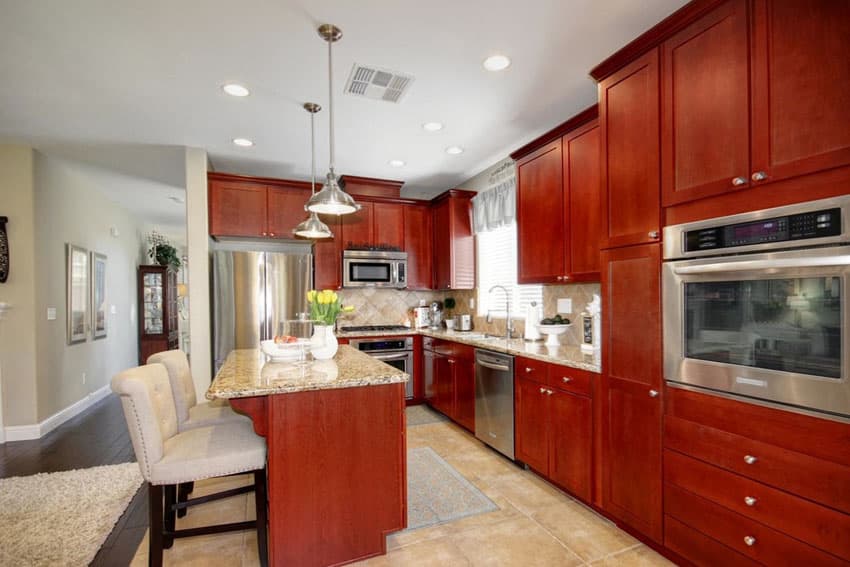 Going for a more modern look, this kitchen uses a more simple kitchen cabinet profile, and a cleaner, more uniform finish, achieved by using cherry wood laminates. Pair with cream-colored granite and stone backsplash tiles, the resulting look is well-balanced, yet elegant.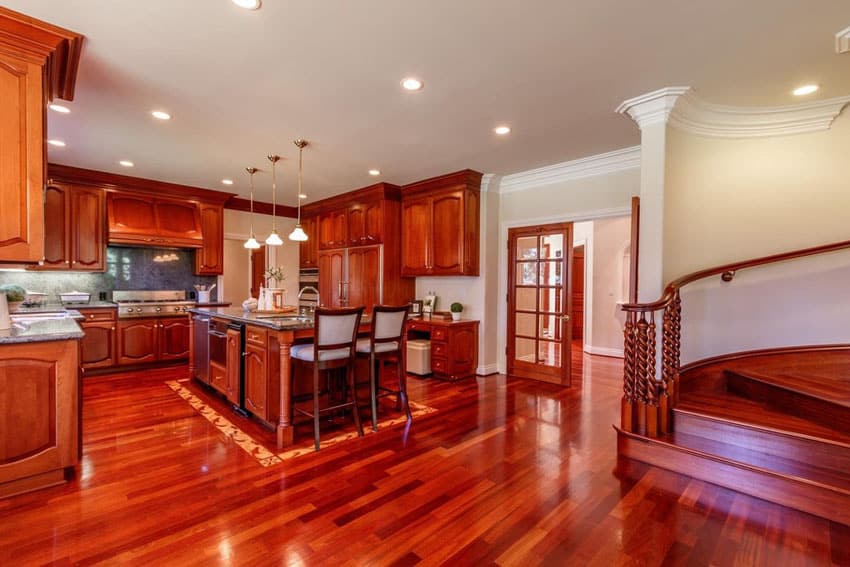 Classic Spanish architectural details of the house was also brought into the kitchen design to match. It has a rather bold and heavy look to it, since the floors are polished cherry wood, and the kitchen cabinets, as well as doors and the stairs are also in solid cherry wood. The paneled cabinets gives the kitchen an elegant look, especially paired with gray granite counters and backsplash.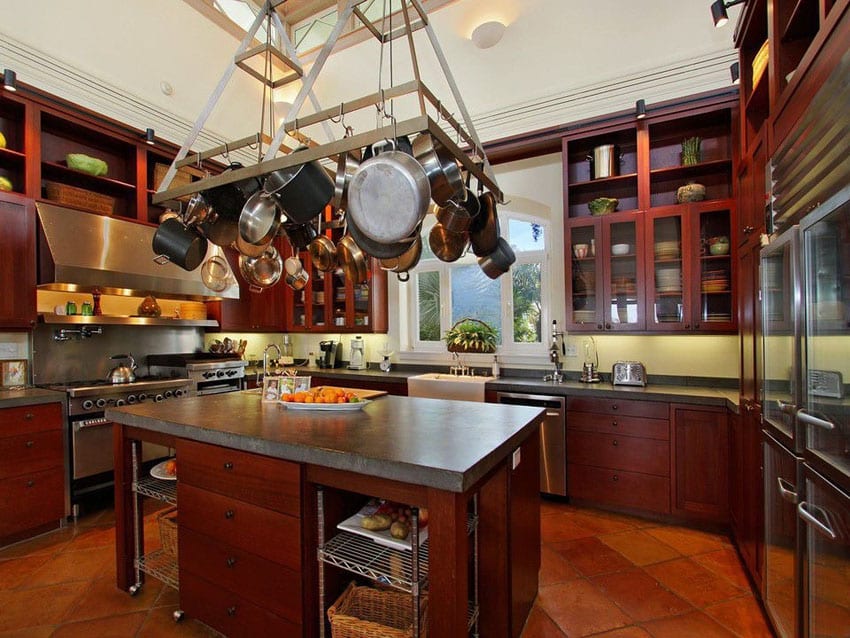 A modern rustic-inspired kitchen perfectly combines both modern and rustic/industrial design elements. Floors are antique terracotta red tiles, giving it a rough, rustic appeal. Kitchen cabinets are made of solid cherry with straight, clean edges for a perfect modern look. The overhead shelves maximizes the high ceiling, occupying most available wall space and is in a combination of open shelves and cabinets. Concrete countertops add a raw, industrial feel to the space, even enhanced by the use of an overhead pot rack placed right above the kitchen island.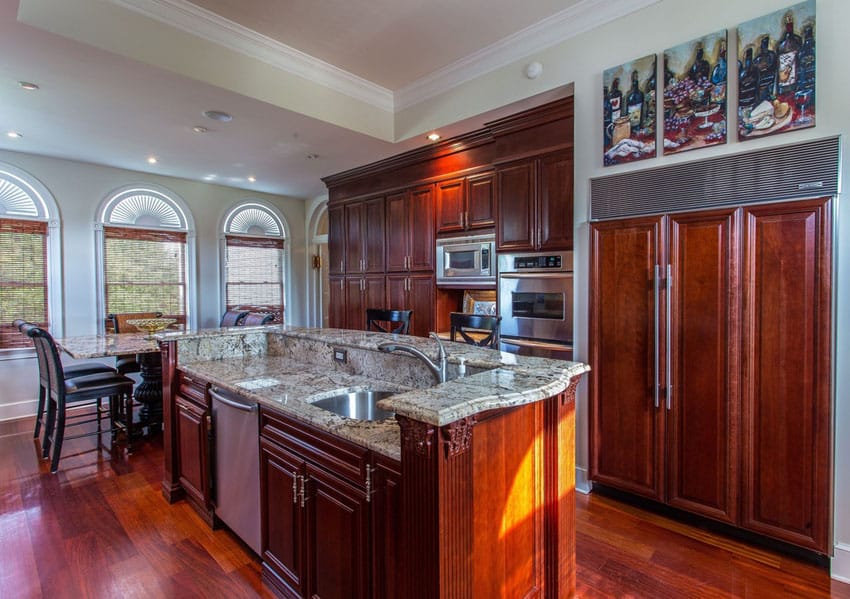 Elegant panel details and neo-classic motifs characterize this all-cherry wood kitchen. The kitchen connects directly to a small dining area with darker wengue-finished wood. You will see that the kitchen maximizes the available wall space and the ceiling height, using most of it as storage space/cabinets, leaving most of the countertop space at the kitchen island and the other side of the kitchen.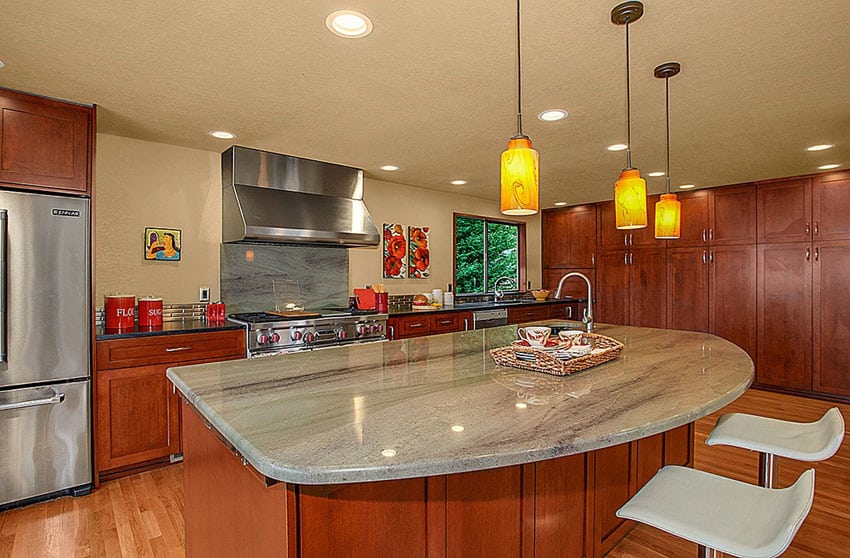 A rather spacious modern kitchen which uses simple paneled kitchen cabinets in solid cherry wood, topped with solid black granite. One side of the kitchen has pantry cabinets with full floor-to-ceiling height, and one wall with just base cabinets and no overhead cabinets, helping make the kitchen look less heavy. There is a large kitchen island in the middle which provides much preparation surface, and is topped with gray soapstone.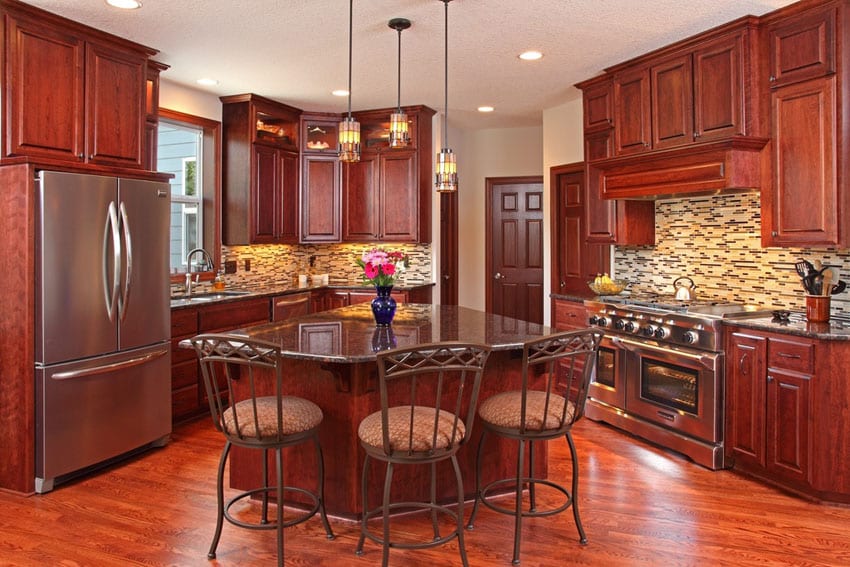 This kitchen space is placed in an odd corner of the room, resulting in a unique kitchen shape/layout. Solid cherry wood planks adorn the floors, while walls were painted in off-white to help tone down the wood color. The kitchen uses elegant paneled doors in solid cherry wood, topped with dark red granite. On its backsplash is yellow and brown mosaic glass tiles, creating pattern and texture to the surface. The kitchen island in the middle has quite an odd shape, as it follows the shape of the room.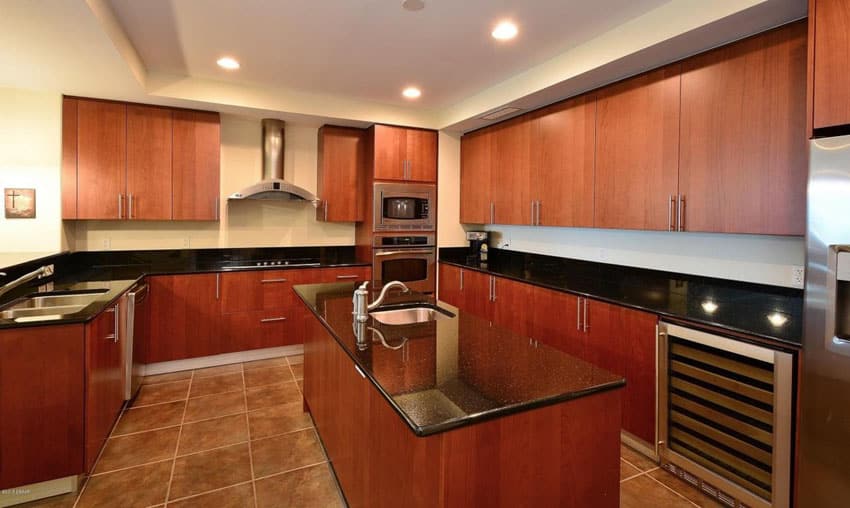 This is a modern kitchen which uses modular kitchen cabinets with clean, strain lines, creating a very polished and elegant feel. The kitchen cabinets were laminated in a light cherry wood finish, topped with black granite. This is combined with modern cabinet/drawer pulls in brushed stainless steel finish, completing the modern look of the kitchen.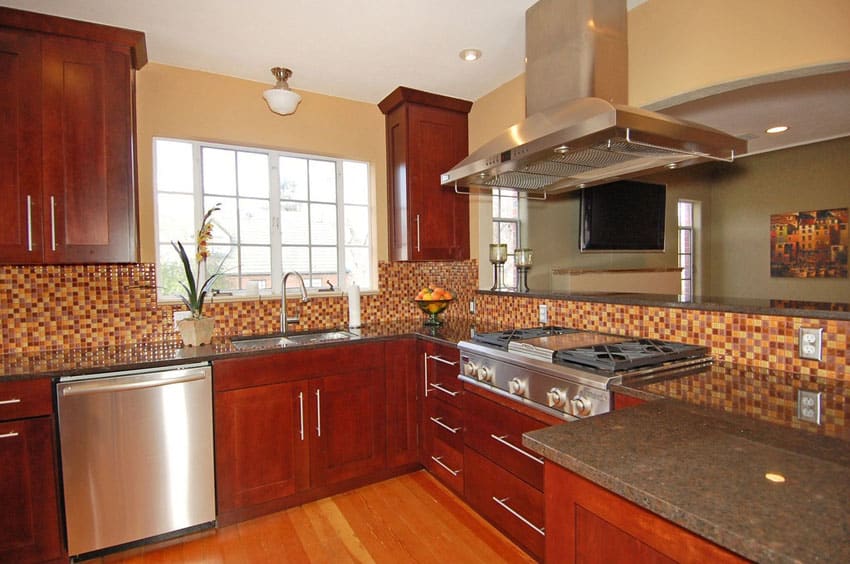 A quaint kitchen which uses dark cherry-wood stained kitchen cabinets with simple panel details, creating a modern look. The base cabinets uses gray granite for he countertop and mosaic tiles in a combination of yellows and reds for the backsplash. These cabinets were placed against golden yellow walls and light cherry wood floors, creating a really warm atmosphere in the kitchen.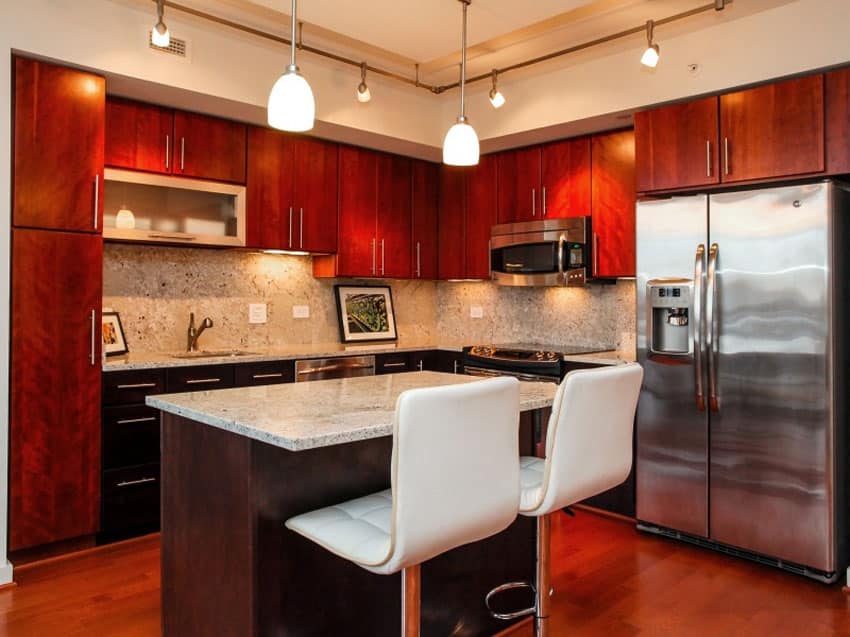 Going for a more polished modern industrial look, this kitchen combines two different wood finishes for its cabinetry. Overhead and full-sizes cabinets were laminated in cherry wood to match the flooring finish, while the base cabinets, including the kitchen island's uses a dark oak wood finish. To help tone down and neutralize the seemingly clashing combination of wood finishes, white granite was used on the countertop and the backsplash, creating a neutral-colored surface in between. Accentuating the kitchen cabinets are brush stainless steel track lights, giving this kitchen an industrial look.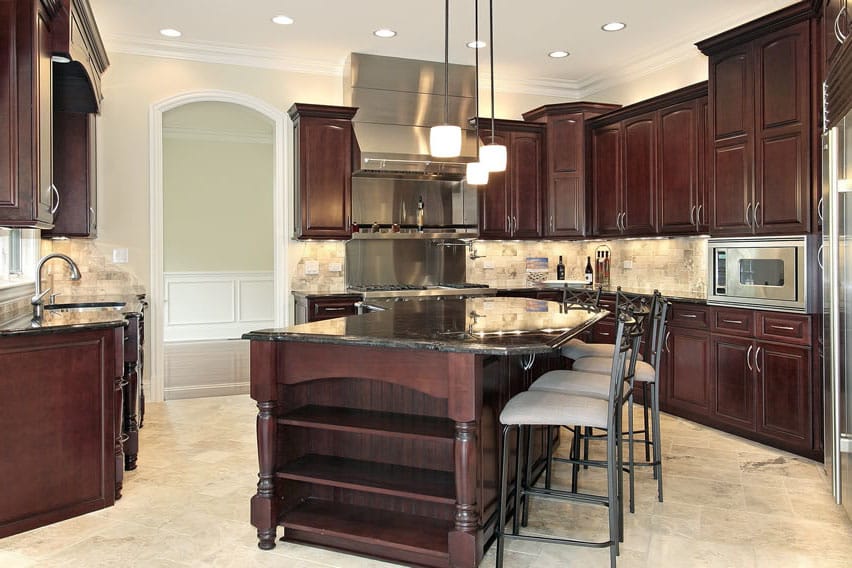 Going for a more elegant and classy look, this kitchen makes use of traditional style kitchen with turned wood details and dark cherry wood finish, topped with black soapstone. The kitchen cabinets is definitely produces a stark contrast placed against the light cream painted walls, cream stones floors and the matching stone backsplash tiles.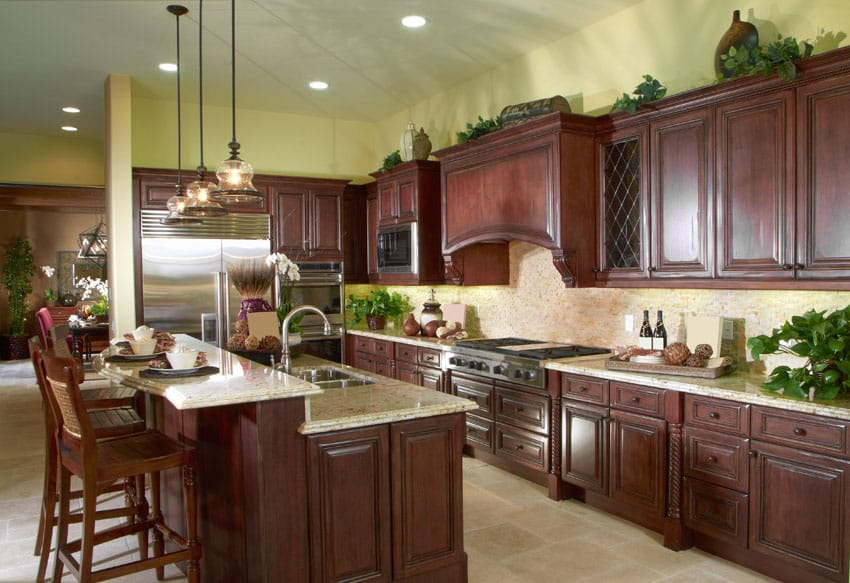 Cherry wood kitchens look amazing with a country-style kitchen design. This kitchen features a country style with more Spanish provincial inspirations, using turned wood details and other Spanish-inspired motifs. The kitchen cabinets are elegantly paneled with matching wood pulls, and finished in a dark cherry wood color, matching the barstool finish. For the countertop, yellow granite was used and the backsplash uses a similarly toned yellow mosaic tiles. The kitchen is placed against light yellow walls and pale oatmeal stone floors, creating a light and warm ambiance to the kitchen.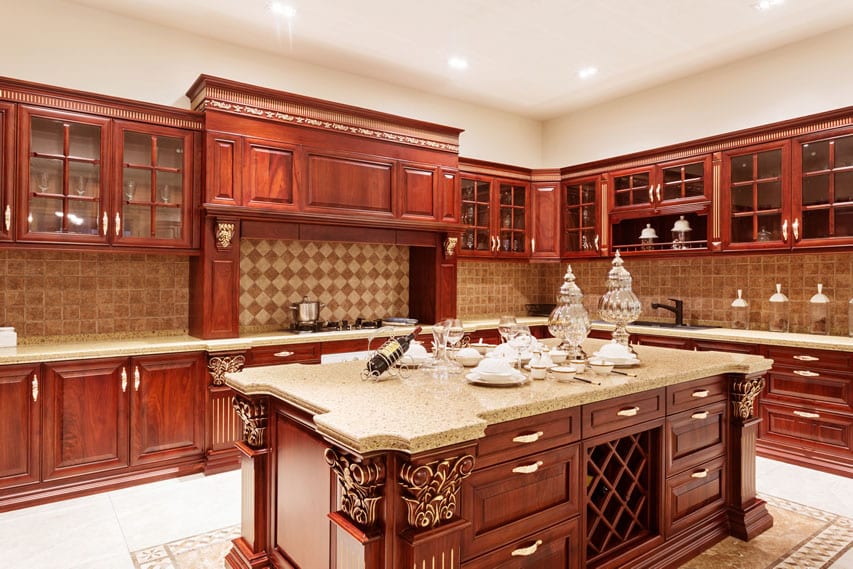 Cherry wood kitchens are often paired with a custom traditional style cabinets that look warm and elegant. These cabinets feature classical motifs which add a touch of gold finish to the carving details, bringing a more elegant and luxurious appeal to the design. To add to the gold detailing are gold finished pulls, which stands out against the perfectly polished cherry wood cabinets. Helping neutralize the red tones of the wood are the cream-colored walls, white floors and the yellow-cream quartz slab used on the countertops.
Attribution:
Related Kitchen Design Galleries You May Like:
Beautiful White Kitchen Designs – Dark Wood Kitchens – 143 Luxury Kitchen Designs – Beautiful Kitchens With Islands –  Traditional Kitchen Designs