Here we share our wood vs faux wood blinds comparison guide including what these materials are, pros and cons, differences, costs, and which blind option is best.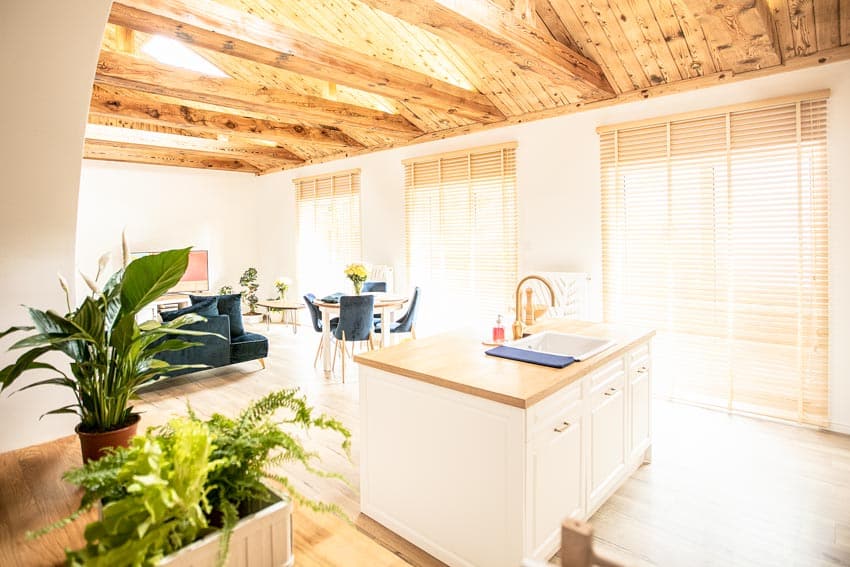 While it can be tough to tell wood blinds from faux wood blinds, they're both a beautiful purchase for your windows. Almost any décor style benefits from the warm, rich look of wood blinds, including country, traditional, modern, western, and whatever your design preferences are.
Wood blinds also complement homes with modern architecture and design. The versatility of natural wood allows for dark or light finishes that can be custom matched to the existing furniture.
And, according to the room and décor where the blinds are being hung, both make a great fit available in almost any color and style. From natural wood tones and whites to solid colors and patterns, wood and faux wood blinds are a smart choice for your windows.
Your choice will depend on the needs of each room and your interior style and décor. Wood blinds add warmth, texture and a natural richness to living rooms, dining rooms, and family rooms.
For those who prefer a modern interior design, faux wood blinds may be the better option. They come in many window blind colors and are easily customized in different finishes and patterns.
Wood blinds and faux wood blinds both provide excellent rood darkening abilities. The slats can be adjusted to close completely, keeping light out or left open a bit for privacy while allowing some light to come through.
Additional factors when comparing faux wood blinds to real wood blinds include the life expectancy of both. Faux wood blinds tend to last 3 to 5 years, and wood blinds are closer to 10 to 12 years, all depending on care, use, and maintenance. This helpful guide will help you decide on wood blinds vs faux wood blinds to find the best one for your home.
What Are Wood Blinds?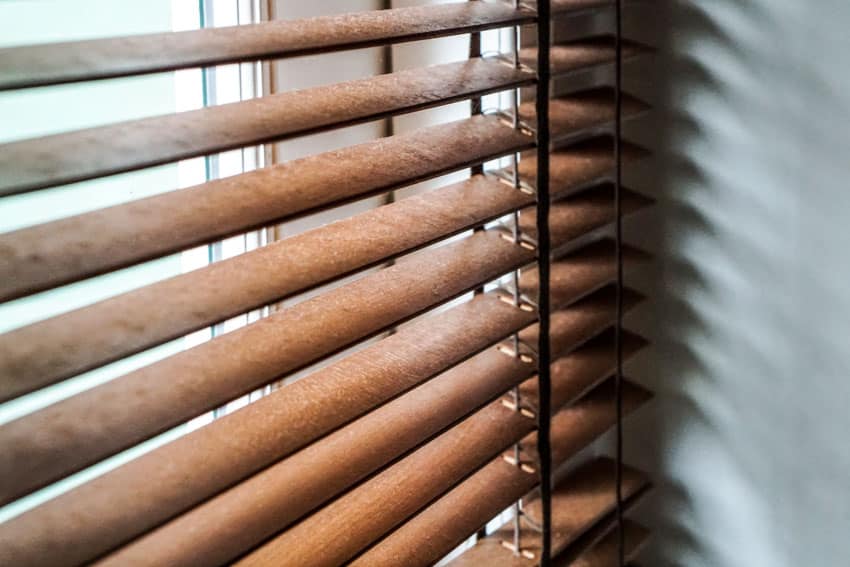 Wood blinds are also known as Venetian blinds and have donned the windows of family homes for many years. The natural wood slats reflect old-world sophistication and quality craftsmanship to enhance your home or office interior.
Wood blinds are commonly made from basswood and American hardwoods such as cherry, walnut, oak, and various other hardwoods. A lesser-known tree used for wood blinds is the Paulownia tree originating in Southeast Asia. These trees are popular around the world for their rapid growth, growing faster than any hardwood tree species, even in poor soil.
Paulownia trees are easy to reforest and are often used to replace trees on land that was heavily cut. The roots of the Paulownia tree grow deep, allowing it to grow where other trees could not, such as on steep hills, areas with strong winds, and shallow soil.
They are fast-growing trees—up to 20 feet in their first year. Wood blinds made from Paulownia wood are extra light and exceptionally strong, making it advantageous for creating wood blind slats. In fact, the wood of the Paulownia tree has the highest strength-to-weight ratio of all other trees.
Real hardwoods result in lightweight window blinds, and with the sturdiness of most all hardwoods, they are better suited for large, wide types of windows. They're also durable, making them a long-lasting investment.
Wood Blinds Pros And Cons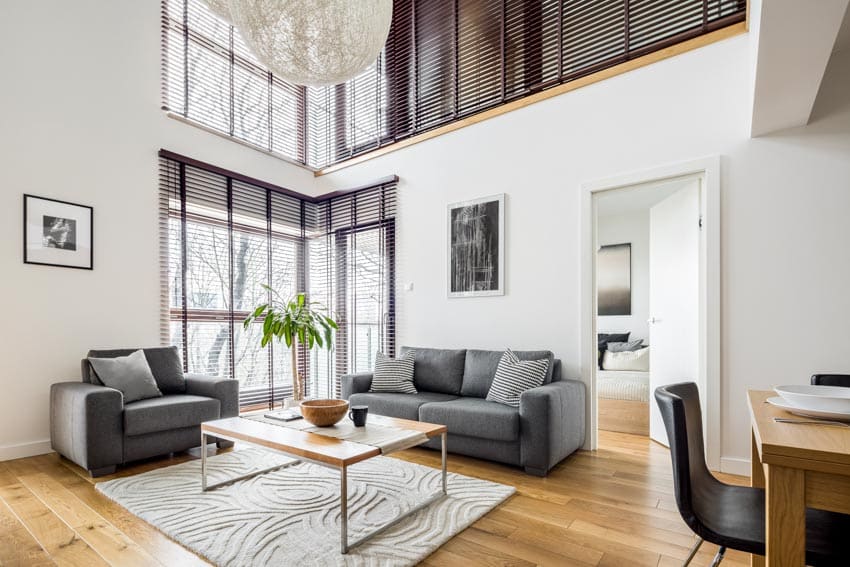 There are many pros, and only a few cons wood blinds offer. For example, blinds made from natural wood, although lighter than faux wood, are thicker and denser, making them a better insulator when closed.
Wood blinds keep cold air out during the winter and air-conditioned air in during the summer. This makes your home more ecologically friendly and reduces utility bills.
Other pros and cons of wood blinds are listed below.
Pros
• Wood blinds create a natural and organic look not found with faux wood
• They won't bow or bend as easily as faux blinds
• Real wood is actually lighter than faux wood
• The lighter weight of wood blinds is easier on lift mechanisms
• The commonly used basswood trees used to make wood blinds are a renewable resource
• Wood blinds can be stained with any wood hue, or colors to match your home décor
• Because wood blinds are lighter, they're easier to operate
• Each slat is removable, making wood blinds easy to clean
Cons
• Wood slats are susceptible to swelling and warping when installed in humid areas of your home, such as the kitchen, laundry room, or bathroom
• High humidity can also cause the slats to crack and sag
• Being exposed to strong sunlight can discolor wood blinds
• Wood blinds aren't flexible like faux wood blinds risking the abuse of children and pets, causing splits and cracks
What Are Faux Wood Blinds?
Faux wood blinds are made to resemble natural wood but contain very little if any actual wood. They often have an embossed wood grain, making them look very close to natural wood.
Most homeowners and their guests cannot tell the difference between wood blinds and faux wood blinds unless they inspect them up close. Faux wood blinds come in a variety of colors, patterns, and finishes and are found in many homes.
They work well with almost any interior decor and are always in style. Homes with matching faux wood blinds are more appealing to potential buyers.
What Are Faux Wood Blinds Made Of?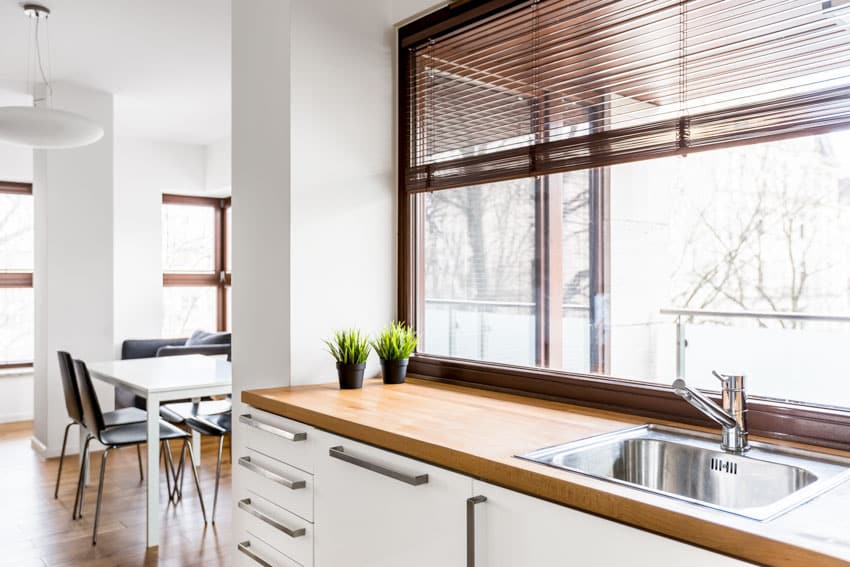 Faux wood blinds are manufactured using materials such as composite, PVC, vinyl, or foam wood and are finished with a surface that resembles real wood. Blinds made with composite wood usually contain a real wood core for increased strength and are coated with a protective polymer.
The finished slats can be painted solid colors or imprinted with a wood grain image. Additional images can be used to create patterns and designs. For a more realistic look, the slats can be finished with an embossed texture mimicking wood grain.
Faux Wood Blinds Pros And Cons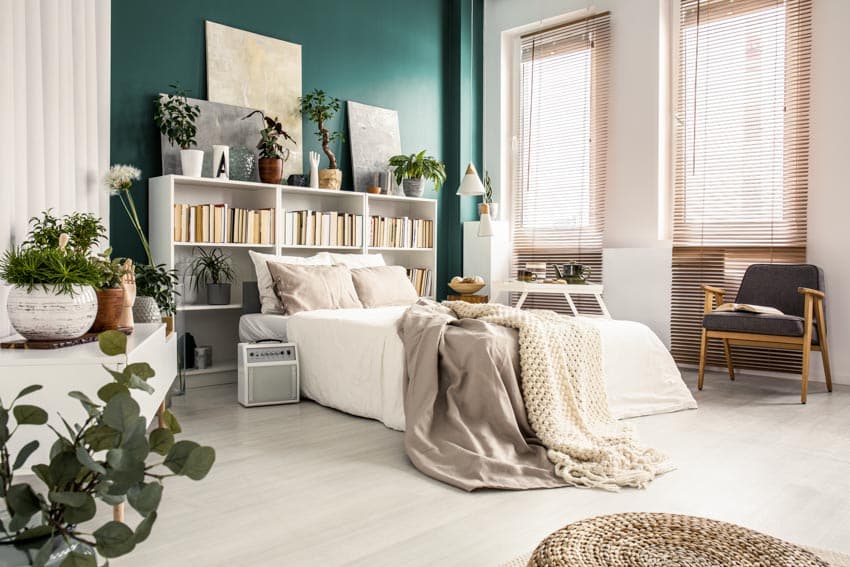 Faux wood blinds are durable and resistant to damage from moisture, humidity, and intense sunlight. Their sturdiness makes them a good choice for rooms with a lot of use and traffic.
Cleaning faux wood blinds is easy using a feather duster or soft cloth and is resilient against damage from household cleaners. Below are additional pros and cons of faux wood blinds.
Pros
• Faux wood blinds are less prone to cracking, sagging, and discoloration
• They can be painted to match your room's color scheme and easily repainted when your décor changes
• Faux wood is not easily affected by extreme temperatures
• The slats can be removed for cleaning or painting
• Cost an average of 15% less than real wood blinds
• The materials used to make faux wood blinds allow them to be more flexible than wood, which in turn protects against warping
• Great for rooms with heavy use
• They hold up well in rooms with high humidity like laundry rooms, kitchens, and bathrooms. Read more about types of bathroom blinds here

Cons
• Faux wood blinds still hold a stigma for some homeowners
• They can be less attractive than natural wood
• The materials used to make faux wood blinds leave grooves in the surface, making them more challenging to clean than natural wood
• Faux wood blinds are much heavier than real wood blinds
Difference Between Faux Wood And Wood Blinds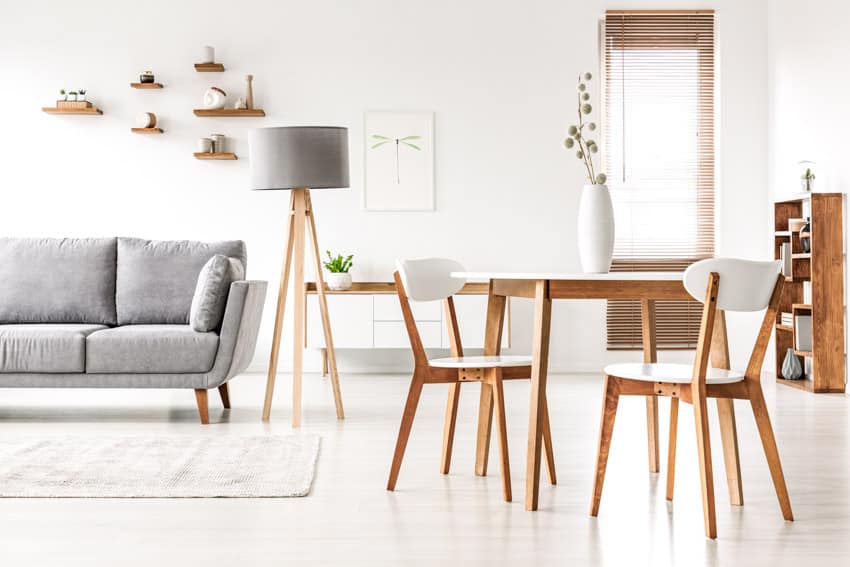 While faux wood blinds look like natural wood, real wood blinds hold that fine furniture look with unique grain patterns and texture. Real wood blinds have a patina that can't be replicated and when cleaning wood blinds, harsh chemicals cannot be used.
Although faux wood blinds can be painted any color, there is quite an array of colored wood stains to match and interior design.
Both faux wood blinds and wood blinds, when closed, provide a barrier against outdoor air temperatures but wood blinds provide a much higher level of insulation, keeping utility bills lower.
Wood blinds need care cleaning with products made for wood products to avoid damage, staining, or warping but faux wood blinds can hold up to most all household cleaners.
Real wood blinds come in several slat sizes, 1 inch, 2 inches, and 2 ½ inches. Larger slats provide a more spacious view when open and smaller slats give more privacy even when open. Slat sizes also allow homeowners to better fit the blinds for their windows.
Larger slats are best for bigger and wider windows, and smaller slats are best for narrow or small windows. Faux wood blinds typically come in only two sizes, 2 inches, and 2 ½ inches.
Faux wood blinds can measure up to 102 inches wide while wood blinds can only be made up to 94 inches wide, making faux wood blinds better for wider and larger windows.
Faux Wood Vs Wooden Blinds Cost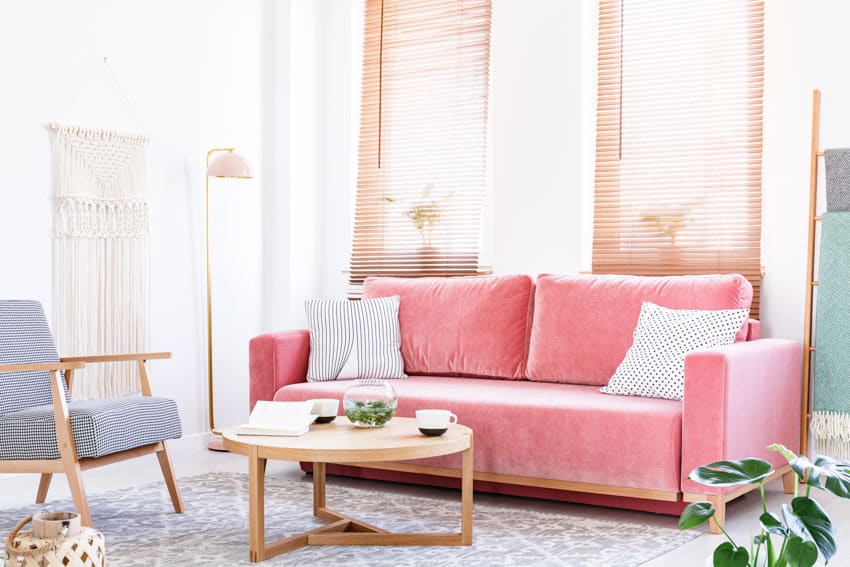 Faux wood blinds run an average of 15 to 20% less expensive than wooden blinds, which for some homeowners may not be enough savings to forego natural wood. In comparison, faux wood blinds that average $30 – $125 would cost an average of $40 to $200 when choosing real wood.
When factoring in the more expensive price of real wood blinds, homeowners may consider that wood blinds will last longer than faux wood, making the extra cost actually worth spending. See the chart below for average comparisons.
| | | |
| --- | --- | --- |
| Slat Size/Blind Width | Faux Wood Blinds | Real Wood Blinds |
| 2 inches/26 inches | $29.57 | $34.67 |
| 2 inches/30 inches | $37.55 | $47.99 |
| 2 inches/42 inches | $61.16 | $76.91 |
| | | |
Are Wood Or Faux Wood Blinds Better?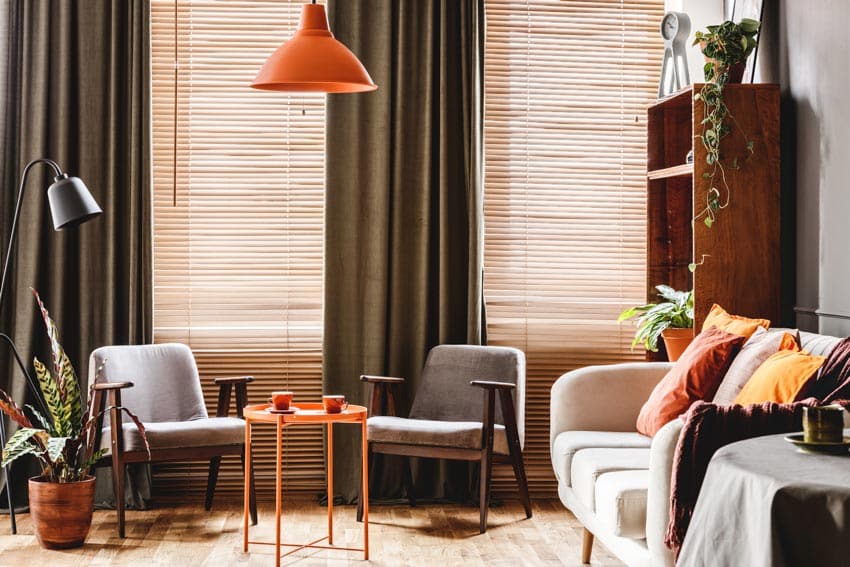 When assessing wood vs faux wood blinds, both choices hold their own benefits for homeowners and decorators according to their use and placement. Stains and color choices are more versatile, with faux wood blinds offering endless options while wood blinds are limited to stain colors available.
However, wood types of window blinds can be painted, but you lose the beauty of the wood grain and texture. High traffic areas of your home are most fitted for faux wood blinds that resist the possible damages from a runaway soccer ball or air darts the kids were playing with or other activities.
If your home is located on or near the beach or a lake, faux wood blinds are going to last longer due to their ability to combat the effects of moisture exposure. Real wood blinds can also be used in humid areas, but only if they're properly oiled and taken care of, and the maintenance will be ongoing to keep them from swelling and then warping or cracking.
Faux wood blinds are made with heavier and thicker slats that will pile up at the top, making a higher stack. This prevents enough light from outside for some rooms and also makes the blinds much heavier.
For large and wide windows, faux blinds would operate better if the blinds were divided into two or three sets instead of one large blind. For deco purposes, both faux wood blinds and real wood blinds come available with decorative fabric tapes to enhance a room's design.
Given the heavier weight of faux wood blind slats, they have more "ladders," which are the cords the slats sit on. The ladders are closer together on faux wood blinds than real wood blinds, which may deter from the aesthetics of the blinds. And the extra weight of faux wood may cause cords to break, which can be difficult to replace.
Wood blinds do possess an authentic appeal and offer the natural look of wood. Faux wood blinds that are made well can be deceivingly similar to wood but will show their non-wood origins when inspected up close.
Even though the name faux wood conjures ideas of an inferior blind, it can actually be a superior product versus other types of blinds. Choosing between faux wood blinds and wood blinds is more of a personal choice, and there are numerous options; colors, hardware, stain hue, sizes, and style.
Keep in mind the location and décor where you plan on hanging your blinds and armed with the information in this guide, you're ready to make the best decision for your home.
See more related content in our article about the best alternatives to blinds on this page.