Here's our guide on how to clean an outdoor rug including the different steps, cleaning products, ways to eliminate mold & mildew, and the best outdoor rug storage tips.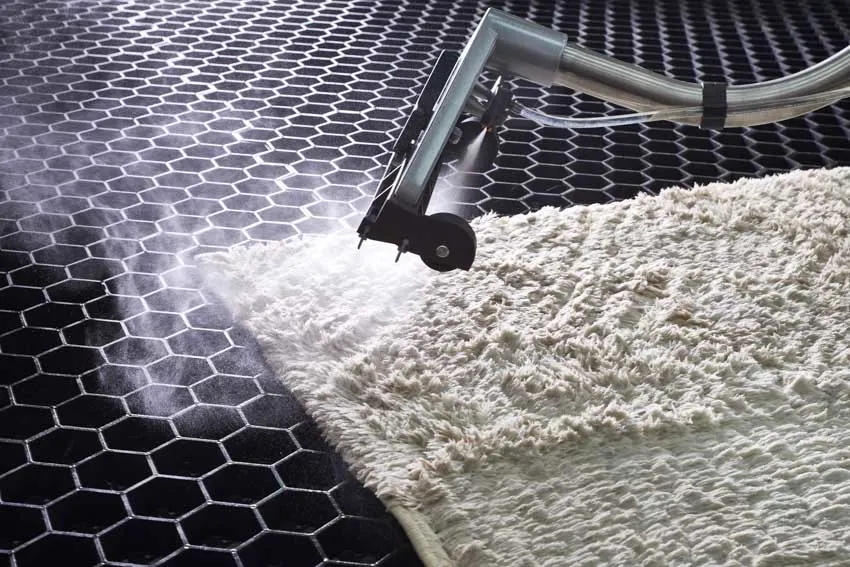 When preparing for a backyard party, dirt and mud from shoes or dust, and when mixed with the weather, may make your outdoor living area appear less-than-inviting over time. Outdoor rugs are designed to withstand the weather, dry rapidly, resist mold and mildew, prevent fading, and are long-lasting.
Although most outdoor carpets are mold and mildew resistant, the dirt and moisture that collects on them may encourage the growth of bothersome fungi.
The good news is that maintaining the appearance of your outdoor rug is straightforward. Outdoor rugs are the simplest to clean since they are synthetic materials that can withstand a lot of dirt, wetness, and sunlight.
Steps to Clean an Outdoor Rug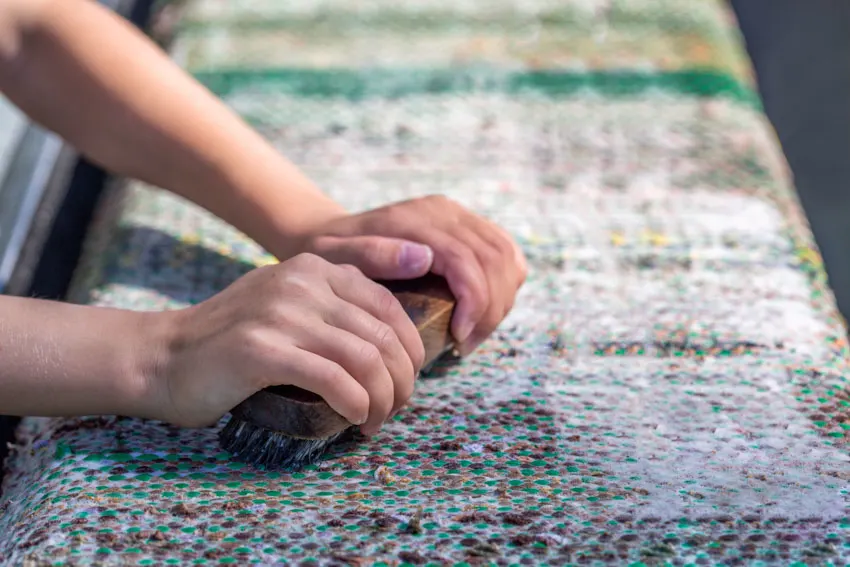 Below are the cleaning instructions for an outdoor rug:
• Get rid of any loose dirt by shaking off all the particles from your rug. Hang your rug over a railing, fence, or clothesline if it's too big to shake by itself. Then, using a broomstick or another sturdy object, whack your outdoor rug until no more debris flows from the rug strands.
• Get your cleaning solution ready. In an empty spray container, combine 2 ounces (for smaller rug) or 6 ounces (for larger rug) of the cleaner with cups of water.
• Rinse the rug nicely. It is best to hose off the rug on a slanted surface, such as on the outdoor stairs, to drain the extra water. Rinse it while it is hanging outside. You can hang it on a patio chair, railing, or fence, among others.
• Spray your solution in tiny portions on the rug and lay it flat on your patio, deck, or other hard surfaces. Scrub carefully and only clean the afflicted area if you do spot cleaning.
• Allow it to rest for a few minutes before rinsing piece by section. Allow the cleaner to rest for 5 minutes on each part, but make sure it doesn't dry on the surface. After you've cleansed each part, rinse it.
• Repeat the rinsing process. Rinse the rug one more time and lay it flat or hang it to dry.
• Dry your rug outdoors in the sun. Flip it frequently to ensure that each side is thoroughly dry.
To minimize mold and mildew formation, make sure the rug is thoroughly dry on all sides.
Do Porch Rugs Get Moldy?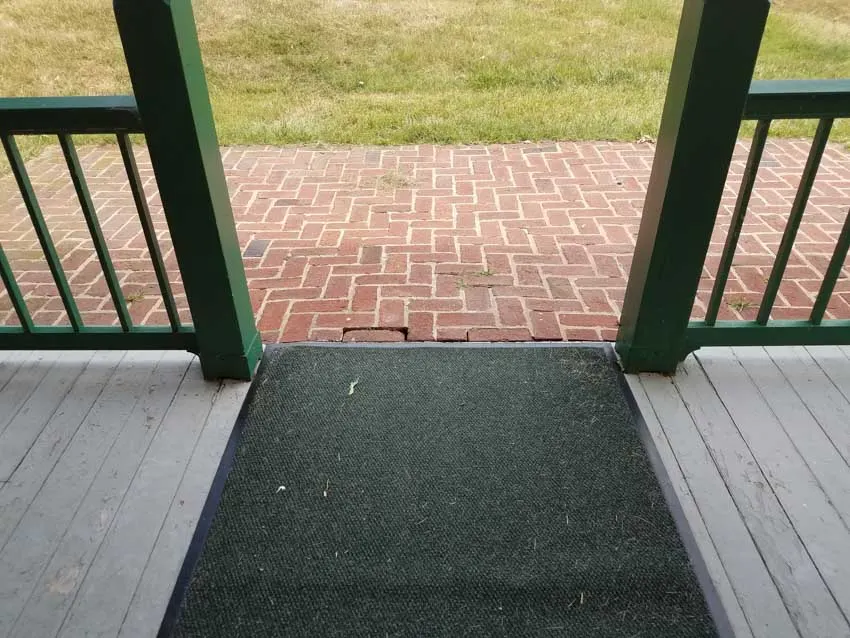 Outdoor rugs are often weather-resistant fabrics and from synthetic materials to provide long-term durability, support, and flexibility. But they will sometimes get wet, whether from rain or humidity. If your outdoor rug gets wet, it will likely mildew, causing mold growth. Moist surroundings are ideal for mold and mildew to thrive.
Mildew may wreak havoc on your outdoor rugs. If you observe circular stains of brown, green, or black among the threads, or if you feel a strong, musty odor, your outdoor rugs have mold growing on them.
Mold may eat away at your rug's fibers if left untreated, causing it to break down and disintegrate over time. It is also harmful to dogs, children, and people allergic to mold.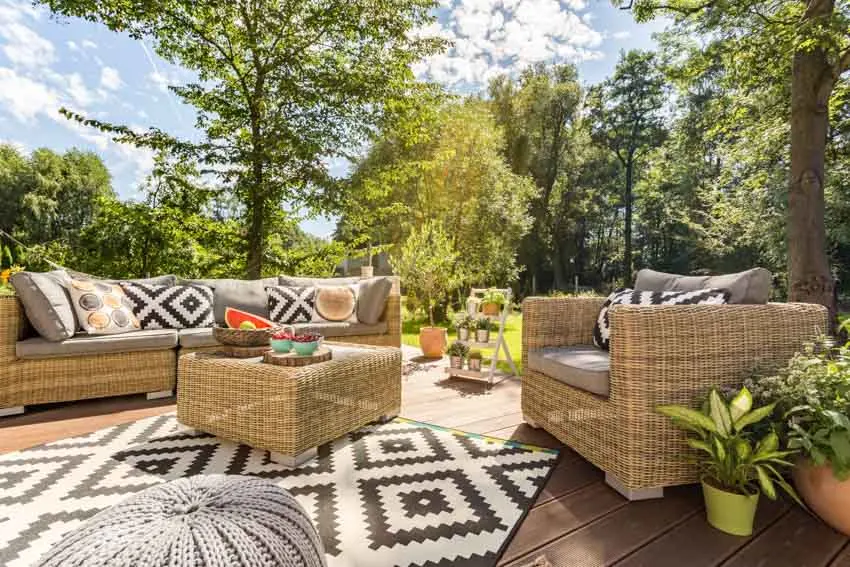 If you suspect your outdoor rug has undergone water exposure, make sure it is entirely dry and not left wet for an extended period. To prevent mold from growing on your rug, keep it as dry as possible. Fold the rug and store it inside, or properly dry it once the weather is sunny.
Cleaning outdoor types of rugs with a bleaching chemical might also help prevent mold growth. However, before using any bleaching chemical, be sure the material you are working with is suitable.
When you're not using your outside space or if you're anticipating snow or a thunderstorm, we also suggest bringing your rug inside. Roll it up carefully and put it somewhere dry in your house.
How to Clean Deck Carpets with Mildew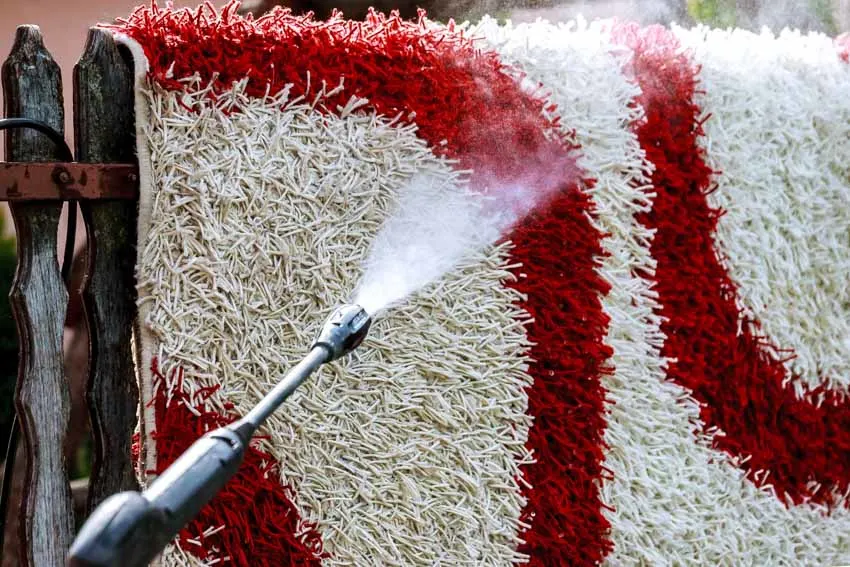 Outdoor rugs are typically resistant to moss, mold, and mildew. However, if you live in a humid location, you should inspect your rug frequently to ensure that nothing is developing. If your rug has moss, mold, or mildew, you can remove it using bleach or other natural cleansers.
Using Bleach to Remove Stains
• Combine a little bit of bleach with a small amount of water. Although most synthetic carpets are bleach-safe, we suggest testing the combination first on a corner of the rug.
• After that, spray the mixture on your rug with a spray bottle.
• Allow it to remain for a few minutes before thoroughly rinsing the rug with a hose.
• We advocate doing this on cement since bleach may damage plants and stain wood.
Using a Natural Cleaner
Baking soda and vinegar are natural cleaning solutions that can remove moss, mildew, and mold.
• Over dry outdoor rug, evenly sprinkle baking soda.
• Spray the mixture on your rug with a spray bottle.
• Allow the vinegar to stay for a few minutes after spraying.
• Then use a hose to rinse the rug thoroughly. Before allowing it to dry, double-check that all solutions are gone.
• Dry it entirely in the sun after rinsing. Baking soda and vinegar kill moss and mildew, but they also act as a natural deodorizer, making them ideal for carpets in areas with dogs or high foot traffic.
Can You Pressure Wash an Outdoor Area Rug?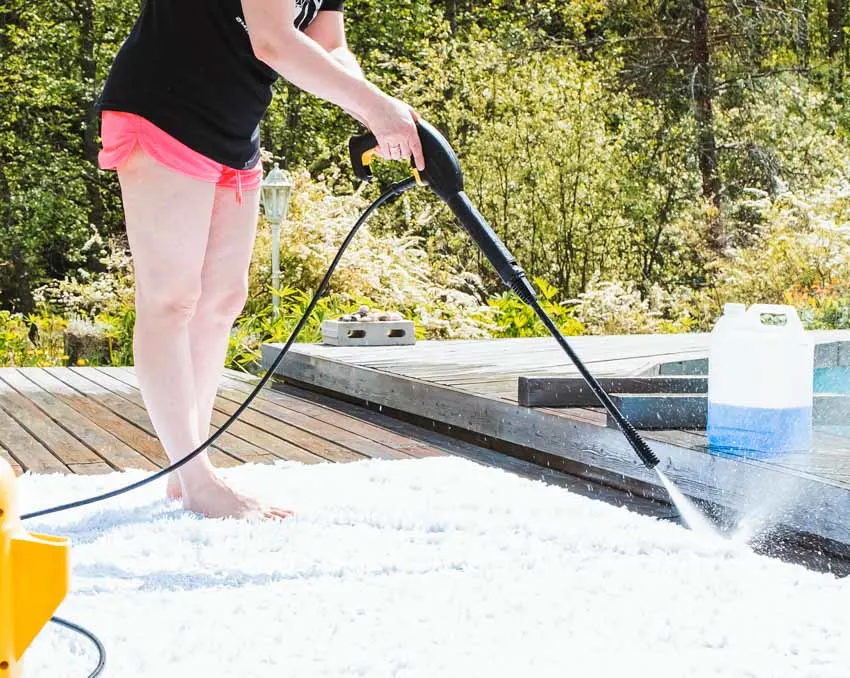 Yes, you can pressure wash an outdoor rug, and the tip you choose is the most critical consideration. Using a low-pressure tip when washing a rug is crucial since a high-pressure stream can harm the rug rather than clean it.
Begin by using a lower-powered tip with a broader spray pattern. To avoid hurting the rug straight away, don't hold the wand tip too near at first. Instead, start from a distance and work your way closer. When cleaning your carpeting, avoid using hot water.
Adding a little detergent to your pressure washer basin will help clean the rug while loosening some dirt and grime. You may use the detergent option on your pressure washer or add it to a bucket and scrub the soap into your rug with a brush.
It is essential to use care while cleaning your rug or carpet. Choosing a spot for your rug that is relatively clean, like a well-drained patio or driveway, is ideal. Check to see whether the rug can be laid flat on the ground.
Can Alfresco Mats Be Left in the Rain?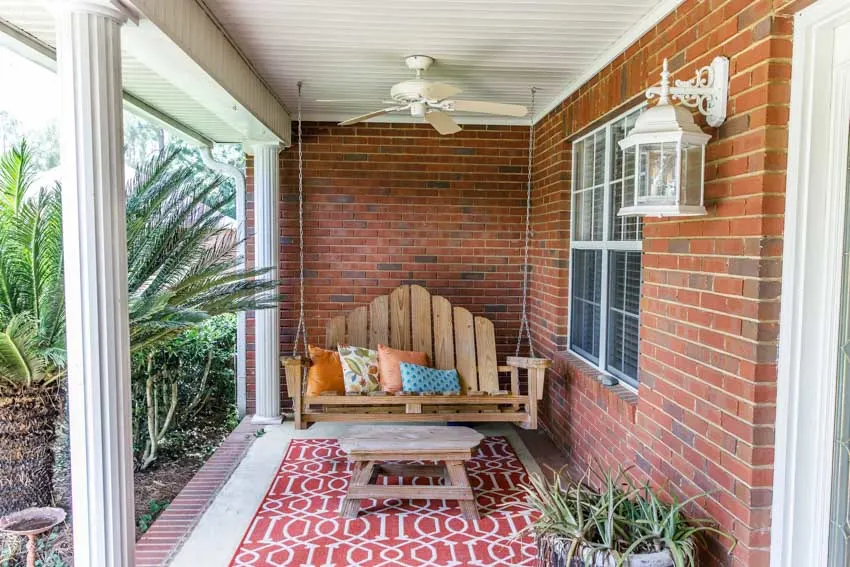 Outdoor rugs are supposed to be functional as well as fashionable. They are made to stay all year outdoors and can endure the natural elements such as sun, rain, and snow.
So, just because you forgot to store your outdoor rug this year does not mean you'll have to ask Santa for a new one next year. Whatever the case may be, an outdoor rug must be able to withstand the weather to survive the rain.
Although not every kind of rug can handle a considerable quantity of condensation, rugs constructed of polypropylene, recycled PET, polyester, nylon, or any combination of these four materials will be tough, resilient, and survive for years. Additionally, any of these can be considered as the best material for outdoor rugs.
If your rug becomes too wet to handle, hang it to dry in bright sunshine to guarantee moisture removal. If hanging your rug to dry isn't an option, make sure you turn it over many times throughout the drying process; otherwise, you could have more than a damp rug on your hands.
How to Store Entryway Rugs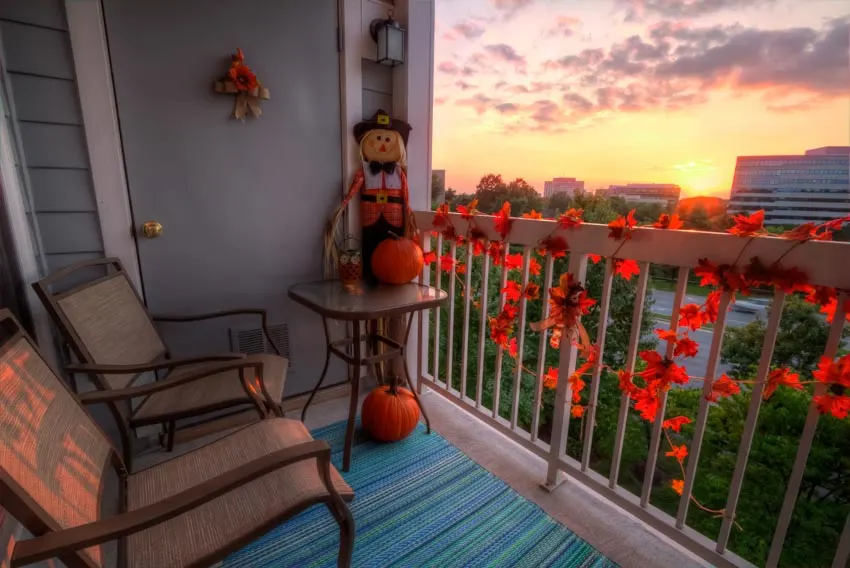 It is natural to assume that rugs can stay outside regardless of the temperature, weather, or season because they are for outdoor use. However, just as the pool closes after Labor Day and the different types of outdoor furniture are packed away once the fall temperatures get too cold, you should also bring your outdoor rug inside.
Leaving your outdoor rug outside during the high winter temperatures and weather conditions will not help to extend its life. Mold and mildew will almost surely develop if exposed to moisture beneath heaps of snow for an extended period, not to mention harm from cold temperatures.
Like any other part of your house, your outdoor rug is an investment, so plan on cleaning and storing it before the temps drop below freezing.
Before storage, a thorough cleaning is ideal. Vacuum the carpeting well beforehand. If you are not cautious, vacuuming may harm a rug, and particular carpets are sensitive to the beater bar. A leaf blower is a great way to get rid of dirt and debris and can frequently be used as a replacement for cleaning an outdoor rug.
A cool, dry location in the home is ideal for storing a rug. Avoid placing the rug in direct sunlight since this may be harmful to the rug. While the rug is in storage, we suggest covering it with a protective cloth to further protect it from moisture, dust, and vermin.
Any outdoor area becomes more appealing and homely with the addition of an outdoor rug. You and your outdoor rug will spend many joyful seasons together, breathing fresh air with these guidelines in hand.
See more related content in our article about outdoor rug sizes on this page.