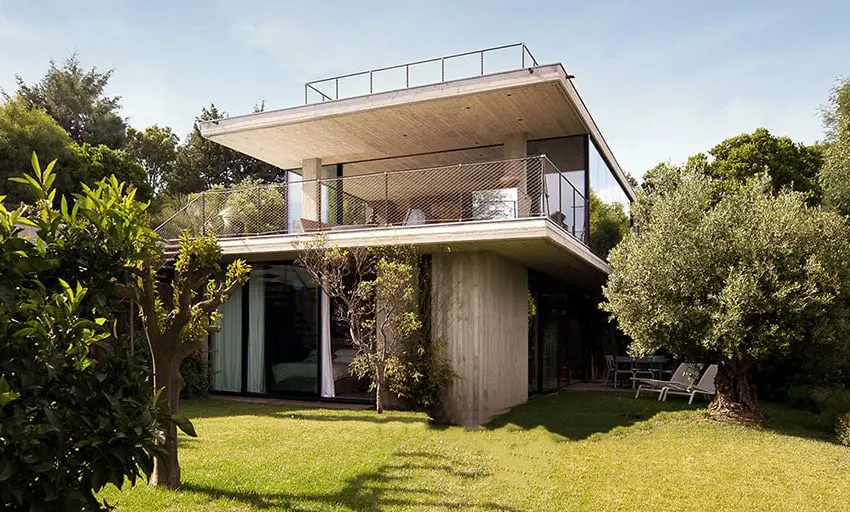 This modern concrete house design features stunning architectural construction with beautiful garden views from 4 rooftop terraces. The main home offers two bedrooms with an upstairs master suite. Some of the highlights of this home are the impressive modern concrete and glass design, elevated vanishing edge swimming pool and rainfall shower with amazing garden views.
The house benefits from large windows providing ample natural light as well as a modern kitchen with attached dining room. A stylish living room with a lush garden view provide peace and tranquility while an outdoor deck offers plenty of outdoor living opportunities. A secret gen of this property is the backyard container house with it large doors that open to the backyard gardens.
Modern Concrete Home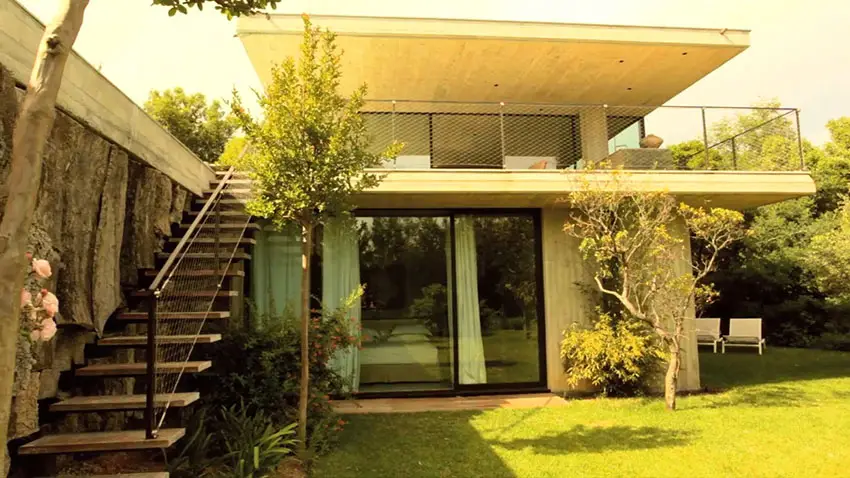 From this perspective visitors can take the outdoor staircase up to the infinity pool with outdoor patio or enter to the downstairs bedroom. A large lawn area offers plenty of room for lounging and appreciating the garden with it fragrances of orange trees, rosemary and thyme.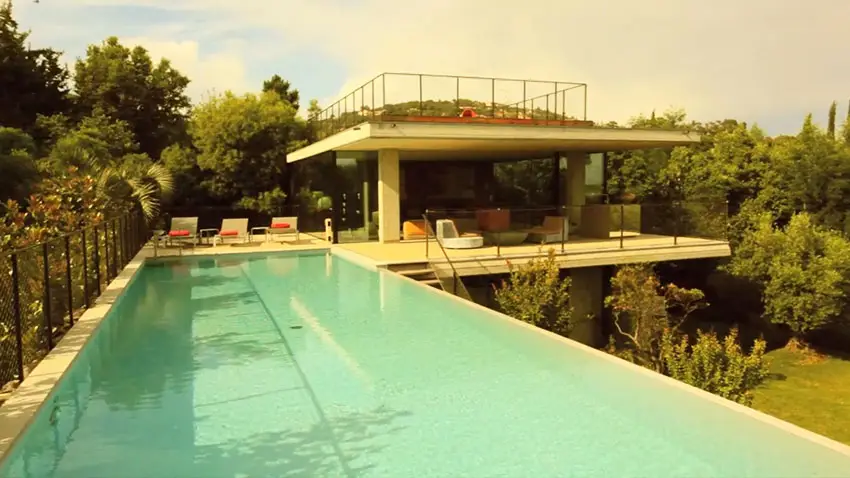 The second story rectangular swimming pool looks stunning with its elevated views of the surrounding garden and distant ocean views. A wraparound concrete patio makes it a great spot for entertaining guests or relaxing with family and friends. A rooftop deck is ideal for those who want to soak in every bit of sunshine and get the highest vantage point for seeing the beautiful countryside.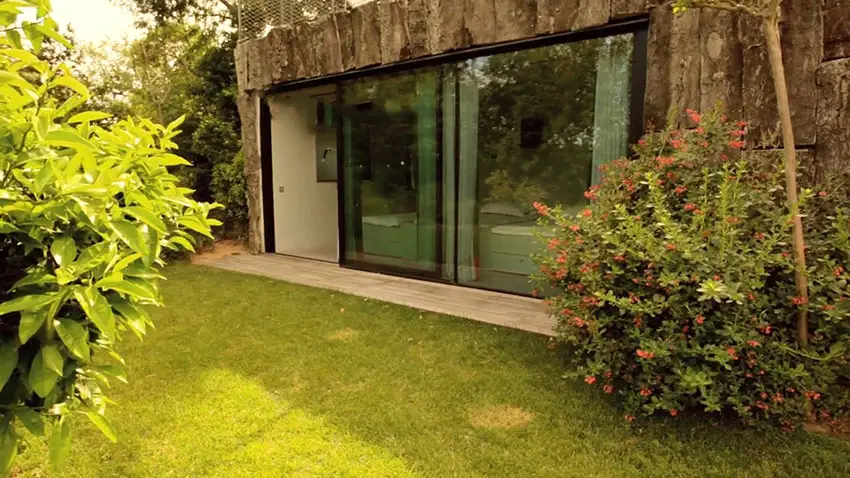 With large sliding glass doors and a rough concrete exterior this modern home looks visually appealing and an interesting contrast to the landscaped gardens.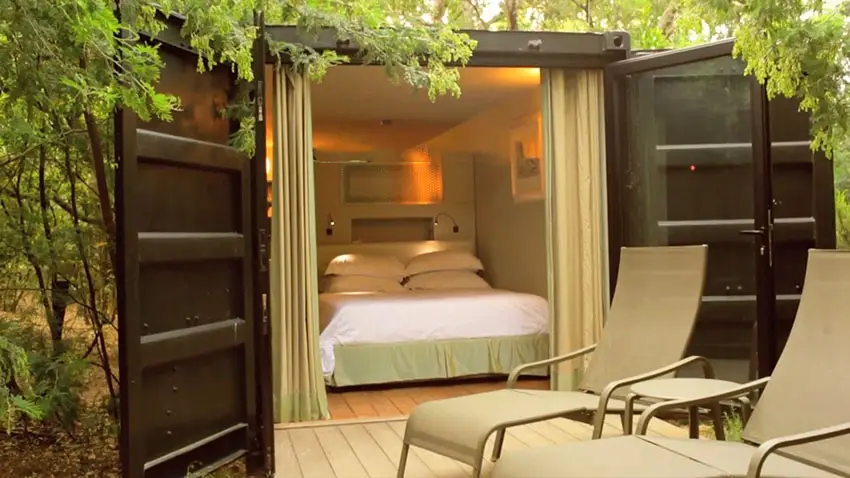 A container house setup up as a luxury bedroom looks amazing and is attached to a composite deck.
The perfect mix of in and outdoor living, the doors of the renovated shipping container house can be opened to maximize the bedroom's views for a visually stunning way to eat breakfast in bed or just relax.
Another cool feature is the large glass door that can be closed to facilitate the outdoor views without compromising comfort.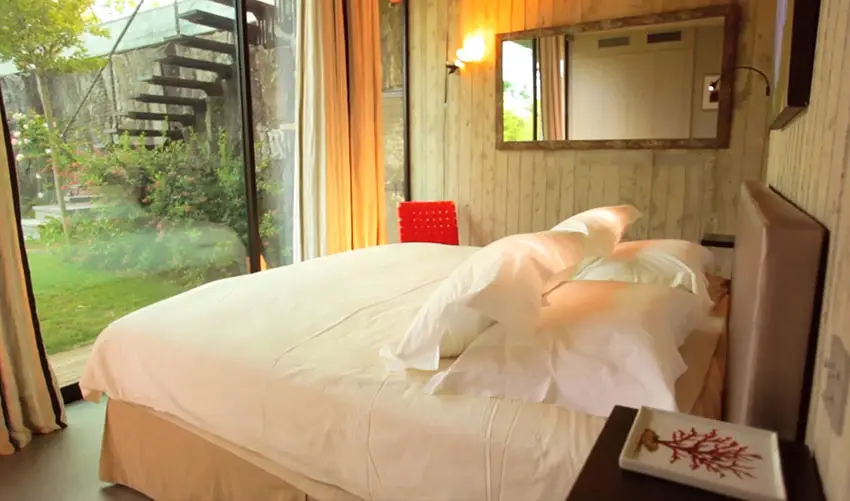 A first floor bedroom keeps things simple with a minimalist design, and sliding door to appreciate the home's manicured grounds.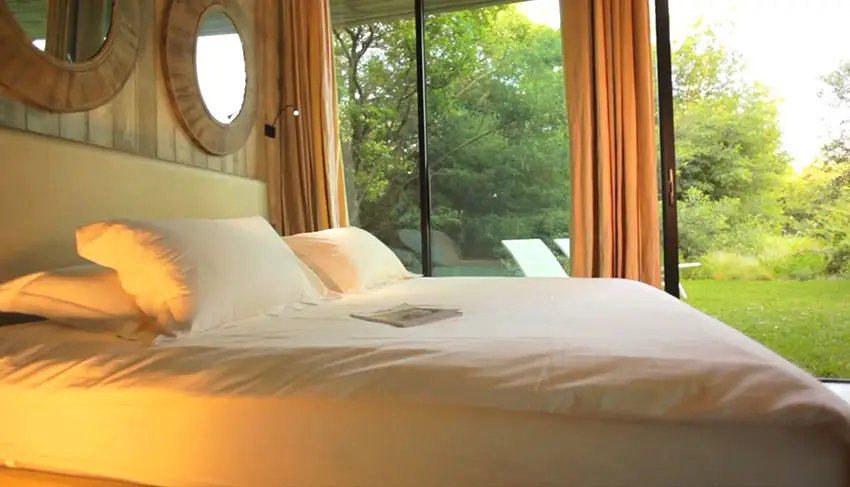 Another view of the modern guest bedroom with its backyard views.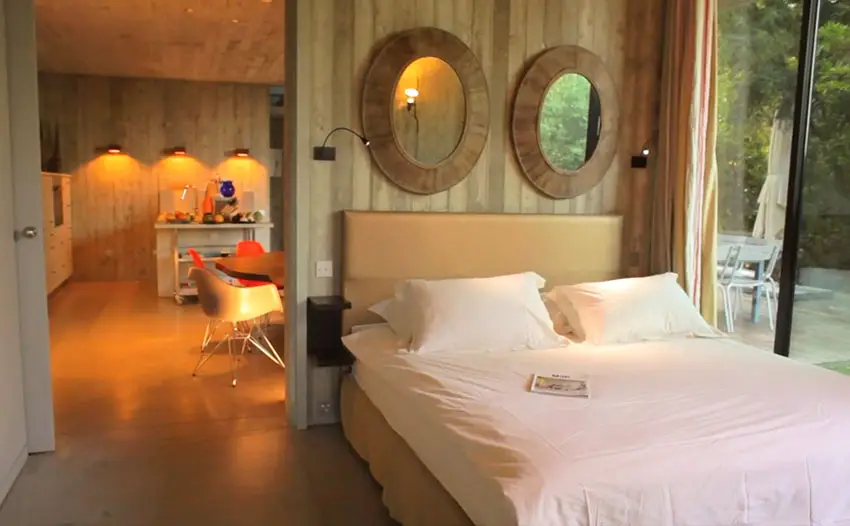 From the bedroom one can easily enter the nearby modern kitchen with its attached dining area.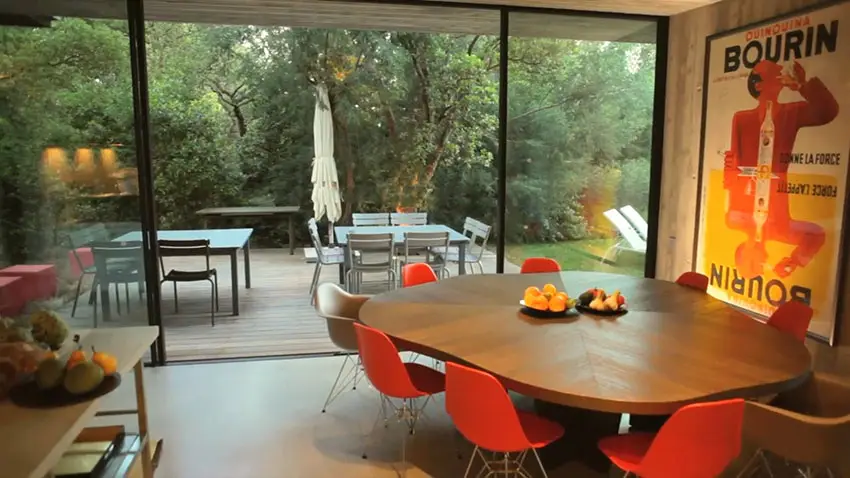 The modern dining area keeps things bright and cheery with colorful art and orange chairs. An irregularly shaped modern dining table seats up to nine people at a time while additional seating is available in the backyard deck.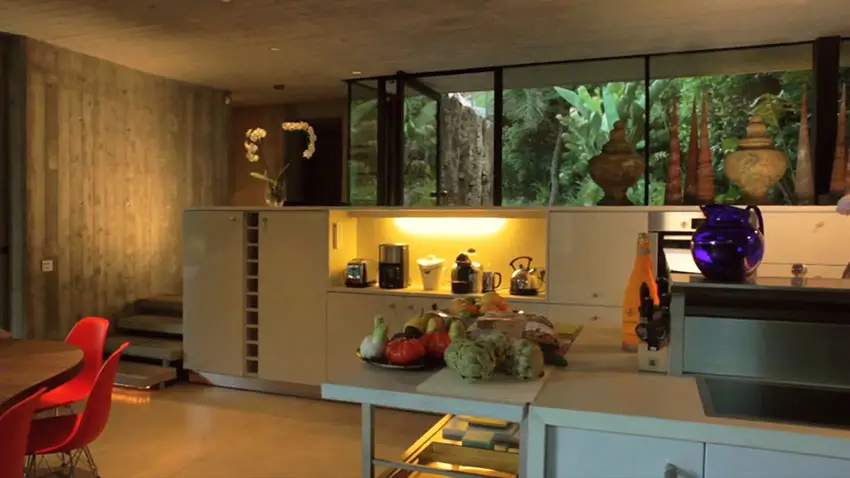 The modern kitchen features glossy white cabinetry with a low profile to maximize views through the surrounding windows. Up several steps from the kitchen is the front entry to the home .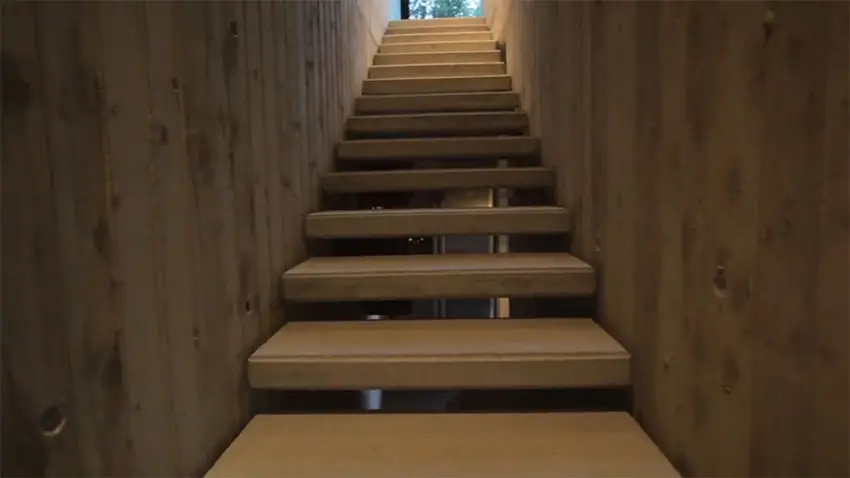 With minimalist modern design style bare concrete steps lead up to the second floor landing.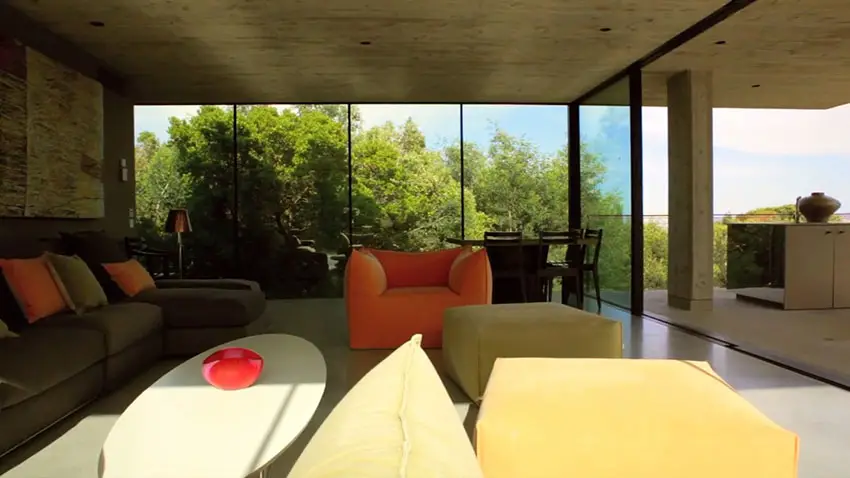 Once on the second floor visitors enter the second story living room that opens to the patio with equipped with an outdoor kitchen.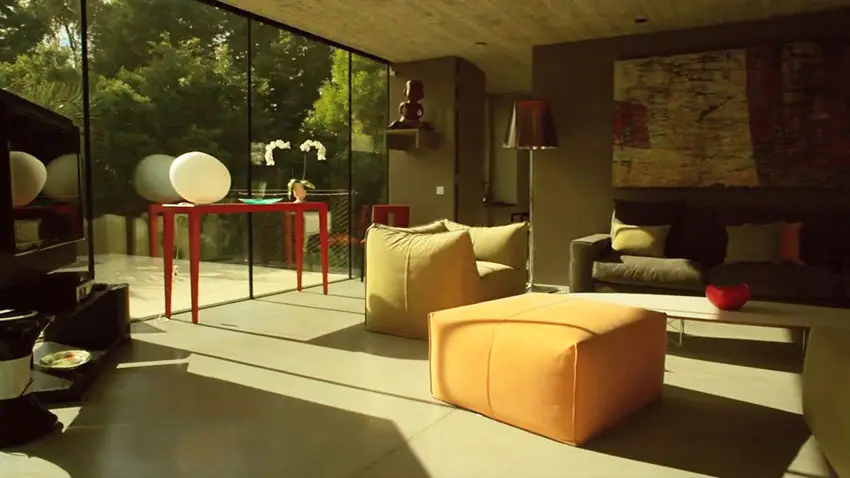 The elegant living room with modern finishes and furniture make a big statement with pops of color and commanding window views. High end art pieces and comfortable furnishings makes this an excellent place to hang out and socialize.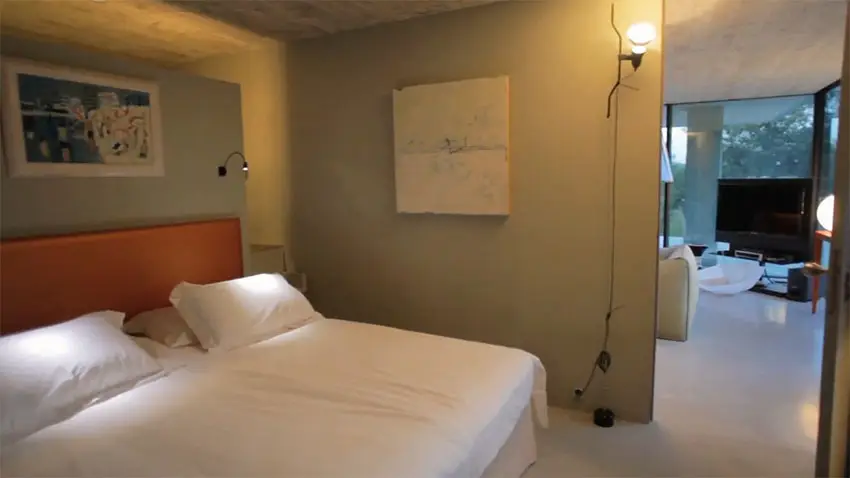 The minimalist master suite bedroom is situated off the main upstairs living room.
The bedroom has a small writing desk with window views and continues the theme of concrete and glass construction.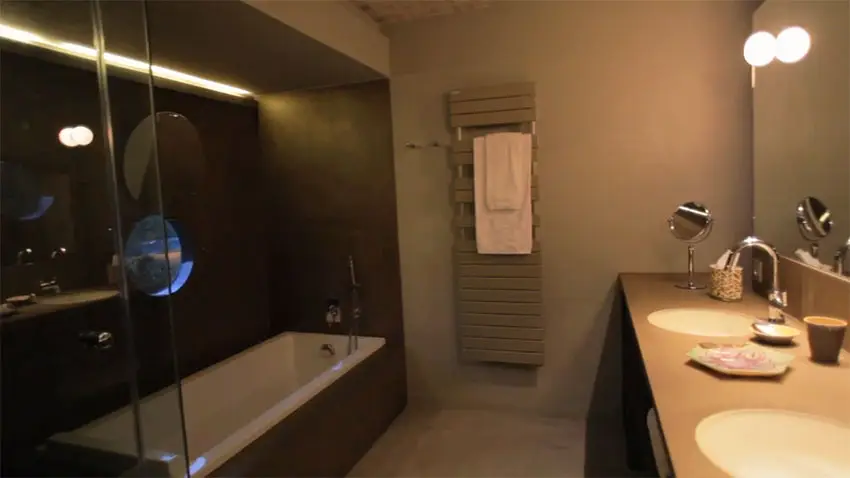 The modern master suite bathroom is well equipped with bathtub and a dual sink vanity.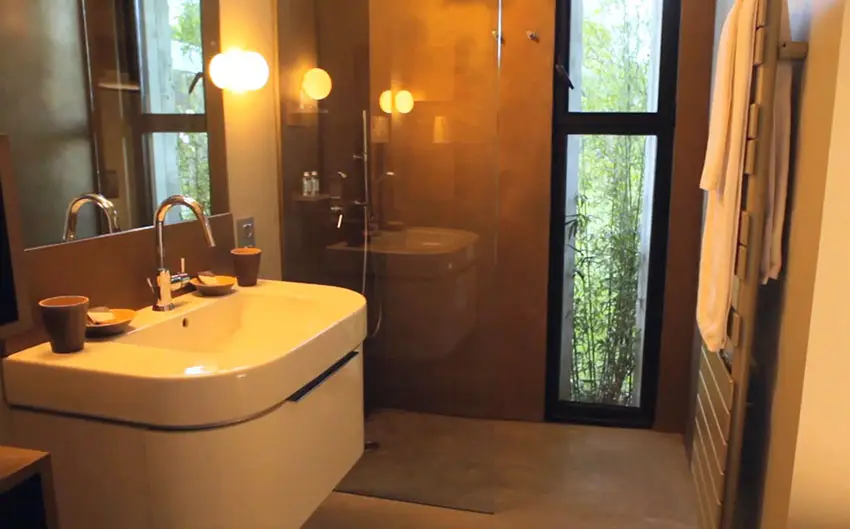 An alternate view of the bathroom with modern finishes and window views.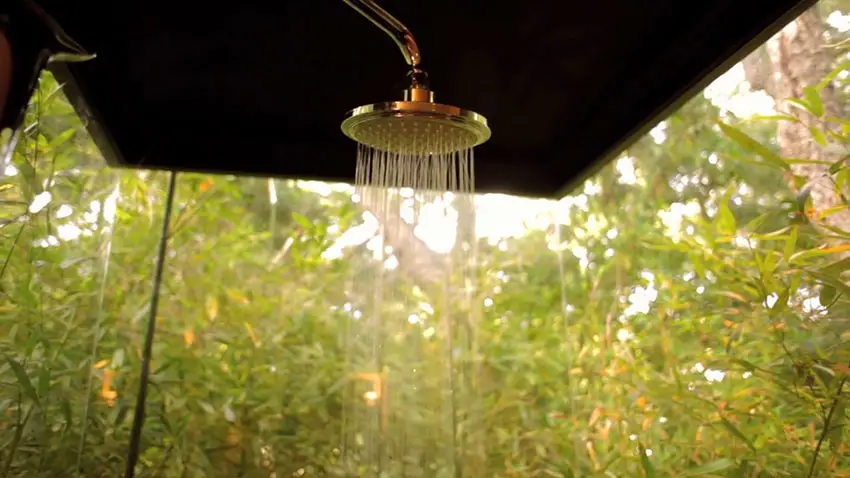 A rainfall shower with 180 degree views brings in the harmony of nature and is the perfect place to rejuvenate and find inspiration. Surrounded by bamboo trees taking a shower here is a relaxing zen like experience.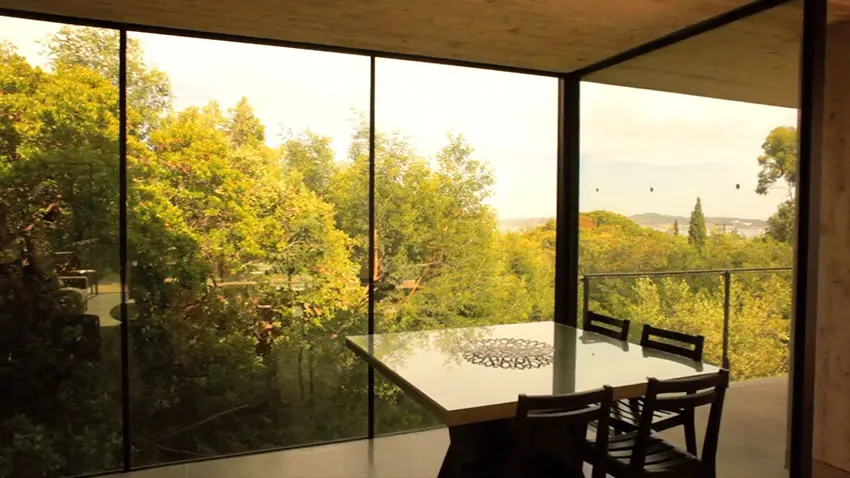 A small indoor sitting table allows one to appreciate the beautiful scenery, distant hills and ocean views.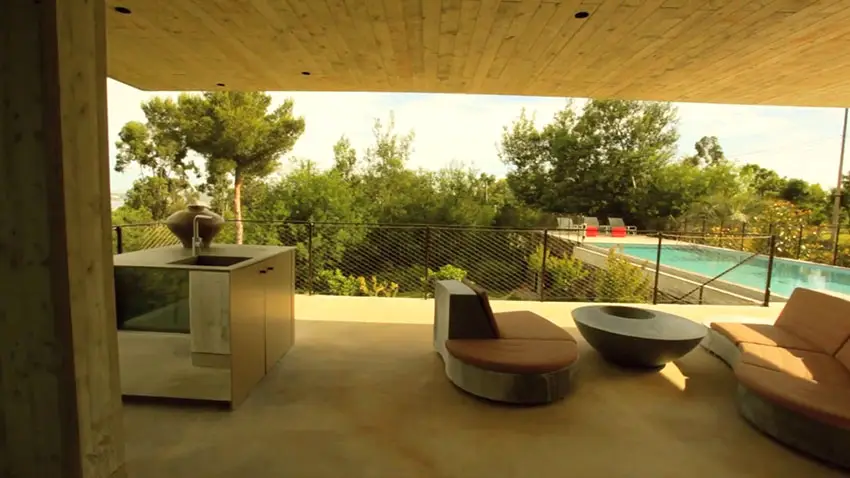 The upstairs outdoor patio terrace features an outdoor kitchen area with modern furniture and easy access to the swimming pool.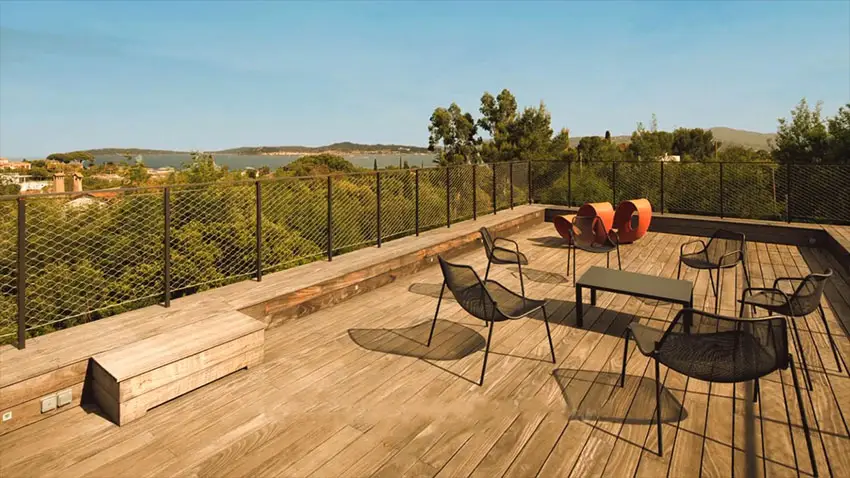 The rooftop deck allows guests to take in the amazing ocean views and enjoy the tranquility and peace of this modern home. A black modern chain link fence surrounds the entire deck area.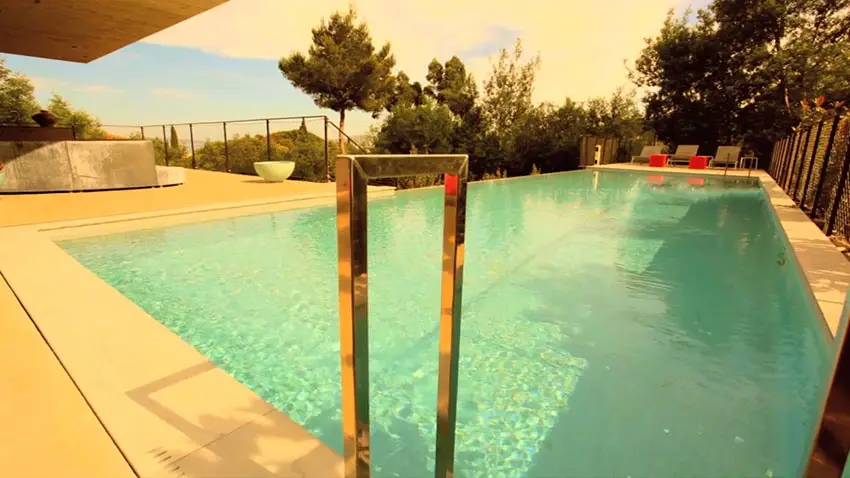 A view from the swimming pool invites onlookers to a refreshing dip. Sunbathers have many choices as to where to lay out with four terraces to choose from.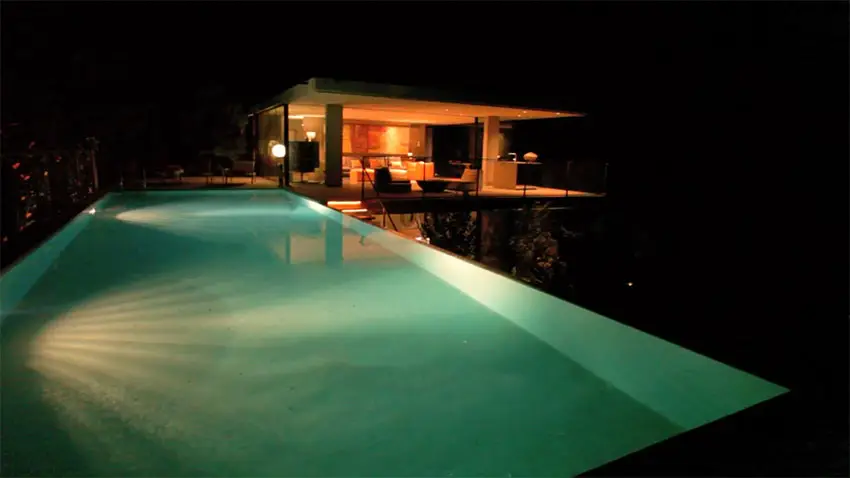 The modern concrete house at night beckons one for a swim. With its high end modern furnishing, multiple opportunities to enjoy the outdoors, and stunning architecture, this home is definitely one to remember.
Watch the Video Slideshow of this Modern Concrete House
Attribution:[expand]This video features "PRIVATE HOUSE" (https://vimeo.com/68084098) by Aurélien Aumond which is licensed under CC by: http://creativecommons.org/licenses/by/3.0/[/expand]
Related Home Design Galleries You May Like:
French Provincial Home – Modern House Design – Tuscan Style Home – Luxury Italian Style Home – Mediterranean Style Home – Tuscan Style House – Tudor Style House