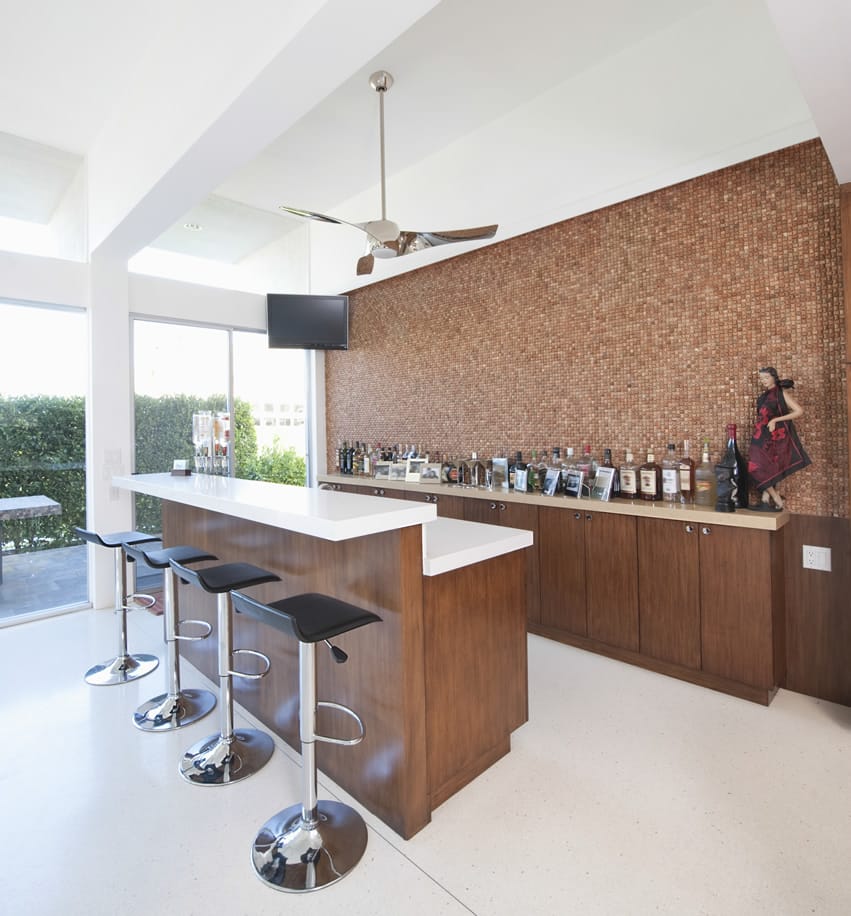 Welcome to our gallery of stylish home bar ideas. A home bar is a great place to mix up your favorite cocktails to relax and socialize. In this design gallery we share pictures to inspire, and provide ideas for setting up your own home bar.
The home bar shown in the image above is stylish and simple, using elegant materials to create this gorgeous home bar. The large doors/windows helps make the area look bright, while the all-white surfaces of the house makes the warm walnut laminates of the bar stand-out. The bar counter at the back has no overhead shelves, but instead adds an accent wall with brown/beige mosaic tiles which goes from the counter height up to the ceiling.

Some of the elements of a great home bar are:
Storage cabinets – When storing liquor it should be kept out of direct sunlight and in a cool place.
Glassware – A variety of glassware on hand is recommended to meet all of your bar needs. Typically you will need to stock a type of short glass, tall glass, and a stem to meet the demands of most occasions.
Barware – Mixing up you favorite drink will require a few of the proper utensils. Well stocked home bars have spoons, shakers, ice cube trays, strainers, muddler, measuring tools, knives (for juicing), and wine openers in easy reach.
Alcohol – For many a well stocked beer fridge and wine cellar could do the trick for a home bar getaway. However, there are a few alcohol selections that are basics for any home bar. These include Gin, Tequila, Rum, Vodka, and Whiskey.
Mixers – Many drinks require a mixer. Some of the popular choices include club soda, tonic, ginger ale, and cola.
Bar Decor – Last, but not least is the decor of your bar area. How you design your bar can provide the ambiance and feel you want. From a candlelight glow, to surround sound flat screen TV heaven, your decor will help set the tone for at home entertaining.
Freestanding bar – Freestanding home bars are readily available and offer convenience and portability. For those looking to take the fun of a home bar outdoors a mobile bar can fit that need.
Sink and running water – A wet bar is a great option for quickly cleaning up and washing glassware without the need to carry it back to the kitchen.
Home Bar Cabinet Ideas
Your home bar needs to have enough cabinet storage to keep your bar functional and clutter free. Often bar cabinets have some glass doors so you can display your glassware. Those who wish to keep there home bar tucked away out of sight, may want to select a cabinet with a hidden bar area to keep it discreet. If you're wine drinker you may want to select cabinetry that has an area deep enough to accommodates wine bottles on their sides.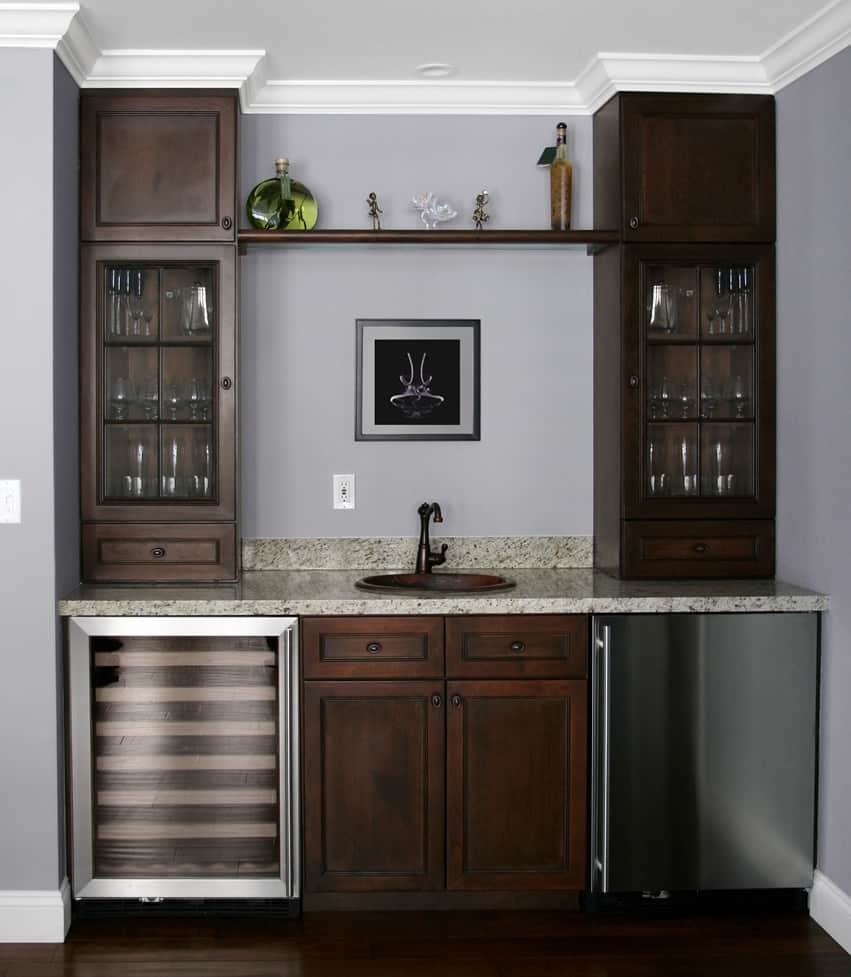 A simple bar counter set-up in the corner which features gorgeous Oak cabinets and display cabinets, combined with built-in wine fridge and stainless-steel fridge. It also has a gorgeous Himalayan White countertop and oil-rubbed bronze fixtures for the lavatory.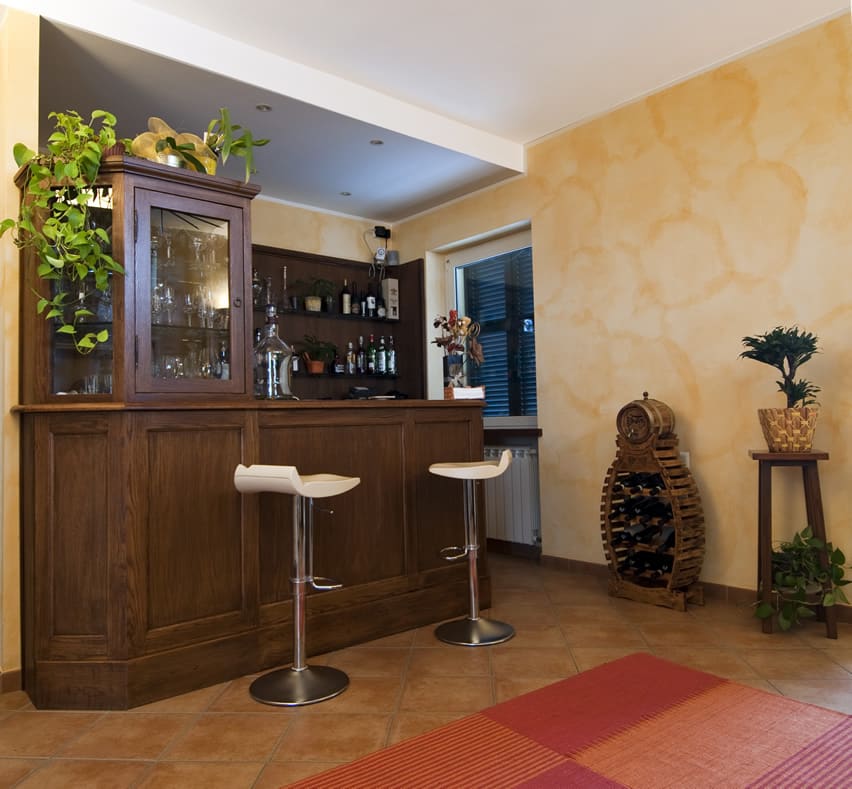 Tucked in a little corner of the house, this bar area provides a good little get-away place to relax and drink wine. It has walnut-stained counters with matching overhead display shelves featuring an array of wines and other liquors.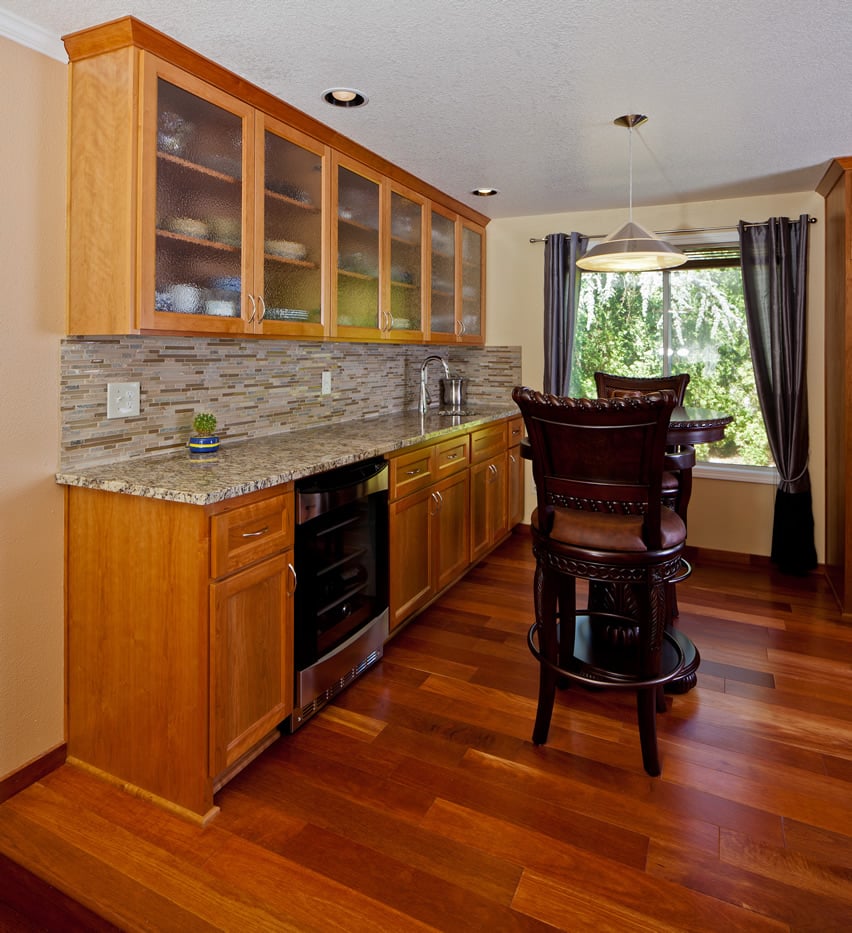 This home bar keeps it simple with one long counter in solid Pine wood to match the engineered pine floors and overhead cabinets with frosted glass of the same finish. It uses salt & pepper granite countertop with multi-color glass mosaic tile backsplash, and a cocktail table with 2 barstools to complete the mini bar.
Wet Bar Ideas
A home wet bar is setup with a sink and running water for serving drinks and becomes a central hub for entertaining. Whether you want a place to hangout with an alcoholic cocktail after work or want a place to socialize, this spot in the house offers an enjoyable atmosphere to relax. A wet bar is a great place for family and friends to try and taste refreshing drinks and different varieties of cocktails.
Essential home wet bar ideas for an effective design:
Determine the location – Measure out exactly how much space you will be using for the home bar including how many seats you'll need to accommodate guests. Popular areas for a home bar are in a dining room, space room, or living room. The basement area is a common choice as its a spot that is away from high traffic area of the home. Big spaces can utilize wall-hung cabinets for glassware and space for a refrigerator or dishwasher. Cabinets can also be used for storage of mixers, wines, and liquor bottles.
Plumbing – A wet bar will need a plumbing for efficient operation. Sinks can be installed directly in an island for ease of cleanup. For designs where seating is not desired, a custom single wall wet bar with cabinets of glassware can be combined with an under mount sink.
Tile backsplash – An attractive tile backsplash will add some excitement to the design and let you add your own personal touch.
Wet bar cabinets – Built-in cabinets is a necessity for storing glassware, alcohol, mixers and other essentials. Bar cabinets with glass doors are ideal for showcasing liquor, drink wares, and bar accessories. Other storage ideas that can be used are a portable buffet table or bookshelf.
Home wet bar island – An island can provide extra space for preparing drinks and shaking and stirring. With the island, additional barstools can be provided for a true home bar experience.
Consider appliances – A small refrigerator with a freezer can provide you with ice to keep beverages cool. A dishwasher can make clean up easier after your done.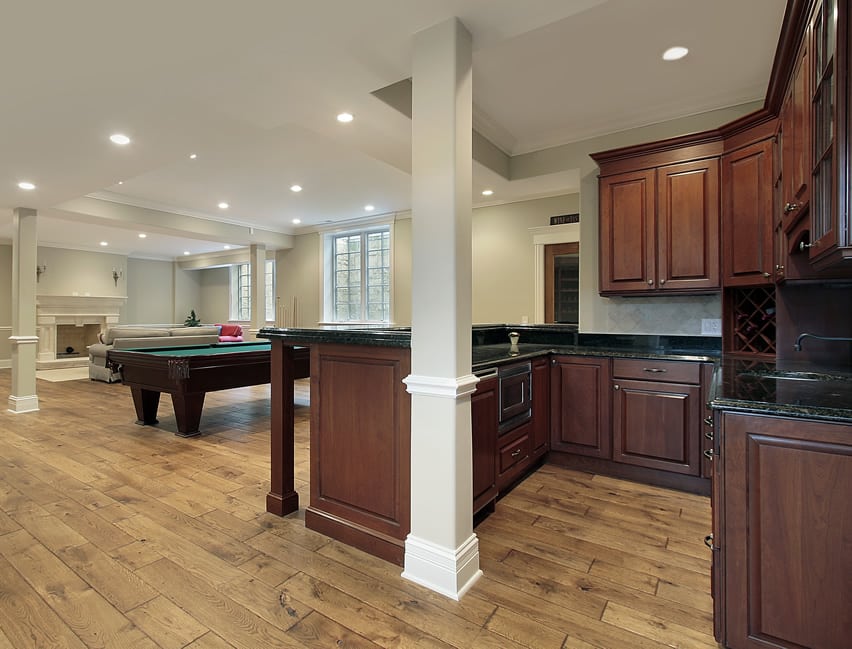 This bar area placed on one end of room is the perfect spot for the bar as it is placed directly adjacent to the pool table. It has Golden maple wood floors which helps highlight the red mahogany-laminated cabinetry. The counter top uses green granite, and a wine rack is placed on the corner area of the counters.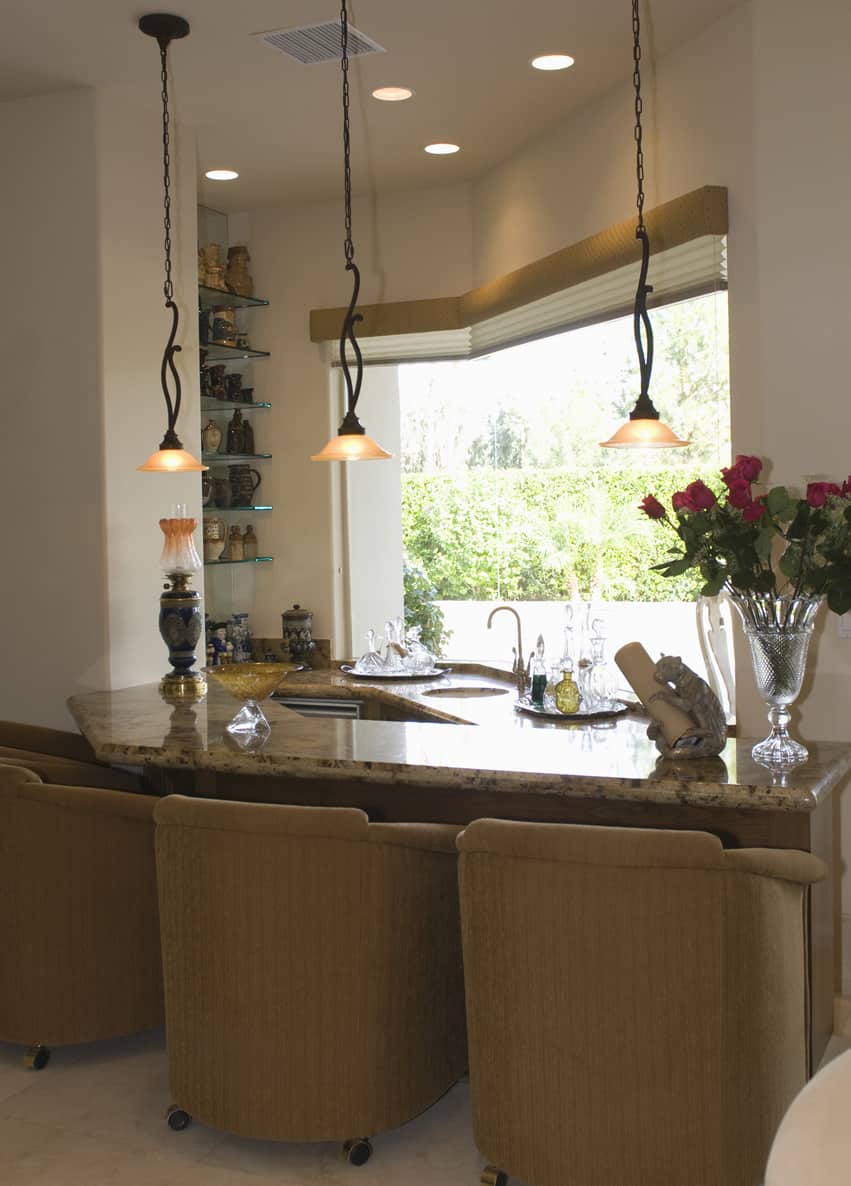 In an attempt to maximize the unusual corners of the house, this small bar area was built to make use of the space. Despite its awkward location, the large window illuminates the space well, helping it appear more spacious. The counters are built-in with oak laminate finish and beige solid granite countertops, glass display shelf on one wall and upholstered barrel seats for the snack/drink bar.
There are many ways to make use of the space under the stairs, and turning it into a glamorous mini bar is one of the most perfect ideas to use it for. A narrow snack counter clad with marble stone and onyx front with backlights is placed parallel to a small L-shaped built-in counter with brown solid-surface and a small sink area.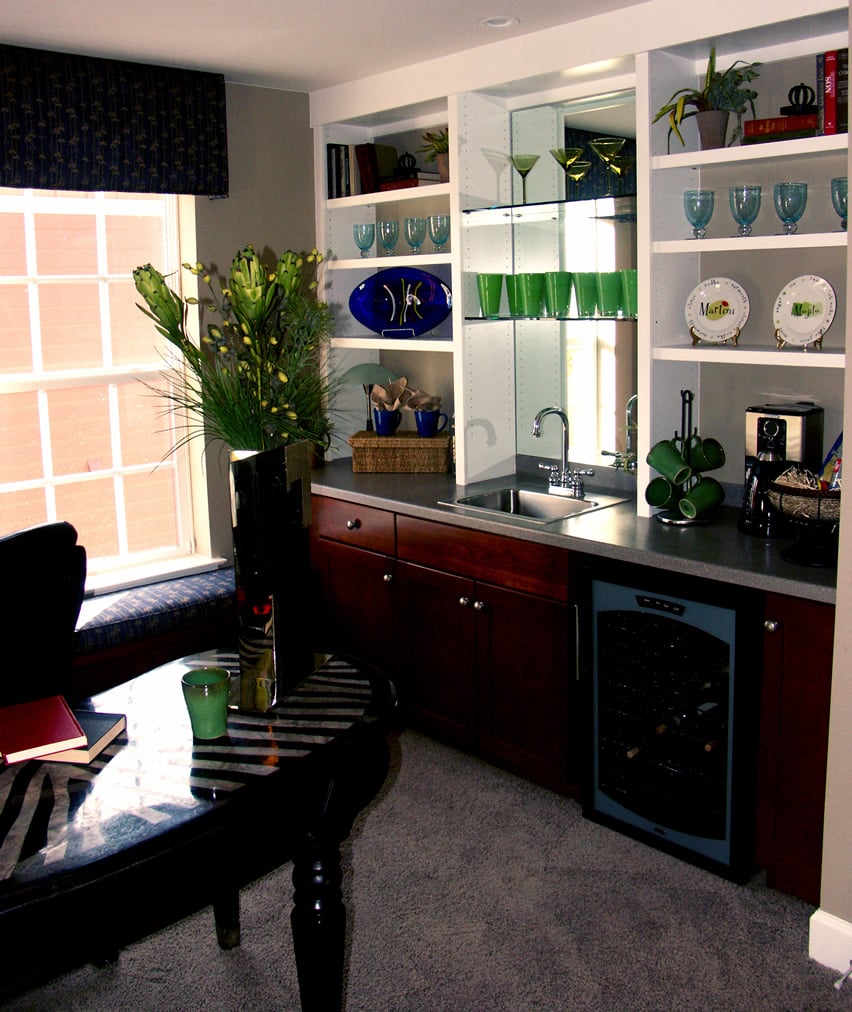 This small home bar right inside the home office to help you relax and relieve stress. It has red mahogany-laminated cabinets with built-in wine fridge and white display shelves with mirror. A small sink is built in to the cabinet to help with prep and clean-up.
Rustic Bar Ideas
A rustic home bar can take you back to an earlier time and create a relaxing ambiance you and your quests will love. Some of the ways to implement rustic charm in your home bar is through decorative cabinetry with elaborate scroll work, rich stone flooring and accent walls, and natural wood and stone countertops. Colors and textures play a big part in creating a rustic feel with neutral colors such as beige's and browns.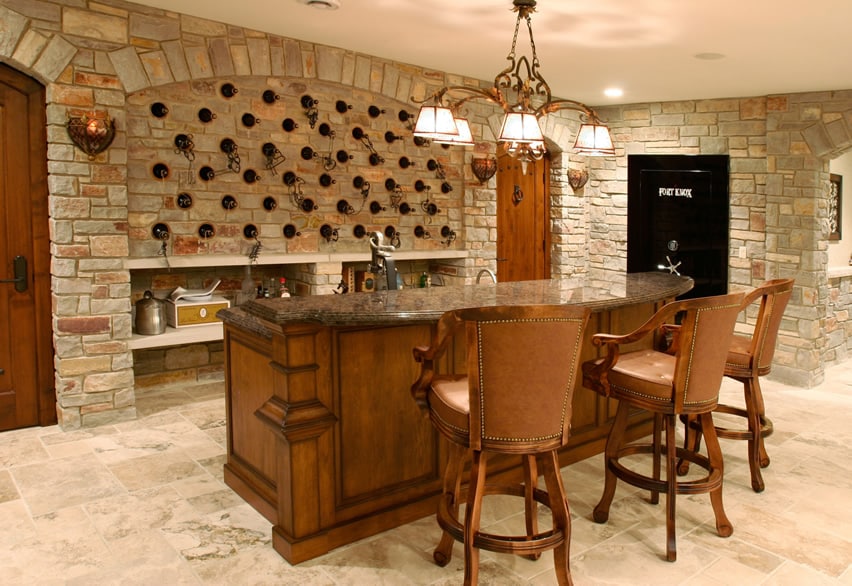 Going for the rustic look, this basement home bar tries to emulate a wine cellar. Using natural stone tiles for the floor and masonry tiles for the walls, it creates an old-style appeal to the space and even integrates the wine storage through holes on the main bar wall. The main bar counter is constructed out of solid Maple with brown granite counters and matching upholstered wooden barstools.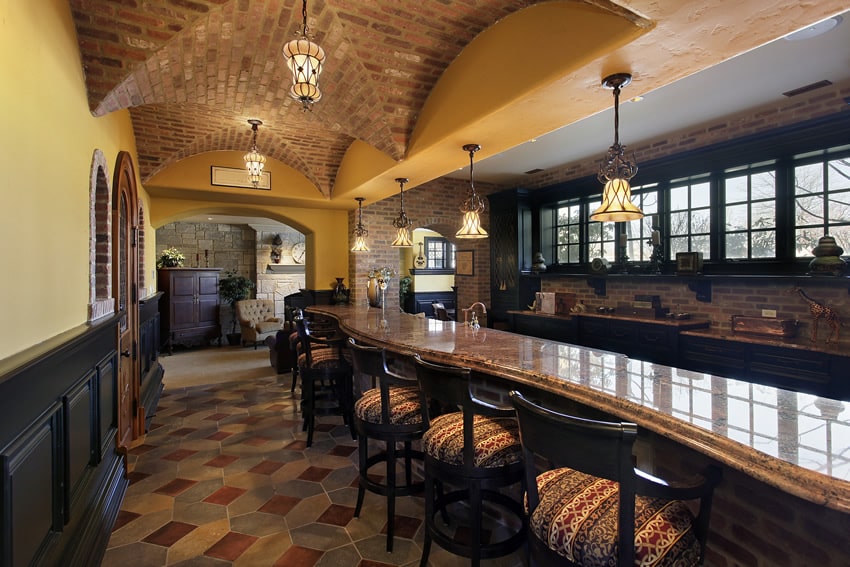 The unique gothic arc ceiling with terracotta bricks gives the space a unique aura – rustic and elegant at the same time. The long bar counter is also finished with bricks and has a countertop with a unique curvy shape. Even the walls of the main bar area uses brick finish, and even uses antique oil-rubbed bronze light fixtures to complete the look.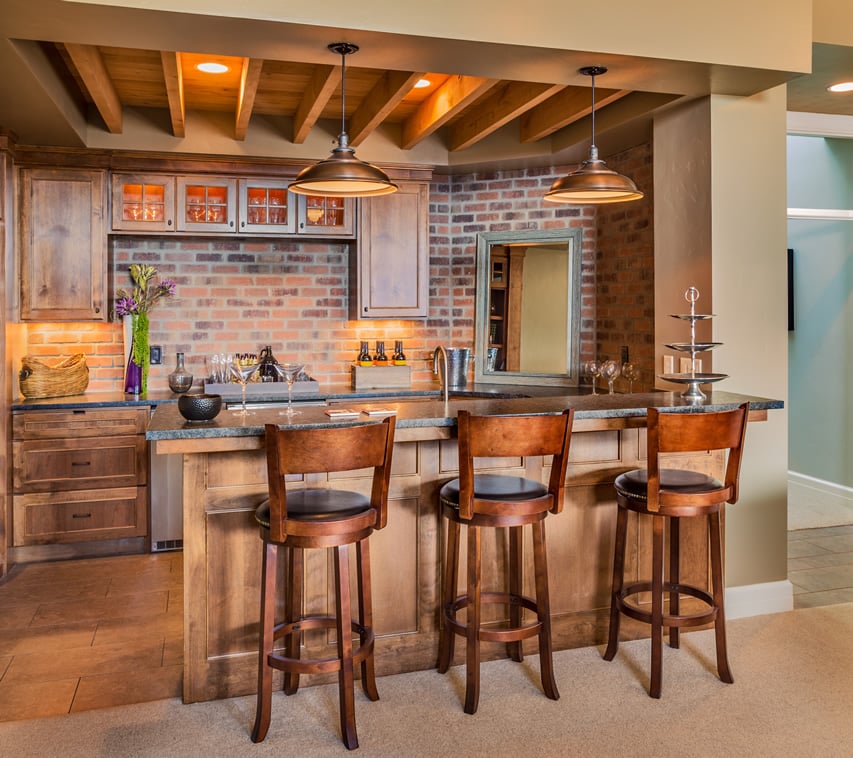 A classic country inspired home bar which uses an excellent combination of materials. It uses wood-look tiles for the floors and beautiful solid walnut cabinets to go with the dark gray granite countertops. The wall is finished with terracotta bricks to give it a classic appeal and has a matching set of barstools to finish the look.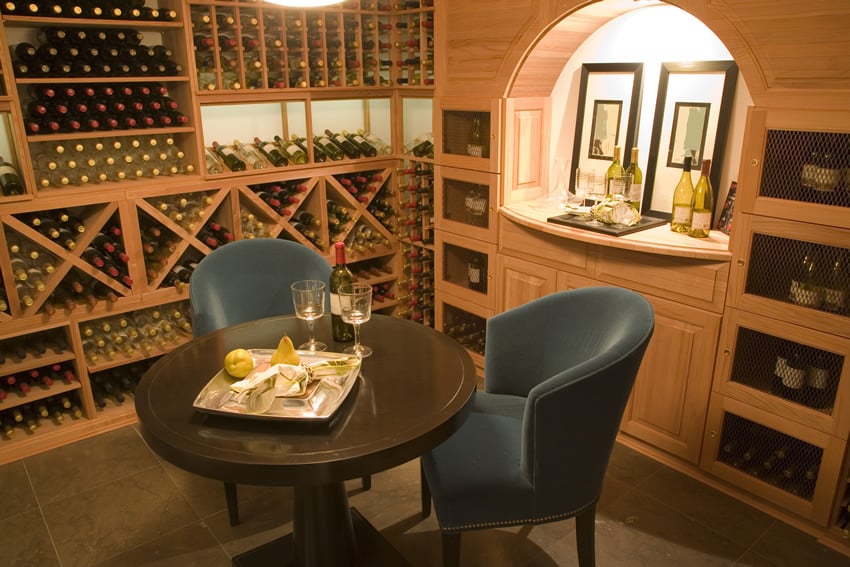 This home bar is a dream for every wine-lover. It features floor-to-ceiling height wine racks which occupies the whole room, with a little bar counter when you need to serve wine and a small table for two.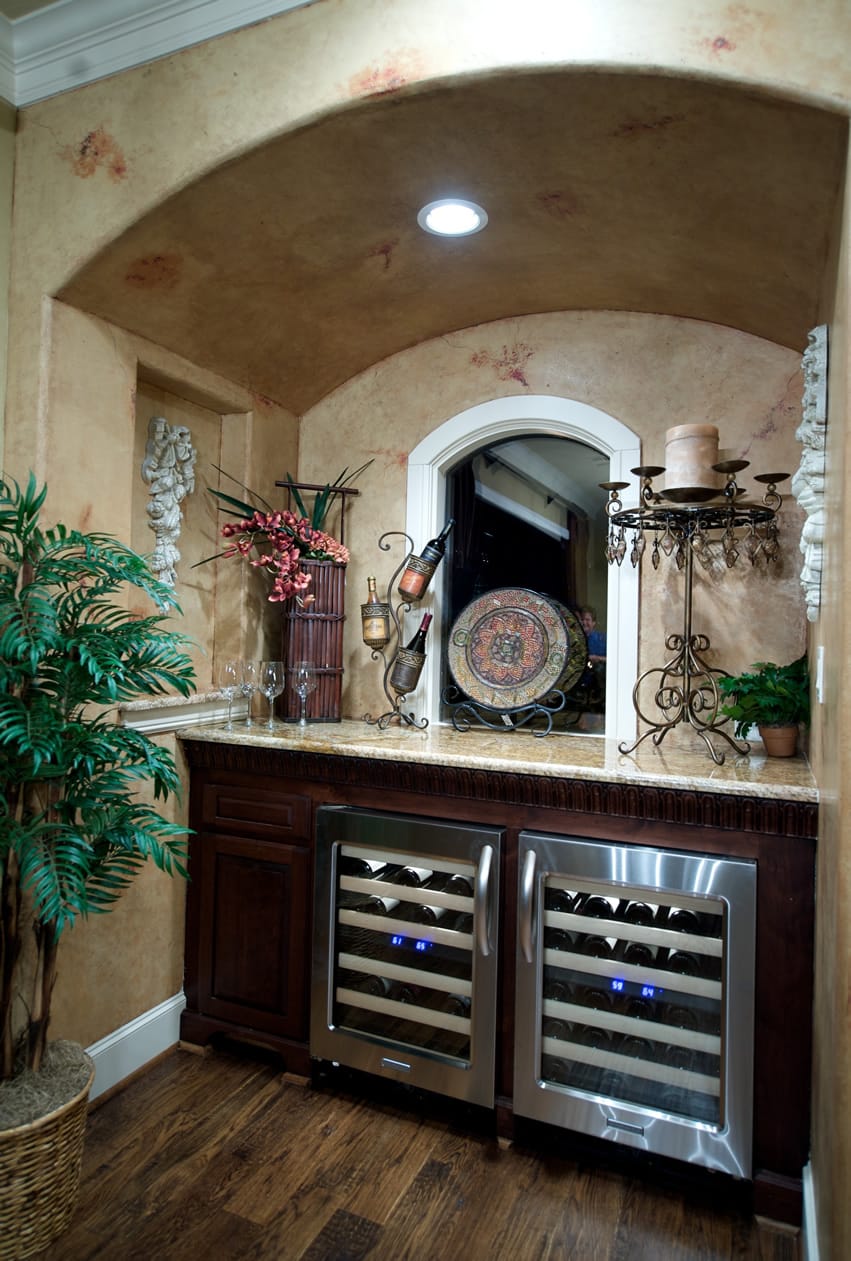 This is a great home bar idea especially for those who want a home bar but has limited space. It is only around one and a half meters long and integrates two wine fridges into the cabinet. The counter has beige granite countertop and also serves as a display area for wine and other home accessories.
Game Room Bar
A game room bar is a great place to socialize with friends and family. Game rooms are often equipped with a pool table, ping pong table, shuffleboard, surround sound stereo system and a large television. For decor its an excellent spot to display colorful artwork, signs and your favorite sports team.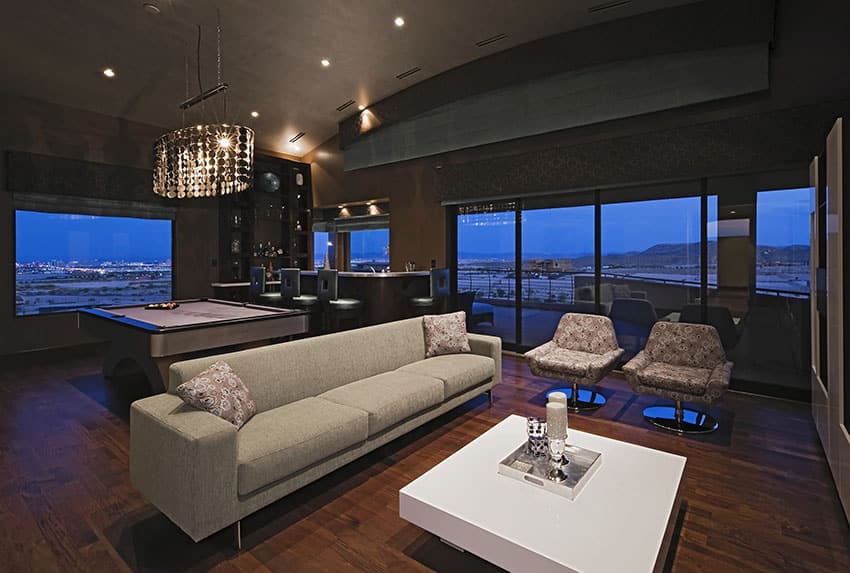 This luxurious modern bar and game room features wrap around windows for a stunning view of the outdoors and nearby city. The modern bar is equipped with a stainless steel countertop and matching silver bar stools. The lounge is a comfortable spot to retreat with cocktails and relax on the cream color couch or retro chairs. Rich wood flooring runs throughout the space and a pool table provides more opportunity for fun.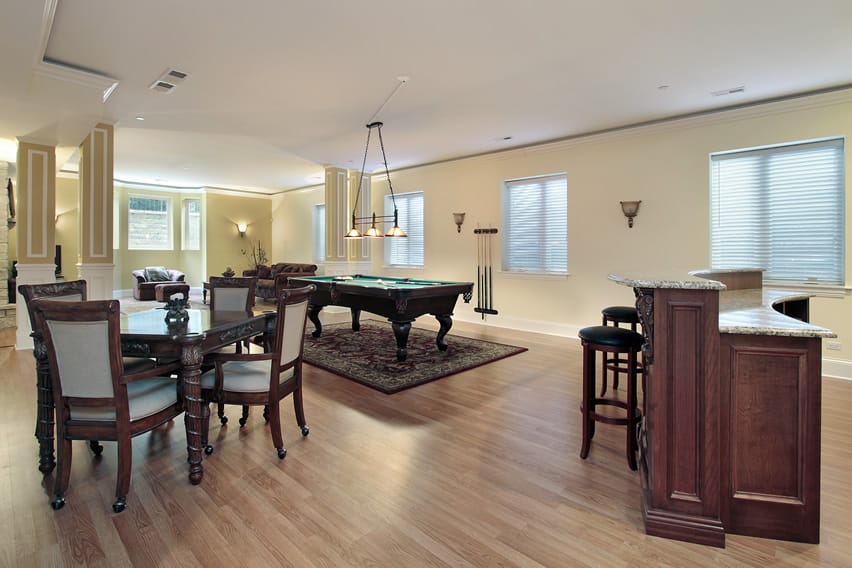 Many home bar ideas come from the need to create an entertainment room and make it the perfect place to relax and entertain your guests. With a large space, this room is able to fit in a curved wooden bar which uses walnut cabinets. Aside from the bar it also has 1 living area, a pool table and a small dining/snack area.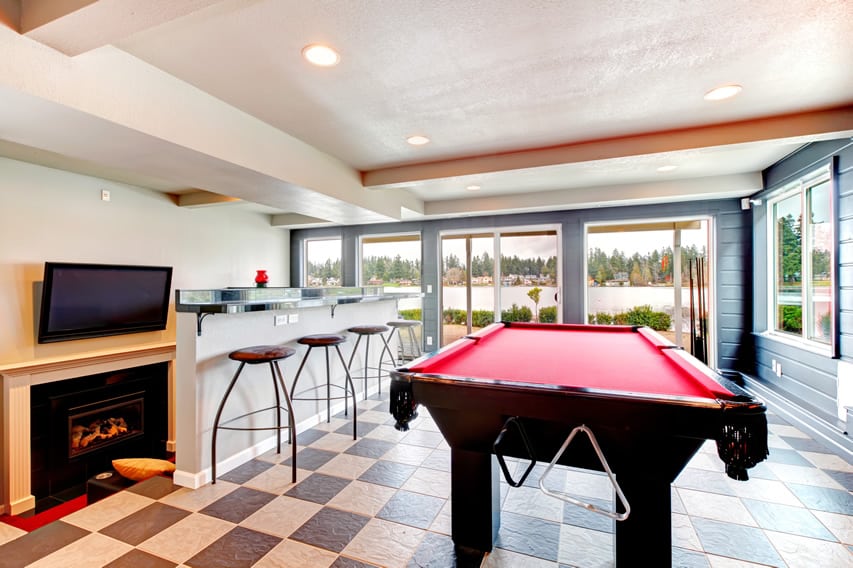 This game room is not complete without this small bar counter. Matching the modern look of the space, the bar area takes up minimal space, with only a built-up wall with a black polished granite countertop and 4 bar stools. It's literally just a bar sitting area where you can drink or eat, but there is not actual bar adjacent to it.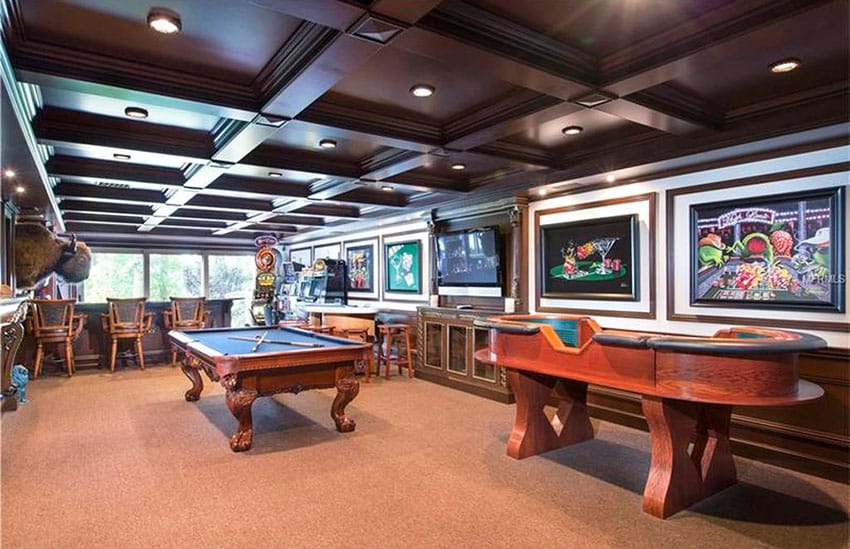 This game room bar is fully equipped with a corner bar with bar stools seating for three, a pool table, slot machines and craps table. The dark coffered ceiling in dark mahogany creates an elegant and high end vibe. Decorated with colorful art prints along the walls, recessed lighting and natural window light, helps keep the ambiance of this room bright and fun.
Basement Bar Ideas
A basement bar is the ideal place for creating a room with your own personal style. Since it is tucked away form high traffic areas within your home the basement can be the perfect canvas to create that rustic wine cellar you've always wanted, or create a modern bar and game room.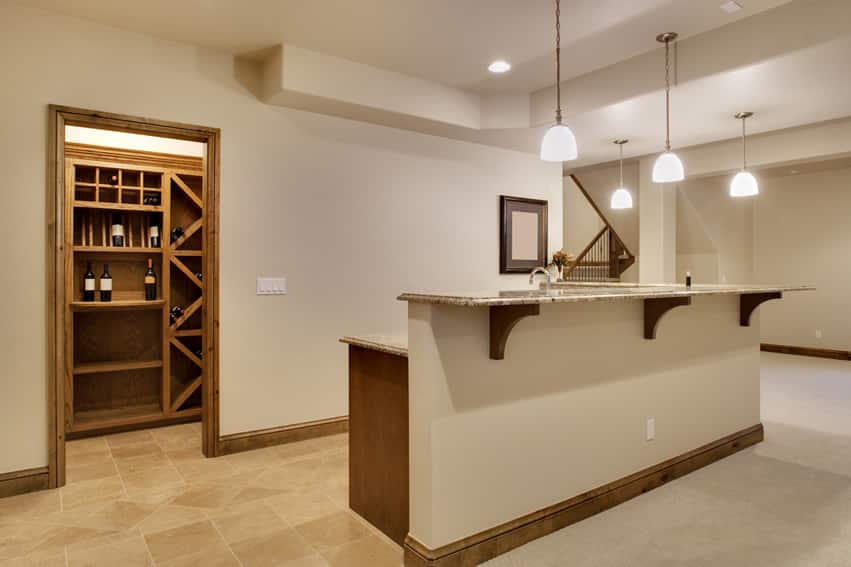 A simple basement bar area which doesn't go overboard with fancy ornamentation. It features an L-shape counter in Oak wood finish with a higher counter made from built-up Ficem board and topped with the same granite material as the main counter. The wine and other drinks are kept inside the storage area with wooden shelves built in a variety of patterns.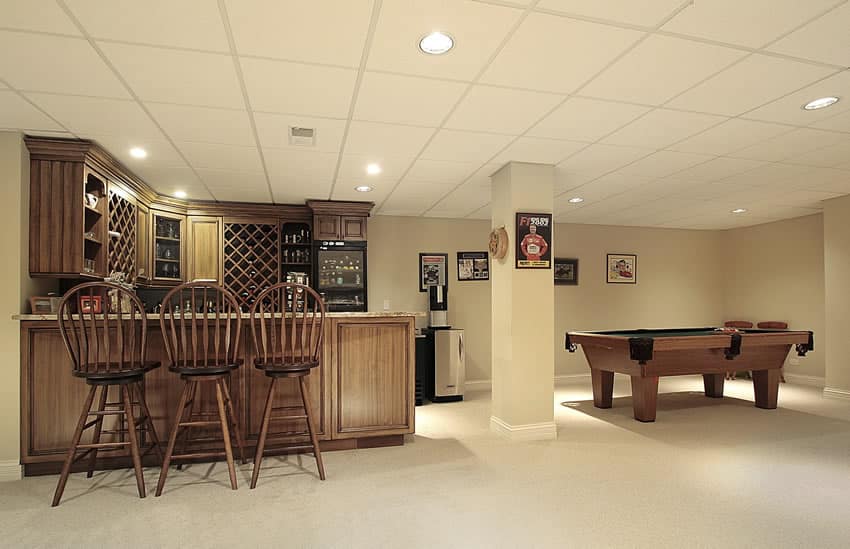 A harmonious combination of classic and modern, this basement home bar is a the perfect addition to any entertainment den. Placed beside a pool table in a space with plain off-white finishes, the gorgeous finish of the solid cabinets used in the bar area stands-out. A large wine fridge can be seen and 2 large wine racks are built-in on the overhead counters. It has three solid wood barstools with a backrest derived from the classic peacock chair.
With a large floor space available, this home bar occupies a large space and is adjacent to the living area. The snack/drinking counter is made from built-up gypsum with black granite top and behind it are wooden kitchen counters. with black granite countertop. It has one tall wine fridge and a Norman refrigerator built-in on the opposite ends of the back counter.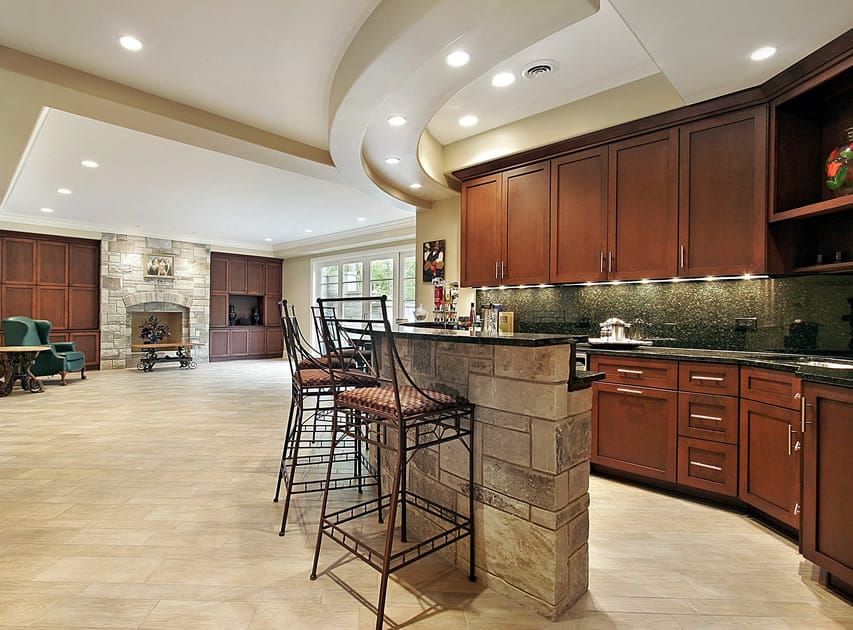 This home bar is connected to the open kitchen of the house and also open to the other parts of the house. The wood-finish ceramic tiles on the floors and the natural stone tiles on the surface of the semi-circular bar adds a rustic & country appeal to the space. The counter area behind has mahogany-laminated cabinets and black granite countertop.
Equipped with an indoor pool/spa, this home takes it up a notch and also includes a mobile bar on the side. The bar has an eye-catching brushed stainless-steel finish in a circular form and has three modern bar stools to match.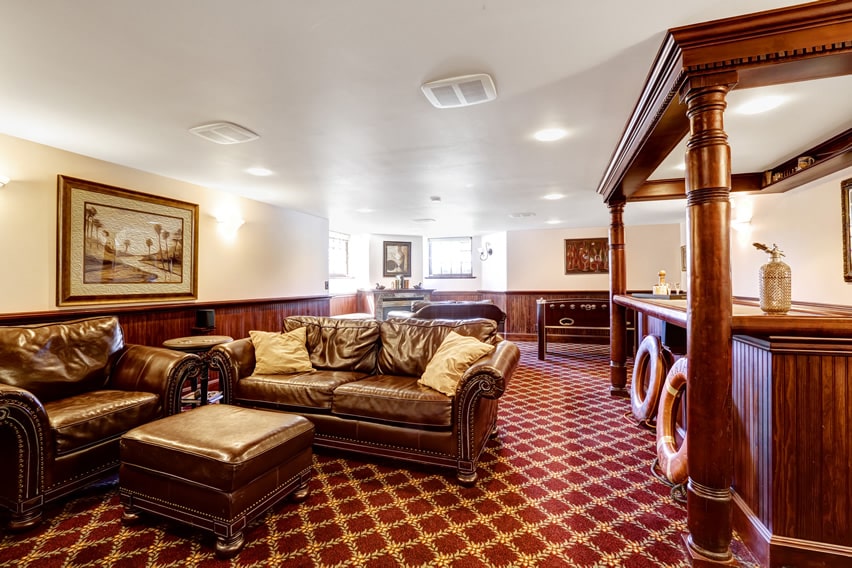 This nautical-inspired home bar takes the center stage in this home design with solid wood columns framing the bar area. The bar counter has vertical slats made of solid oak and topped with a thick slab of quartz stone. In front you will notice the two vintage life buoy rings as accessories.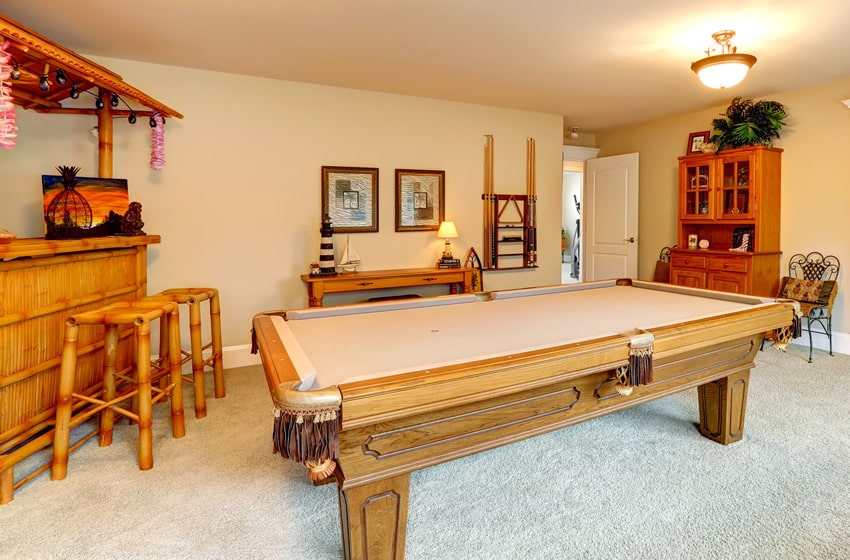 A unique mobile bar inside a game room made out of solid bamboo with varnish finish. The mobile bar is solely made out of a combination of split and solid bamboo and also has a matching pair of bamboo barstools, making a light and resilient mobile bar area which you can move around as you please.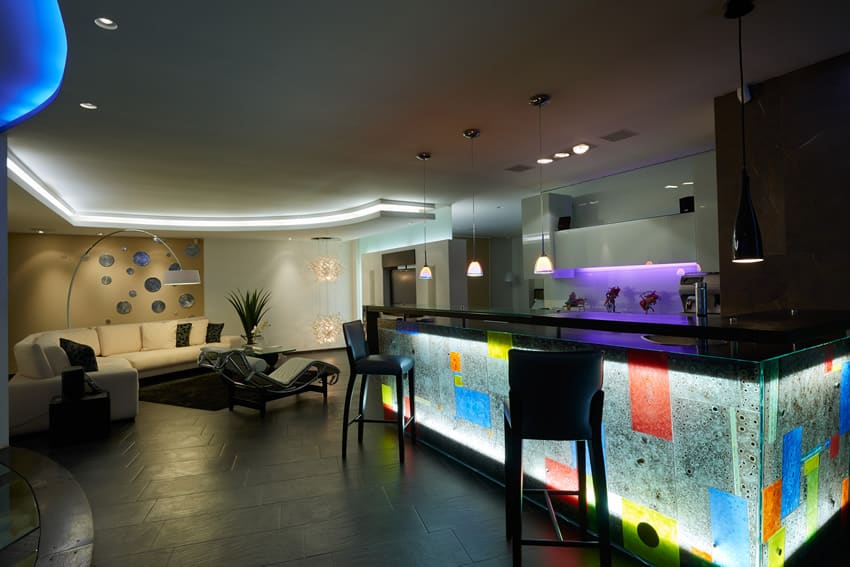 Another modern style home bar, this one is more adventurous with its choice of materials. While the counter at the back is kept simple using high-gloss white laminates, the main counter experiments with the use of backlit glass with patterns and textures.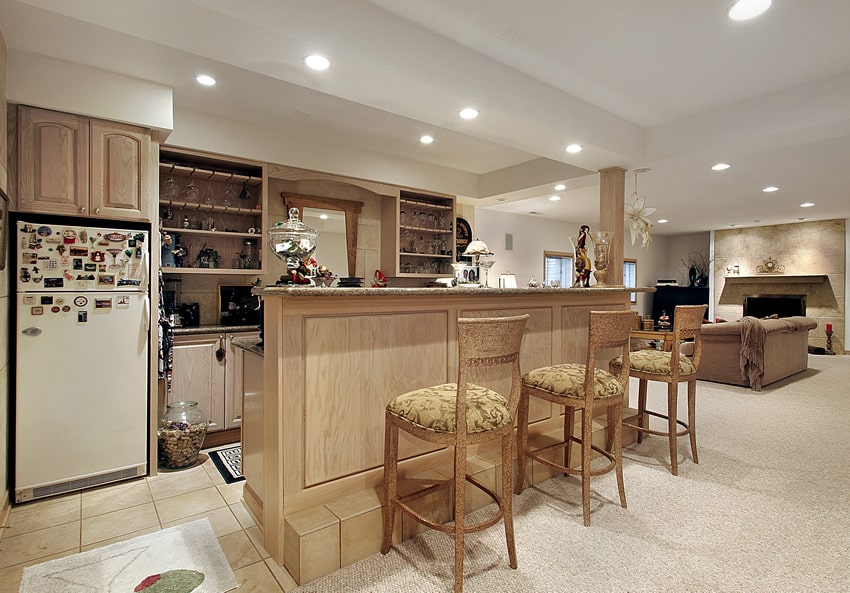 Connected to the living area, this home bar is in one of the most ideal locations, allowing you to serve your guests drinks while they sit down and relax. It has light beech laminated cabinets and beige granite countertops, and has shelves to display drinks and wine glasses.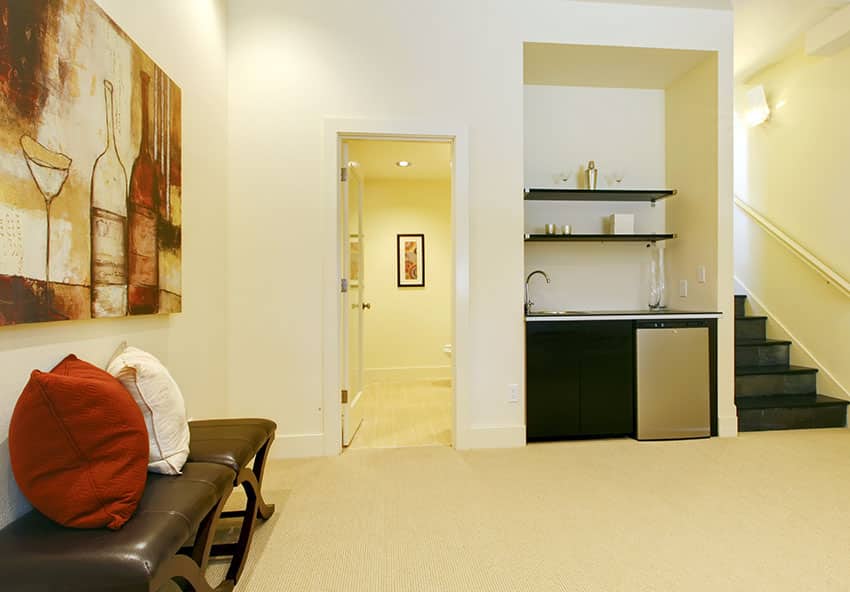 This small basement wet bar is tucked away in a recessed wall alcove. With open shelving, small countertop, sink and fridge, its well equipped for its compact size.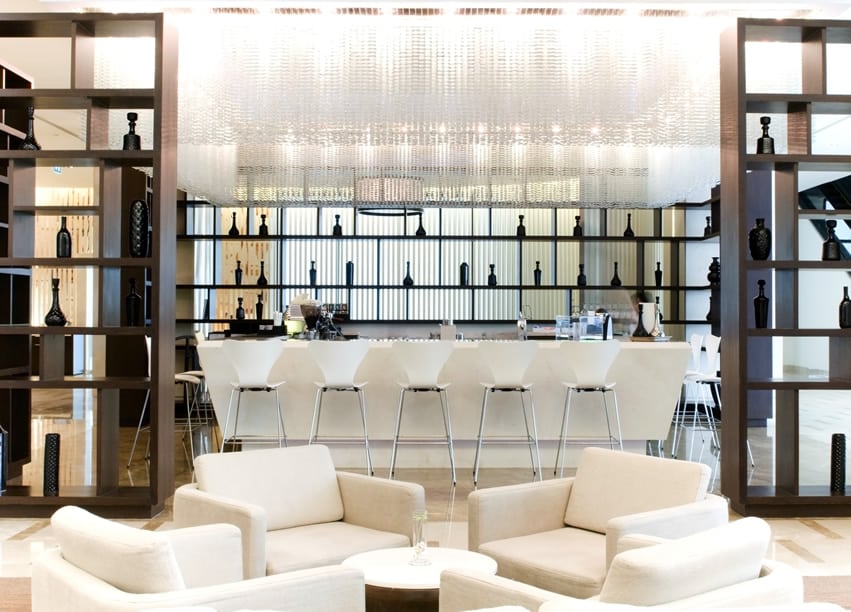 This fancy home bar is a perfect addition to a bachelor's pad or any home with a lot of space. The white modern bar counter is large enough to accommodate 9 people and it also has a display shelf at the back which uses the same dark wengue finish as the shelf dividing the bar from the lounge area. The crystals hanging from the ceiling also adds to the elegant and luxurious feel of the space.
Bar Countertop Ideas
Popular bar countertops include granite, quartz, stainless steel, laminate, tile and natural wood.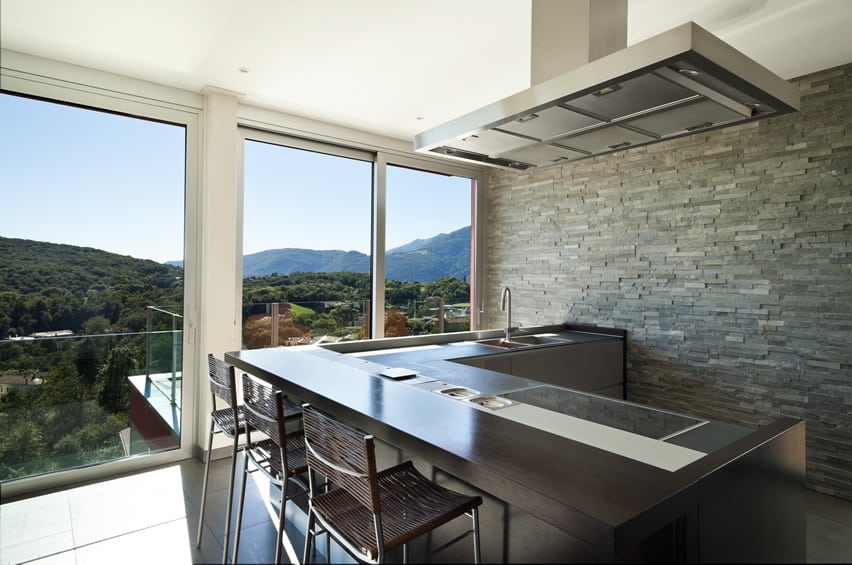 This modern bar area is not strictly a bar for drinks and cocktails. It also serves as a show kitchen wherein you can cook while you entertain the guests. Following the modern theme of the interiors, the kitchen bar area uses laminated counters and cabinets, as well as built-in induction cooker and a sink. The accent wall is finished with slates tiles to add a little more texture and personality to the space.
With a gorgeous view, you would surely have a good time unwinding in this home, especially with a mini bar to make yourself a martini while watching the sunset. The space has a light modern tropical feel, with light beech wood floors and white walls. The bar counter follows the same theme with its white counter and light beige countertop plus a matching bar stool with beige leather upholstery.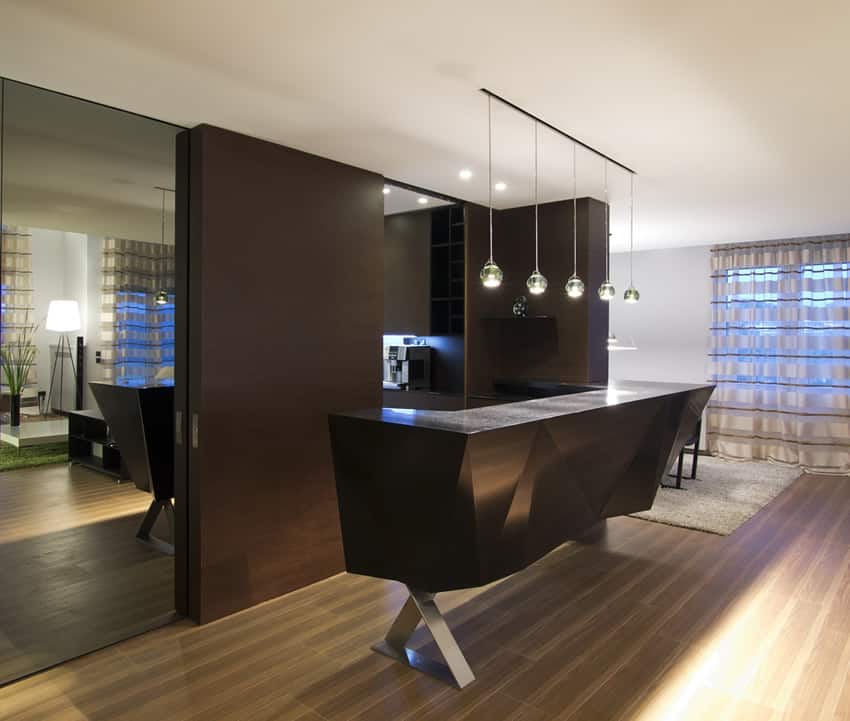 A luxurious modern bar area which looks like a reception counter of a modern hotel. The black quartz bar counter is free-standing as opposed to the more common built-in counters and has x-legs in stainless steel. The bar's form has a gorgeous geometric design and is paired with 5 glass pendant lamps and mirrored back walls, creating a sleek modern look.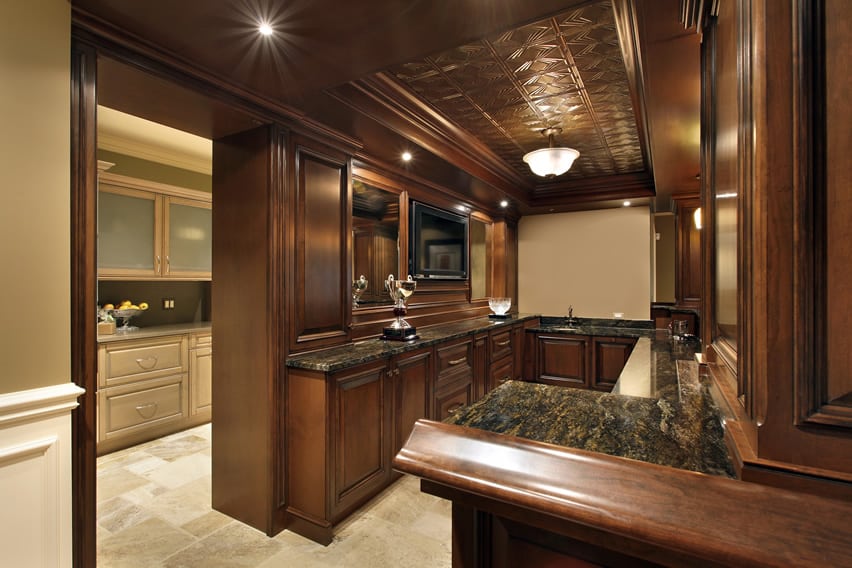 This home bar is large enough for a full-size kitchen, featuring cabinets made from solid oak and ceiling paneling using the same oak wood finish. It has gorgeous dark granite countertop and also integrates built-in appliances into the cabinet design.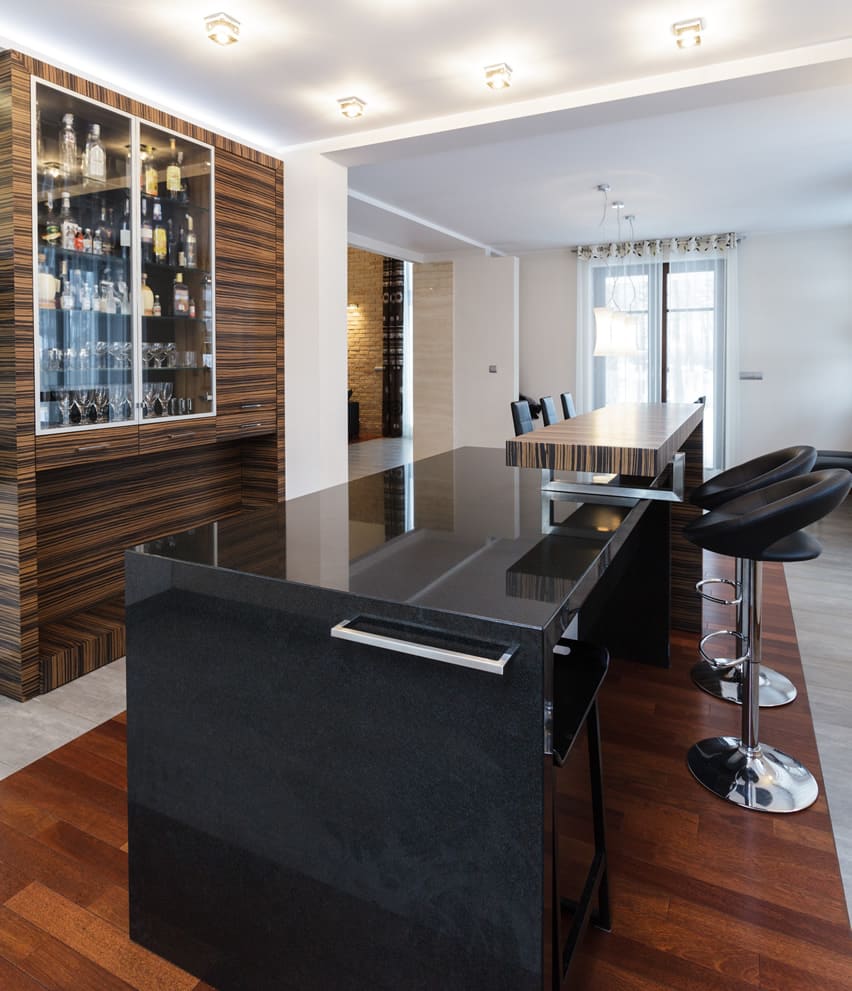 Featuring a unique modern design, this home bar is sure to be a hit. It has a floor-to-ceiling display shelf/cabinet for the wine and other beverages and has an island bar counter with a lower counter using black granite and a higher and narrower counter laminated with the same zebra wood laminate as the display shelf.
Related Home Interior Design Galleries You May Like:
Luxury Living Room Designs – Luxury Kitchen Design Ideas – Small Kitchen Ideas