Discover the types of bathroom pendant lighting showcasing pictures of the different styles to consider, how to choose light fixtures and ceiling installation tips.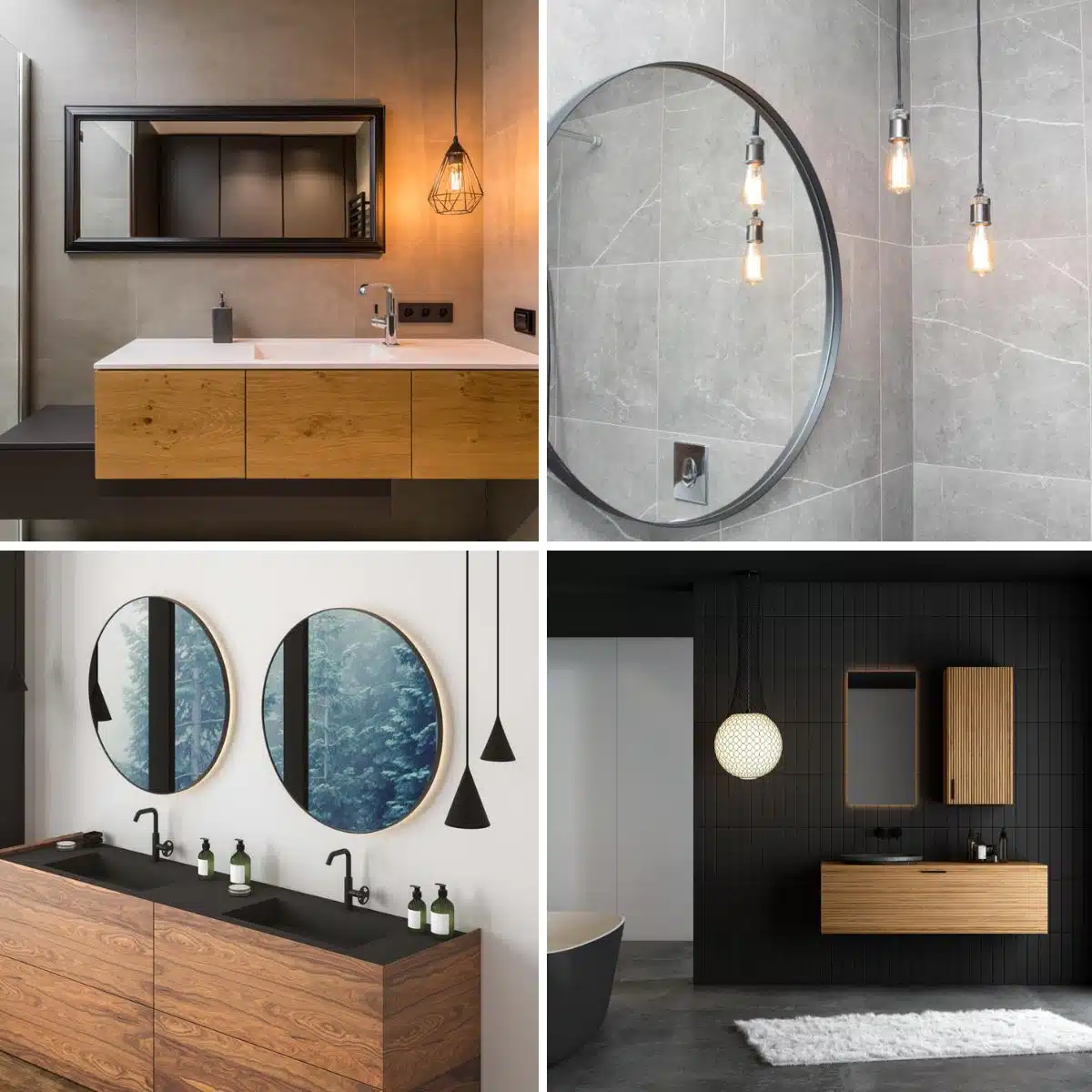 Have you ever tried walking into a bathroom and suddenly encountered a huge change in the ambiance? Well, if yes, that might be because of the bathroom pendant lighting's gentle, pleasant glow.
As we all know, there is something quite inviting, attractive, and charming about those pendant lights situated in a bathroom. As per interior designers, such light fixtures aren't just illumination sources; they are design features that have the utmost capability of revamping the look and atmosphere of a simple bathroom.
Keeping such things in mind, it's now getting more interesting what available types, styles, and arrangement ideas of bathroom pendant lighting are out there.
One thing's for sure – there is a bathroom pendant lighting solution that will satisfy your needs, and tastes, and above all, beautify your bathroom. Allow us to show you how these versatile pendant lights can increase the aesthetics and functionality of your wellness space – your bathroom.
Pendant Light Styles For A Bathroom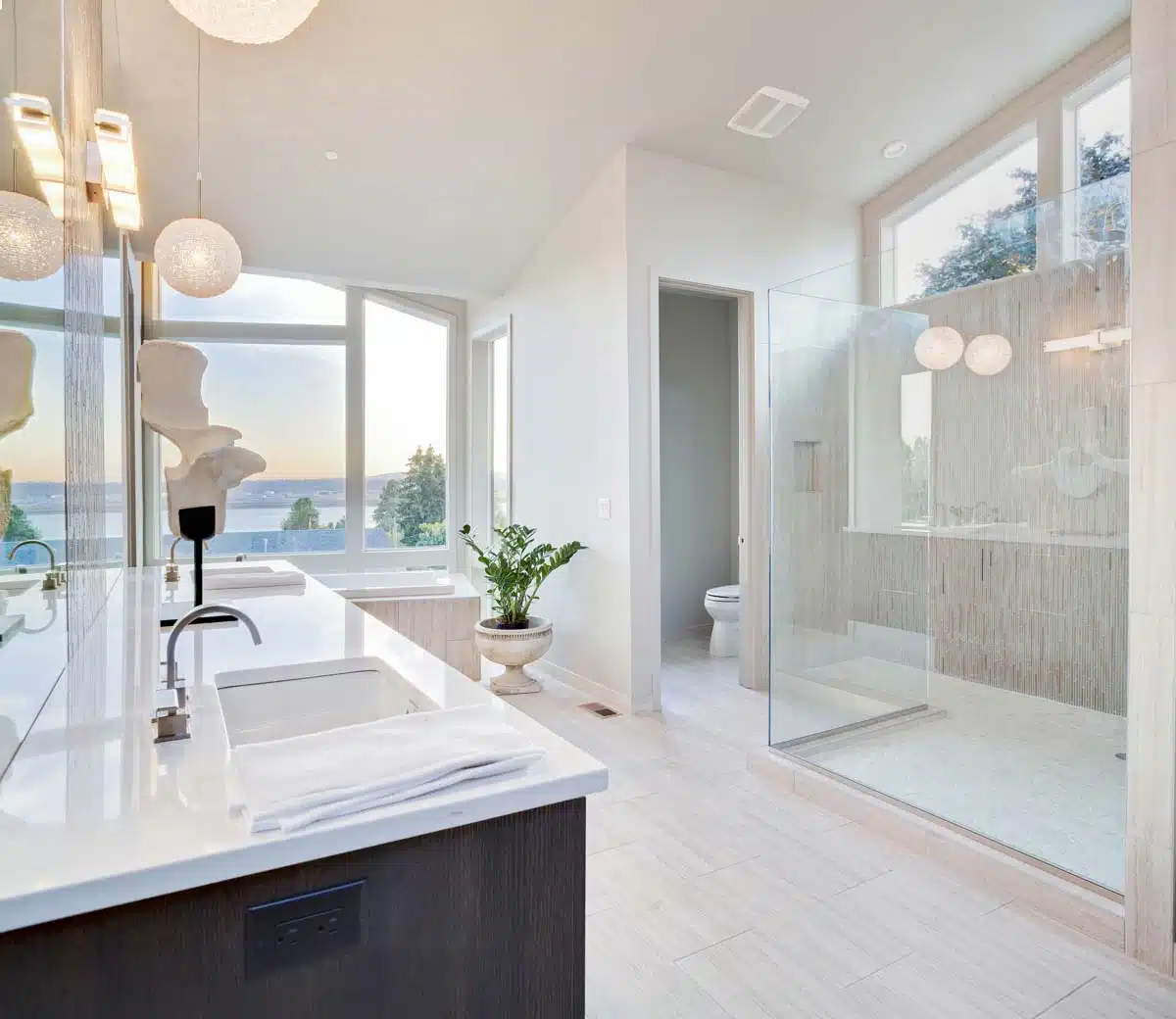 The style of the pendant light you will choose has a massive impact on the general appearance as well as the vibe of your bathroom atmosphere. Hence, you have to be well-equipped with the different pendant light styles as well as their structural design explanations.
Modern Minimalist Pendants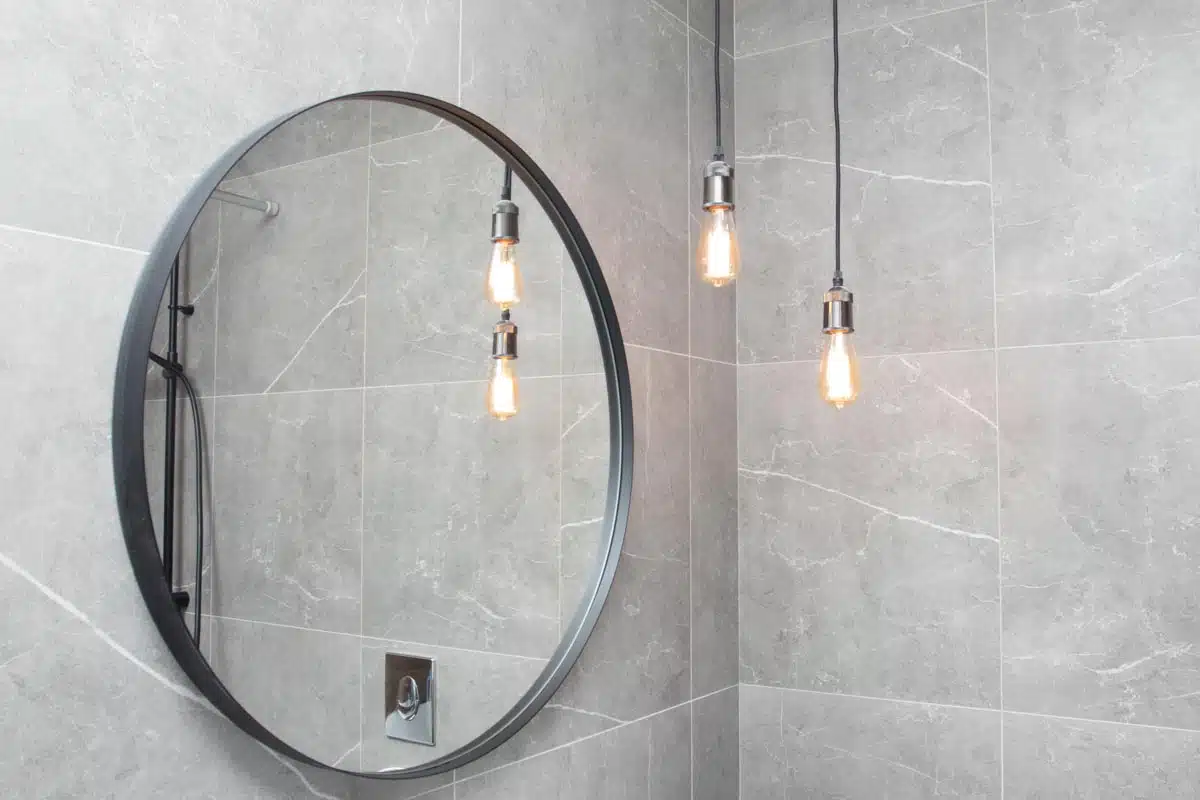 These pendant light styles are ideal for bathrooms that have modern, minimalist settings. Such pendant light styles customarily feature extremely neat lines and streamlined materials such as frosted glass, matte white or brushed metal finish. These modern minimalist pendant lights promote simplicity – they emphasize functionality over aesthetics.
Vintage-Style Pendants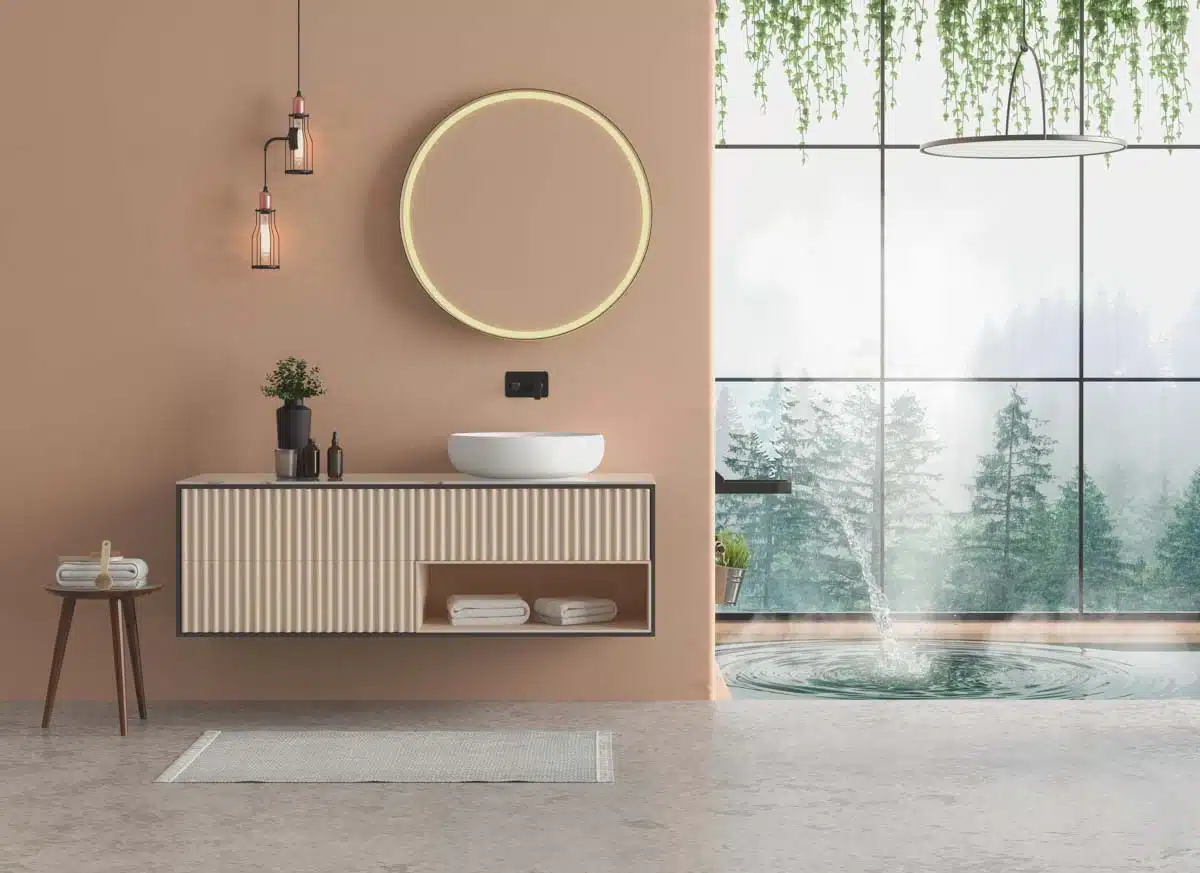 Is your bathroom more on the vintage, nostalgic side? This might be the time to install vintage-style pendant lights to further boost a glamorous ambiance.
Vintage-style bathroom pendant lights normally awaken the allure of bygone or ancient times with decorative detailing, crystallic accents, and antique treatments. Generally, such lighting fixtures are overly ornate with the use of pewter, oil rubbed bronze, aged brass, copper, antique or distressed finishes.
Industrial Pendants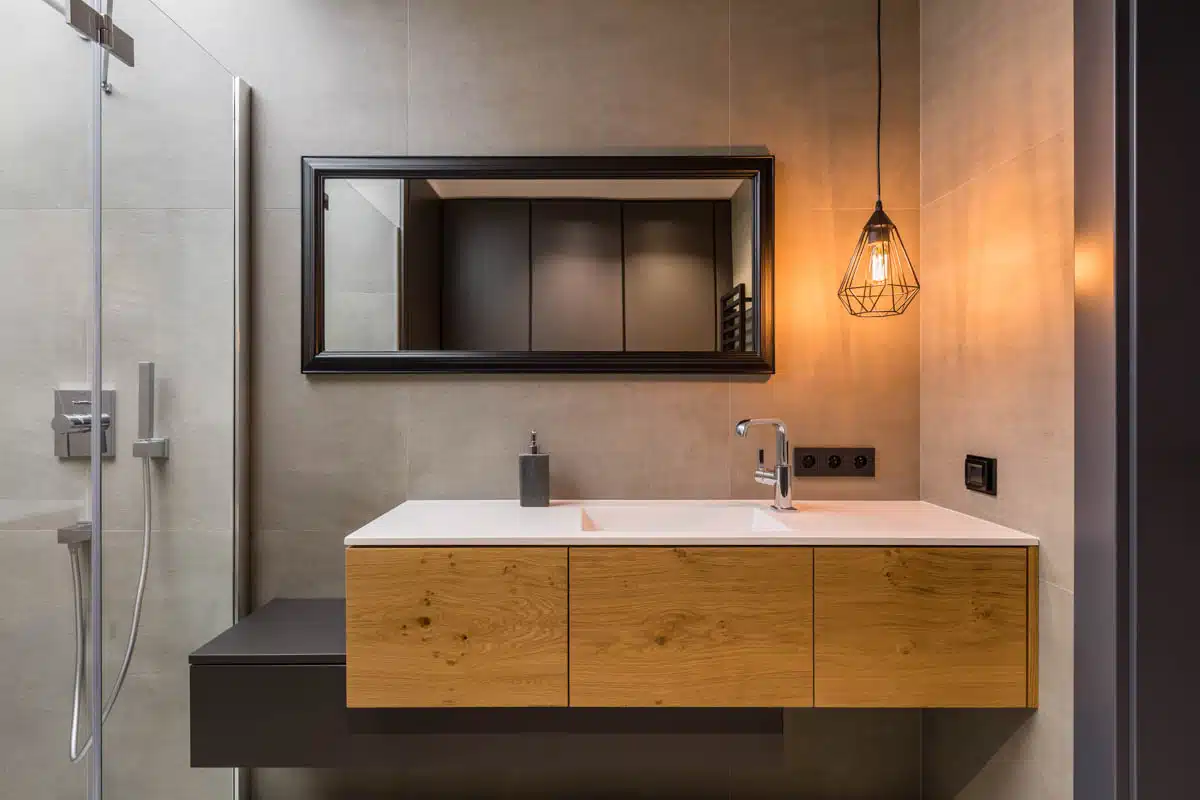 This pendant light style is more on the masculine side – such fixtures normally consist of metallic cages, weathered finishes, as well as exposed light bulbs. Typically, the look of these pendant lights is observed in warehouses and factories, which have an urban, raw character. Distressed, bare metal, matte, and polished black finishes all work well here.
Industrial pendants look equally well placed over vanities or freestanding tubs. When equipped with dimmable switches these ceiling lights can enhance the ambiance while relaxing in the bath.
Contemporary Pendants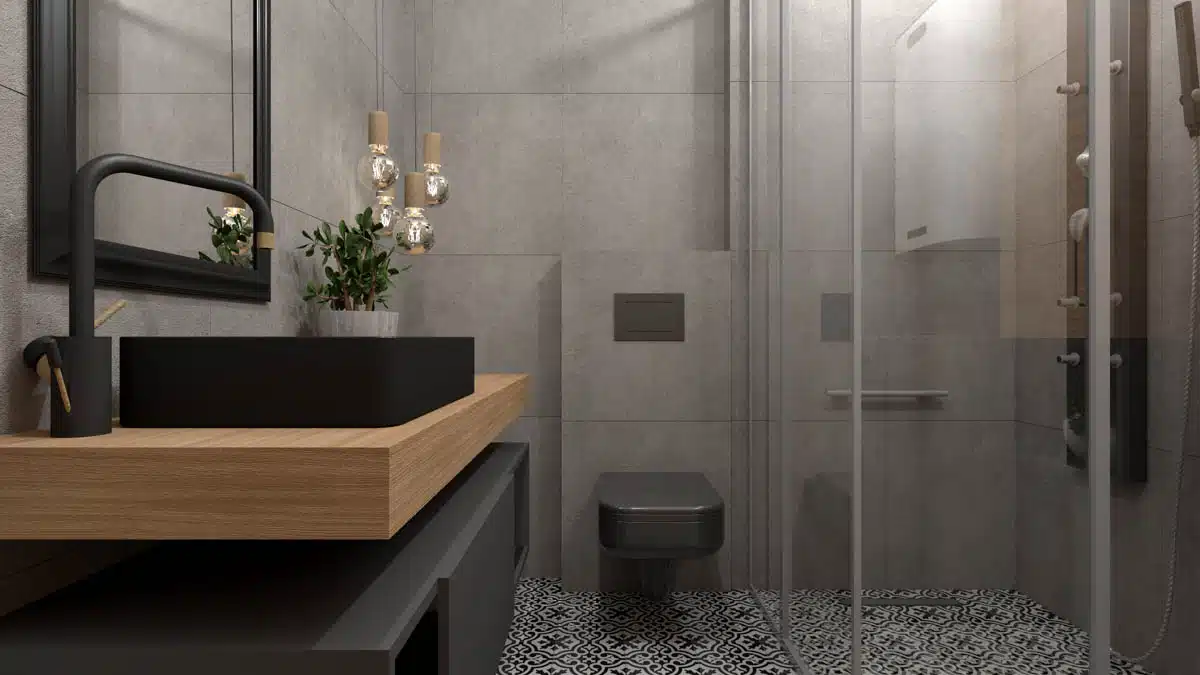 Most of the bathroom styles found in mansions feature these eye-catching pendant lights – contemporary. These pendant lights customarily include upscale materials, clean lines, and newfangled design elements attached to the pendant lights.
Nowadays, contemporary pendant lights represent the modern way of styling a bathroom. Matte black, chrome, polished nickel, satin brass, rose gold, white, glass, and gunmetal finishes are all popular right now for contemporary bathrooms.
Nautical Pendants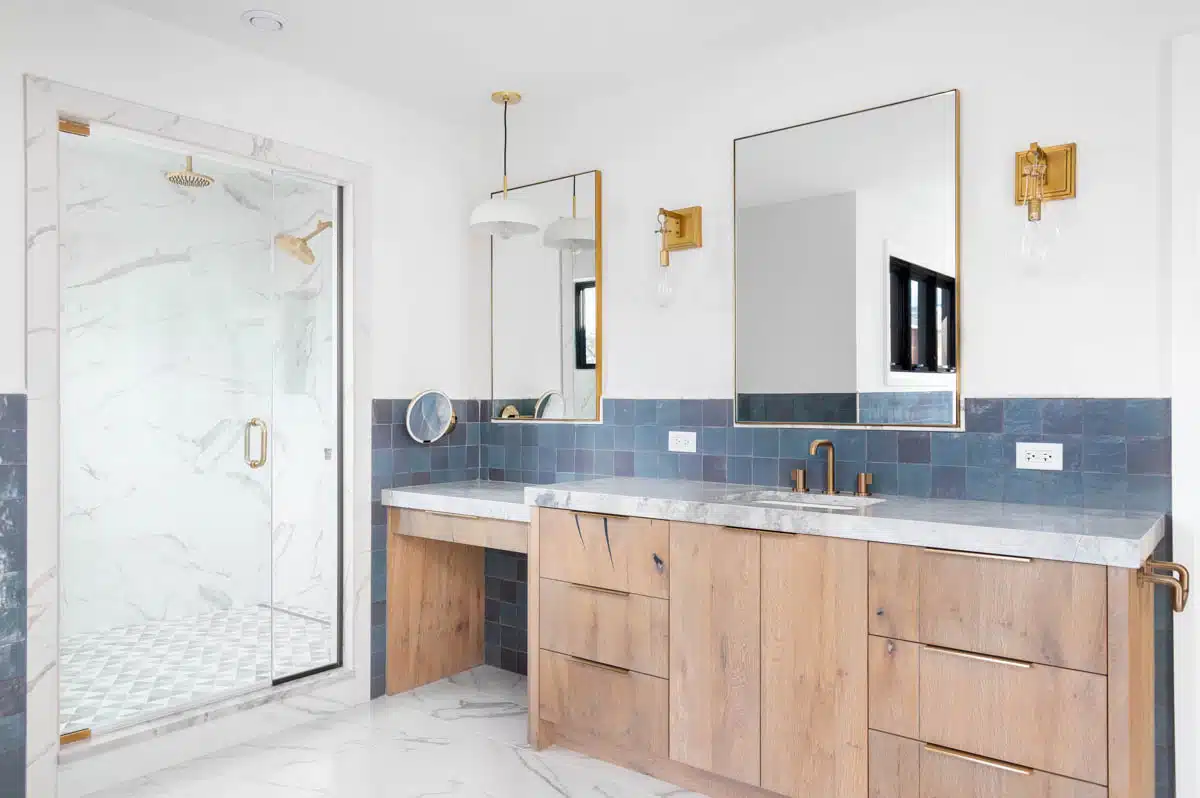 If you have a sea-inspired bathroom theme, these pendant lights might be the coolest option. Generally, nautical-style pendant lights, as the appellation states, display certain sea elements such as ship wheels, portholes, ropes, and the like. These pendant lights can deliver a hint of coastal appeal to your well-loved bathroom.
Art Deco Pendants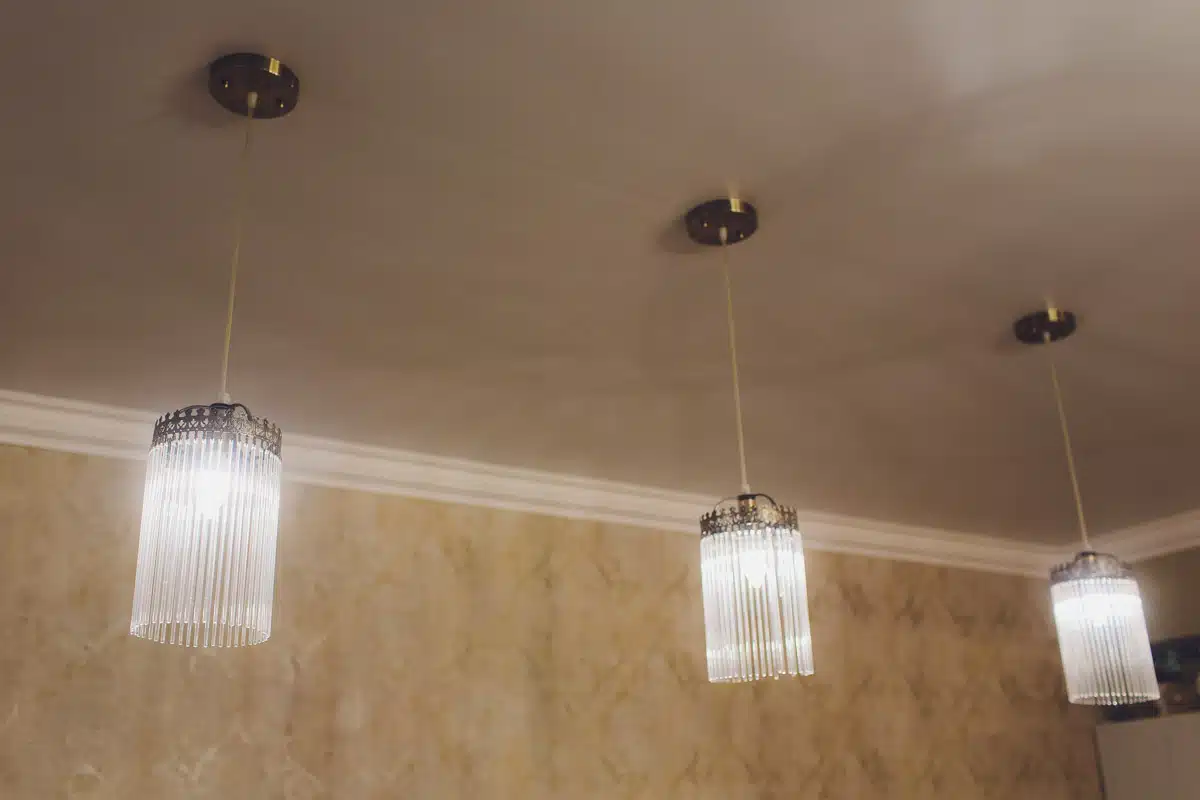 There are lots of homeowners who are fond of rich materials, geometric patterns, polished metals, and luxurious shades. If you are one of them, then Art Deco pendant lights might capture your interest.
These pendant lights usually feature the aforementioned details, and they often allude to a sense of luxury. Most of the time, Art Deco pendant lights have design themes that were popular way back 1920s. Pair them with a gilded period-era bathroom mirror and wall sconces with excellent results.
Rustic Pendants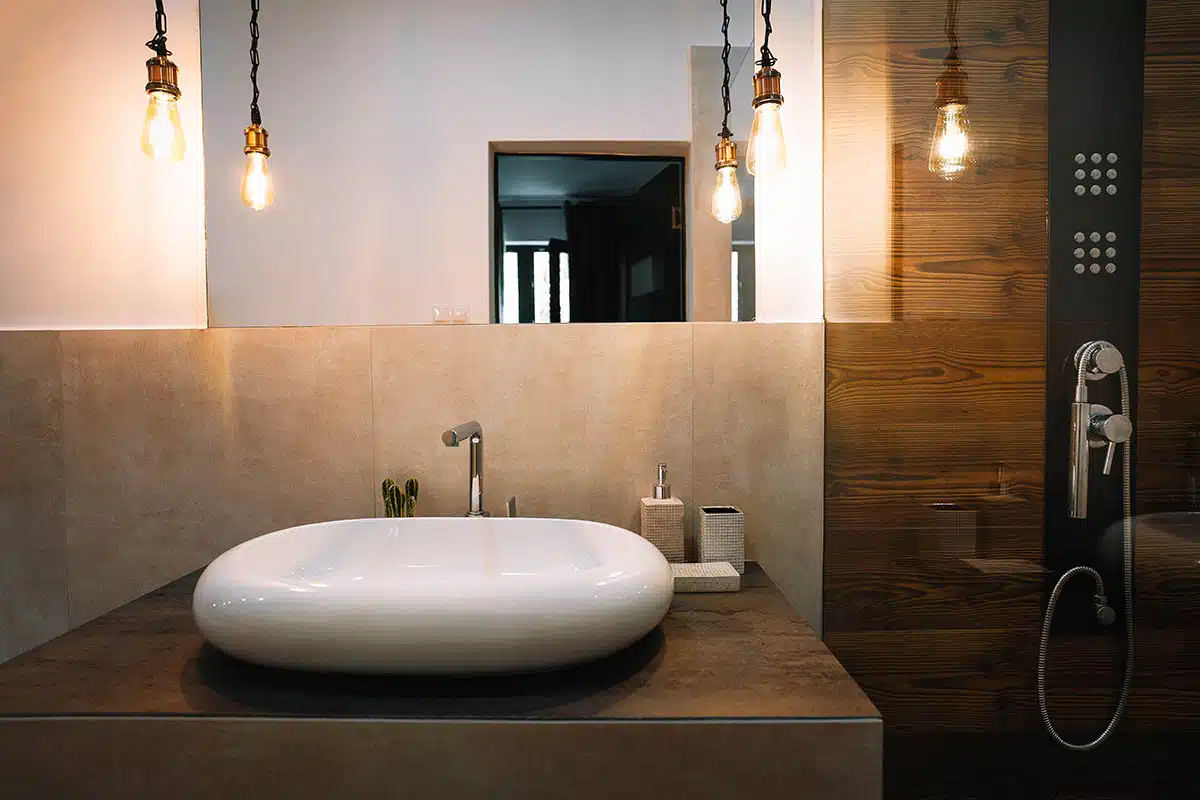 Wood, wrought iron, rope, twine, aged finishes, bare bulbs, and other elements that represent the rustic family are what these pendant lights are all about. Although a bit unpopular, there are bathroom pendant lighting designs that feature such elements. Rustic-style pendant lights are often used in bathrooms that have a traditional, farmhouse vibe.
Pair rustic metal pendants with other vanity hardware pulls or handles, and shower door finishes to create a cohesive look. Use additional lighting options such as semi-flush, flush, chandeliers, or sconce lights to get the amount of lighting needed to brighten up the rustic elements and help prevent the look from feeling too dark.
Boho Pendants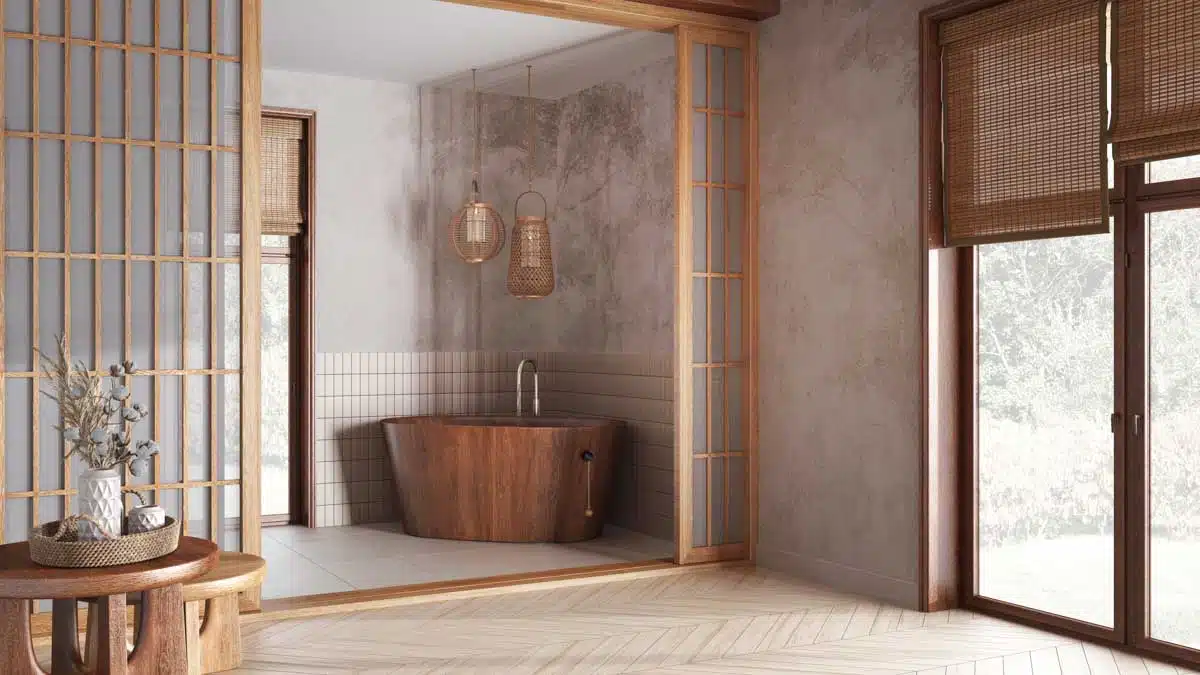 For bathrooms that are infused with a plethora of design elements, themes, and patterns, bohemian style pendant lights, might be the way to go.
Boho pendant lights are frequently enriched with random colors, complex patterns, and haphazard textures. Such pendant lights embrace the principle of Bohemian's free-spirited, eclectic essence.
Asian Zen Pendants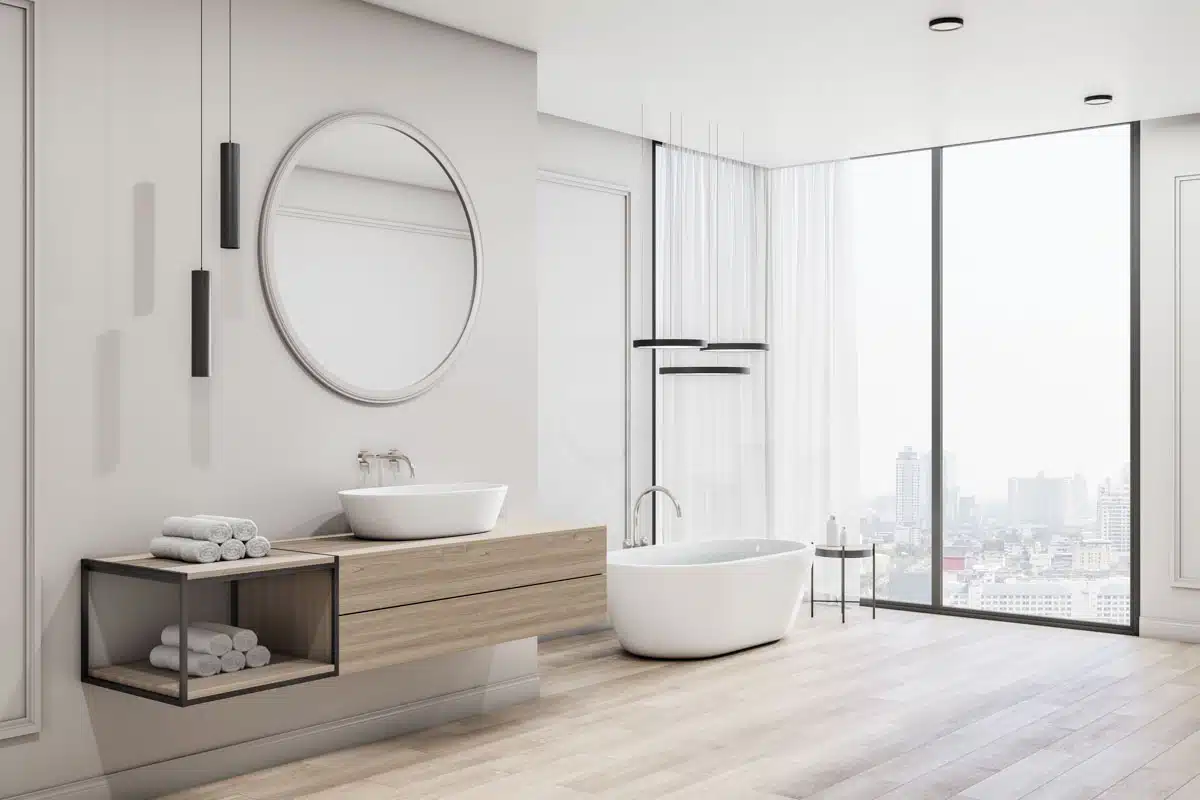 Are you an Asian in love with your highly respected tradition? The installation of Asian-inspired pendant lights, which normally include natural elements such as silk, rice paper, or bamboo, may capture your interest. Asian Zen pendant lights encourage balance, calmness, and tranquility within the bathroom, making it a real wellness space.
Retro Pendants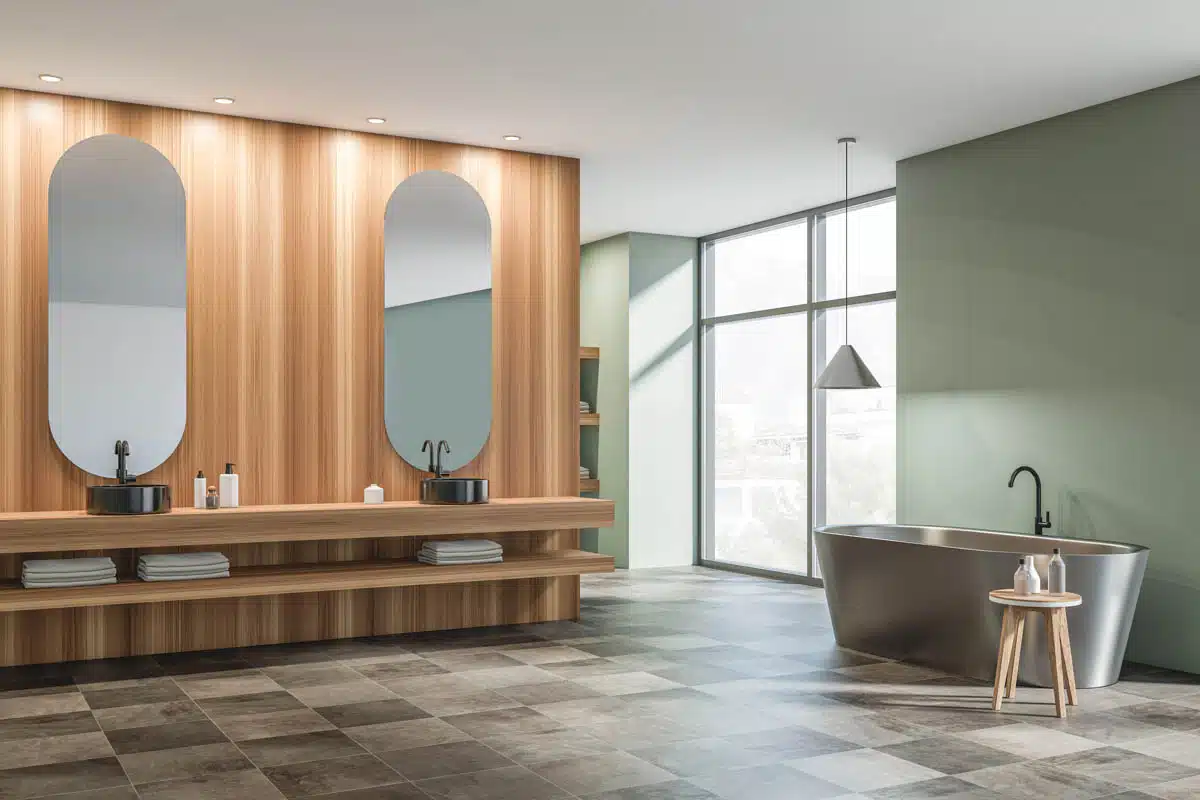 Can't move on from the 1960s and 1970s? You can always bring back the time in your bathroom with retro-style pendant lights. This classic pendant light style is normally composed of funky shapes, bold colors, and nostalgic vibes. They also energize the atmosphere of the bathroom and add a whimsical touch.
How To Choose The Right Pendant Style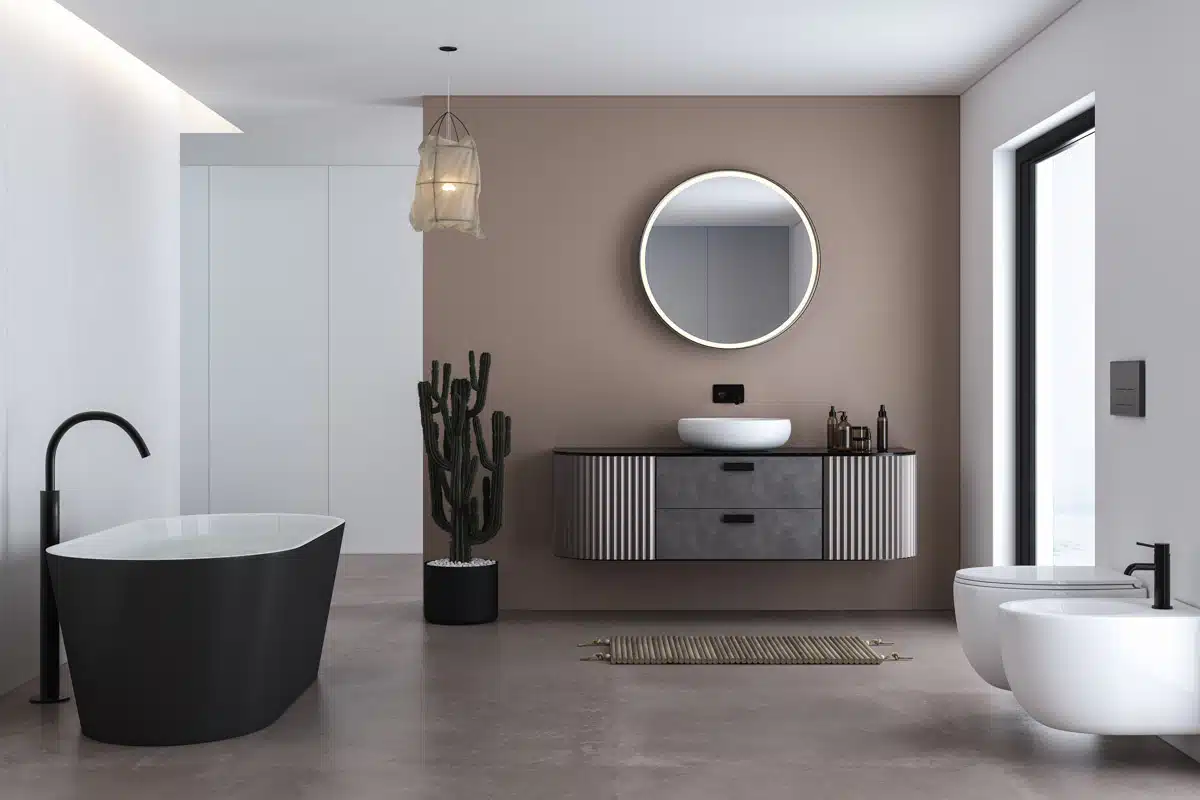 We're sure you know that bathroom pendants are beyond mere functional lighting. In addition, they are made to provide your bathroom with its much-needed personality, elegance, and mood-boosting capability.
Even so, you might agree that there are numerous types and designs of bathroom pendants, thus choosing the right ones could be intimidating. Fret not, below are our step-by-step guidelines on how you can confidently select the best pendant light for your beloved bathroom.
• Evaluate First the Current Overall Style of Your Bathroom: Before you execute any of your lighting plans, you have to initially consider the current style of your bathroom.
Take note of these questions: is your bathroom traditional, vintage, minimalist, or a fusion of two styles? The bathroom pendant you will select must complement, not disrupt, your current style.
Make sure the fixture product you buy matches the other finishes in the space. Brass, stainless steel, chrome, copper, brushed, antique, polished nickel, and matte black should usually be paired with other hardware finishes and decor accessories in the space for a well-rounded design.
• Identify the Main Objective of Your Pendant Lights: Some use pendant lights mainly for aesthetic purposes, but here's a more crucial question: are you planning to use your pendant lights to provide merely accent, ambient, or task lighting? Take note that different bathroom pendants supply varied functionalities.
• Always Remember that Size Does Matter: The pendant lights you will choose for your bathroom will greatly depend on the size of your bathroom.
So, it is critical to get the available space in your bathroom first before buying any pendant lights. Always take into account the diameter; you shouldn't overpower the bathroom with massive pendant lights.
• Be Mindful of the Height of Your Bathroom: In connection to the step before this, you have to remember that height is essential as well.
For instance, if you have very low ceiling design types, installing pendant lights might not be ideal. Thus, you have to ascertain sufficient clearance first so that the occupants can conveniently use the bathroom.
• Assess the Material and Finish Used on the Pendants: Achieving incredible visual impact is key when selecting pendant lights, so you want to be sure that the material and finish of the pendants will exceptionally add to the aesthetic impact of the bathroom.
To give you ideas, brushed nickel or chrome provide a modern appearance, whereas glass and wood deliver a vintage or rustic allure.
Luminance is the luminous intensity per unit of projected area of source, or the amount of light that is emitted or scattered from a particular surface. – Quality Management in the Imaging Sciences, Jeffrey Papp
• Do Not Overlook the Light Bulb Output and Brightness: This step is very important as well; do not ever overlook the light output as well as the type of lightbulb your selected pendant necessitates.
If you normally do tasks in your bathroom that require focused lighting like shaving, you may need lights with brighter outputs. But if your goal is to create a relaxing ambiance, go for softer light outputs.
• Ensure Your Pendant Lights Are Wet-Rated: Obviously, bathrooms are in persistent contact with moisture, hence you have to be certain that the bathroom pendant lights you will choose are wet-rated; meaning, they should be able to withstand moisture.
• Get Expert Assistance: Many homeowners tend to get confused about what type of pendant lighting fits their bathroom.
If this is your case as well, the best idea might be to receive assistance from an interior designer or lighting decorator to be well-equipped with the technical aspects of the installation.
Choosing The Best Pendant Size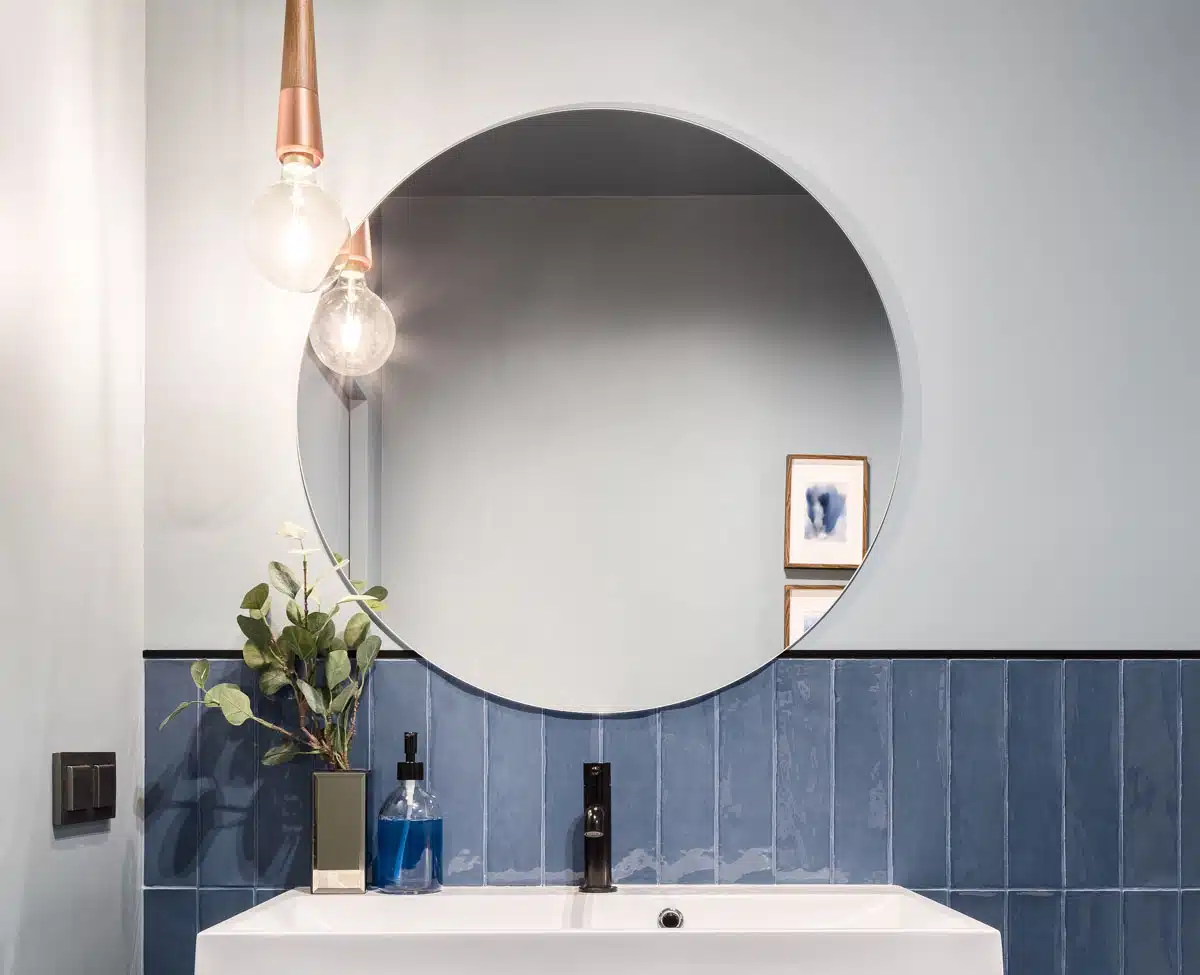 • Assess all of the dimensions of your bathroom and identify if it is a small-scale bathroom, a simple powder room, a mid-sized bathroom, or a massive master bathroom. The entire bathroom size will impact your pendant light fixture selection.
• If you are planning to install your bathroom pendant lights atop your bathroom vanity, then here is our recommendation: select pendant fixture width that is 12-13 inches narrower than your bathroom vanity's width. This will ascertain evenly distributed light.
• If your bathroom is on the larger side, it might be practical to use multiple pendant light fixtures. But if this is your plan, keep in mind that proper spacing is crucial. The combined diameter or width of all the pendant light fixtures must not surpass the vanity width or the designated space.
• You can establish a centerpiece using your bathroom pendant light. For instance, in massive bathrooms, you can install a solitary yet striking pendant light fixture that can function as a centerpiece.
• Always pay close attention to the height of the pendant light fixture and make sure that there is sufficient clearance for bathroom occupants. The rule of thumb in this matter is to hang the pendant lights 70-72 inches above the bathroom floor or 30-32 inches above the bathroom vanity.
Ceiling Installation Tips For Pendant Fixtures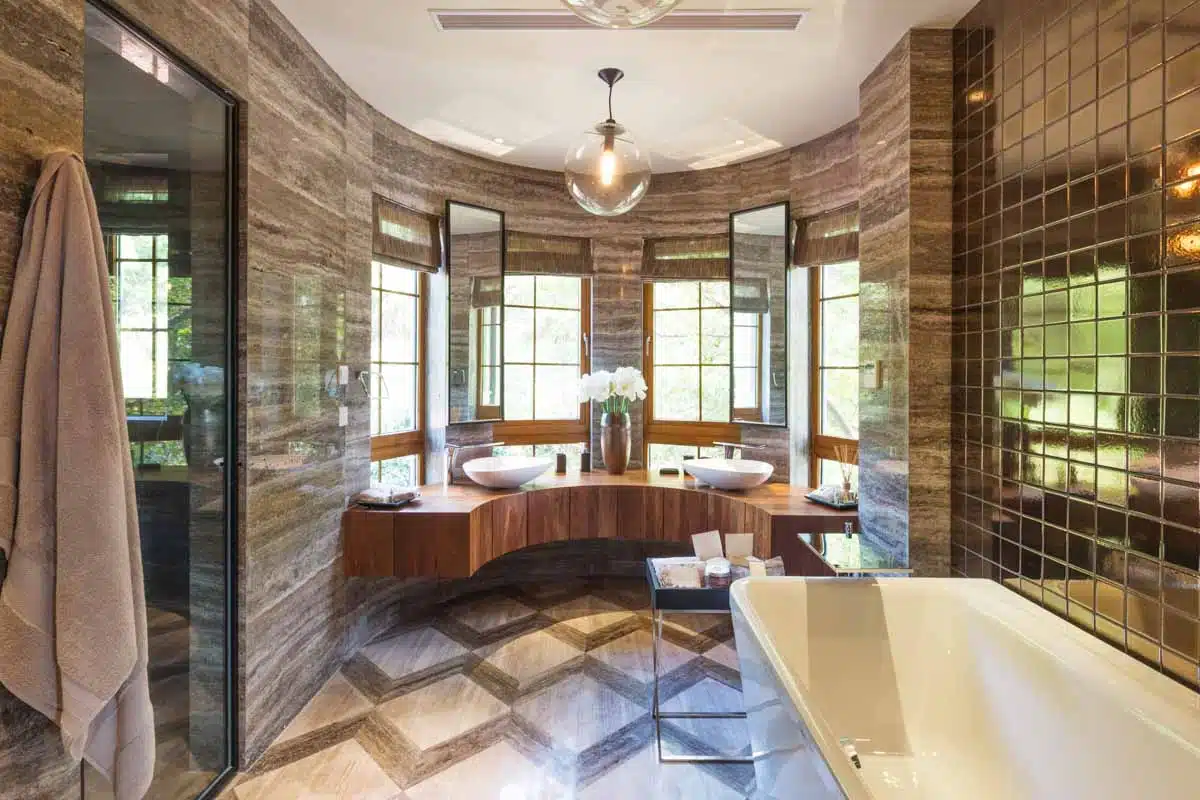 Installing bathroom pendant lights is not a simple undertaking; it usually necessitates thoughtful consideration and pure attention to detail. If you are planning to install your pendant lights on your own, the installation tips below might assist you:
Apply the Holy Grail – Safety First: Always prioritize your safety when it comes to installing pendant lights in your bathroom. The first thing you must do: is make sure to switch off the main power at the breaker to the zone where you will install the lights. There should be an absence of electricity within your working space.
Assemble All of the Necessary Tools: The necessary tools should all be prepared before the actual installation. Such tools normally include a wire stripper, wire nuts, screwdriver, pliers, electrical tape, voltage tester, and ladders to climb high ceilings.
Check the Pendant Light's Instruction Manual: This might seem a no-brainer; however, keep in mind that abiding by the instructions about the installation of the bathroom pendant lights is very crucial. Each pendant lighting fixture has varied requirements.
Get Precise Measurements and Make Sure to Mark Them: This step is quite essential as accurate measurements will dictate the actual placement of the pendant lights in your bathroom.
Get the height measurements of the location where you will suspend the pendant lights, and ensure to mark those spots at the ceiling using a pencil to identify the exact fixture placement. That placement should ensure bright, even illumination.
Safely and Accurately Connect the Wires: As you handle the pendant lights, you will notice that there are wires in them. Safely connect them to the corresponding wires located in your main power box.
Generally speaking, the black wires shall be connected to black wires, or white wires to white wires. The green may be connected to the ground wire. To secure these connections, make use of your wire nuts and cover them with electrical tape.
Ensure that the Canopy is Properly Secured: The wires should be concealed properly into the power box. Afterward, you can attach the canopy of the pendant light. By doing this, you can hide the wires and leave a clean appearance.
Carefully Hang the Bathroom Pendant Lights: Most pendant lights come with their own brackets or hardware so they can be hung safely. As you hang the pendant lights, make sure to abide by the user manual.
Check if the Light is Working: Before you totally secure your bathroom pendant lights, you have to switch on the main power once again and observe if the light is working. Verify if the wires are connected properly and observe if the height needs further adjustments.
Completely Secure all of the Wiring and Other Connections: Once you are satisfied with the installation and placement of your bathroom pendant lights, this is the time so start securing all of the wiring connections, including the exposed screws and other hardware. The pendant light should be hung in a stable manner.
How To Create A Cohesive Look With Pendants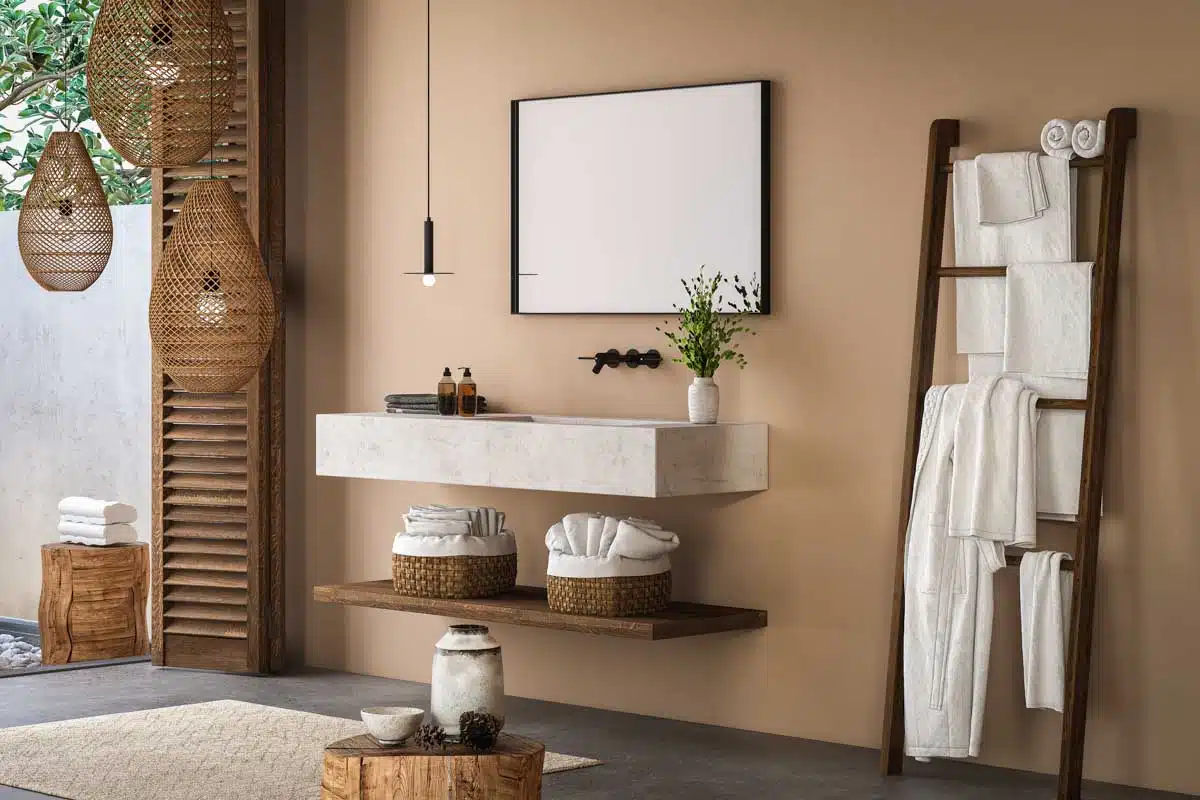 Define the General Style of Your Bathroom: Ponder these questions: do you want your bathroom to have a sleek, modern atmosphere? Are you planning to convert it into a classic, calming retreat, or a retro-vibe powder doom?
By defining the general style of your bathroom, you can choose pendant light fixtures that can cohesively align with your style in mind.
Remember Another Holy Grail – Consistency is Always the Key: Consistency is paramount to achieving a cohesive effect with your pendant light fixtures.
How can you do this? Well, you can start by selecting pendant light fixtures that have similar characteristics in terms of shapes, finishes, and materials used.
Layer the Pendant Lights Creatively with Other Fixtures: Ambient lighting or task lighting can be achieved effectively using pendant lights, but that is if you are going to creatively layer them.
You can efficiently layer your pendant light fixtures by pairing them with other light fixtures such as recessed lights to deliver high-quality illumination.
The Size of the Pendant Lights Should be Proportionate to the Size of Your Bathroom: This is another pivotal step in establishing a cohesive look with pendant light fixtures.
For instance, if you have a small bathroom, the pendant light fixtures you will choose must also be compact so you won't overwhelm the bathroom space.
Large bathroom sizes, on the flip side, should have bigger-sized pendant light fixtures. This will help maintain cohesiveness.
Match Your Bathroom Hardware and Accessories with Your Pendant Light Fixtures: Keeping your pendant light fixtures well-coordinated with your current bathroom hardware (towel bars, vanity pulls, faucets, and the like) can help promote cohesiveness and balance.
You can also add supplementary bathroom accessories like mirrors and other decorative elements that can complement the finishes and style of your pendant light fixtures.
Pros And Cons Of Bathroom Hanging Pendants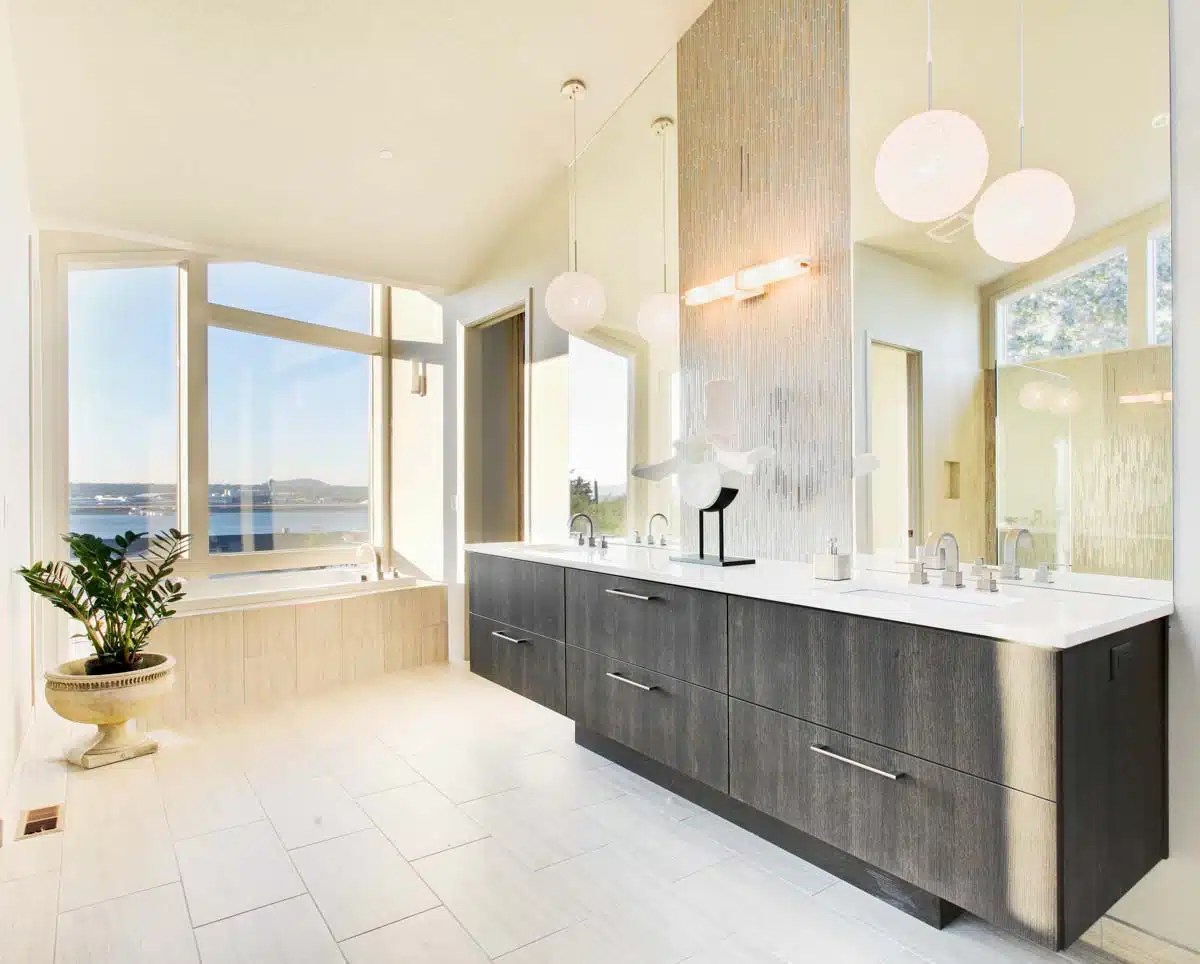 Before finalizing your decision to choose pendant lights as your bathroom's main illumination source, you have to weigh their pros and cons first. From an interior designer's standpoint, below we present to you the pros and cons of bathroom pendant lights.
Pros of Bathroom Pendant Lighting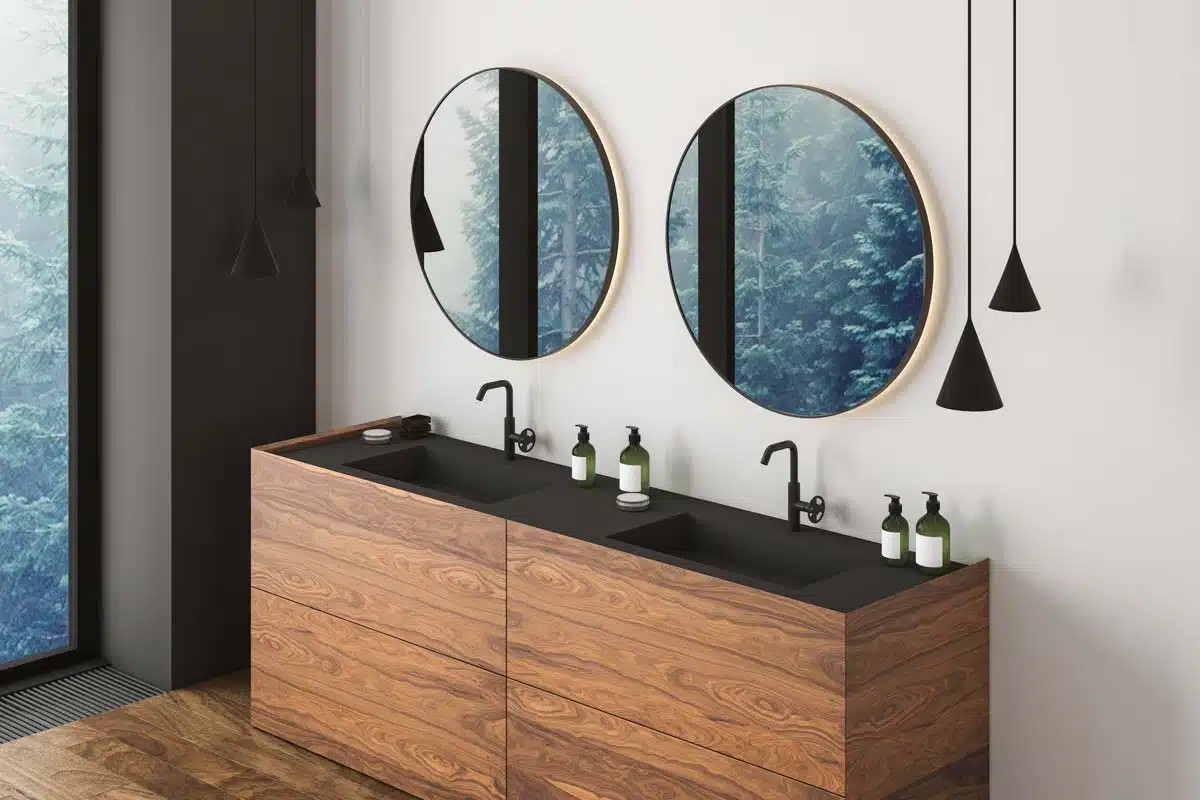 Extremely Elegant Aesthetics: This is actually the main reason why so many interior designers as well as homeowners are going crazy for bathroom pendant lights – their exceptional aesthetics.
These light fixtures have their natural capability of transforming a mundane space into an invigorating, eye-pleasing one. Moreover, bathroom pendant lights are available in a myriad of materials, designs, and finishes, which can complement any bathroom style – whether it is vintage, modern, minimalist, retro, boho, etc.
You Can Effortlessly Establish a Focal Point: Establishing a focal point inside a bathroom can be challenging, but with pendant lights, doing so would be a snap. Bathroom pendant lights can draw the occupant's eyes to them every time they use the bathroom.
With the right pendant light choice, transforming the ambiance of your bathroom into a luxurious retreat would indeed be a breeze.
Extreme Versatility: When you place the bathroom pendant lights strategically, you will observe how versatile they are. Depending on the type of light fixture as well as the choice of the light bulb, bathroom pendant lights can act as effective ambient or task lighting, which can augment the practicality of your bathroom.
Straightforward Customization of the Pendant Lights: If you are the type of designer or homeowner who is fond of customizing your own light fixtures, pendant lights won't disappoint you.
From selecting the size, material, shape, and style of the pendant to adjusting its suspension height, you're free to do it until it meets your desired style preferences and illumination requirements.
Cons of Bathroom Pendant Lighting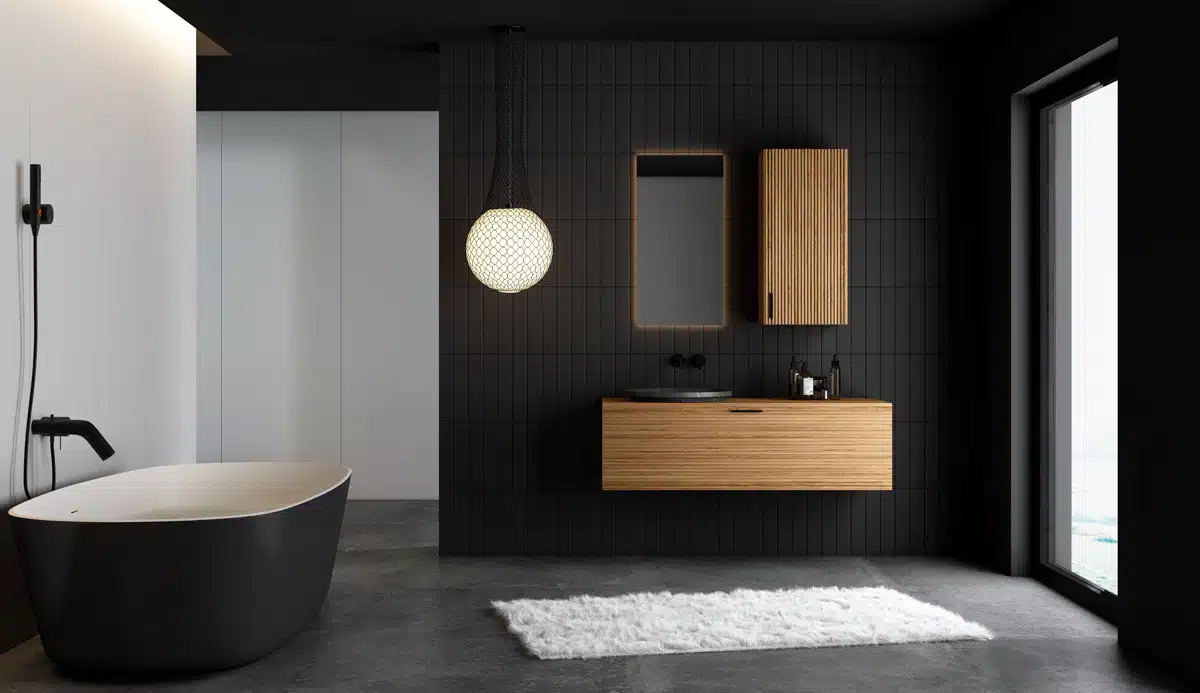 Potential Restrictions in Height: Those bathrooms with lower ceilings may not be able to accommodate these precious pendant lights. To achieve proper clearance, the ceilings have to be high, otherwise, the occupants may accidentally bump their heads into the pendant lights.
Can be Challenging to Clean and Maintain: Wiping or simply tidying up bathroom pendant lights is quite hasslesome as the dust and moisture may accumulate over time on the lighting fixtures. Moreover, pendant lights normally have complex structures, which makes it harder for some areas to reach and clean.
May Generate Unwanted Shadows: If the pendant light fixtures in your bathroom are poorly arranged, glare and shadows may be generated, which can badly affect the lighting and activities in your bathroom. Thus, expert placement of the pendant lights is always necessary.
Requires a Different Level of Installation Skills and Expertise: The installation of bathroom pendant lights, especially in those bathrooms with pre-existing lighting systems, necessitates precise rewiring and major structural customizations. Thus, this may force you to hire an expert to do the job, which may add extra labor costs.
Common Mistakes To Avoid With Pendants Installed In The Bathroom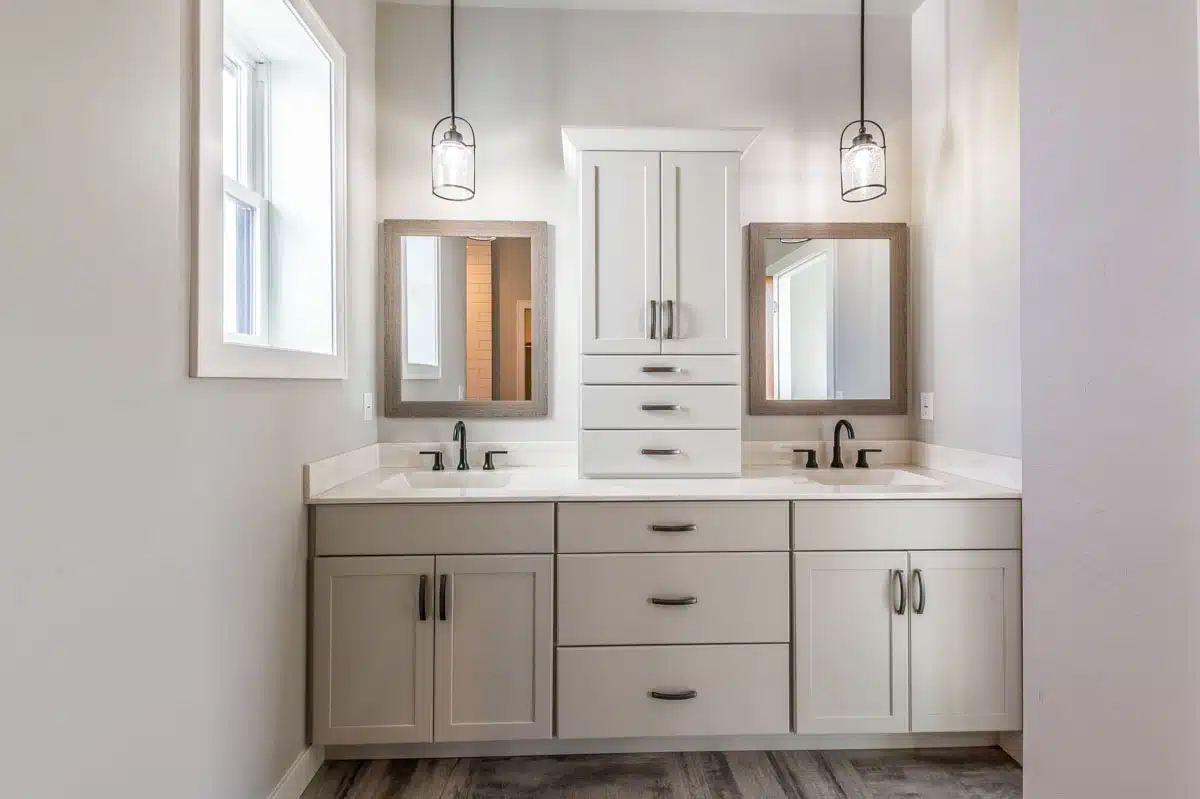 • Overlooking Height Requirements: This is one of the most neglected things when installing pendants in the bathroom. Remember, there should always be sufficient clearance to avoid accidents.
A general rule of thumb is to hang the bottom of the fixture so it is at least 12″ to about 20″ away from the vanity countertop. If you're not hanging the fixture over a vanity then ensure it is about 6 1/2′ to 7′ from the floor to provide adequate headroom for family and guests.
Check with your local building codes in relation to hanging fixtures around the tub. Switches should not be placed in close proximity to those standing in the tub. When hanging near a tub it's always a good idea to check with a licensed electrician in your area or a contractor with experience in lighting to ensure that safety precautions are met.
• Forgetting to Purchase Wet-Rated Fixtures: Bathrooms are considered wet locations, so it is always important to keep in mind that the pendant lights you will purchase are designed to withstand humidity and moisture to prevent any harmful electrical problems.
• Doing the Installation Without any Experience and Expertise: The installation of pendant lights is always open for DIYers. But if you have no skill or experience in this field, it is always best to leave the task to the pros.
• Ignoring Lighting Upkeep: Never leave your pendant light fixtures dirty, or it will affect its performance, look, and longevity. Regularly find time to clean and maintain your lighting fixtures.
How Low Should Pendants Hang Over The Bathroom Vanity?
Here is the general guideline for this matter: if you wish to maximize illumination and accomplish a striking focal point, the bottom part of the pendant lights must be around 60-70 inches above the bathroom floor.
Such measurements will make sure that the pendant light fixtures will supply the ideal lighting level for certain bathroom activities and will not obstruct your view in the vanity mirror.
See more related content in our article about the different canless recessed lighting pros and cons on this page.