Here we share the pros & cons of virtual staging and how it can help you sell your home for more money, faster.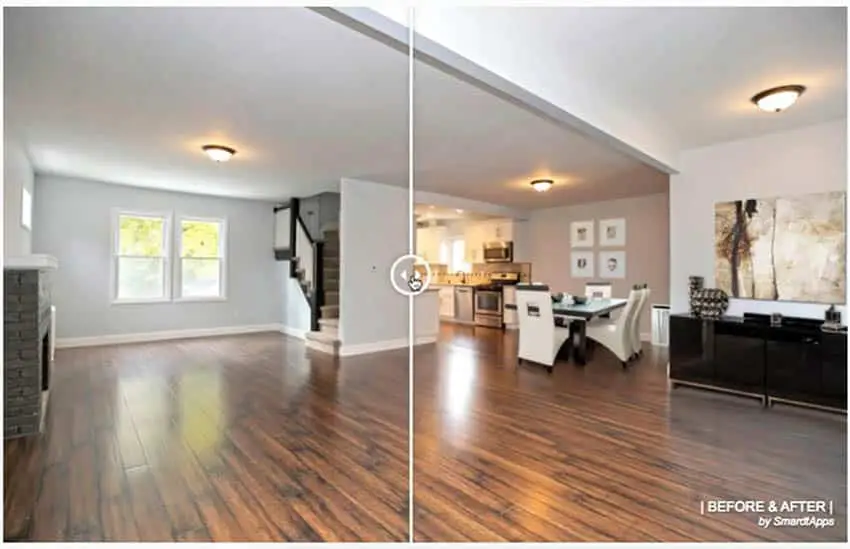 What is virtual staging and how might it help you? Virtual staging is software that allows one to take a photo of your home and fill it with furniture, remove existing furniture, and showcase the space in the best possible way. We already know that staging a home can help it sell faster, so let's take a look at the many ways that virtual staging can help you.
Of course, anything comes with pros and cons, here are some things to consider when looking into virtual staging. One major pro of virtual staging is that it takes less time than traditional staging. When you stage a home, you typically hire a designer or staging service. From there, you have a few options, they will edit and rearrange your existing furnishings, fill an already empty space with their furnishings, or the will put your belongings in storage and fill the space with their furnishings. This can be time-consuming and expensive.
With virtual staging companies, all you have to do is photograph the spaces you want staged and send them to the staging company of your choice. The industry standard turn-around time is two to three days. Make sure that your real estate agent discloses that the house has been virtually staged on the MLS listing.
Be aware that not all MLS markets allow for photos of virtually staged homes, so make sure to do your research before going the virtual staging route! It is a small con, but an important one, you don't want to make it harder to sell your home!
Another pro for virtual staging is cost effectiveness. Using traditional staging starts at $2000 for set up and can cost up to $1000 in monthly fees. And if you have to store your own furniture, you add storage costs to that. If you aren't making much profit on your sale, this could really eat up what little money you might make. And if your real estate agent is making the arrangements for you, there will be fees involved on their end as well.
There are also a variety of virtual staging services that are do it yourself through different software and online apps. Virtual staging software typically costs about $200-$400 and has a one-time fee. You can take and submit the photos yourself so you don't need to worry about any extra agent fees, either. Virtual staging keeps more of your money in your pocket.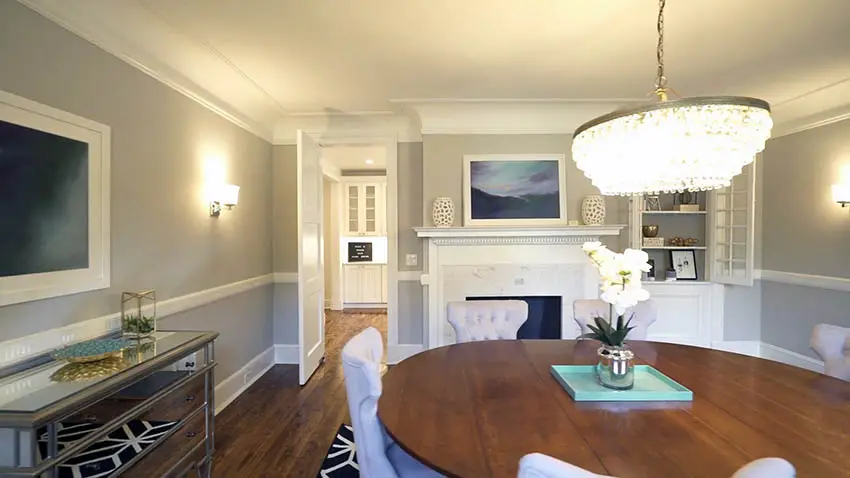 A big pro to check off is versatility. If you have a room that can function as either an office or a bedroom, you can virtually stage it as both. Same with a space that could be used as a dining room or a den. This would be super time-consuming and not at all cost-effective to do with real world staging, if not downright impossible. You can also stage a room with different paint colors so that people can envision something other than stark, white walls.
With virtual staging, you have more options than you would with standard staging. If you think that your market is going to be younger families, then you can ask the company to use furniture appropriate for families. If your market is retirees, then the staging can easily reflect rooms that would appeal to them. A staging company can only have so much furniture at the ready, so your choices in the real world are limited, whereas in the virtual world, your choices are nearly unlimited.
The flip side of this is that you could set up unrealistic expectations of the space. Don't take it too far and change the flooring or add crown molding where there is none. You can get into a false advertising situation pretty quickly if you let it get out of control. The virtual staging companies often do a great job of ensuring that the look is nice but realistic.
Yet another great thing about virtual staging is that it is totally impersonal. When you stage a home with your own belongings and family photos, the space is still yours and it is difficult for people to see themselves there. Virtual staging keeps things impersonal by having artwork, not photos, and furnishings that look show-room perfect. They allow people to see how the space would look with furnishings but without those little personal touches, like a toy left under a chair or a handbag placed on the credenza.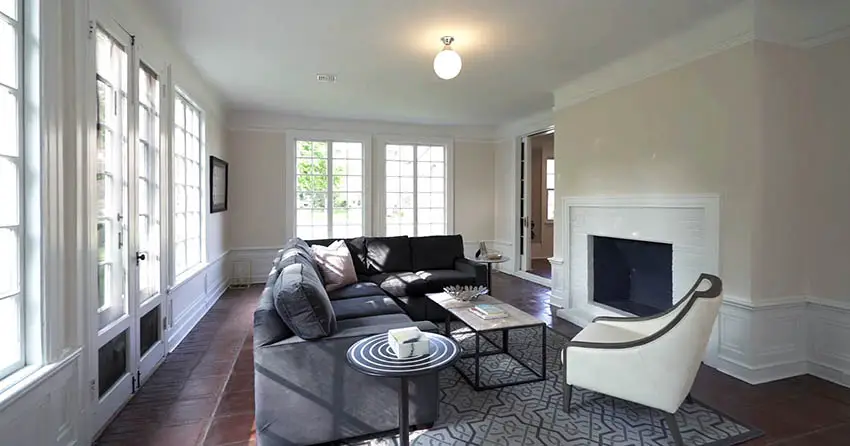 Not convinced yet that virtual staging is right for you? This pro will likely change your mind! Even if your home is still fully furnished, you can have a professionally staged home to showcase. Just take photos of your fully furnished rooms, send them to the virtual staging company, and they will digitally remove your furnishing and stage the room!
You can still have your creature comforts and get a jump on the listing, with the date that showings with be available, and your perspective buyers will have access to a professionally staged home to fall in love with before they even tour! Wouldn't it be great if they were already convinced that your home was the home for them before they even entered the front door?
If your home is empty, include a stack of the staged photos along with the information that the real estate agent provides. That way, the home buyers can grab the photos and see what the space will look like with furnishings even as they walk through an empty room. You can include these photos on flyers, in brochures, on websites, and even in emails. Virtual staging really opens up a world of possibilities in listing and selling your home.
There are some people who just aren't into digital manipulation at all though. Even with the incredible strides in technology and the realistic digital manipulation, some people still see virtual staging as looking fake and see it as dishonest. Know your market and respond appropriately, make sure that you are very clear that the photos have been virtually staged. Some clients become quite angry when they tour an empty home when the photos clearly showed that the home was furnished.
Virtual staging allows you to stand out from the rest of the pack. And when you stand out in a good way, that can help your home sell faster and for more money. Get the edge in a competitive market with virtual staging, save money, and generate buzz with professional staging and photos of your space. A lot of larger real estate companies are already using virtual staging because they know it gets results quickly and easily.
Some virtual staging groups take it a step further and create virtual tours once they have staged the home. These virtual tours allow a client to see the entire space, inside and out, just like they are walking through it. This is especially helpful when people are located in another city and want to look at properties ahead of when they will actually arrive. It allows them to narrow down their choices to only the houses that they would seriously consider buying. Having your house virtually staged and including a virtual tour opens you up to a much broader market, making it more likely to sell quickly and for a larger profit.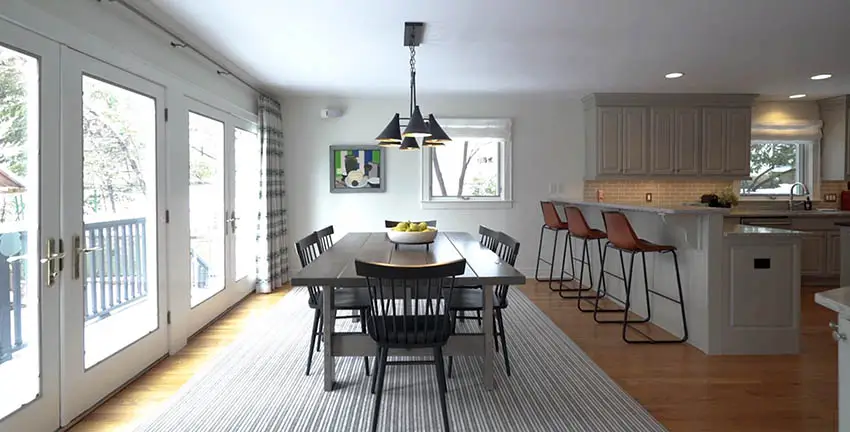 We've discussed the pros of virtual staging to sellers, but there are pros for buyers as well. As a buyer, you will be able to see how an empty space looks with realistic furnishings and accessories. If you have a hard time seeing past someones clutter and belongings when you tour their home, a tidy virtually staged photo will allow you to see the space in a different light.
If you are in a large, suburban home just outside of town but are planning a move to a small apartment in the big city, you will be able to see the scale and size of furnishings that are being used in the spaces there. There is the possibility that the staged photos are going to make you want to buy new furniture, but that is just a small con to viewing homes that use virtual staging. It really cuts down on time because you can instantly see whether or not a space will work with what you already own. You don't have to spend days upon days touring houses, when you view houses with virtual staging, you can quickly check them off your list or add them to the few that you chose to tour in person.
The progress of technology in real estate has made buying and selling a home easier with every new development. And virtual staging is no exception. Affordable, high quality photos, professionally staged with beautiful furnishings and accessories. Easy to customize, easy to use in a wide variety of applications, from print to the internet, easy to reach a much broader audience.
Though there are a few, minor cons, the many pros make virtual staging a must for anyone selling a home. It isn't the wave of the future, it is here now and being utilized by large real estate companies, hotel corporations, and commercial real estate developers. Take advantage of this amazing technology and use virtual staging to help sell your home.
[expand title="Show Image Sources" swaptitle="Hide Image Sources"]VisualMarketing&Design from Vimeo (Creative Commons License)
VisualMarketing&Design from Vimeo (Creative Commons License)
TatteyD from Vimeo (Creative Commons License)[/expand]