Here is our gallery of the popular types of hardwood floors including details about grades, cuts, finishes and more.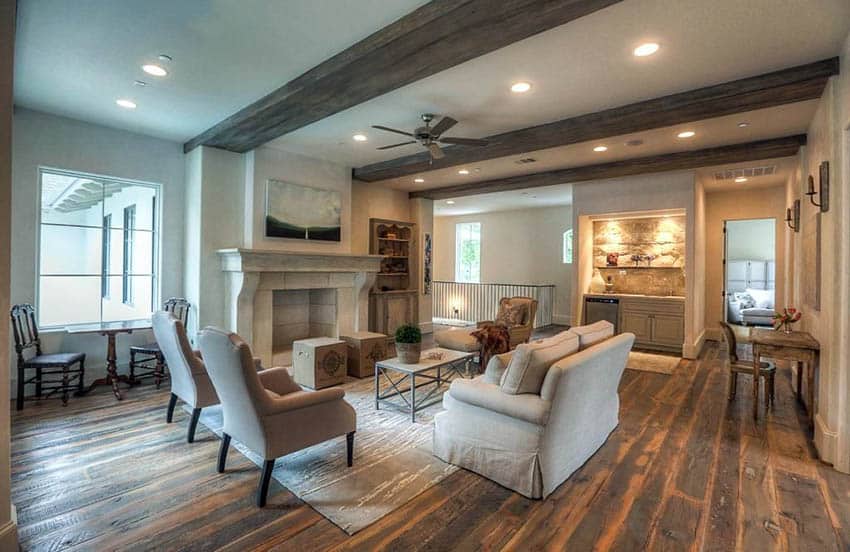 When you are looking for a new house, or visiting someones house, the biggest impression the house makes is the floor. This is what your feet touches. It also brings out the color of the walls, the furniture, and sums up the overall feel of the house.
There are different types of floors that can be used in houses. Every single one has pros and cons and preference really relies on the homeowner. The most common types of floors are laminate, hardwood, tiles, stone, and carpet. Hardwood floors remain the top choice for floors due to its variety, low maintenance, and sturdiness.
Species of Hardwood Floors
Scientists have documented over 60,000 species of trees in the world. Of course, not all of these trees can be used as hardwood floors. The most commonly used species of wood used for floors are tested for their quality and longevity.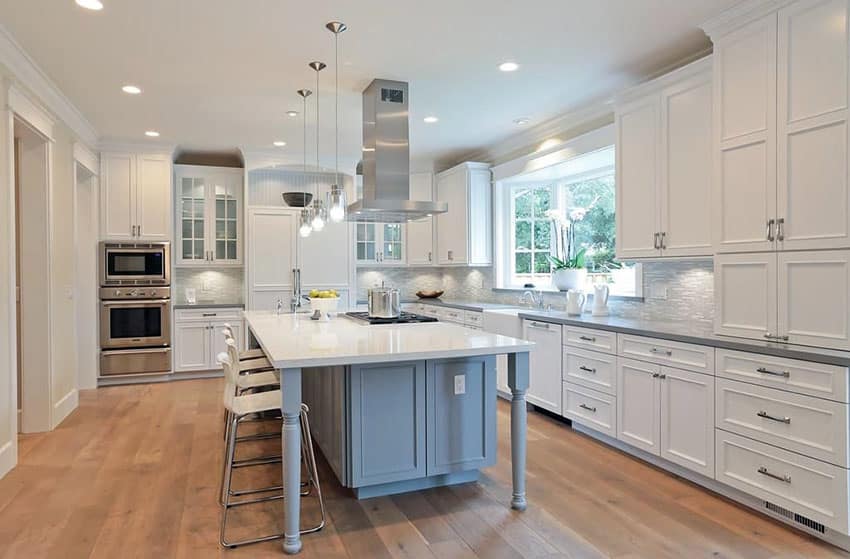 Here is our list of the most popular types of hardwood floors used for interior design today:
Oak Hardwood
There are over 600 species of oak found all over the Americas, Europe, Asia, and Africa. They bear fruits known as acorns which houses nuts inside its hard shell. Their leaves and nuts contain tannic acid that protect them from fungi and insects. This quality makes them one of the most popular species of wood used for construction: floors, beams, and frames. Oak is also used to make furniture, wine barrels, and musical instruments. Its wood is typically light brown with pinkish or grayish tints. Oak wood is readily available and a very popular choice as hardwood floors.
Visit this page to see our oak hardwood flooring gallery.
Maple Hardwood
With over 128 species of maple, its leaf is popularly recognized on the Canadian flag symbolizing strength and endurance. Majority of the species is native in Asia, but a variety of species are found across Europe, northern Africa and North America. Aside for its wood, maple trees are widely used for maple syrup derived from their sap. Maple wood is used to make baseball bats, bowling alley lanes, butcher blocks, pool cue shafts and archery bows. Commercially, maple wood is used for floors and furniture. It is usually creamy white to light reddish brown in color. Although maple originated from Southeast Asia, maple hardwood is readily available in most stores.
Hickory Hardwood
The hickory tree has about 17 to 19 species spread out over Asia, North America, Mexico, and Canada. Hickory wood is popular for being shock resistant, stiff, and dense. There is a wide range of commercial use for hickory wood: tools, musical instruments, and sports equipment. Their wood is durable to resisting wear and character which makes them a good choice for floorings. They are usually reddish brown in color. Hickory is harder than oak wood, but they are not popular for their resistance.
Birch Hardwood
Birch is a hardwood tree with thin leaves that is closely related to the beech-oak family. They grow in the northern hemisphere and subarctic climate spread out over Europe and northern Asia. Due to its hardness, birch wood needs power tools to shape them. The wood is commercially made into plywood. Birch tree extracts are transformed into leather oil and turned into soap and shampoo. Its leaves are made into tea. Native Americans used birch wood to make into canoes and bowls due to its waterproof feature. Speaker cabinets use birch wood specifically for its natural resonance. Its wood is usually light or yellowish in color.
Cherry Hardwood
There are different varieties of cherry wood, but the most commercially used is the American cherry. As its name dictates, it is native to North America. Its wood is popular among woodworkers because it is a well-rounded species. It is easy to manipulate and looks beautiful so it is often used to make cabinets and furniture. It is usually light to dark reddish brown in color. It holds stain and glues very well and also more affordable that other species of wood, which makes it a popular choice for furniture and floors.
Walnut Hardwood
The walnut is a large and sturdy tree that is native to Central Asia. It is now widely grown across North America and Europe. Its wood is heavy, hard and open-grained. Walnut wood is considered high-end which is why it is often used for guitars, furniture and floors. Its color varies from deep dark brown to purplish black. When used on floors, it gives a darker and richer feel to the house. Since this is a high-end type of hardwood, it is more expensive but it lasts a lifetime.
Douglas Fir Hardwood
This tree is native to western North America. It is known for being a large tree. In 1995, a Douglas fir tree was named the second largest in the world trailing behind coast redwood. This species was named after a Scottish botanist David Douglas who was the first to report on their extraordinary features. It has a light yellowish color. It is commonly used as lumber and plywood.
Heart Pine
Heart pine is the term used to call the beautiful wood of the pine tree. Woodworkers love to use this species of wood for its strength, durability, and reddish gold color. The pine tree is native to North America. Because of its qualities and requires 30 years to grow, the pine tree is not readily available. Deforestation and over harvesting since the colonial days have greatly impacted the pine tree. Right now, only 3% of the original Longleaf Pine tree forest remains in the United States.
Ash Hardwood
Ash trees grow across North America, Europe and Asia. They are usually medium to large trees that grow in subtropical climate. Their wood is a favorite among woodworkers because it is hard, dense, and extremely strong but still very elastic. Because of these qualities, ash wood is made into bowls, handles, and baseball bats. Commercially, the wood is also used for staircases, high-end guitars, and vehicle structures such as cars and aircraft. It is usually light to dark brown in color.
Teak Hardwood
The teak tree is a large tree that originates from south and southeast Asia. It is sometimes referred to as "Burmese Teak". When the wood is freshly cut, it sends out a leather-like smell. Its wood is yellowish brown and turns dark brown as it ages. Considered as hard wood, Asians have been using them for construction, boats, furniture, and carvings. They are durable and water resistant. Many Asian houses have teak wood as their outdoor furniture, boat decks, indoor flooring, countertops, cutting boards, doors, window frames, beams and columns. Because they are water resilient, they are most popular for building boats.
(Visit this page to get more details about teak wood flooring)
Unfinished and Factory Finished Floors
Unfinished hardwood flooring means that the wood is in its raw form. The floors will be sanded and finished onsite. The advantage of using unfinished hardwood floors is you can bring different options of stains to match the room and decide on what works best. They are also more affordable and more flexible in terms of what finish you want. You can choose the best quality of finishes to make the floors look amazing.
For large construction projects, a lot of contractors prefer to finish the floors towards the end. This way, they don't need to take extra precautions when hauling in equipment or materials in and out of the site. The disadvantage is that it may take days or weeks before the floors can be walked on because they need time to dry. In the meantime, the site will also smell of solvents that were spread out on the floors.
Factory finished hardwood floors are already finished by the manufacturer. They are easier and faster to install because there is no need to sand or finish them. Once installed, the floors can be walked on immediately. However, they are more expensive because they are all set for installation. Most installations can be finished within the same day depending on how big the site is. There are no issues with moving in furniture right after installation. Since they are finished at the manufacturer's, there are no undesired vapors that can be smelled once installed.
Solid and Engineered Floors
Solid hardwood flooring is a solid piece of a single species of wood from top to bottom and side to side. This type of flooring is roughly ¾" thick so it can be sanded and refinished over and over again. Due to its nature, solid hardwood expand and contracts depending on changes in moisture levels and temperature. These types of flooring are recommended for rooms at ground level or above. It is not wise to use solid hardwood flooring in basements and bathrooms. There are numerous species of wood to choose from compared to engineered wood. These floors are extremely durable and hard making them a great investment.
Engineered floors are made up of solid hardwood or plywood with layers of hardwood veneer. Contrary to popular belief, engineered floors are made from real wood and not laminate. This type of flooring is easier to install. There are less options in terms of wood species, but these floors are still very durable. They can be placed in moisture-prone areas like basements but problems should be checked for proper precautions. Since engineered floors are thinner that solid ones, they can only be sanded and refinished a few times before the upper thin layer wears off. It is more practical than solids, but will not last as long.
Appearance of Hardwood Floors
The appearance of hardwood floors depend on how the wood was cut and the characteristics of the grain depending on its species. When choosing hardwood floors, this is the first thing that buyers consider. They want to make sure that the floors will match the look that they want for specific rooms. First impressions are indeed important.
Hardwood Grade
The grade refers to the actual appearance of the wood. When wood is being graded, these are the features being taken into consideration: the number and size of knots, the amount of sap present in the wood, and the color variations found. Simply put, the smaller the knots, the less amount of sap, and the more uniform in color, the higher the grade is and thus higher in terms of price. Visit our page about the cost of wood flooring for more information about price differences between different types of hardwood floors.
Clear Wood
Also known as prime grade, this is the highest grade of wood flooring. The characteristics of this grade include minimal knots, grade is uniform in appearance, and the sap content is very low. It is cut from the very center of the log. It has minimal color variation so it looks uniform overall.
Select Wood
Also dubbed as ABC grade, select wood is the second highest grade. The characteristics are a few knots, some sap amount, and some color variation. It has minimal streaks and natural color variations.
Number 1 Common
Other names associated with this grade include low select grade, natural grade, and ABCD grade. The wood has bigger knots, more color variation ranging from light to dark, mineral streaks and wormholes. This grade is only available on a accumulations basis as a small percentage of the grading when trying to produce clear wood or prime grade.
Number 2 Common
Also known as rustic grade, there is a larger variation on color, sap amount and number of knots. It shows a very natural and traditional vintage look.
Hardwood Cut
Just as the name indicates, cut refers to how the lumber is cut from the logs. This is important because it determines the figure in a piece of hardwood. It also defines the orientation of the growth rings on the end grain and determines the type of lumber. There are four different types of hardwood floor cuts: plainsawn, quartersawn, riftsawn and livesawn.
Plainsawn
This is the most common cut of lumber. It is also called flat sawn. It is also the least expensive cut. The results show a cathedral pattern on the face of the board.
Quartersawn
This cut is more expensive than plainsawn, but it has a beautiful straight grain pattern. Its name is derived from the fact that the wood is sawed at a radial angle into four quarters.
Riftsawn
Out of all the cuts, riftsawn is the most expensive and the least common. It is similar to quartersawn without the ray flakes, and it is even used to compliment it. The method to produce riftsawn is considered wasteful which is why it is priced high compared to the other cuts.
Livesawn
This cut is a combination of plainsawn, quartersawn and livesawn. The logs are sliced directly without turning the log. Unlike the other cuts, livesawn utilizes the entire log so there is no waste. This cut lasts a lifetime and look more natural.
Hardwood Finishes
Wood finishing is the last step in the manufacturing process to give the desired appearance and also to protect the wood from moisture and environmental damages. Finished hardwood floors is easier to clean and sanitized.
Water-based Finishes
Water-based finishes are the most popular ones among the different types of finishes available for hardwood floors. It gives the floors a shiny and signature wet look. This finish makes hardwood floors very low maintenance because it is easy to clean and lasts a long time. The hardwood stays in its traditional color and does not turn yellow over time.
Oil Sealer
Also called oil-based finishes, this is the best choice for those who prefer to DIY their hardwood floors because it is easy to do. The penetrating process enhances the wood color and showcases the grains. The floors can be re-finished in the future. It is also considered extremely durable and protects your wood to last a long time. This is the best finish for traditional and antique rooms because of the traditional finish it brings. These finishes are usually amber in color.
Hard-Wax Oil
This type of finish is considered old-fashioned and outdated by some, but it slowly regaining its popularity. Great for DIY fans, it is easy to apply even for inexperienced homeowner. Hard-wax oil gives the hardwood floors a warm look and a low luster finish. It is not as durable as oil sealer and water-based finishes, so it is recommended to reapply the finish every 2 to 3 years.
Acid Cured
Acid cured finish is also called a Swedish finish. It is very durable and perfect for smooth-textured flooring as well as exotic woods. It provides extra protection to the wood. The disadvantage is that this finish has high toxicity levels during the curing process which can last up to a month.
Aluminum Oxide
The most long lasting and durable of all finishes, aluminum oxide can last up to 25 years. This finish works best with engineered hardwood floors because of their thinner veneer. However, if you decide on this type of finish, your only option is pre-finished planks. This option is best if you want immediate installation.
Hardwood Styles
When considering the types of hardwood floors for your home its important to consider the three most popular styles: strip flooring, plank flooring, and parquet flooring. Each style has its own species, color, and sizes so there is a lot to choose from.
Strip flooring
Strip flooring is considered the traditional style of hardwood floors. To be specific, the wood used for this style is cut from the less desirable part of the tree. The wood is cut into shorter lengths and narrower widths. Strip flooring is commonly 3 inches wide.
Plank Flooring
Compared to strip flooring, there is more heartwood in this style. Plank flooring is wider with as much as 20 to 30 inches wide. It gives a more casual look compared to strip flooring which showcases a more linear look.
Parquet Flooring
Parquet flooring is mosaics of wood put together to create a specific design or pattern. The most popular pattern is the herringbone. Although it is harder and takes longer to install, these floors are durable and low maintenance. However, there are instances when blocks of wood are unglued and pop out. These pieces just need to be glued back to the floor.
What is Hand Scraped Hardwood?
Before the era of engineered flooring, hardwood floors were all done by hand. Hand-scraping the hardwood floors is a technique that made sure the planks are even and gap-free. The blade of a draw knife is used to scrape the wood into smoothness. Because this is done by hand, it is the most expensive option and requires an experienced hand. This technique showcases the natural look of the wood and hides any minor blemishes. This is a perfect option for rooms filled with activity.
Source: Zillow Digs